Why You Need to Climb in the Underexplored Adirondacks
For me, The ADKs are the Northeast's climbing gem hiding in plain sight—an impressive feat for a park the size of Vermont!
There's a perception that the Adirondacks are buggy, wet and have cliffs that are hard to find. Well yea! But there's a lot more to it. In reality, the 'Dacks is a full spectrum climbing experience. Be it lakeside bouldering, thrillful trad lines, powerful sport routes, feet burning slabs, or sheer ice faces in the winter, this is one of the most versatile climbing areas in the Northeast.
Pros and Cons of Climbing Adirondacks
More than 250 climbing areas spread across the park
You can climb year-round across many disciplines
Wide range of accessibility, from roadside routes to crags that require a big hike in
Add swimming, fishing, canoeing and kayaking in the nearby lakes and rivers for a full-on adventure-trip
Fewer climbers around, but those that go tend to cluster around the same areas
Not all spots are well documented
If it's your first time, it's advisable to go with a guide or people who have been before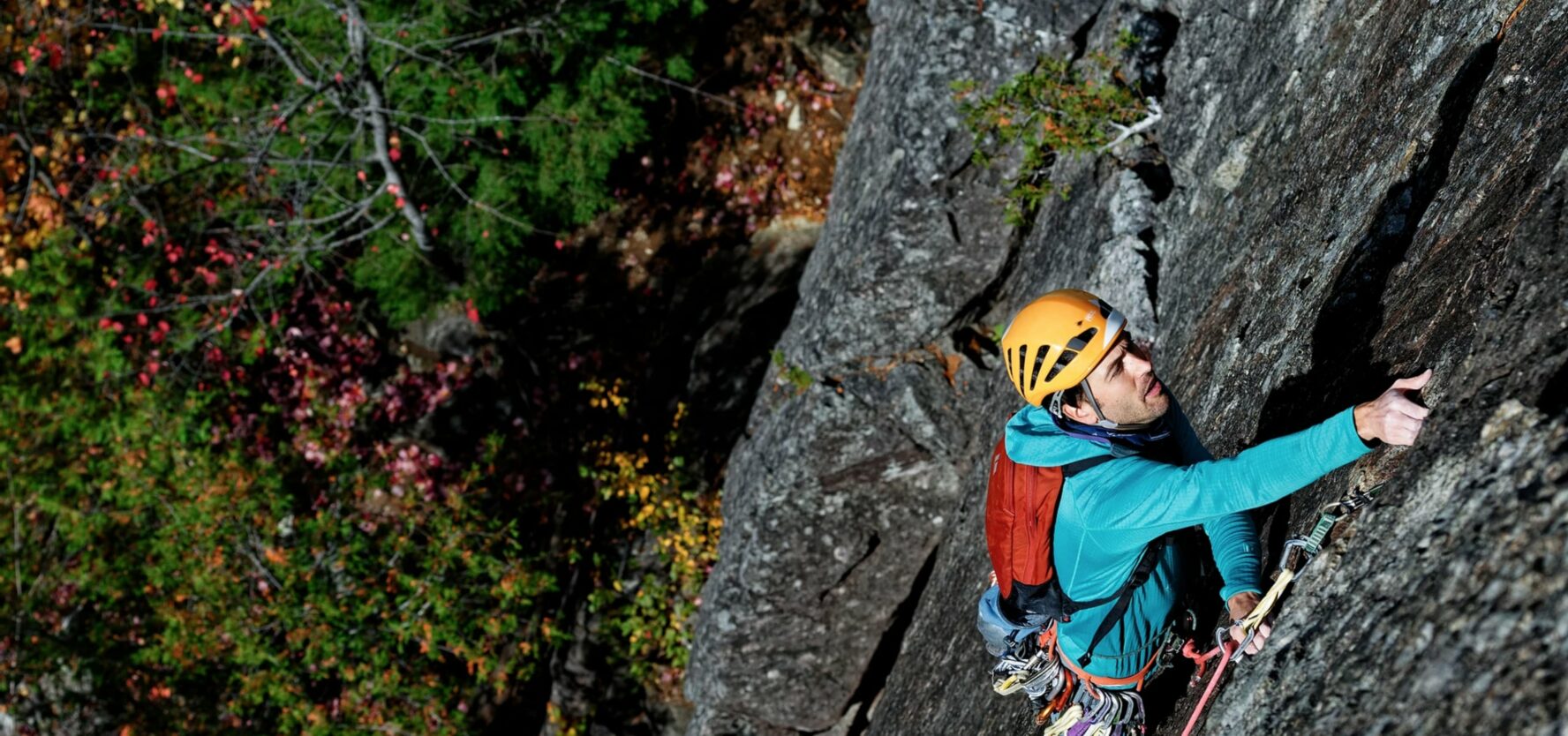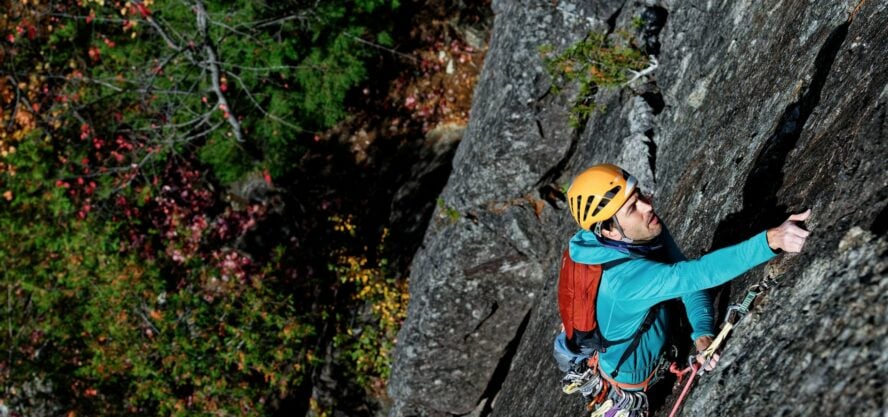 The Backyard of the Great Ranges Is a Great Place to Be
Growing up in the 'Dacks, I always wanted to live in the bigger climbing hotspots of Colorado or Utah. I used to think they were the center of the universe while all this stuff in the Northeast was out in the periphery. So I left and travelled out West, to New Zealand and Peru, and eventually landed at the Gunks where I became a certified AMGA Rock Instructor. Say what you will about Northeast rock, but I feel good about coming back and will argue like hell that Elizabethtown is one of the best climbing towns in the US.
Today, my backyard is an untamed tract of adventurous climbing bigger than the maple syrup state. Through my company, Great Range Mountain Guides, I get to showcase some of the best of this lesser explored park while also helping clients prepare for bigger objectives elsewhere. Who needs those other "great ranges" when you have The Great Ranges!
Keeping Adirondacks Wild, Forever
Spanning 6 million acres, Adirondack Park covers the huge hinterlands of Upstate New York. It was designated to be "forever kept as wild forest lands" in 1885 to stem the tides of deforestation and to protect the watershed. Lucky us! At the time, the state assembly formulated the largest publicly protected park in the contiguous United States and today we're forever grateful for the immaculate wildlife habitats, nearly 200,000 acres of old-growth forests, and of course, an inordinate amount of climbing.
This massive mountainous region has a lot to offer, including 46 peaks over 5,000 feet, 2,000-plus miles of hiking trails, hundreds of rock walls, and 3,000 lakes including the famous Lake George, Lake Placid and Lake Tear of the Clouds (the source of the Hudson River). In this enormous playground kayaking, hiking, fishing and skiing are common parlance with rock climbing becoming a bigger draw.
Diversity in Climbing Is the Specialty of the 'Dacks
Contrary to popular opinion, the Adirondacks is way more than just slab. And to put a point on it, there are more than 2,000 documented routes—trad, sport, boulder and ice climbing—with new areas being developed every year. If you want long days out you can get alpine-lite at places such as Pyramid Peak and Panther Gorge, or if you're feeling more of a car-to-crag dash there are short walks to roadside walls, including the crack-riddled overhanging face of Spider's Web.
From a climbing perspective, it's quiet. Especially if you're coming from New York City (about a 5 hour drive away) or the madhouse that can be climbing at the Gunks. In the Adirondacks, the diversity in topography and monumental size means you almost always have the luxury of jumping on the route you want. Seeing 5 or 6 other climbers is considered busy. If you like backcountry-like climbing and a huge breadth of possibilities, the ADKs are a must visit in the Northeast.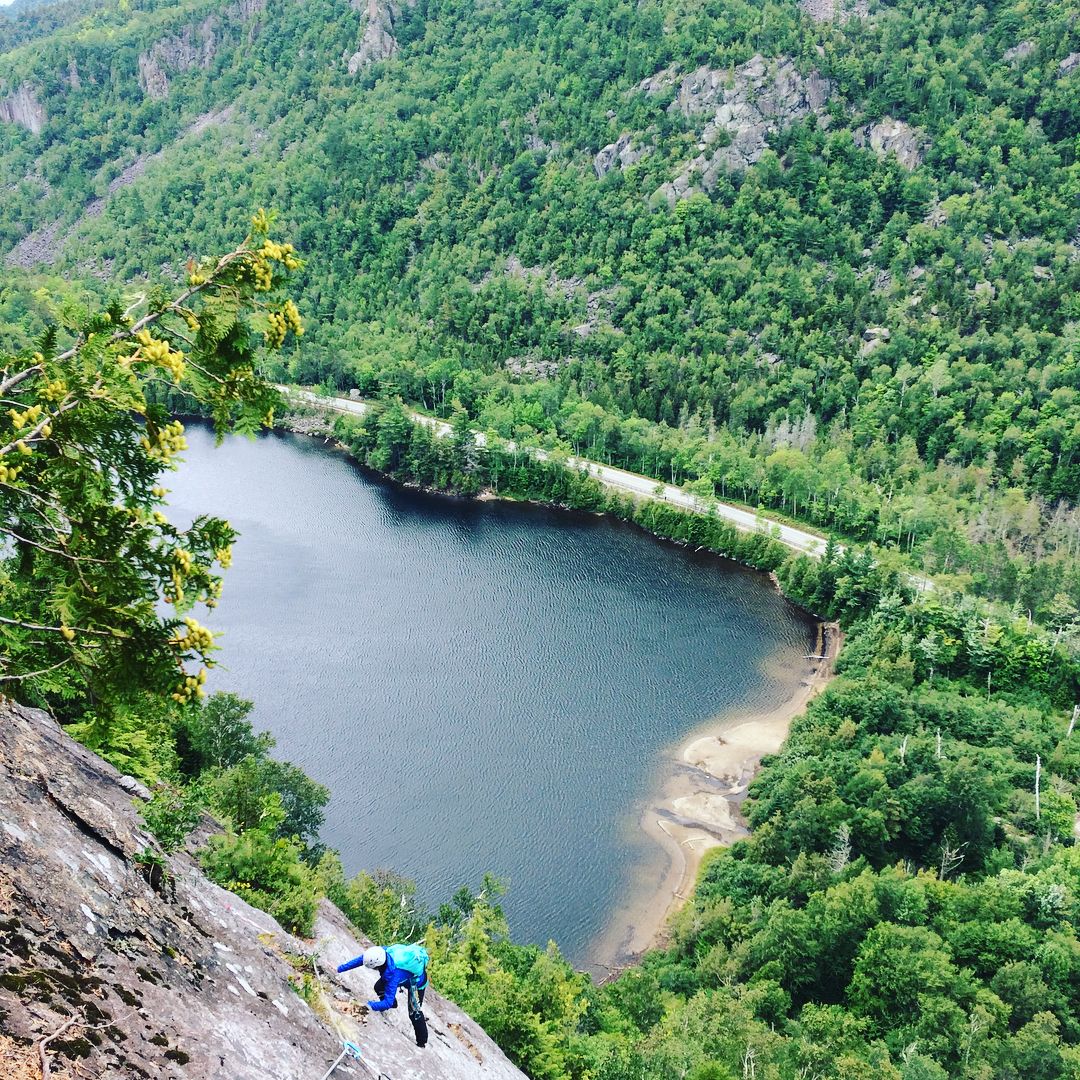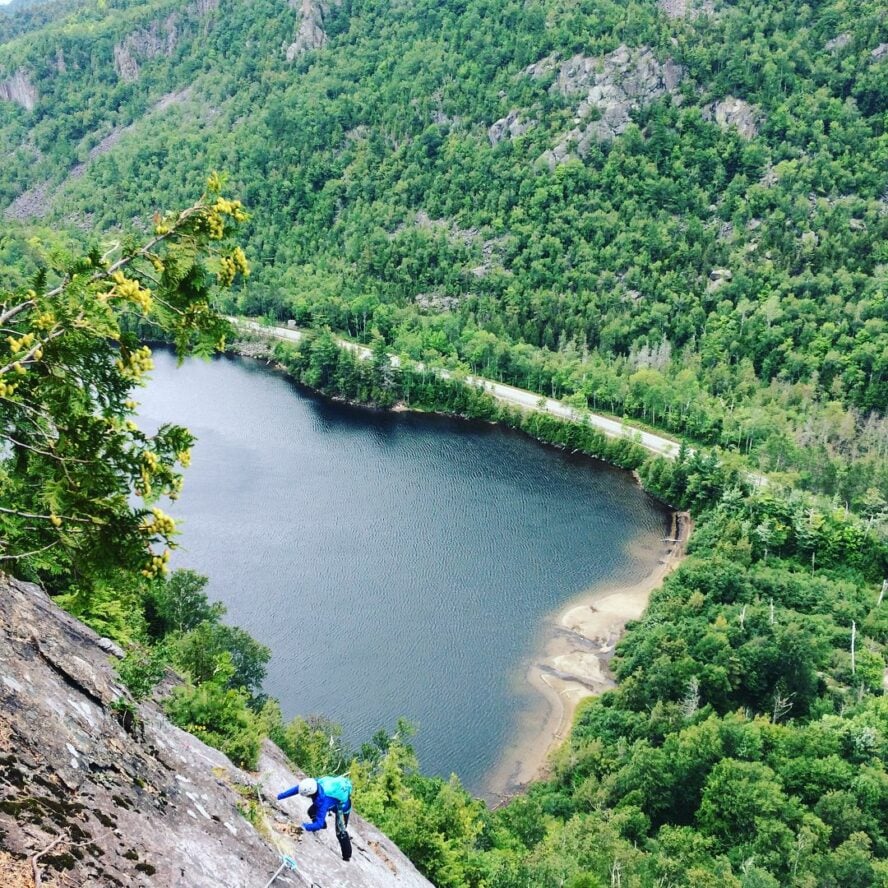 Set Your Feet, Friction, and Repeat on the Popular Slabs of Chapel Pond
I'm on the clean granite of Chapel Pond seventy percent of my days, summer, fall or winter. The area has the highest concentration of climbs in the park, ranging from long cruisey slabs—generally 6 to 7 pitches—to slightly overhanging crack climbing, and even some hard sport. I like to bring beginners here to gain experience in rope management and exposure.
Of course, a perk is in the name—for a midday break or post-session cooldown you can take a dip in the neighboring pond. And if you come in the peak of summer, you can time your climbs so you can be in the shade all day by bouncing around the different walls.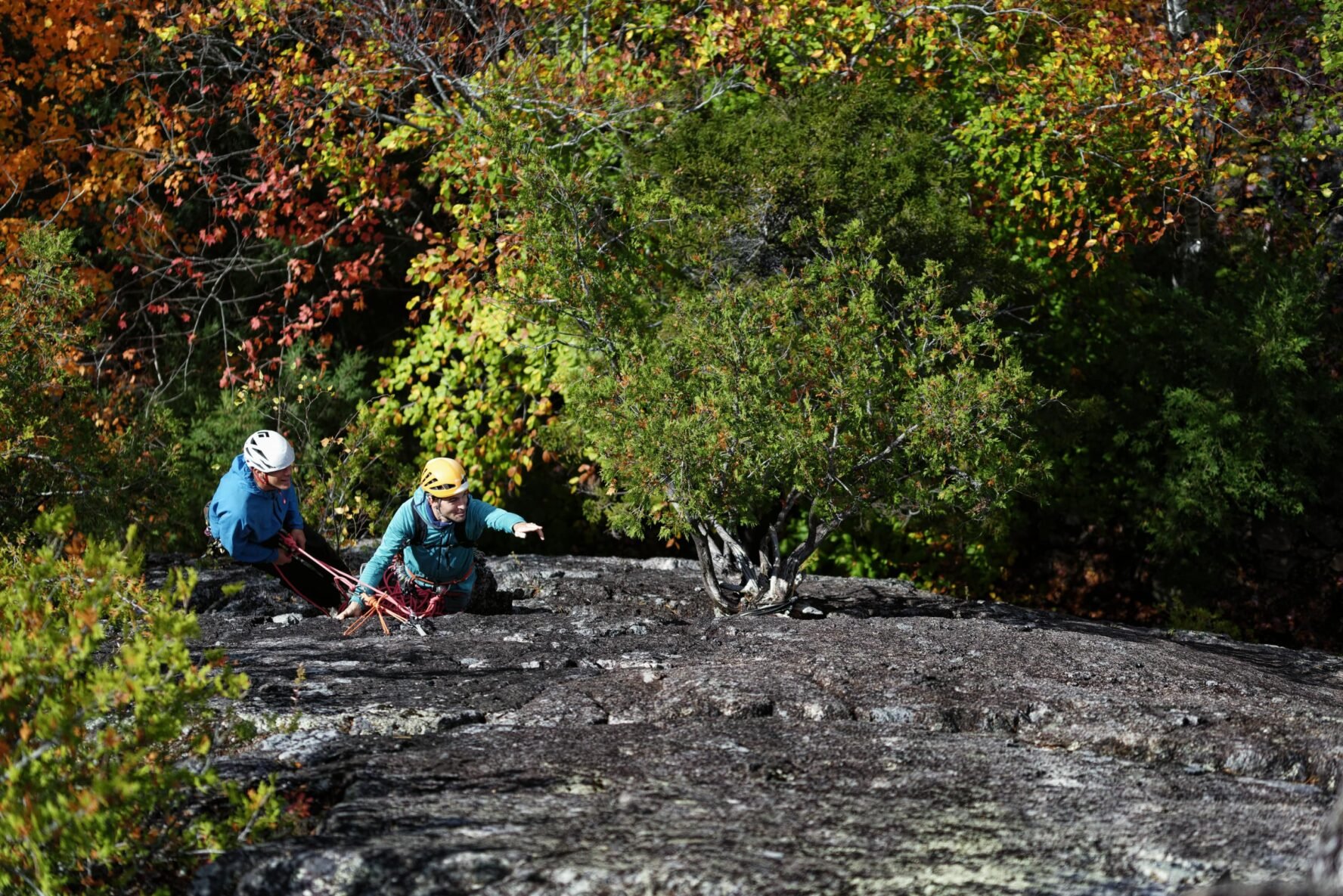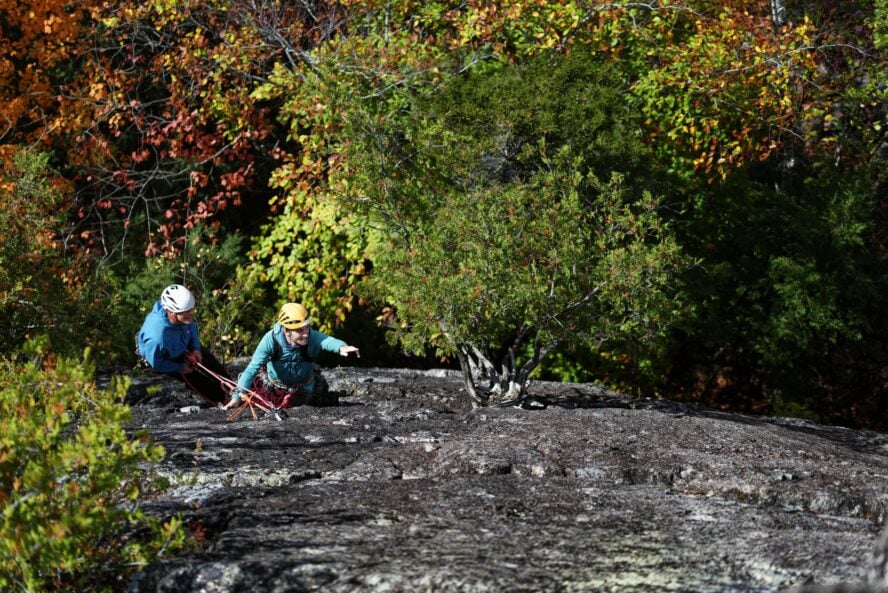 Get ready for longer days at Chapel Pond Slab
This is definitely one of the highlights of the park. Here you'll find long lines that could be confused for deep woods alpine even if it's only minutes from the parking. I like to call it roadside alpine, which is a far cry from climbing in places like the Canadian Rockies. How often can you find that?
The 800 foot classics are Empress and Regular Route. Regular Route has a wide range of climbing in its 8 pitches. You start in a left-facing corner with an easier crack, move into low angle terrain and finish with the crux called Bob's Knob. Empress route is one of my favourites and has a little more sustained climbing. This fantastic friction piece was FAd by the master of alpine climbing in the Northeast (and the U.S. for that matter) in 1933 by none other than Fritz Wiessner. It is comprised of ominous slab, a big bulging buttress and a crack that requires jamming fists.
Shorter and stouter climbing at Tanager Face
Tanager Face is a smaller wall with a collection of moderate single pitch climbs and one gem of a multi-pitch. Beam Me Up is a 450 foot, 4 pitch trad route that has a bit of everything. If you like crack climbing, this has long exposed fissures and friction moves with seemingly no handholds. For the single pitches, toprope is easy to set up via a gully on the right side. It's only about five minutes of hiking from the shore of Chapel Pond.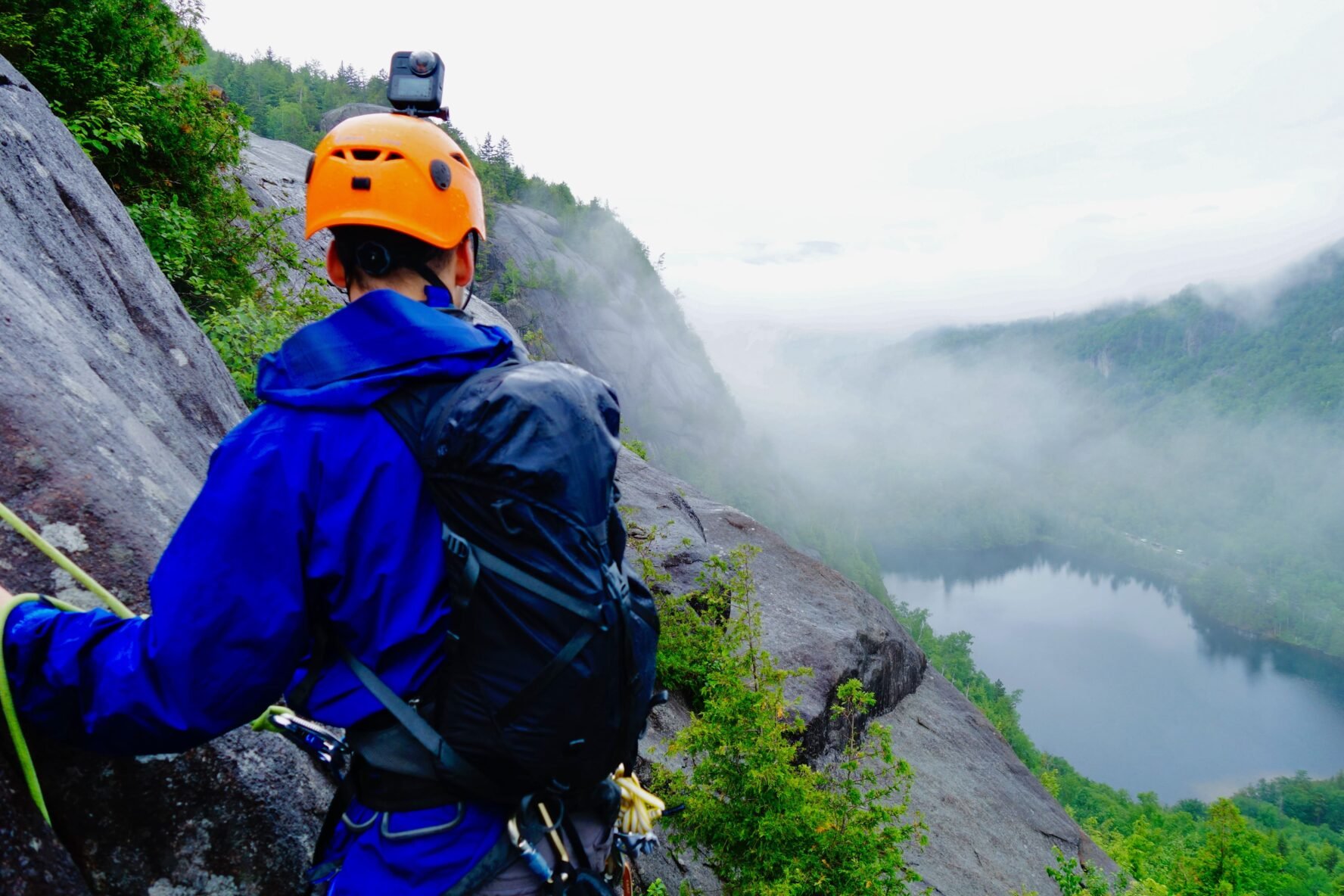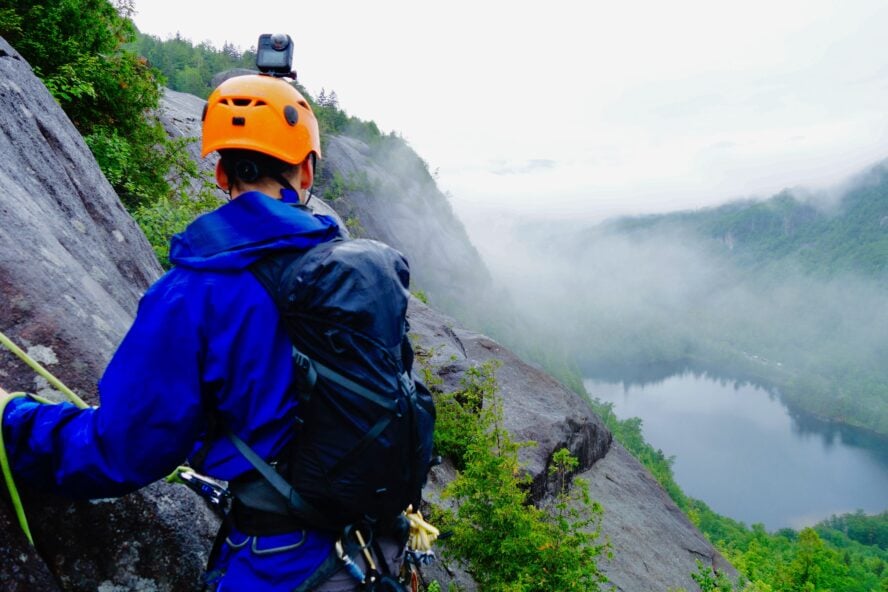 Don't get lost in the web of cracks
Spider's Web is just past vertical and an eye-catcher of the Adirondacks. It's a proud, steep, and classic cliff that gets its name from the mosaic of crevices that splinter along the wall. Slim Pickins is one of the gems, and is a little out of character for the crag as it requires almost constant stemming in a perfect 90 degree corner.
TR is spectacular and one of the best pitches around. It's not that long, 70 feet or so, but every inch is kinda on you. It feels like an odyssey. I remember the first time I did it, I thought I was hot stuff and it just totally shut me down. Humbling and frustrating at the time. Now I realize just how good it is! It's so sustained, but also protected enough to lure you on. Perfect gear, great positioning, and the views are amazing: Off to your left is Chapel Pond and on the right the High Peaks.
The Beer Walls have more variety than a liquor store has craft brews
This is my second most preferred location because of the assortment of climbs between 5.4 to 5.13, its accessibility, and ease of toproping. I recently started climbing Lichen Brau (a lot of the names have to do with beer, naturally) which is analogous to Gunks climbing. The 2-pitch route starts vertiginous straight with horizontal cracks and good holds that keep coming. In the second pitch, the character changes. It feels like a bigger wall, becomes more exposed, there's more traversing, and less hand holds. This one will give you the fulfillment of a longer climb in a shorter package.


Pinnacle Views at Poke-O Moonshine
Poke-O Moonshine is a magnificent 600 foot mountain in the Champlain Valley. This long cliff band radiates out above Interstate 87 and offers a ton of climbing in a pretty remote neck of the woods. To get to the walls you have to trek 1-2 miles but the renowned amphitheatre views—of the High Peaks, Lake Champlain and the Jay range—and exposed pitches on high quality granite are well worth it.
Each face of the mountain shines differently
Poke-O Slab is the southern face and has incredible trad lines. It is a step up from the Chapel Pond slabs in terms of difficulty and commitment; you need to top out or you're leaving gear. Catharsis is the climb I like here, a 4-pitch, 500 foot line with a bit of meandering and route finding.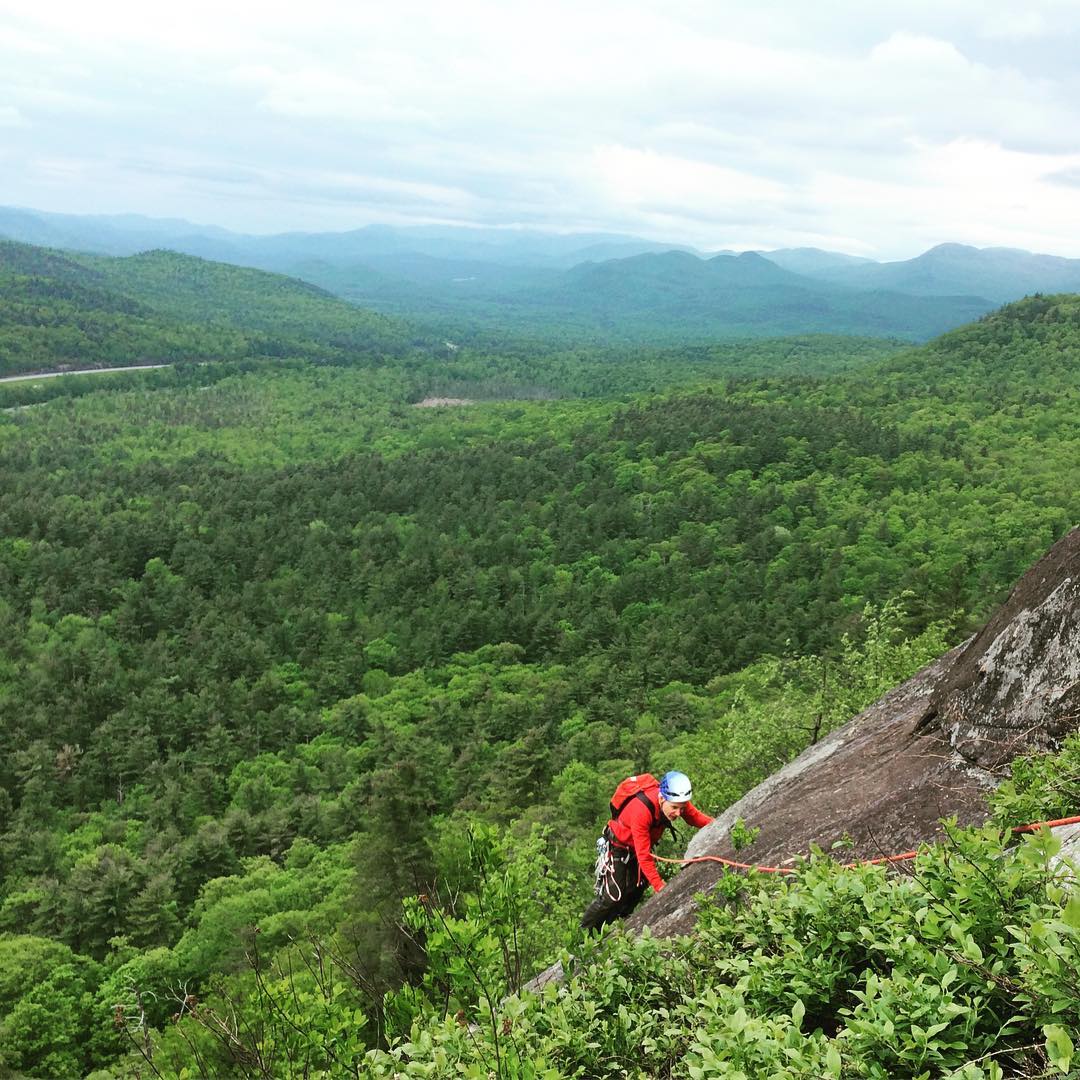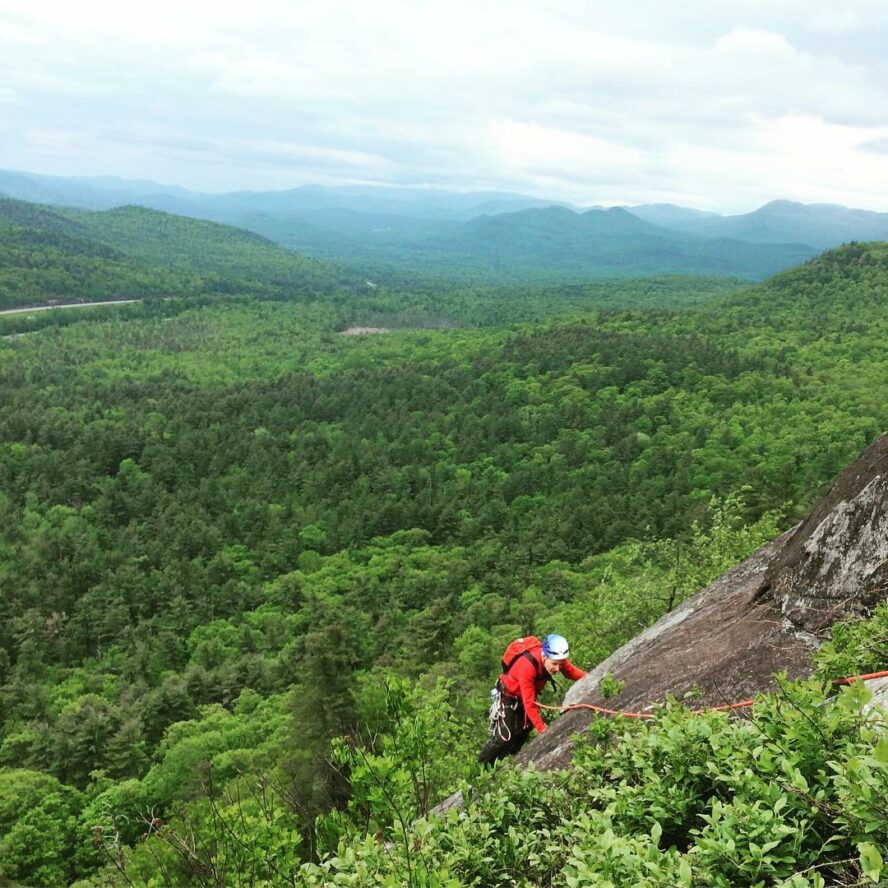 The Main Face hosts some of the finest of the Adirondacks classics. One is Gamesmanship, a series of 5-pitches of strenuous cracks. The first pitch is a striking plum crack, an obvious splitter like something from out West, that is a bit insecure for fists. The crux is at the beginning and it eases up into airy terrain above.
Moonshine has numerous tiers and the Second Tier section is the most developed. It has routes of 5.8-5.9 with sections of the cliff that go as high as 150'. This area is like a little world within the mountain, full of rock gardens with moss and beautiful features. Bee Pollen is a classic Poke-O experience. You look up from the ground at the 100 foot line and you have no idea how it's going to climb. Then all of a sudden there's all these edges, just what you want where you want it. It's perfect.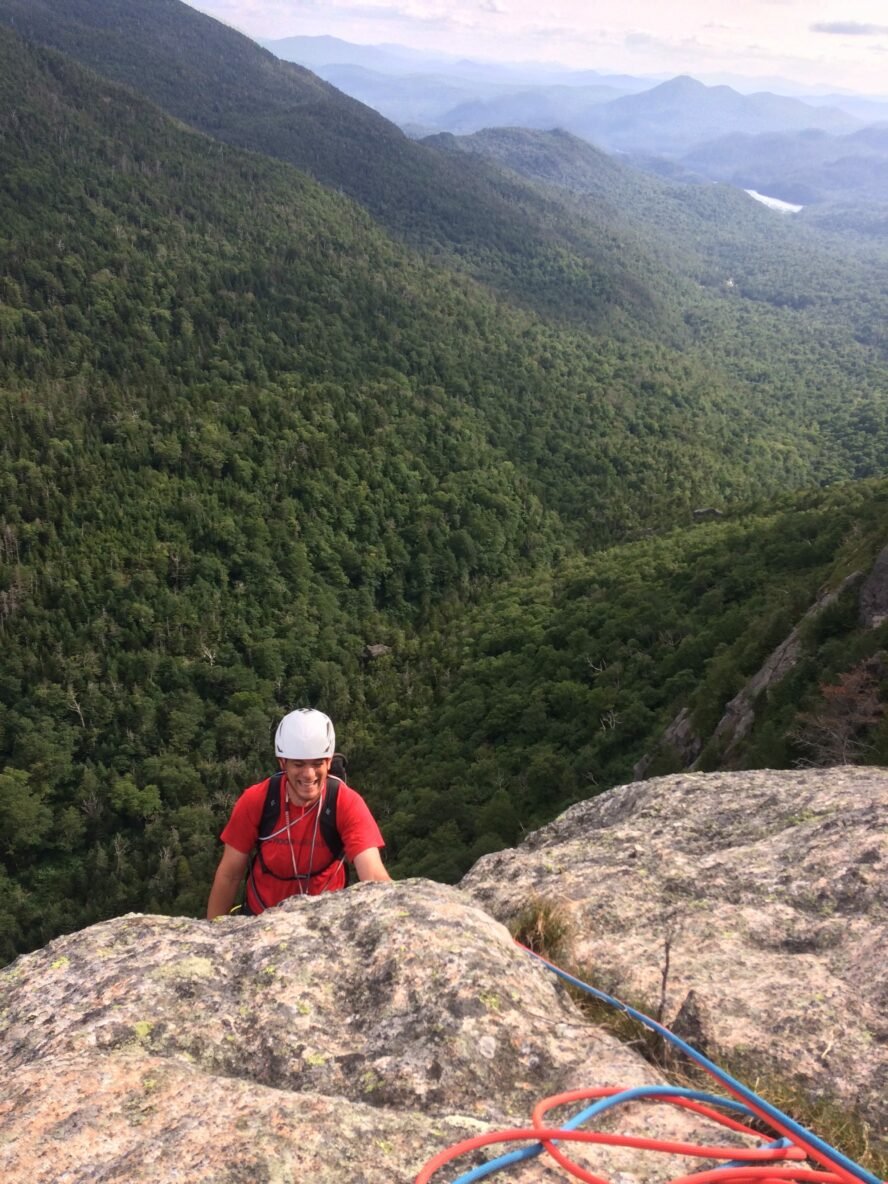 High Rewards in the Keene Region
Not a big area but it punches above its weight class for beginners. Almost every route is 2-3 pitches which let's groups get more volume on easy and moderate lines, without the full commitment of areas like Poke-O or Chapel Pond Slab.
Pitchoff Chimney Cliff is the most popular area and is separated from the main dome by a wide chimney. Pete's Farewell and The El are two exemplary climbs, and are like an advanced version of Chapel's slabs. Pete's Farewell requires crossing a 6-inch ledge 100 feet above the ground like a gangplank—but with no hand holds. You can imitate the viral pose of Alex Honnold standing on the tiny edge of El Capitan if you dare. Above that is hero climbing. Everything becomes progressively easier until you topout. To get down you have to rappel behind the cliff, which is actually a massive flake. It's not caving, but definitely different from the other walls.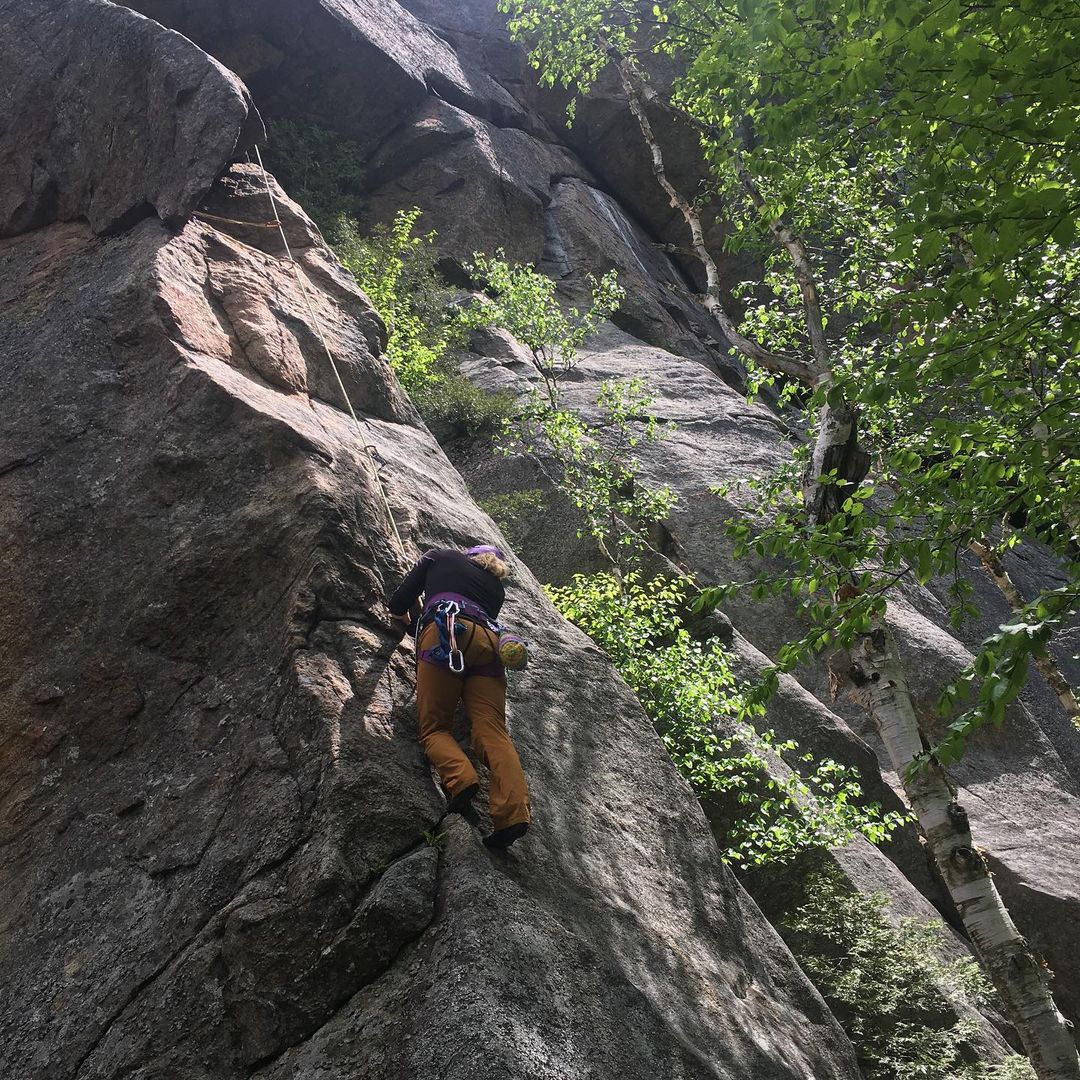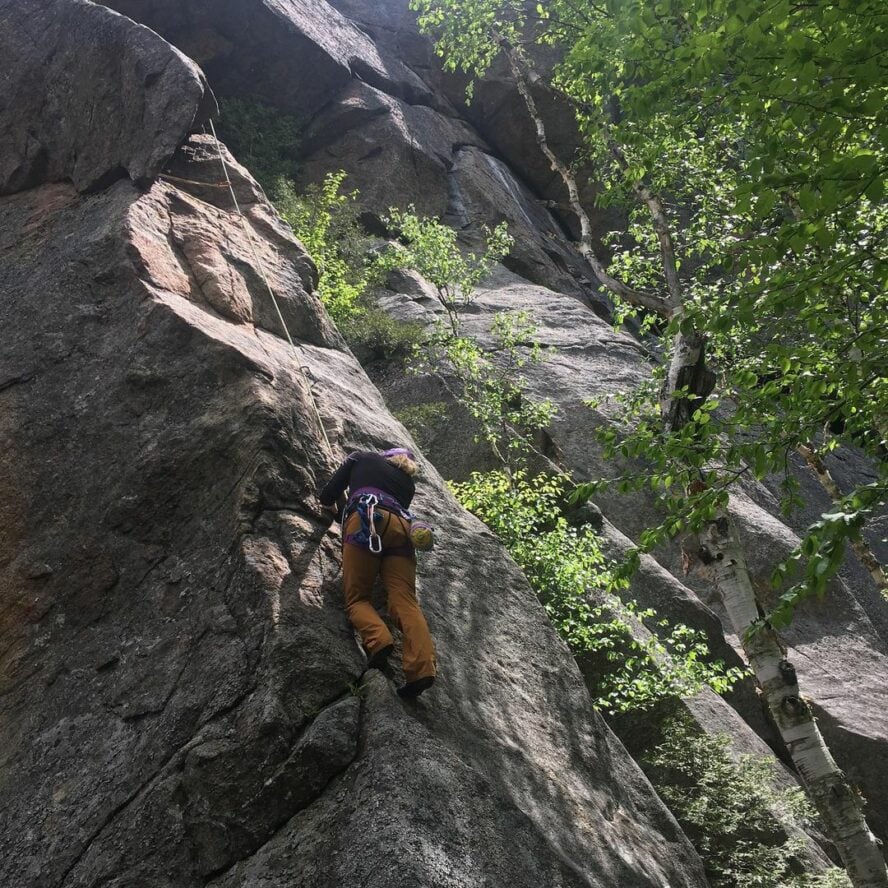 If there was one crag that really showcased the ADK the Barkeater Cliff would be it. You have a half hour walk where you don't see anything—no roads, mountains—nothing but trees and the climbing is top-tier. If you are a beginner there are a ton of easier routes from 5.4-5.8. My suggestions here are Mr. Clean, Fun City, and Eat Yourself a Pie. That would be a darn good day of climbing.
Modern Climbing Comes to the Adirondacks
There's a bunch of newer stuff coming up in the park. Chapel Pond and Lake George are seeing more sport climbs going in, and Silver Lake is the latest addition with a swath of routes across 14 or so cliffs. Still, this isn't the sport mecca of Rumney, so remember that you're coming here for an entirely different experience. Bouldering has blown up too. Saranac Lake and the McKenzie Pond boulders are the central spots, and in the south, Nine Corners and Snowy Mountain have also grown considerably. The Adirondacks are not just a buggy, slabby, traddy backwater anymore!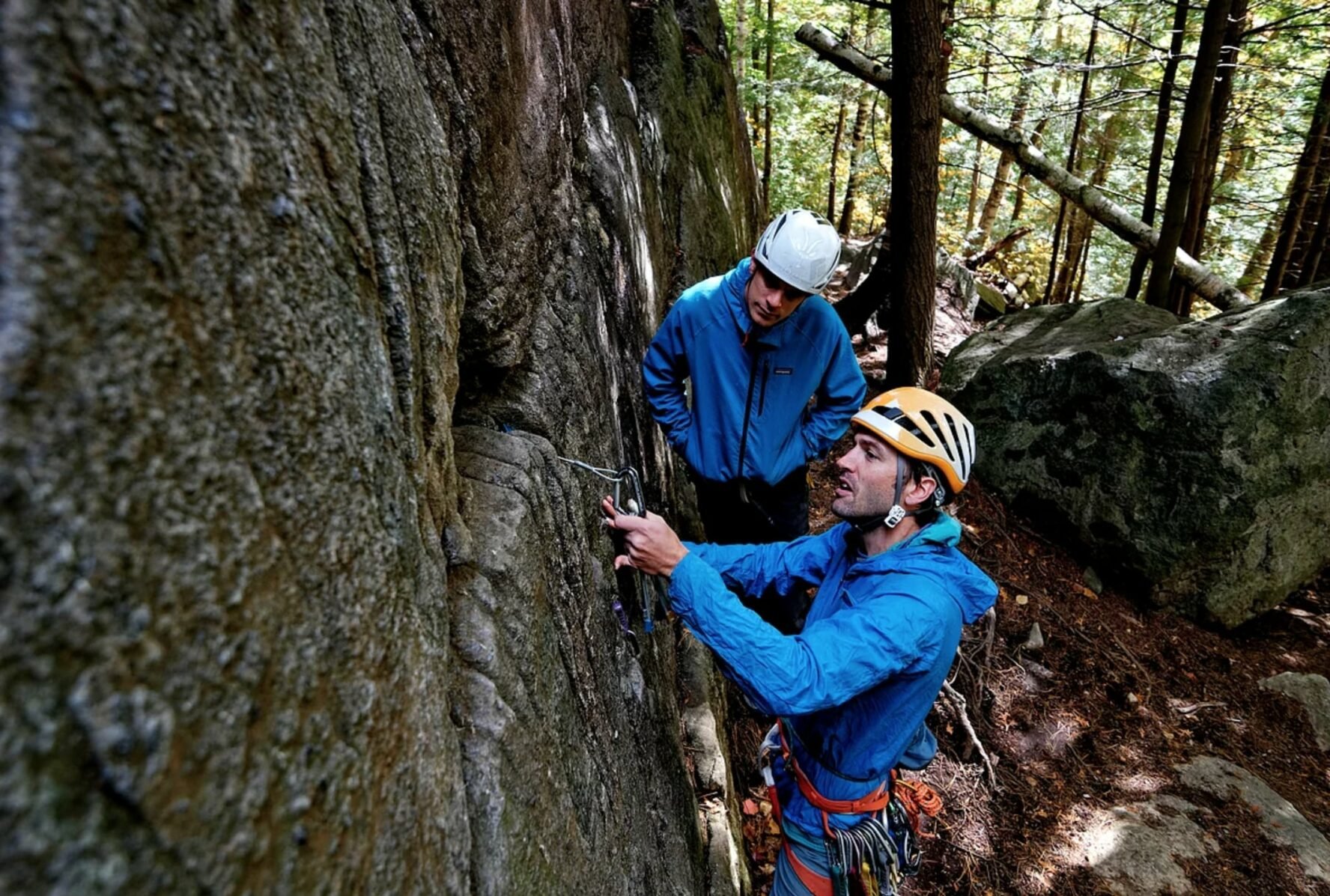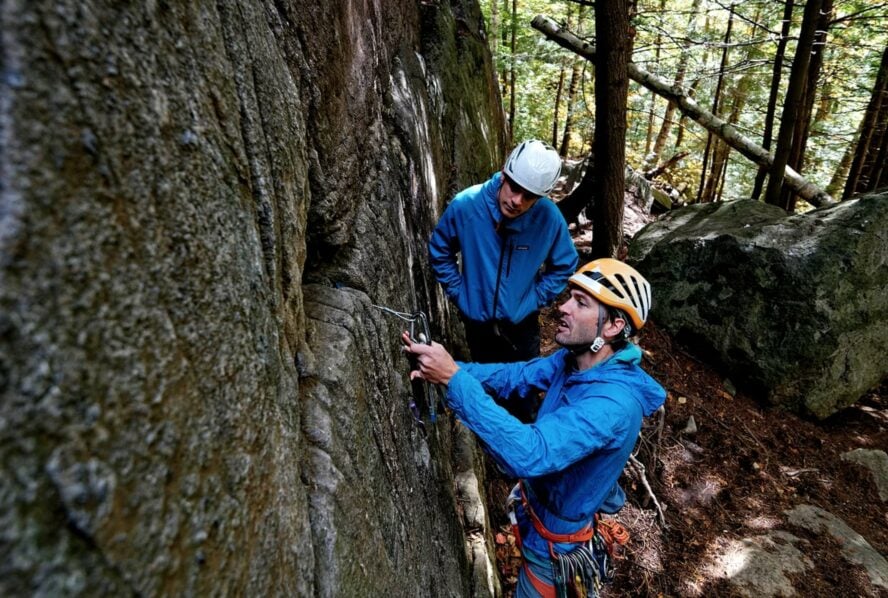 The Beta I Give to My Clients
When to Climb in the Adirondacks
Spring (April-June): This is often considered "mud-season", but with few bugs, sunny cliffs, and low humidity it is a great time to get out. I recommend heading to Deadwater, Pitchoff Chimney Cliff, and Hurricane crag. If you want to venture south, climbing at the Gunks is great this time of year
Summer (July-August): By the 4th of July, the bugs are subsiding and the cliffs are drying out from the spring. I suggest the Chapel Pond cliffs (Beer Walls, Spider's Web, Chapel Pond slab, etc), Barkeater, Avalanche Pass and Gothic South Face
Fall (September-October): Sendtember. Rocktober. Cheese or not, this is the ideal season. Check out Poke-o Moonshine, Upper Washbowl and the Silver Lake Mountain for stellar climbing and that amazing Northeast foliage
Winter (December): Early season ice starts around Thanksgiving and throughout the colder months you can always seek out sunny, dry rock. Your best bets are the Silver Lake cliffs and Deadwater for rock climbing, and the north side of Pitchoff and Chapel Pond Canyon for ice.
Recommended guidebook
Adirondack Rock by Jim Lawyer and Jeremy Haas is the guidebook I recommend, and it costs around $40.
What should be in your trad rack?
A double set of cams from .3 to #3 (Black Diamond sizing) and a larger piece or two will cover the bases. It's mostly hands and fists, but smaller cams are needed as well. A set of BD stoppers, micros, 10-12 alpine draws, and a 70m dry rope (it can be weepy) will round out your quiver. If you need to pick up any gear, The Mountaineer in Keene Valley is one of the best in the country, in my opinion, and has super knowledgeable staff.
There's more to do than just climbing rocks
I hardly need to mention that the Adirondacks is an adventure playground. In the winter you can ice climb, ski and snowboard, practice your mountaineering techniques or enjoy more leisurely events like the week-long Winter Carnival. In the spring, you must taste the sweet maple syrup. With the melting ice, the waterfalls and rivers flourish. Spring and summer are great for fishing, kayaking, canoeing or swimming in the Chapel Pond, Shoebox Falls or Bowcut river. In the fall, backpackers tackle the 46 High Peaks and sample the stellar local breweries.
Getting to the Adirondacks
There are many entry points. Interstate 87, or the Adirondack Northway, runs along the eastern edge of the park, and you can pick up Route 73 from here which will take you straight to the parking for Chapel Pond. Route 30 to Route 3 goes around the High Peaks Wilderness and enters the park from the northwest. If you prefer to drive at your own pace, renting a car is a cool solution.
There is a bus service from Rochester and Syracuse to Lake Placid and Keene Valley. The Adirondack Amtrak train runs from New York City to Montreal, and you can pick up shuttles to the park from stops such as Westport, Ticonderoga.
Where to stay?
Camping is a great choice and there are a wide range of options, and regulations. Because the park is half state property and half private land, be sure to read up on the guidelines for your particular camp site. Note that there are also primitive camping spots. There are plenty of cottages, bed and breakfasts, and hotels outside the park as well.
Ready to explore the hinterland climbing of the Adirondacks? Sign up for a session with Mark to see all the best the park has to offer!