Hone in Your Alpine Climbing Skills in the Canadian Rockies
The towering peaks, pristine glaciers, and exposed rock faces of the Canadian Rockies are an alpinist's dream. This epic range is my home, and it always leaves me feeling accomplished and wanting more.
Early on, my curiosity was piqued by the endless icefields, dramatic peaks, and low valleys of the Canadian Rockies. My fascination quickly came to a head with those mountains, and I haven't stopped enjoying them since. In my 28 years of snowboarding, alpine climbing, rock climbing, and almost 20 years of guiding, I've experienced the Canadian backcountry from just about every angle and there's still lots of terrain to explore. Whether it's to share an epic experience with newcomers or just to clear my mind, this vast range with endless potential has become the place that I will always turn to. If you're looking to become a confident alpinist, find out why the Rockies are the ultimate classroom. Here's what you'll gain in an alpine skills week.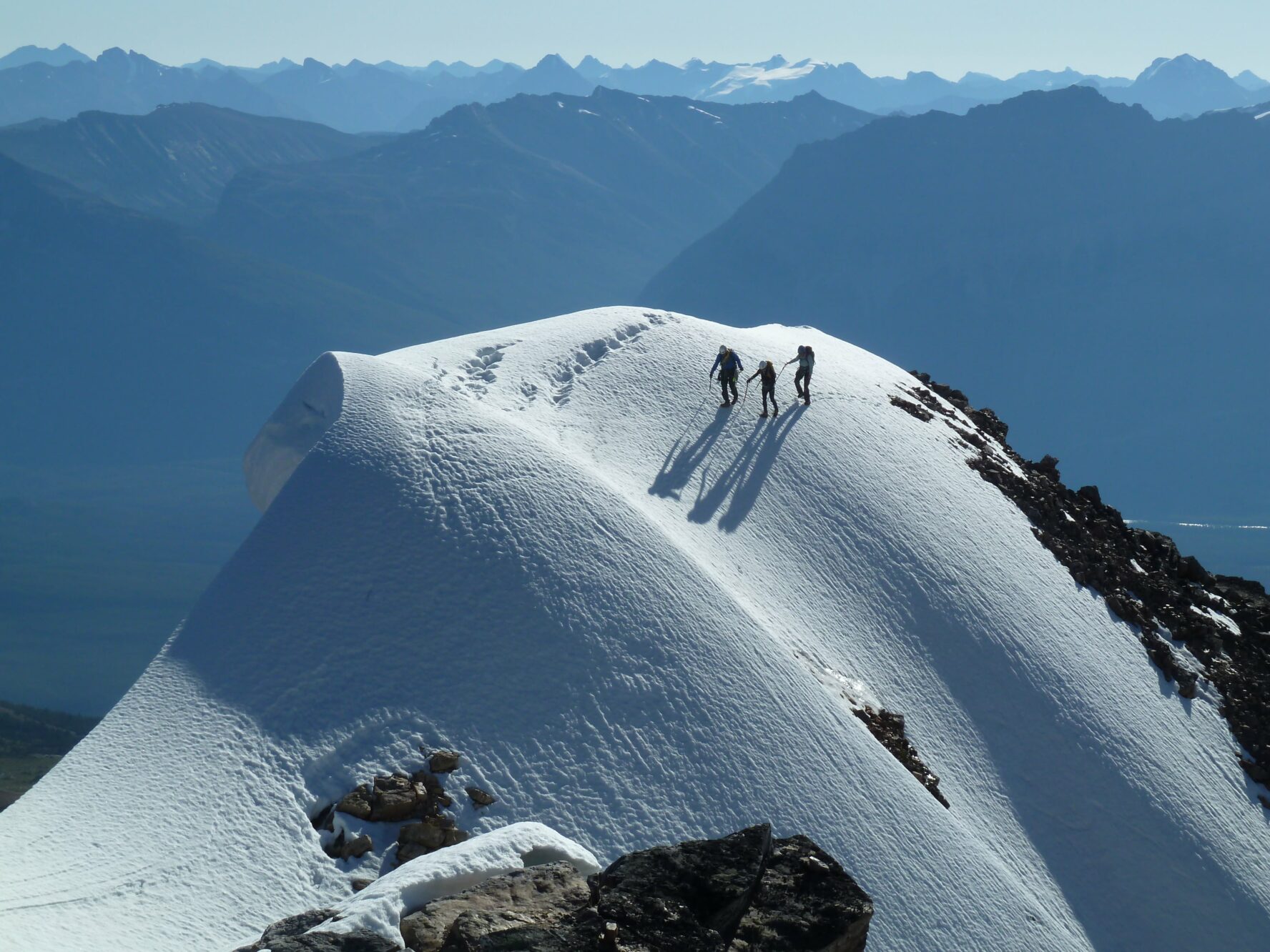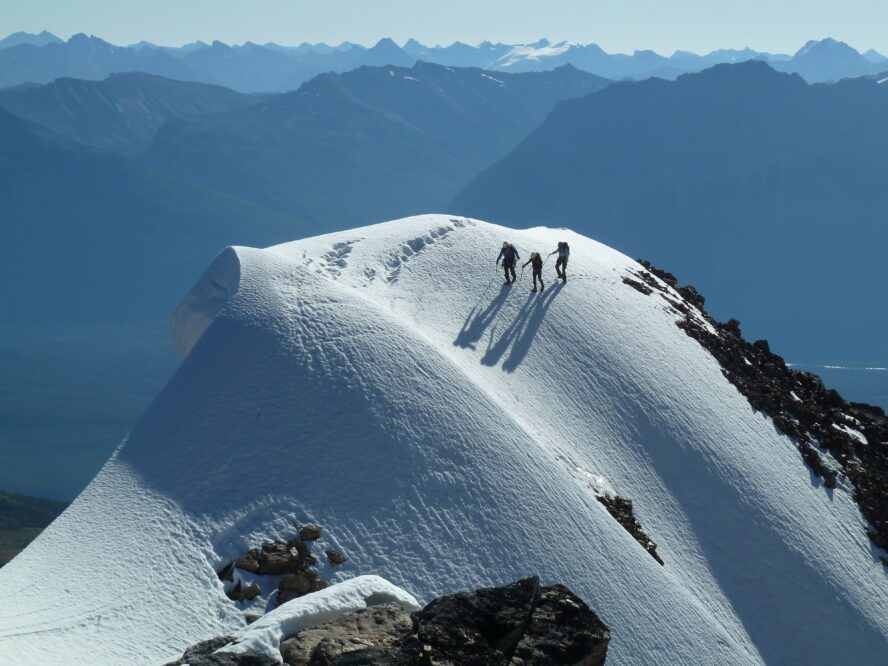 Pros and Cons of Alpine Climbing in the Canadian Rockies
Classic routes with easy access and wide range of difficulty
Endless variety of terrain suited to all climbing styles
Year-round backcountry opportunities
Steep learning curve for gear, technical skills, and risk awareness
High cost of required gear and knowledge
How my thirst for outdoor adventure turned into a guiding career
Being born and raised in Alberta, the mountains always begged my attention. I was drawn to their size and dramatic features, and couldn't help but want to experience them up close. After years of adventuring recreationally, I turned my love for the outdoors into a career when I became an apprentice rock guide in 2002. Other sports soon reeled me in, and I went from guiding rock climbing to guiding skiing, heli skiing, ice climbing, alpine climbing, and more, culminating in earning my IFMGA Mountain Guide certification. My love for the Canadian Rockies, both as a place of work and my home, has only grown since the mountains in the distance first caught my eye.
Why alpine climbing in the Canadian Rockies?
The Canadian Rockies are home to the most epic and exciting backcountry terrain I've ever experienced, which is what makes them one of the best places for climbing in Canada. Stretching southeast some 1,600 kilometers (about 1000 miles) from Northern British Columbia to the Canadian/US border, you can find great alpine and rock climbing right off the road or dozens of miles into the backcountry. The Rockies are unfathomably immense, so while I don't want to reduce this beautiful range to just a few greats, some of my favorite mountains and areas are Mt. Athabasca in Jasper National Park, Mt. Sir Donald in Glacier National Park, Lake Louise in Banff National Park, and the neighboring Bugaboos in the Purcell Range of the Columbia Mountains – all amazing and unique in their own right.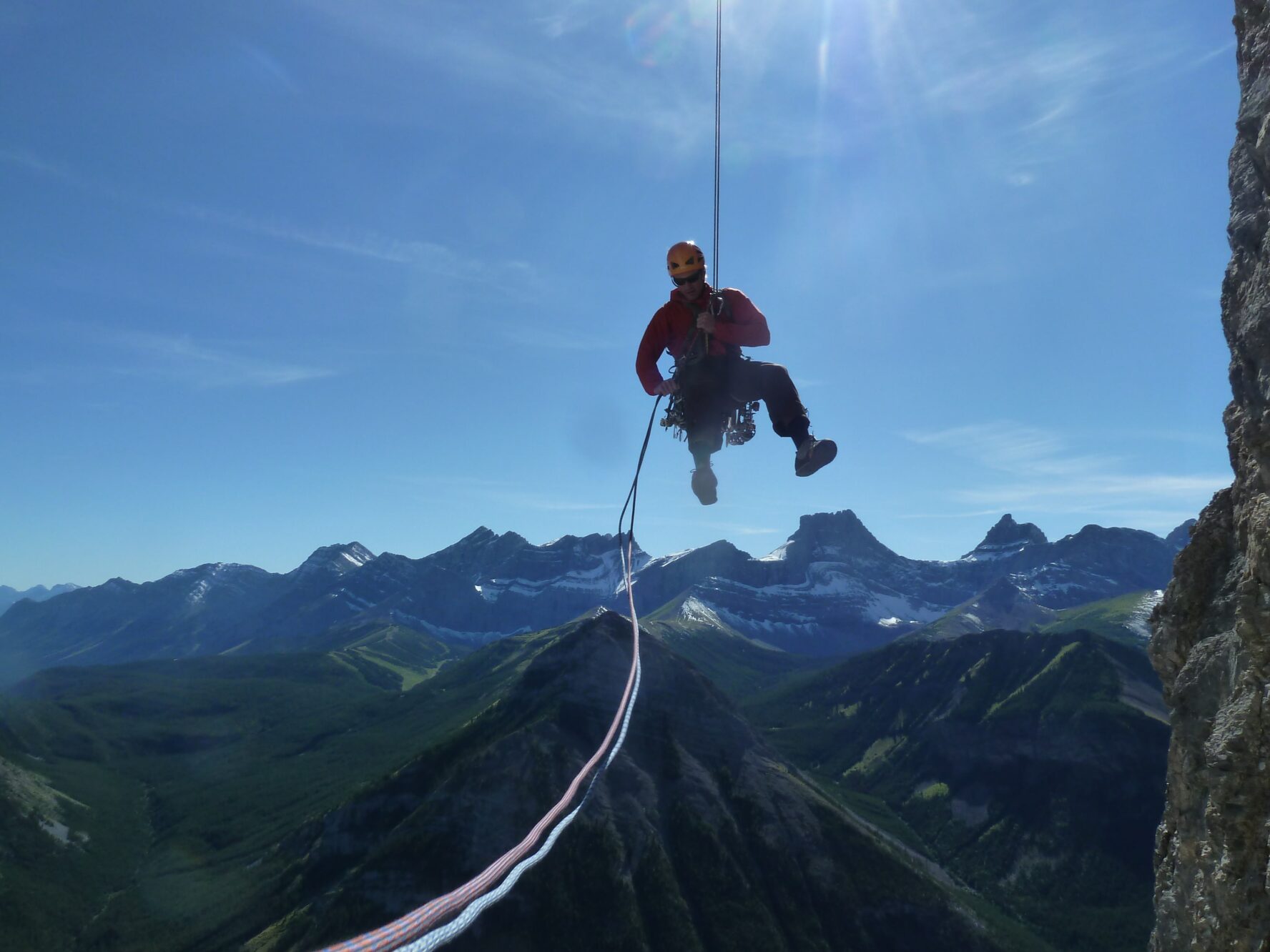 6 Days of Developing Your Alpine Climbing Skills in the Canadian Backcountry
I like to call this alpine climbing skills week itinerary the "accelerated learning program," because it allows novice and experienced climbers to hone their backcountry skills safely and responsibly while enjoying the outdoors. The "meat and potatoes" behind alpine climbing expertise is enough to make up a lifetime of learning, so I created this itinerary to allow outdoor enthusiasts to touch base and go in depth on skills like route planning, rescue procedures, the use of gear, and understanding conditions, which they can then apply to live backcountry scenarios. These skills give you access to life-changing experiences like hiking on complex glaciers, traversing narrow ridges, and climbing technical pitches all while the sun begins to glow over the horizon.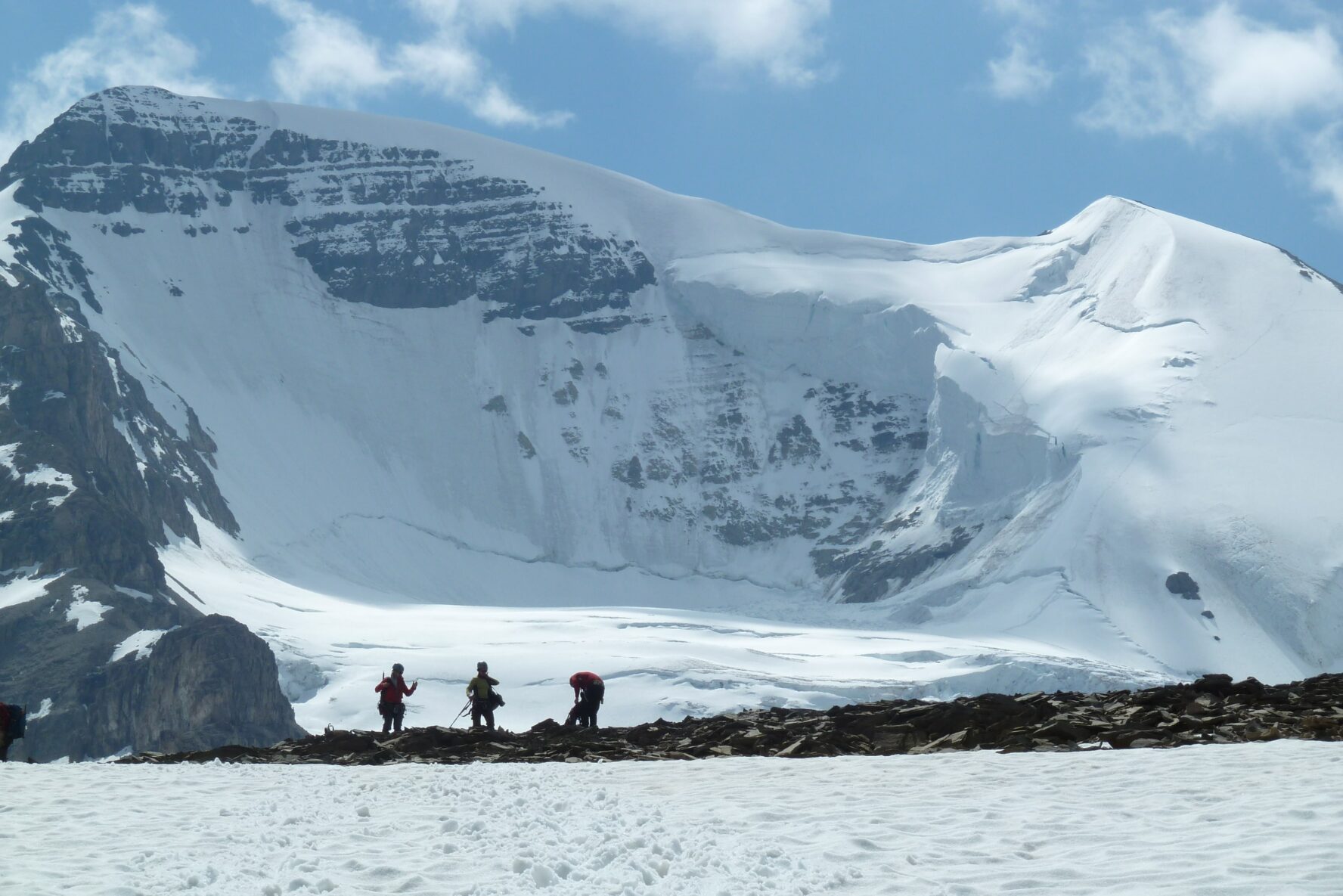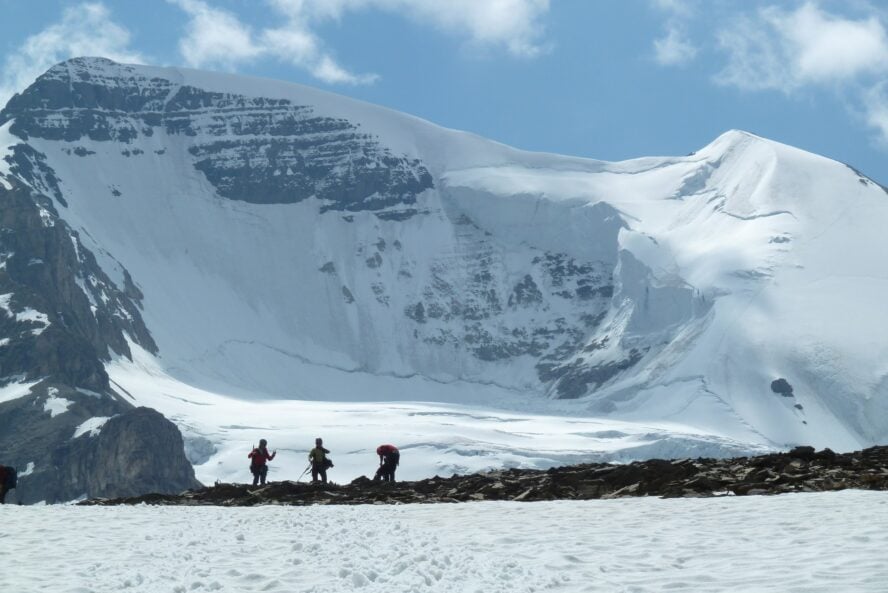 The Canadian Rockies have just about every type of terrain there is, and there's something for everybody. Whether it's a rock climbing intro course, a one-day summit trip or a multi-day expedition, having a comprehensive set of skills is essential to responsible mountaineering. This six-day trip includes three days in the Mt. Athabasca area and three days in the Lake Louise area. Professional guiding teams tailor the trip to each group's comfort level, prior experience, and goals. Essential skills are developed early in the week, and then reinforced and tested later through alpine climbing experience.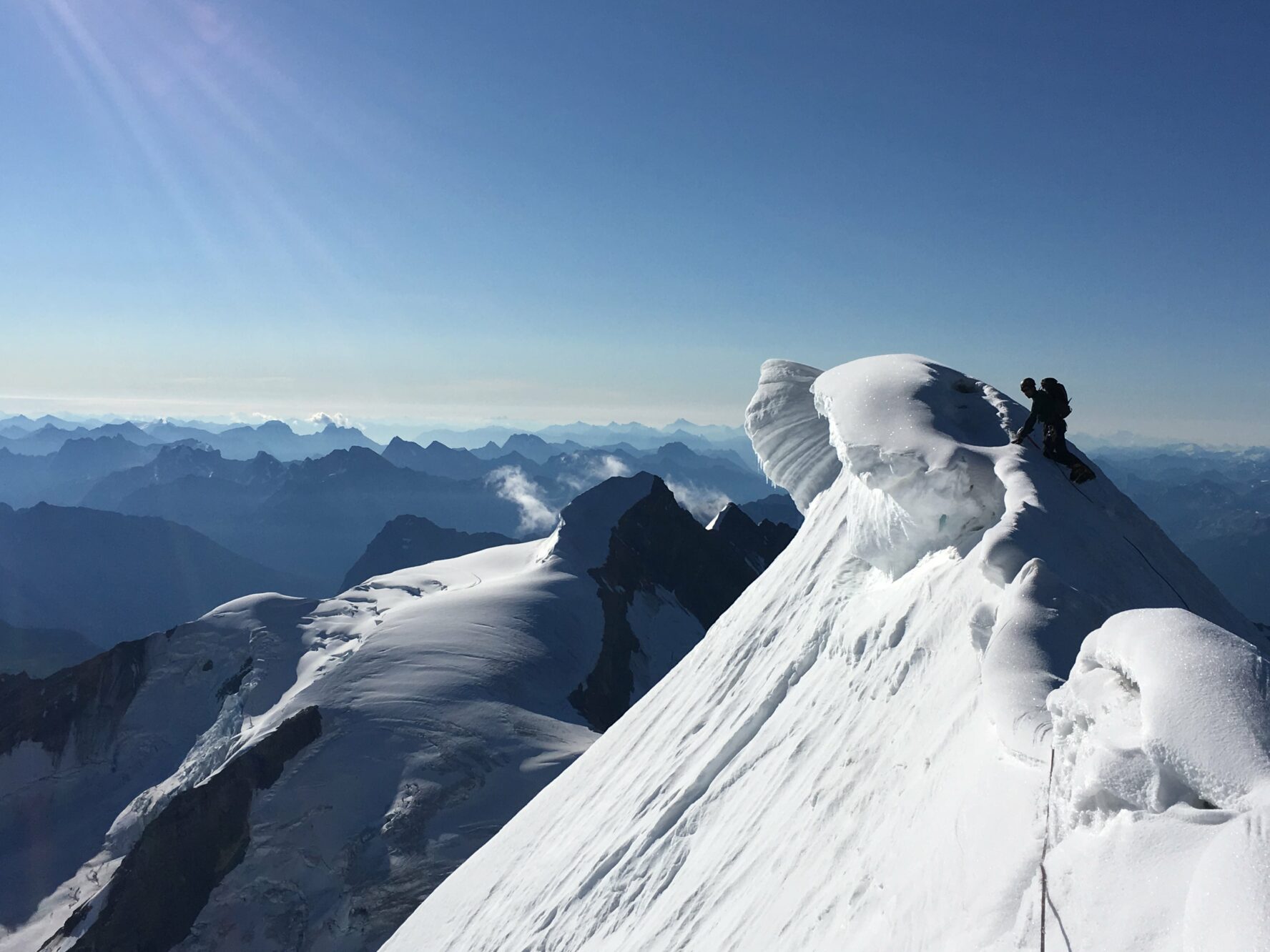 Climbing Mt. Athabasca — the perfect training ground
In my opinion, Mt. Athabasca is one of the best training grounds for people to develop their alpine climbing skills. Shooting up more than 11,000 feet with easy roadside access, it's northern face features a massive glacier littered with features and lined with ridges that seem like they were made to be climbed. Going up the Silverhorn route on the north face, one of my favorite parts of the day is reaching the sunlight after miles of steep and exposed climbing on a desolate ridge, finally being able to warm up a little bit. From the moment you get out of your tent in the morning, to stepping foot on the summit, and to descending once again, the views of the surrounding mountains — like Mt. Columbia, the highest peak in Alberta — will blow you away.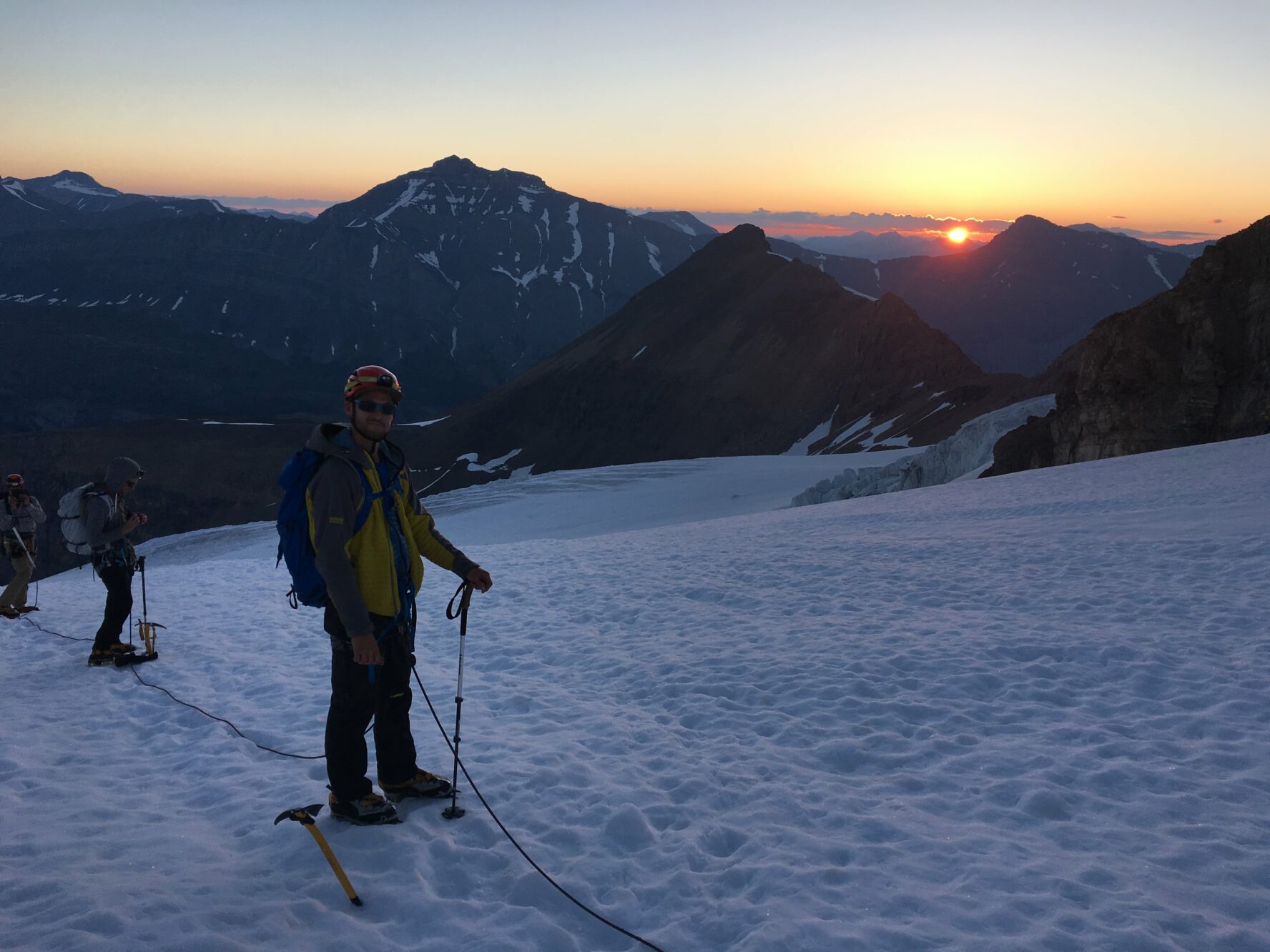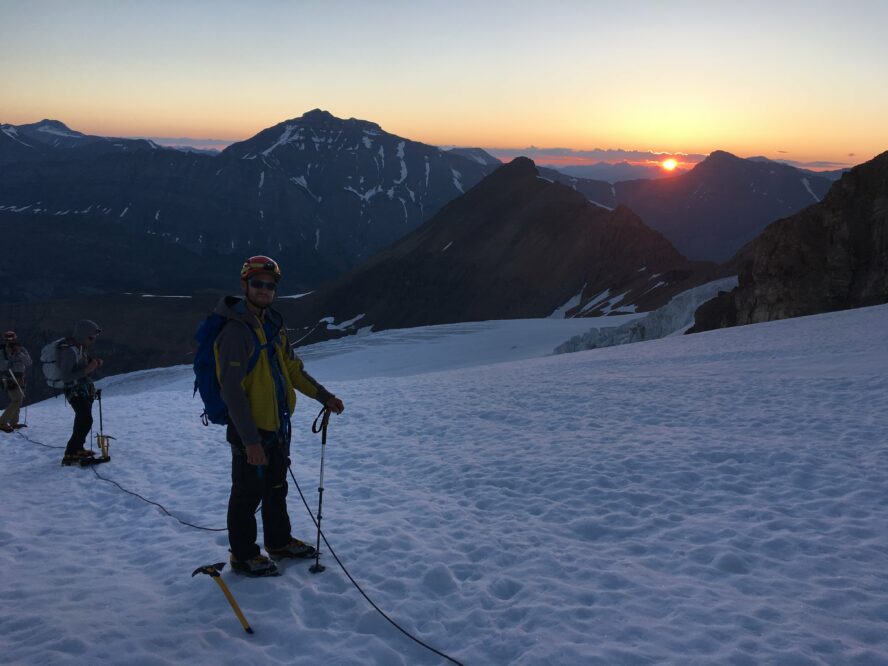 My favorite routes around Lake Louise
From the daring Swiss guides of the 1800s to the Abbot Pass Hut built in 1922, the Lake Louise area is steeped in mountaineering history. With modern gear and technology however, I imagine things are a bit more straightforward than they used to be. I love this area because it offers amazing rock climbing and alpine climbing with a wide range of difficulty. Mt. Victoria, stemming thousands of feet above Lake Louise, is a great stepping stone in anyone's climbing career. It's South Ridge is extremely scenic but won't give beginner to intermediate climbers an extremely challenging time. A similar peak is Mt. Fay, slightly shorter than Mt. Victoria but an equally great climb for developing alpinists.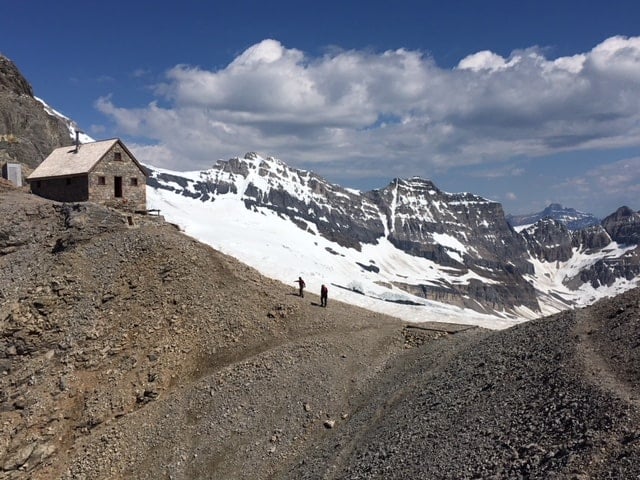 Lake Louise has some of my favorite rock climbing routes as well. The Kain route on Mt. Louis is exposed and extreme, requiring a mix of short-roping, multi-pitch climbing, and multi-pitch rappelling techniques. Amidst an array of dramatic peaks, this climb is a great option for some looking to test their technical skill set during the week, depending on their comfort level and prior experience. Homage to the Spider, another technical route on the Mt. Louis north face provides an even greater challenge at around 5.10. The Pigeon Spire on the other hand, iconic for its scenic views of the surrounding peaks, is much easier at around 5.4, but I think is a must-do even for 5.12 and up climbers. This area is one of my and many others' favorites for good reason.
Some of my other favorites in the Canadian Rockies
West of Lake Louise, the Sir Donald range boasts humbling peaks and razor-like ridges. Mt. Sir Donald, rising up about 10,800 feet is home to classic rock climbing. While only graded about 5.4, the stamina required, exposure to weather conditions, and length make it a true test of mountaineering prowess. Traversing this range is one of my favorite ways to experience it.
One of the most classic and perhaps most challenging mountains that I've encountered is Mt. Alberta. Its technical routes and steep, exposed faces always test my limits, but once I've descended, I'm left wanting more. The entire experience — staying in a small, secluded hut at around 9,000 ft, bivvying on the mountain itself, making my way through grueling technical climbing, and of course summiting — is unforgettable. The excitement of it is matched only by the relief of coming back to the base some 20 hours later and making up for lost sleep, food, and water.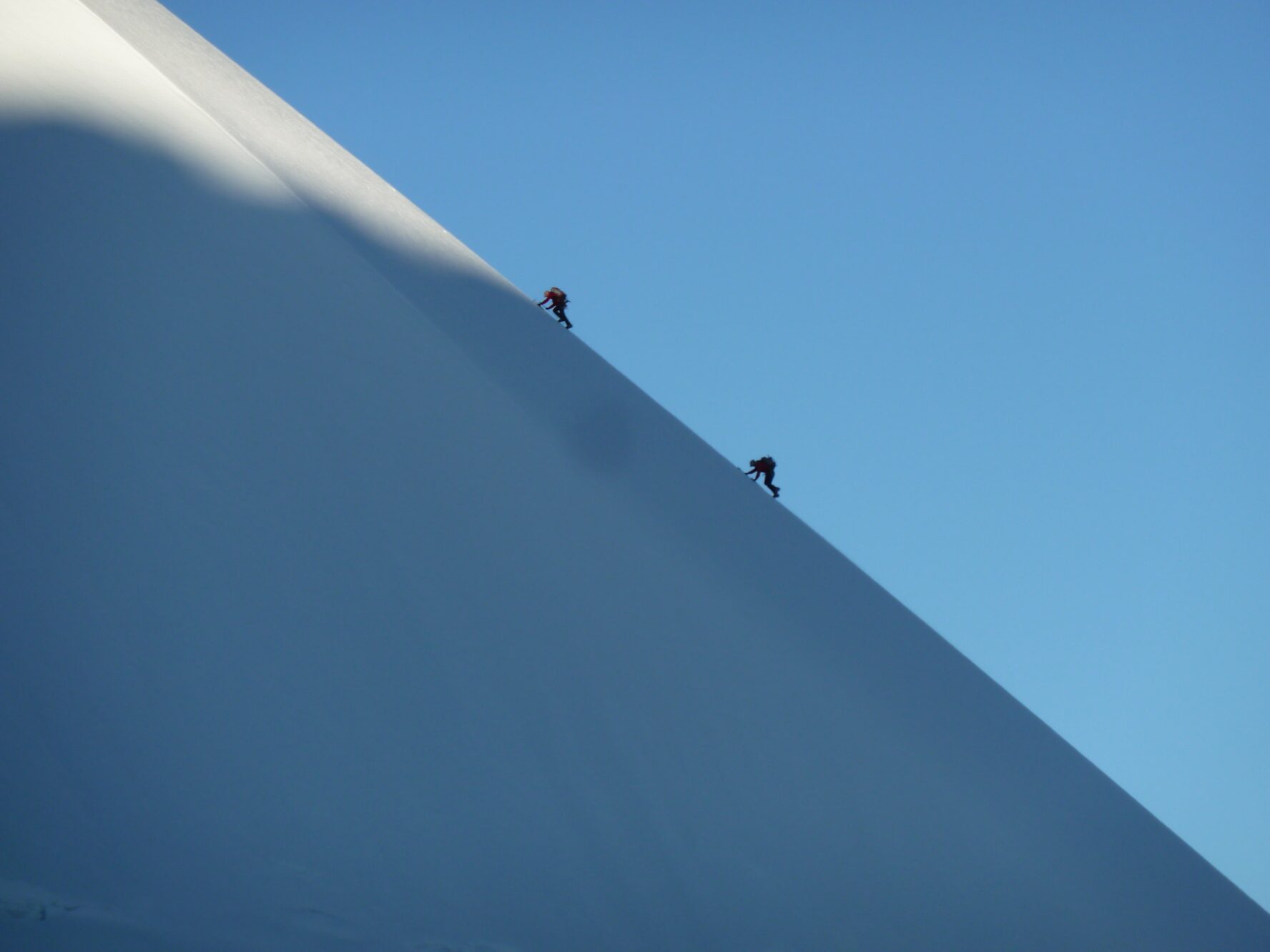 The neighbouring Bugaboos also hold the goods for mountaineers
Situated in the Columbia Mountains that butt up against the west side of the Rockies, the Bugaboos are home to some of the best climbing in Canada, and are absolutely iconic for their wide variety of challenging and technical rock and alpine climbing routes. These mountains are ideal for intermediate climbers advancing into the expert level of alpine climbing. I often find myself crossing complex glaciers to ascend steep snow slopes to ultimately access technical multi-pitch rock faces. Expeditions like these involve a wide accumulation of skills, knowledge, and gear applied to many different types of terrain, so the Bugaboos are a great place to put your knowledge to the test.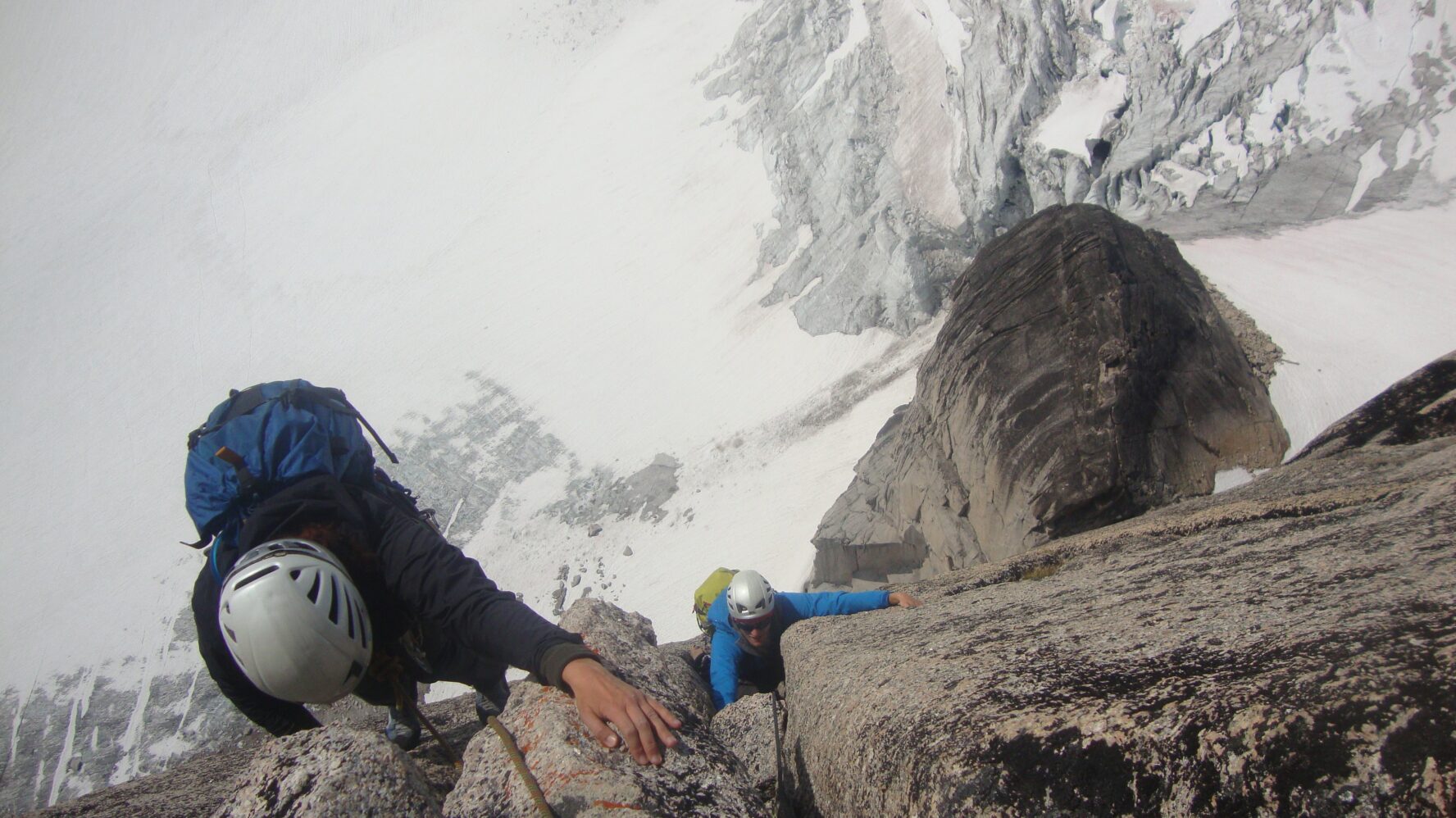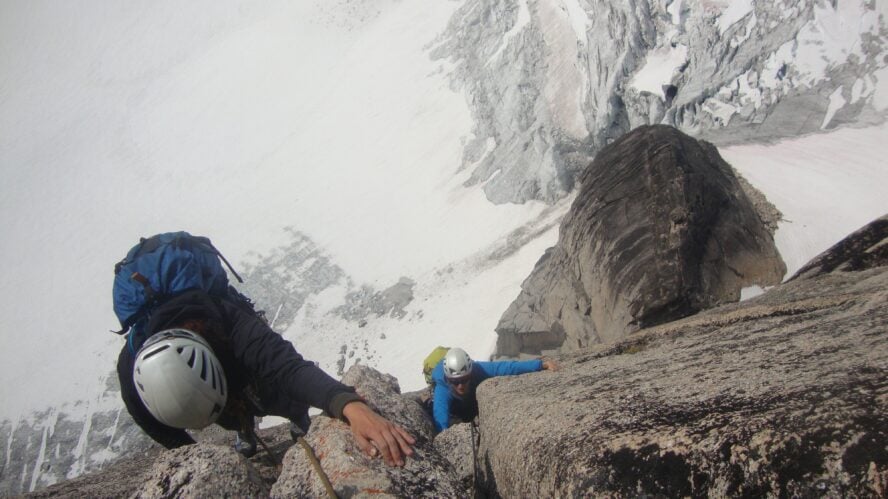 Attending the Camp: Logistics, Gear and Everything in Between
What else do I need to know?
Once you're signed up for the alpine skills course, we will quickly follow up with an explanation of the meeting location, a packing list of gear and other items you need to bring, and numerous other details to help streamline your experience. There is lots of gear involved in these sports, much of which we can provide or can be rented — ropes, ice screws, trad rack, rescue gear, etc. I think that one of the most important pieces of gear is a great pair of boots! Some basic fitness and physical and mental training before the trip is also highly recommended, whether it be through climbing in the outdoors or biking around your area.
Get free trip brochure

Check your inbox
What's included in the price?
With this trip you will have access to experienced ACMG and IFMGA certified local guides, who will show you the ropes and help develop your skills at a comfortable pace. Over the six days you will develop essential skills and understanding of alpine climbing in the Canadian Rockies, how to use specialized gear, and how to assess risks.
When should I go?
This six-day experience runs just about every week from June through September, so don't miss out on great weather and conditions. I think that the best part of the season is from mid-July to early September. After the climbing season, the transition to ice climbing usually kicks off in November.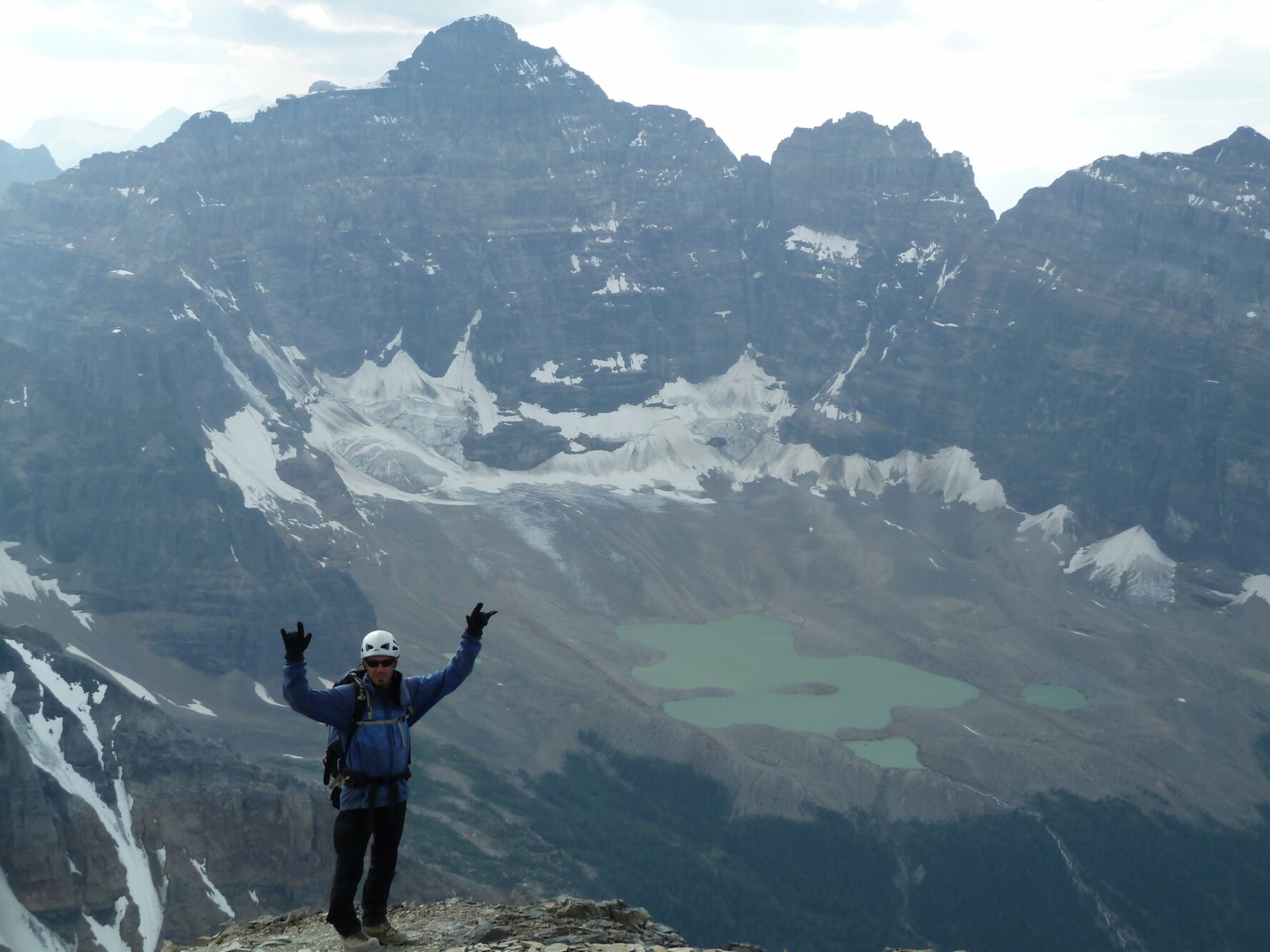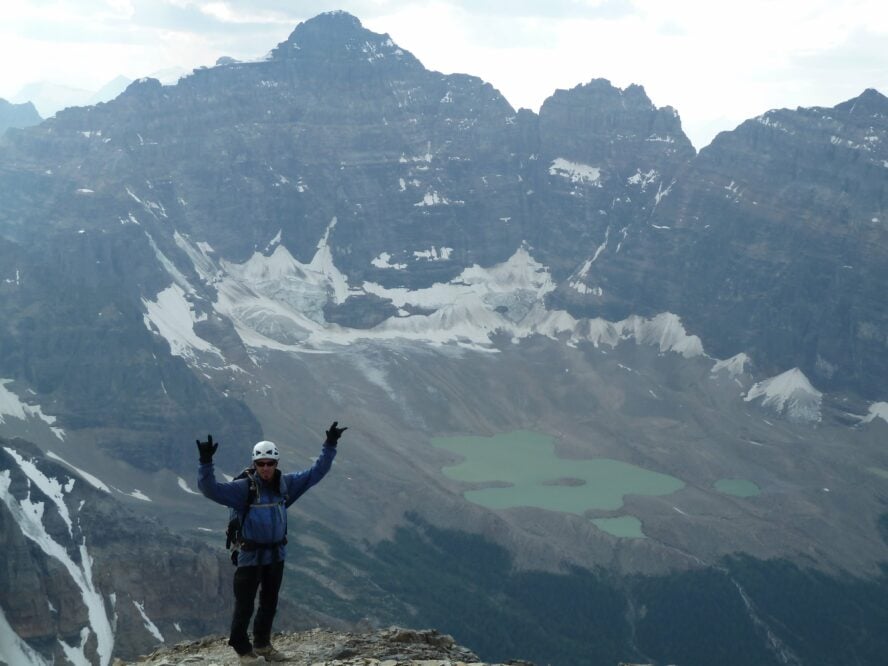 What about group size?
During the instruction portion of the trip, every group of six corresponds to one guide. I have found that this is the ideal guide to client ratio for teaching or reinforcing skills in a controlled environment. During the mountaineering portion, typically spent on Mt. Athabasca, one guide corresponds to groups of three for maximum safety. When multi-pitch climbing, each guide is limited to two clients.
I think the Canadian Rockies are the perfect training ground for developing alpinists, and equally inviting to newcomers. This range has enough areas and iconic routes to fulfill a lifetime of adventure—even after all these years I'm still finding new favorites to climb. If you're feeling inspired to get outside and hone in your alpine climbing skills, then the epic terrain of the Candian Rockies is the perfect place to do so.
Want to find out what the hype is all about? Check out this Six-Day Alpine Skills Course and experience climbing in the Canadian Rockies for yourself!