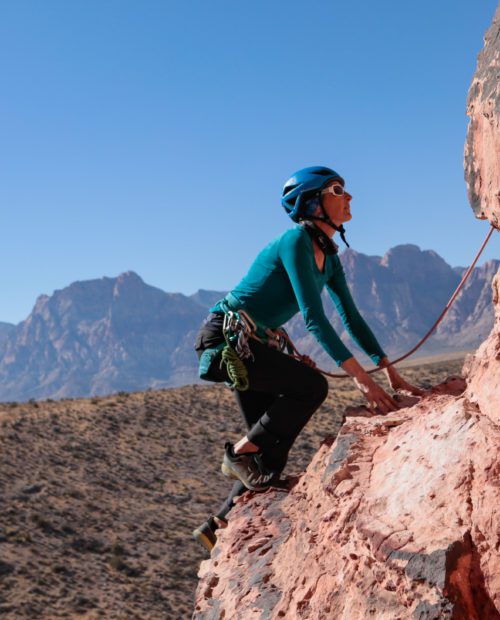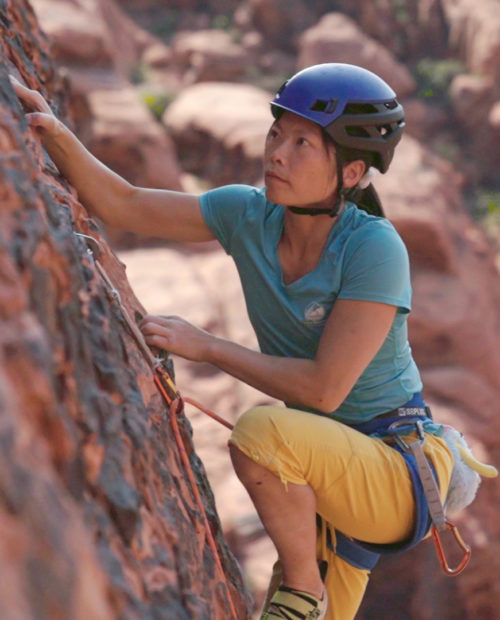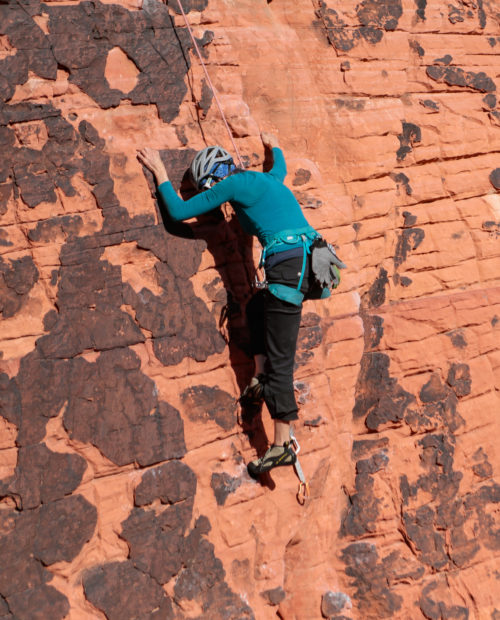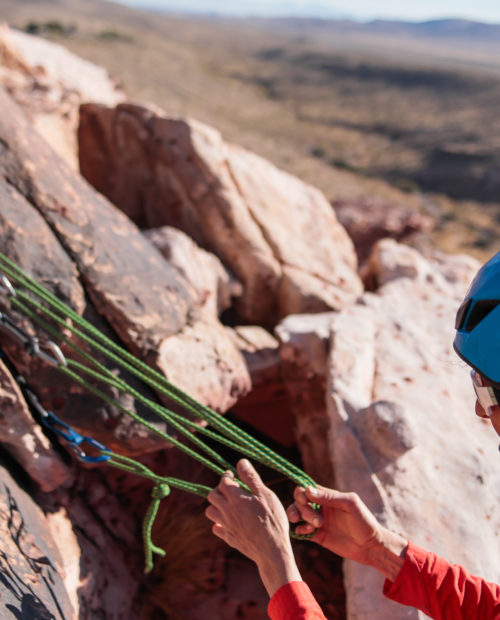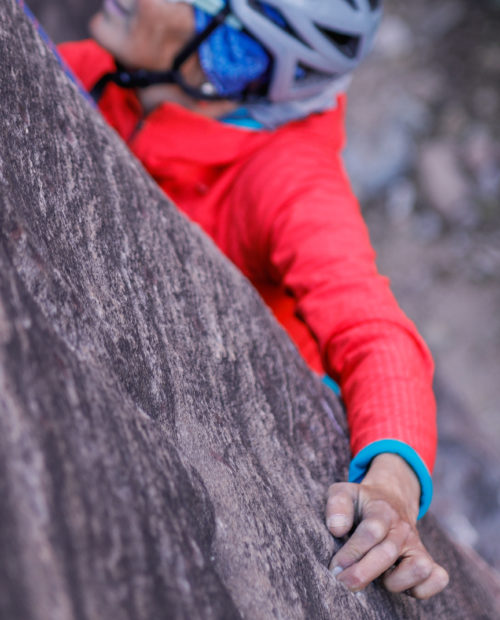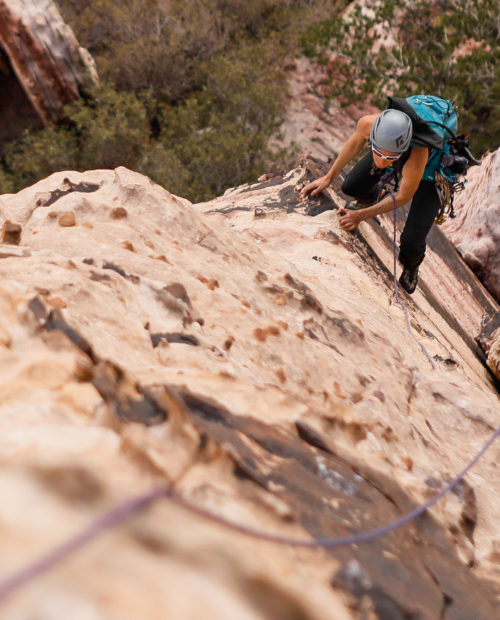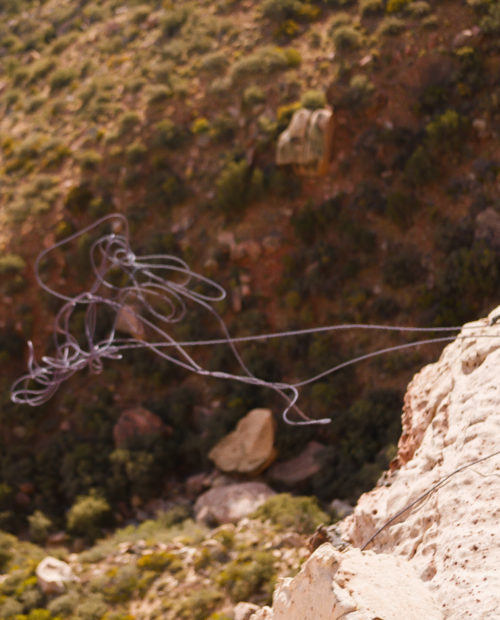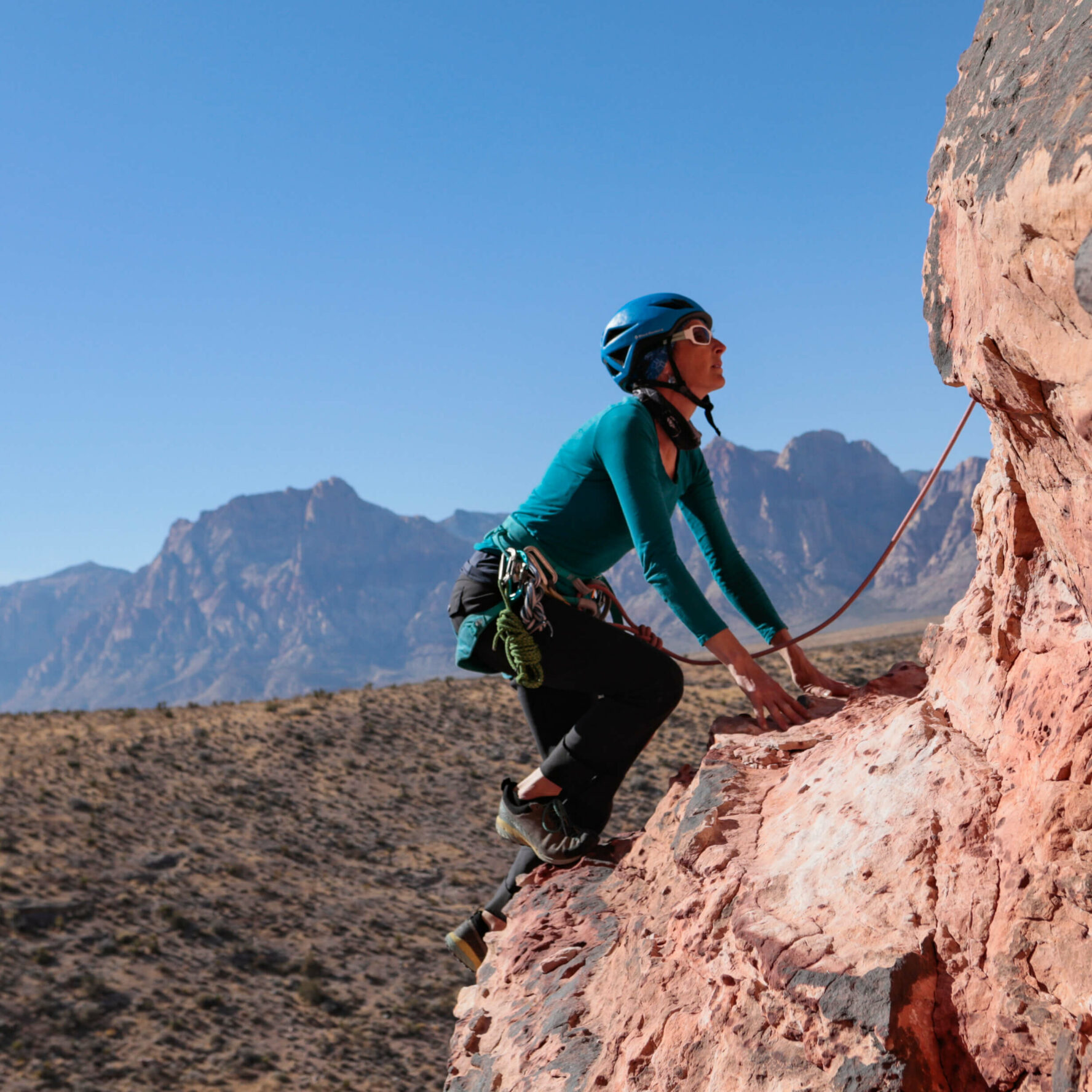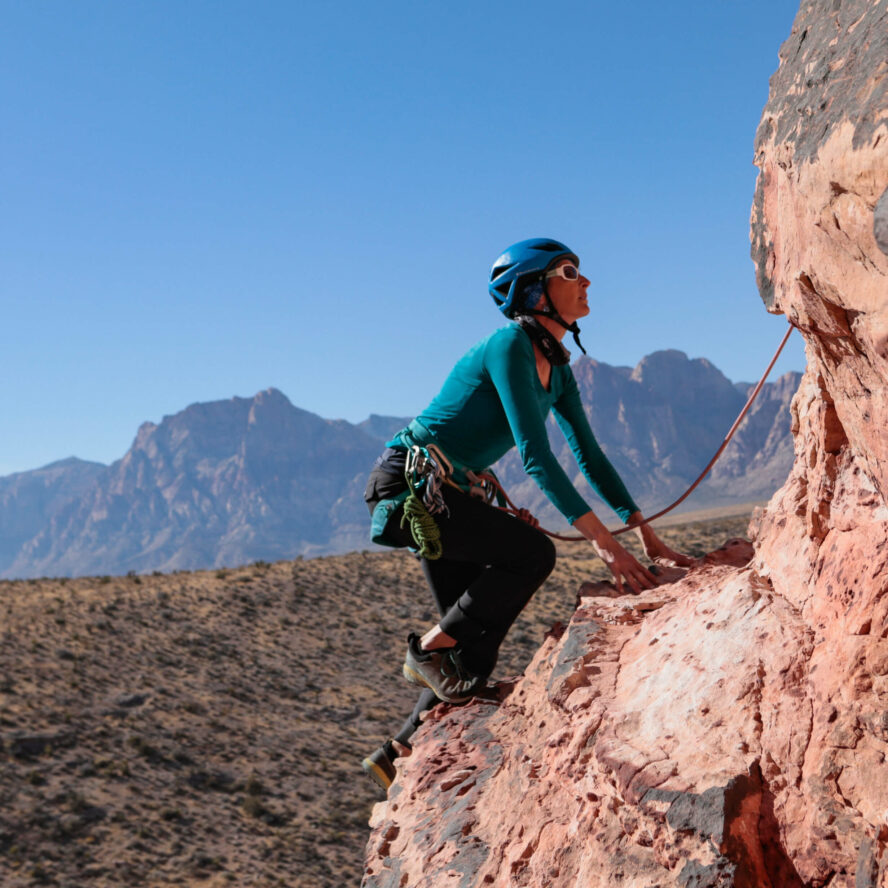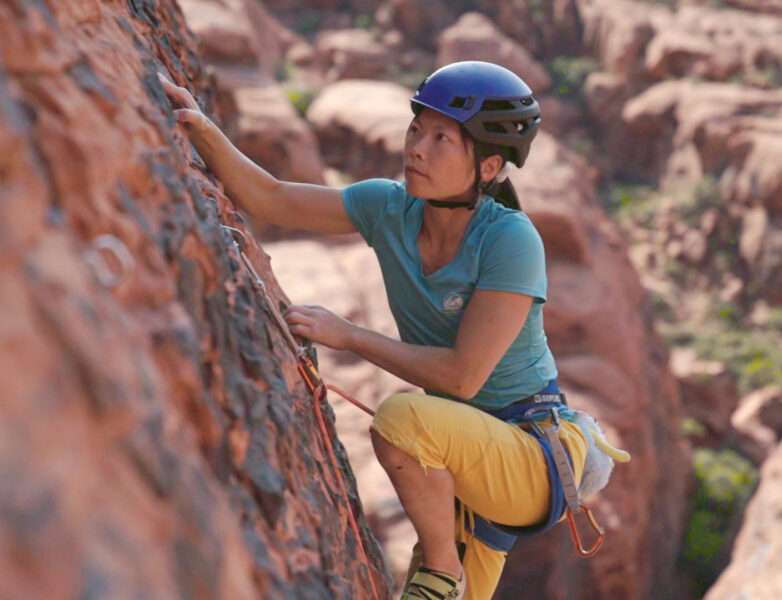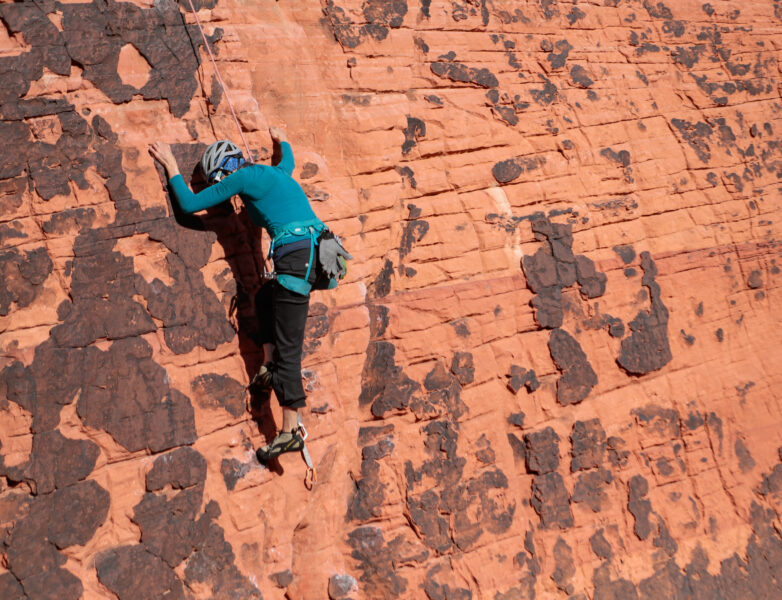 Women's Weekend Climbing Camps in Red Rock
5.00

()
Decades of climbing history combined with dramatic desert scenery make Red Rock one of the best rock climbing locations in the USA. Every year, millions of people make their way to Red Rock to test their climbing prowess on its Aztec Sandstone walls. However, it's not only the pros that get to partake in the Canyon's scenic and diverse ascents. Red Rock abounds in long and simple climbing routes, which makes it an excellent training ground for those new to the sport. The Red Rock women's two-day camps are designed to show you and other like-minded ladies the best the vertical world outdoors has to offer. Whether you're taking your climbing from the gym to outdoors or just learning to climb, learn under the mentorship of female AMGA Rock Guides, all while making unforgettable memories. Climb the stunning sandstone, learn new techniques and make friendships that will last a lifetime! 
Breathtaking Paleozoic era landscapes shaped by natural forces

Excellent rock and climb variety to satisfy climbers of all skill levels

Hundred-feet-long single crack systems for intense crack climbing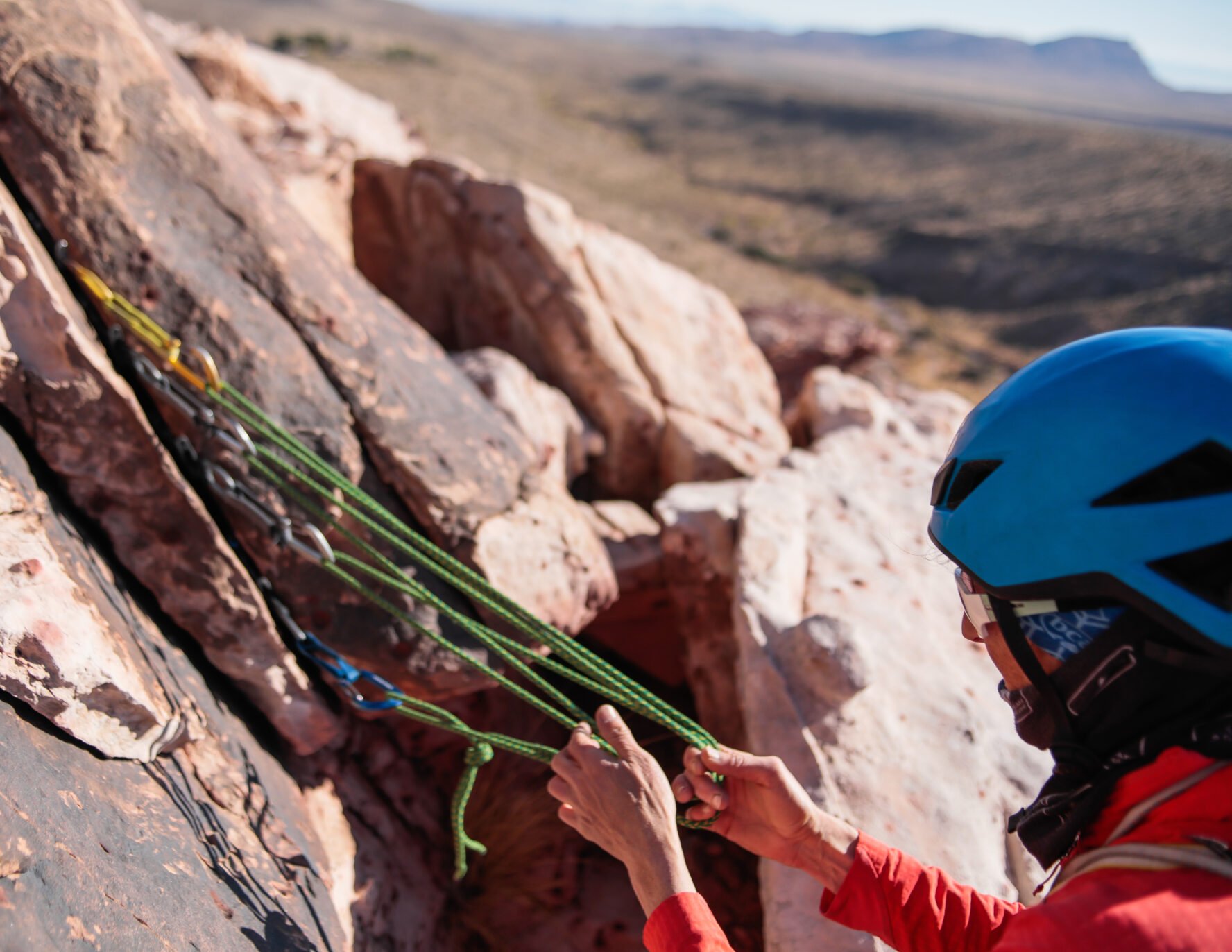 Early Bird: Intro to Outdoor Climbing 2024
Learn new skills and make new friends with this introduction to outdoor mountain climbing! During this two-day adventure, you will meet other strong-minded women and join your professional female guides to transition your gym climbing skills outdoors while experiencing the best climbing Nevada has to offer. Enjoy two days of climbing the stunning Aztec Sandstone and make friendships that will last a lifetime!
Spend your first day in Red Rock establishing a baseline. Climb outside on the warm sandstone of the Red Rock, while reviewing and brushing up on your skills from the gym. You'll learn new protocols for spending time climbing outdoors and the skills to protect yourself on natural stone and in the elements. Learn about the Leave No Trace policy, the basic knots for belaying, and safety guidelines such as ground anchors and closing the system. 

Continue to build on the curriculum from Day 1. Refine your new skills while under the guidance of professionals. Use your newly acquired climbing techniques and rappel under the watchful eye of your guide!
Early Bird: Intro to Sport Leading & Multi-Pitch 2024
Are you a climber looking to start a lead progression? Take the weekend to go outside and improve your lead climbing skills with a female AMGA-certified guide. Join your all-women group and learn about gear and trad climbing techniques before putting your new skills to use on Red Rock's best routes. Build community, make long-lasting friendships, and create great memories with other women participants and guides!
On the first day of your weekend in Red Rock, you'll learn all about the Leave No Trace policy, as well as the basics of sport leading. Learn all about necessary equipment and gear placement, rope management, lead belaying, and safety practices that are crucial when climbing outdoors. Put your skills to the test with some help from the guide!

Learn all about multi-pitch procedures and commands: building a two-bolt anchor, belaying the follower using assisted brake device or a plate device, and rope management. Test your skills on the rock and lear how to transition in and out of the belay station and rappel. Once you're done with this climbing course, you'll be ready for new adventures!
Get free trip brochure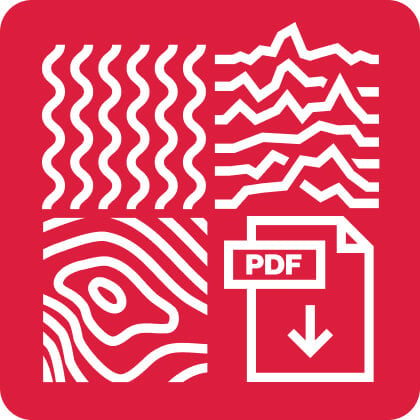 The brochure contains:
Adventure and location overview, itinerary, available dates, what's included, how to prepare, and much more.
Brochure sent, check your inbox
Talk with us
and let one of our adventure experts help you plan your perfect adventure.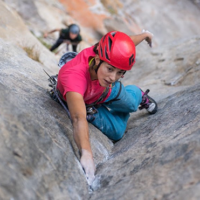 Miranda Oakley
AMGA-Certified Rock Guide
Miranda has been a climber for over 20 years. She has been a certified rock guide with the AMGA since 2016 and has been guiding since 2007. She has done first ascents around the world including climbs in Patagonia, the eastern Sierra and British Columbia. She was also the first solo ascender of The Nose of El Capitan, climbing it in less than a day! Miranda loves sharing her knowledge on rock climbing and is passionate about teaching people how to become confident and self-sufficient in the vertical world.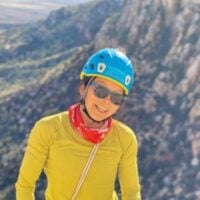 Szu-ting Yi came to the US to get her PhD in computer science and stayed for the climbing! She and her husband Dave Anderson had lived in the Western US, climbing, and working out of their customized van Magic for 7 years until they settled down in Las Vegas in 2019. Besides working as a climbing guide, Szu-ting is the author of four books and has completed multiple first ascents in Asia and Patagonia.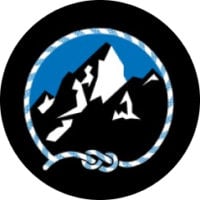 The Mountain Guides have been leading mountain adventurers in the Western US since 1968. With some of the most experienced mountain guides in the country, TMG leads hundreds of people every year in the mountain ranges of Wyoming and Montana, the canyons and towers of Utah, on Cody's South Fork ice falls, the cliffs and crags of Boulder, Colorado, in Red Rock, Nevada, and City of Rocks, Idaho.
Ting Ting was amazing! She\'s extremely knowledgeable and a wonderful guide. She helped me improve on rock climbing and was able to pick and choose routes depending on the needs of the people climbing. Anyone would be lucky to have her as a guide!
Amazing rock climbing adventure. Exactly what I was looking for and highly recommend!
I am still daydreaming about it!
Elyse Sara
(source: TripAdvisor)
I took the Women's Weekend Rock Climbing Clinic recently and am still daydreaming about it! It was the first time that I took a group climbing class and loved the energy of all the ladies. I especially enjoyed hearing the stories about our guides, as they provided motivational and inspiring words to encourage us all. We experienced a variety of climbs, and the days just flew by! Elyse
It was a safe space to move at my own speed!
Ashley Brown
(source: TripAdvisor)
I signed up for the Women's Trad clinic to boost my confidence. I have a lapsed SPI and wanted to see just how much I remember and how safe my recreational climbing is. The clinic reinforced what I already know from the SPI, and gave me an environment that fostered my courage and confidence. I climb frequently with my husband and his peers who are all guides. In comparison to them, sometimes I feel slow and not as dialed. The Women's Trad Clinic was a safe space to move at my own speed, test my own skills, and receive feedback in a way that felt appropriate and applicable. Overall an excellent experience, and just what I hoped for. Not to mention the group was kind and there was lots of laughter.
Katie D.
(source: Jackson Hole Mountain Guides)
I had an amazing day, Ting Ting was a great guide. I wasn't sure if I was asking too much ( I wanted to follow on multi-pitch and lead on some easy single pitch sport routes) but she fulfilled all of my requests. She was also very encouraging when I questioned whether or not I could do a harder route on the top rope, she seemed to know my limits better than I did.
Rachael H.
(source: Jackson Hole Mountain Guides)
Ting Ting was amazing – she made the experience awesome and we had a really good time. The climbing was perfect for our level of experience and the views were beautiful. Thank you so much, Ting Ting!
Things to know
What you get in this adventure:

Two AMGA-certified women Rock Guides from The Mountain Guides
Two full days of rock climbing in Red Rock Canyon
All technical climbing gear

What's not included:

Transportation
Accommodation
Meals and snacks

You need to have a good level of fitness to participate in these two-day camps. For the basic Intro to Outdoor Climbing camp, participants should expect approaches of 15-30 minute hike over easy to moderate hiking terrain. For the more advanced climbers attending Intro to Trad Climbing, this camp is physical and requires fitness and stamina to access the climbs and climb them. The approach to most climbs is approximately an hour on uneven terrain.

These two-day camps are for beginner to intermediate climbers looking to develop existing skills and build community with other like-minded women. Participants will be split into groups depending on experience level.

Red Rock Canyon has plenty of options for beginner climbers. Whether you've never climbed before or are transitioning from the gym to outdoor climbing, your guide will customize the day to suit your skill level and objectives. With a guide by your side, you'll learn something new, stay safe on the rocks, and most importantly, have fun!

For intermediate climbers, Red Rock Canyon has loads of routes to spend the day on. Your guide will discuss your objectives as a group, and in two days, you'll progress your lead climbing skills with female AMGA-certified guides. Let your guides plan the weekend so you can focus on developing your skills and bond with other female participants while climbing the classic routes or best hidden gems the area has to offer.

All technical climbing equipment will be provided by your guiding service. However, if you have your own gear, feel free to bring it. You'll need:

Helmet

Harness with a locking carabiner, belay device, and chalk bag

Ropes

Rock shoes (included in the price, but we recommend bringing your own if you have them)

Climbing hardware (quickdraws, cam devices, stoppers, etc.)

Here's a list of the equipment you need to bring:

Sticky rubber approach shoes, running shoes or hiking shoes
Technical rock shoes
Socks: 2 pair — preferably wool
Synthetic T-shirt
Fleece or lightweight down sweater
Lightweight wind shell
Rain jacket — waterproof and breathable with hood
Synthetic climbing pant
30-40 L backpack
Sun hat — baseball of full brimmed
Water bottle or hydration bladder

(May-Sept) Minimum 3 liters
(Nov-April) Minimum 2 liters

Food — energy bars, fruit, sandwiches, trail mix
Sunglasses
Sunscreen
Lip balm
Bandana

Dress comfortably and for the weather in clothes you can move in. We suggest bringing clothing appropriate for the season. Layers are best and don't wear jeans. The sun can be intense and hydration is vital!

Group sizes and prices:

These two-day women's climbing camps run with a group size of 6-8 people with two guides. T

he usual guest-to-guide ratio is 4:1. 

Cost is per person and it doesn't decrease as the group grows.

Open to climbers of all skill levels, participants will be divided into two groups of similar experience and skill level to ensure that everyone gets the most out of their experience.

Min. age requirements:

If you are older than 21, you're good to go.

To get to Red Rock Canyon, most people fly into McCarran International Airport (LAS). The Las Vegas Strip is a 20-minute car ride away from the Red Rock Canyon National Conservation Area.

On the day of your climb, you will meet with your guide at the West end of Las Vegas, 11720 West Charleston blvd, and make your way as a group to the Red Rock Canyon.

Secure your spot for next year with a 10% deposit! This tour gets sold out very quickly, but with early-bird booking, you will be the first one to know about any new upcoming dates. Pick your preferred dates without the risk of your bucket list adventure selling out!

Only 10% of the total amount should be paid as a deposit upon booking. This deposit is non-refundable, but can be transferred to another 57hours adventure any time in case the dates don't suit you.
Once the dates for 2024 are set, you can confirm your booking by the end of this year by paying another 20% of the total amount.
The final balance is due 3 months (90 days) prior to departure.
Once the trip has been confirmed, the regular cancellation policy applies.

For regular dates, a 30% deposit to secure your place is due upon booking. Once the trip is confirmed by the guide, the cancellation policy stated below applies, and deposits are no longer refundable. The remaining 70% of the amount is paid the latest 3 months (90 days) prior the departure.
In the event that the minimum number of people to confirm the adventure is not reached, your guide can cancel the departure at most 2 months before the start of the trip. Please note the adventures are expected to reach the minimum number of people soon, and the likelihood of trip not happening is very low.
In case you need to cancel the adventure, the following cancellation costs would be incurred:

The deposit is non-refundable once the trip has been confirmed
70% of the adventure price is refundable if canceled 59 days or more before departure, once the trip has been confirmed
50% of the adventure price is refundable if canceled 30-59 days before departure
25% of the adventure price is refundable if canceled 16-29 days before departure
0% of the price of the trip if it is canceled 15 days before departure.

All policies regarding cancellation will be clearly laid out by your guide after booking your adventure.

57hours is committed to providing safe outdoor adventure experiences. We require all guides using our platform to have a COVID-19 safety plan and to make the details of that plan accessible to travelers. In most cases, group sizes will be reduced, guides will avoid overcrowded locations, and other safety measures will be met depending on the location and activity.

We also expect clients to respect local regulations and take measures to protect themselves, guides and the communities they're travelling to. For more information on COVID-19 measures in Red Rock Canyon, NV, please visit the Nevada Health Response or the Red Rock Canyon website.

Please contact us if you have any questions or require further information. We are happy to provide you with the most up-to-date information!
Get free trip brochure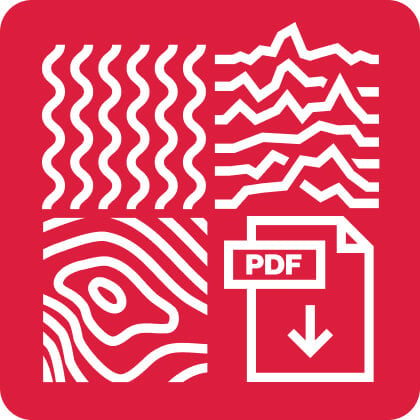 Adventure and location overview, itinerary, available dates, what's included and much more.
Brochure sent, check your inbox
Talk with us
and let one of our adventure experts help you plan your perfect adventure.
Other things to do in Red Rock Canyon