Red Rock, Nevada — The Best Climbing Destination in the USA
Red Rock Canyon is my favorite place on earth to climb, which is why I return year after year to this immaculate sandstone.
The Red Rock National Conservation Area sits high above the Las Vegas Valley in southern Nevada. From a distance, you'll immediately notice its off-white rock overlaid with a stripe of red, seemingly applied as a painter's wide swath on an otherwise blank canvas. The resulting view is stunning, and its Aztec Sandstone has long beckoned to climbers everywhere. Its soft texture and black patina plates offer positive holds reminiscent of ones found in a climbing gym, making it enticing to any newcomer.
I began my guiding career nearly a decade ago, and my passion for rock climbing has taken me all over the country. Without a doubt, Red Rock is one of my favorite destinations to climb and guide at. It's so good in fact, that I named it the best rock climbing destination in the US. There's a lifetime's worth of climbing in this sprawling area that I never tire of exploring. Here are some of my favorite routes that I recommend to climbers heading to Red Rock Canyon.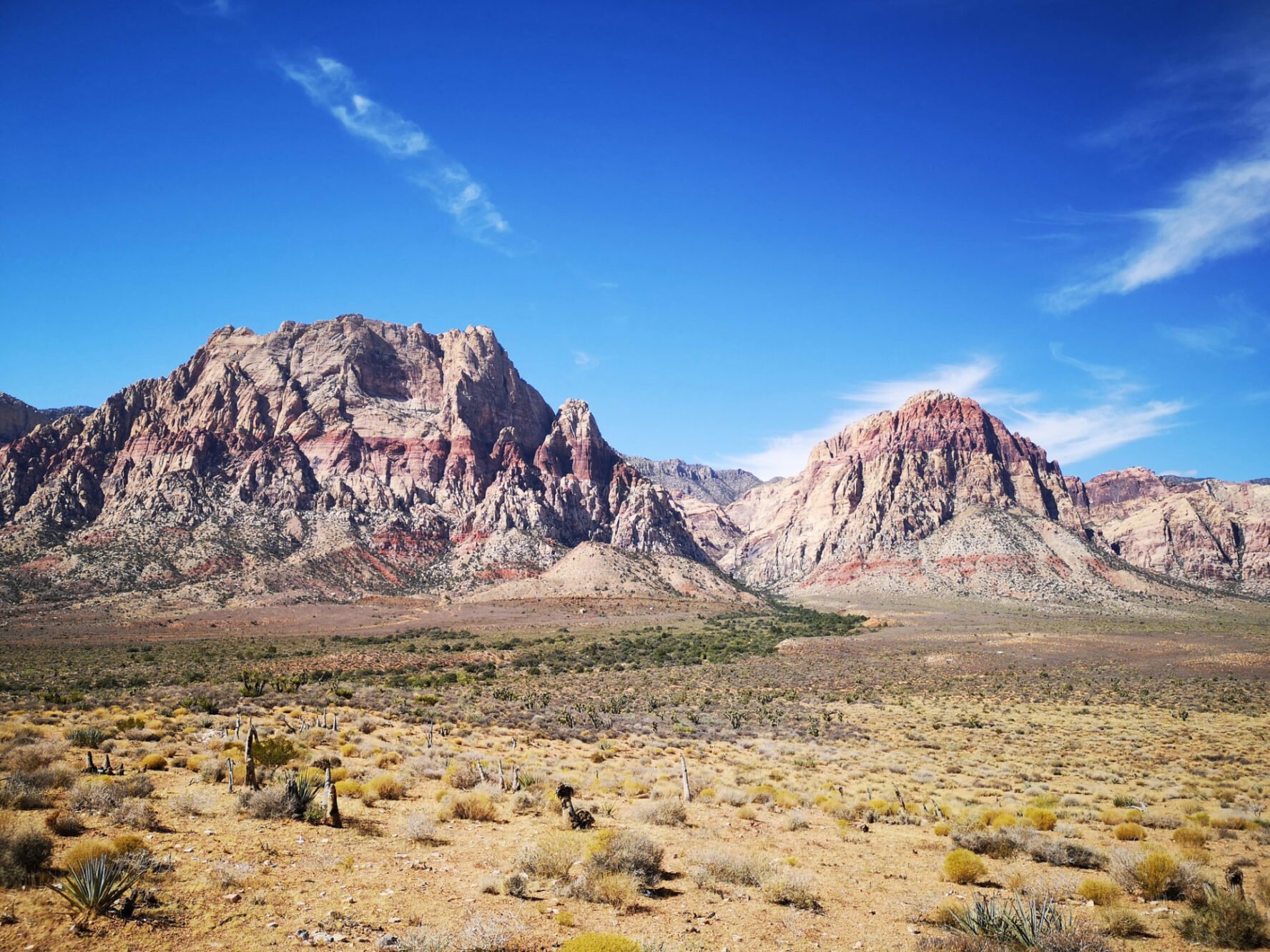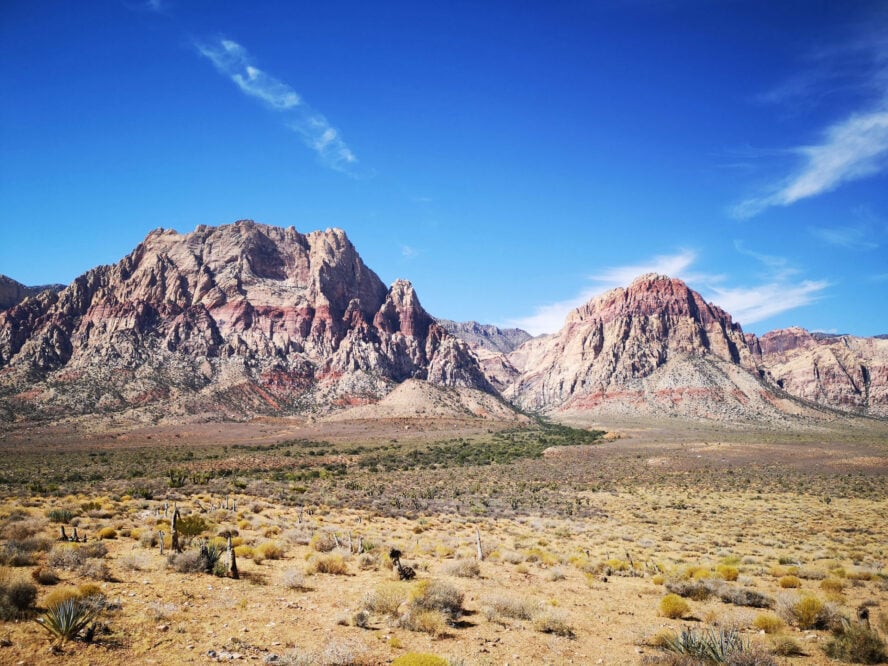 Pros and Cons of Climbing in Red Rock
The classics never get old
Known as "5.7 Heaven," it has the best moderate routes in the country
It's warm, dry location makes for a longer season
There are countless firsts ascents waiting to be claimed
As with any world-class destination, it can get crowded
Make sure your car is locked and your valuables are out of sight
Logistics can be tricky so you need to plan ahead
A little Red Rock climbing history
Decades of climbing history combined with a dramatic desert landscape make Red Rock, Nevada one of the best rock climbing locations in the world. Ever since the 1970s, climbers had been looking to expand on practices developed by early climbing pioneers in Yosemite. With climbing's small but growing popularity, many climbers began to look further afield than the Yosemite classics they'd sent a hundred times while rock climbing in California. This desire for expansion and exploration ultimately led to legendary climbers like Joe Herbst, a Nevada native, and subsequent partners Richard Harrison and Larry Hamilton to start visiting the towering sandstone monoliths of Red Rock, an ancient, petrified beach, and conveniently, Herbst's home terrain!
Herbst and company began ticking off many of its tallest peaks via routes like Jubilant Song (5.8) on Windy Peak, Triassic Sands (5.10) on Whiskey Peak and the Original Route (5.12) or Rainbow Wall. Then, in 1975, Jorge and Joanne Urioste set out to climb Catwalk (5.6) on the Celebration Wall and discovered the immense potential for creative lines in the landscape. Subsequently, more and more routes began to appear under the creative genius of this pair. The Uriostes' had a vision for traditionally protected routes like Black Orpheus (5.10), and they also saw the potential for bolt protected climbing over more blank sections of rock.
Find everything from moderate 5.7s to sustained 5.12s
One stellar component of rock climbing in Red Rock is its grades. From single-pitch routes that are bolted, to fully traditional routes, to sky-splitting, vertical walls 2000' tall, Red Rock has every type of climbing under the sun and it's also home to a ton of bouldering classics. Many refer to it as "5.7 Heaven" or "Moderate Mecca" as it's easy to find long, involved routes that never have a single move more difficult than 5.7, like Birdland, Olive Oil and Cookie Monster.
Still, if you want to test yourself, try the Original Route on Rainbow Wall at a sustained 5.12, or the amazing splitter cracks of Cloud Tower reminiscent of rock climbing in Arizona, with pitches at every grade from 5.8 up to 5.12a. Rose Hips (5.7) offers full adventure climbing without any fixed protection in sight! Great routes with traditionally protected pitches and convenient fixed anchors that allow for a slimmed down rack are the huge Solar Slab (5.6) or the immaculate varnished wall that is the Black Velvet Wall with classics like Dream of Wild Turkeys (5.10) or Fiddler on the Roof (5.10+).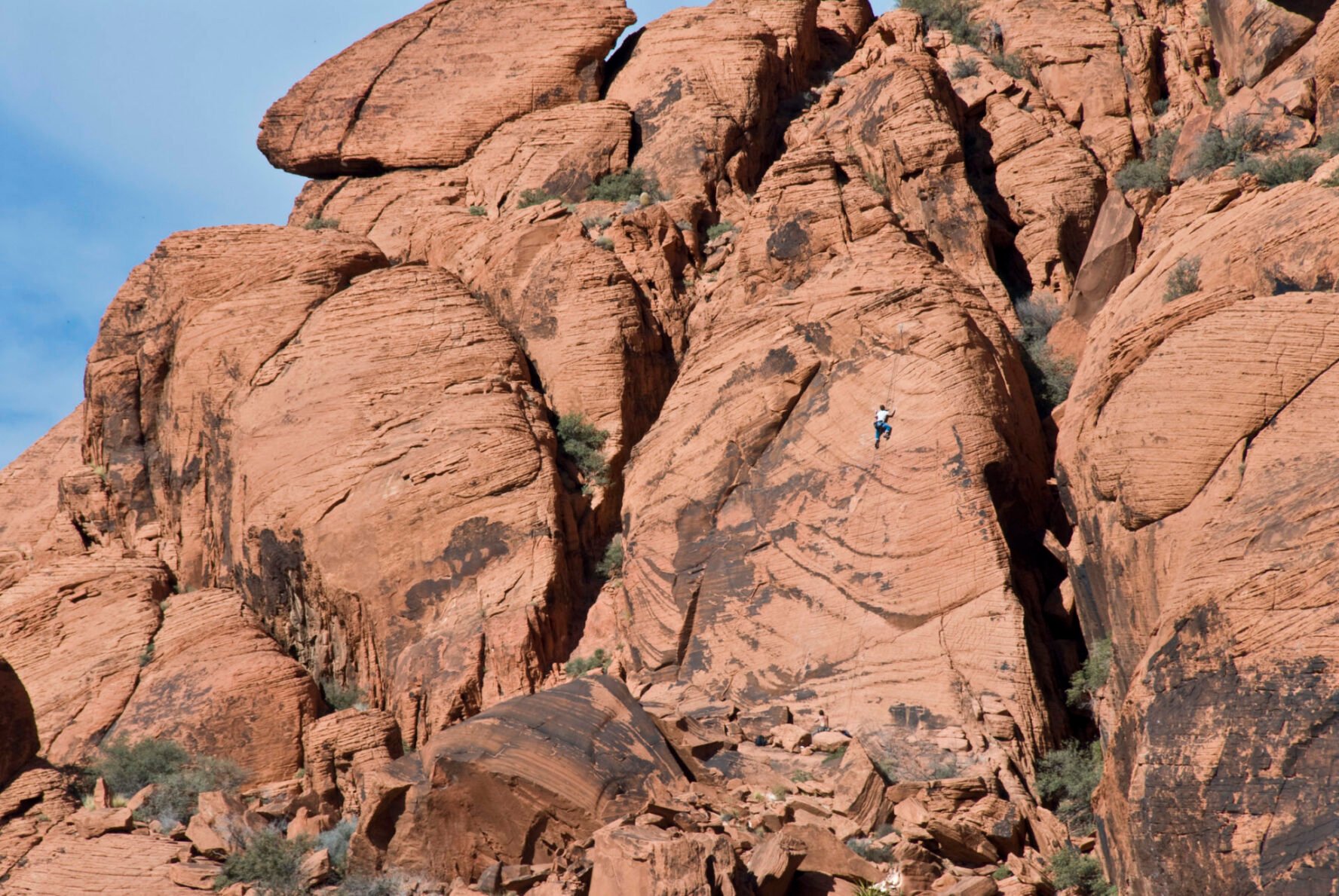 My Favorite Red Rock Climbing Routes
Like climbing in the City of Rocks, Red Rock's easy routes are very popular as they make for excellent training grounds, but its moderate routes will push you as much as they inspire you. Its most challenging routes will test your limits to the fullest. Red Rock truly offers endless opportunities for rock climbing adventures. With around 2000 routes to choose from, it's hard to pick favorites, but here are five routes I continue to go back to time and time again.
1. The Great Red Book: the best multi-pitch intro
When I want to give someone a quick introduction to the multi-pitch paradigm, I think the best place to begin is The Great Red Book in the Calico Hills. It's a 2-pitch 5.8 containing short sections of lay back corner climbing and exposed face climbing on a great, red slab. The pitches are both over 120' tall, so they have plenty of movement! From a distance, it's an obvious route and it shows you all of the reasons why you would want to climb it.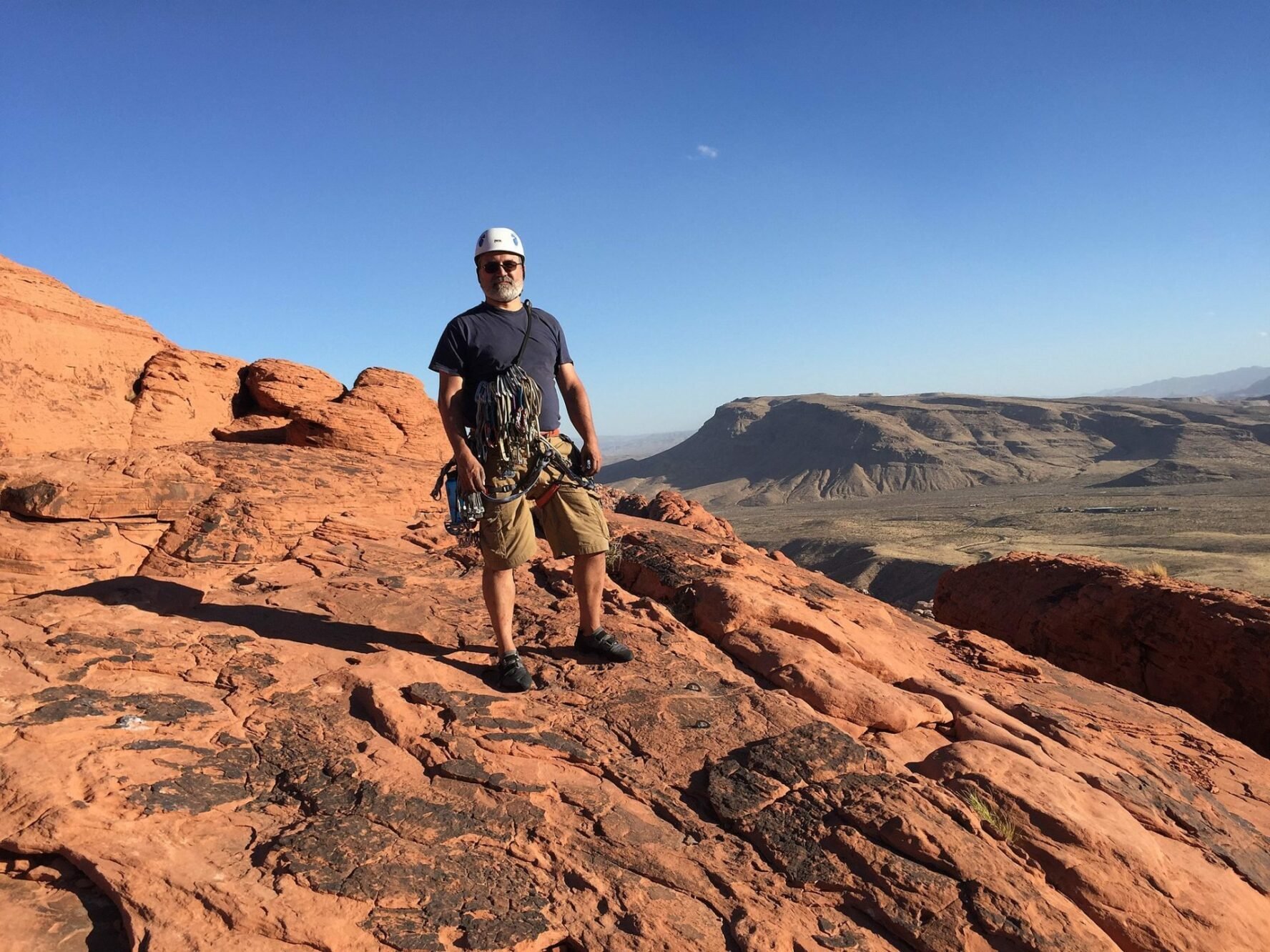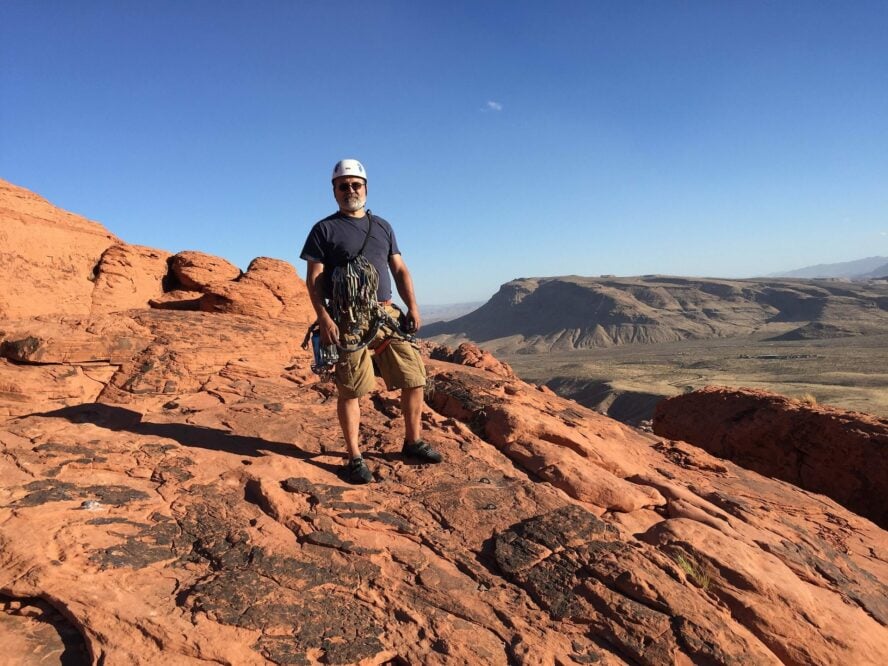 2. Cookie Monster: for a long day out
On days when I feel like getting out into the canyons and high off the ground to experience a longer climb, I opt for Cookie Monster (5.7) and link it to the final two crack pitches of Cat in the Hat (5.6). This route offers a chance to gain exposure about as quickly as climbing in the Front Range, with long pitches and one ledge right in the middle to break up the climbing, allowing you to appreciate where you are. It starts with a direct line in a deep corner, straight up the southeastern shoulder of the Mescalito formation. This route also gives you the chance to summit the formation for a great long day out.
3. Black Velvet Canyon: The best crack climbing
For a great climbing outing in Red Rock with more advanced crack technique, I like to go to Black Velvet Canyon and link Triassic Sands (5.10) with Wholesome Fullback (5.10b). I could climb these two crack climbs on Whiskey Peak over and over because of the amazing hand and fist cracks and because I get to listen to the frogs in the wetlands below!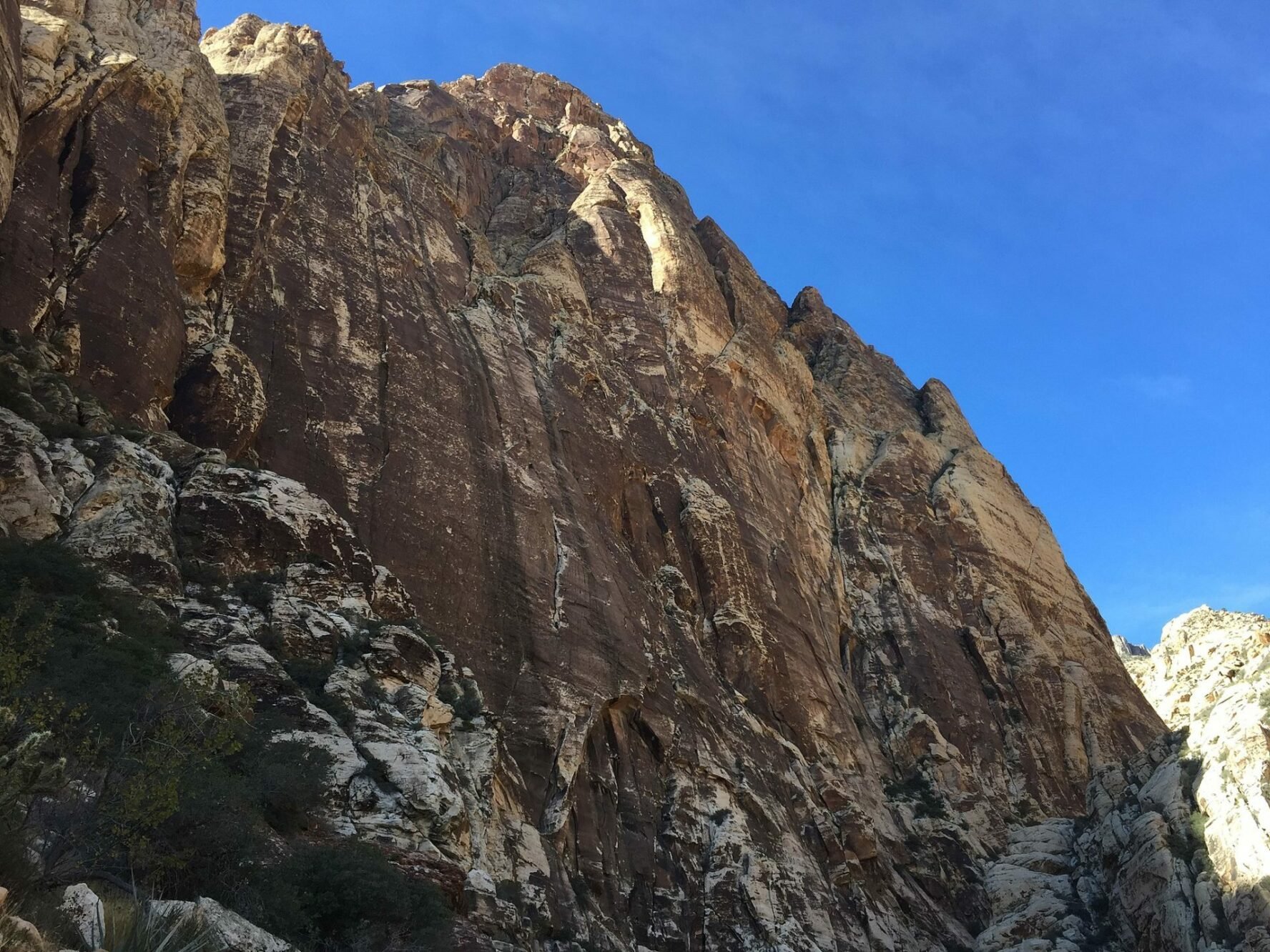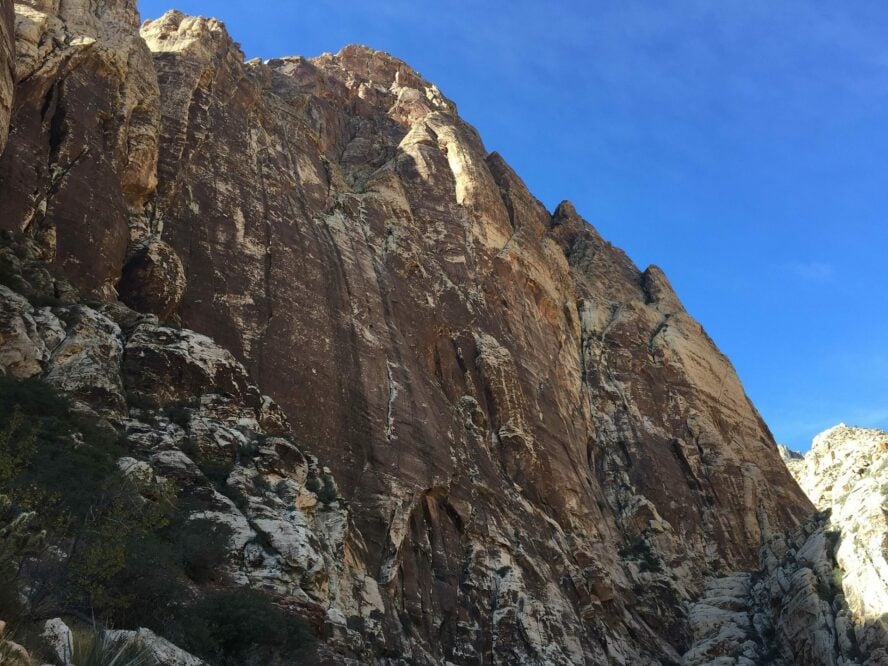 4. Test your speed on Myster Z
Anyone who wants a big day out to test how quickly they can move over moderate terrain needs to try Myster Z (5.7) to Armatron (5.9-) or Sweet Thin (5.9) linkup. While many choose to hike the two-hour approach to the top of the great white slab and reach the Brownstone Wall in Juniper Canyon, try climbing instead! Myster Z offers 500' of climbing over cracks and face to a quick walk over to Brownstone. There, Sweet Thin awaits with an incredible pitch of laybacking up an impossibly thin flake followed by a pitch of off-width and fist cracks. The other alternative is the Armatron linkup, with mostly 5.6 face climbing over immaculate varnish up an incredibly exposed feature.
5. Win big on Slot Machine
For folks wanting to climb hard and high off of the ground, head back to Mescalito for a big link-up of Slot Machine (5.10+ face/finger crack) to Chasing Shadows (5.8 face/fist crack) to Edge Dressing (5.10+ crimping) to Dark Shadows (5.8 face/ crack) to the summit! This allows for a clean, plum line straight up the Dark Shadows buttress and a way to sneak around the crowds on the first four pitches. Not bad at all.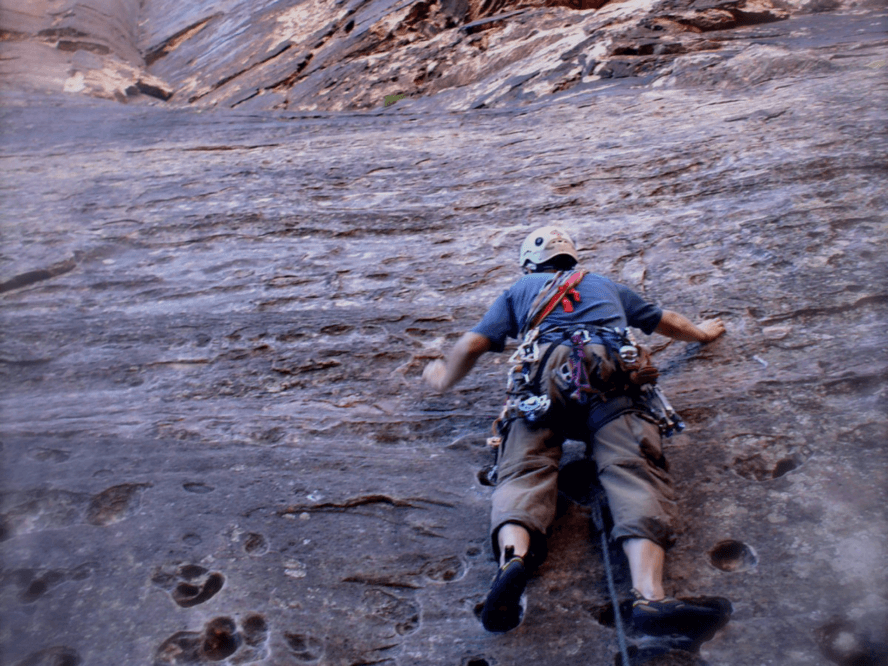 A Few Things to Know Before Visiting Red Rock Canyon
Located just 25 miles west of the Las Vegas Strip, you can leave the hotel pool and be at the crags in under a half hour. Despite its close proximity to the city, cell service is spotty, and there are some transportation logistics to be aware of, so before you make your first pilgrimage to Red Rock, heres a few things to keep in mind:
When is the best time to climb in Red Rock?
The weather in southern Nevada is hard to beat. You can climb in Red Rock year-round, but the best seasons are spring and fall. Warm temperatures in late fall and early spring make for much more agreeable climbing conditions than other areas in the country during those seasons. You can even arrive in February to find temperatures in the 60s and get away with wearing short sleeves at many of the south-facing crags!
Do you need a permit for Red Rock Canyon?
If you're driving, the cost for entering Red Rock Canyon is $15 per car or commercial vehicle — plus $5/person. A motorcycle pass is $10. For cyclists and hikers who park at the entrance, the cost is $5/per person. An annual pass is available for $30. You can learn more about the Red Rock Canyon with this downloadable visitor guide and trail map.
You can also obtain a late exit permit, which provides an additional two hours of climbing time after the normal closure of the scenic drive. These permits are for multi-pitch routes and are only available for certain areas. As of January, 2020, the way that you obtain these permits has changed, which you can learn more about here.
You can also obtain an overnight permit that allows you stay for 1-3 nights, but they are also only available for certain walls. Camping is not permitted at the base of any route.
Where to camp in Red Rock Canyon?
Within the conservation area, there is one developed campground: The Red Rock Canyon Campground. There are standard, RV, and group campsites available (with no electrical, water or hook-ups), and this is where you'll stay if you book a rock climbing camp at Red Rock Canyon.
However, reservations need to be made well in advance. Prices for a site vary between $10-$60 a night and it is only open during peak seasons (September through December and January through May). Note, camping is not permitted at the base of any route.
Don't climb on wet sandstone
There are a number of local rock climbing etiquette rules you need to follow in Red rock, but the most important one is don't climb on wet rock. The sandstone in Red Rock Canyon becomes soft and brittle when wet. Not only is climbing on wet rock damaging to the area, it can be dangerous. After a rainfall, it's best practice to wait 24-72 hours before climbing. If it's looking like rain might be the forecast, there's always the limestone sport crags to check out. I also highly advise that you follow Leave No Trace principles.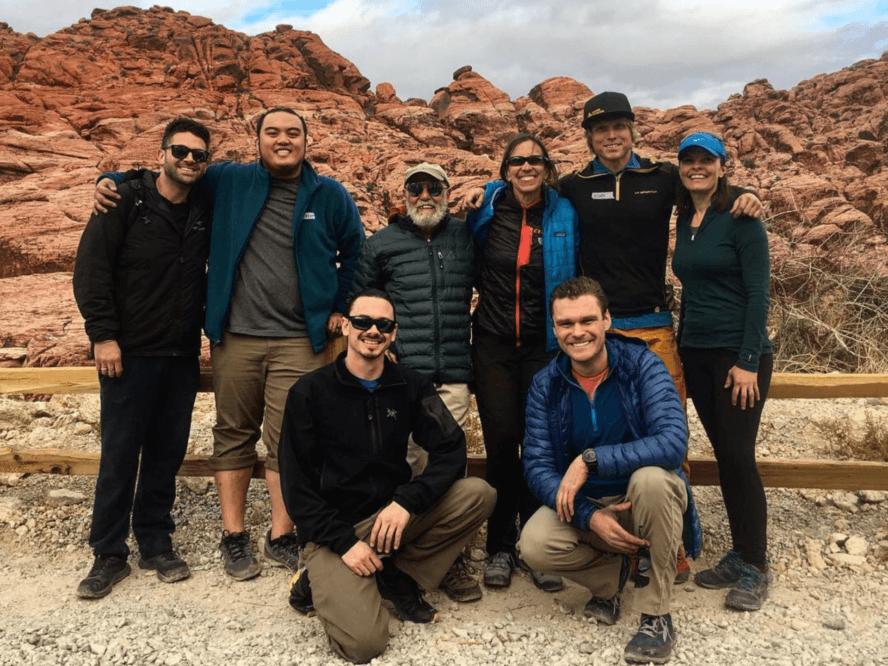 It's all about the community
At the end of the day, climbing in Red Rock is as much about its community as it is about the rock. Given the proximity to one of America's most infamous cities, there's lots of attention given to this place, and not all of it is sustainable. The local climbers of Las Vegas who've decided to make the area their home base work hard to keep the land pristine and infrastructure up to date.
Because of the number of visitors to Red Rock—for trips, rock climbing camps, guided tours, and more—it is worthwhile to pay homage to the area by donating time, money or both to local organizations such as the Southern Nevada Climbers Coalition or Friends Of Red Rock Canyon.
Help us keep Red Rock wild and accessible!
Other bucket-list climbing spots in the States
If you can handle a tricky approach, rock climbing in Wyoming guarantees high altitudes and crowd-free routes even during peak season. Rock climbing in Oregon is just as underrated, but the easier approaches and varied volcanic rock make it a great choice.
For unique crack climbs and desert backdrops, give rock climbing in Utah a go, and for excellent mountaineering in a top-notch alpine setting, try rock climbing in Washington.
Are you ready to head on your own Red Rock climbing adventure? How about a women's climbing camp in Red Rock Canyon? There are no wrong choices here!
And if you want to hear Cody go into more detail about what makes Red Rock the premiere climbing destination in the US, watch his 57hours Adventure Talk on How to Climb Like a Local in Red Rock: