Surf AND Turf: Climbing in San Diego Is Top Notch Too
San Diego, the "City in Motion", has all the makings of an outdoor sports paradise—varied terrain, plenty of sunshine and warm temperatures year round. Between the hot rocks and the cool ocean, I'm a happy man.
For someone like me who can't imagine spending my days indoors, San Diego's an awesome place to be. With the Pacific on one side and the mountains on the other, it's like the elements conspired to create a picture-perfect coastal city. This paradisiacal harbor is known as the birthplace of skateboarding, home to some of America's best surf spots, and a rock climber's granite oasis; I have everything I love in one place.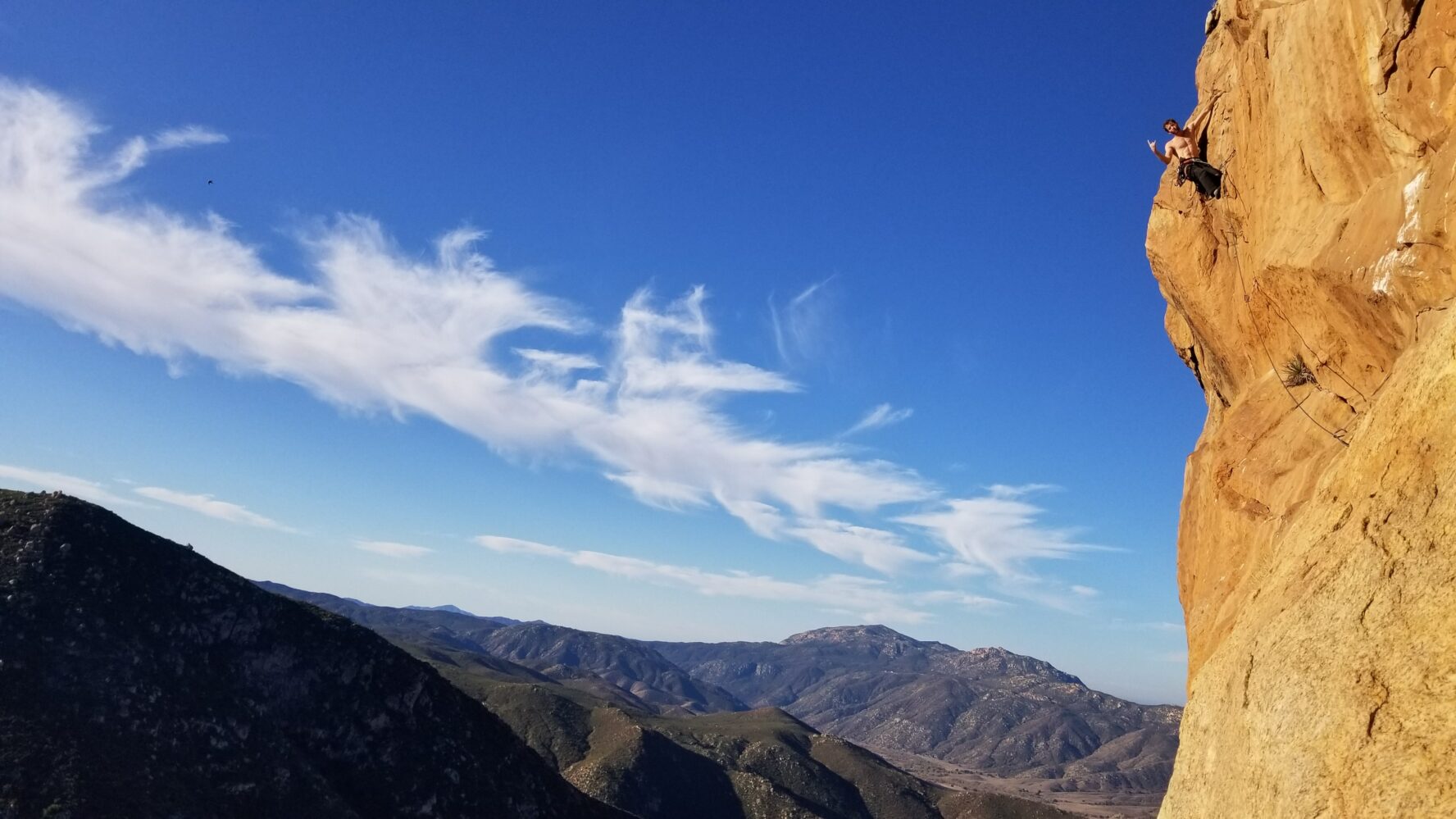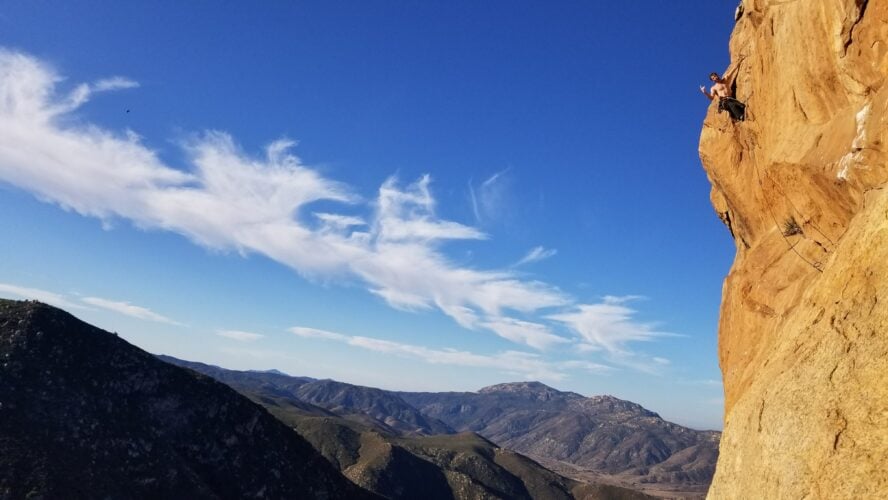 Pros and Cons of Rock Climbing in San Diego
Abundance of diverse, year-long climbing on first-rate granite
San Diego's outdoor culture and easygoing atmosphere
Easy access to climbing and some of the best in the world is just a short drive away
Being able to cool off in the ocean on a hot day
Speaking of heat, the temperatures can get extreme in the summer
If you're not also into hiking, swimming, surfing or mountain biking, you might not enjoy the day-to-day outdoor experience here
When you come here for the first time, you feel it. Immediately you notice how super chill and laid back San Diegans are. Those bright faces, sun-kissed hair, these folks perfectly embody beach culture. For us, it's all about leaving stress behind and enjoying yourself. With San Diego's geography and weather, who could blame them?
The outdoors rule here. Everywhere you look there's people riding waves, hiking the mixed landscape and climbing: inside-outside, near and far. Never has this been more true than today. Gyms have been popping up in recent years and outdoor spots that would've been empty a decade ago are now constantly trafficked, even on weekdays.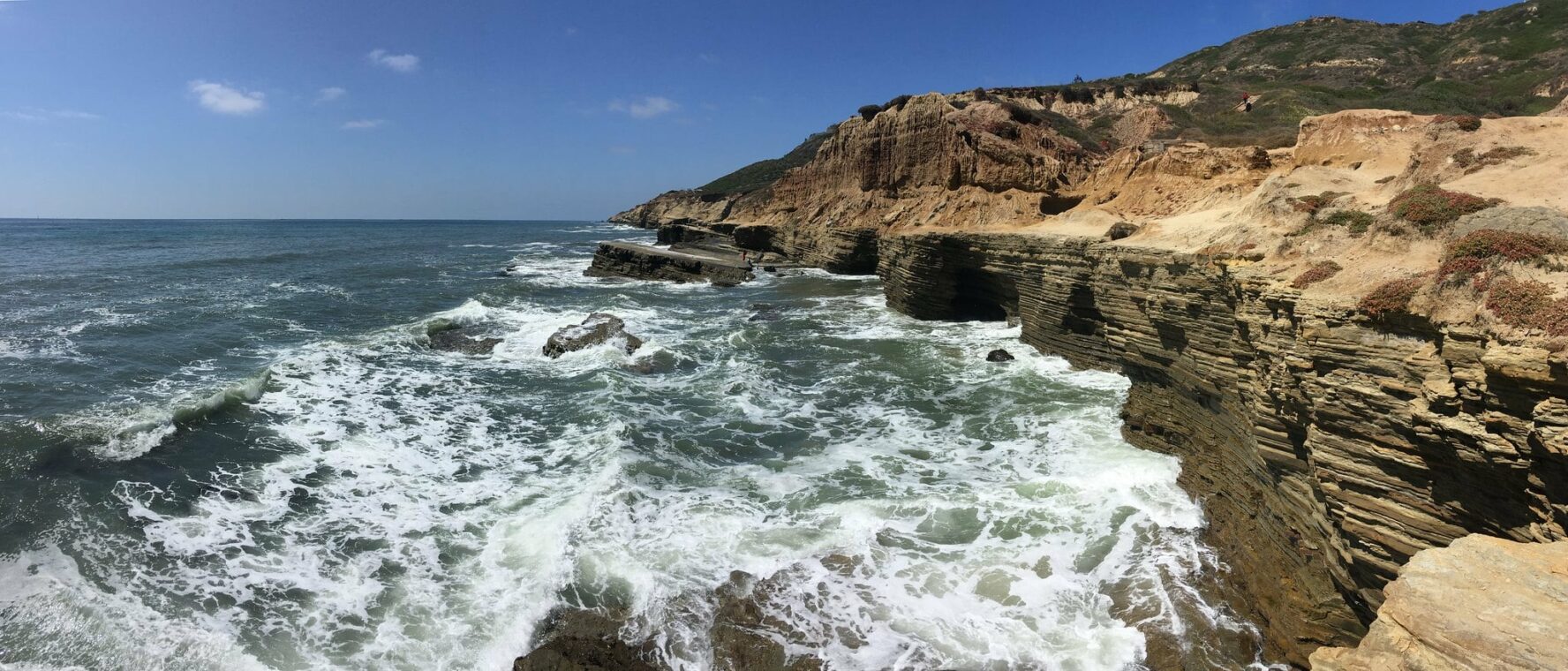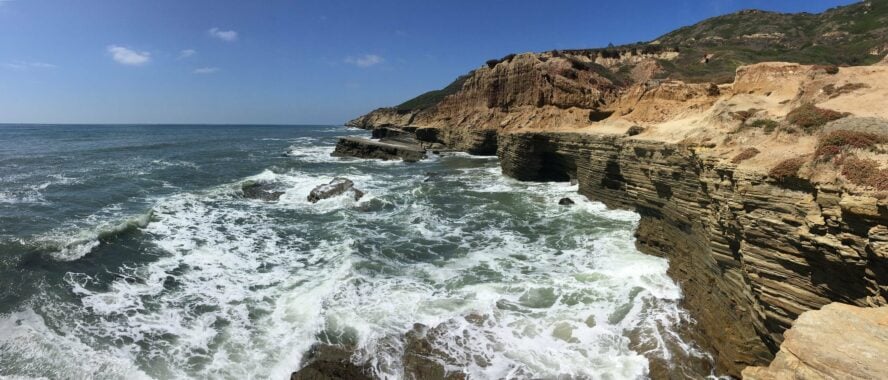 I'm Glad I Made My Way to This Pacific Coast Paradise
I can't help being enchanted by the San Diego lifestyle. Coming from a small town near the German-Dutch border, there were no mountains or beaches in my hometown. But we had trees, fences, barricades and, man, I loved climbing those things. Then one day a friend invited me to the German Alpine Club's climbing wall and I learned this fascination had a sport attached to it.
When I came to San Diego for college about a decade ago, I didn't know what to expect. I skateboarded in Germany, so I was familiar with California's scene, and I was actually planning on taking up surfing. But other than that, I didn't really know a thing about San Diego, probably like most Europeans. They're more likely to recognize its southern neighbor thanks to Manu Chao's, "Welcome to Tijuana"; all that "tequila, sexo y marijuana" and what not.
Then I got here and met folks who were into rock climbing. They started taking me to all these sweet spots right around the city. All of a sudden I was exposed to so many different rock types, climbing techniques, advanced rope skills and it all clicked for me. I had to move here.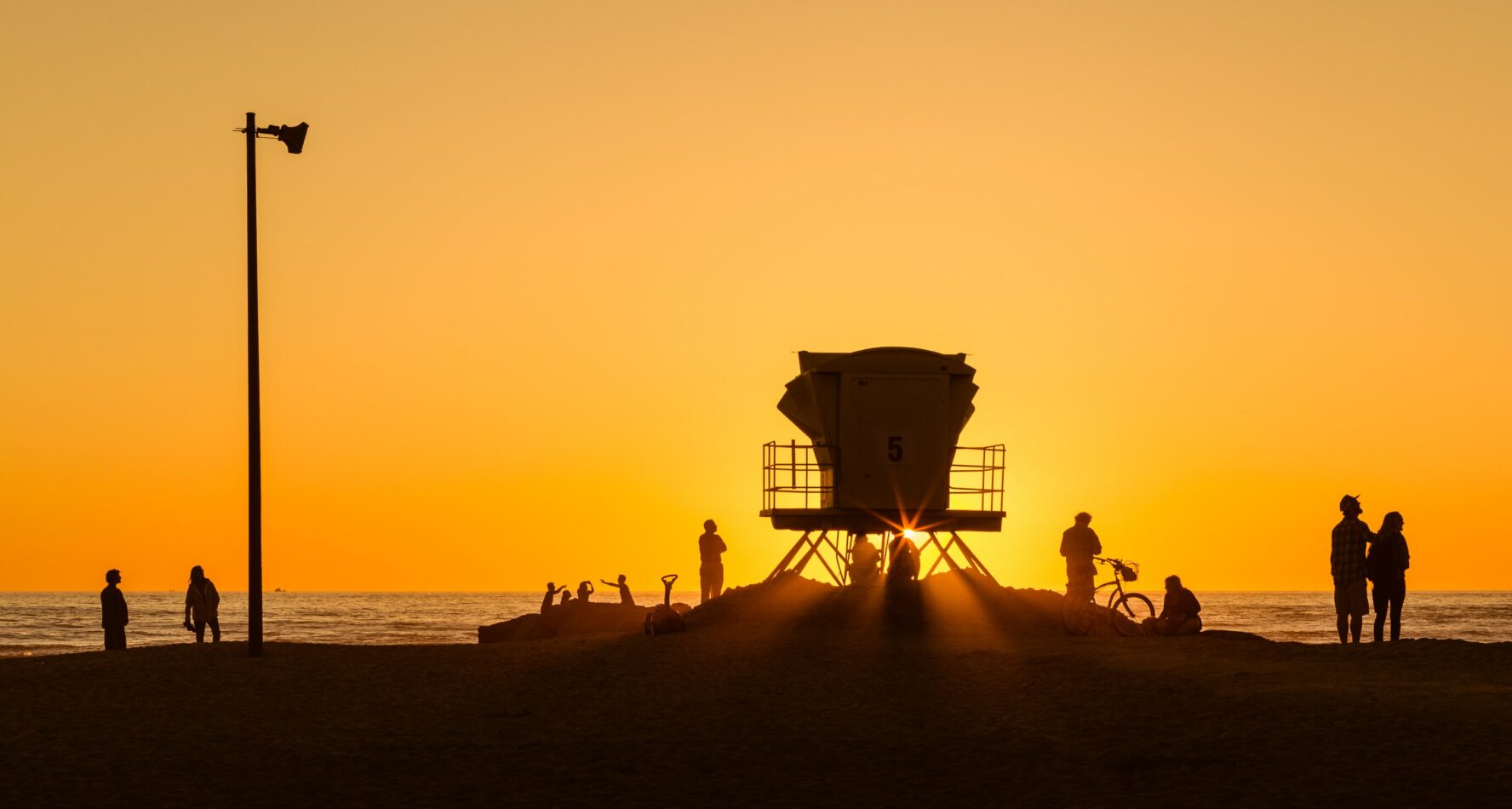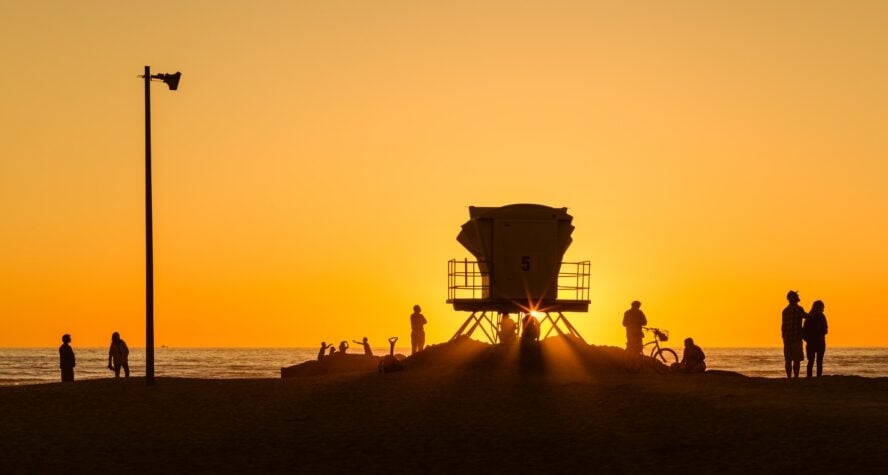 The Best, in Excess, and Easily Accessed—Rock Climbing in South California
The sheer variety of options makes San Diego a top place to live for a rock climber. Most of the climbing is just a short drive and has a quick approach. Whether you're looking for a short evening bouldering session or a full backcountry adventure, there's so many spots to scratch your itch. And obviously San Diego is nothing without the beach—after a gnarly day on the rocks, ditch your gear for swim trunks because nothing soothes the soul, or roughed up mitts, like a dip in the Pacific.
Now, with decades of guiding and climbing in the area I'd like to share some of the stellar spots of this lesser-considered climbing city.
Tie-in and Rope Up
San Diego County has many distinct areas and this section will cover the best local spots for roped climbing.
Get high and satisfy your climbing needs at El Cajon
At the end of your approach to El Cajon mountain, leaving behind a vegetated riverbed, your view suddenly opens up to a stunning 450-foot block of first-class granite. This is El Cajon, lovingly referred to as El Capitan by locals.
It's renowned for full-days of stellar multi-pitch climbing. The roughly two miles long approach and 1,900 feet of elevation gain means you're committing, but for climbers of all skill levels who want to get up high and practice their rope management, it's worth the hike. Most of the areas are fully bolted, though some of the crack climbs require a few pieces of trad gear.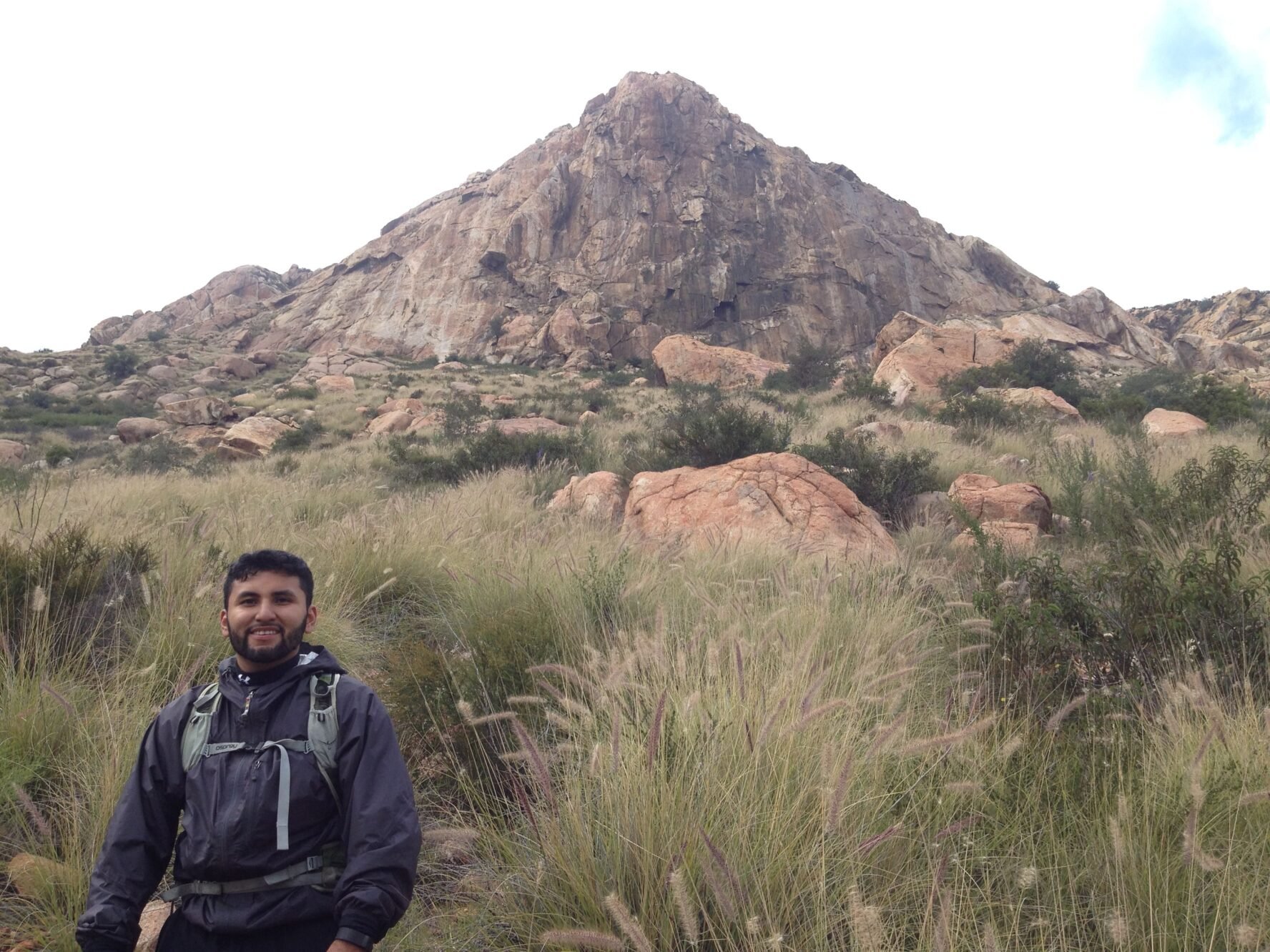 This massive outcrop is divided into several climbing areas whose difficulty scales gradually. The left side of El Cajon offers lots of introductory climbs that are 5.9 and lower. Buffalo Bill (5.6) and Meteor (5.8) are great beginner routes. Starring in this constellation is Leonids (5.9), one of Southern California's most celebrated routes. As you go further to the right, the cliff gets steeper. Climbs go up to 5.13, like the wickedly overhanging, I'm Your Huckleberry, considered the best of it's grade in the area.
The headwall of El Cajon is probably San Diego's most iconic face. It has tremendous exposure and an unperturbed view all the way to the ocean. Bring lunch, plenty of water, and a camera to document the occasion.
You don't want to miss Mountaineer's Wall
Thanks to San Diego's vibrant climbing scene, more and more climbs have been added to the main cliff and the smaller rock formations around El Cajon. One of my favorites among them is called Mountaineer's Wall. It currently holds about 200 climbs, including San Diego's longest multi-pitch, Sleeping Giant (5.10a). With 10 pitches and 1,000 feet of climbing, this easily approachable behemoth roars to life as you move through low-angle slabs into steeper business towards the summit.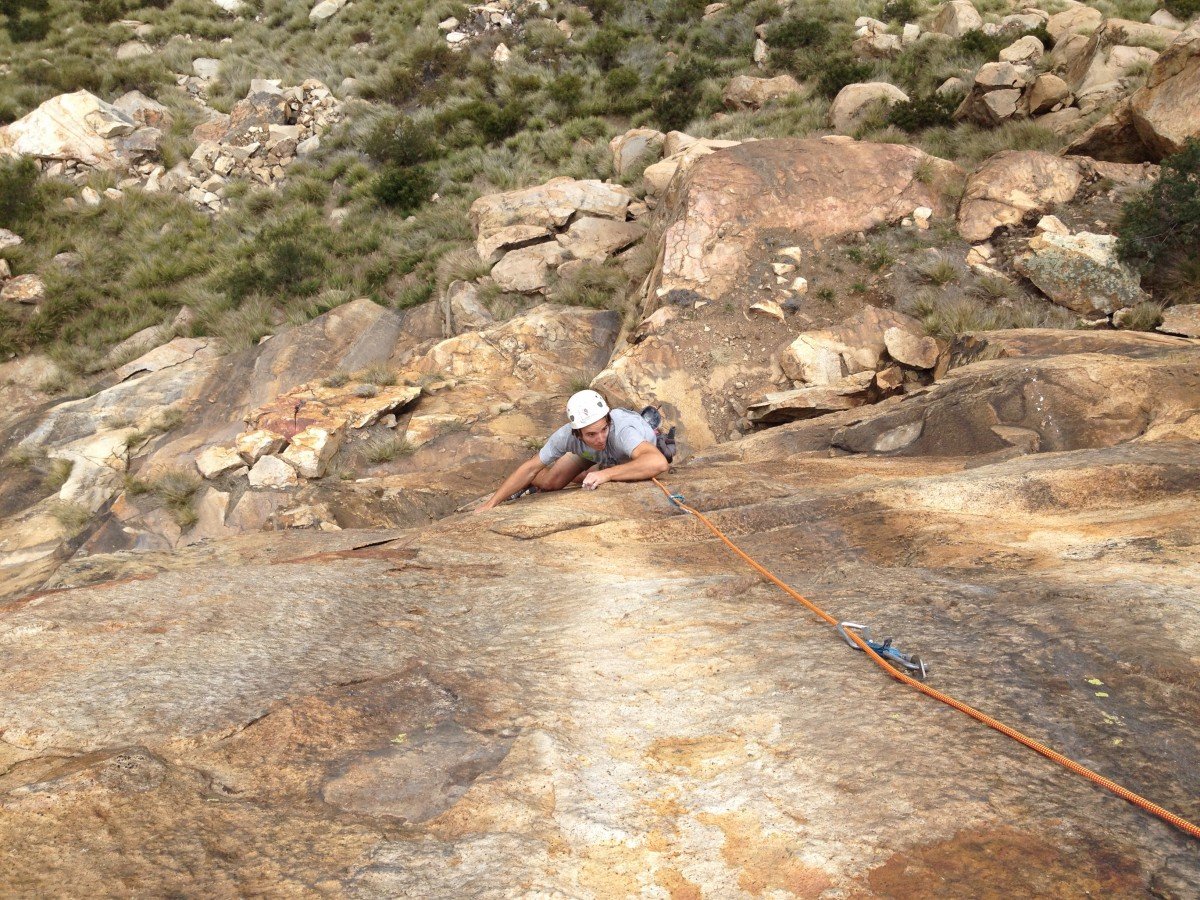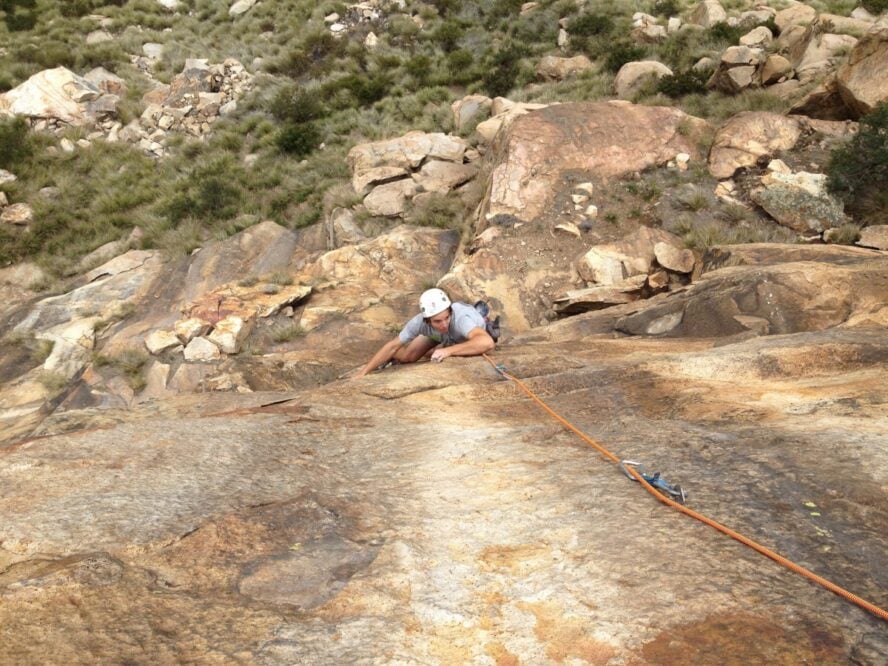 Soaking up the backcountry views on Eagle Peak's orange granite
Located near Descanso and surrounded by the Cleveland National Forest, Eagle Peak offers similar thrills to those on El Cajon, but with a much shorter approach. What's interesting is you actually take a 45-minute hike down because the parking area is located above the 350-foot wall. The granite here is excellent, with climbs ranging from 5.8 to 5.12, and it's all bolted.
Eagle Peak is remote. There's no noise or crowds here, only nature and the occasional airplane flying overhead. One of the popular routes is called 95 Degrees in the Shade (5.12b), which tells you everything you need to know about summer climbing. If you don't plan for a cloudy day and a cool breeze, your best bet is coming early or hiking through the midday heat to hit the walls in the shade.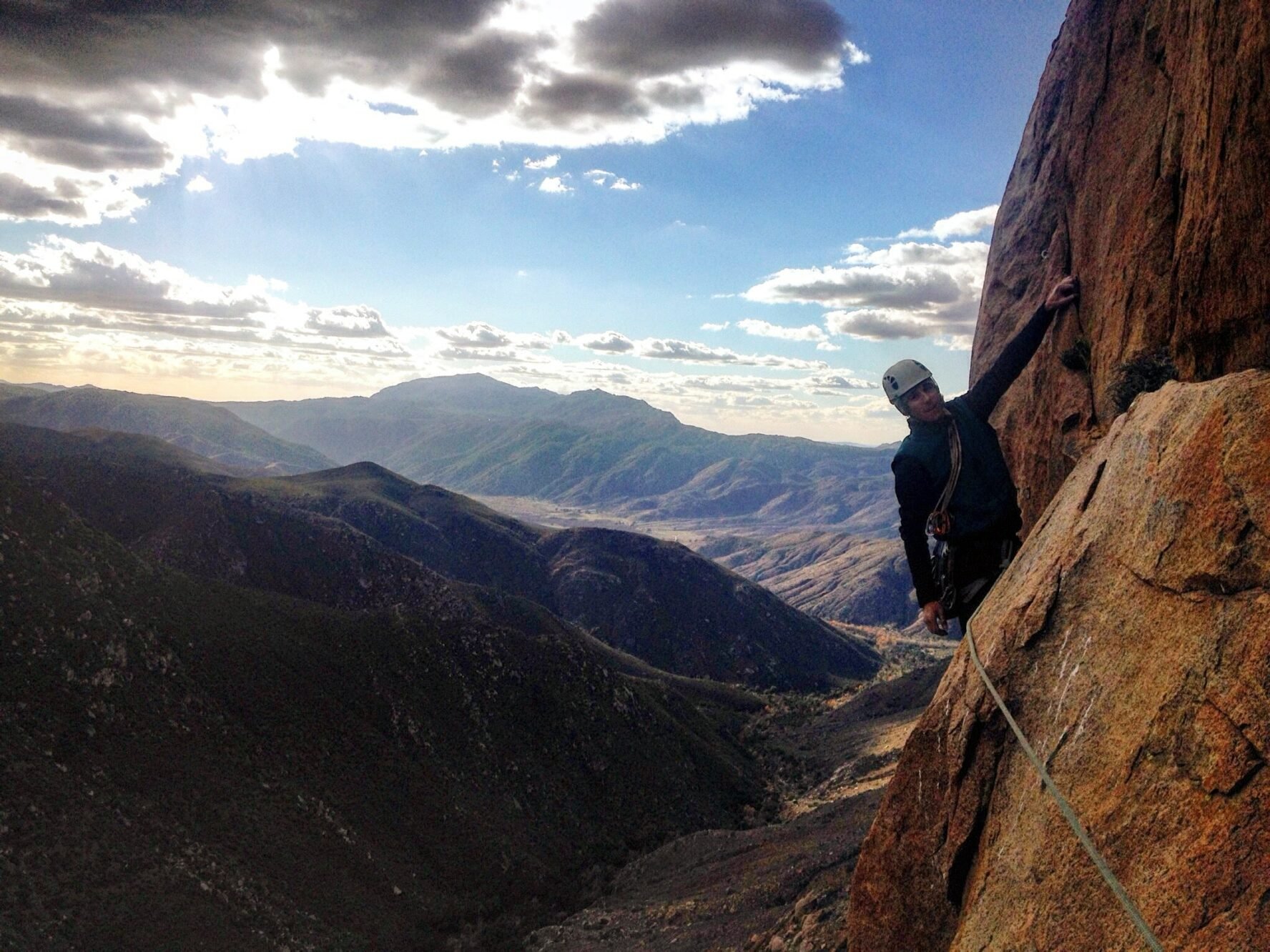 Perfect intro climbs at Dixon Lake and Mission Trails
When I'm working with beginner climbers, my go-to spots are Dixon Lake and Mission Trails. These areas are perfect for teaching TR skills and drilling the fundamentals.
Dixon Lake has been a popular outcrop since the 70s, in no small part to its 2-minute approach from the car park. While the wear and tear is notable, the cracks and faces that have remained clean offer perfect training grounds for aspiring rock climbers. Unfortunately, Dixon Lake doesn't take more than 20 people, so it works on a first-come, first-served basis. Sometimes we strike out.
In contrast, the brilliant Mission Trails is one of the largest urban parks in the country and you'll always find a space here. Plus it's just a 20-minute drive from downtown.
The granite is the smooth, slippery kind that does wonders for your footwork. Around half of the climbs are trad or mixed, but even on trad routes most anchors are bolted, which means a quick setup for us guides and those wanting to toprope. Another plus is that you can reach the top from the backside. With tons of climbing between 5.4 and 5.9, no crag in San Diego lets you knock off as many routes in a single day.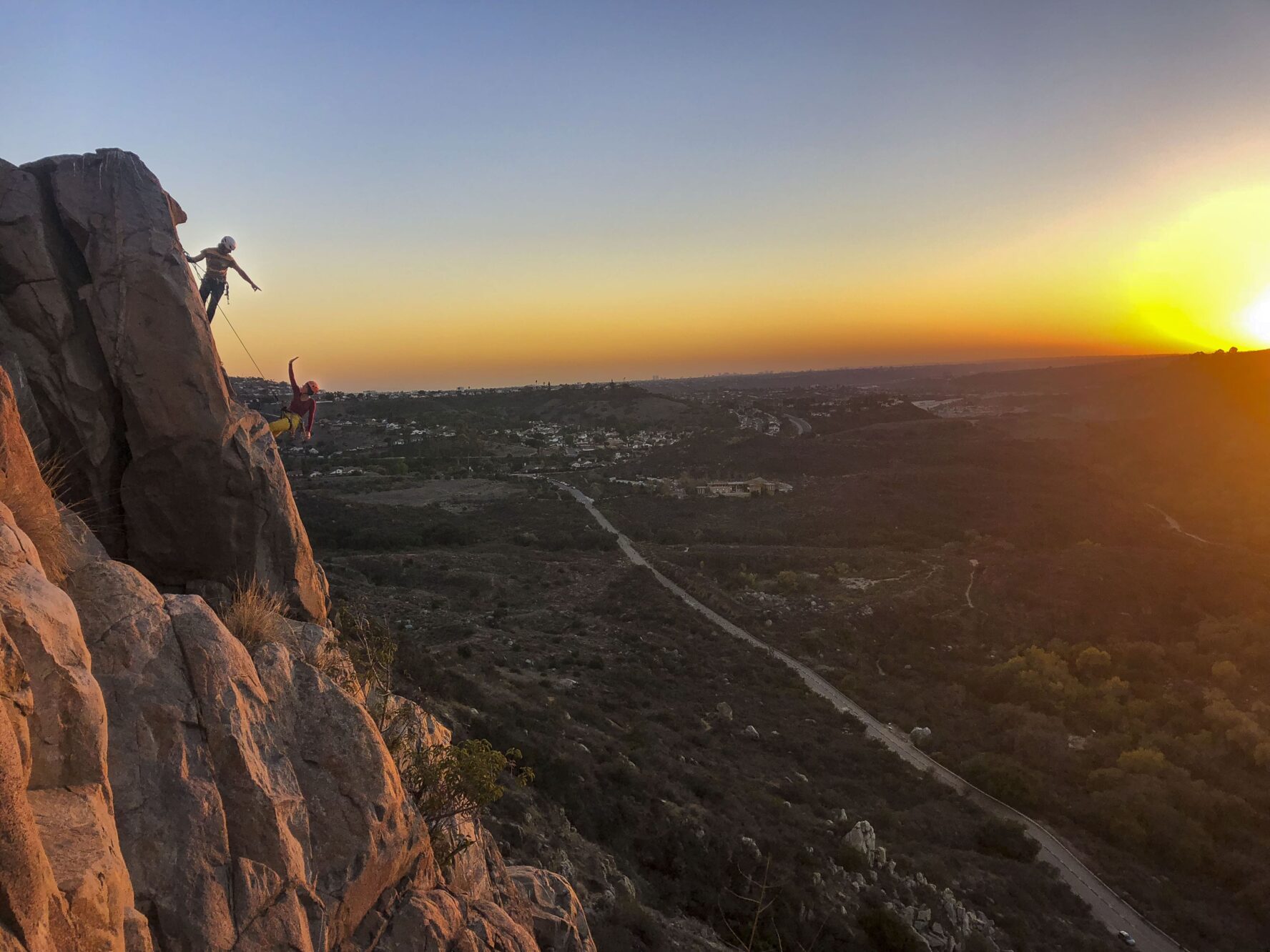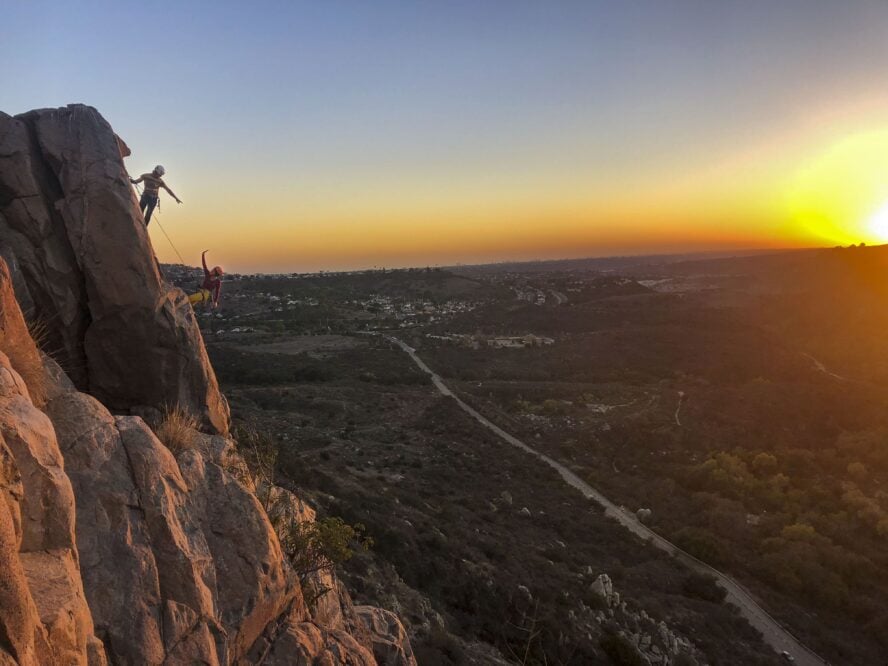 Many first-timers have this perception that height equals difficulty. Seeing beginners celebrate after sending the long routes in Mission Trails, you'd almost think they just conquered the Dawn Wall! Not many entry-level climbs offer such a powerful sense of accomplishment, but the Skyline Pinnacle (5.7) certainly does. My clients can't get enough of it. And while you're up there, enjoy the scenic views of the national park and San Diego River flowing 400 feet below you.
So about that heat. Since Mission Trails faces west it gets a lot of morning shade, making this a very popular year-round climbing destination.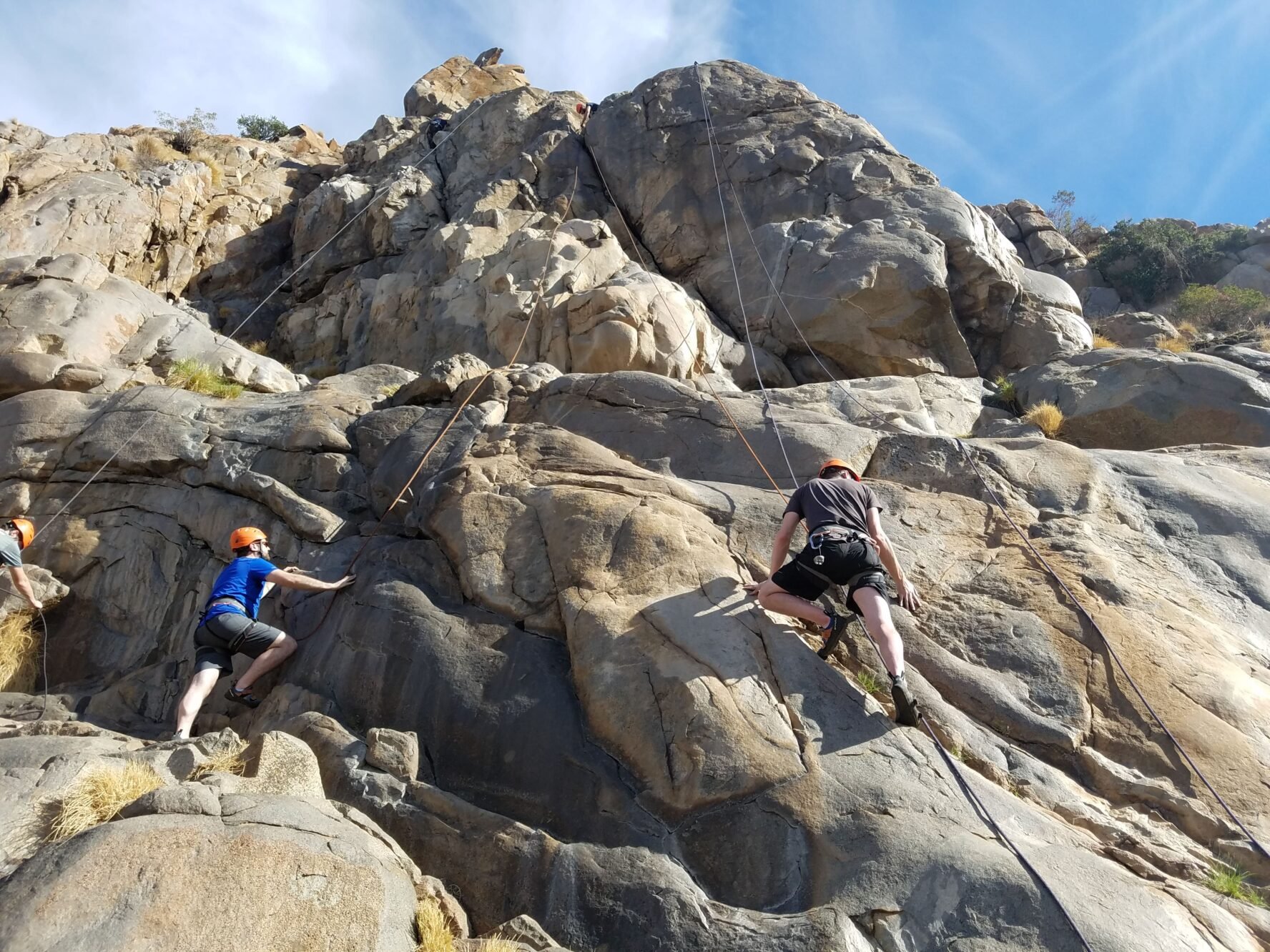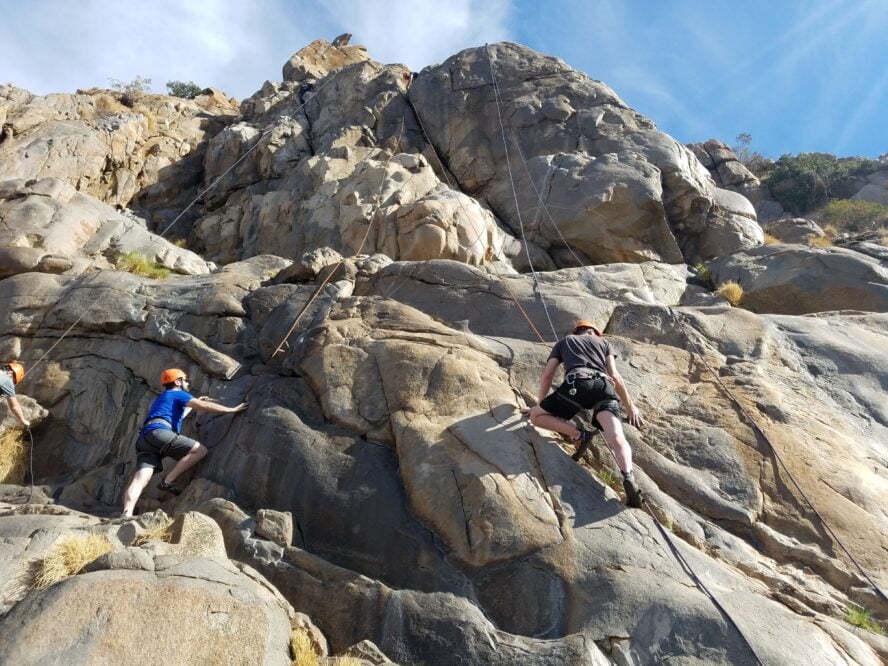 The Finest Bouldering This Side of Joshua Tree
Get in a good workout on Santee Bouldering
Personally, I'm more into longer climbs and technical ropework, but I love bouldering for a quick, intense session. Located right next to Mission Trails, Santee Boulders is another classic spot. Well known for its thin slab faces and mantels, Santee also features challenging cracks that are well worth the try. I love coming here for an afternoon session to practice my footwork, balance and crimp strength. Because it's so easily accessible, a trip to Santee feels like going to the gym—put in a good workout and you're back home before you know it.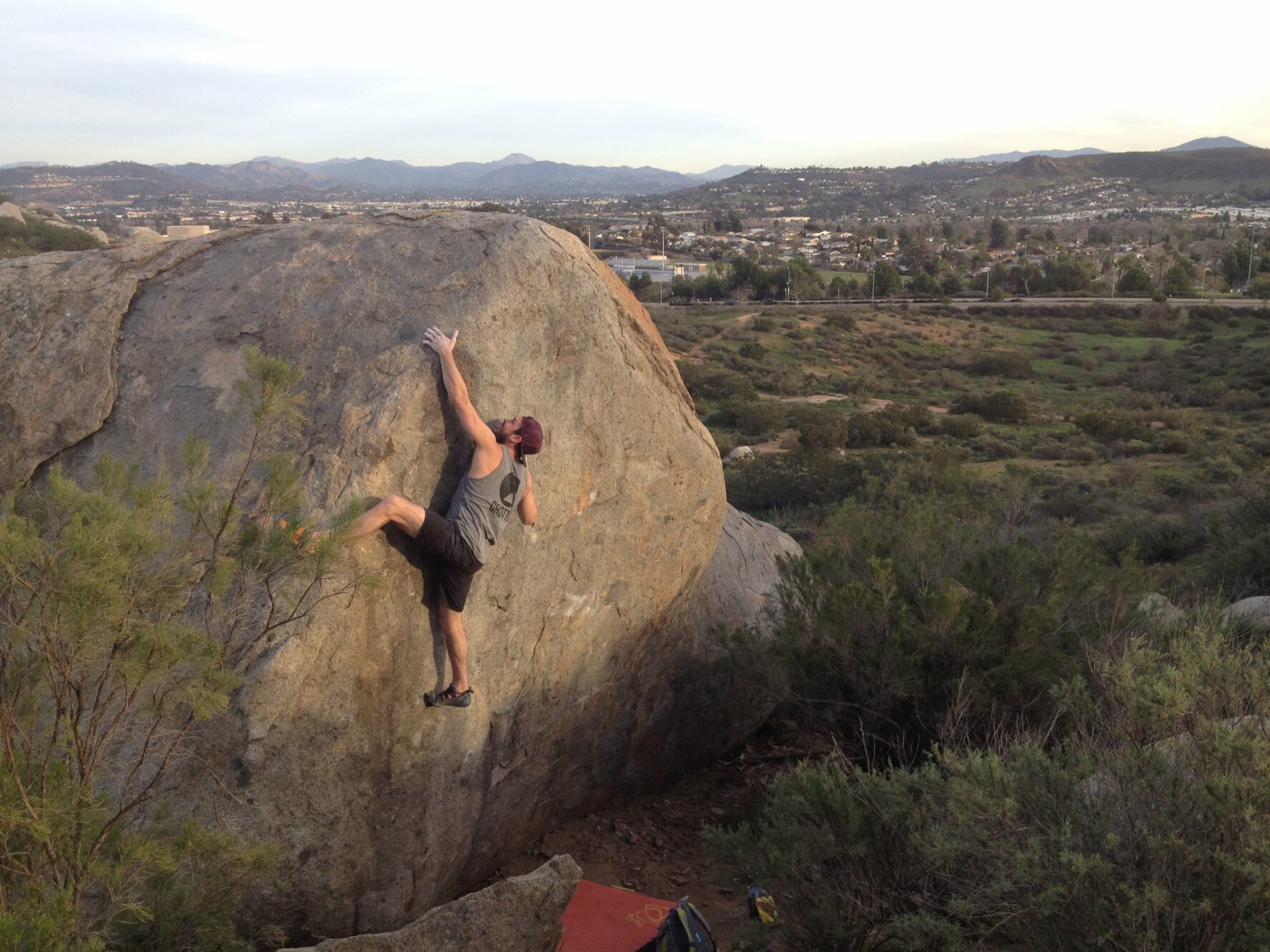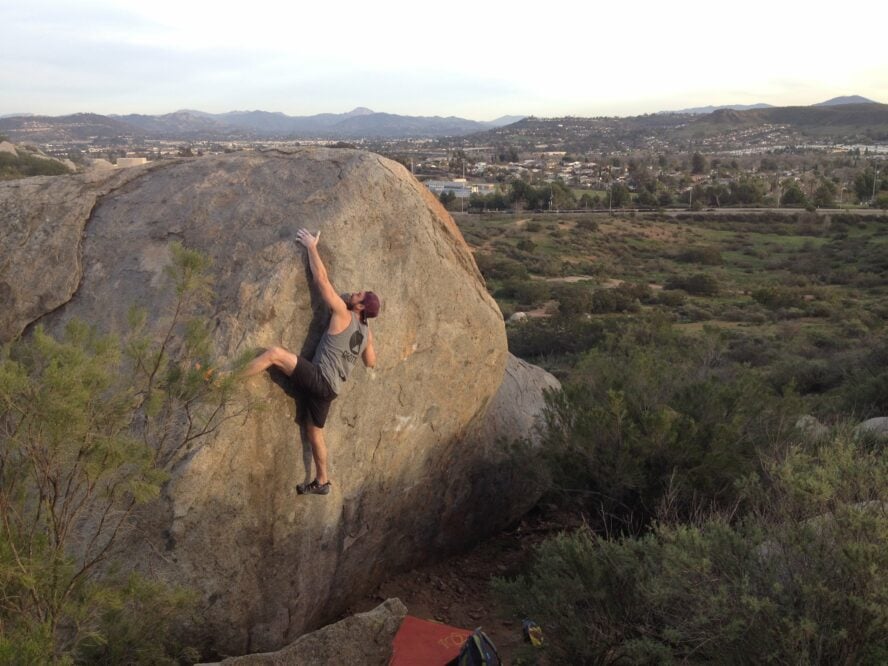 Mount Woodson—a massive hillside sprinkled with superb problems
Props to Santee, but hands down the best bouldering in San Diego is on Mount Woodson. Trust me, it's well worth the 40-minute drive to Ramona. Thousands of boulders of all sizes, many of them just tall enough for rope climbing (but doable with pads), spread out as far as the eye can see. It's easy to get lost among the countless rocks peppering the mountainside amid large bushes and chaparral.
The high-quality monzogranite, similar to what's found in Joshua Tree, feels great on the hands and is filled with perfectly sized cracks. You won't find too many high-end boulder problems here, but you could climb these sheer, egg-shaped rocks forever and never get bored. One of the famous routes is Robbins Crack (5.10a), named after Royal Robbins, a legend of the sport. Mother Superior (5.11+) is a very difficult, overhanging off-width test piece. And if you cast your gaze upwards, you can make out Uncertainty Principle's (5.11c) sharp contours jutting into the sky. This tried-and-true classic is revered.
Notable Climbing Destinations For a Day Trip
Mastering your movement in Joshua Tree
No list of SoCal climbing spots would be complete without Joshua Tree. If you're in the mood for a road trip, JTree's just a three-hour drive from San Diego. The short climbs and the grippy monzogranite rock make this national park an inviting option, but be prepared to get your ass kicked the first time you come.
Regardless of the grades, climbing here requires intricate movement that you can barely train anywhere else. There's a lot of chimneys, maneuvering around corners, and seemingly impossible slab that you somehow stick because the friction is just that good. The thousands of routes and boulder problems make Joshua Tree truly a world-class climbing destination.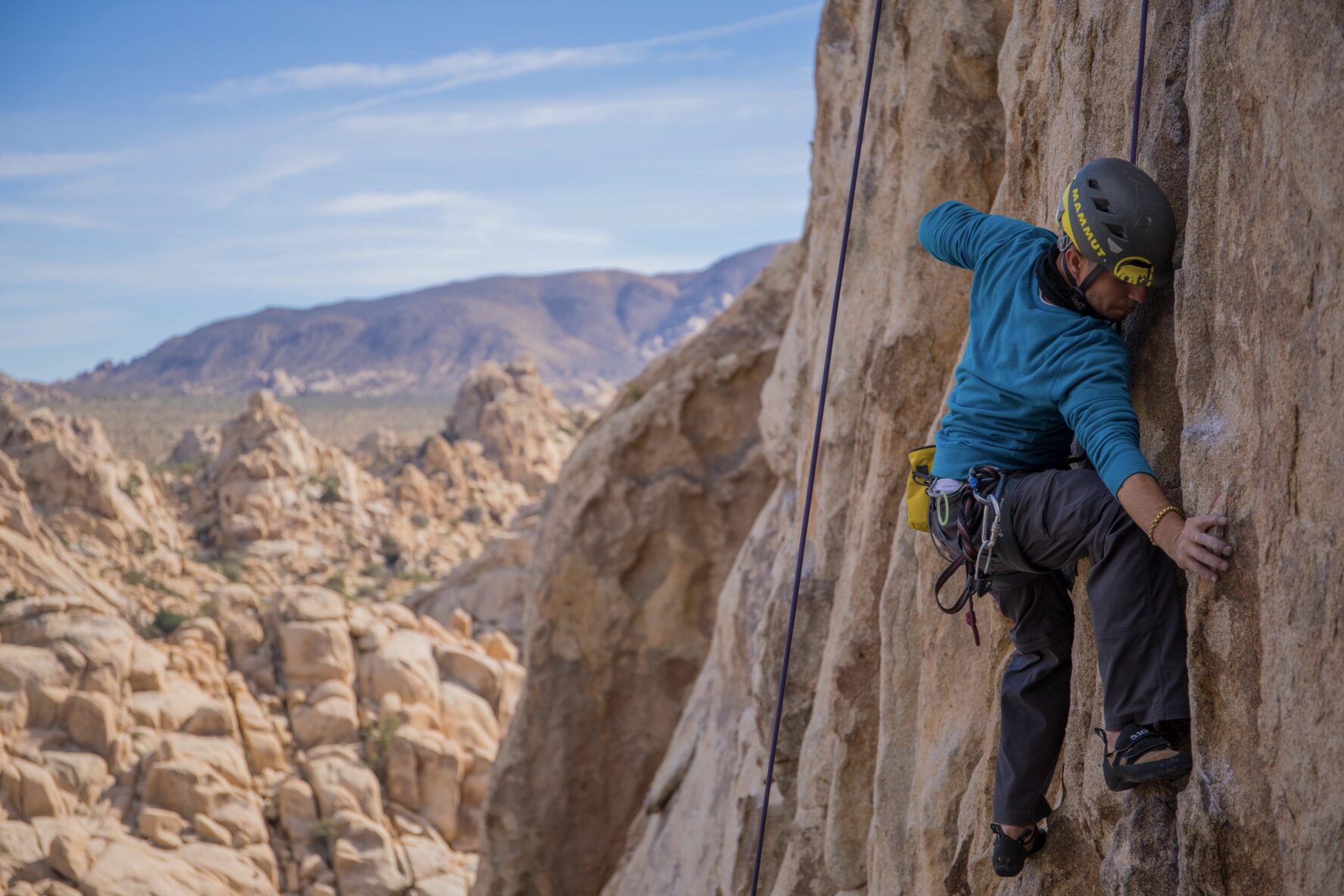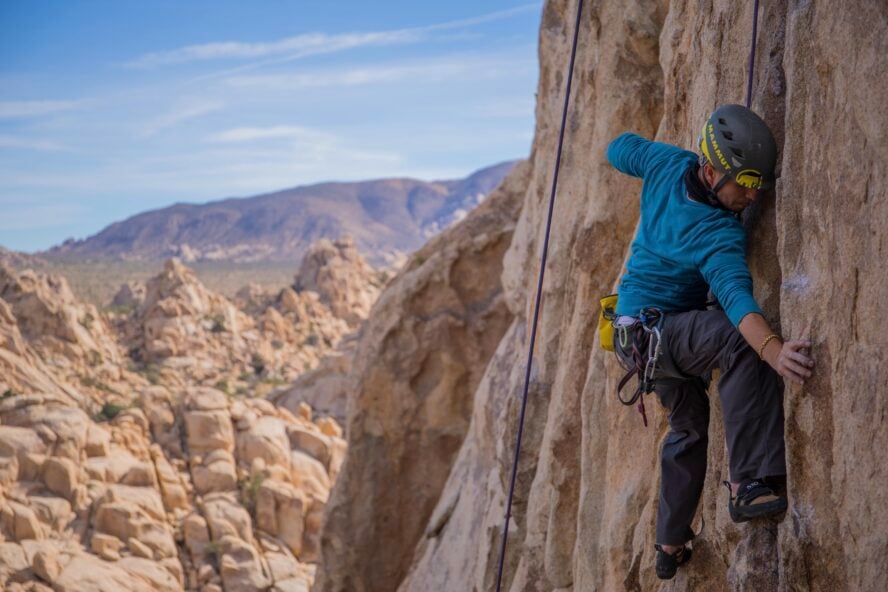 Brushing up on your decimals at Tahquitz
Nestled in a high mountain valley in the San Jacinto Mountains, Idyllwild is an unincorporated community famous for three things: its mountain resort; the incumbent mayor, Max II, a golden retriever; and two granite rock formations flanking the valley.
The larger of the two is Tahquitz Rock, one of the hotspots of modern free climbing in the 20th century. This historic granite monolith towering over Idyllwild was the place where the Yosemite
Decimal System was developed. And it was on this very rock that in 1952 Royal Robbins completed the first free 5.9 in the country, Open Book, which to this day remains the benchmark against which all other 5.9s are measured.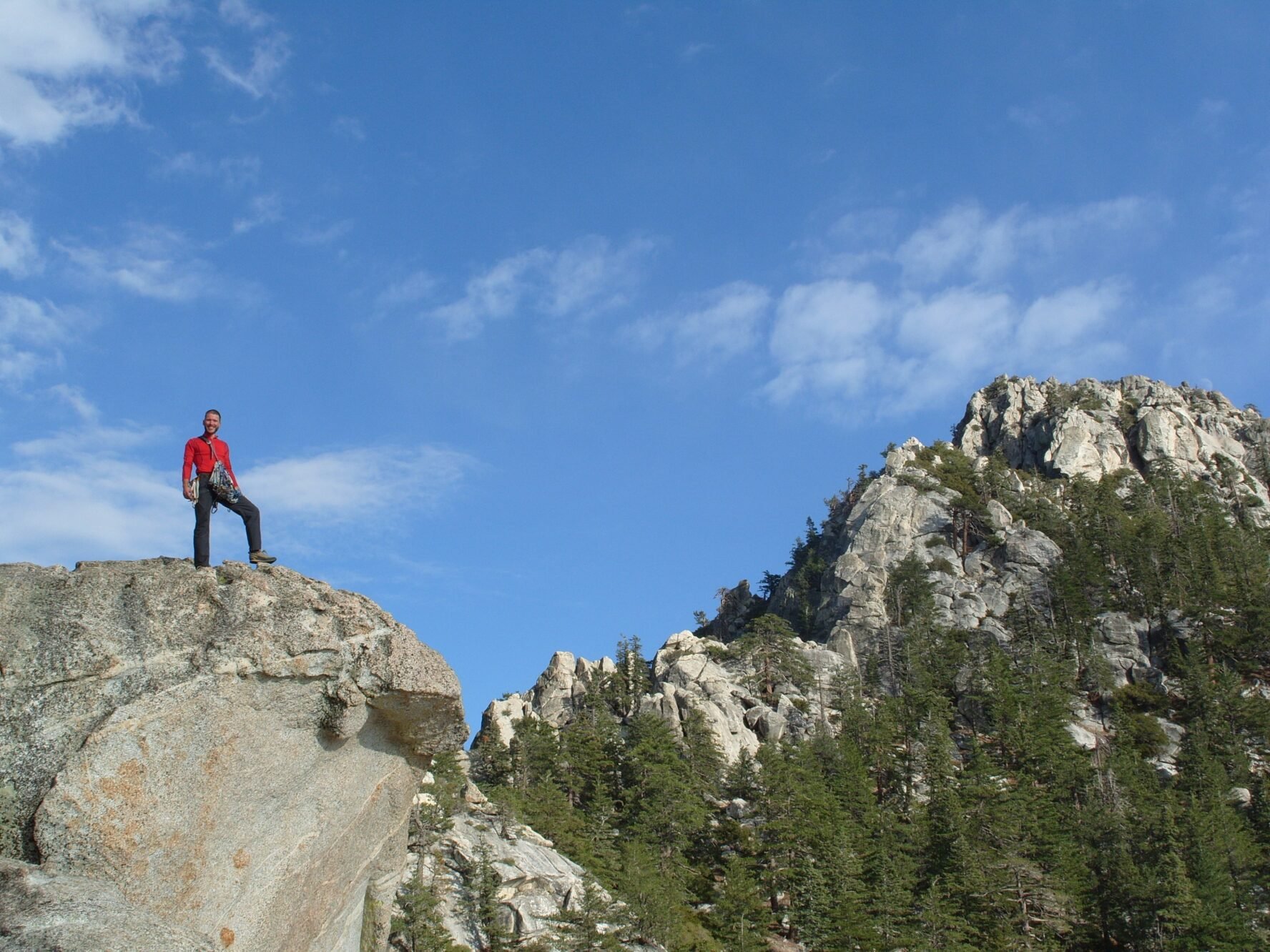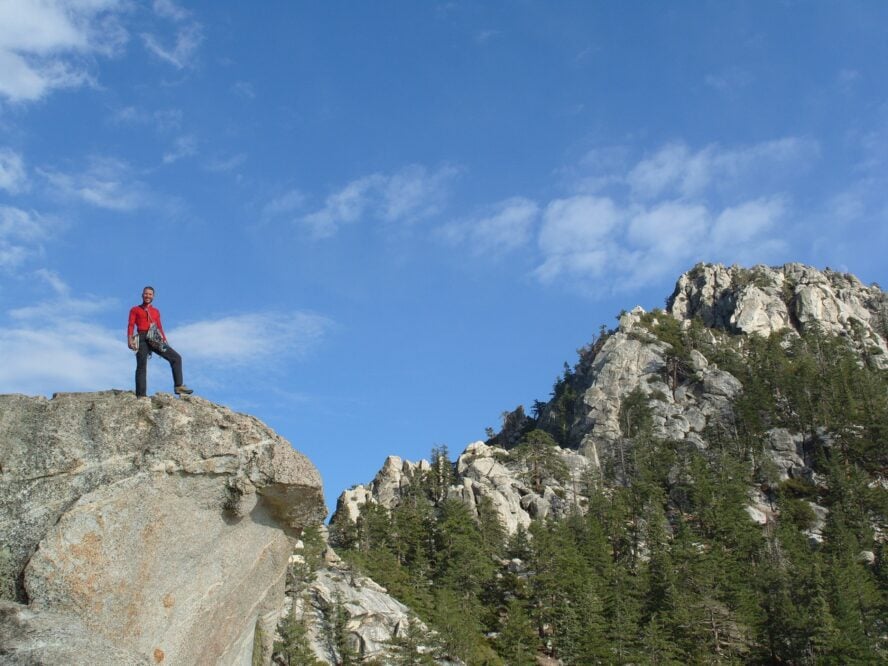 Come to Suicide Rock for the history, stay for the variety
Right across the valley we have Tahquitz's smaller brother, an outcrop called Suicide Rock. The high-quality white granite has been sculpted and polished by the elements into an amazing surface for climbing.
The comfortable afternoon shade makes Suicide Rock perfect for summertime climbing and the quality of the multi-pitch routes makes the 2.5-hour drive from San Diego totally worth it. One of the highlights is the Paisano Overhang, a raucous 5.12c off-width roof crack which has become one of California's most iconic climbs—of which there's no shortage. Local climbing legend and San Diego local, Randy Leavitt, demonstrated his famous Leavittation technique here.
When it gets really, really hot here in San Diego, we've got two options: flings ourselves into the ocean or head to Idyllwild. If you ask me, don't choose: do both.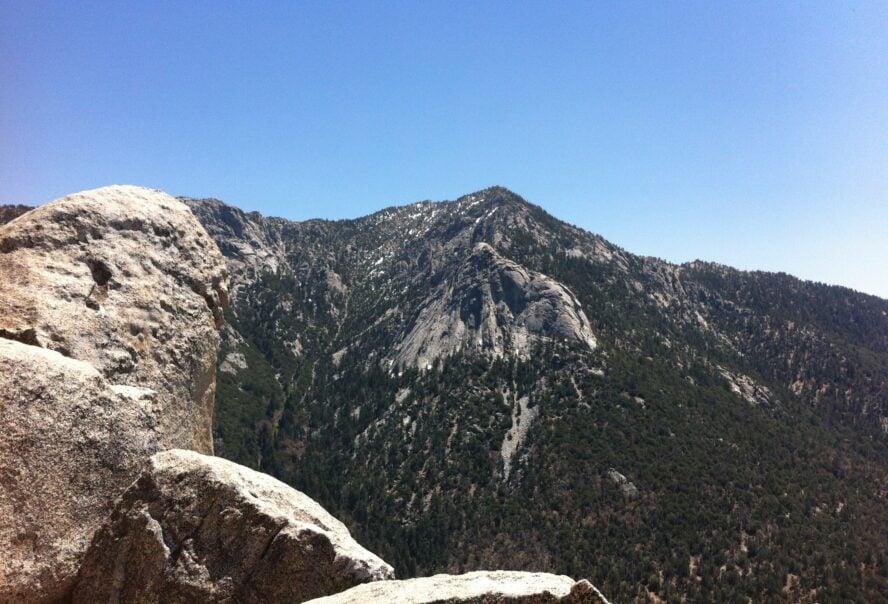 Tips for Enjoying The Full-on San Diego Experience
Where to get food and drinks in San Diego?
Close to the border, San Diego's got plenty of great Mexican food beyond the usual suspects of tacos and carne asada. The stews and home-style meals in Super Cocina are definitely worth checking out. I live in Ocean Beach and Mike's Taco Club is one of my favorite restaurants in the city. Their fish tacos and burritos are terrific. As for drinks, it should be mentioned that San Diego is a craft beer hotspot. Post-session you'll have fun exploring another one of our city's great features. My favorite local drink is Boochcraft, which is an organic high-alcohol kombucha. Delicious, refreshing stuff. They've just opened up a tasting room in Del Mar, which I can't wait to try out.
Where to get rock climbing gear in San Diego?
Unfortunately, the gear shop I used to go to in San Diego closed down recently, but with climbing on such an upward trajectory, I'm sure someone else will fill in that gap soon. In the meantime, we've got Nomad Ventures, a popular local franchise which has stores in Escondido, Joshua Tree, and Idyllwild. What I like about Nomad is that their staff is comprised of climbers. People that work there really know their stuff about the sport, the gear and the area.
Is there a San Diego County climbing guide?
There is this old, but excellent guidebook written by Dave Kennedy and Chris Hubbard. It has a second edition, but we're still waiting for a new book that will encompass recent developments in the county's climbing scene. Apparently Chris Hubbard has been working on a new one for years now and we might see it in print soon. Can't wait to get my hands on a copy!
Are you ready to discover the best rock climbing in California? Join Fabi today and experience a rad oceanside adventure in sunny San Diego!