Why Aosta Valley is Italy's Best Kept Rock Climbing Secret
Nestled on the wild side of Mont Blanc — Western Europe's highest summit — Italy's Aosta Valley reveals incredible rock and alpine climbing with a taste of old-world charm.
Valle d'Aosta, or "VDA" as Italians know it, occupies the northwestern-most corner of Italy. It's a long, deep valley running uphill starting at Milan at 390 feet (120m) reaching all the way to Mont Blanc's towering summit at 15,770 feet (4810m). The region holds some of the best rock and alpine climbing in Europe. While VDA doesn't offer as much limestone as the French side of the Mont Blanc massif, you will find endless granite and gneiss pitches. In addition to the limitless climbing options, expect to find unforgettable ski touring, surprising wildlife, epic mountain biking, limitless trail running, and splendid Italian culture.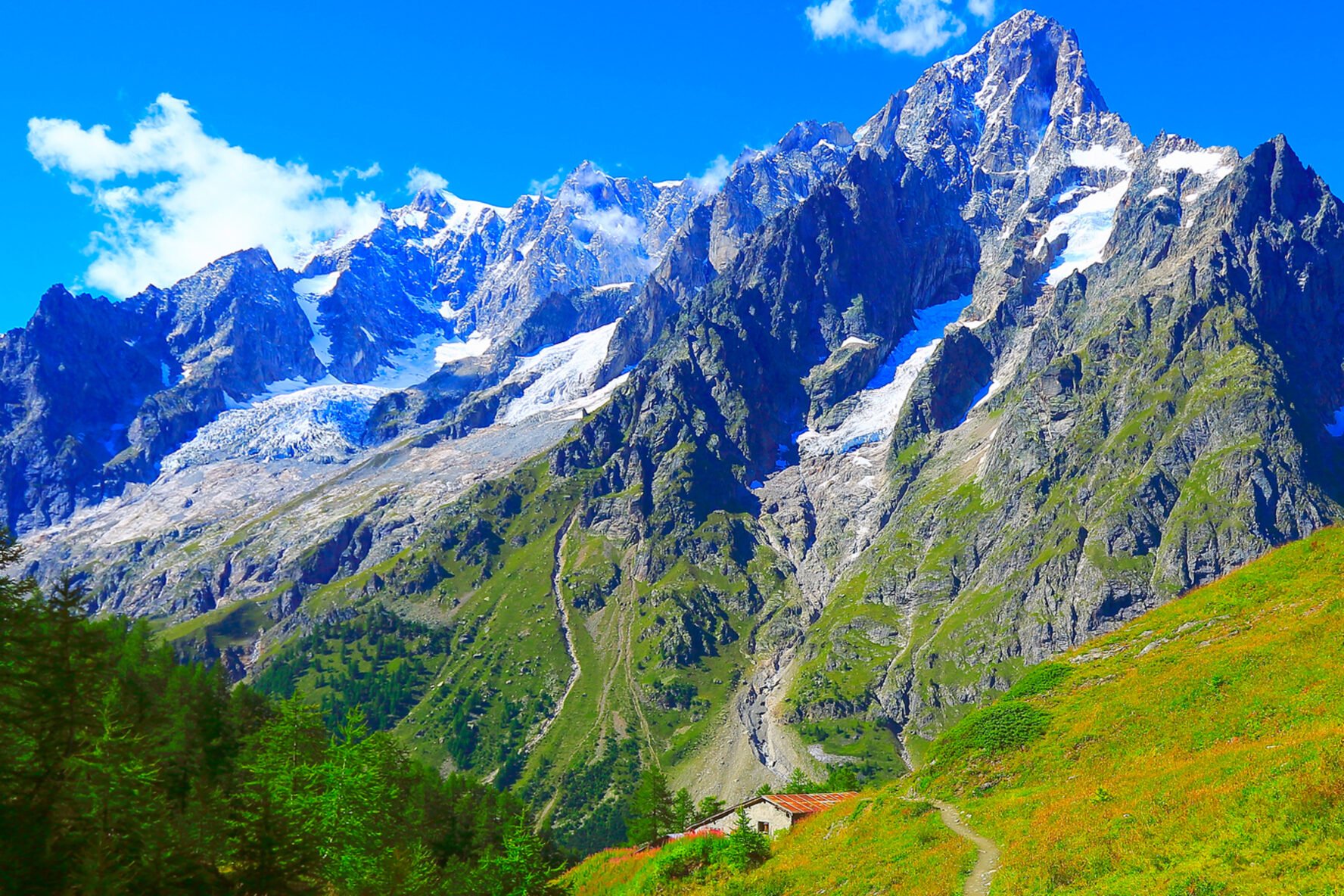 Pros and Cons of Rock Climbing in Aosta Valley
Italy, come on: food, wine, sunshine
Endless, quiet rock routes!
Cheaper than neighboring France or Switzerland
Easy to get to from Chamonix or Zermatt
Tons of skiing with huge vert, to boot
Many venues require renting a car
In the quieter side valleys, helpful to speak Italian or French (but not necessary)
Valle d'Aosta, or Val d'Aosta, or Valle d'Aoste as the French say — who's ever heard of the place? I certainly hadn't when a skinny exchange student named Luca showed up on my family's doorstep in Colorado in the fall of 1985. The exchange student came from a remote village, La Thuile, located on the Col du Petit-Saint-Bernard, also known as Little Saint Bernard Pass, connecting France to Italy. He had a ski resort in his hometown. Woah, I thought this dude was cool! Thirty-five years later, my family and I live just 35 kilometers away over the border from him in Chamonix, France. We also named our son Luca after him.
Having one of my oldest friends living in VDA has made it easy for me to visit and explore this unique area. During my first adventures there, I spent more time mountain biking and trail building during summers. Eventually, I climbed Mont Blanc, and rock climbed on the cliffs dotted throughout the valley. Even after a couple decades of climbing, skiing, and riding in the valley, I still feel like I've only scratched the surface. Just this June, for example, friends showed me a superb pizzeria in the capital town, Aosta. I'm still finding gems!
What is Italy's Aosta Valley known for?
Celtic tribes inhabited the valley before the Romans heard about iron, copper, and silver mines. The wealth attracted the enterprising legions from the south. Eventually, Rome established the walled, fortified city of Aosta, which came to be known as the Rome of the Alps. Dotted by ruins, it's an incredible little treasure trove of ancient history, and all in a picturesque mountain valley. Aosta has great food, museums, good shopping, and a gondola right from town to the ski area of Pila.
This area is also home to the House of Savoy, a historic dynasty that became Italy's ruling house in the mid-19th century before being overthrown in 1946. The territory spanned what is today the Haute Savoie and Aosta regions of France and Italy. Wars, royal follies, and Italian unification eventually divided the kingdom. Today, VDA is officially a bilingual French and Italian region, and semi-autonomous, keeping 90 percent of its tax revenue local. You won't feel the Roman or Neapolitan tourist chaos here, but it still feels like Italy. A good combo!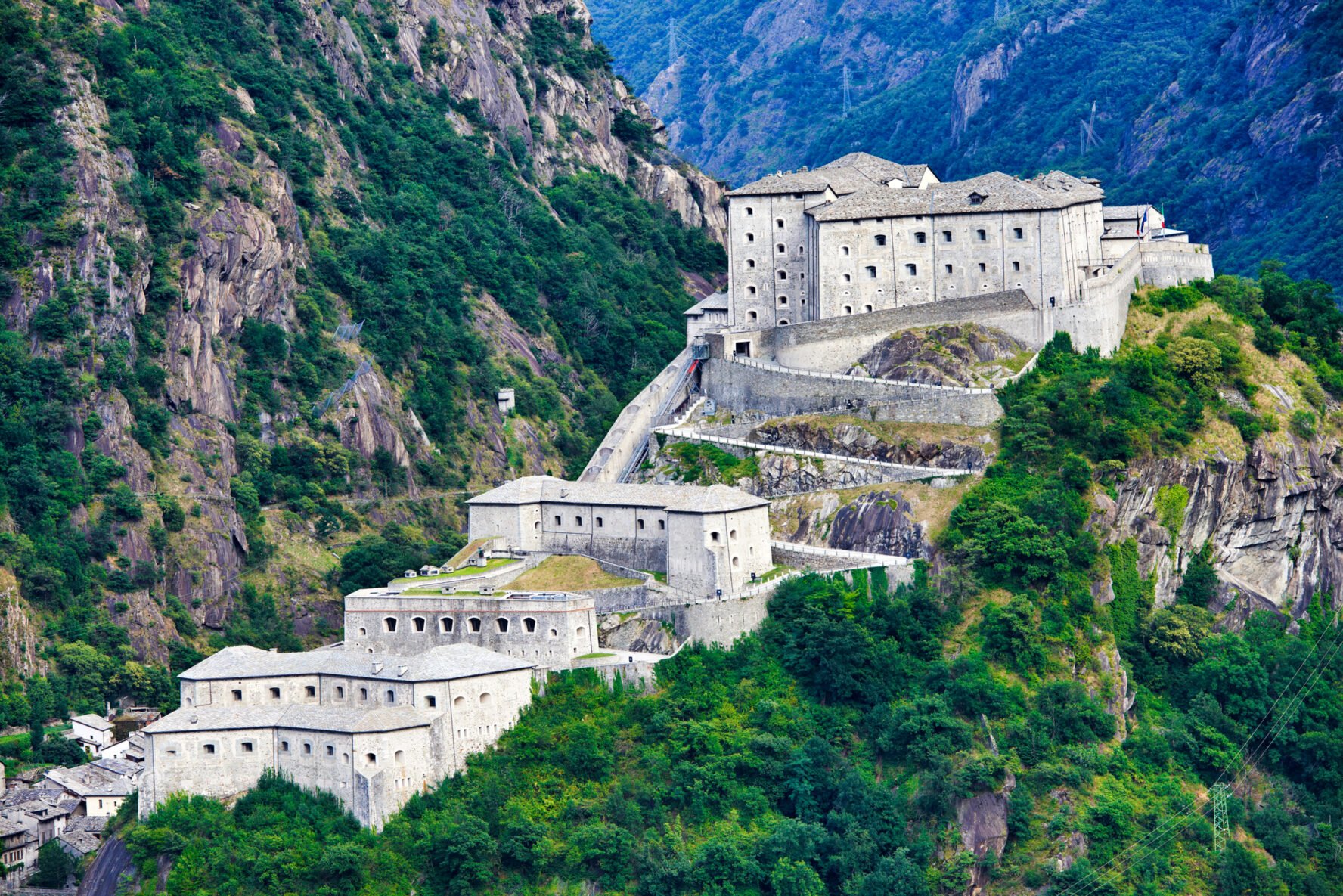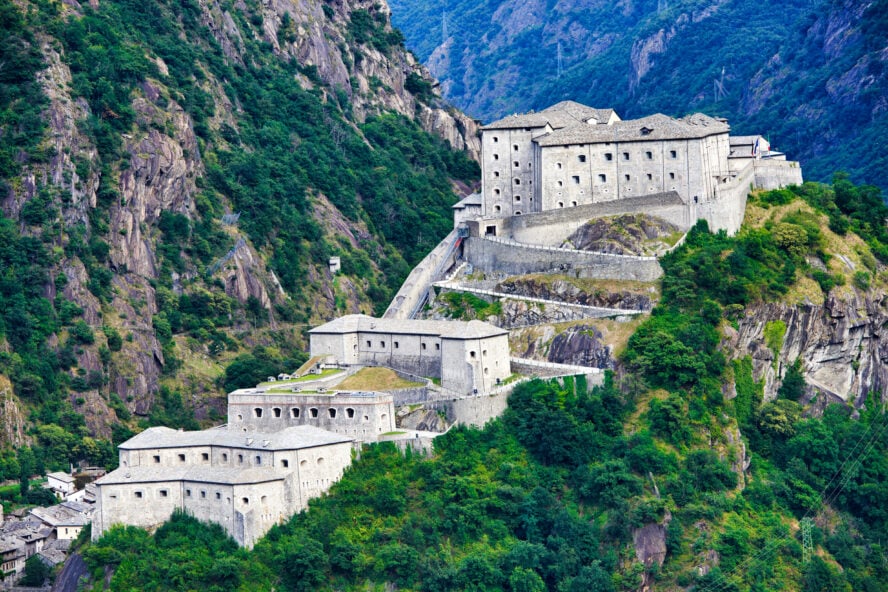 We're here to talk climbing, mainly. Rock climbing in the Aosta Valley is awesome, no doubt about it. The valley holds everything from single-pitch sport routes to multi-pitch bolt routes to test-piece alpine routes on the Mont Blanc massif, a compact group of mountains.
1. Machaby Crag: Features varied pitches and bolted routes
I can recommend a few places to check out, but for sure, head near the village of Arnad. Here, you'll find the Corma di Machaby crag for 6-10 pitch, bolted routes. Located in the Cubo di Arnard, Machaby might not have the hardest routes in the valley, but if you're looking for 5s, 6s, and a few 7s, you'll find them here. Plus, there's a good restaurant called Osteria L'Arcaden near the base of the routes, too!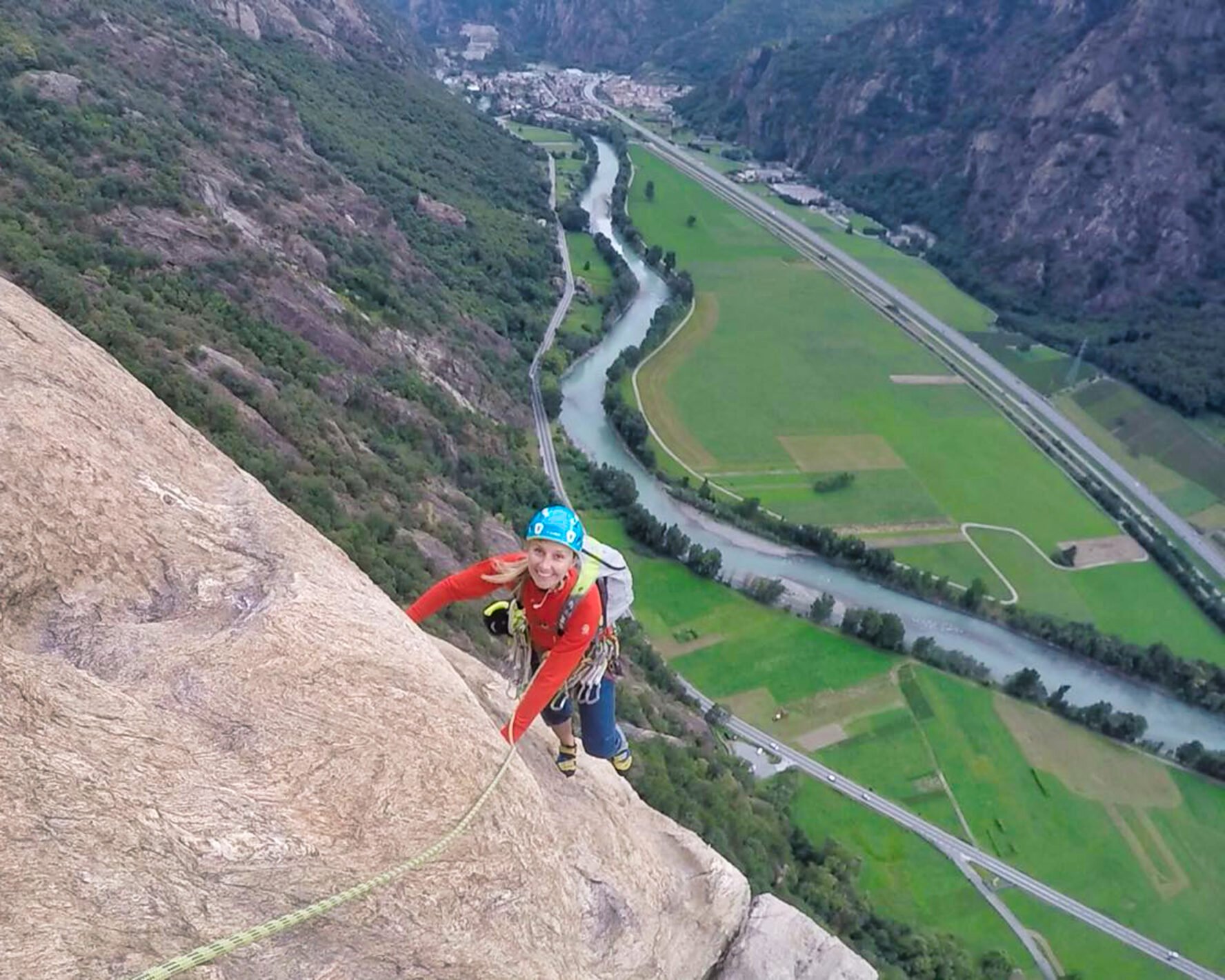 Nearby, I'm psyched to check out Paretone, another towering slab in the Machaby and village of Arnad zones. The up to 12-pitch routes in the 5b-6c range (in French grades), or 5.9-5.11+ (YDS), make it a paradise for mere mortals like me. If you're looking for harder pitches than that, this might not be the spot for you. You can also try out Gruviera, which can be seen from the road and has shorter routes ideal for beginners on nice rock in the 5 and 6 range.
2. Pilastro Lomasti: Perfect for seeing the sights
Two Italian friends and I climbed a nearby formation, Pilastro Lomasti, years ago. You'll find a dozen pitches on bolts ranging from 6a to 6c, or 7a to 7c. We were high above the river with the famous autostrada highway network below. What a day!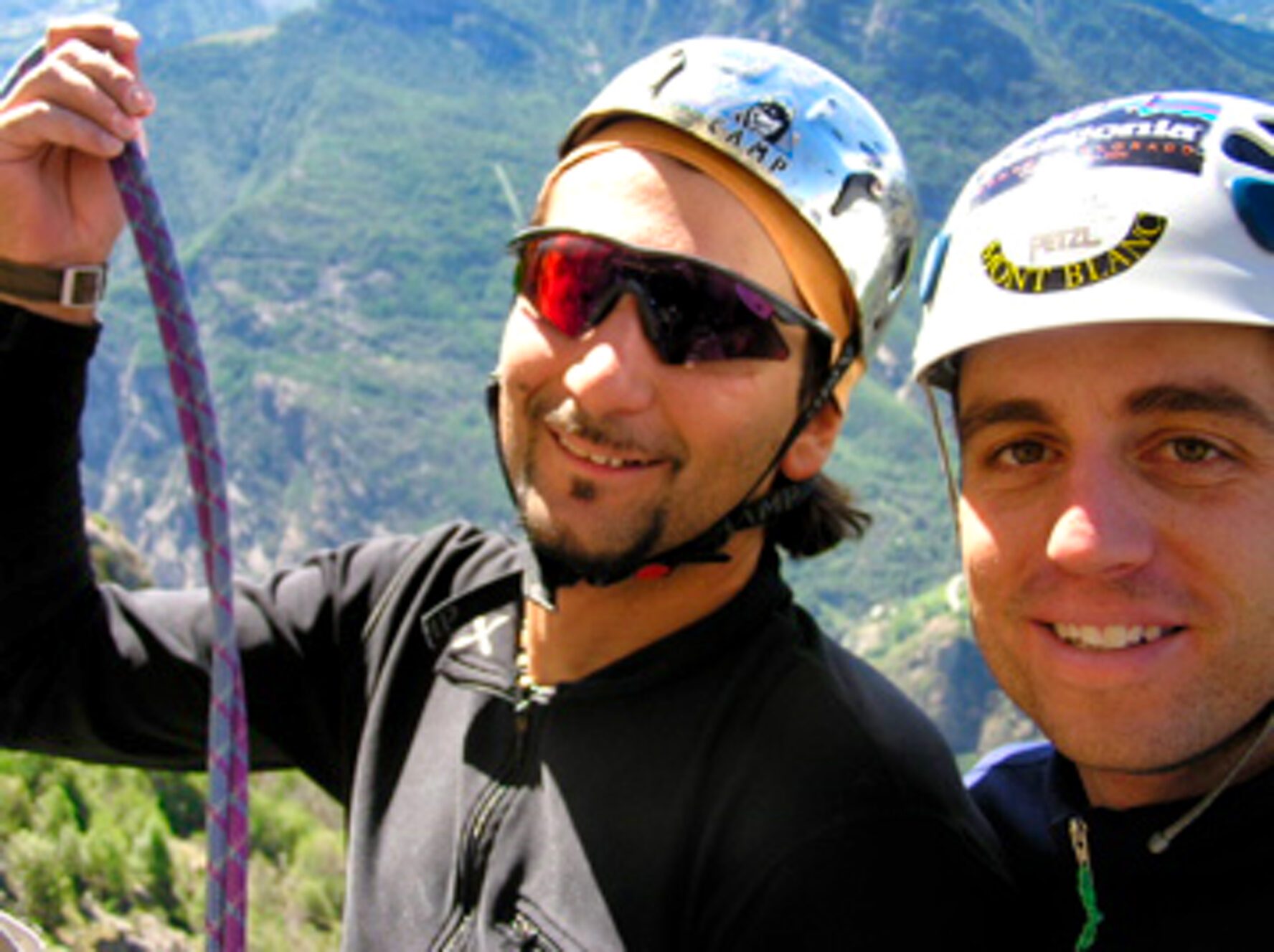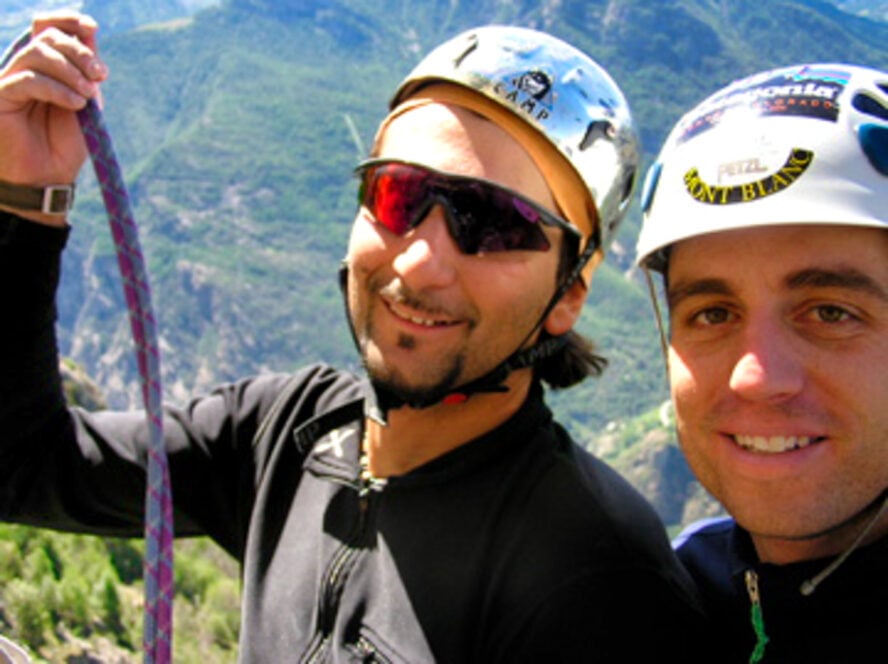 3. Placche di Oriana: Mellow routes near an idyllic alpine village
Placche di Oriana features mellow, cruisy routes with 4s and 5s on this multi-pitch rock climbing wall. Oriana is near the beautiful alpine village of Champorcher in the Aosta Valley. You won't want to miss the good food and coffee in this town! I've visited Champorcher in the winter for incredible ski touring in the shadow of Monte Rosa, but I haven't explored the rock yet.
4. Explore side valleys like Valsavarenche
As the main valley runs west towards France, side valleys worth exploring extend to the north and south. These range from end-of-the-road stops where the locals still only speak their dialect to bustling ski stations like Cervinia, the Italian side of the Matterhorn. To clip some bolts on moderate terrain, head up the Valsavarenche side valley. It's a perfect destination if you're in search of quiet, cross-country skiing, mountaineering and treks with snowshoes.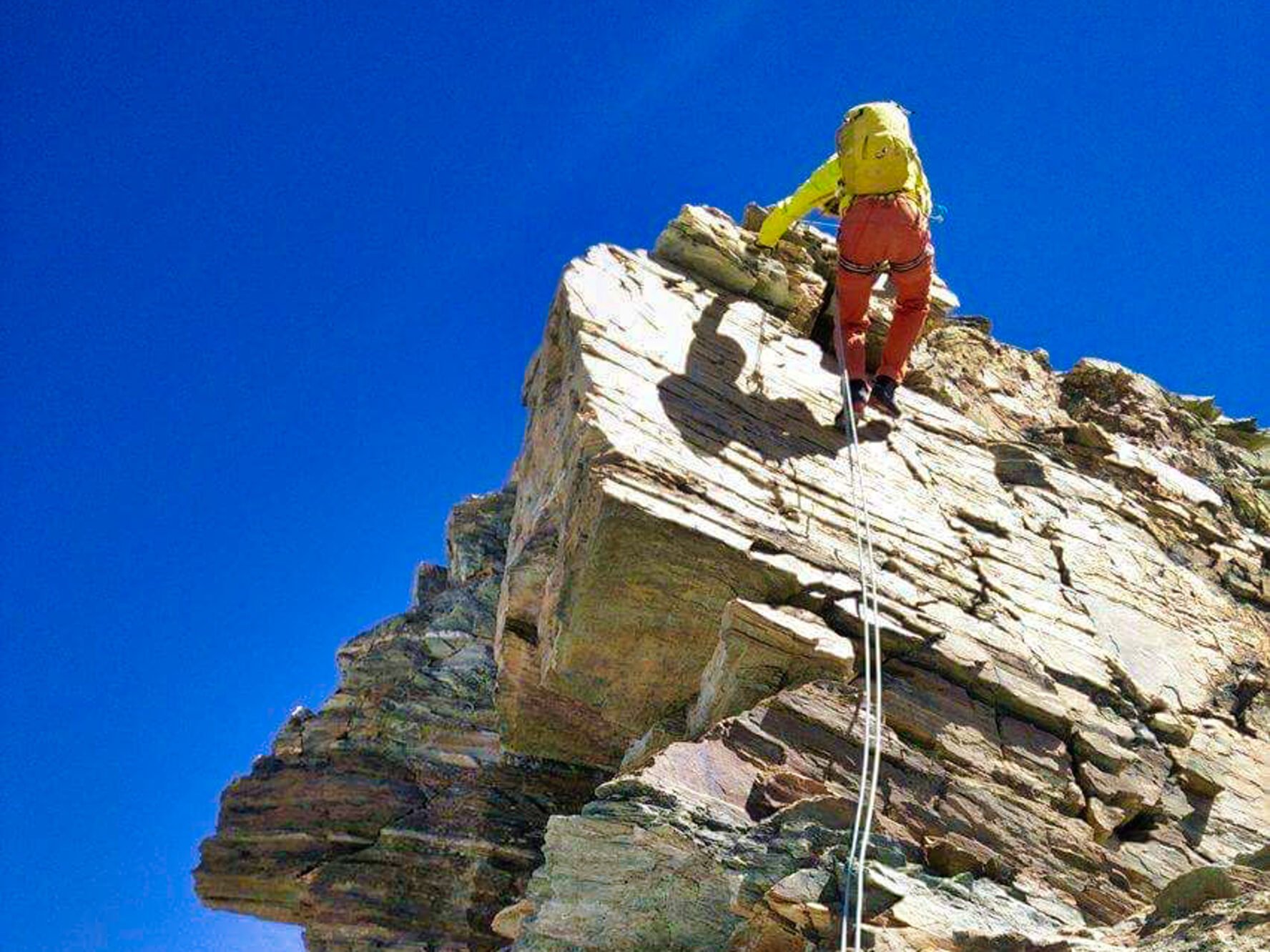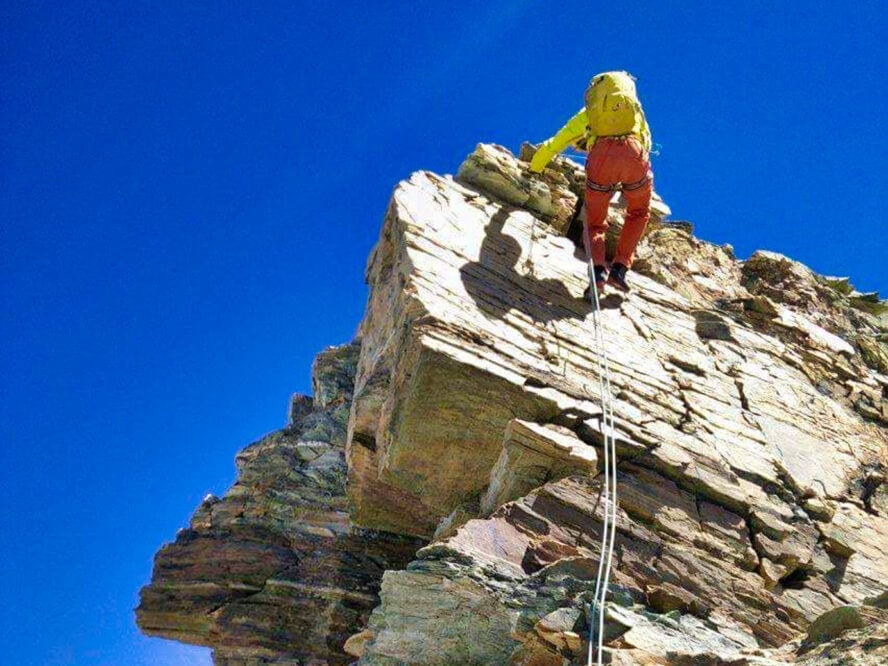 5. Do as the locals do by climbing Nivolet near the village of Pont
Browse the guidebook and find Nivolet. It's a great cliff in a beautiful setting that starts at the north face of the Gran Paradiso — the only peak higher than 13,000 (4000m) entirely within Italy. We did Di Fronte dal Paradiso, and it's so good! Two fully-bolted 5.9s (5b) deliver great climbing at 6,561 feet (2000m). It's a delightful venue when other valley crags are hotter. You're also just above the village of Pont where you can find a really good coffee. You might share the bar with the local forestry worker, a shepherd watching his sheep in a nearby meadow, and a couple of bored locals. It's likely that no English will be spoken, but they're used to folks like you and me checking out their idyllic, end-of-the-road village.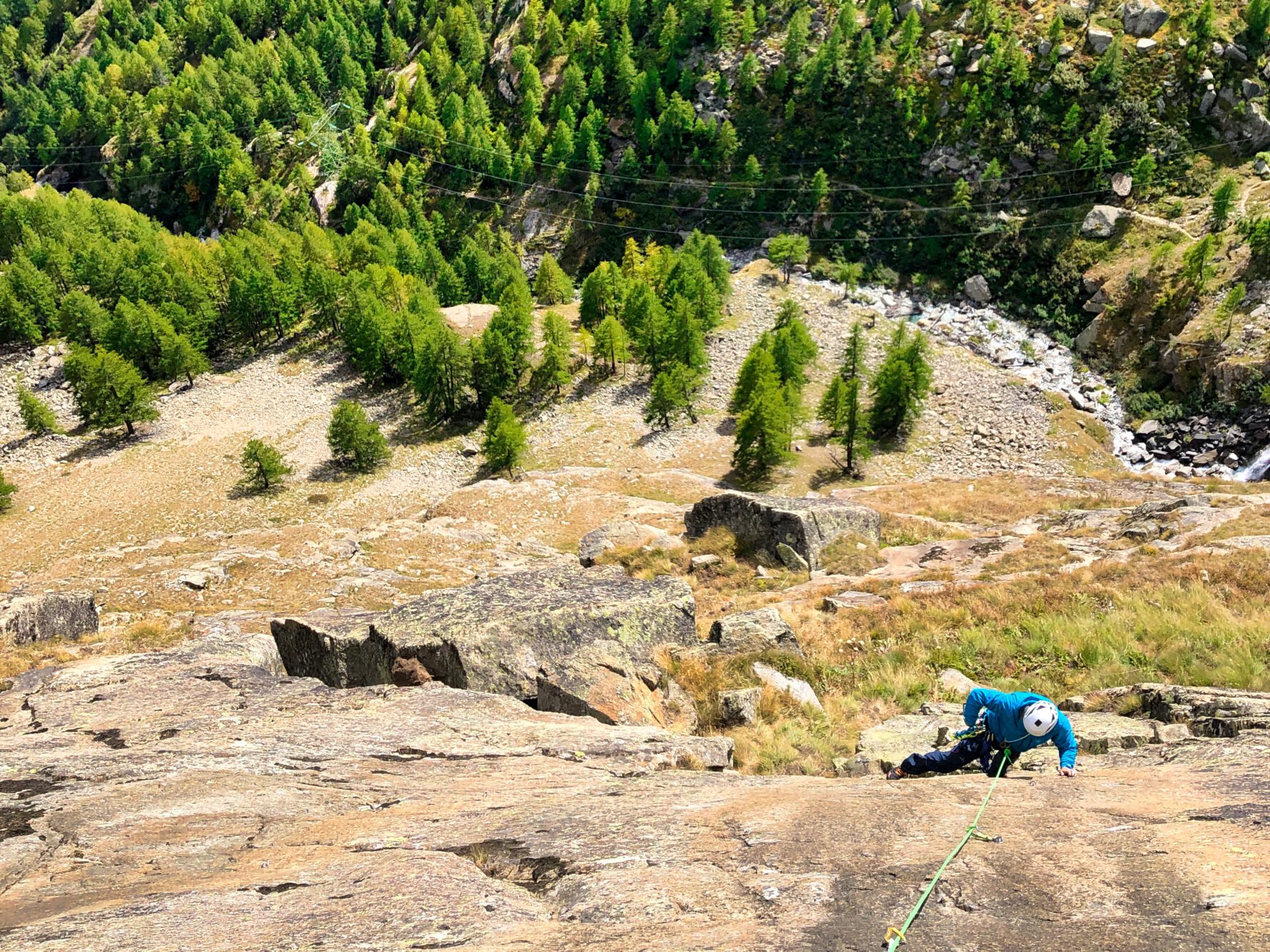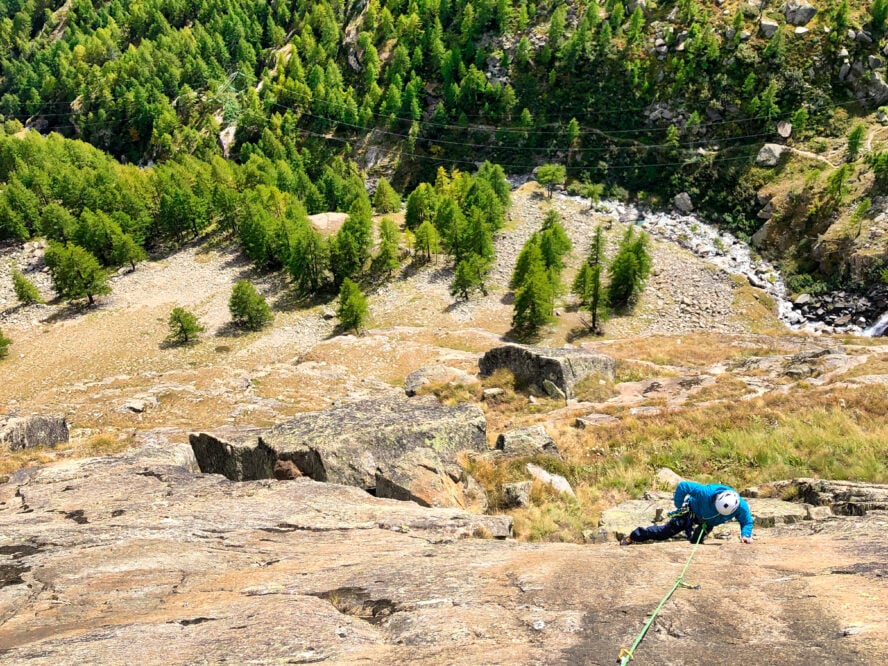 6. A few wild cards in the Valgrisenche Valley
Via Mario e Cecilia is another relaxed route in the Valgrisenche Valley, another end-of-the-road, semi-hidden gorge. The route and crag looks great. I'll eventually do it, but I haven't gotten to it yet. If you do, let me know how it goes.
If pulling hard and pushing your grades interests you, then scan the routes at Ozein, Gare Est, and Vaud. They'll each be steep, fun, and well bolted. And the grades are no joke! Again, crags I haven't explored, but local guide Mikey Arnold, swears by all of 'em and he's strong. Take his word for it.
Alpine Climbing on the Wild Side of Mont Blanc
You'll find plenty of alpine climbing in the Aosta Valley, too. Many of the alpine routes require broad skills in the mountains as glaciers and steep snow guard some of the more famous routes. Storied climbs like the Pilone Centrale, which translates to The Central Pillar of Freney, ascend the southern and eastern flanks of Mont Blanc, western Europe's highest point.
And this quieter, wilder side of the massif has some fantastic rock to climb. Plan carefully and make sure you're up for the glacier skills if you're accessing the higher reaches of Mont Blanc. For example, the Innominata Ridge wanders up relatively moderate rock before topping out on the glaciated summit. It's a big route where you must commit, so make sure you're ready.
1. Rock climb on the classic Italian side of the Matterhorn
Down valley, above Cervinia, the Italian side of the Matterhorn towers against the skyline. The Liongrat, which means Lion's Ridge, is the standard route from Italy. Not as aesthetic or famous as the Swiss Hornli Ridge, it is nevertheless a coveted classic and won't be as crowded. It's another long itinerary where commitment is required. Probably best for this Aosta Valley climb to be undertaken in good weather. Plan well.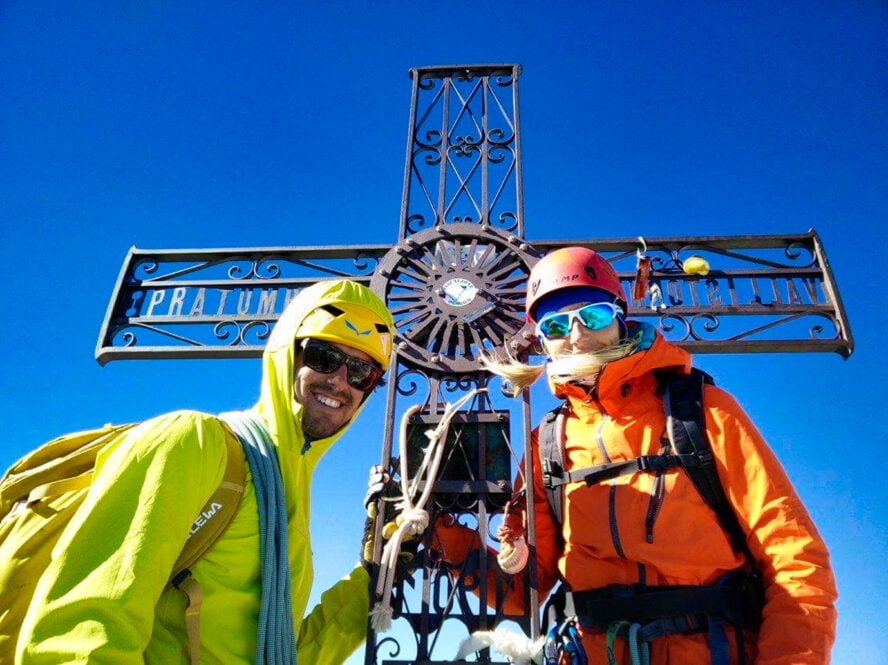 2. Orco Valley is known as Italy's "little Yosemite"
If you're willing to stray just a few kilometers out of the Aosta Valley, then check out the Val dell' Orco, or commonly known as Orco Valley. Technically, in the region of Piemonte, Orco Valley is Italy's "little Yosemite" because of its beautiful granite walls, splitter cracks and pastoral landscape. I've skied over to the boundary of this zone via the Gran Paradiso National Park, but haven't climbed the rock yet. It looks so gorgeous!
And yes, anywhere in the Gran Paradiso Park is a good call. This was originally the king of Italy's private hunting ground. Now, comfortable huts like the Rifugio Chabod offer you a base camp to explore the glaciated peak of the Gran Paradiso and its sub ridges. Ibex, foxes and even the occasional wolf inhabit the park. If you go by the Chabod, make sure to tell Titi, the owner and keeper, that Rob sent you!
Tips for Visiting the Aosta Valley
A little advice to help with trip planning, including when to go, where to stay where to eat, and other fun stuff to do when not on the rocks:
How to get to Aosta Valley?
Getting to Aosta Valley climbing spots is part of the fun — along with the adventure and the food! You can get to Aosta by train from Milano or Torino. You can also take a bus from the cities of Geneva, Milano, or Torino. Of course, you can also make it a road trip in your own car. The Mont Blanc tunnel connects VDA to Chamonix, France. Check into BlaBlaBus and Flix Bus for cheap deals coming from Geneva or Milan.
What is the best time to visit Aosta Valley?
May through October, the pure rock climbing is wonderful. If you're lucky enough to come in winter, check out the ice climbing in Cogne. Minutes of walking from a delightful hotel will get you to moderate, multi-pitch ice. You'll also find ski-touring in every direction.
Multiple lodging options are available
Days off, non-climbing travel partners and inclement weather, you need some backup activities. Luckily for you, VDA gives the goods. If you enjoy the bustle of a bigger Italian city, then Aosta can be a great base from which to explore the valley. If you'd rather keep it mellow, then villages like Gressoney, La Thuile, and Valnontey give you a sense of what the isolated mountain villages were like in centuries past.
In the time of COVID, many of the huts are booking fewer guests and have varying hygiene restrictions. Check ahead to see what you'll need and to make a reservation. Most huts have websites these days and do a pretty good job of responding to inquiries.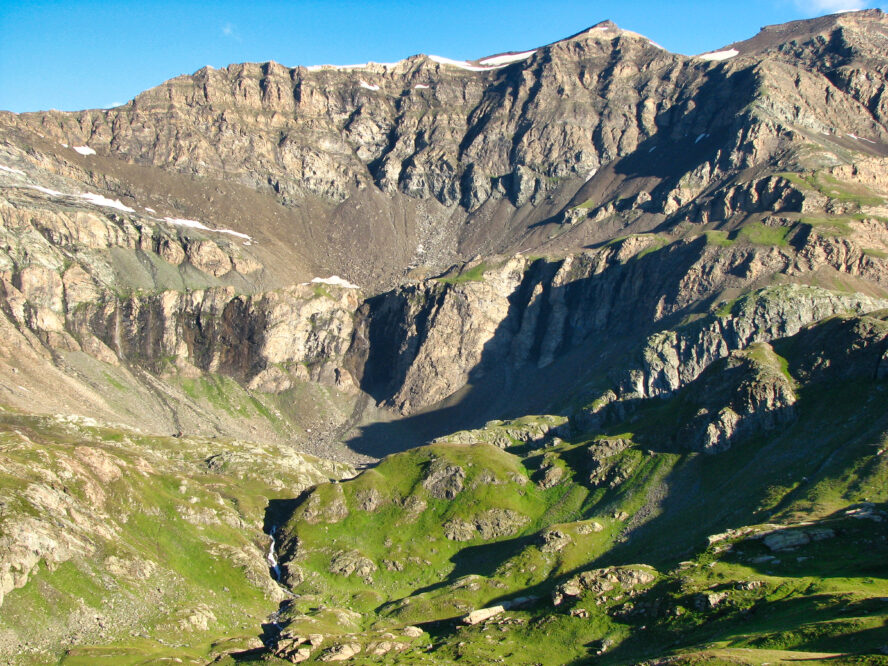 Stay in thriving Aosta for the best places to eat
Great restaurants abound in Aosta such as Saulle Re for epic Neapolitan pizza and Bataclan for pizza and pasta — in addition to a good scene. Officina della Pasta is great for, uh, pasta, and Sapori di Casa is worth checking out. Aosta also features cool shopping, a quaint downtown pedestrian area, and of course — gelato. Don't get chubby or the VDA 7a will seem even more unattainable!
Mid-mountain, check out Lo Ratrak for an epic meal including a nice wine list, great pasta and yummy dessert. Heads up, you're in for the mid-afternoon food coma if you go big! Down in town, eat at Lo Tatá, owned by a La Thuile local. Coppapan, which means "cutting bread" in the local dialect. Plus, it has a beautiful interior and good food, too.
Gear and guidebooks for climbing Aosta
For lower-elevation routes, the indispensable guide books by Bal and Raspo are Valle d'Aosta Sport Climbing and Le Mani Nude 2. Both are available in gear shops in Milan, Aosta, Chamonix, and Courmayeur. Browse the pages and check out the variety. To augment the printed guidebook, camptocamp.org can be of some help (make sure to activate offline browsing), as well as gulliver.it. Between those resources, you'll be able to find most crags.
What to do in Aosta Valley when not rock climbing?
For mountain bikers, my buddy Luca's village of La Thuile hosts an enduro World Cup in the summers. Bike rentals are available at Only Ski, and you can take your bike on the tram. La Thuile features everything from fire-road riding, super-technical singletrack, and high alpine loops on the Little Saint Bernard Pass.
The trail running will keep you occupied from any trailhead in the valley. The infamous Tor des Geants race, held every September, goes for 205 miles (330km) and gains 15 miles (24,000m) of elevation during the epic. Yes, you read that correctly! Winning times are usually around 80 hours. Woah, dude. Point is, there's endless "sky running" in the VDA. Bring your cushy shoes and some good endurance!
Dozens of villages dot the valley and the network of trails will take you as far away as Nice, France, or the mountains of Slovenia. The Italian Alpine Club (CAI) maintains the trails and dozens of refuges (or rifugi in Italian) providing you soup, pasta, warm beds, wine, beer, and bag lunches for your hikes, climbs, and ski tours.
Need help for any of the above? Find me via my website, Facebook, or send smoke signals … and we'll get it figured out!