Lake Tahoe | California
Squaw Valley-Alpine Meadows Backcountry Skiing Tour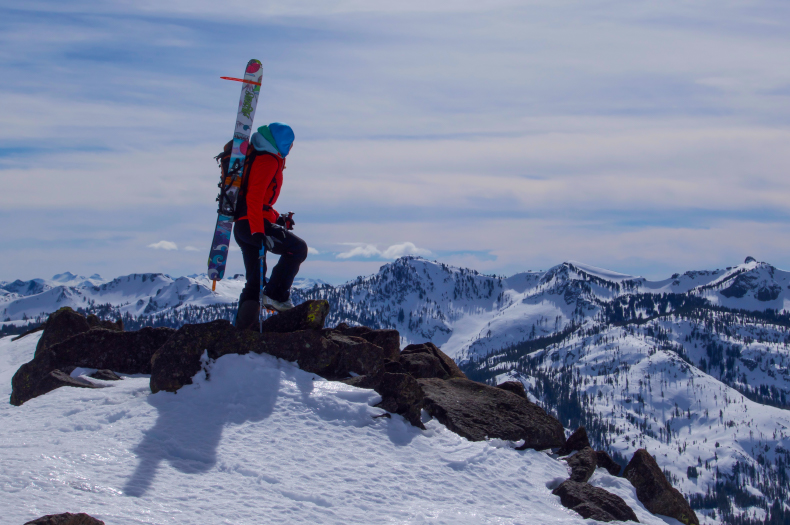 Get ready for amazing backcountry terrain in Lake Tahoe
Sometimes it's worth it for backcountry skiers to take a lift. Join us and ski outside the boundaries of Lake Tahoe's premier resort. Take the lift and spend less time skinning and more time skiing choice backcountry terrain. Plan on objectives like the coveted terrain in the National Geographic bowl outside of Granite Chief.
You'll ski in three distinct zones: Tram Ridge, Nat Geo Bowl and Munchkins. The terrain here used to be off limits, but now you can shred it with a guide. Regardless of previous backcountry experience, there are plenty of objectives for backcountry skiers and snowboarders to ride.
Skiing Nat Geo
The Nat Geo bowl and adjacent peaks have been long admired for their beauty, remoteness, and quality of terrain. When you cross the boundary at Squaw with your guide, you'll step into a true backcountry experience with quiet solitude and engaging terrain. There are many options for ski descents. Once at the bottom you'll transition to uphill mode and gain the ridge that connects Squaw Valley to the Tahoe National Forest boundary.
Skiing Tram Ridge
You can see this north facing terrain from the parking lot of Squaw Valley. This zone is made up of glades, gullies and ridge lines. You can ski multiple laps in this zone and return to the ski area with the lifts, or you can utilize AT or split boards and skin uphill. Skiing out of the boundary line on Tram Ridge has been a dream of many a long-time Squaw skier. Now it is a reality.
At Alpine Meadows you'll access the popular backcountry zone known as Munchkins, just off of Scott Peak. Munchkins is huge: there's mellow open bowls, perfectly spaced trees and steep technical lines. The zone's diversity makes Munchkins a great spot for new backcountry skiers and riders looking bolster their existing skillset.
Which areas will you ski?
On the morning of your tour, your guide will pick the ideal spot based on weather and avalanche conditions.
What should you expect?
Depending on the group's fitness level, technical ability and daily conditions, skiers can expect to get multiple laps of fresh tracks outside of the ski-area boundary. Terrain varies from wide open bowls and widely spaced trees to steep, technical lines that will challenge even the most seasoned skier
Depending on the zone, you'll ride the lifts at Squaw or Alpine before heading out of bounds. Lift access to these zones cuts out a significant portion of approach time. You can use them throughout the day to reduce the ratio of hiking to riding traditionally associated with backcountry skiing
Am I skilled enough?
Skiers and riders must be competent in a variety of terrain and snow conditions. Skiers and riders must be able to link turns on ungroomed runs while maintaining control. This is comparable to skiing ungroomed black diamond terrain confidently
Skiers or riders 12-16 years old can join can hit the backcountry with a legal guardian present. 16 years and over are able to join without accompaniment
Things you need to know
What's included?
All guiding fees
Lift lines
Avalanche safety gear
What's not included?
AT skis and boots, splitboards and avalanche equipment are all available to rent through the guiding service at competitive prices
Gear to bring
Hat
Sunglasses
Sunscreen
Lunch
Water and snacks (guides recommend 1-2L of water)
Lighter, more breathable layer options than a typical resort layering system. An additional light pair of gloves is preferred for uphill travel
Ski poles with powder baskets, or a pair of collapsable poles for splitboarding (These are available at no extra charge if you need them)
A backpack, and any avalanche rescue gear you may own. (Our guides recommend packs around 20-30L)
Guides we recommend
Alpenglow Expeditions
Alpenglow Expeditions
IFMGA/AMGA Certified Guides
Alpenglow leads expeditions across the mountain ranges of the globe in all discipli...