4 Best Backcountry Skiing Areas in Jackson Hole (By a Local)
Climbers have Yosemite, backcountry skiers have Jackson Hole. It's that simple.
Table of Contents
Ask anyone who's visited Jackson Hole and chances are they probably remember the moment they turned the corner on Highway 191 to catch their first glimpse of the striking silhouette of the Tetons.
I remember my first view of the iconic mountain range clearly, while on a college ski trip with my friends. Awestruck by the jagged scenery, I decided on the spot to call it my home.
Jackson Hole's backcountry skiing has a reputation for being the steepest and most challenging in North America—which, even while offering some of the best skiing on Earth, may seem intimidating to some. However, what many people might not know is that this western Wyoming ski hub has a variety of terrain suitable to skiers of all levels. Massive couloirs, playful tree skiing, scenic ridgeline traverses, and easy backcountry access from resort boundaries make Jackson Hole a Disneyland for adults.
Good luck trying to leave.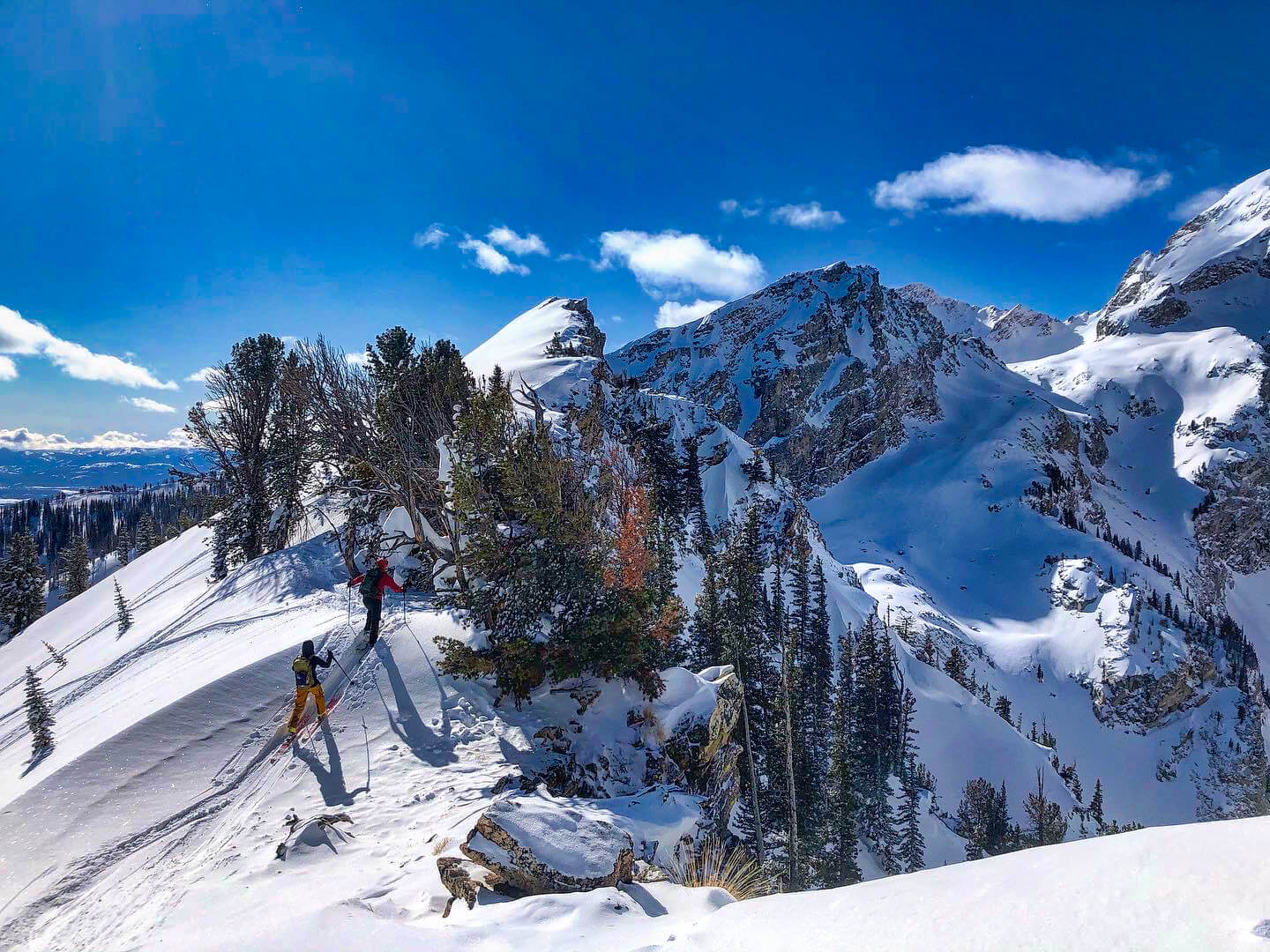 A quick Teton history lesson
Fur trading in the early 1800s is what originally brought European trappers to the Jackson Hole valley. In the 1820s, French trappers famously passed through Jackson and dubbed the three most prominent peaks Les Trois Tetons, or "The Three Breasts."
The mountains caught the eyes of adventurers, and naturally, the roots of Jackson Hole backcountry skiing runs deep. In 1930, Fred Brown, just 16 years old, and Allen Hanks, the chief park ranger at the time, became the first ever to ski in Grand Teton National Park. Skiing in Jackson Hole soared post-World War II because of the 10th Mountain Division, as it did in many other (what are now) top destinations across North America.
In response to the growing interest in recreational skiing, the Jackson Hole Winter Sports Association was formed in 1945. By 1946 Wyoming's first chairlift was installed at the local town hill. In 1965, Jackson Hole Mountain Resort (JHMR) opened its doors (and lifts) to the public.
Bill Brigg's nail-biting first descent of the Grand Teton (13,776 ft) in 1971 marked a huge turning point for big mountain and backcountry skiing in North America. Even now that he's past 90, you can still find him playing his banjo on Sunday nights at the Stagecoach Bar in Wilson for "Church," attended religiously by locals for the last 50 years.
What was once a lawless cowboy operation became a world-famous destination for skiers and riders from across the globe.
My experience skiing in Jackson Hole
After growing up in the Pacific Northwest, I migrated out to the Rockies for college and have been here ever since. Four years in Colorado preceded a brief stint in Utah's Wasatch Mountains where my weekend trips to Jackson gradually got longer and longer.
It didn't take long to fall in love with the community, the mountains, and the wide open spaces that felt increasingly hard to find in Colorado and Utah. That's why a few years ago, I decided to stop visiting and start ski mountaineering in Grand Teton for good.
I'm fortunate to have a work schedule that permits me to ski almost every day in the winter, even if it's just a quick lap on Teton Pass. Although I've done just that since I've arrived, I have no doubt the expansiveness of the backcountry around Jackson will keep me entertained, challenged, and awestruck for many lifetimes.
My Favorite Jackson Hole Backcountry Skiing areas:
Below, you'll find four of my recommendations for the best places to ski (Teton Pass, Grand Teton National Park, Jackson Hole Resort Backcountry, and Grand Targhee) along with suggested spots and classic lines.
Map of Backcountry Skiing near Jackson Hole
So much extraordinary skiing to be had in one place—you won't find this anywhere else.