Discover Thrilling Skiing in This Selkirks Backcountry Mountain Lodge
Shred powder by day, unwind in a cozy alpine lodge by night — then repeat — the Selkirks are your home away from home in the backcountry.
The Selkirk Mountains are miles upon miles of thrilling skiable terrain, delivering wide-open spaces with incredible world-class ski powder you'll never want to stop carving fresh tracks in. The variety of routes will keep you coming back — from subalpine bowls that get your adrenaline going to open ridges, gladed runs and everything in between. Smack-dab in the middle of this backcountry skiing paradise is the Valhalla Mountain Touring lodge. You'll find solitude, beauty and caches of ungroomed, quality powder in this perfectly situated haven. After a week in the Selkirks backcountry, one thing's for certain, you'll be booking your next trip before you even check out.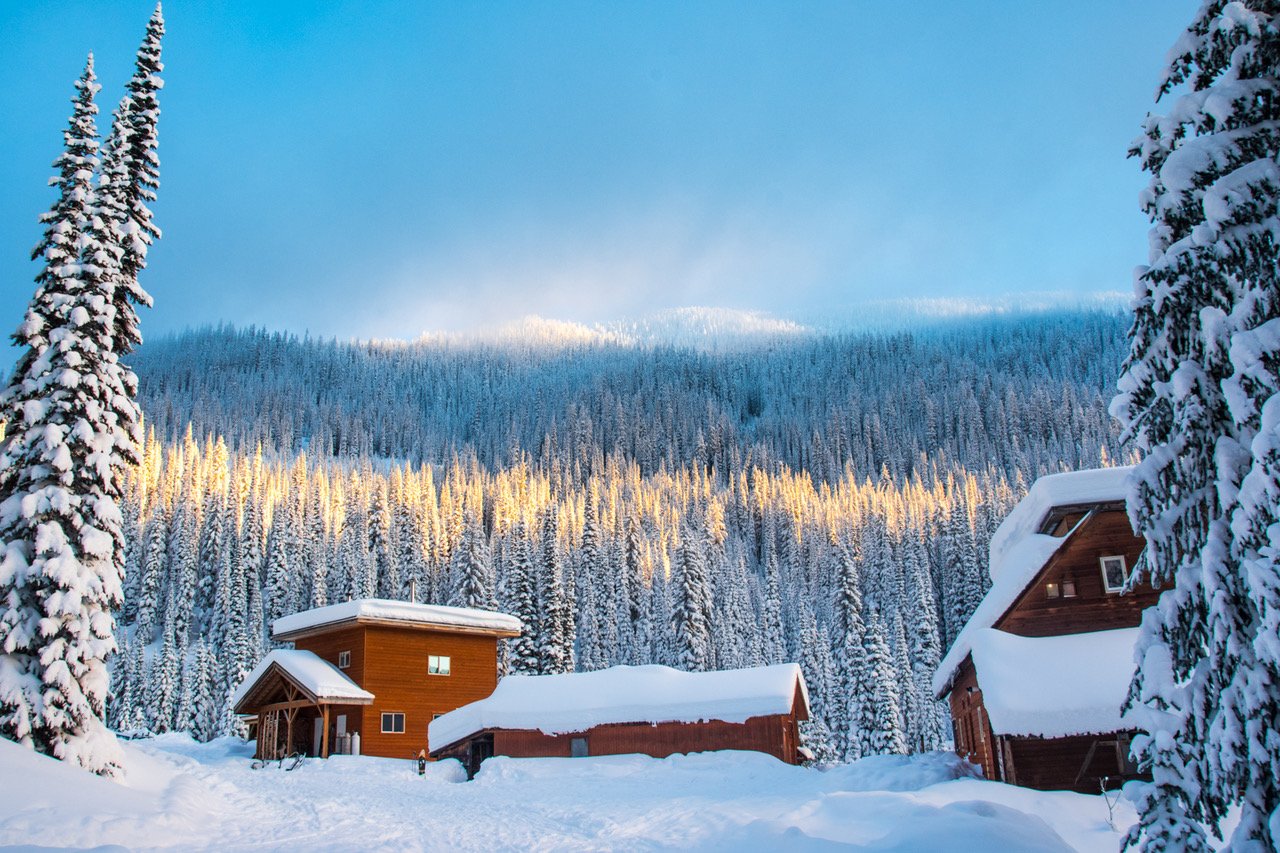 Pros and Cons of a Selkirks Backcountry Lodge Trip
The best light, fluffy powder you'll find anywhere in B.C.
Endless subalpine terrain is challenging and fun for experienced skiers
Stay at a cozy lodge easily accessed by snowcat
You'll need rent a car to get to the staging area
Day trips aren't an option
The Selkirks are a part of the Columbia Mountains, located mostly in B.C, but also dipping into the northern parts of Idaho and Washington. They lie east of the Coast Range, which sits on the western edge of British Columbia, and nestle up against the Canadian Rockies on the west side. Within the Selkirks, you'll find the Valhalla subrange, where our mountain lodge is located.
It's a fairly remote area compared to Canadian backcountry standards, which is what makes it so special. There are more popular areas, like backcountry skiing at Roger's Pass or skiing in Revelstoke, which certainly have their charm, but there's something extra special about our remote touring lodge. It's surprisingly accessible by a short snowcat ride. Plus, big storms tend to pass us by, shooed off by high winds preserving the light, fluffy powder known to the Selkiks. It's unlike anything I've experienced elsewhere.
I've been skiing in the Canadian Selkirk Mountains all my life
It's safe to say, I've been playing in the mountains for most of my life. I started hiking and backcountry skiing at the age of nine. I work as an instructor and examiner for the Association of Canadian Mountain Guides (ACMG), in the rock and ski guide programs. About 10 years ago, I took over my family's ski touring operation, Valhalla Mountain Touring, focused on backcountry ski touring trips from the lodge. When I'm not skiing my home slopes in the Kootenays, you can find me in Squamish, BC — easily one of my favorite spots to rock climb. I also take clients skiing in Japan from time to time.
Selkirk backcountry skiing is an alpine paradise with excellent snow
It's no secret the Selkirks are home to some of the best backcountry skiing in Canada, and the geographic location of this range is the reason for the superb snow conditions. Oncoming storms from the west pass over the Coast Range bringing lots of moisture with them. What turns into heavy snow closer to the coast, dries into fluffy powder in the inland Selkirks. It could be snowing sideways, and we would still have options for quality skiing.
Plus, this section of the Selkirks brings out a sense of adventure in people — remoteness is a contributing factor. The area is home to a few small towns and a couple of ski resorts dotted around. Then, there's the expansiveness of backcountry terrain, which makes the Selkirks perfect ski touring.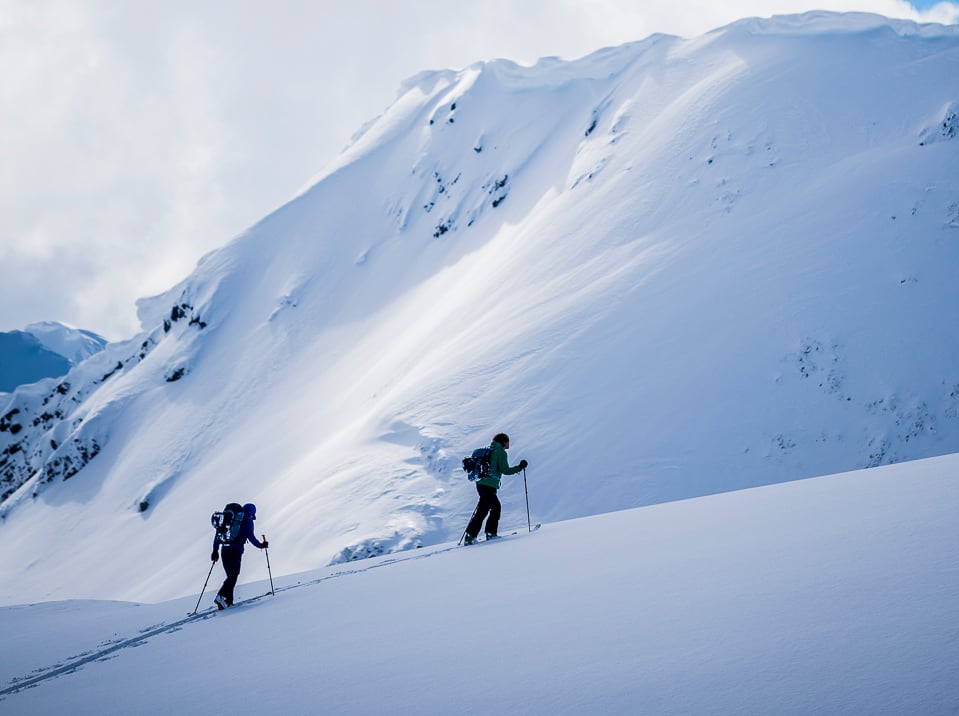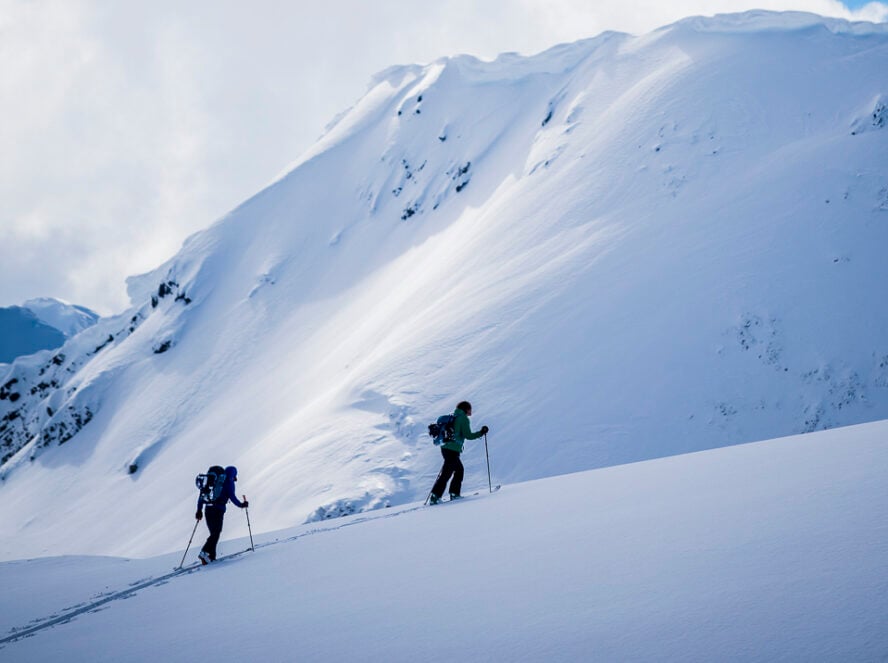 Best time to visit the Selkirks for backcountry skiing
The best time for Selkirk wilderness skiing is from the middle of December until the second week of April. Early December turns the Selkirks into a winter playground where the snow is light and hasn't become complex. Christmas kicks off the Selkirk skiing high season and lasts until the end of March. Not only do you shred the fluffiest powder, you do it under a beautiful winter light. You get a lot more daylight hours as the season comes to an end and the days start to get longer.
In early spring, your options for outdoor access expands. The terrain is filled in with snow allowing for additional backcountry touring. You can also accomplish ski mountaineering objectives if you head out later in the season. Poor conditions in the Selkirk Mountains rarely get in the way of skiing, but every season has its charms.
Selkirks ski touring is ideal for a weeklong stay
If their schedule allows it, I always tell my guests to reserve a whole week for their Selkirk skiing trip. We usually book the guiding season on a week-by-week basis. This year, we've done things a bit differently, and anyone wanting a shorter stay has the option to book a three-day or four-day adventure. The snowcat access means we can have you up (and down) the mountain in an hour and 15 minutes. One group, who are returning guests of ours, split up their ski week to experience personal outings as well as family time. Each set of parents takes half the week to explore and ski, while the other looks after the kids. The lodge works great for a trip like that as it's fully equipped with internet, hot water and all the amenities you'd have back home.
Our Selkirks backcountry hut tours are for experienced skiers only
As alluring as the Selkirk mountain range is, touring is reserved for solid intermediate and advanced skiers and riders. You have to be comfortable with riding steep descents, diving into deep powder and navigating between trees to fully enjoy the terrain. Ski touring requires challenging — and sweat inducing — ascents. The skinning portion of backcountry touring makes 80 percent of your day. Anyone who enjoys uphill movement will adore skinning in the Selkirks. Even if it's not your favorite part of the day, skinning does nothing to deter people from the amazing powder.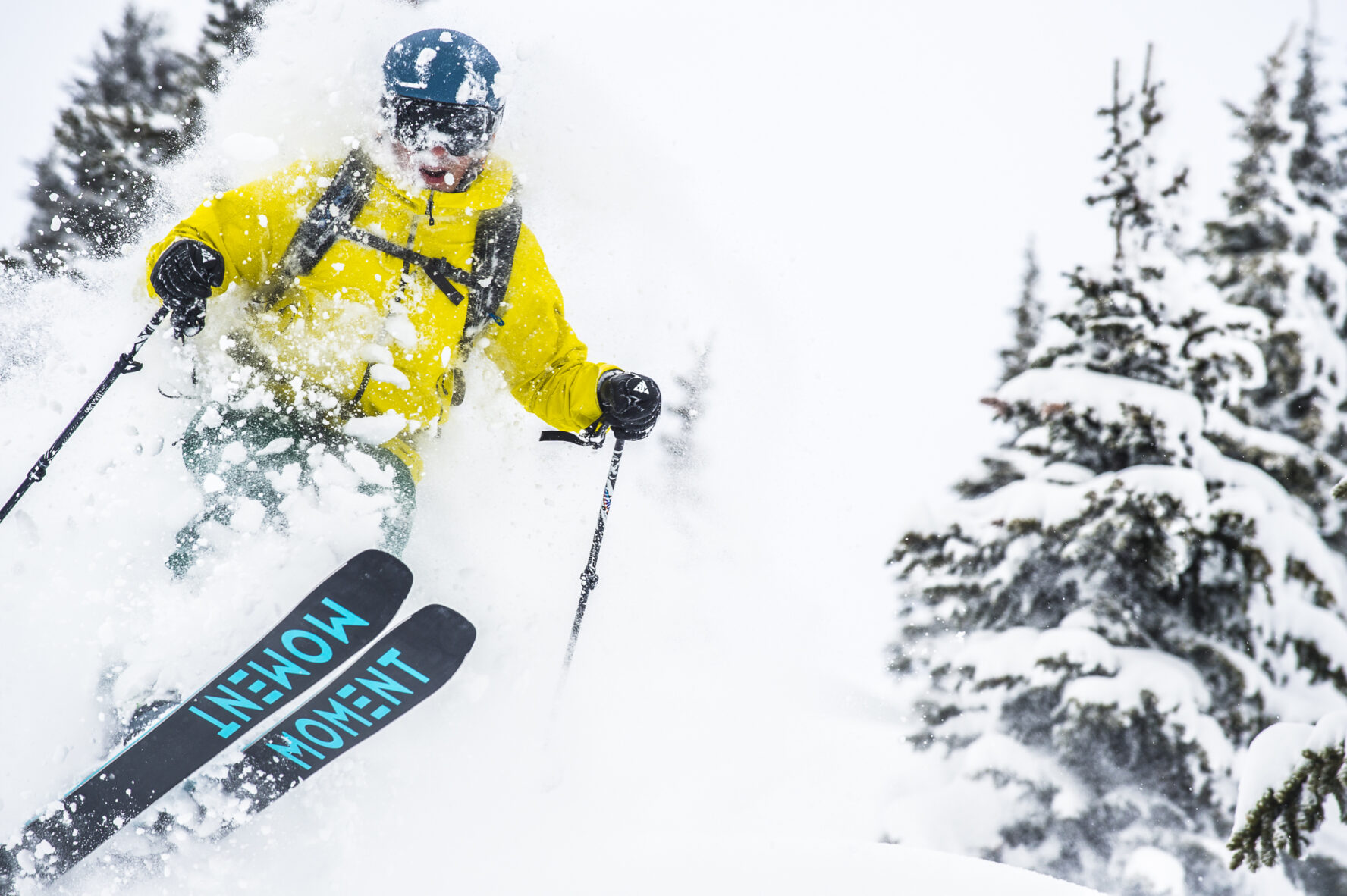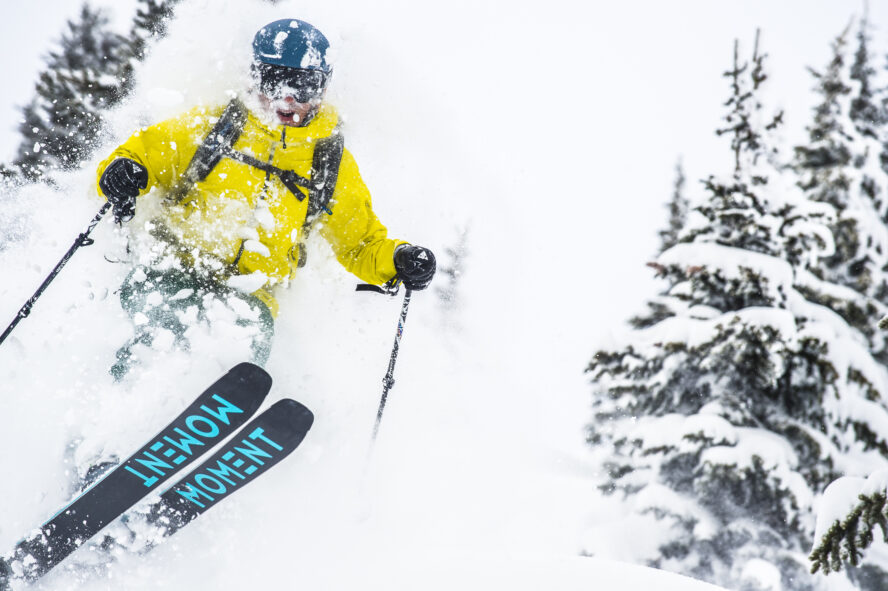 Head out to the Selkirks Backcountry for Incredible Ski Touring
The second your skis carve through the first layer of untouched powder, you won't want to leave. Skiing in the Selkirks guarantees exhilarating days in a subalpine playground. A few nights at our Selkirk ski lodge allow for plenty of rest and relaxation — and fun. One of our guests' favorite features is our sauna, perfect for unknotting sore muscles in time for another day of skiing. Plus, it's all fully catered and we arrange for hot appetizers to be waiting after a long day of exploring the mountains. As backcountry guides in the Selkirks, we always customize the experience to the wishes and objectives of the group.
Days ski touring in the Selkirks are tailored to your skill level and goals
Your ski day varies in length, depending on the season. Around New Year's, it's dark by four, so we'll be home before the sun sets. Usually, we're out on our skis or splitboards at around 8:30 a.m.The first part of the day consists of skinning from the lodge, or a short downhill. Generally you're starting the day with anywhere from an hour and a half to three hours of skinning. Then, we hit a suitable zone once we've determined the best route and conditions for the day. Sometimes we tour in laps, and sometimes we do a big loop. It all depends on the guests' desires and the weather.
We can ski and tour until five or later in the spring season. When the days are longer, we pack lunches and eat on the slopes. Most of the zones where we ski are near Mount Vingolf, part of the Valhalla Traverse stretching in a ring around choice terrain. Some of the best areas for alpine runs are the Ruby Peak and Big Sister Mountain north of the lodge. The whole area is a hidden gem, familiar only to locals, with many of the mountains not even having official names.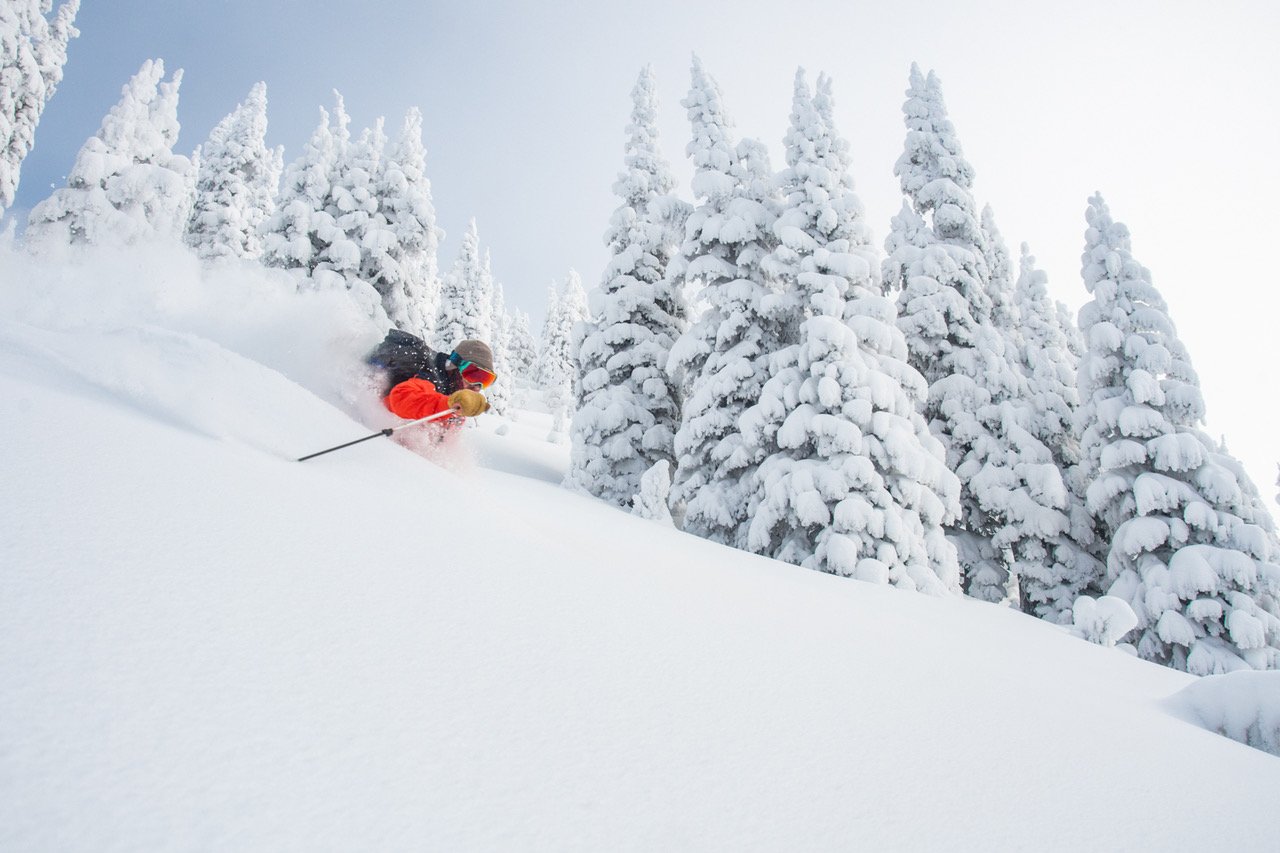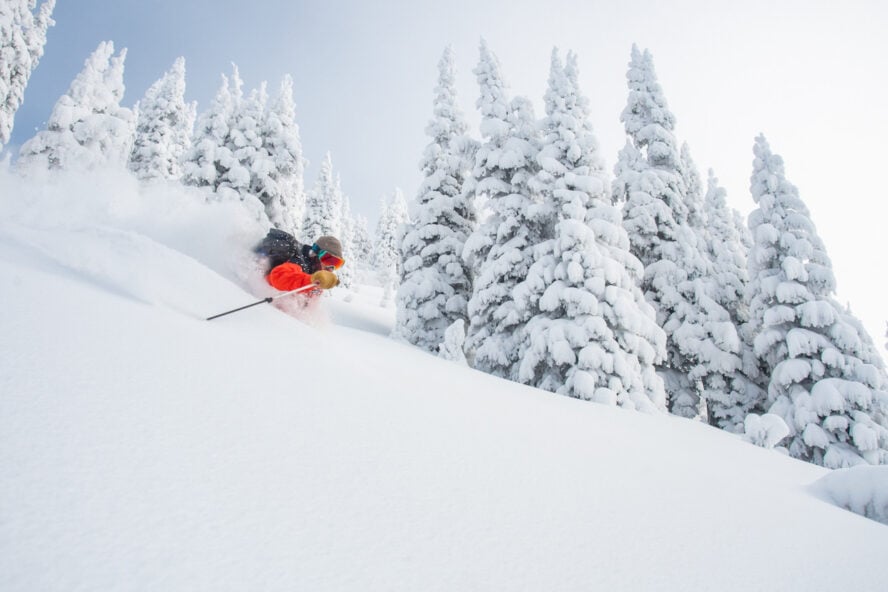 The Selkirk ski lodge is your home away from home
Valhalla Mountain Touring lodge is a beautiful, timber-frame lodge nestled in the Selkirk Mountains. The lodge resembles a gingerbread house surrounded by towering pine trees with a sprinkling of snow — a sanctuary during your alpine escape. The facility is quite comfortable, considering that it's perched on a mountain in the backcountry. The lodge sleeps 14 guests, has hot running water and flushable indoor toilets. In addition, there's a wonderful wood-fired sauna and a big, heated shower room. Our wi-fi is reliable for anyone who wants to check in with work or family. You'll almost forget you're high in the mountains until you look out the window.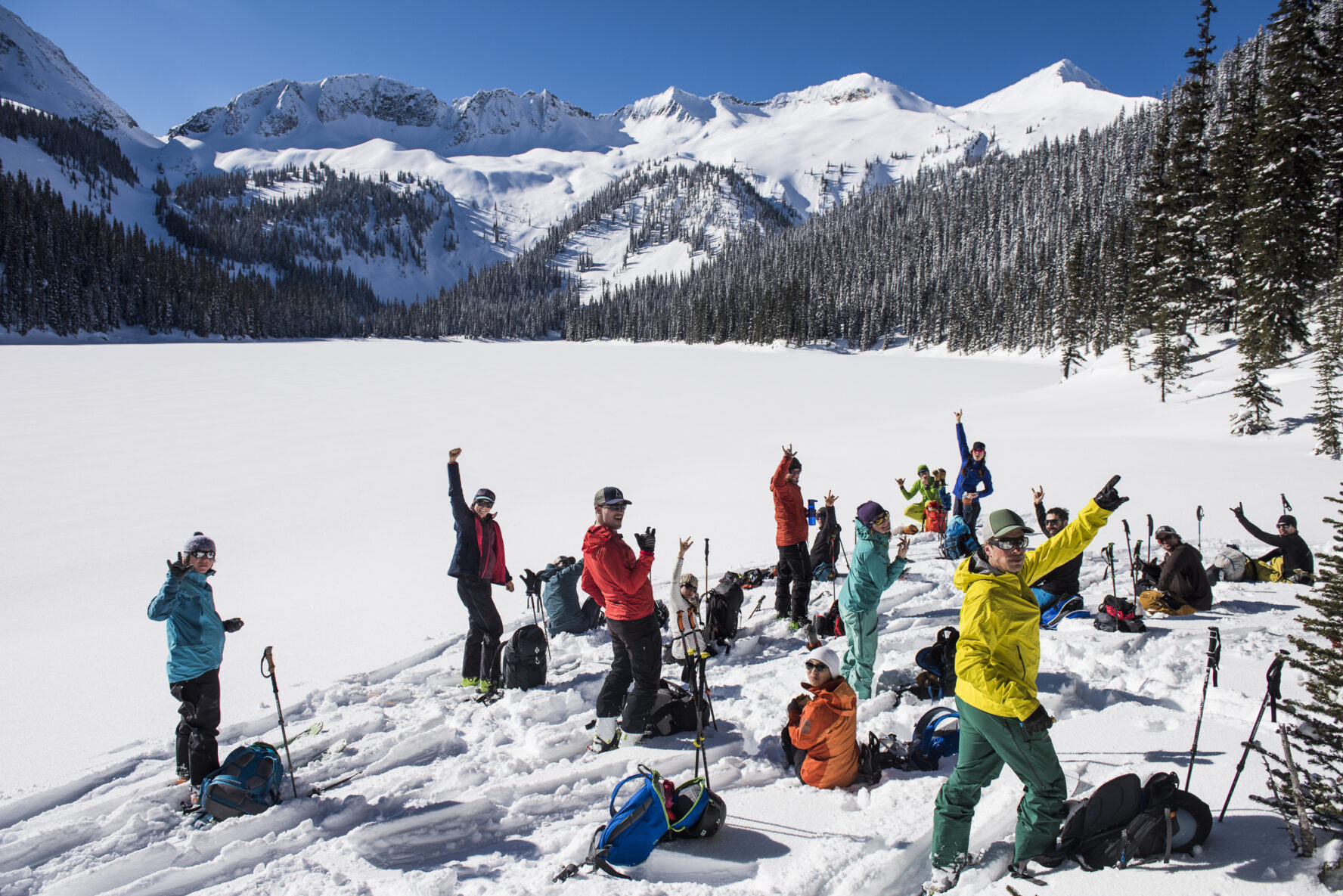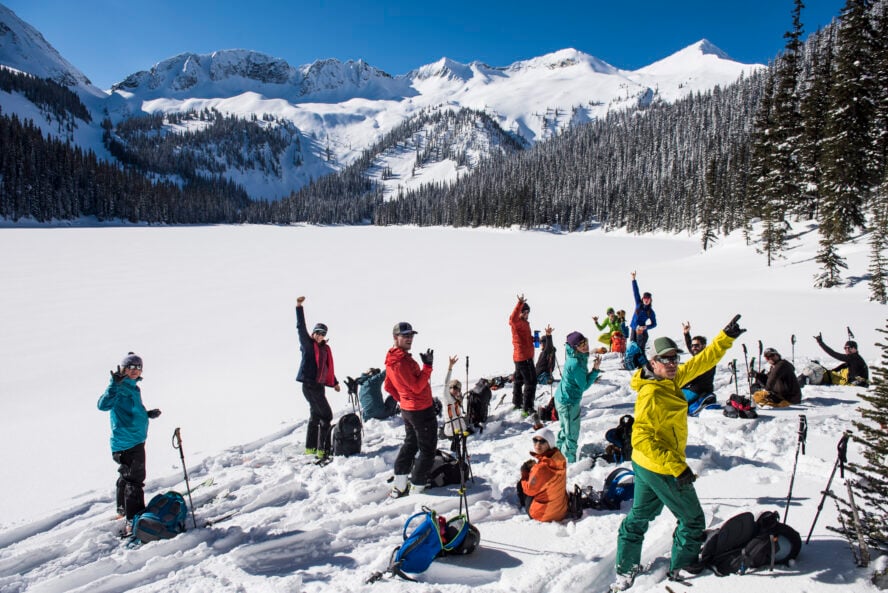 Locals make the backcountry touring huts worth the challenging ascent
Nothing concludes a day of skiing like a home-cooked meal. A close second to the amazing snow is probably the food, which often wows the guests. As the original chef at the lodge, my mom always believed in quality cooking. She's done a lot of traveling in her life, picking up recipes and flavors along the way. She instilled in me the value of a hearty meal at the end of the day. The lodging staff consists of local folks who really make the place special. Not only do they do their jobs well — and know the terrain like the back of their hand — the staff gives a family feel to the operation.
Selkirk snowcat skiing offers mountain access you won't gain otherwise
Snowcat access is one of the features that sets certain guide services apart. Almost every other lodge is accessible only by helicopter. Helicopters are a quick and thrilling way to access backcountry powder run, but they're weather dependent. They don't fly in wind or storms, and snowy weather and mountains go hand in hand. That's where Selkirk snowcat skiing has the advantage. Snowcats grant us more reliability getting people to the lodge and getting them out when their trip ends.
As a bonus, we don't have to weigh bags or limit what people bring. It also allows for a better family rate when ski touring with children. A seat in the helicopter is a higher rate. Plus, thanks to the additional supplies we can bring to the Selkirk skiing lodge, the meals are fantastic. We have everything we could possibly need.
Hassle-Free Planning Tips for Your Selkirks Skiing Trip
Fortunately, there isn't much to consider when planning your trip to the Selkirks. Guides are able to handle permits and take the logistics off your hands. When hiring a backcountry ski guide, all you have to do is show up with your gear. There's still a few small details you need to prep for before your Selkirk ski trip, though, and I've got a few insights into what you need to keep in mind as you count down the days to your alpine adventure.
The best place to find backcountry ski gear in the BC Selkirks
If you need to rent your backcountry set up, you'll find an awesome gear shop in Nelson, the closest rental shop. The Rivers, Oceans and Mountains (AKA Roam) gear shop is about 1.5 hours from the staging area in Nelson, BC. It's run by a Selkirk ski guide and the shop offers great ski rental. I've always found the staff to be savvy on everything backcountry ski related.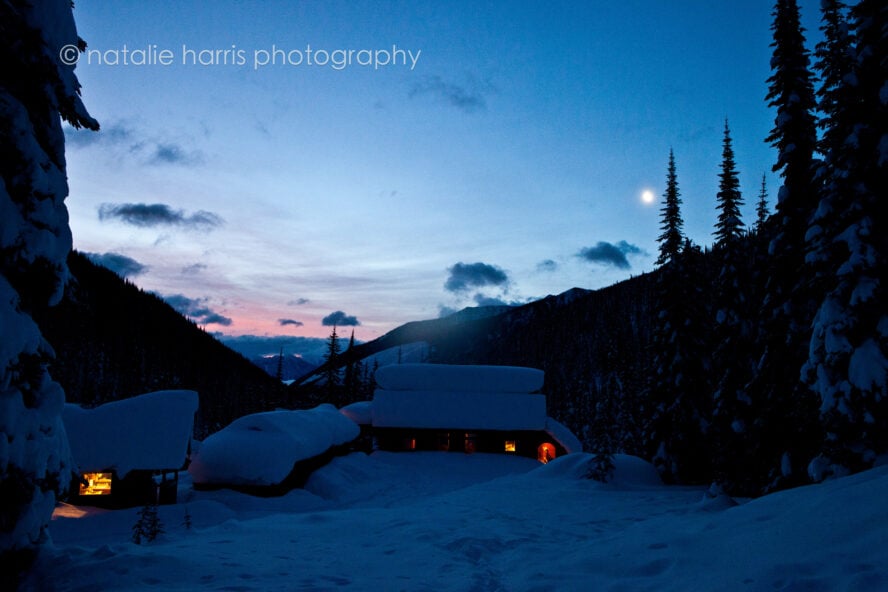 Stay in New Denver to access the Selkirk snowcat skiing
The closest town to the lodge is New Denver. It's a perfect destination for people who really want the authentic local experience. As winter rolls in, it becomes this beautiful, quiet, picturesque sanctuary. I recommended staying at The Adventure Domes before you head to Hills. It's a self-contained accommodation in unique, dome-like buildings. The domes are run by the nicest people and have the best views of the Selkirk and Valhalla ranges. The staging area is in the town of Hills, just 20 kilometers (12 miles) north of New Denver. The hut is 17 kilometers (10.5 miles) up the mountain. It takes the snowcat a little over an hour to reach it. I wouldn't recommend relying on public transportation. Your best bet is renting a car and driving to the staging area yourself.
It does take a bit of effort to reach the location, but that's part of what makes it so great. You won't find the usual crowds that you will anywhere else in the area, and once you're picked up by the snowcat, it's all adventuring from there. I promise, the powder will make it well worth your time.