Spoiled by the Meadows — A Tyro's Take on Backcountry Skiing
After my first hut-based backcountry tour in the Selkirks, I thought I'd seen it all. This couldn't be farther from the truth. My week spent at Fairy Meadows was eye-opening and very special indeed. Who's ready for next year? I know I am.
I'm a recent convert to backcountry skiing and I was blown away at my luck on this trip. How could I, a resort skier from the east, be treated to spectacular terrain, top-notch guiding and near perfect weather conditions? To be honest, I felt a bit spoiled by it all, and it was truly fantastic. My only other reference to this kind of skiing was on a guided trip out of Sunrise Lodge in a different part the Selkirks a month earlier. I thought Sunrise was as good as it got, but I was wrong. One thing about Fairy Meadows that really stuck with me for the entire trip was its remoteness. After the helicopter departs, you are on your own and unplugged! No cellular coverage. No electricity. No running water. Leave the 21st century behind for a few days. You will enjoy it and you will want to come back!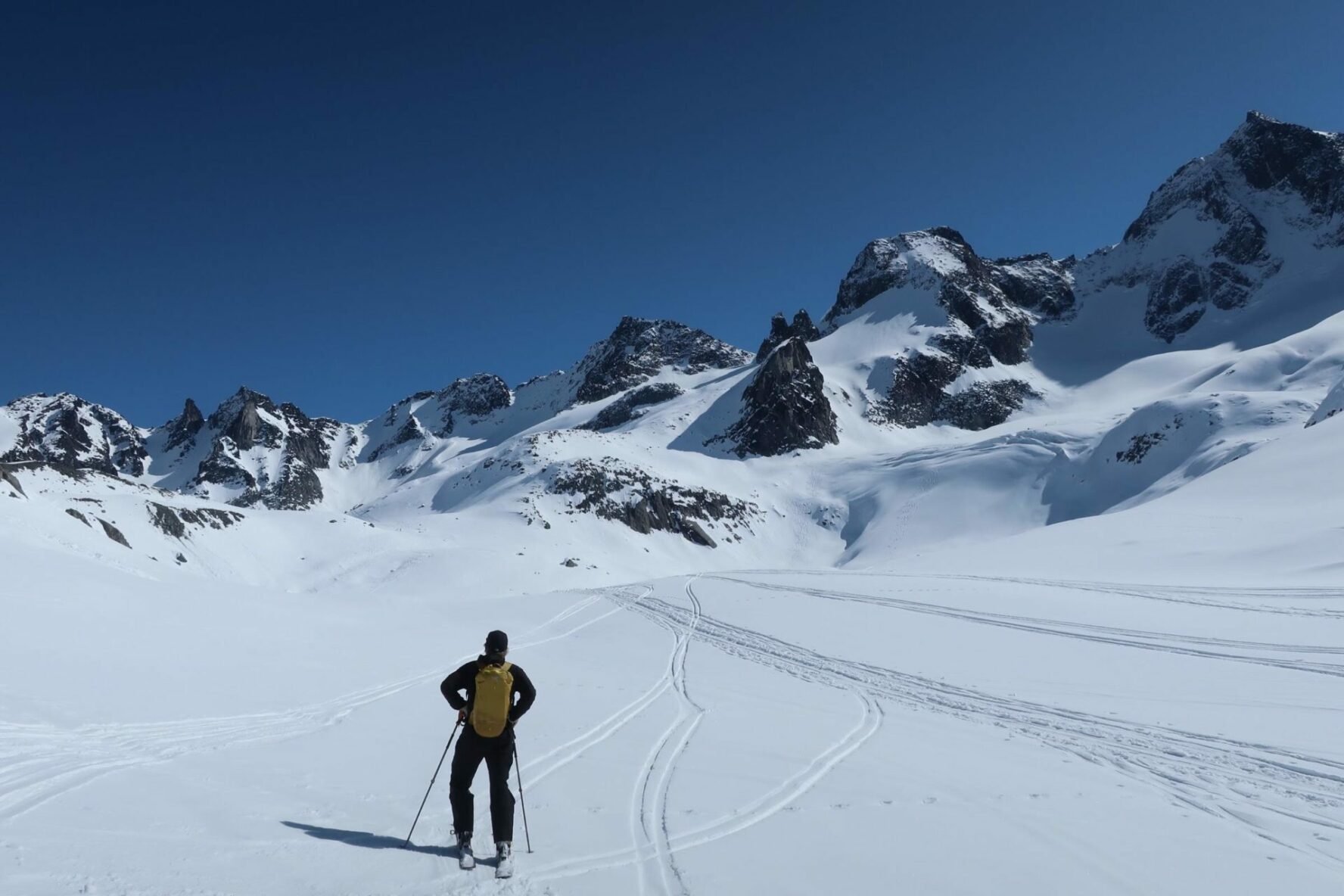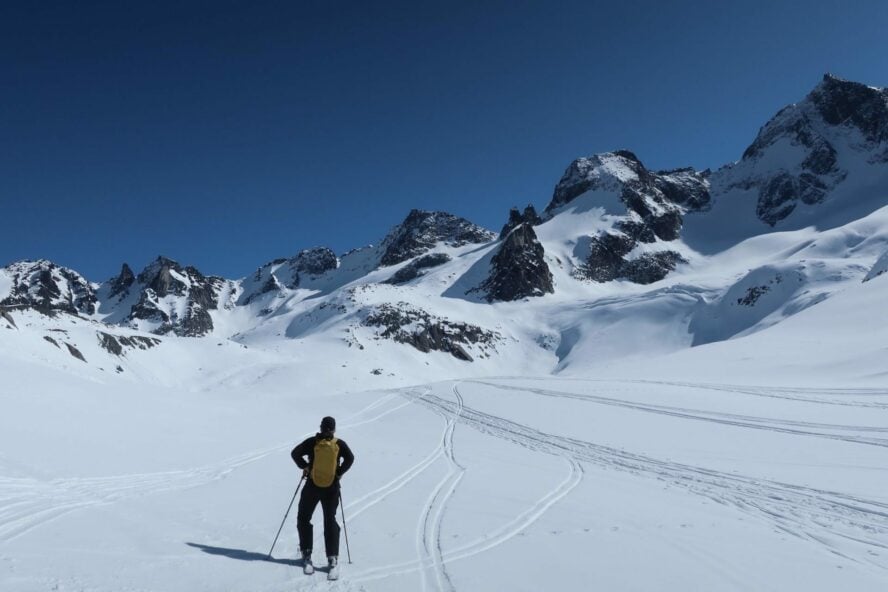 Pros and Cons of Skiing the Meadows
Remote yet close by helicopter
Epic and varied terrain for all levels
Minimal transitions to access terrain
Very open sleeping accommodations
But first you have to get to Golden
Our launch point for the tour was a helicopter pad about 50km northwest of Golden, BC. But getting to Golden takes some doing.
I recommend flying into Calgary (YYC)
and then driving the 3.5 hours to Golden. Doing so gives you the chance to gear up and provision in Calgary or Canmore. Depending on the time of year
the drive along the Trans-Canada highway can be tricky
and subject to weather delays. I had enough ski-travel experience that I knew to arrive in Canmore en route to Golden a few days early. Invariably, when you fly you forget stuff. In my case, I forgot a sleeping bag! Also, though I had my own backcountry skis, boots, and skins, I hadn't shelled out for the mandatory avalanche beacon. At
Gear Up
in Canmore I was able to get what I needed.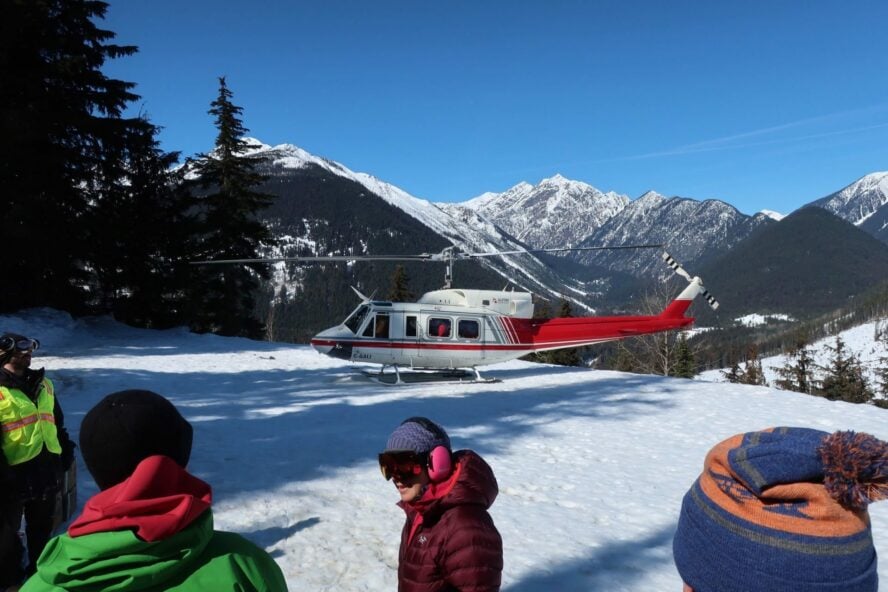 Alternatively, you could fly to Kelowna, BC
and head east to get to Golden. Golden has a variety of hotels, restaurants and spots to provision but not to the extent of Canmore. Remember too that you have to get out of Golden after your epic adventure, so keep that in mind when planning logistics.
Great guides make all the difference
Our guides for this trip were pros.
Conrad Janzen
and
Dave Healy
have full certification as mountain guides through the Association of Canadian Mountain Guides. Our third guide was
Alison Cardinal
who has years of guiding experience and was about to take her final exam to be a full-fledged ACMG ski guide.
Touring with a guide is a must in terrain like this, especially for a newbie
. Period. Even the more experienced skiers know that guides scout and open up the best terrain possible given snow conditions and skier ability – all while mitigating avalanche and crevasse risk. Most of the guests in my group had skied with Conrad and Allison several times over and that's the best kind of recommendation there is.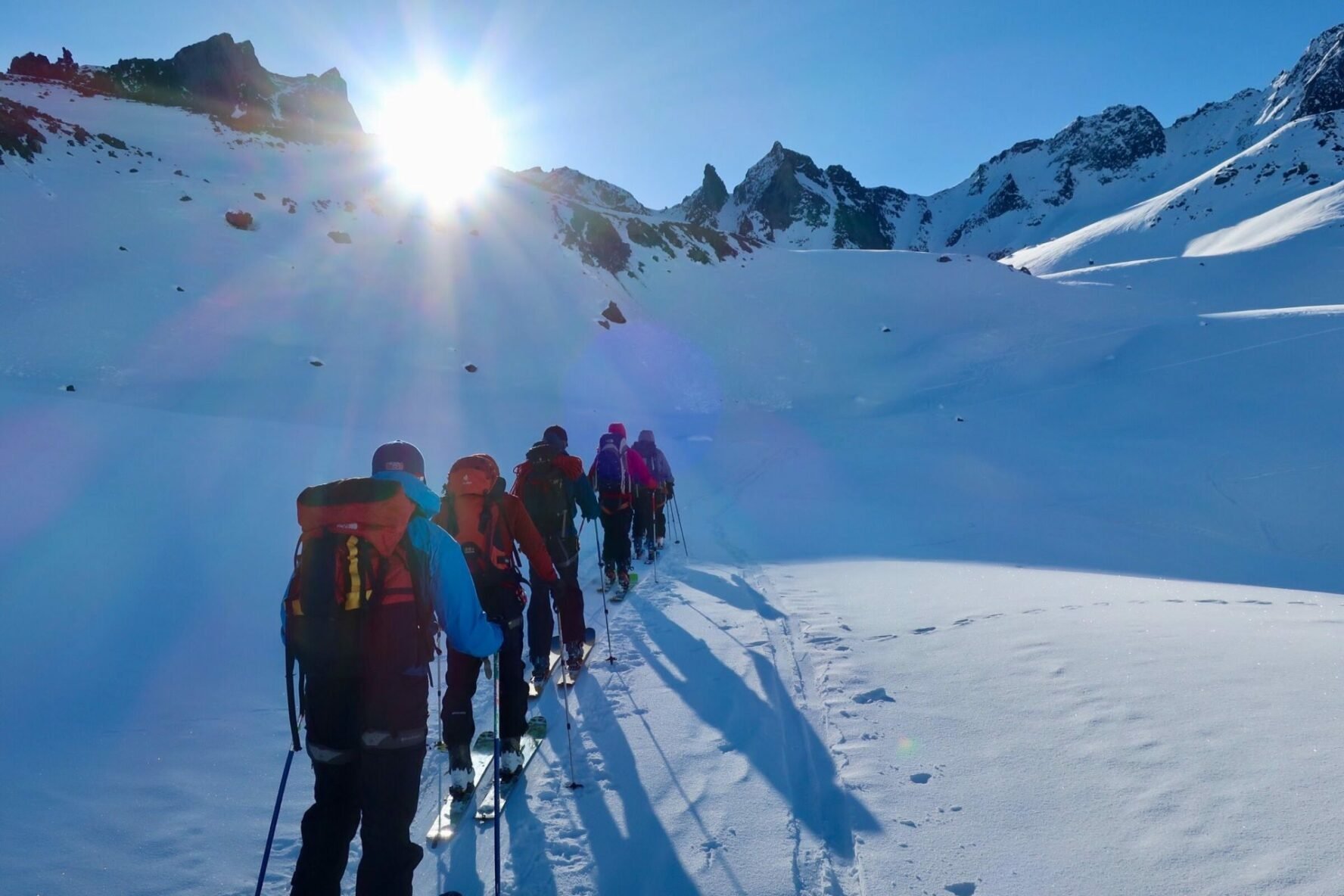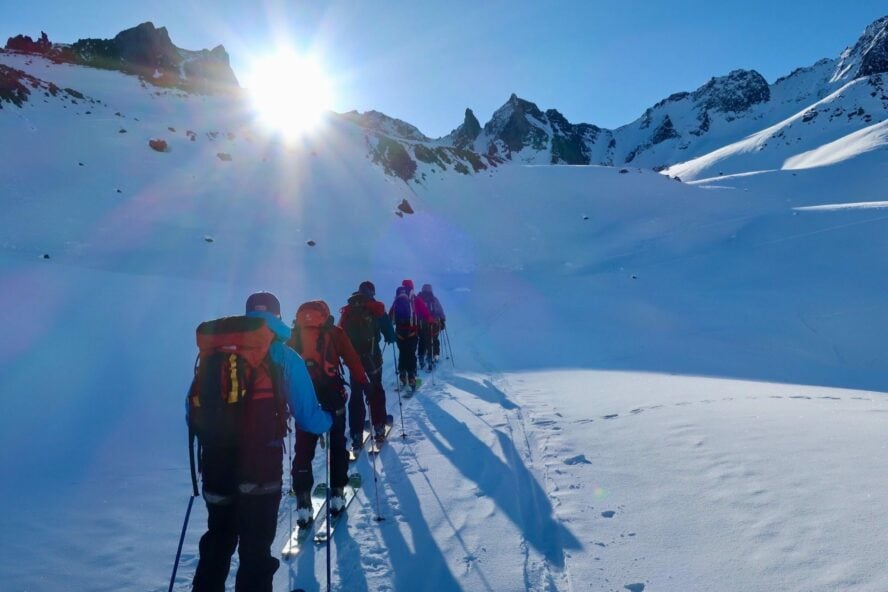 The terrain
I'm learning that backcountry skiing is more than just skinning up to find clean, untracked powder. It's also about taking in the rugged, majestic beauty at each location I visit.
"Stunning" comes to mind when I think of the terrain at the Meadows
. What sets Fairy Meadows apart from Sunrise are the glaciers. On the first tour, after just a short up-track, I found myself on Granite Glacier. To a beginner's eye the glaciers are subtly hidden, cloaked in snow. Initially,
the peaks and huge rocks stand out most
, but after a few days of touring, exploring and skiing I became aware of all the ancient ice. I got to experience the primeval features of bergschrund, cirques, crevasses, snouts, moraines and corrie glaciers.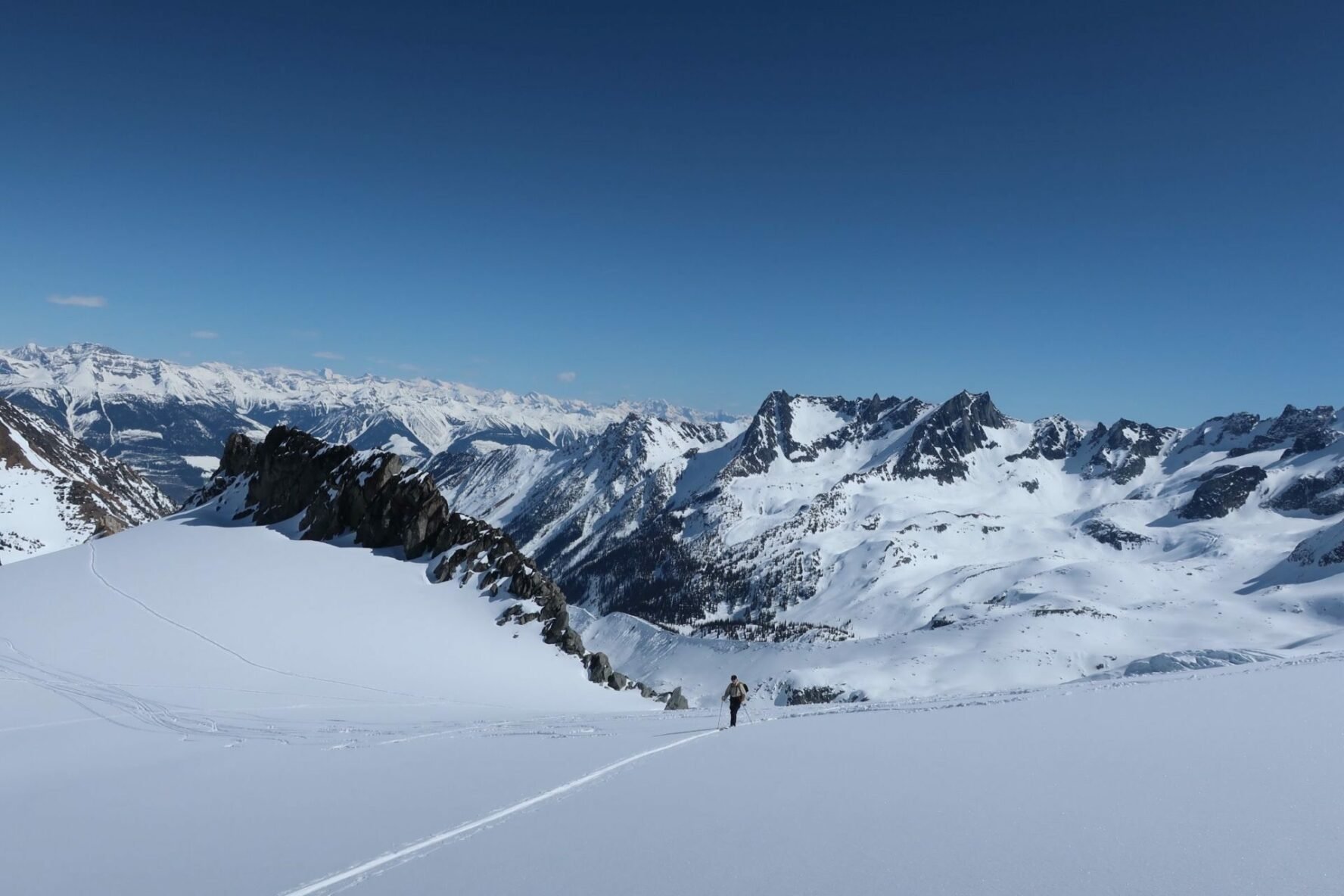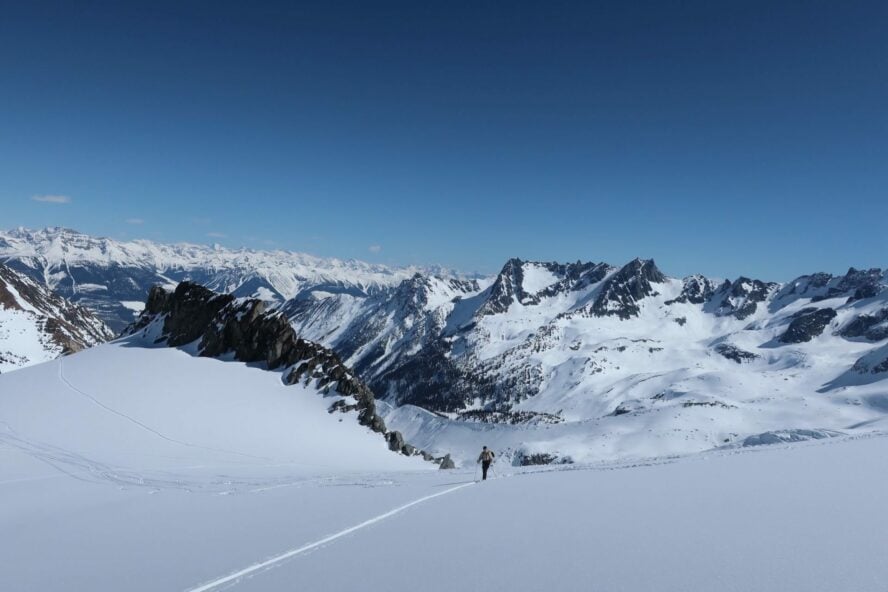 The weather was solid.
Five out of the seven days were perfect bluebird days
. The temperatures were warm (-5 to +3 °C) with no wind and clear skies. The good weather allowed, in the words of our guides, for good travel. This meant we got to venture out much farther from the hut.
We were rewarded with spectacular vistas and phenomenal runs
that included Pioneer Pass, Friendship Col, Uni-Col to name a few. On the days when there was greater cloud cover, we would ski closer to the hut and STILL not feel cheated. In fact, this allowed us to stop in for a light snack and drinks when needed – almost like frontside skiing. I did say spoiled…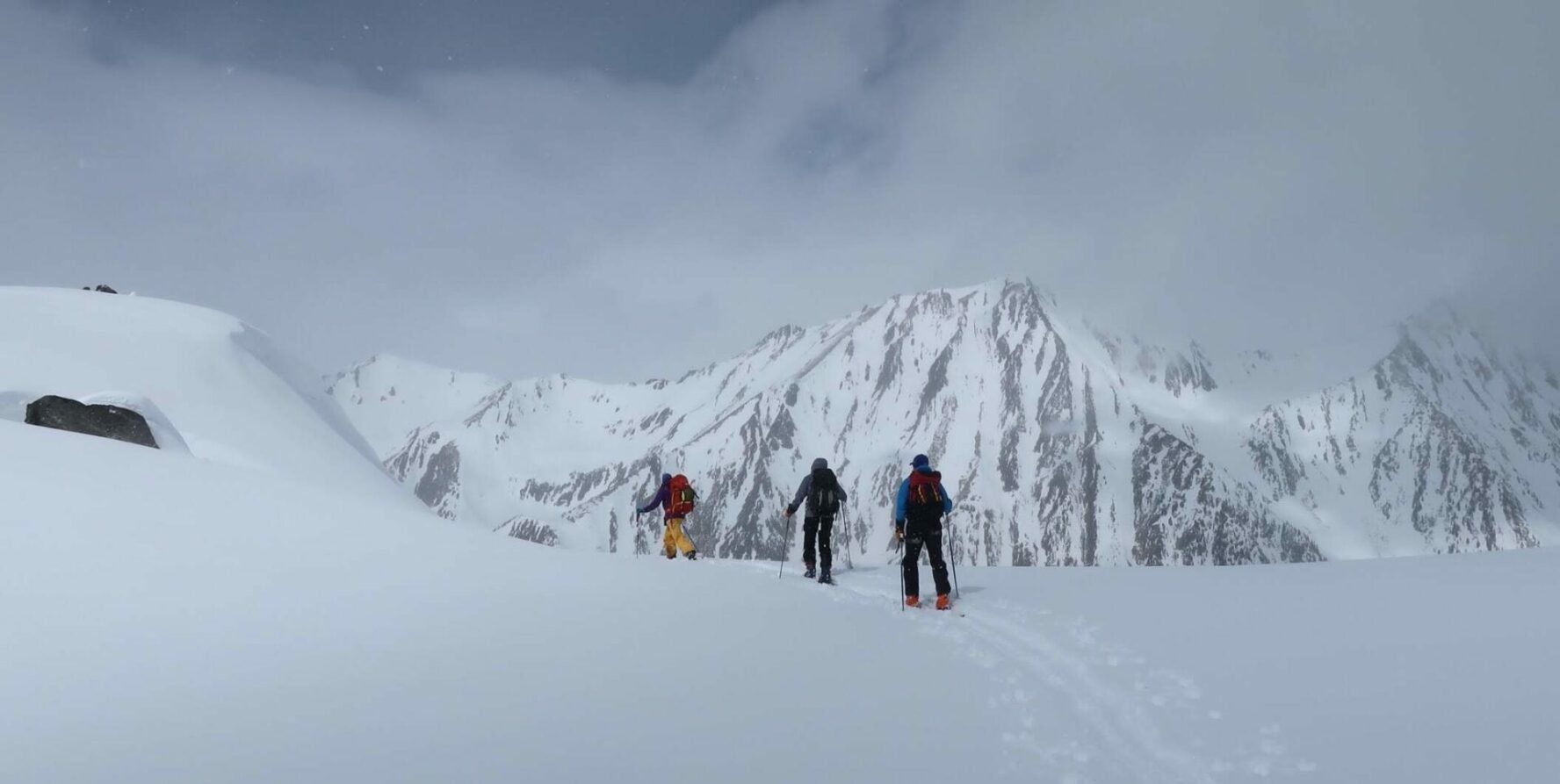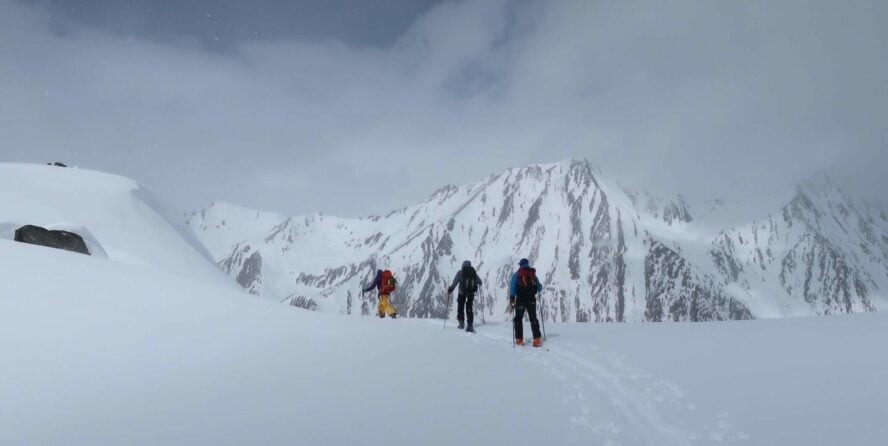 Because of the weather and snow conditions,
we stayed mostly out on the glaciers
and in the alpine – we didn't do any tree skiing on this trip. Some veterans from previous Fairy Meadow trips said the trees and glades were good too, and worth a second visit.
The snow of interior British Columbia is known the world over for its quality and quantity
. I had high hopes to live the dream of nightly dumps and bright days…but that wasn't the case! We did get 5 and 10cm dustings of light, fluffy snow that resurfaced the range on a couple of evenings, but no chest-deep, snorkel breathing snow
—
the quest continues. Maybe next year.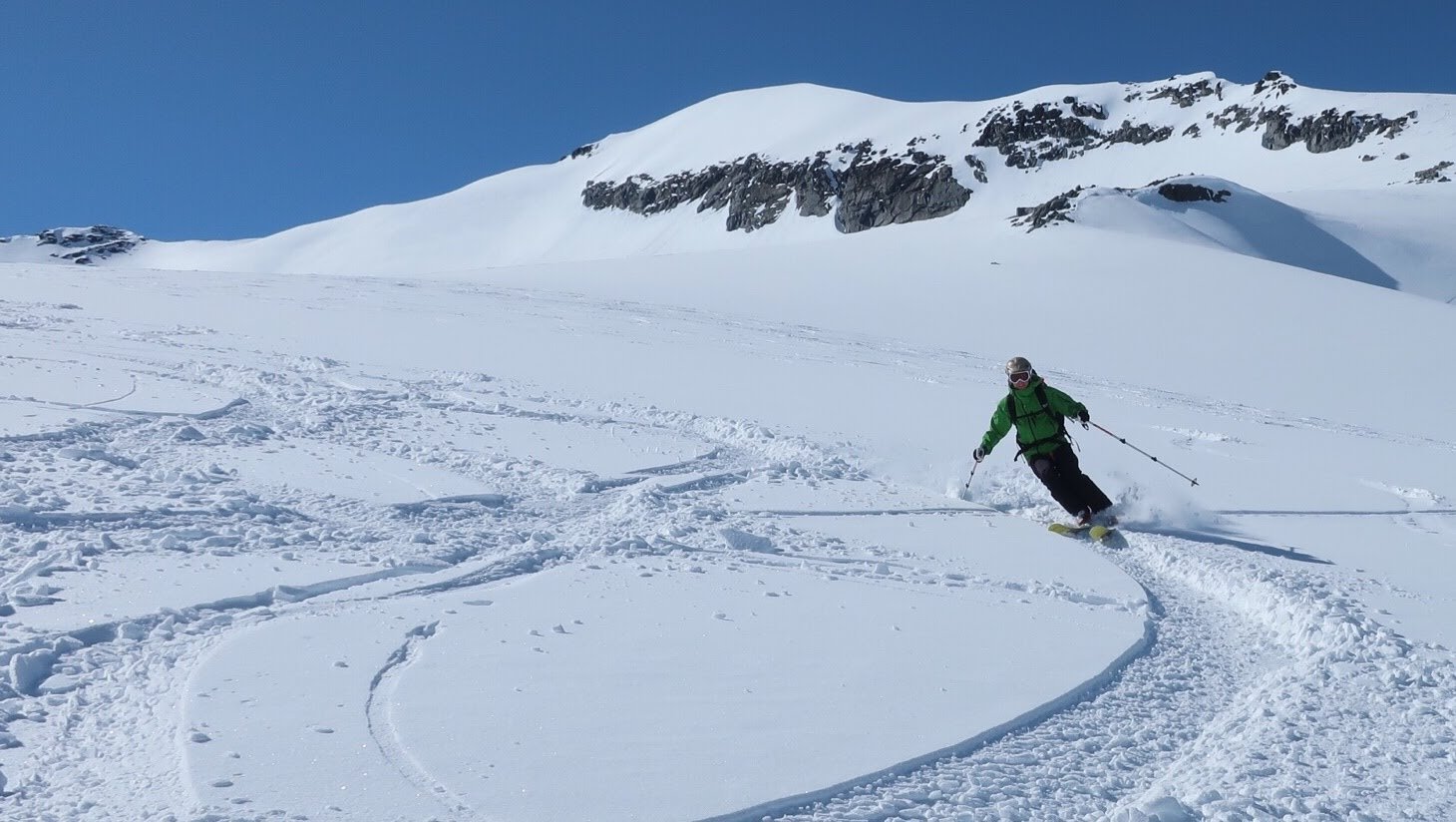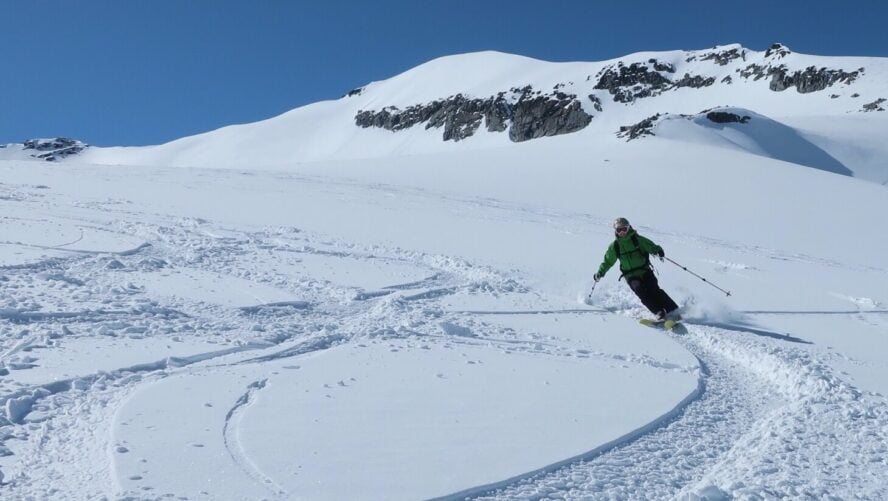 Life in the Bill Putnam Hut
The Bill Putnam Hut sits at 2057m and dates from the 1960s.
It's open and very communal. The main floor serves many purposes: kitchen, dining hall, drying rack, briefing room, office, lounge and repair shop. Upstairs, where we slept, is wide-open with a slanted roof. I've lived in dorms, but this was a whole new ball game…
The sleeping arrangements were a little off-putting at first.
There are two wings, each with 50 linear feet of open bunks running the length of the wing with a thin aisle in-between. Everyone got their own mattress except each mattress was right up against the next! No curtains. No rails. No privacy!
Let me strongly recommend 4 items
– good earplugs, eye-shades, a small headlamp with a red bulb, and a pee bottle. Soon enough, though, everyone got comfortable with the setup. Also, at the end of each day we were all so tired we just fell into our bunks for night after night of deep sleep.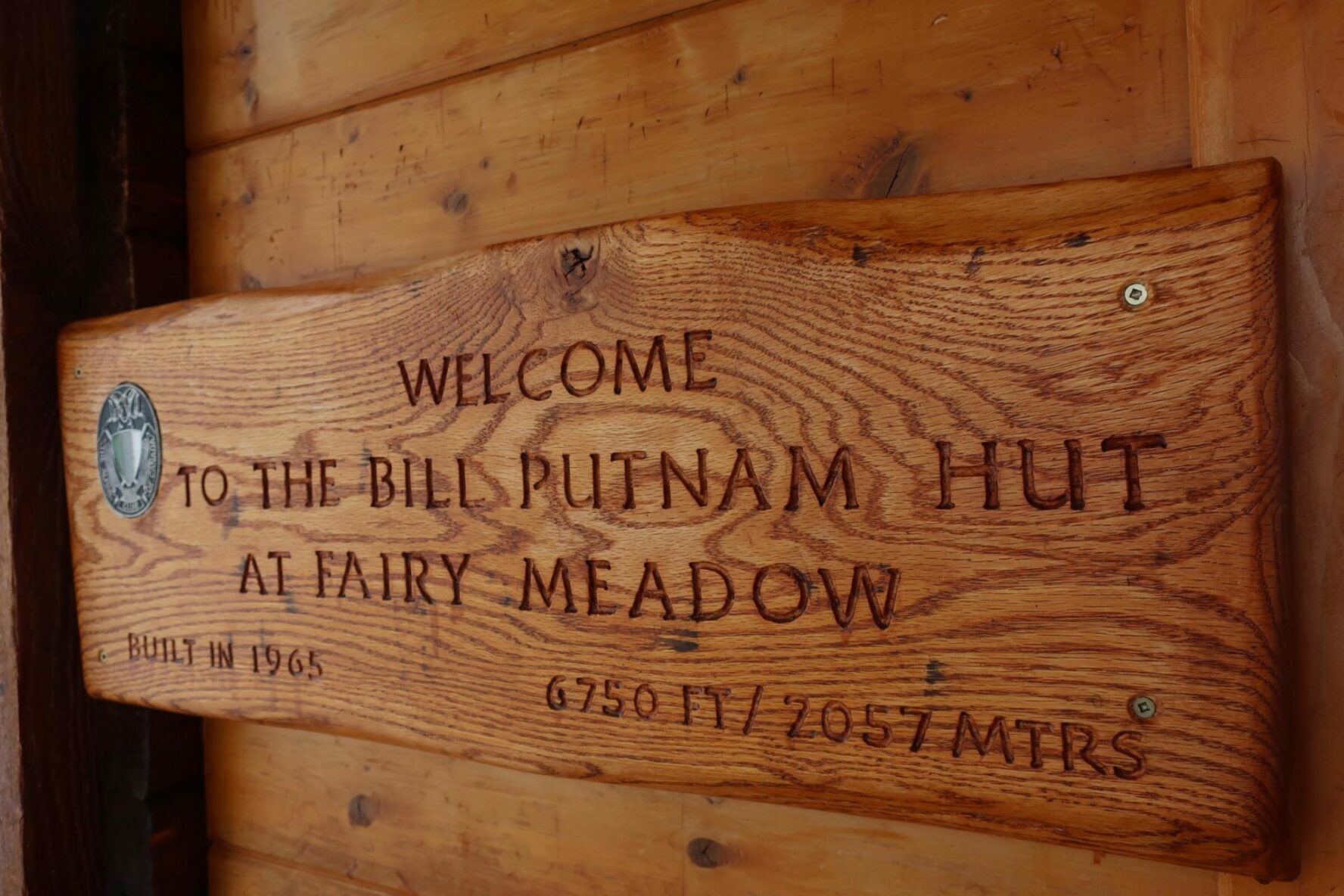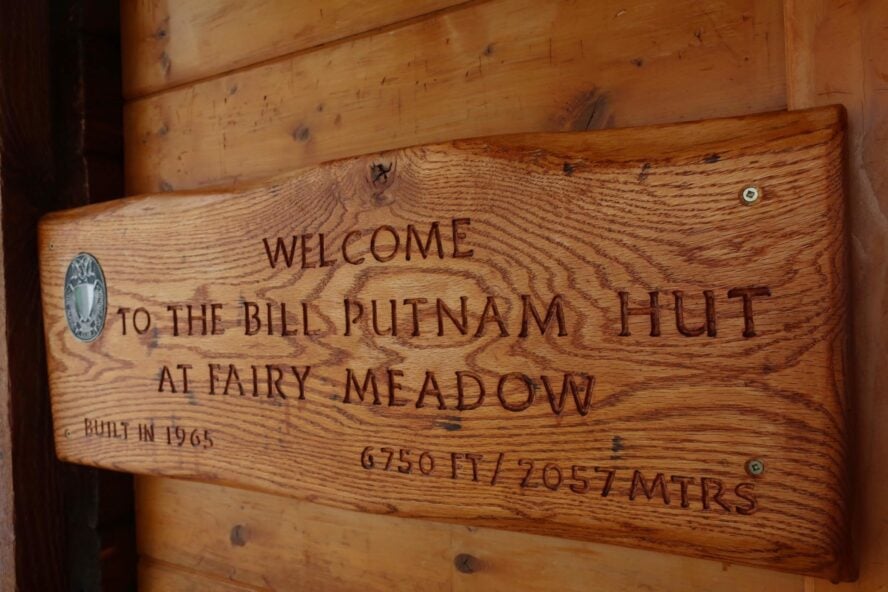 Lodge life is unique.
There was no hut custodian as there is with private huts
. With 20 skiers, and all the kit that comes with them, sharing and living in the hut is a cooperative, organized and flexible affair. It struck me, as a newbie, to be extra observant.
There were unspoken cabin protocols and conventions and I didn't want to stand out.
I was out of my comfort zone for much of the time, so being courteous, patient and cooperative was a good plan. For food, we had a cook preparing fulsome breakfasts and dinners – lunches we made from fixings set out in the morning. With no tap water, the most important daily chore was to collect glacier meltwater from a stream nearby. Everyone took turns. Not be overlooked or undervalued,
the wood-fired sauna and shower were just a short walk from the hut
. Staying clean and refreshed was not a problem. The biggest challenge was to make enough hot water daily to serve the needs of our crew. Again,
cooperation was the name of the game
. Hauling water, starting and stoking the sauna fire was a group effort. Also, the outhouses were clean, spacious and close by.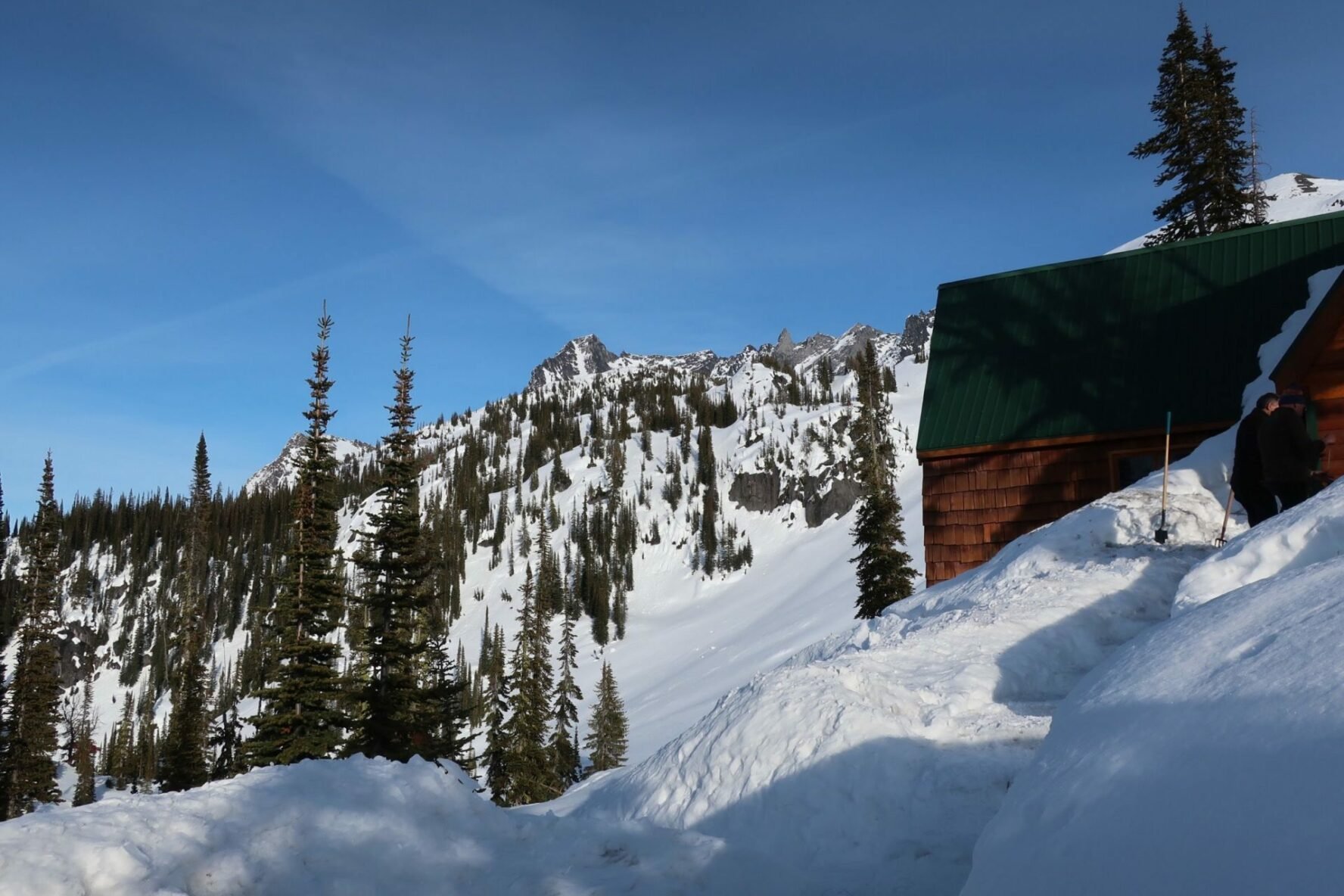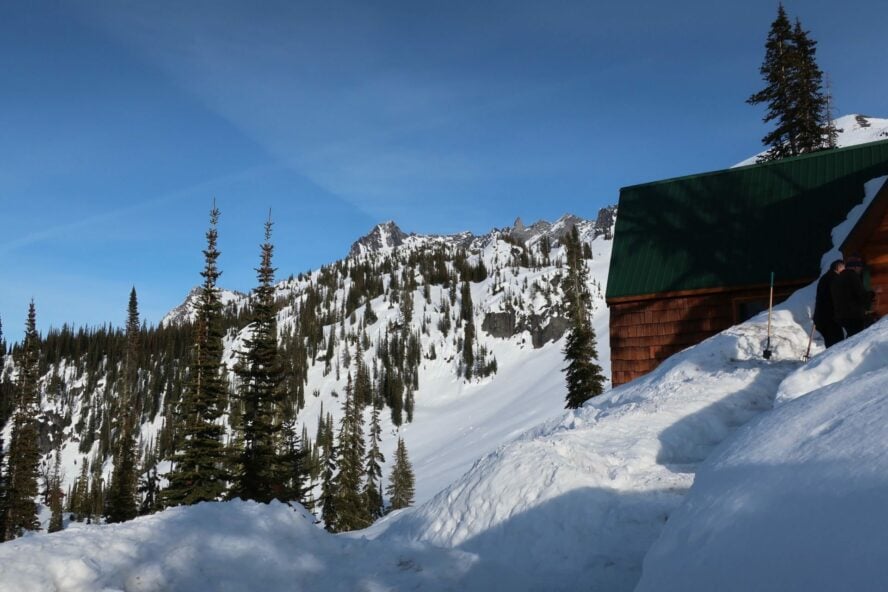 Fairy Meadows is worth the trip
Why is Fairy Meadows so special?
The glaciers. They are everywhere
. You ski over them, around them, past them and through them. Altogether, there is so much terrain that's accessible with a just little skinning and there are plenty of skiable slopes within reach of the hut.
If you decide to visit the area during warmer days, I recommend you try camping as there are some amazing backcountry campgrounds in Banff National Park worth the effort.
Fairy Meadows has something for everyone no matter your experience and ability.
Even with my limited experience, I know that trips to Fairy Meadows will be exciting for many years to come. For those with more experience, there are always more peaks to bag and couloirs to ski. Just have a look around. You'll see. If you are interested in shredding the backcountry powder in British Columbia, have a look at the
best backcountry huts
.