Discover the Best Remote Backcountry Ski Lodges in British Columbia
With the best skiing B.C. has to offer, backcountry lodges are your perfect unplugged getaways hidden deep in Western Canada's jaw-dropping alpine paradise.
British Columbia has a well-deserved reputation for having the best skiing in the world, and ski lodges offer unprecedented access to its incredible backcountry. The ideal climate, unparalleled vertical terrain and long winters full of perfect powder make it a true skiers paradise. In recent years, the backcountry has seen a major surge in popularity amongst skiers looking for pristine powder turns beyond the resorts and far from busy crowds.
Backcountry ski lodges offer the ultimate unplugged getaway — just you and your small group enjoying the thrills of wilderness ski touring without competition from the roadside throngs. Apart from being perfectly situated in ideal ski terrain, backcountry lodges offer a high level of service, guiding and catering that make these trips a relaxing world-class ski holiday.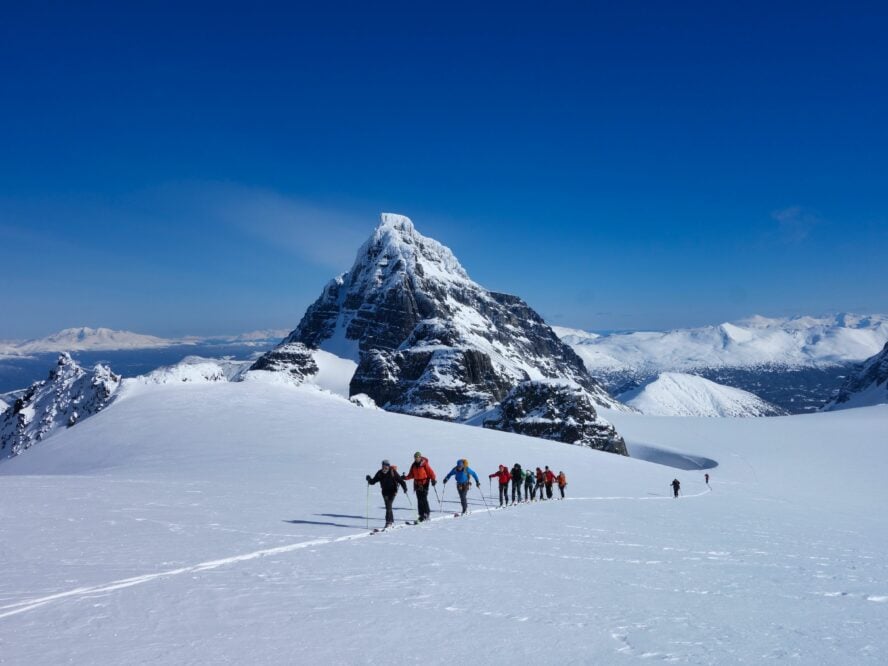 Pros and Cons of a Skiing at a Backcountry Lodge
Amazing vertical terrain with endless stretches of pristine powder
Accessible to anyone with solid downhill skills
Enjoy the comfort of a cozy hut away from the crowds
Some lodges have to be booked up to three years in advance
Require a little extra effort to get to
Guiding has been my lifelong passion
I'm an ACMG/IFMGA Mountain Guide based out of Canmore, Alberta in the Canadian Rockies, where I run Sawback Alpine Adventures. I've been a ski guide in Western Canada and internationally for over 15 years now. I was also a heli-ski guide in northern British Columbia for close to ten years, juggling shifts heli-skiing with weeks at backcountry ski lodges. Eventually I settled on my first love, guiding ski touring trips, and haven't looked back since. I can tell you stories about the pristine powder stashes, deep alpine bowls and the joy of carving turns on perfect slopes, but you'll have to experience it for yourself to believe it. Come September, when cool, moisture-laden snow clouds stack up along the west edges of B.C.'s mountain ranges and the powder starts piling up to the peaks, there is no better place in the world to be.
Accessing British Columbia's snowy paradise
B.C.'s backcountry ski lodges are situated perfectly at treeline, offering access to both tree and alpine skiing that beats even the skiing in Tuckerman Ravine. The interior of B.C. benefits from frequent storms, which often dump tens of centimeters of light snow and make for legendary powder days in the trees. Stormy periods are interrupted by clear sunny days ideal for high alpine ski mountaineering objectives. The Canadian Rockies, a bit further to the east, are renowned for their majestic peaks and stunning ski mountaineering. Finally, Northern British Columbia has at last been discovered as one of the best "wilderness" ski touring destinations, with a deep stable snowpack that is coastal yet cold. Picture a hybrid between Alaska to the north and the Selkirks to the south.
B.C. has perfect conditions for world-class skiing
There's a reason why British Columbia is one of the hottest skiing destinations in the world. For starters, the climate is ideal. We have long winters, with a ski season that spans from early November into the end of June in good years. Temperatures are cold enough for snow almost year-round in some parts, yet mild enough to be comfortable even in mid-winter from valley bottom to mountain top.
Lodges cater to all backcountry skill levels
Backcountry skiing has earned an undeserved reputation for being an extreme sport. In fact, very few of my guests could be described as extreme skiers or athletes. They are typically in their 30s, 40s or early 50s. Many of them have a background of skiing from a young age or they started as adults and dedicated themselves to gaining proficiency as skiers. Most live in cities, work normal jobs and keep fit throughout the year with running, biking or other active sports. What we all have in common, is our love for the cold embrace of the mountains — that siren's call that keeps bringing us back to it every year. There's nothing better than sitting down with like-minded folk, laughing, telling stories and sharing a bottle of wine at the end of a good tiring day of pounding in the vertical. That's the kind of experience you can't get anywhere else.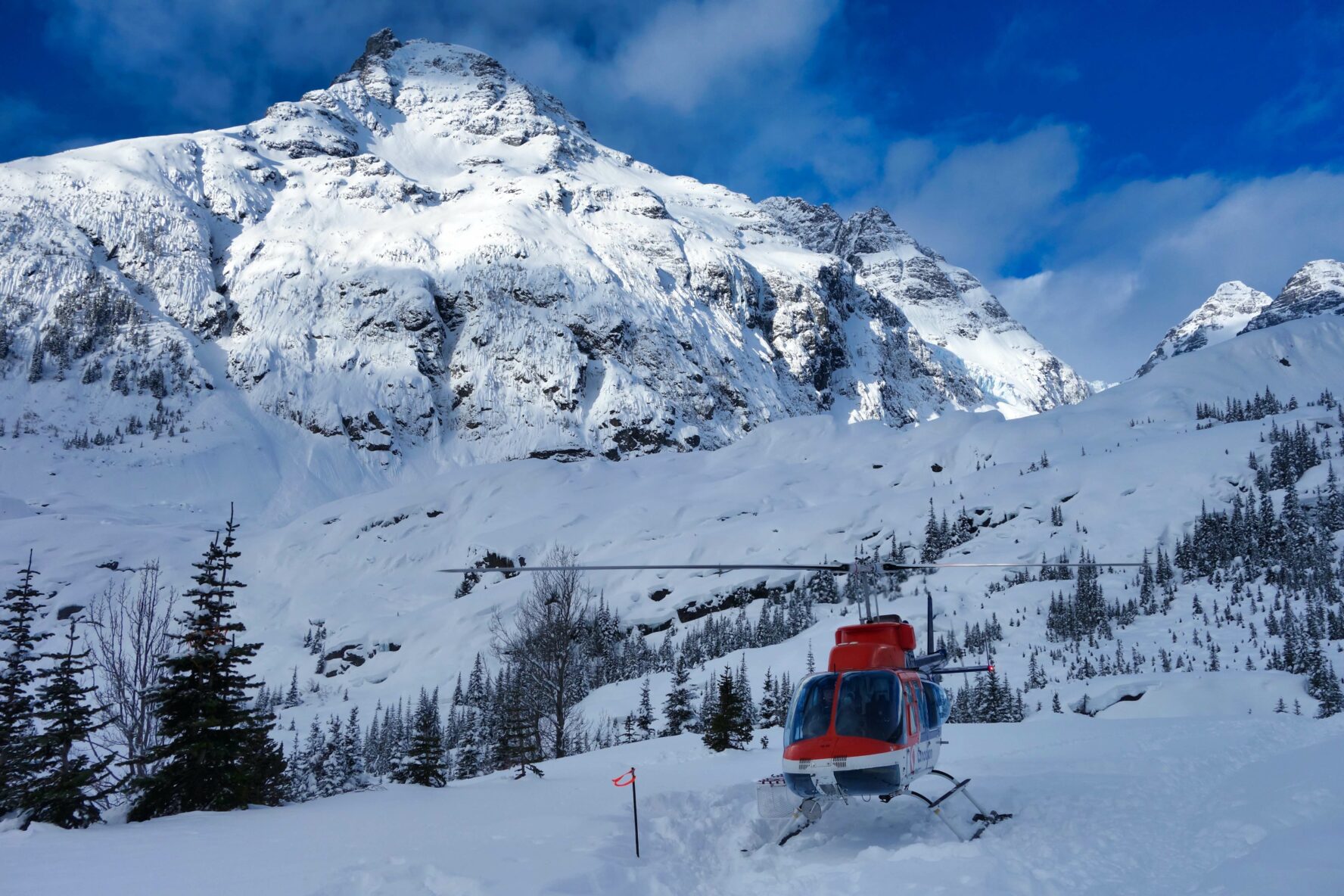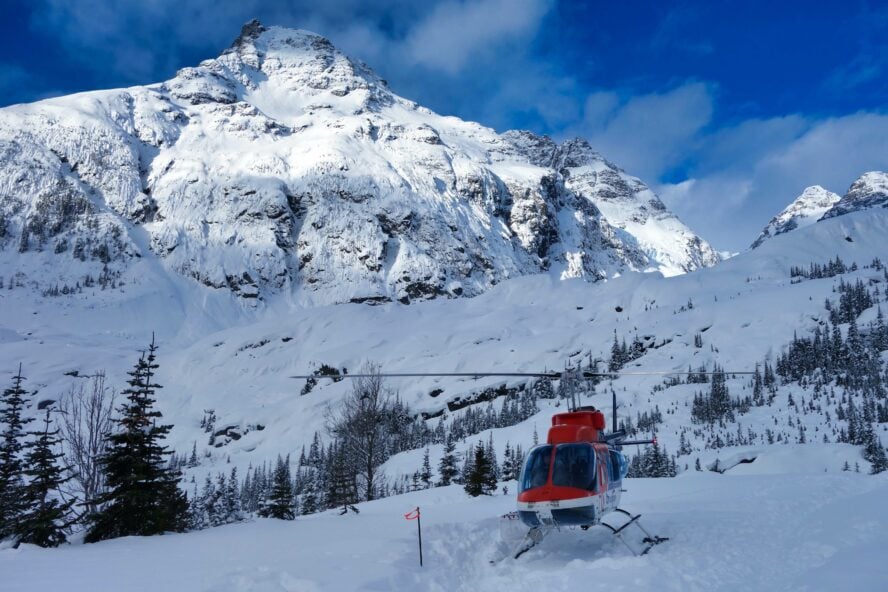 Getting to your lodge
Like all great things in life, most lodges are not that easy to reach. If you're coming from outside the country, you will first most likely fly to one of the major Canadian centers like Vancouver, Calgary or Kelowna, where you will rent a car and drive to the town closest to the staging area. That's where your pilot will run you through a heli-briefing. You will go through the different safety features, learn how to load and unload the helicopter safely, as well as what to do in case of an emergency landing. Typically, briefings are performed outside, but every so often the snow gets so heavy that it has to be done indoors.
Then, after a short but beautiful ride, you will reach your chosen lodge. There is, however, one exception to this rule and that is Burnie Glacier Chalet. Although this perennial favorite is the remotest of the lodges, it also happens to be the easiest to get to. You fly to Smithers (which is just a short flight from Vancouver) and walk across the tarmac to the helicopter for a quick ride – it's that simple.
My Favorite B.C. Backcountry Ski Lodges
During my 15 years as a ski guide, I've stayed at many different lodges and experienced the best that B.C.'s backcountry has to offer. Choosing the right lodge for you is one of the most important choices you will make when starting this adventure. Depending on your skill level, preferred type of skiing and desired routes, there are many stellar huts that will accommodate all your needs, making your stay in the mountains as comfortable as possible. Every single one is totally unique and a testament to the hard labors of those who built these hospitable refuges. I've handpicked some of the best lodges B.C. has to offer you and will give you an overview of their unique qualities, with special attention given to two of my favorites.
1. Mount Carlyle: Visit for its unique rustic flare
First up, we have Mount Carlyle Lodge. Situated in the heart of the Kokanee Range, it's a sprawling lodge with a unique rustic flare, owned and operated by B.C. legend Brian Cross, also known as The Bald Bomber. But don't let its quaint exterior deceive you. It's a highly functional lodge with plenty of elbow room for everyone. The skiing Mount Carlyle offers is just right for most guests – lots of short to medium-sized ski runs that are positioned to make great exploratory circuits. There's only one problem with the lodge: it's completely booked until 2024.
2. Valhalla Lodge: Spin your own epic tales of snow at this alpine paradise
Valhalla Mountain Lodge is another spectacular lodge run by Brian Cross, located in the pristine powder fields of the West Kootenays. It's the first of the Kootenay lodges and, as such, it has arguably the most desirable location of them all. Getting 120 cm (4 ft) of snow in a week has been the norm during my stay here. "What's the catch?" you might ask. Well, just as Mount Carlyle, Valhalla is booked years in advance, but that doesn't mean there aren't spots still available here and there. But, if you can't get in this year, believe me when I tell you, it's well worth the wait.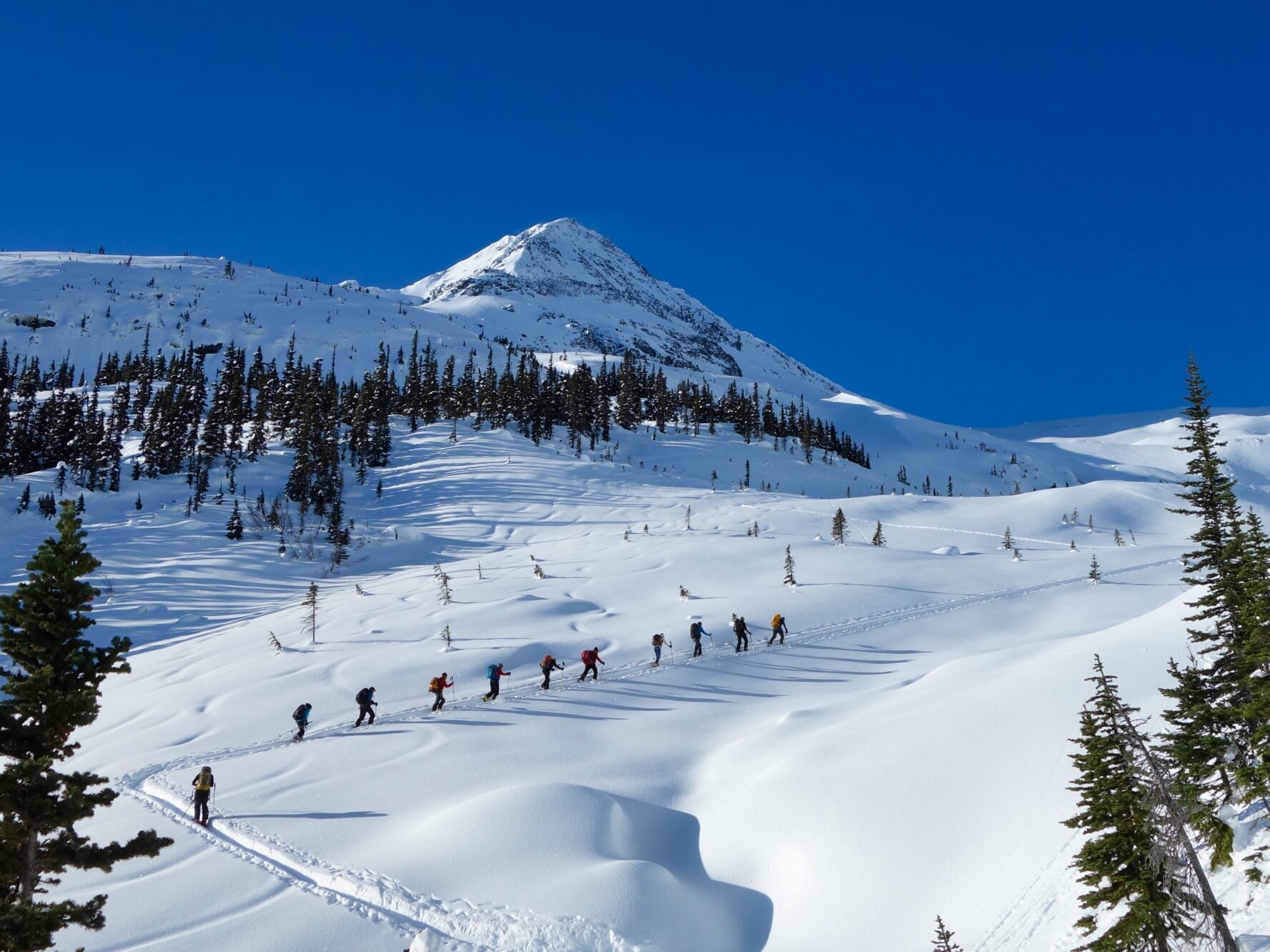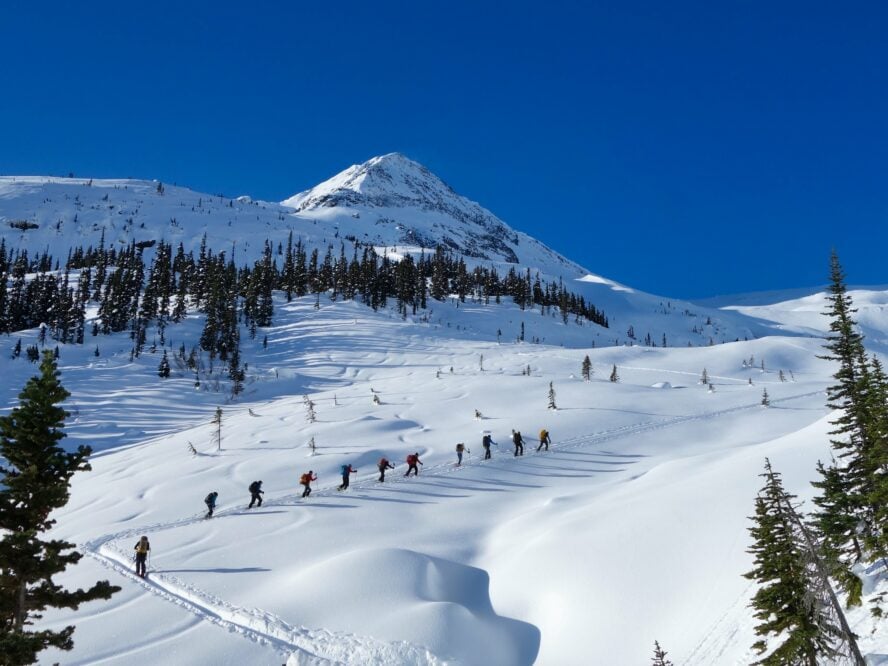 3. Sorcerer offers classic Selkirks skiing near the famous Rogers Pass
Next up is Sorcerer, a helicopter-accessed ski lodge that is actually one of the easiest to get to. You can find it just north of the famous Rogers Pass, on a cliff right above Wizard Lake, with a deck view of the massive Nordic Glacier. Sorcerer is blessed with a deep snowpack and varied terrain that is perfect for ski touring and split boarding. In order to foster conversation, community and take your mind off the stress of everyday life, internet access is restricted at Sorcerer. So pack your board games and get ready some of the best late spring skiing in the Selkirks, as well as stellar mid-winter tree skiing.
4. Golden Alpine: Access to amazing terrain for all skill levels
Another incredible destination for ski lovers is Golden Alpine. Consisting of four heli-accessed huts (Sunrise, Meadow, Vista and Sentry) spread over 50,000 acres of ski touring and summer hiking terrain in the Esplanade range of the Northern Selkirk mountains, GAH was one of the first companies in the backcountry business. Sunrise was actually the very first lodge I ever worked at almost 20 years ago. I immediately fell in love with its playful ski runs, treeline ridge walks, wide open bowls and pillow lines. If you like variation, Golden Alpine is a great place to bag three or four classic runs in a day close to your lodge. (Sunrise Lodge is also a favorite of 57hours founder, Viktor Marohnic.)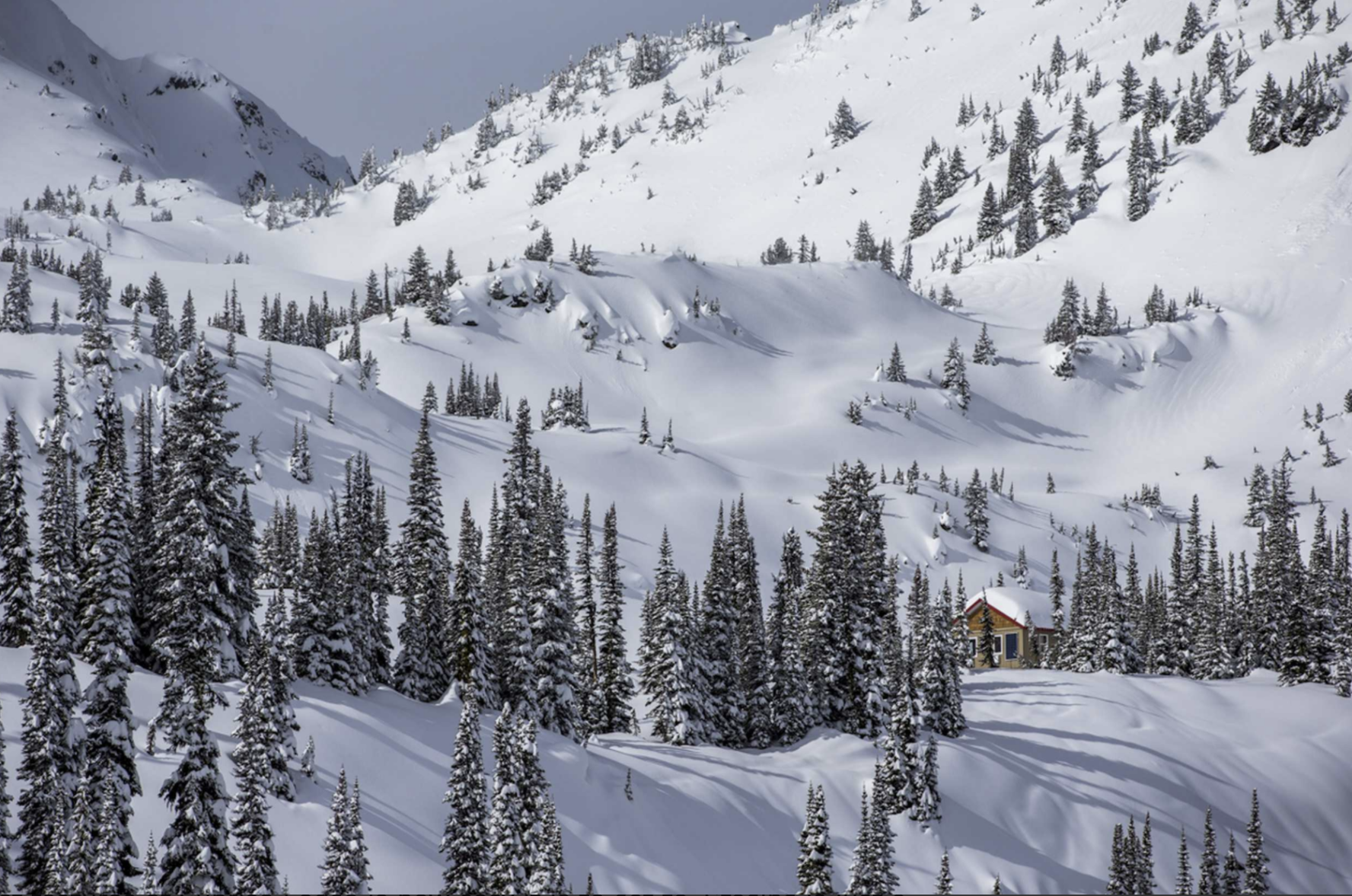 5. Stanley Mitchell Hut: One of the best family ski spots in the Rockies
Besides the commercial lodges, there's also a variety of lodges run by the Alpine Club of Canada, which makes Canada's great haute routes possible. One such hut is the lovely Stanley Mitchell Hut. This hut was built back in 1940, on the tail end of the Bow to Yoho Traverse, which, along with the Wapta Traverse, provides superb four-to-seven-day trips with high-alpine peak bagging, great ski runs and even tree skiing. The difference here is that you're using the lodge with other users, which is a lot of fun.
All of the lodges have different focuses: some of them provide great opportunities for peak bagging or ski mountaineering on big glaciers. Others will have you skiing in alpine bowls, storm skiing in the trees or take you on circuit tours. But a select few have it all. They are Burnie Glacier Chalet and Selkirk Lodge.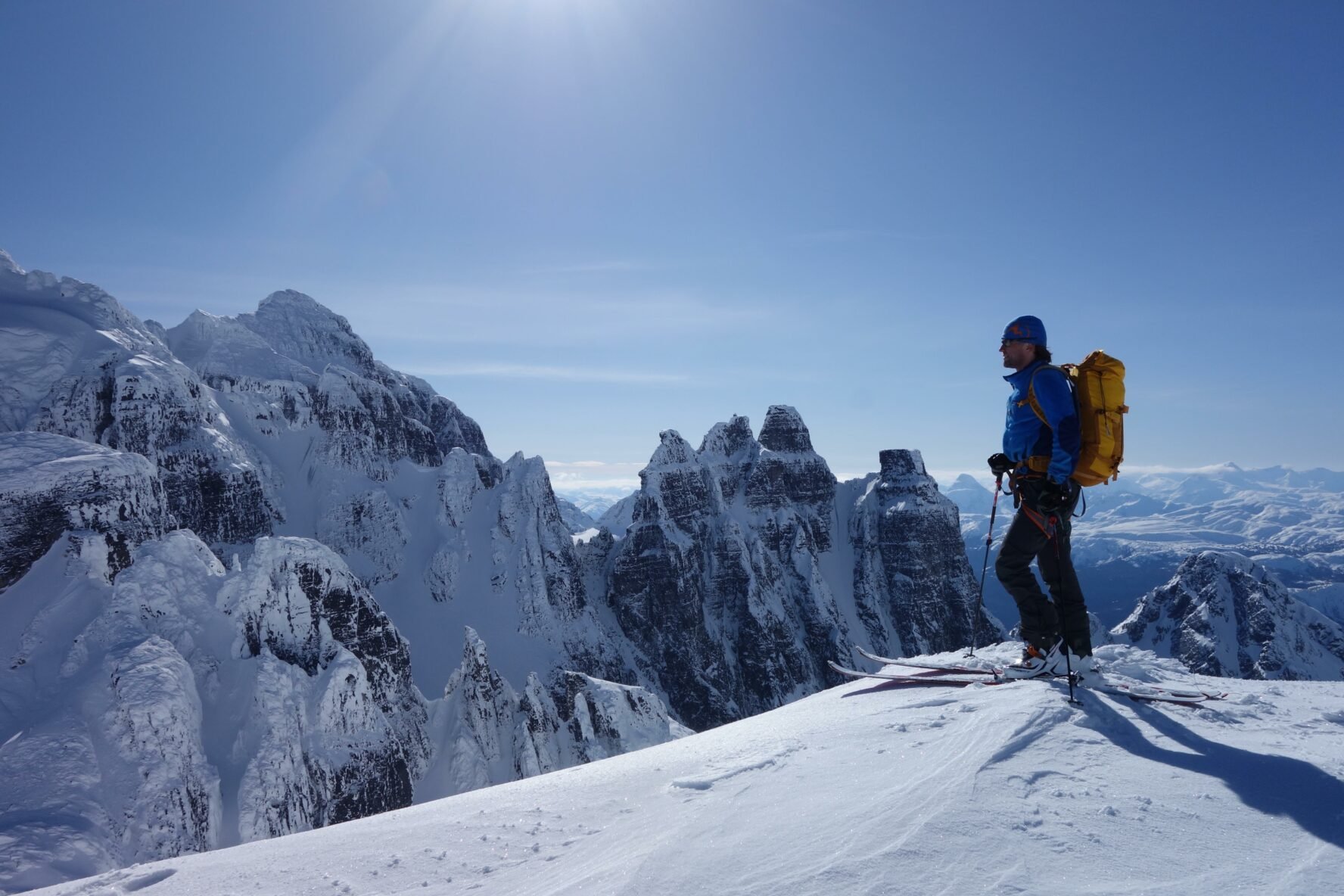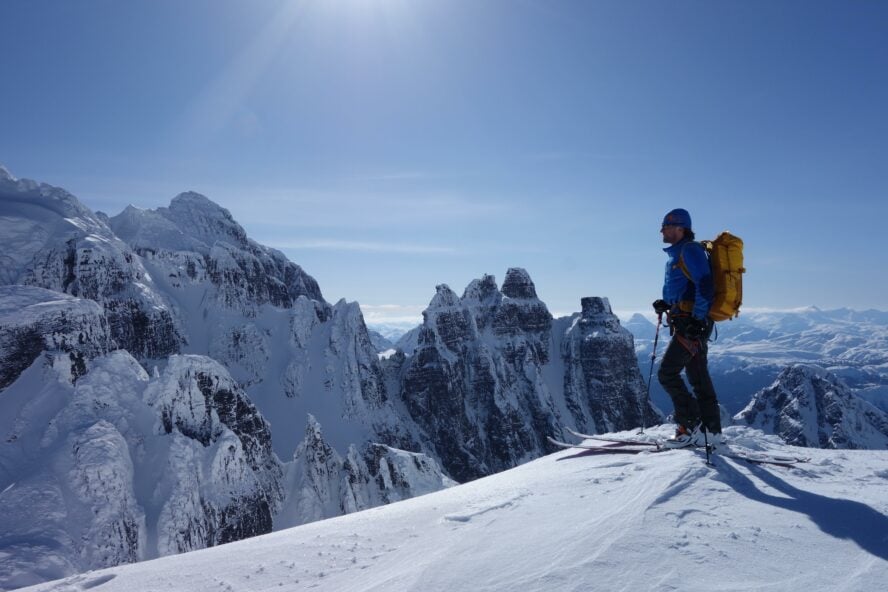 6. Burnie Glacier Chalet: There's nothing quite like it
The chalet is a simple, beautiful timber frame building warmed by a wonderful wood-burning kitchen stove, with spectacular views of the towering Hut Peak, Burnie Glacier, Solitaire Ski Peaks and Lakehead Peak. This bright and cozy lodge sleeps 11 guests, two guides, and one cook. It has 700-meter (2,300 ft) tree runs right out the back door and 1500-meter (5,000 ft) alpine runs that finish at the front door! Further adding to the experience is its hybrid snowpack — a combination of the deep coastal snow and the cold interior snow — that creates the best of both worlds.
One of the unique things about Burnie is that virtually no fossil fuels are used at the lodge apart from the flying in and out. It has a composting toilet and all the electrical appliances are powered by a micro-hydro generator and the heating and cooking is done with wood fire. Not a noisy, humming generator or propane tank in sight.
As I mentioned earlier, Burnie Glacier Chalet is British Columbia's most northwesterly mountain lodge. It has spectacular, rugged alpine terrain with beautiful ski runs ranging from gentle glacier runs that can be done in most conditions to incredible ski mountaineering trips high into the alpine. In order to make the most of this jaw-dropping gem, a higher level of skill and fitness is required. But for those looking for the same world-class skiing experience with a bit less intensity, this next lodge will be right up your alley.
7. Selkirk Lodge: Perfect entry-level backcountry trip
Despite being situated in suboptimal terrain for building, Selkirk Lodge, perched at 2,200 meters (7,200 ft) in the Albert Icefield area east of Revelstoke, is a towering achievement in architecture, design and comfort. Here you can find epic glaciated alpine runs with playful Kootenay-style tree skiing suited for all skill levels. Selkirk is a great entry-level lodge for those who are new to ski touring but still yearn for exhilarating runs. Like Burnie's, the snowpack here is second to none — light, fluffy Selkirk powder the stuff dreams are made of.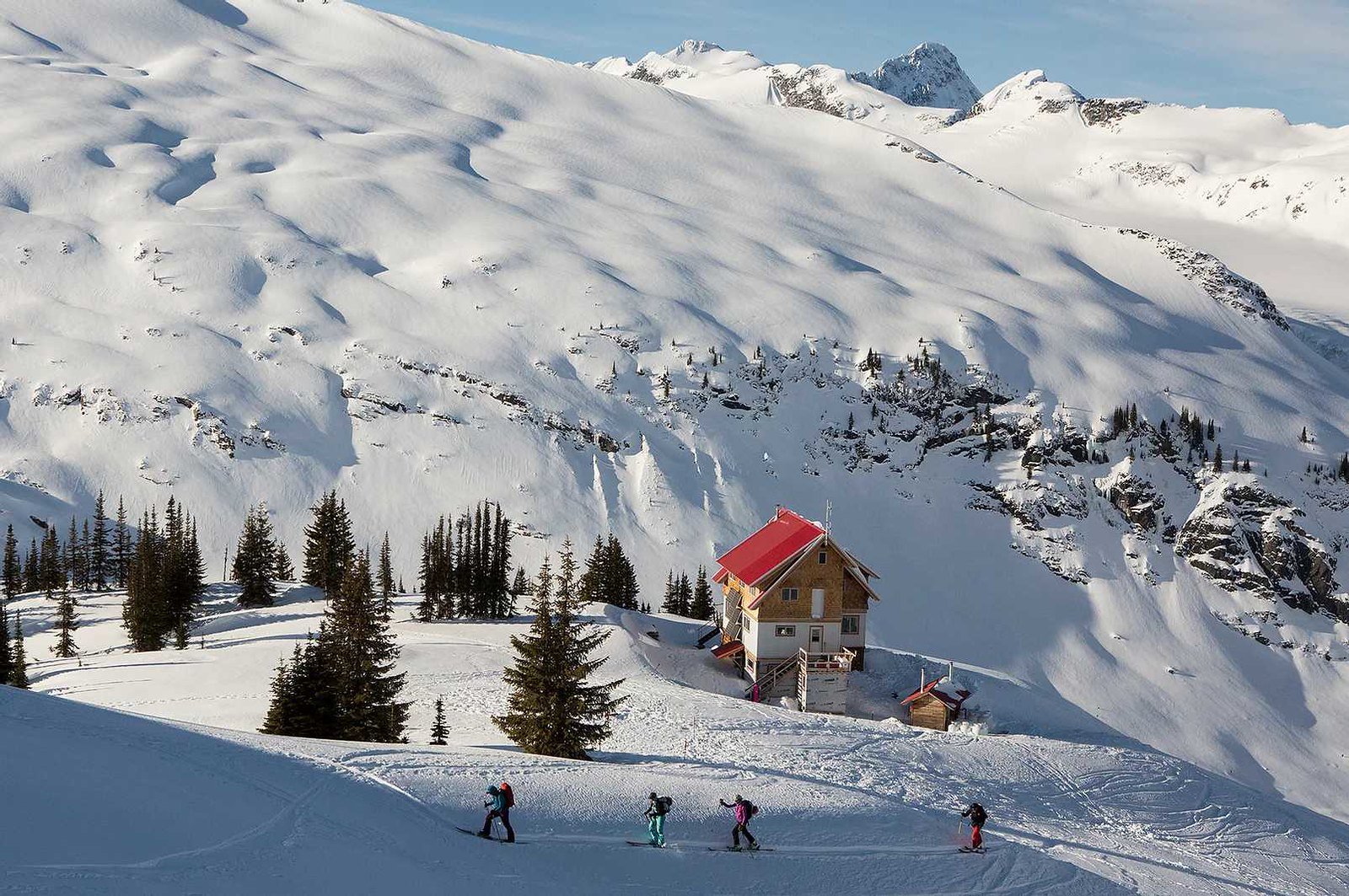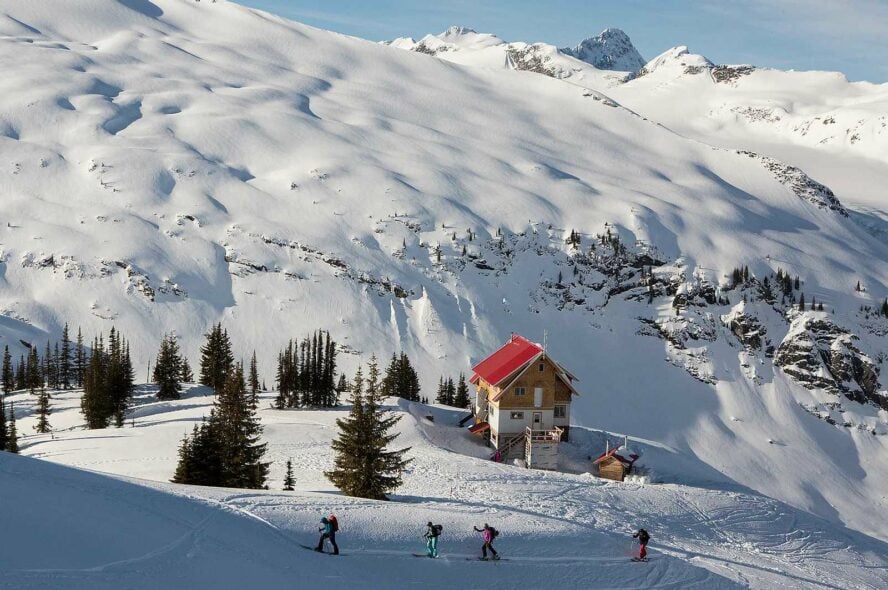 The lodge itself is the finest there is, with great attention paid to artistic and functional details. Once you step inside, you'll be welcomed by the comfortable, inviting interiors that will make you feel like home. Comfortable rooms have nice bedding and there's a lot of room in the lodge to spread out, with wide, spacious reading or exercise rooms at your disposal. Selkirk sleeps 14 guests and still has lots of room for everybody.
What a typical day at the lodge looks like?
Because each day responds to the rhythm of the weather and the incoming and outgoing storm cycles, it's hard to predict what your week will look like. Each one is completely unique. Some weeks we stick to the trees because the alpine's raging with snowstorms, other weeks we get up into the high alpine and ski the steeps with impunity. Some weeks or even days are a blend of both.
Usually on day one, after we move our stuff into the lodge, we do a safety briefing and practice companion rescue, after which there should be time for a quick lap. Almost every day means heavy trailbreaking through deep snow. We often travel as a large group. With two or three guides there are lots of options for dividing by skill level and we do our best to accommodate everyone's speed. Kodak Peak is a popular hit since it's directly above the lodge. If the day is longer and the group is extra keen, Primrose Peak is a 600-meter climb and has a stellar view of the majestic Virtue, Faith and Charity Peaks on the border of Glacier National Park.
Refueling with delicious food and a trip to the sauna
At the end of the day we ski down back to the lodge, where a beautiful spread will be waiting for us. We refuel by pounding back some beers and appies and afterwards we ease ourselves into the wood-fired cedar saunas that melt away the tiredness and pain. At around 7:30 p.m., everybody gathers in the dining room for a hearty dinner and drinks a toast to a great day in the mountains. That's where we get to exchange stories and get to know each other better. Lights out is usually at around 9:00 p.m. That might seem early (and some do stay up a bit later), but for the guides the day starts at 5:30 a.m.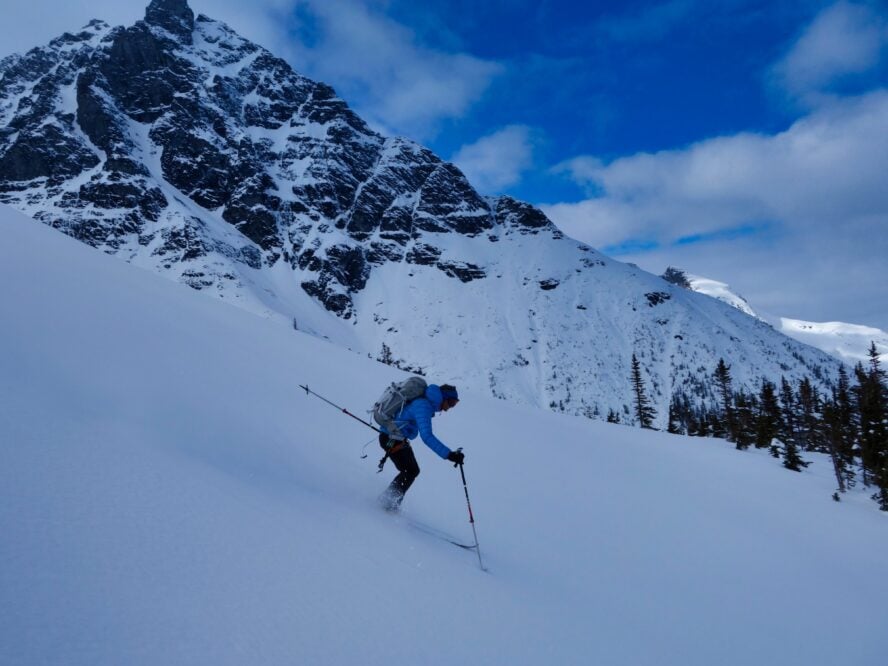 Long days and deep powder
The first thing we do after rolling out of bed, is check out the weather stations, taking note of the snowfall and wind levels. Then, we have a guide meeting where we make our plans for the day. Guests are also welcome to participate, but they usually get up around 6:30 a.m. for cold breakfast and coffee, while hot breakfast is served at 7:00 a.m. For keener groups, we hit the snow at about 8:00 a.m. Those looking for a more relaxed pace go out half an hour later.
From here it all depends on the lodge. At Sunrise, you'll often be standing at the top of your first run in an hour or two, and your day will consist of three or four powder runs. At Burnie, most of the runs take a minimum of two hours and some five hours to get to the top. Sometimes your whole day will be spent skiing a single powerful run! In the end, no matter what your background or skill level is, B.C. offers such a wealth of spectacular options that there's no wrong choice. Just bear in mind that reservations are limited, so be sure to book your lodge ahead of time.
If you want to hear Tom talk more about the beautiful backcountry ski lodges of British Columbia, watch his 57hours Adventure Talk:
Ready to head out in the remote wilds of B.C. on your backcountry lodge ski trip? Check out Tom's upcoming trips to Vista Lodge, Burnie Glacier Chalet, Valhalla Mountain Lodge, Selkirk Lodge and Sunrise Lodge.