Can You Have a Green Ski Vacation? Let's Find Out
Can you green your ski vacation? Guide and environmentalist, Greg Hill, explores the potential of sustainably-minded trips to offset the impact of adventure.
This summer, I watched our skies in Revelstoke fill with wildfire smoke until each breath was like inhaling a cigarette. We had record heat and drought, and for a month I didn't want to go outside. While contemplating indoors, I thought about what so many of us were missing that July and August—and are likely to be missing in the future.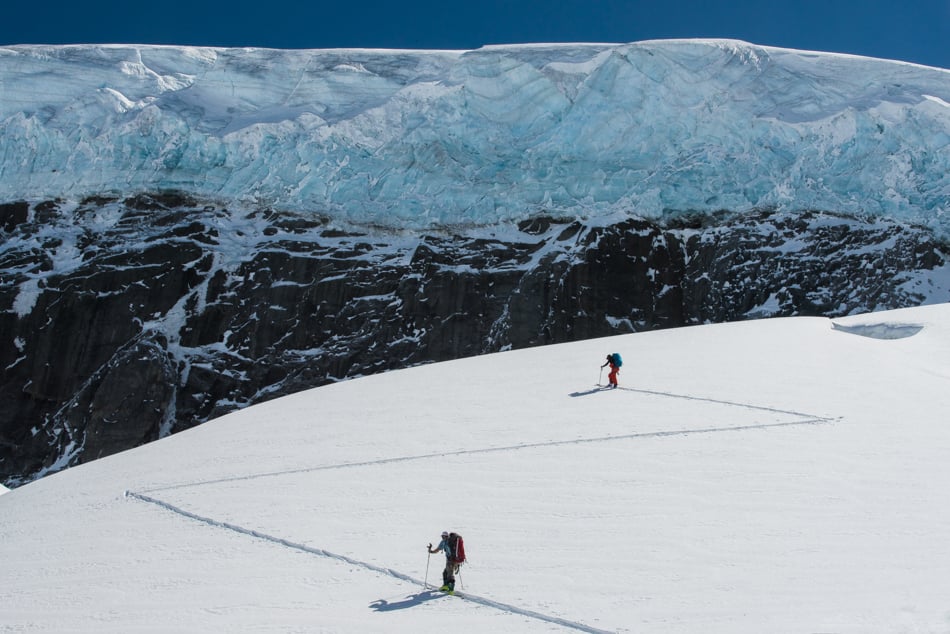 As a backcountry ski hound I've seen our glaciers recede at alarming rates, and I couldn't help but think how I've contributed to this. After all, I've calculated my environmental footprint during big adventure years and it wasn't pretty. Over 30 metric tons if you're curious, which is double the Canadian average (a country average that is among the worst in the world). Ouch.
I decided to change it up, and as a guide, one way I can have an impact is to change the very tours I offer. Can I turn a typical backcountry trip into a green-ski-cation and an adventure in environmental learning?
We're about to find out.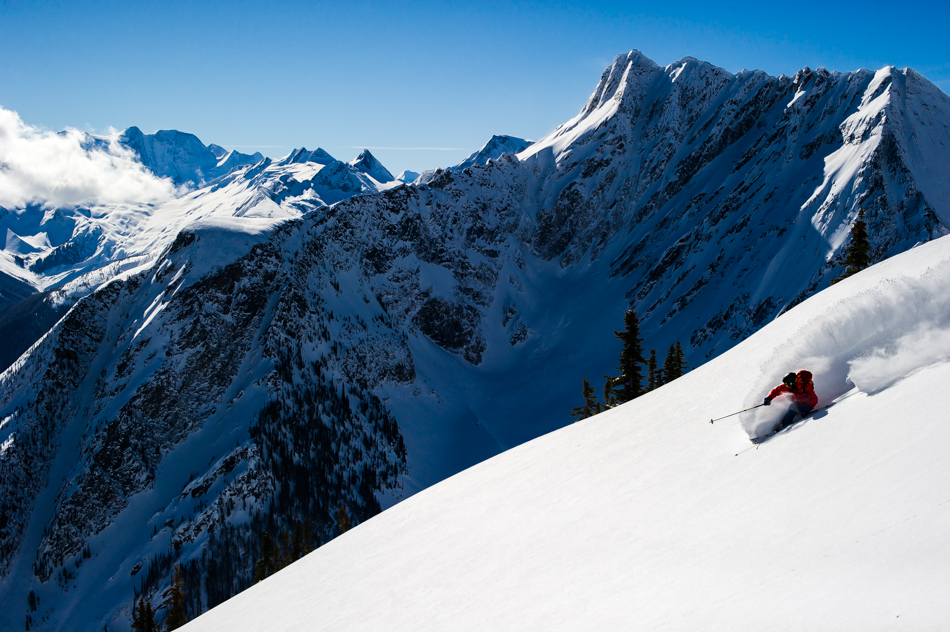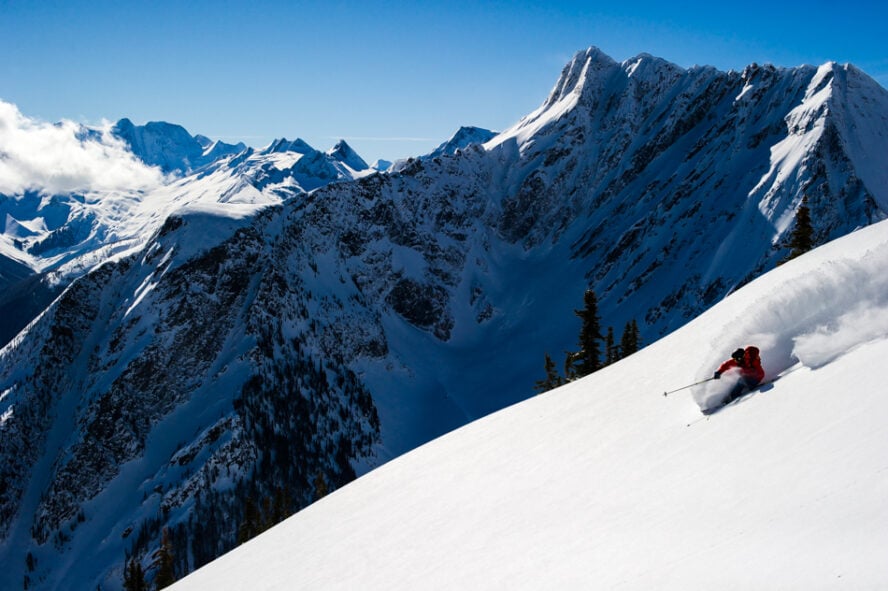 The Green Ski Revelstoke Adventure
Every winter clients fly in from around the world and we skin and wander our way through pristine natural environments. Our energies replenish as we float effortlessly down untracked powder runs. Our souls bathe in old growth cedar groves during rest breaks. We all get so much from the outdoors yet through our combined footprints we are harming the very places we love. So we're going greenish; as green as possible.
In the remote mountain town of Revelstoke in British Columbia, we're having a journey through some of my favorite backcountry skiing spots and learning how to live a more eco-friendly life.
Over three days we will rip around in electric cars, enjoy a mostly 100-mile diet (because things like coffee and rice aren't produced locally), stay in accomodation powered by renewable electricity, and examine our carbon footprint on the trip and at home. Most importantly, we will discuss how we can make changes to reduce our impact.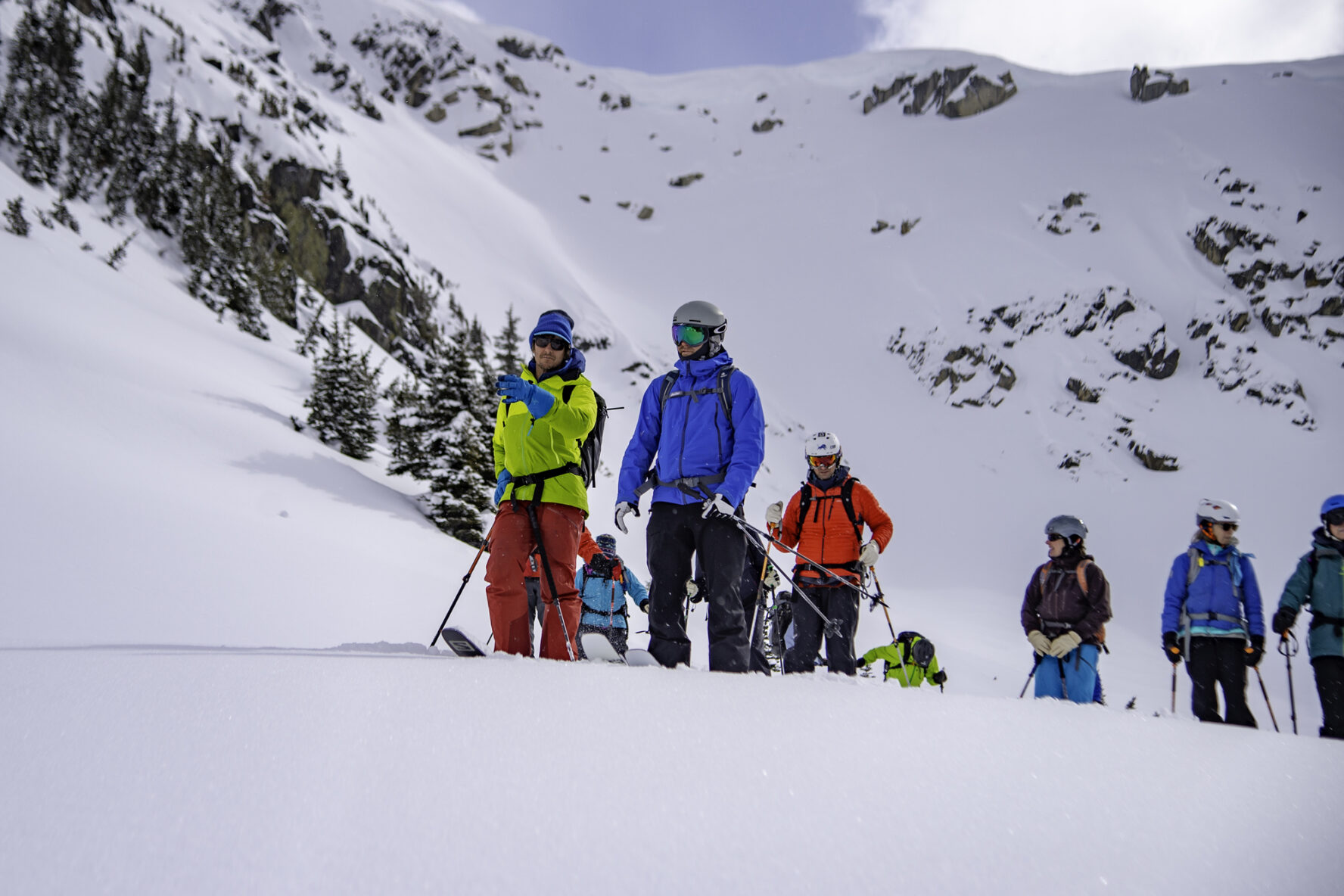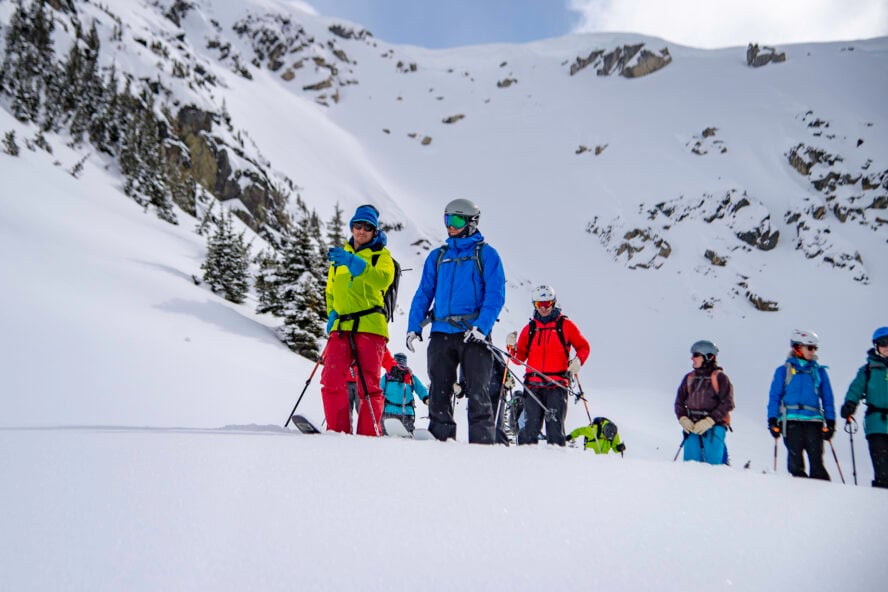 As much as I'd like for this to be a perfect, zero-carbon emissions trip, we just can't. Flights are one of the biggest contributors to carbon emissions that a person can make, and at the end of the day, most people will be flying here. We can buy carbon offsets, but the CO2 will be spewed.
Still, it's a step in the right direction. I want to show that we can have better alternative trips because frankly, the industry has been slow to adapt. I've seen how guilt alone isn't enough to change behavior on such big challenges as climate change, but making something people already do a bit better is forward motion, if a bit clumsy.
What is the industry doing?
There is a strong desire amongst ski guides to figure out solutions to this conundrum. Some have decided not to heli-ski and focus only on human powered tours. Others heli-ski and hope that they can influence their clients to purchase carbon offsets or buy an electric vehicle to help reduce their overall impact. On the whole, though, many guiding operations are still acting with the status quo.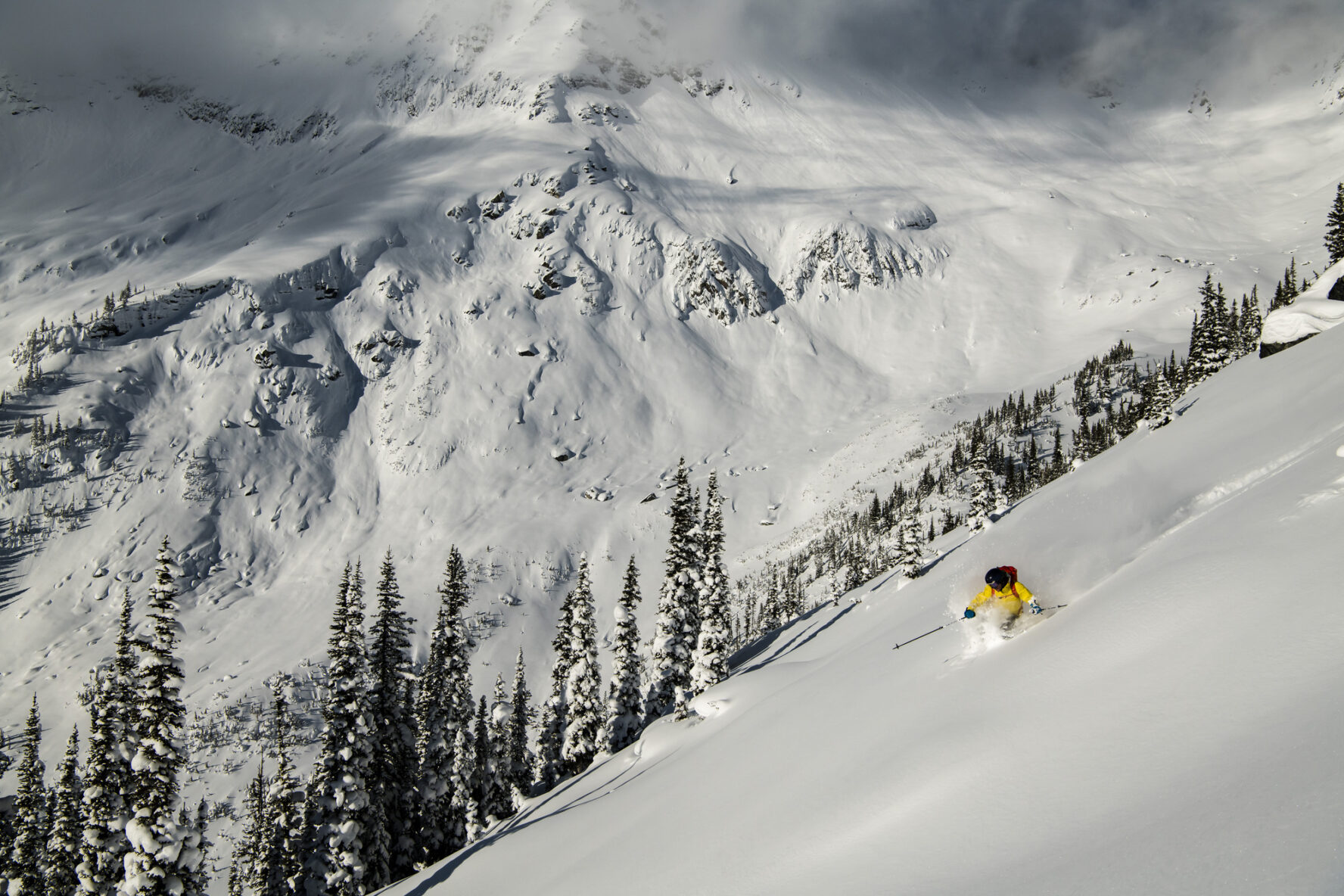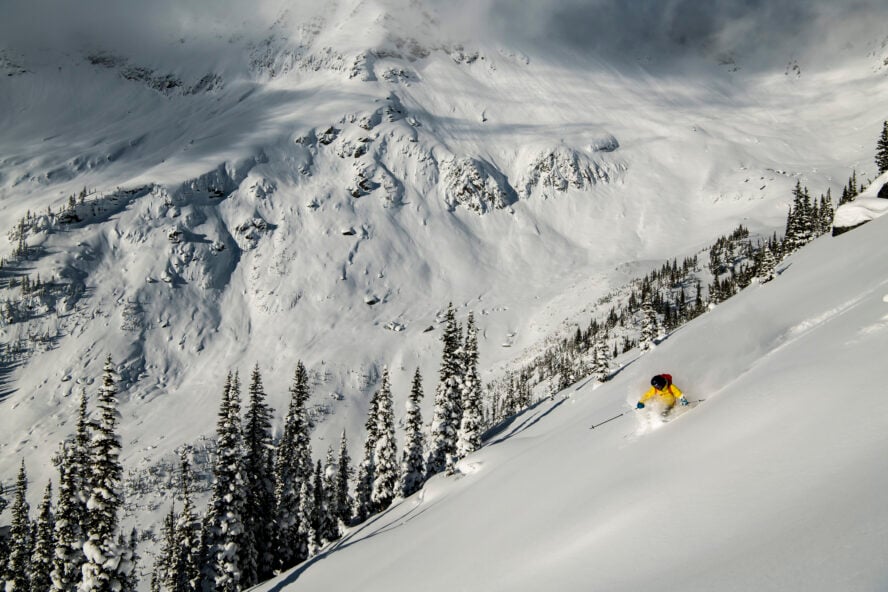 At the ski resorts, we are seeing pockets of sustainable developments. Aspen Snow Company has long been a leader for its use of sustainable energy, and since 2019, Jackson Hole has run on wind energy. Closer to me, Whistler Blackcomb has committed to achieving zero net emissions, zero waste to landfill and zero impact to forests and habitats by 2030. Outside of those, if you are searching for a ski resort this winter, look for those that are part of the Protect Our Winters (POW) Resort Alliance, which is a signal that they are taking action on climate change.
Now not to toot our own horn, but as guides we provide an integral link between unblemished nature and amazing trips. Being in the natural environment it's easy to want to protect it, so if we, guides, can arm clients with more knowledge about living sustainably I think we should use the opportunity. People still want to get out there, and they need guides to show them.
The Eco-Guilt Is Real. Let's Harness It
The last few years I've had ski clients who didn't want to post photos as they would get shamed. Their friends at home would guilt them for traveling far distances for a vacation. And this is especially bad for heli-skiing, since an extra 45 gallons of jet fuel is consumed per hour of helicopter use. They know their trip is harmful to the environment, yet they travel.
I can relate. For years, I have felt guilty about my self-pleasing search for adventure. Sure they fulfill me and challenge me in so many ways, but what do they do for other people—the environment?
Looking at the big picture, the carbon footprint of tourism is estimated to be 5 to 10% of all global emissions with the main culprit being air travel. For example, a single long-haul flight, from San Francisco to London, produces around 5.5 metric tons of CO2 equivalent per person, more than a typical passenger vehicle emits—per year—in the U.S.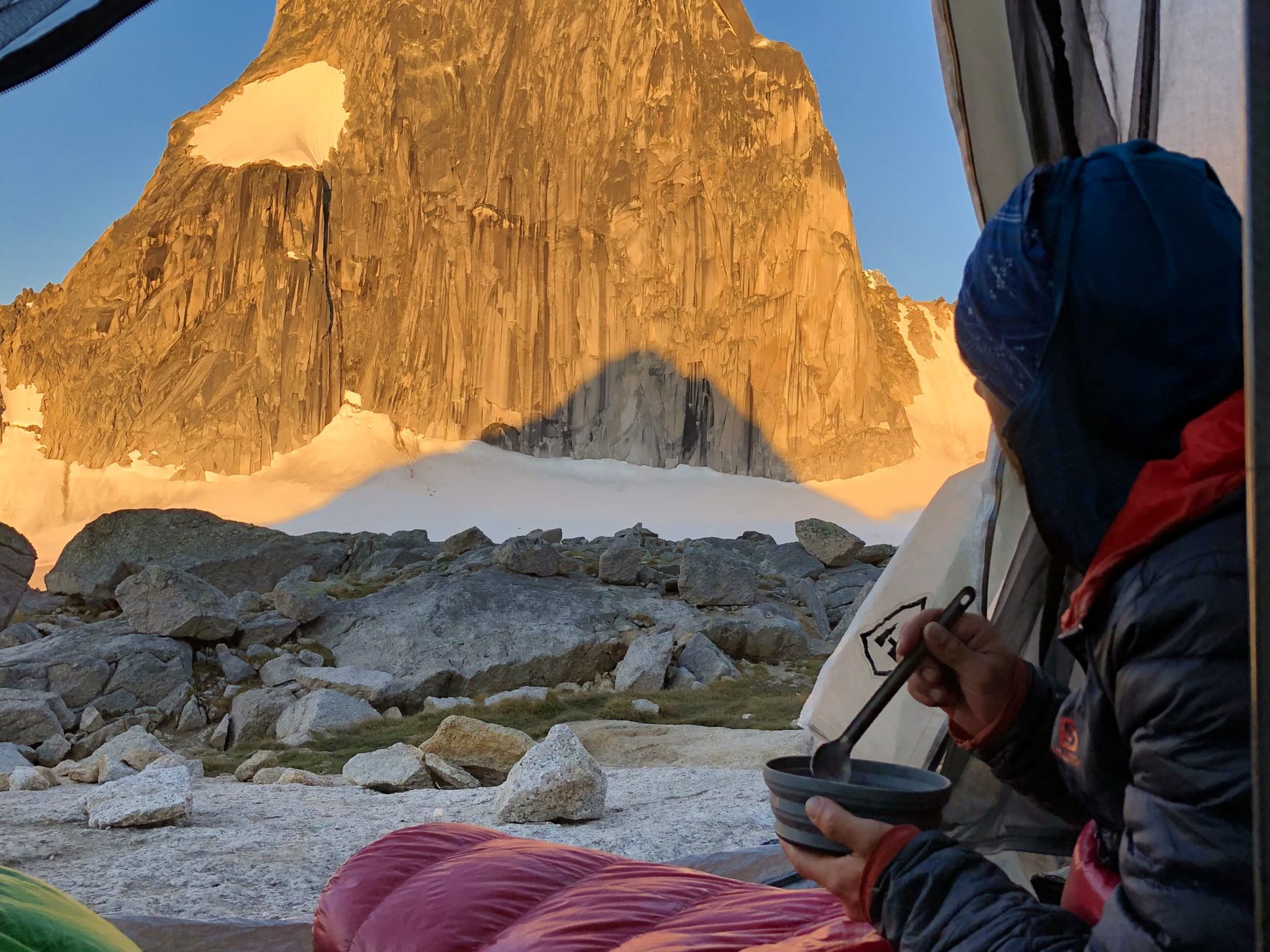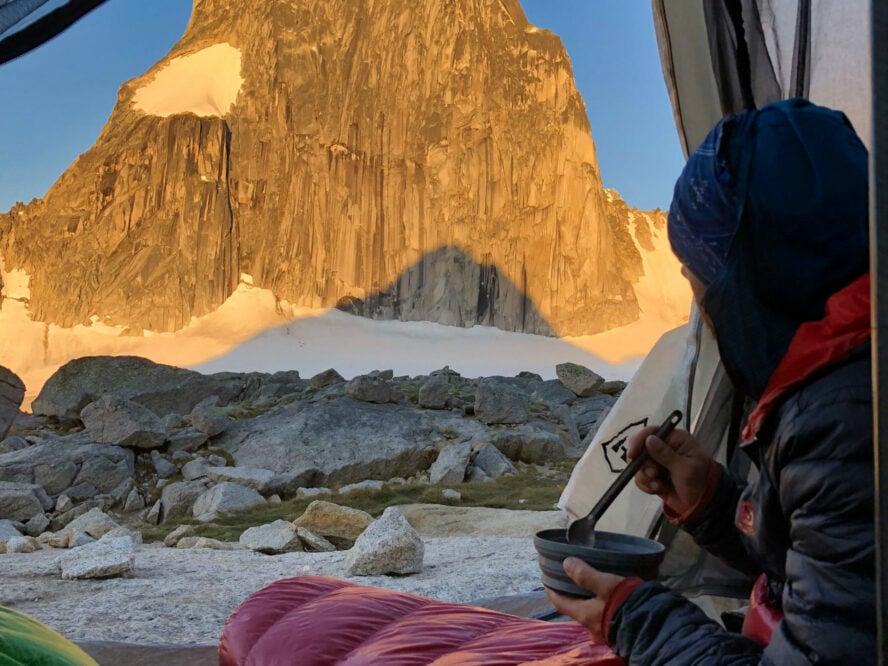 Learning this freaked me out. So I made dramatic life changes starting in 2017. I have shunned many global adventures in pursuit of backyard challenges and took a look at my home life to assess how to be more sustainable, including trading my truck for an electric vehicle, eating vegetarian during the workweek, and then during covid, keeping my outdoor pursuits to within 300 miles of my front door—the approximate distance that one full tank of gas will take you.
If we are going to take a trip anyway, we can think of making improvements at home as "earning" carbon credits that we can put towards our vacation.
Choosing with our dollars
I have discussed this with clients and most voiced that if there were offset options for trips, or easy ways to minimize their impacts they would take them. That is the case with most of us: we want to make changes but we want them to be easy. This is where this green ski trip comes in.
We can offer a better alternative and let clients push for change with their choices and dollars.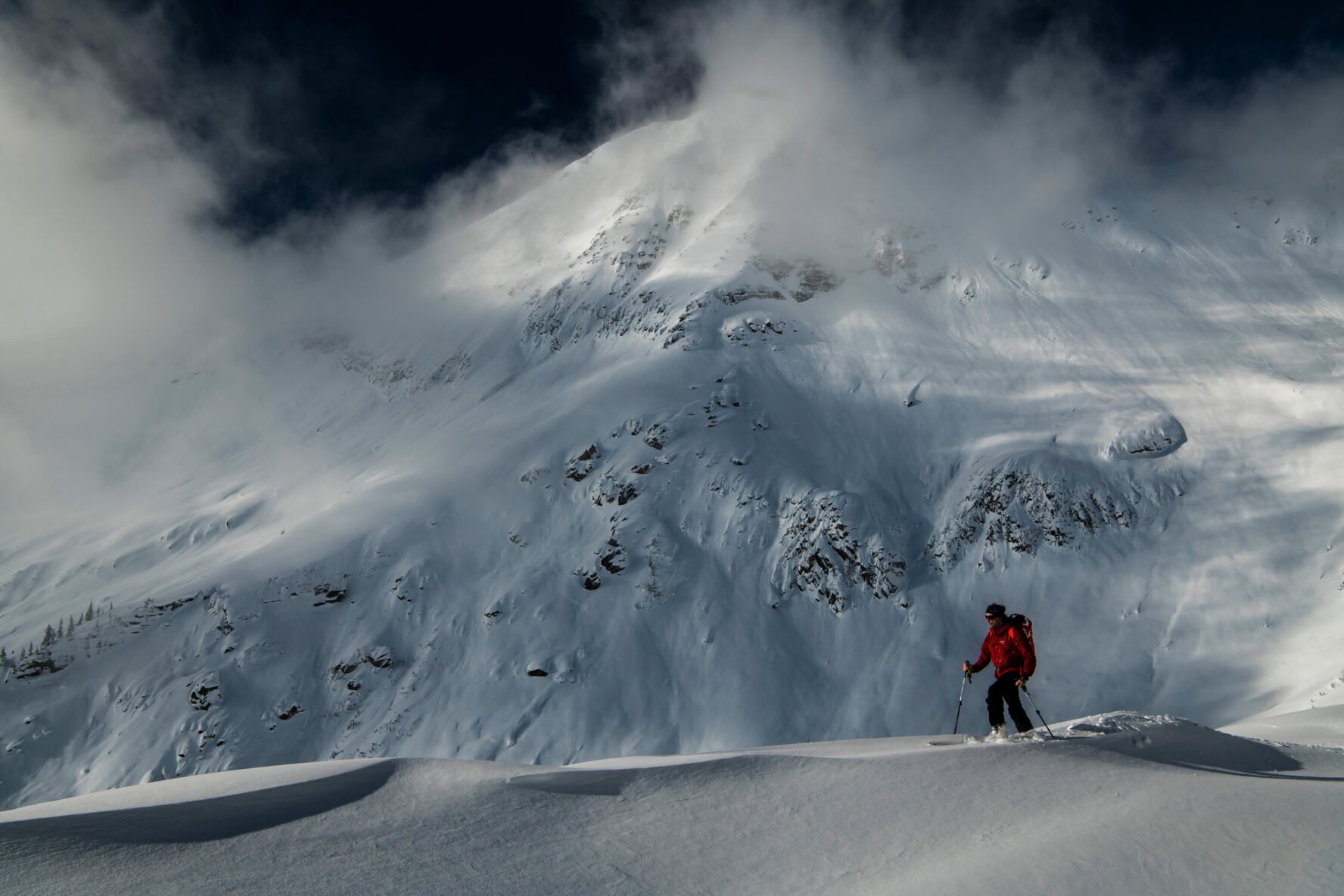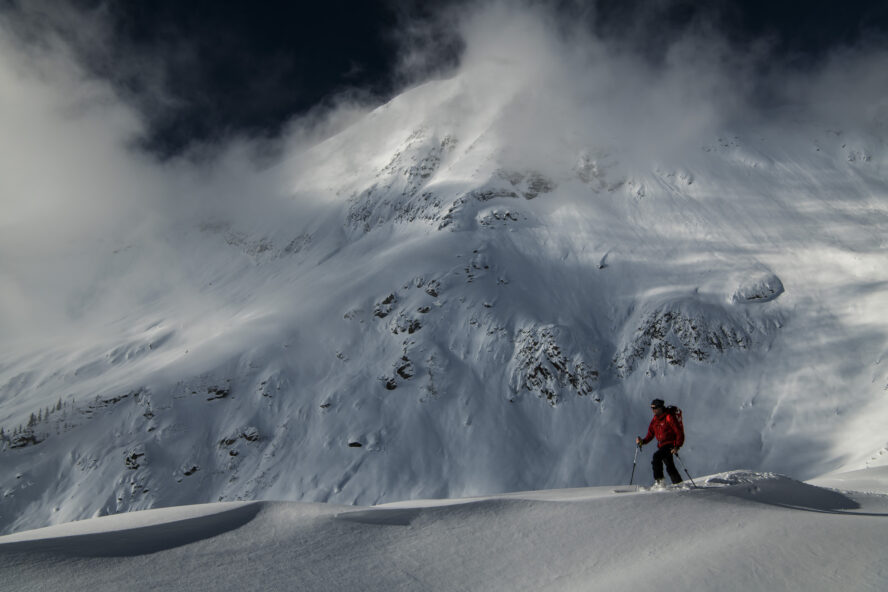 Revelstoke is hard to get to, and invariably people will have to fly to get to here. People can purchase carbon offsets, but there is not much we can do about the hard-and-fast emissions from this.
Once they arrive, though, we can operate more sustainably. Electric rental cars are available through turo.com, for example, and I am willing to chauffeur clients in my electric vehicle to minimize impacts. For accommodations, I will work directly with the clients to determine the best options available to them and their group. Airbnb rentals are likely the best option as it adds more people to the shared footprint of the house. It also allows for home cooking that I will enable with mostly locally-sourced foods
It's not perfect, yet we can start progressing to a better adventure.
Ready to Have a Green-Skication This Winter?
Here's a taste of what you can expect for a more eco-friendly backcountry ski trip in Revelstoke. It's just an example of what's possible and I will keep making improvements to it. And for you guides out there, I hope you can one-up me!
Day 1: Start your greener adventure
We will electrically drive up to the famous Rogers Pass and access some incredible backcountry. Skiing on the snow that eventually melts into the coursing Columbia River below, and powers the dams that provide the electricity for our adventure. After an incredible day of enjoying nature we will return to our accommodation and relax.
Before your trip, I will have asked you to fill out a carbon calculator to see where your footprint is at. Pre-dinner I will give a presentation on the best ways to reduce your carbon footprint in your daily life. We will focus on discussing this footprint and where your largest gains could be. This conversation will continue over a locally-sourced dinner, either at your accommodation or at a nearby restaurant.
Ascent: 1,000+ m
Descent: 1,000+ m
Max elevation: 2,400 m
Hiking: 7-15 km | 4-9 mi
Driving: 150 km | 90 mi
Day 2: Testing our energy on the Taiga
Hopefully* on the second day we will access our ski track via a Taiga snowmobile, the first electric snowmobile, exploring some deep snow in the Monashee mountains. Ski touring through massive old growths we continue our discussions and evolve them into other ways of being a better earth dweller. Using less plastic, shopping with values and other environmental conversations.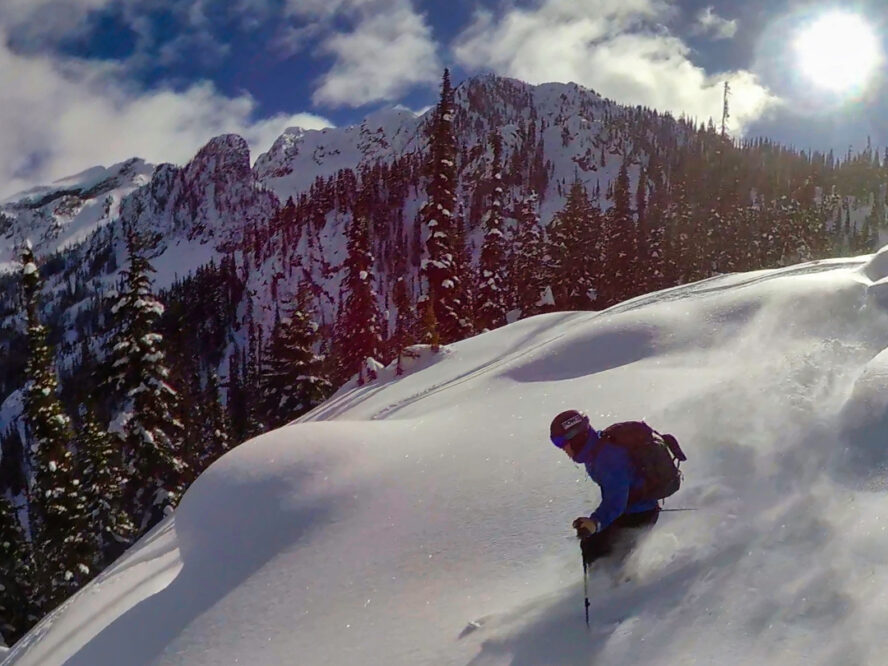 A relaxing evening, eating more locally-sourced meals and watching an environmental movie to continue with the inspiration.
(*I say "hopefully" as these might not be ready for the trip. Rest assured that once they become available I will be first in line to get one!)
Ascent: 1,000+ m
Descent: 1,000+ m
Max elevation: 2,400 m
Hiking: 7-15 km | 4-9 mi
Driving: 20 km | 12 mi
Electric Snowmobiling (if available): 30 km | 18 mi
Day 3: Calculating our impact
The third day is back to Rogers Pass to explore more backcountry skiing or if the group simply wants a ski day at Revelstoke Mountain Resort which is powered by renewable electricity. Over dinner we will calculate all of the impacts from this amazing adventure and look at the different offsets, choosing the best ones and offsetting the entire trip.
Ascent: 1,000+ m
Descent: 1,000+ m
Max elevation: 2,400 m
Hiking: 7-15 km | 4-9 mi
Driving: 20 km | 12 mi
Returning home, I hope you will be inspired by your new ideas and potential. Ideally you leave excited that you have taken part in an exploration into green backcountry skiing, have been some of the first to explore these skin tracks in beautiful British Columbia, and are now armed with new knowledge to live a more sustainable life.
Building your Carbon Bank From the Comforts of Home
Once you're back en casa, where the majority of our impacts come from, you can keep working to lower your carbon footprint.
To help you prepare for this vacation (or other sustainably-minded trips this winter), here are a few additional ways you can lower your carbon footprint at home:
Source green energy. Often utility providers have an option for greener electricity sources, such as from windfarms or solar.
Go vegetarian. You can start small by doing a meal or day a week if you typically have meat with every meal. According to a recent study, meat accounts for nearly 60% of all greenhouse gases from food production. You can go further and ensure the meat you do eat is sourced from a farm that follows sustainable agriculture practices.
Get an EV car and commute as cleanly as possible.
Produce your own energy by putting solar panels on your house, or join a solar farm.
If you need new appliances, go for the energy efficient ones.
Change your banking to go with an institute that is not investing millions into the fossil fuel industry. Most of the major banks are deep into this sector. Vancouver City Savings Credit Union is an example of a bank that is putting sustainability at the core of it's business and model.
Buy carbon offsets to balance what you cannot change.
If you must fly, try to minimize the amount of flights you take and maximize the purposes of your trip. For example, if you normally travel for business, try piggy-backing on a vacation to reduce your total number of flights. When searching for airfare, use Skyscanner and select the Greener Choice option to look for the lowest impact options to your destination.
These are just a few high-level ideas. To dive deeper into your footprint, I recommend taking a course such as The Carbonauts. I also suggest using the CoolClimate Carbon Calculator from the University of California, Berkeley to determine your current impacts. Knowing your baseline will really help you appreciate how much your progress will reduce your toll on the planet.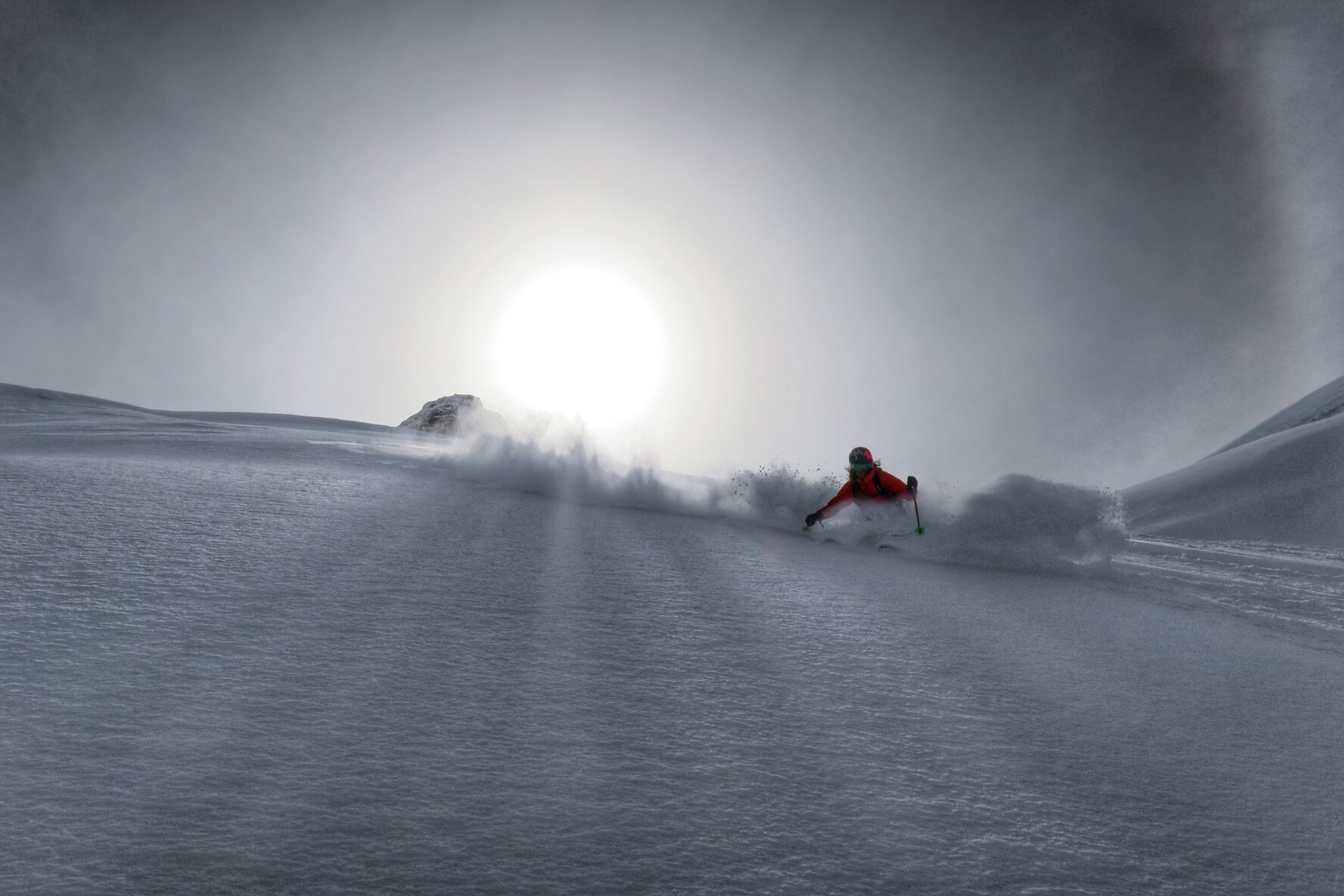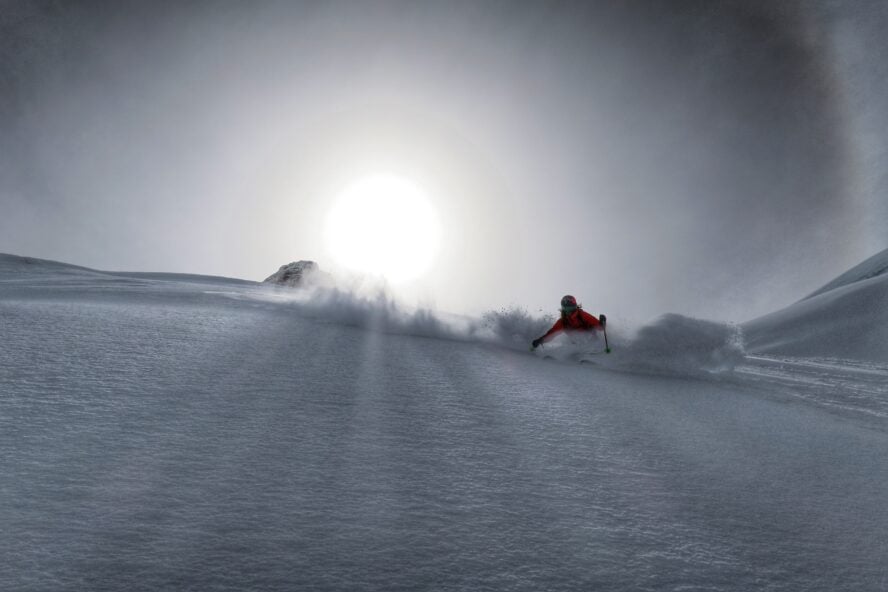 How Will You Adventure This Winter?
With a return to far-flung travels and the allure of big powder days this winter, now is the perfect time to change our behavior so we can do so more responsibly. If you're anything like me and enjoy the challenge of long days in the mountains, helping to protect our pow for the future is what real Type II fun is about!
Want to learn more? Join Greg Hill for an upcoming webinar about his green Revelstoke backcountry ski trip, where adventure is priority but sustainability is the foundation.