A Local Guide's Favorite Spots for Backcountry Skiing in Revelstoke
If you're looking for stoke, you'll find it in Revy.
Imagine driving into a town where the snow banks are so high that you cannot see the heritage houses hidden behind them. Where there's so much snow that it's piled on the side of the road and in between the lanes and on lawns and in parking lots and pretty much wherever else you can shovel snow. Welcome to Revelstoke, home to some of the best backcountry skiing in the world.
Squeezed between two mountain ranges, Revelstoke remained a quiet little town for many years, silently offering up incredible skiing. While it's gained popularity in recent years, the vastness of the area means there's plenty of powder for everyone. If you plan to go backcountry skiing in Revelstoke, here are a few of my favorite spots and local recommendations.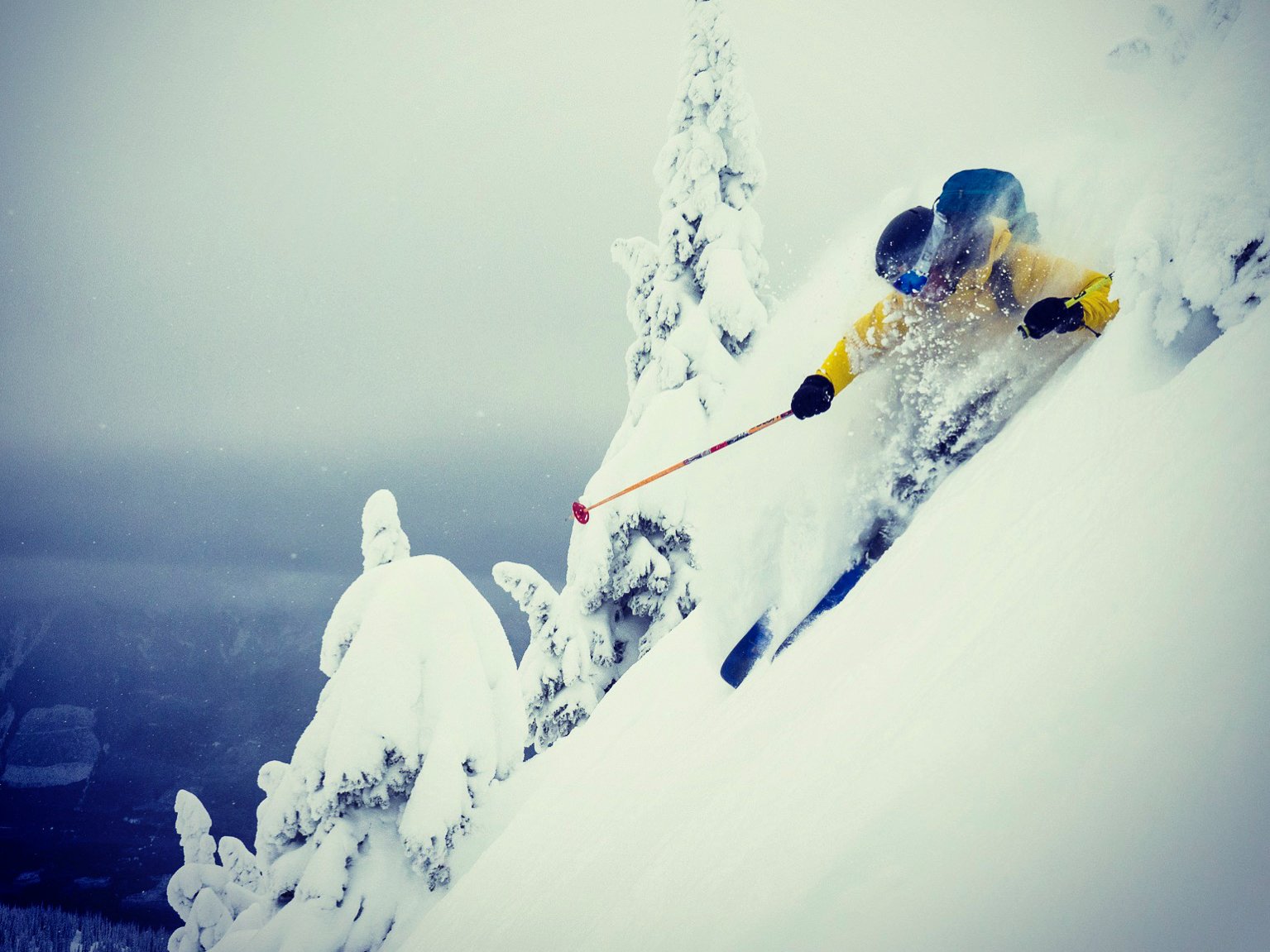 Pros and Cons of Backcountry Skiing in Revelstoke
Long ski season runs from November to the end of April
Consistent, light snow that lasts for days
Every form of access is available — heli, cat, lift, snowmobile and two feet and a heartbeat!
Difficult to get to and winter driving is no joke
Mostly big hikes are required to access the best lines
What drew me to Revelstoke
I distinctly remember the powder turn that convinced me to move to Revelstoke. I had lived in Banff, lived in Whistler and I kept hearing about Rogers Pass and Revelstoke. So I ventured here to take my first avalanche course in 1999. The day before the course, I had toured up some nondescript road to some great skiing. I remember dropping into the line, gaining momentum and being blown away by the speed and depth of the snow. Soon enough, it was billowing over my shoulders and I was screaming with excitement. I hit a roll and boosted into my next turn. And that is where it happened. As I came back down, the snow coursed over my body, it engulfed me and seemingly never stopped flowing over me. While inside this white room, I thought, "Oh my. This is ridiculous. I need to move here and experience this for the rest of my life." Eventually, I came out of that turn, took a deep breath and buried myself into the next. Then, I moved here the next season.
Since 2000, I have explored so many areas around here and am still finding new incredible places that I haven't yet skied. In these 20 years, I have skied all around the US, Europe, Japan, South America and Norway, and I keep coming home knowing that I have it pretty damn good. I love being able to show clients around the area on days of guided backcountry skiing in Revelstoke and neighboring Rogers Pass. The season starts in early November and goes till late April, where you can be skiing off a summit in the morning and climbing rock in the afternoon.
I don't only live here for the snow and mountains though! Revelstoke is a cute little town with a vibrant community that makes it feel very special. It experiences all four seasons, with hot summers, cold snowy winters, rainy falls and magical springs. For outdoor adventurers, it doesn't get any better.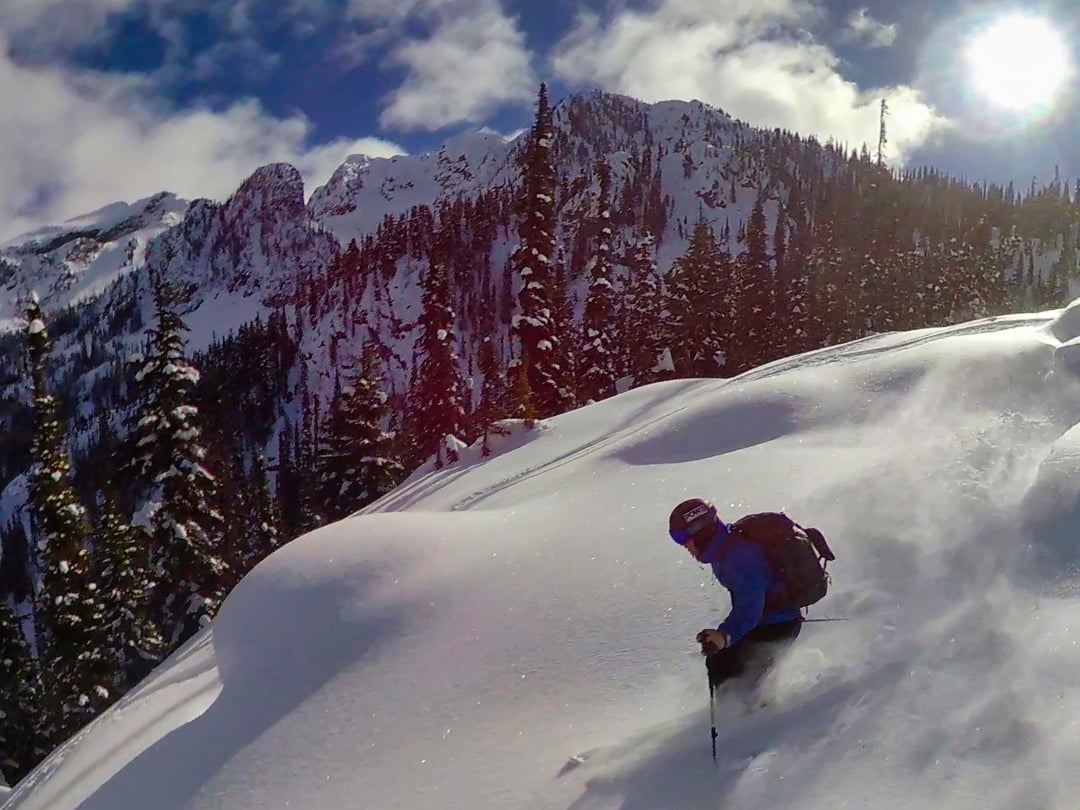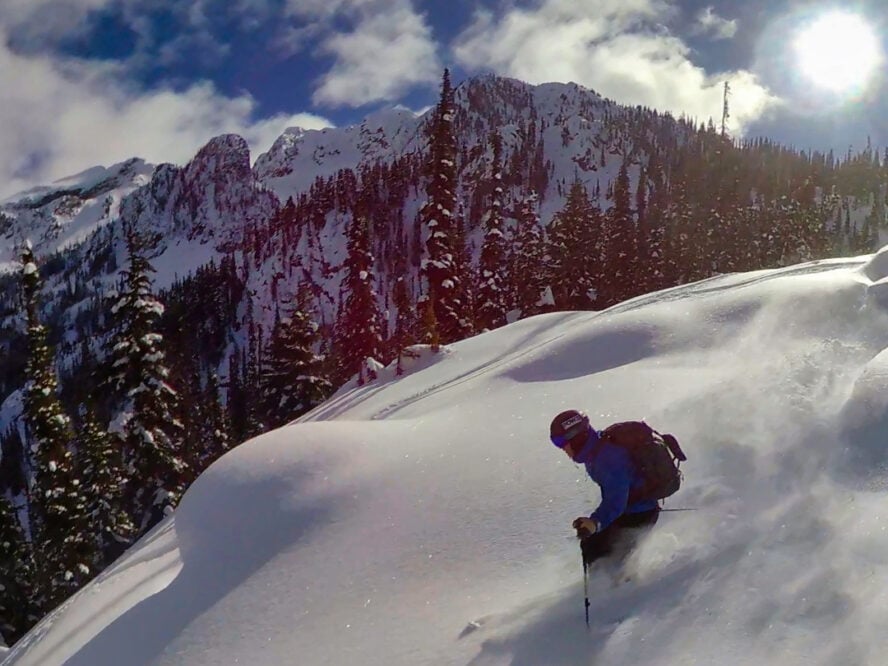 What makes Revelstoke the best ski destination in the world
Named after Lord Revelstoke for his generous donations towards the completion of the railroad, this place was destined for notoriety. To say the name matches the town is an understatement. "Revel" means to indulge in lively and boisterous activities, while "stoke" means to supply with fuel. With a name like that, it's no wonder so many people are active and excited here.
Revelstoke is special in many ways. It's undoubtedly one of the best places for backcountry skiing in Canada. Obviously, I am biased since I live here but bear with me. The town sits at 1500-ish feet (just under 500 meters) and is surrounded by 9000 to 10000-foot summits, which equates to a lot of ski relief. A true adventure town, it's built along the Columbia River and flanked by mountain ranges on both sides. To the west lies the Monashee Range, and to the east is the mighty Selkirks. Revelstoke holds the record for the most snow fallen in one winter — an astounding 2,447 cm (963 inches), which is 24 meters (80 feet) of snow fallen! The record was set in 1971, but you can guarantee that regardless of the year, there is always a lot of snow that falls on these mountain tops. The backcountry ski season typically starts in November and ends in April, with the best window being January through March.
I almost forgot to mention that Revelstoke was a record-setting high jump destination in the early 1900s, where people like Nels Nelson were setting distance world records!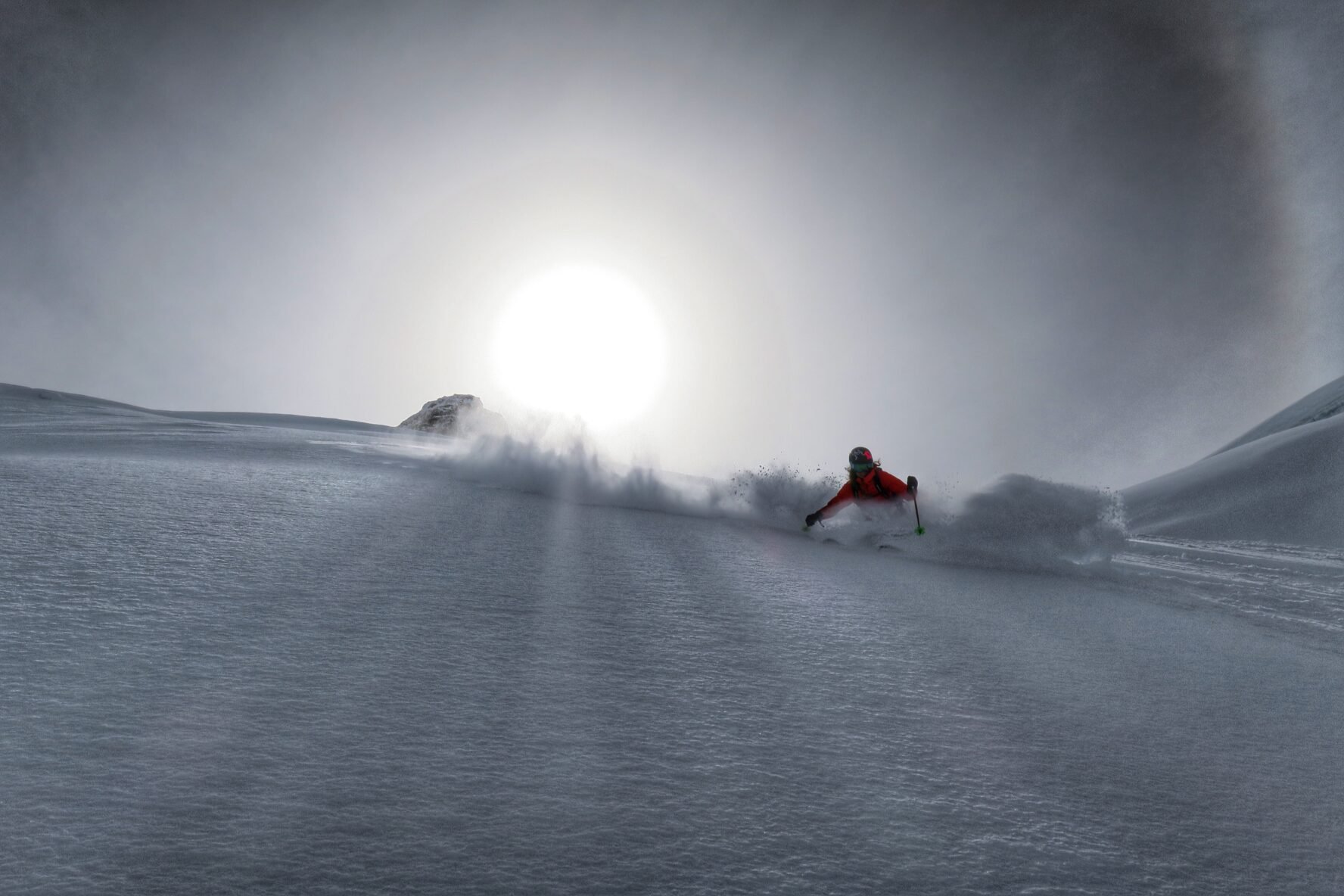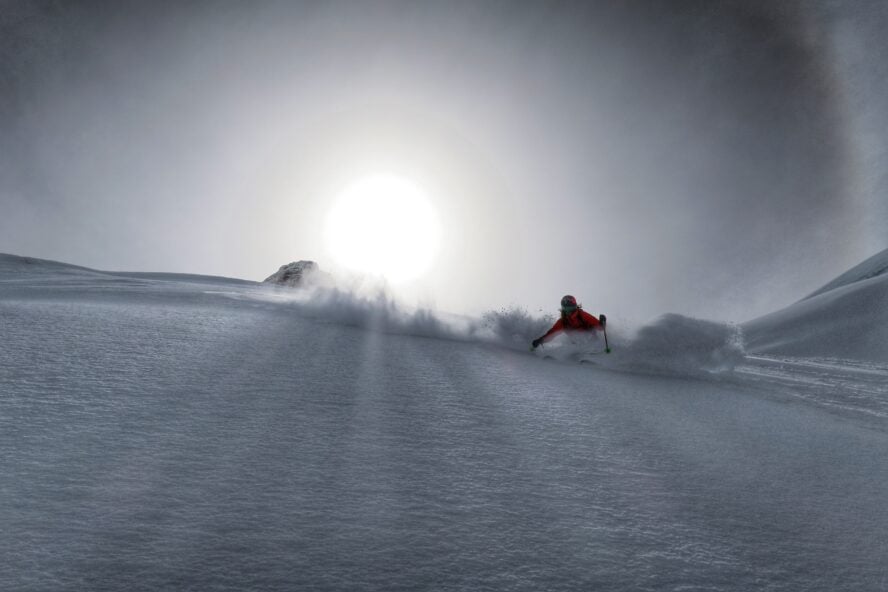 The Monashees vs. The Selkirks
Although side by side, these ranges are very much different from one another. The Monashees are the first range that gets hit by the usual SW storm cycles and often get more snow than the Selkirks. The access is harder in the Monashees as the range is bordered by the 1000-km Lake Revelstoke. Most areas are accessed by either snowmobile or helicopter, or canoe, my personal travel method of choice. In 1964, Canada's first known heli-skiing expedition took place on the Monashee's Mount Macpherson, just outside Revelstoke.
Home to some of my favorite Revelstoke ski zones, touring in the Monashees has a lot of vertical — most summits are 2000 meters (6500 feet) away. There are some easy hits like the Fingers on Macpherson, where you can get a decent 1000-meter (3200-foot) run, but overall, 5000 to 7000-foot (1500 to 2000-meter) days are needed. The trees in the Monashees are well spaced and can be incredible, where you find yourself shredding past massive cedars and spruce. Most of the summits have relatively decent ski lines off them and often easier ways up. Mount Begbie, Revelstoke's iconic mountain, is a must for people's tick list. It's a no gimme, as it is definitely ski mountaineering.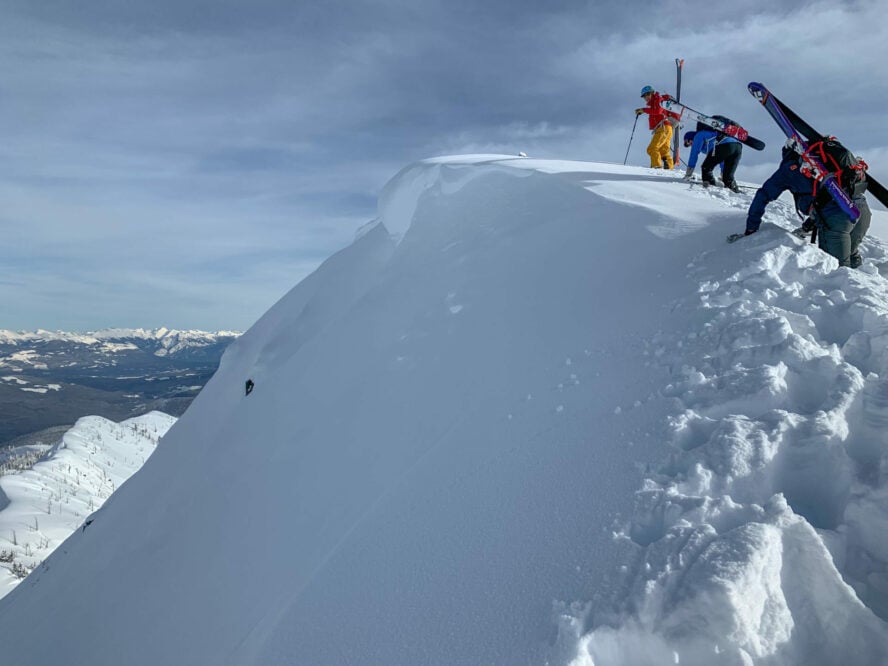 The Fingers on Mount Macpherson
I have always dreamed of putting a gondola to the top of Mount Macpherson and creating a competitor to Revelstoke Mountain Resort. This mountain has so many avalanche paths that have created incredible ski runs for us. There may be some locals mad at me for writing this but I believe the secret is out.
The access to the Fingers begins at the Nordic Center on Hwy 97 South. It's $6 to park in this parking lot and to use their trail to access the skin track. The groomed trails are an excellent way to warm up and get the body moving, and then 25 minutes later, the skin track really begins. It's called the Fingers because five main avalanche paths join up, creating a palm. Under high conditions, this is a scary place to be because the skin track is exposed quite often on the way up. But the ease of access and the wide open perfect character of the runs make it a perfect powder descent. To make it worthwhile, you need to be able to hike around 800 to 1000 meters for a great run. There is some bushwacking to get out, but overall great rewards for the investment.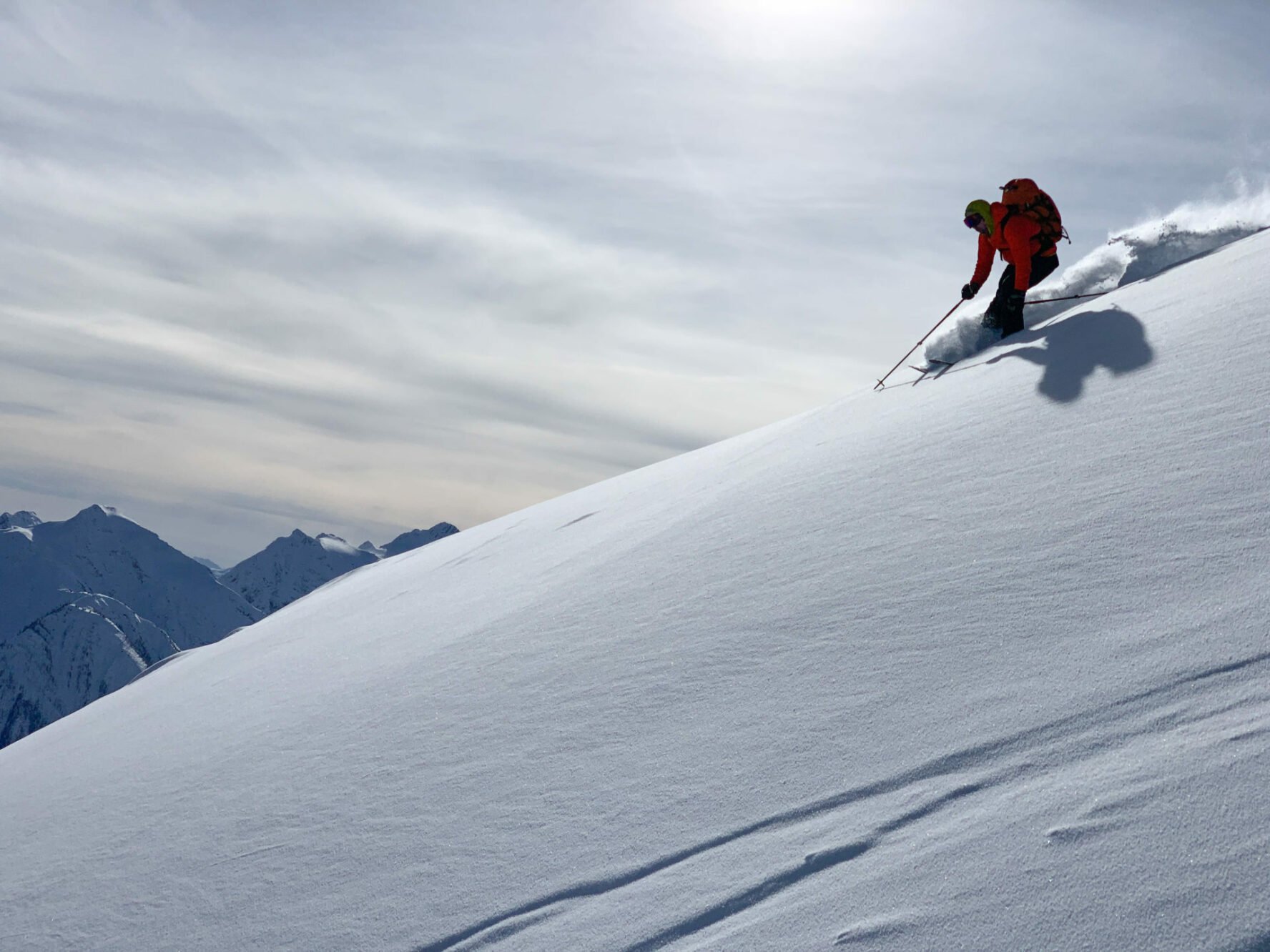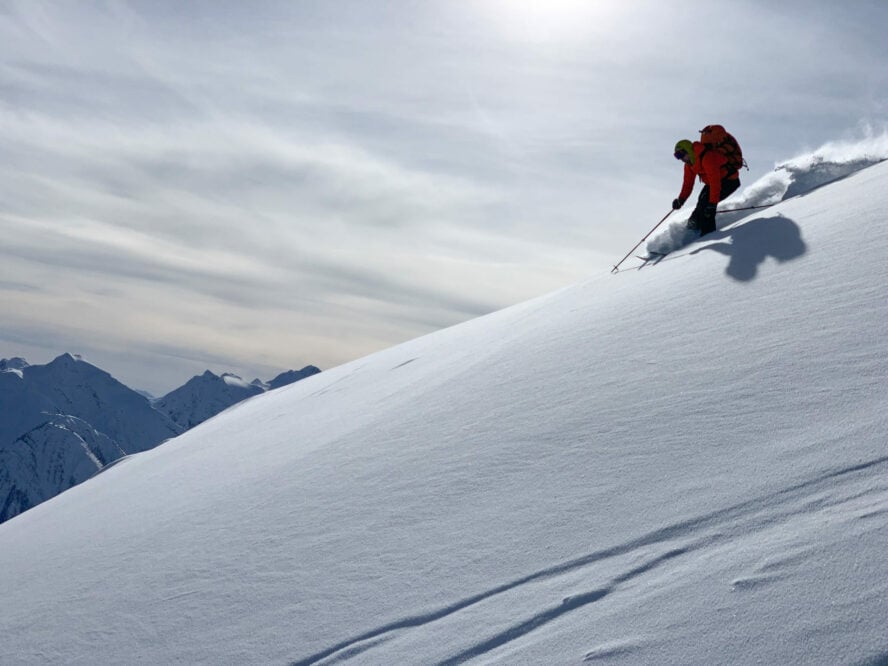 Ski mountaineering on Mount Begbie
Revelstoke's iconic mountain, Mount Begbie, is on most people's dream list. You can either snowmobile up to around 3800 feet and tour from there or begin at the summer trailhead and have 7000 feet of touring ahead of you.
It's a crusher to get to the glacier, but once you crest out of the forest and see the summit hanging above you, there's nothing like it. This is a ski mountaineering objective and a real climb. A serious skin up to the high col leads into a bootpack up the ridge to the summit. The line off the summit, called the Hanging Judge, is the test piece. Mellow exposed turns lead off the top, and creeping through the cliff band, arching turns over the town of Revelstoke is priceless.
Begbie Shoulder sled touring
This is the sled touring zone in Revelstoke, hosting a ton of options. This place was also a secret for years, but eventually the Instagram posts by Chris Rubens and Christina Lusti blew it up.
Typically people sled to around 3000 to 4000 feet and set themselves up for a 3000 to 4000-foot climb. There are so many options, but skiing the 112 Chute is a pretty amazing line.
Another option is A-hole, this awesome chute with a chock stone in it, that you ski under.
Regardless where you end up, you will find huge spruce trees well spaced for shredding, some pillows, and always deep powder. Check out avalanche and snow conditions for Begbie Shoulder on the Avalanche Canada website.
Skiing in the Selkirks
The Selkirks get almost as much snow as the Monashees, but it's colder and lighter. Often referred to as "silky Selkirk snow," it is one step better than its neighbour. Logging roads go deep up every drainage and provide access to lifetimes of skiing. Similar to the Monashees, most require lots of hiking to access and often feel very remote. There are two incredible National Parks: Mount Revelstoke National Park and Glacier National Park. You have probably heard of Glacier before; it is the famous Rogers Pass hidden under another name and hosts endless opportunities for all ski touring levels. (Read more on my recommendations for backcountry skiing in Rogers Pass). Though, like everywhere else, it's better the more you can hike — 1000-meters minimum, in my mind! Mount Revelstoke has lots of great skiing, but it all must be accessed from low elevation roads and requires commitment.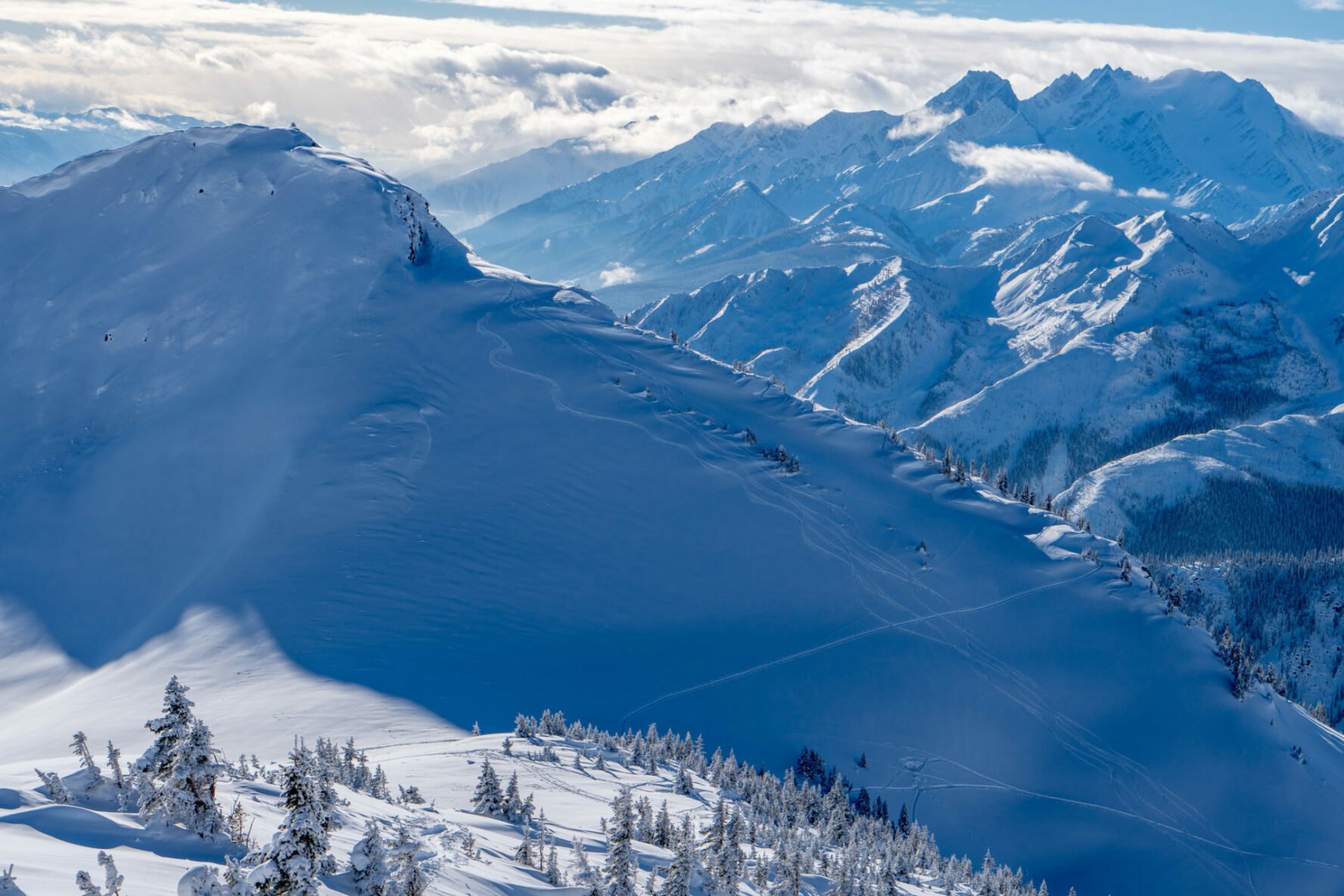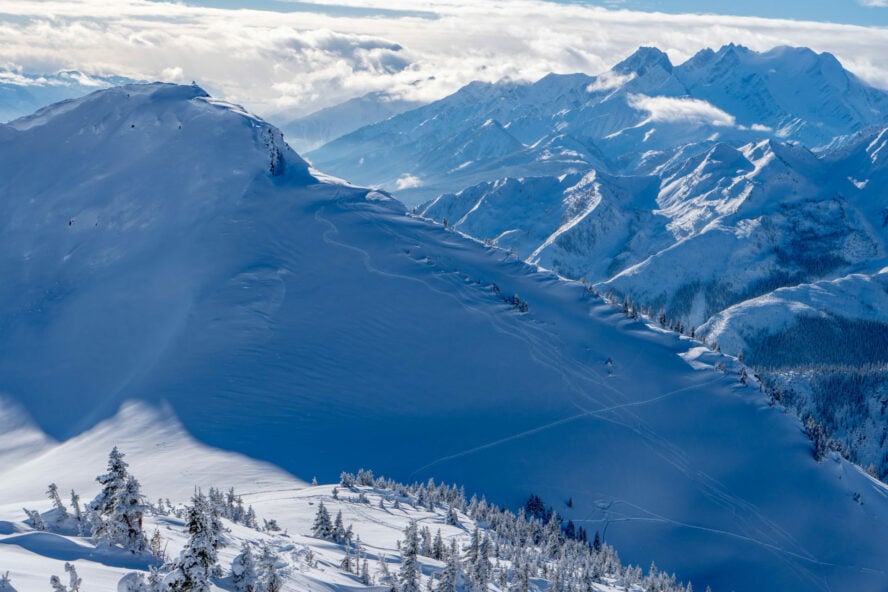 Revelstoke Mountain Resort has incredible inbounds shredding with the longest vertical in North America — 5,620 feet — and more importantly, some fantastic ski touring. Mount Mackenzie and the whole ridge to Ghost Peak provides endless chutes and faces to ski. It's a great place to learn to backcountry ski as a beginner or to ski the steepest lines of your life. This is where you can give someone a 1500-foot run where they only climb 200 feet. It's the best reward/investment ratio anywhere.
Go for big on Mount Mackenzie
Mount Mackenzie sports some serious chutes and faces. The NE face was where the Freeride World Tour competed, so it's massive and scary, yet amazing in the right conditions. Brown Shorts is a test piece, as it is the biggest most obvious chute from the ski hill, while Spilt Milk is a shredder's dream. There are no backcountry deals at the resort; it's full price regardless, so make it special and hit a day where the skiing is incredible on the hill, then finish with some touring off the hill. That's what I often do.
The Selkirks are endless, yet the rest of them are not easy to access. There's a lot of vertical needed to get to the good skiing. To access this terrain, you can book a heli-accessed backcountry ski lodge and some guides offer heli-drop day-hits up in the alpine, where they tour their way back to the highways. This always gives a great bang for buck. And, the suffering is only at the end of the day as you side slip through tight forests to get to the highway. The best drop is a drop on the Mount Revelstoke boundary near St. Cyr, where you spend your day hiking and skiing in the Mount Revelstoke National Park and then escape thousands of feet to the roads below.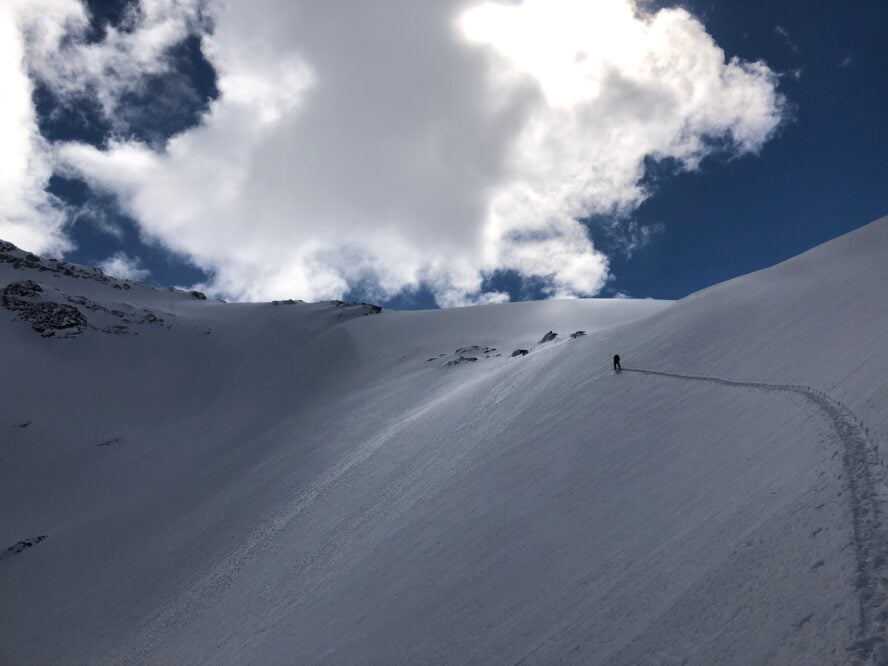 Experience BC backcountry ski lodges for the ultimate touring
There are a multitude of backcountry ski lodges in both the Monashees and the Selkirks, and this is where you can really get good value for your money. My first ski tour at Selkirk Mountain Experience opened my mind to endless fun and challenging mountains. Most of the BC backcountry huts offer three to seven-day trips and are deluxe in the accommodations and offerings. Most require a helicopter lift, and while in the air, you can look around at the endless sea of mountains and know that the area you are landing in is all yours to explore. The huts are so deep in the backcountry that no one visits them on day trips, so the slopes remain untouched, just waiting for your group. There are many huts nearby, Sol mountain, Blanket Chalet, Selkirk Mountain Experience, Snowfall, Selkirk Lodge. These lodges are really the best way to maximize every aspect of ski touring, getting all the benefits without the sacrifices of starting from the valley every day.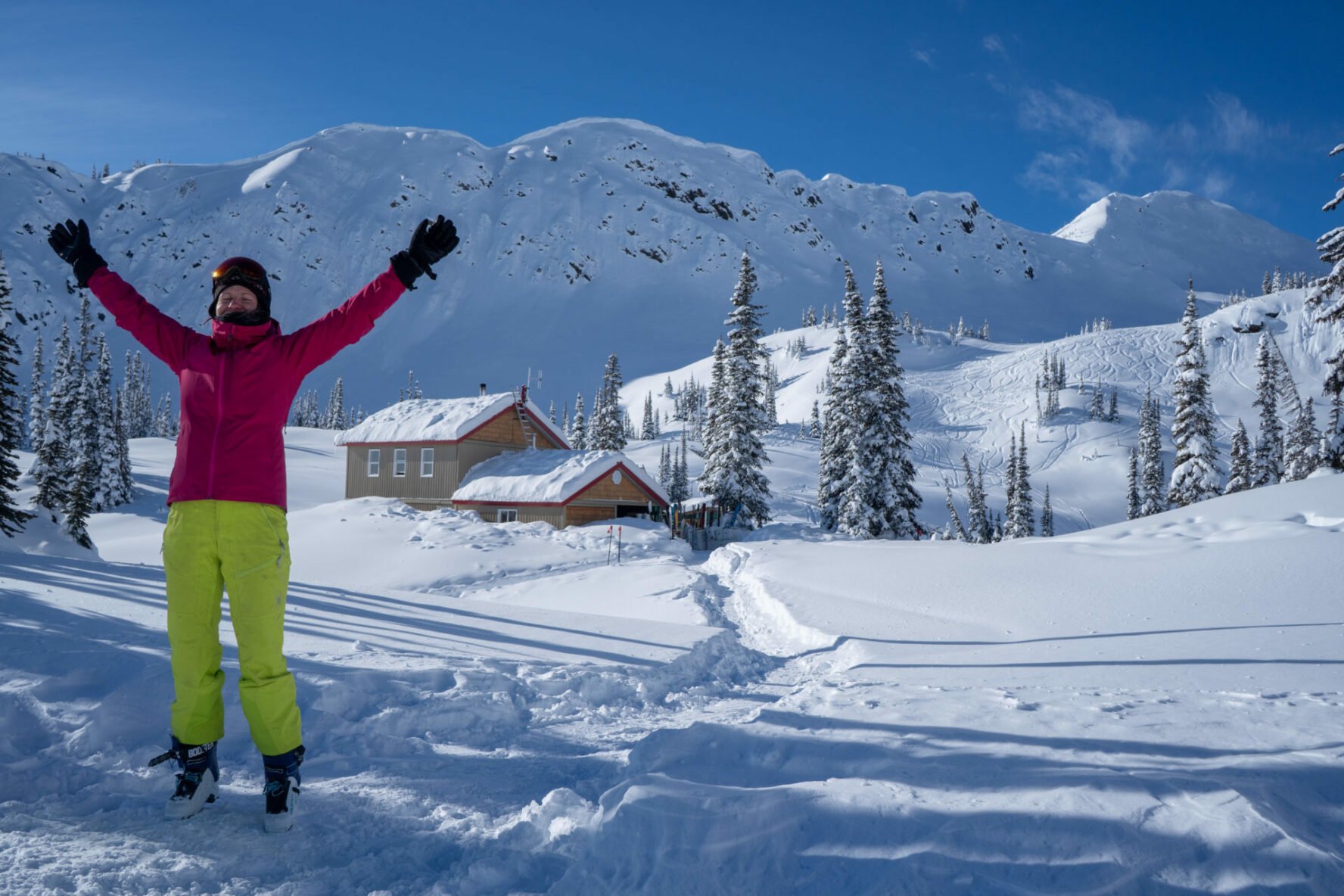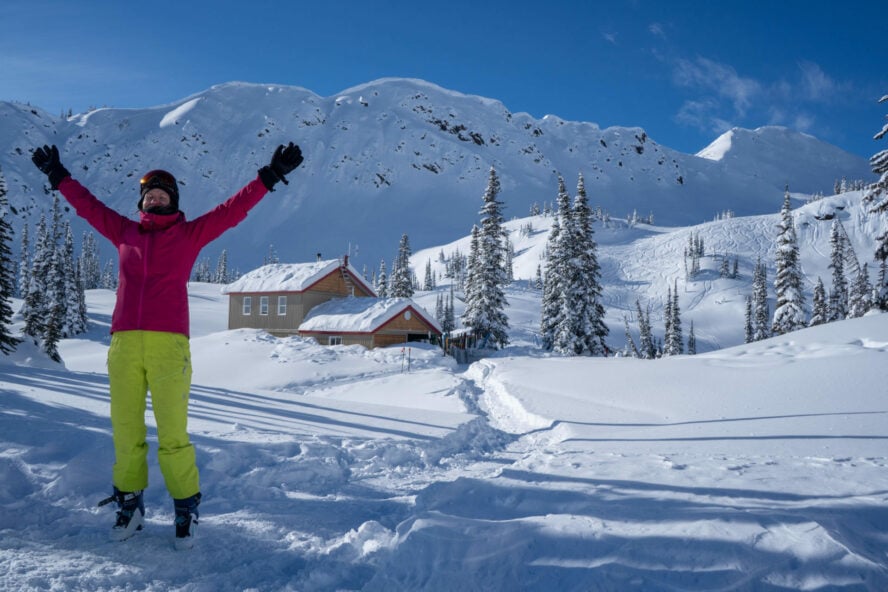 Heli-skiing in Revelstoke
Being the center of heli-skiing means there are also endless choices with who to go with. Since this is a backcountry guide, I will simply say that heli-skiing can be the best powder skiing of your life, and these are the companies that run out of Revy: CMH, Mica Heli, Eagle Pass and Selkirk Tangiers. There are also a few cat skiing operations nearby with K3, Monashee Powder Cats, Great Northern and Mustang Powder.
Tips for Your Backcountry Skiing Journey in Revelstoke
Here is all the useful information for your stay in Revelstoke while enjoying its world-class backcountry skiing options:
Where to rent ski or splitboard gear in Revelstoke
Revelstoke Powder Rentals is a great place to get set up for your adventures if you want to rent gear.
Where to stay in Revelstoke
There are endless Airbnbs to rent in Revelstoke, as well as amazing accommodation at Sutton Place, located at the bottom of the ski hill. The Stoke Hotel has a super cool vibe and easy access off the TransCanada Highway. Basecamp has recently added in some great accommodations as well. If you really want the Revelstoke feel, then rent a place downtown so that you can walk to the restaurants or stores and really immerse yourself in the small town feel.
Where to eat in Revelstoke
Since the expansion of the ski hill in 2008, the dining options in Revelstoke have really expanded. There are several upscale dining options, like the Woolsey Creek Bistro, Quartermaster Eatery, and 112 Restaurant and Lounge, to name a few. For the ski town vibe, most people hang out at the Village Idiot, Chubby Funsters, or The Rockford, up at the ski hill. Other favorites of mine include Kawakubo for sushi, The Taco Club for, well, tacos, Paramjit's Kitchen for Indian Fusion, and plenty of places for great pizza.
Getting to Revelstoke
Part of Revelstoke's charm is that it is a little challenging to get to. Located just west of the Alberta/BC border, it's a four-hour drive from Calgary and a five-hour drive from Vancouver, the two main cities that most visitors fly into. Both of those drives can be full value winter driving, so make sure your vehicle has winter tires (check with your rental company if you're renting). The easiest option is to fly to Kelowna and drive two hours of low elevation roads, another international airport that's a lot less busy.
I have lived here for the last 20 years, and there has not been a season that disappoints. Of course, there are times when the winds wreck everything or the temperatures spike, but overall, the probability of getting incredible skiing here is very high. As a guide, I like dealing in the incredible, and most of my clients leave having experienced the best skiing of their lives. With endless opportunities for exploration, deep, consistent snow, and every type of access possible, come visit and see if Revy lives up to the hype!
If you're new to backcountry skiing, get advice from IFMGA/AMGA Guide Rob Coppolillo in his 57hours Adventure Talk, Intro to Backcountry Skiing: