Why Your Next Family Trip Should Be Backcountry Skiing in Chamonix
Chamonix backcountry skiing is as good as it gets, and a tour through Vallee Blanche, Col du Passon and Col de Beugeant will have you yearning to get to this incredible off-piste area.
A renowned destination for the skiing elite, Chamonix lies at the base of Mont Blanc — the highest summit in the Alps at 15,781 feet. My family makes the pilgrimage as often as possible, thanks to the culture, the food, and its unparalleled offerings as a year-round escape. For backcountry skiing, it doesn't get any better than Chamonix. In the valley, you can visit multiple countries in just one day — almost entirely all on your skis, with a little help from the local trains.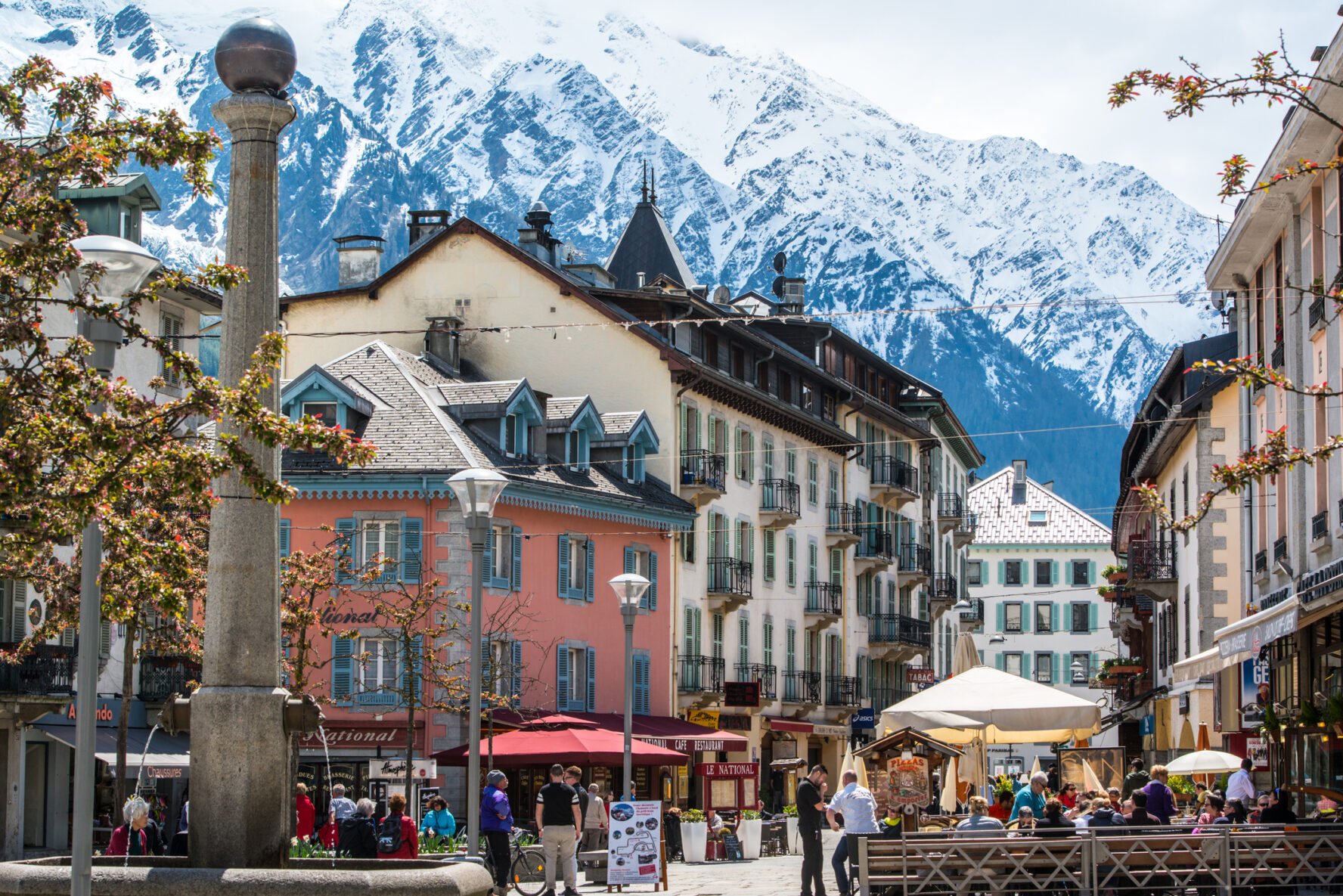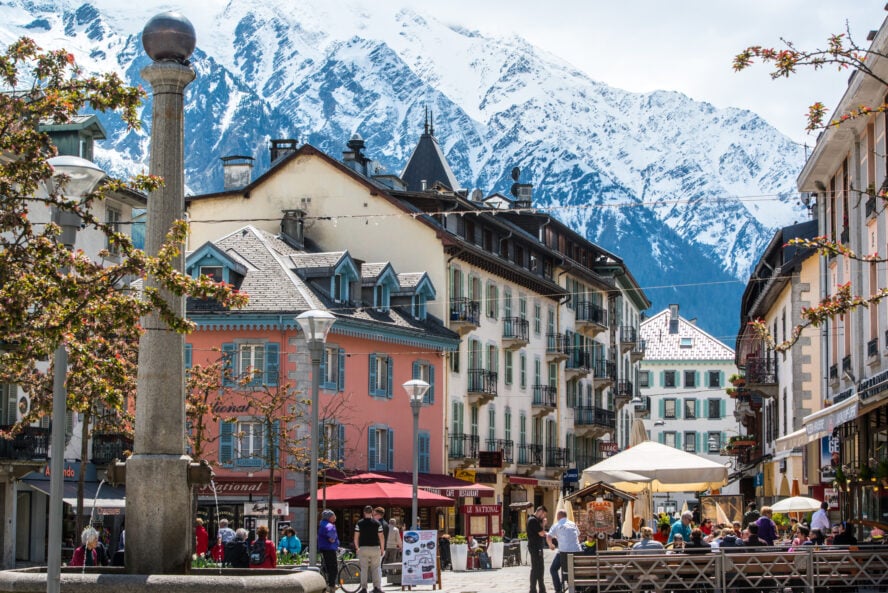 Pros and Cons of Skiing in Chamonix
Paradise for expert and intermediate skiers
Lots of well-connected terrain mean endless route options
Plenty of activities beyond skiing, and exceptional food
Long lift lines, so get there early
Chamonix's classic ski touring routes
Chamonix is arguably the best location for backcountry skiing in Europe, and one of the best in the world. Chamonix-Mont Blanc ski area is split into five different resorts, each catering to various skiing abilities. Close to central Chamonix, a two-stage cable car takes you to the top of the Aiguille du Midi peak from which you can see the spectacular Mont Blanc. This cable car is also the start of the 12.4-mile (20km) Vallée Blanche off-piste route, dropping 1.7 miles (27km) of vertical. The other major ski area accessible from the Chamonix town center is Le Brévent, which links to the La Flégère sector. The most famous ski mountain and the toughest skiing in the Chamonix area is Les Grand Montets, above the neighboring village of Argentière (more about that later).
In Chamonix, skiing and outdoor recreation are part of the town's identity, and the reason it's a global destination. After waking up and skiing some of the world's most well-known routes, you're rewarded with some of the world's finest French cuisine when you reach the bottom of the valley. Lunchtime at the Vallee Blanche cable car's base is always packed with snow enthusiasts discussing their trip and already planning their next summit. Overall, a trip to Chamonix packs a punch for its skiable areas and world-class amenities.
Find Classic Glacier Skiing in Vallee Blanche
Skiing La Vallée Blanche in Chamonix is one of the area's most famous off-piste experiences—it's a 12.4-mile (20km) route down a glacier. This tour is a special one for me because it's laid back, but you'll find incredible views of the Alps and the famous Mont Blanc peak. Don't get me wrong, you most definitely need the right avalanche safety, crevasse training, and basic off-piste skiing preparation, but overall the route isn't technically difficult. The route is quite wide for the most part and not terribly steep, which makes for light and easy skiing. What I find especially unique about this tour is the vastness of the glacier. You are almost guaranteed to go through fresh powder, even if dozens of people have already skied the area first.
Start at Aiguille du Midi lift for a nearly 2-mile ride
The tour starts at the bottom of the Aiguille du Midi cable car. The lift operates on a number system, so I recommend you pre-book your cable car to avoid any lines. Here, we strap on our avalanche beacons and put on our harnesses. We head up 1.7 miles (2,800m) to the station, which sits on the very top of the rock, looking bound to tumble down as soon as a strong gust of wind comes by. Going through a little set of tunnels, we come to the benches, where skiers, snowboarders, mountaineers, and outdoor enthusiasts of all kinds put on crampons, secure their skis to backpacks, fix their harnesses, and get ready for the descent down a narrow ridge.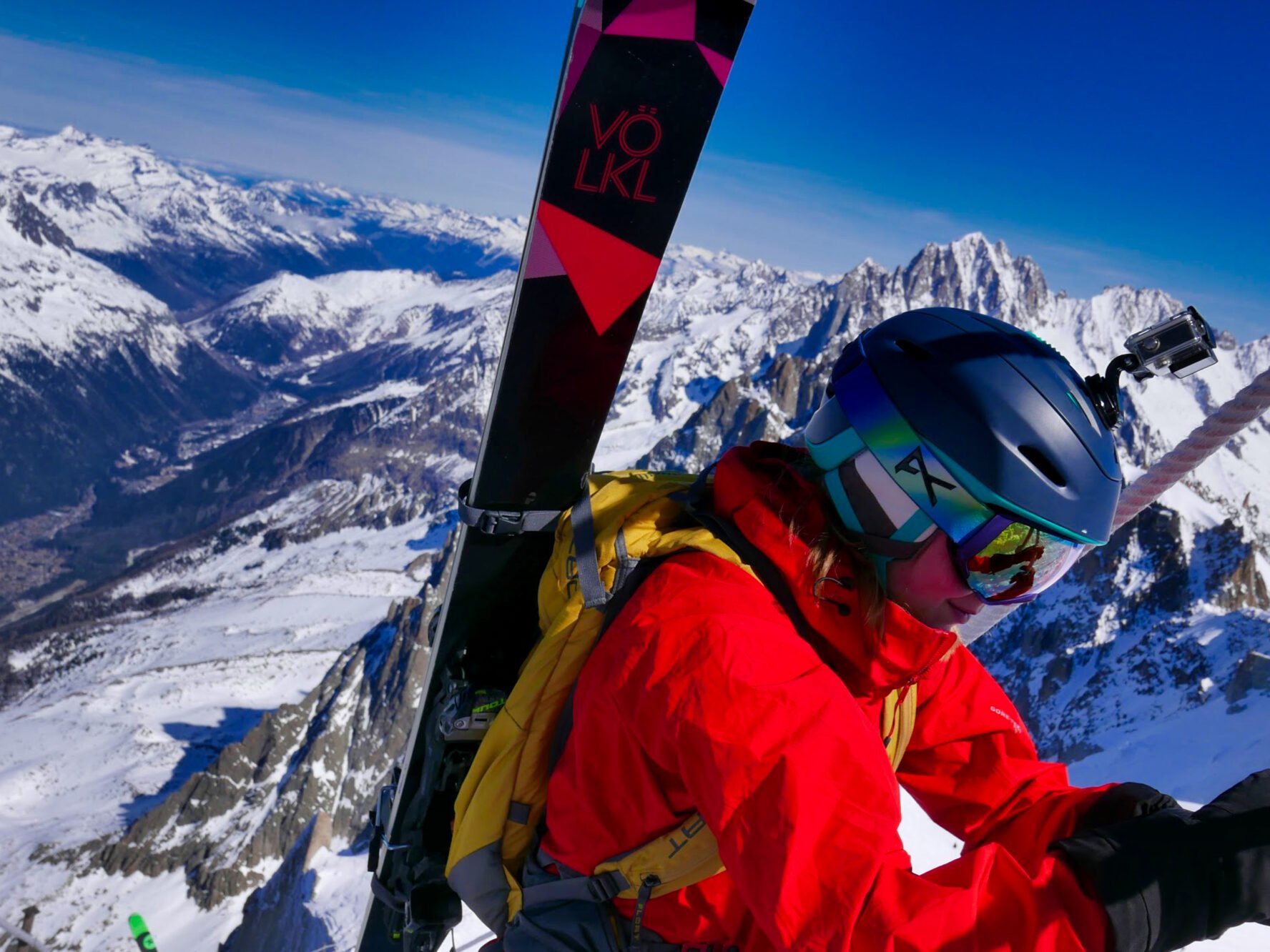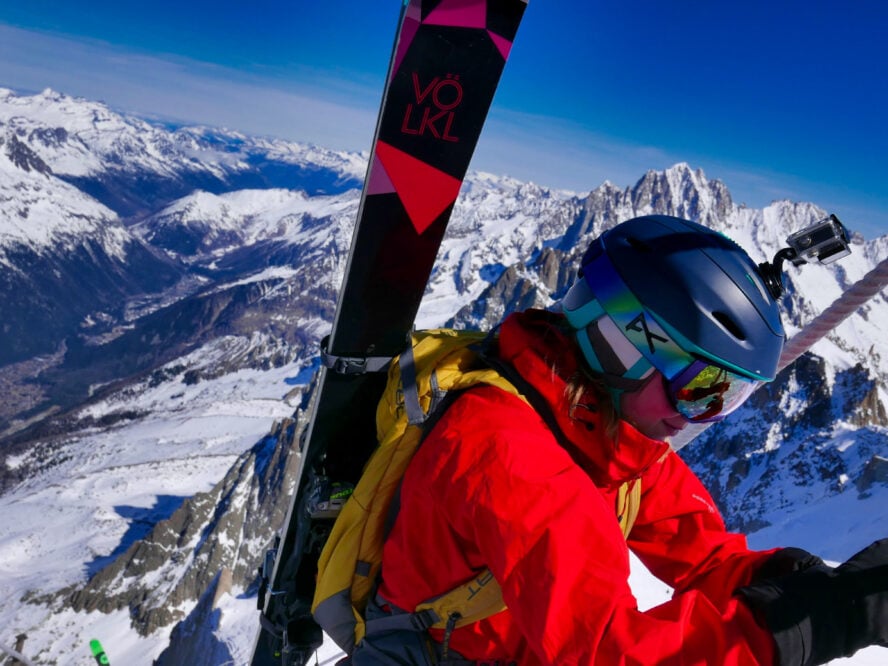 The descent requires walking down a narrow ridge with a 50-degree pitch on either side to get down to the Vallee Blanche route. I think this is the most challenging part of the run. During the early season, the rope may not be installed yet, making things a bit difficult. Once you step on to the ridge, you'll see that it's not as scary as it looks. We wore crampons and held onto the rope while being tied to each other. These combined security elements gave me peace of mind and a little more freedom to focus on the views around us.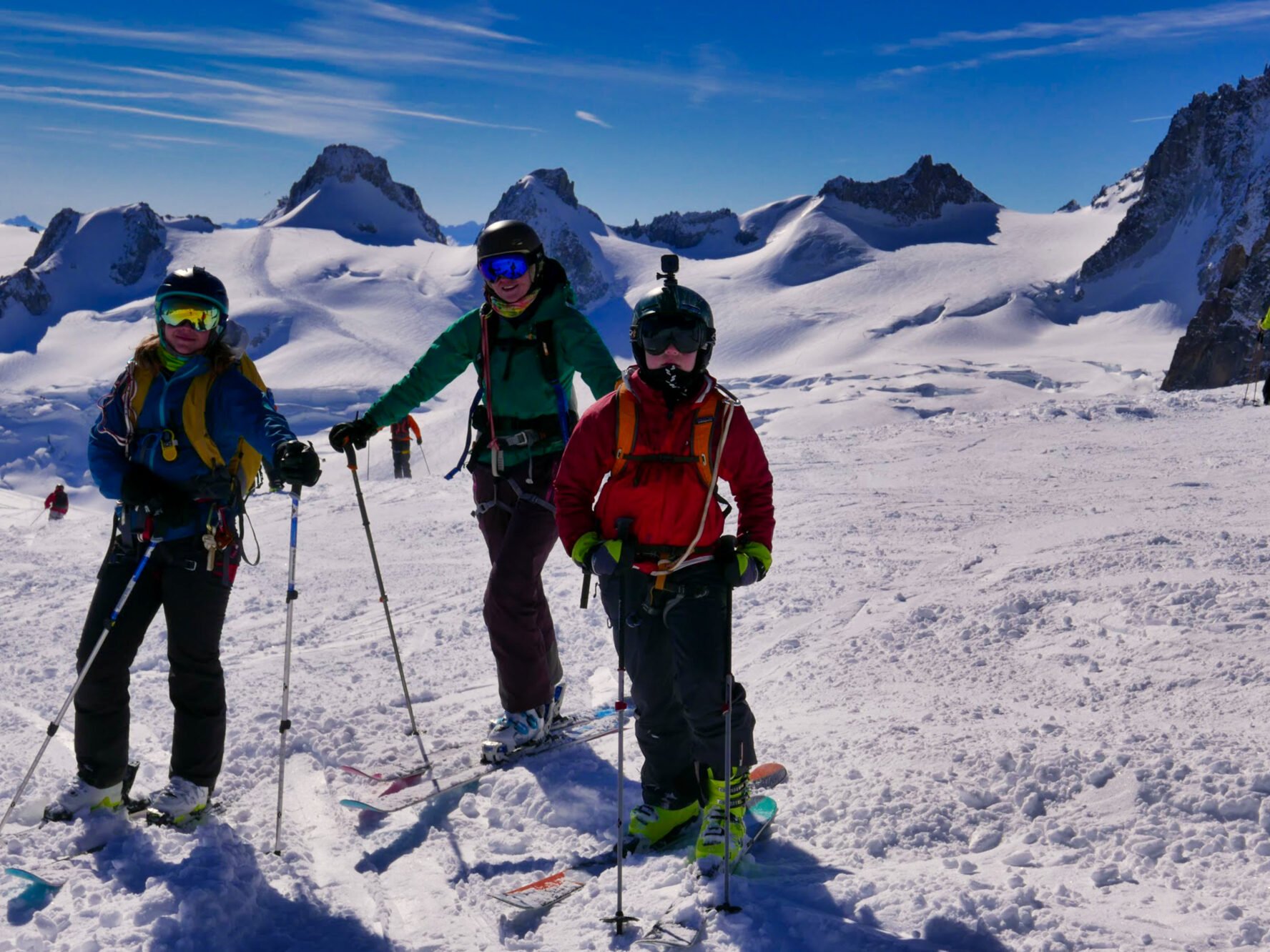 Four main runs to descend the iconic Vallee Blanche
Once we got off the ridge, we took off our crampons, put our skis on and started skiing down the Vallee Blanche. There are various ways in which you can get down, but I'll tell you about four main routes. The classic route, or voie normal, is straightforward, making it nearly impossible to get lost. It's also the easiest way down, and the most popular, so you can expect to encounter crowds during peak season.
The other routes are known as Le Vrai Vallee Blanche, the Petit Envers du Plan and the Grand Envers du Plan. These are for the more experienced skiers because they involve couloir skiing. Research the routes before you go, and consult with a local guide about what is best for you. Accessibility and safety might vary depending on the recent snowfall.
The best stop near Salle a Manger for a full day on the Vallee Blanche
I like to make a day of the trip down the Vallee Blanche. With regular breaks and a bit of sightseeing on the way down (both of which I highly recommend), you will probably take between four and eight hours for the round trip. A popular stop for lunch on the Vallee Blanche is the Requin Refuge.
To soak in the views, I prefer to bag my lunch and sit on the snow outside about halfway down before we reach Salle a Manger. I take off my skis and make a little back seat with my backpack to get the most out of backcountry skiing in Chamonix. If you are looking for one, Salle a Manger is the perfect photo opportunity. If you choose to break beneath the seracs, don't stay for long because they can collapse.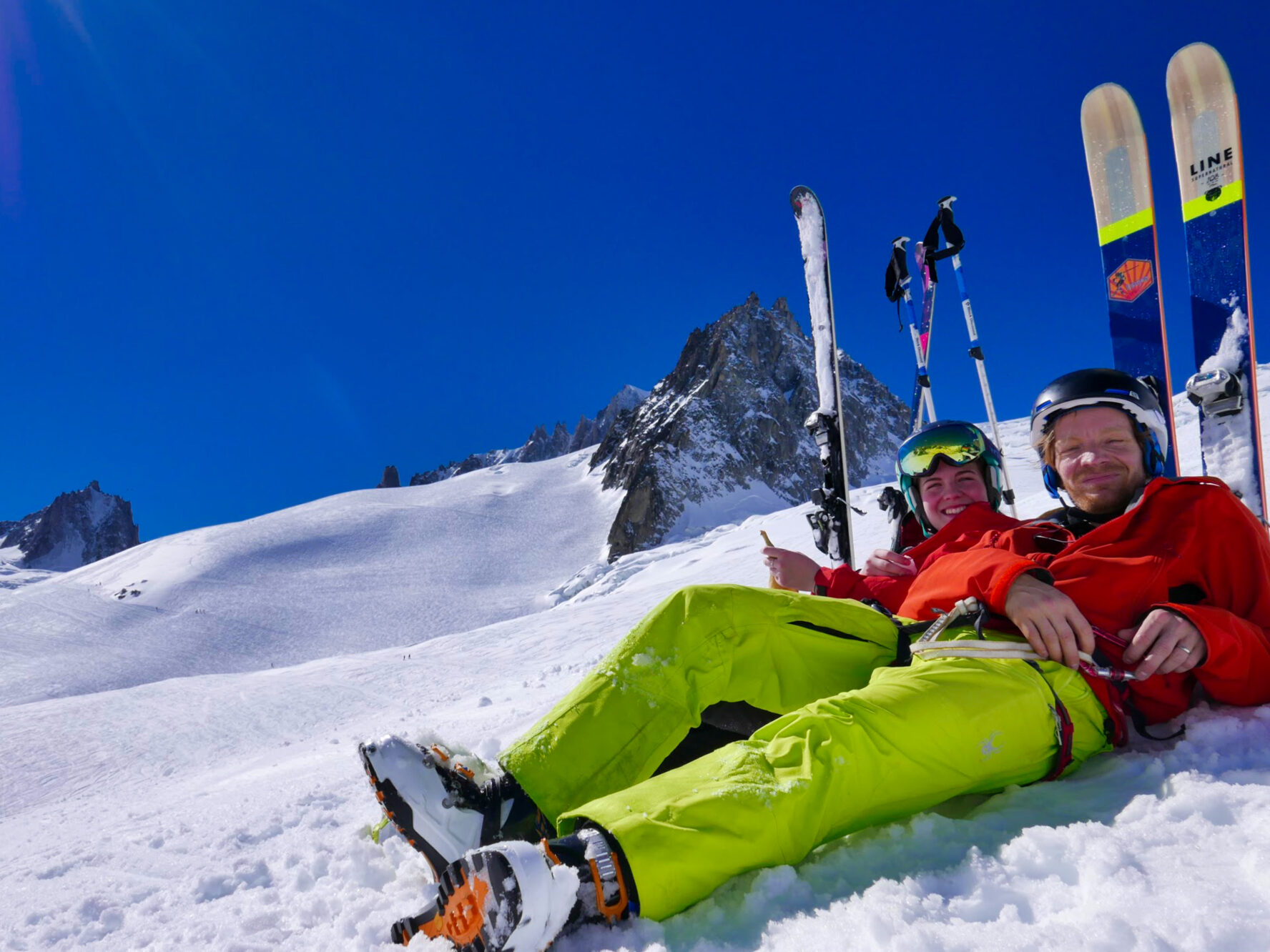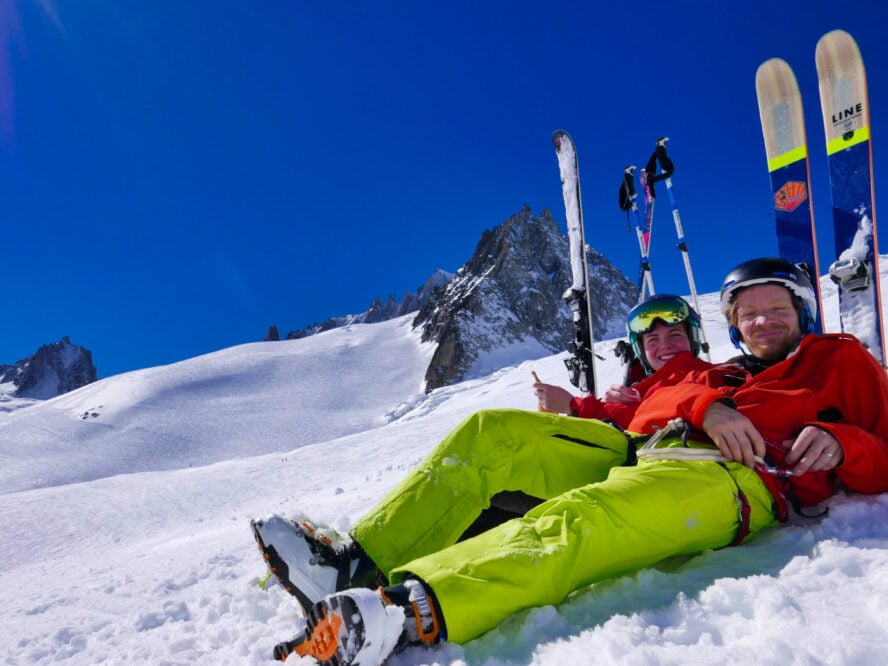 At the end of the Vallee Blanche, there is a long flat run. During the spring, especially on the really warm days, it gets pretty slushy. Make sure you get plenty of speed otherwise you risk getting stuck on the flat. If you are a snowboarder, take a pair of poles with you, or find a skier friend who is willing to pull you! In good snow conditions, you can ski all the way back to Chamonix's town centre.
Take the Montenvers train for an iconic route straight to apres
I prefer to take the Montenvers train back to town. I'm usually pretty skied out by the end of the route, and the train is one of my favorite things about Chamonix. The red wooden train opened in 1908 and will take you down the mountain to drop you off at Chamonix. From there, you can head directly to any of the restaurants for apres ski. My brother's favorite is Elevation 1904 because it's close to the train, and the food is just what you need after a good ski run.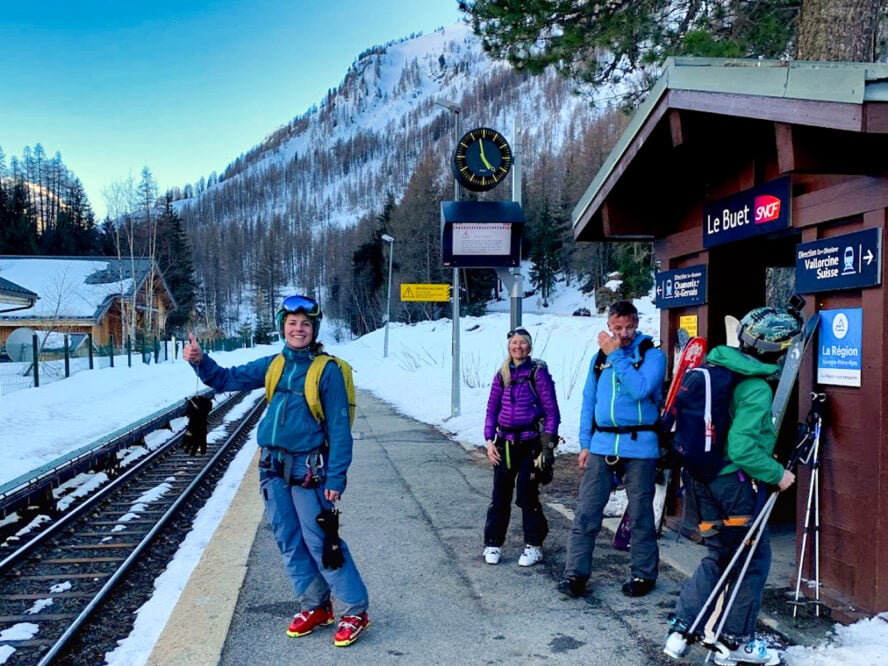 Col du Passon: A Family Ski Tour to Le Tour Ski Area
This backcountry ski tour outside of Chamonix takes you from the Argentière ski area of Les Grands Montets to the Le Tour ski area. Unlike Vallee Blanche, where there is little climbing involved, this route takes more time to climb up than it does to ski down. This route is one of the first backcountry ski tours I ever did in Chamonix. It also happens to be the route where I got one of my more "memorable" sunburns.
My family and I started at the top station of the Grands Montets looking for the Col du Passonn, which is the small notch left of the Aiguille du Chardonnet. We descended across the Glacier d'Argentière to the bottom of the skinning route. The skin up to the Col can be icy, so bring your ski crampons. The climb is about a third of a mile (500m) to the Col. On the day we went, it was particularly hot. I usually have something covering my head and my face, but I decided to take off all the layers on that day. After a few hours in the sun, my face resembled a tomato; make sure to bring some sunscreen.
A final hike gets you to the top of Col du Passon
The track turned out to be very well established, making our climb up much quicker and straightforward. We continued on up for a few hours until we reached the climb's final section, which is a bootpack. I put my skis on my backpack, put on my crampons, and took my axe in hand. On the day that we went, the snow was perfect for the bootpack, and there were already steps marked in to make hiking much easier.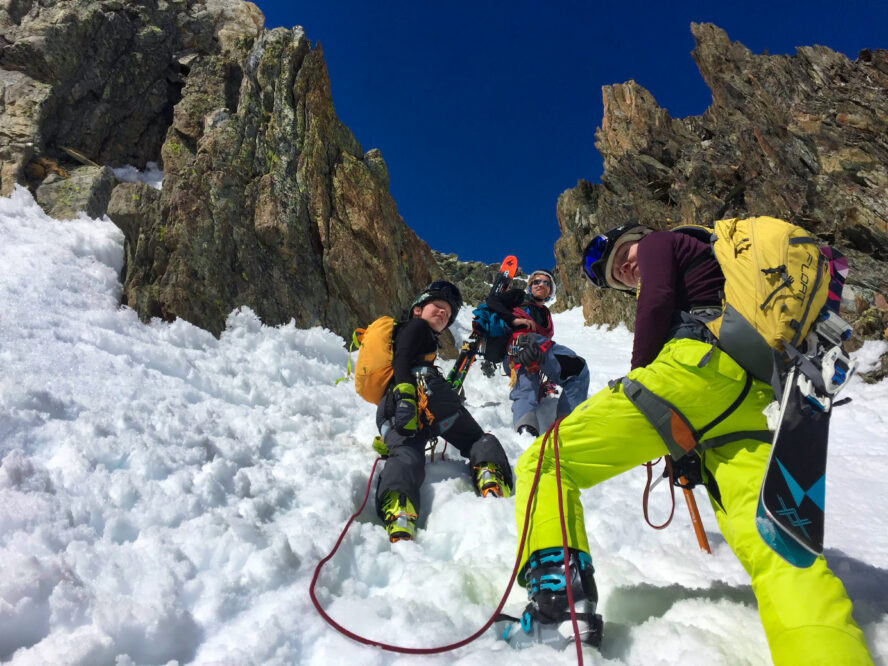 From the top of the Col, we skied down towards the village of Le Tour. I stayed on the skiers left side of the Glacier du Tour to the treeline before joining the forest ski track to the bottom. The couloir is not terribly long or difficult, making it a perfect introductory couloir. We skied some decent spring snow, but towards the bottom, the snow started becoming more sparse. Once we reached Le Tour, we got on the bus back to Chamonix.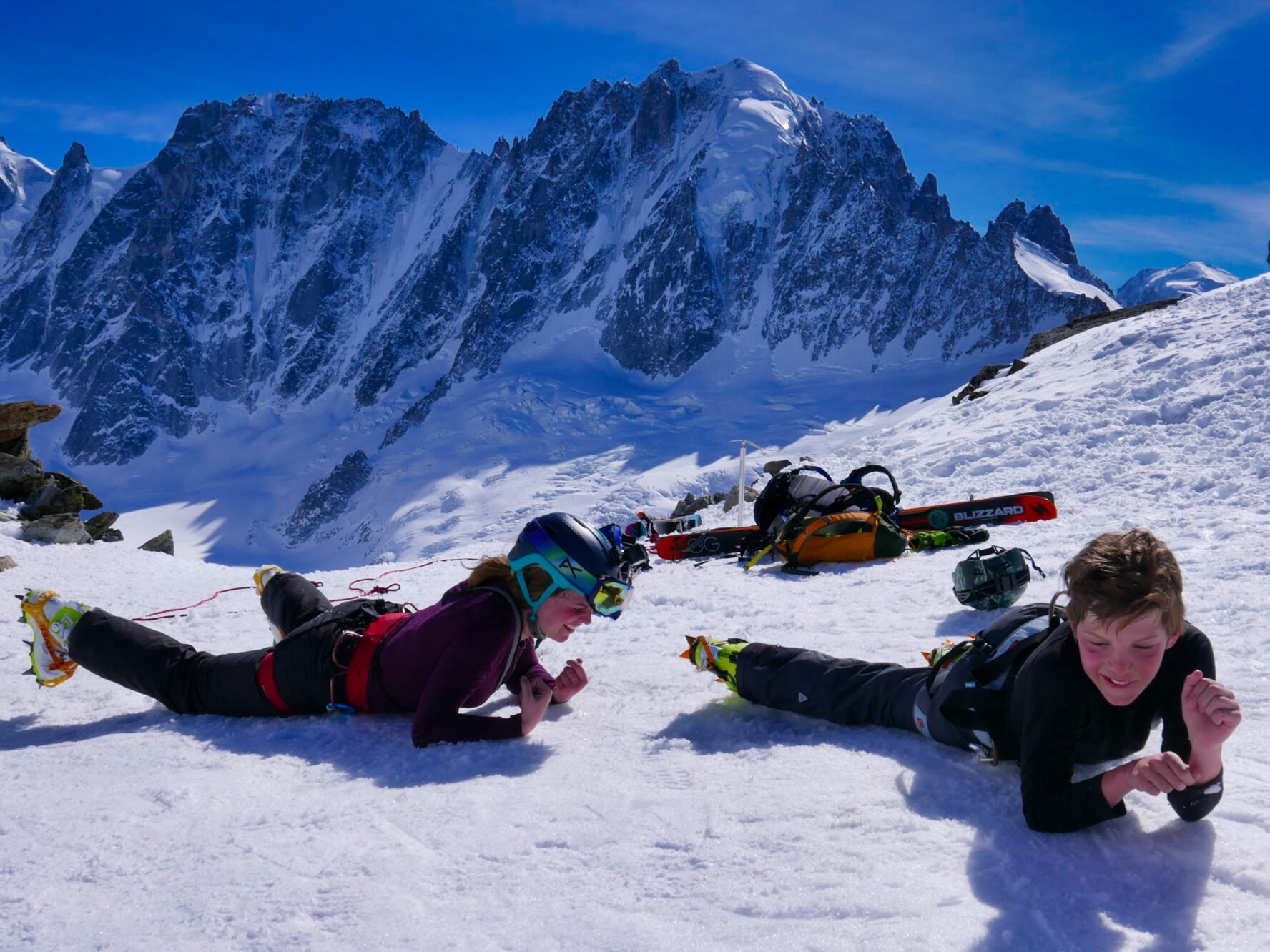 Col de Beugeant: Chamonix Ski Mountaineering Worth the Challenge
Vallee Blanche is the easiest in terms of difficulty, Col du Passon will make you sweat, and Col de Beugeant is the most challenging of the three. This route has a big mountaineering feel to it because the last section requires some bootpacking with crampons. You're also going to face an abseil to access the descent. An abseil requires descending a rock face, or another near-vertical surface, by using a doubled rope for safety.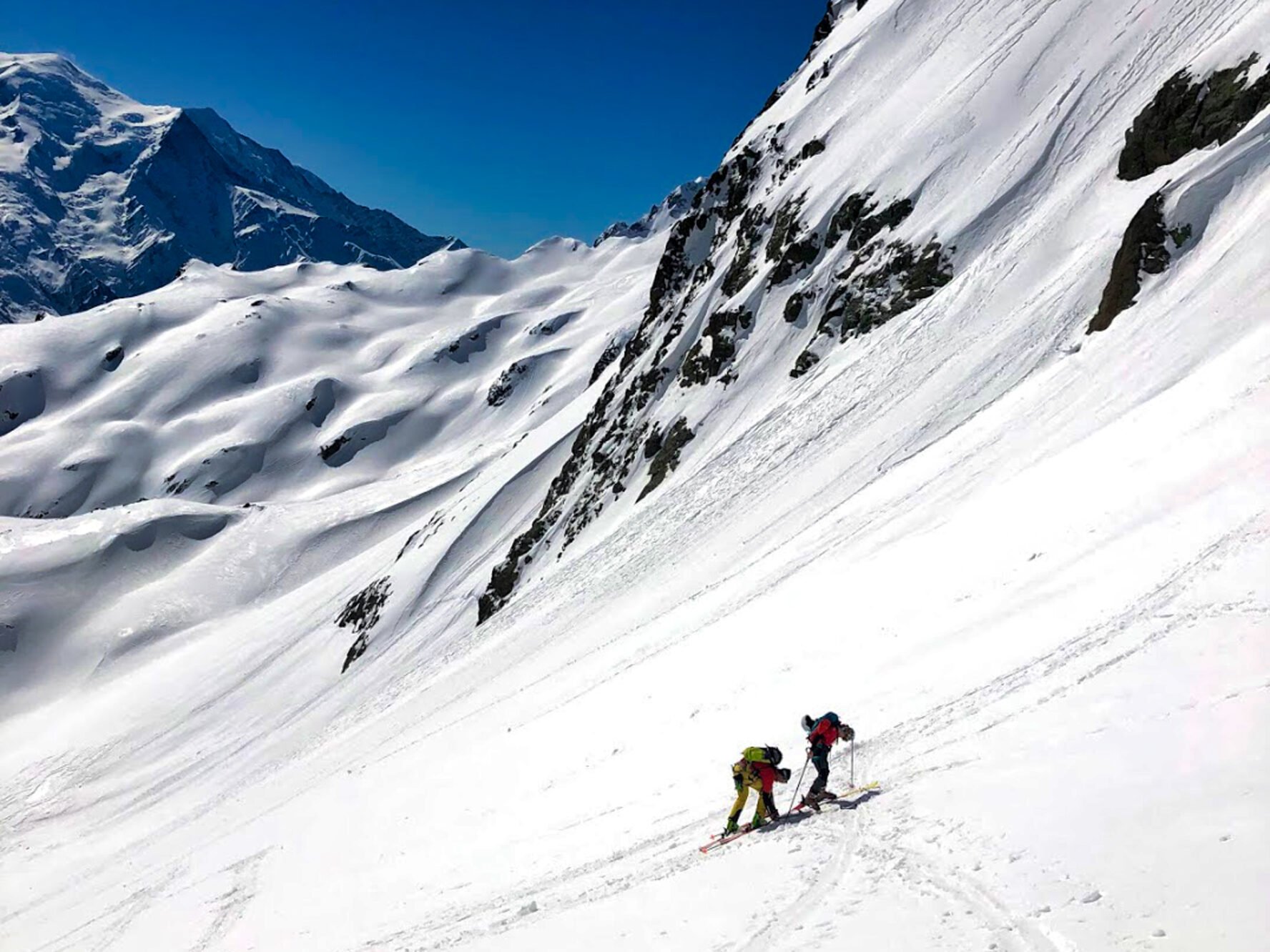 The skin up is fairly standard, but with the most incredible views, taking you through the Aiguilles Rouges, opposite the Mont Blanc Massif. We always felt a gentle, constant breeze and nothing too difficult or steep. As we got closer to the start of the bootpack, my excitement level went a bit down because the slope just started getting steeper and steeper. Towards the top, we took off our skis, put them on our backpacks, and got ready for the last section — the more rocky and challenging part of the climb up.
We went on this tour with five people, splitting up into two groups except for the last bit and the abseil. This section is exposed and often icy, so you'll need crampons and an ice axe to perform some ski mountaineering. Take caution in this section, and do not underestimate it. At the top of the snow saddle, I wedged myself safely into the snow, sat down and took in the 360-degree view of my surroundings. Thankfully, while sipping tea and eating a granola bar.
From the top, we set up an abseil about 100 feet (30m) down to get to a point where we were able to put our skis on. The standard route down is heading out on the Col to skiers left. You'll join the large powder bowl leading to the Berard Valley base, where you can ski down to Le Beut on a track along the right-hand bank of the river. I'm almost certain that we took a wrong turn somewhere in the forest along the river because we had to cross the river towards the bottom, getting our socks quite wet. I don't think the traditional route calls for that, but I enjoyed the little test of my balancing skills.
Where we stayed in Chamonix
Chamonix features all kinds of accommodations, including small Airbnb apartments to large houses, exclusive hotels, and more. You'll easily find lodging in Chamonix that fits your party and budget. We usually rent a small apartment in the town of Chamonix because of its close proximity to restaurants and all ski areas easily accessible by bus. Once, we went with a larger group of people, so we rented a house about 10 minutes outside of Chamonix. While the house gave us more space to accommodate everyone, we had to get everywhere by car. It comes down to personal preference.
I will recommend keeping an eye out for availability. Chamonix is a very popular outdoor place year-round, so if you have specific accommodations in mind, you should consider booking in advance.
What to do in Chamonix when not backcountry skiing
For your inner mountaineer, you'll find many options for learning to ice climb with a Chamonix guide in the valley. For people of all ages, and regardless of fitness level, snowshoeing is a fun option to take in the sights. You can snowshoe up Vieilles Luges in Les Houches and enjoy delicious meals in an atmospheric mountain restaurant. For runners, there are plenty of options for trail running — just grab a map and go explore.
If you want to relax in the town, you can also enjoy plenty of spas and pools. The largest spa is in the QC Terme Resort, located just behind the local sports centre. Most of the bigger hotels have them, and for a small entry fee, you can relax in the sauna, gaze up at Mont Blanc from the outdoor hot tub, and sweat it out in the steam room, or soothe aching muscles with a massage treatment. Some do enticing packages, like the lunch & spa deal at Hotel Les Aiglons.
Do you need a backcountry permit for Chamonix?
You do not need backcountry permits to backcountry ski around Chamonix. However, if you're using lifts to access your routes, you need to get to the line very early. The lines form very quickly in the morning, and if you want to avoid waiting in large crowds, your best bet is getting up before everyone else.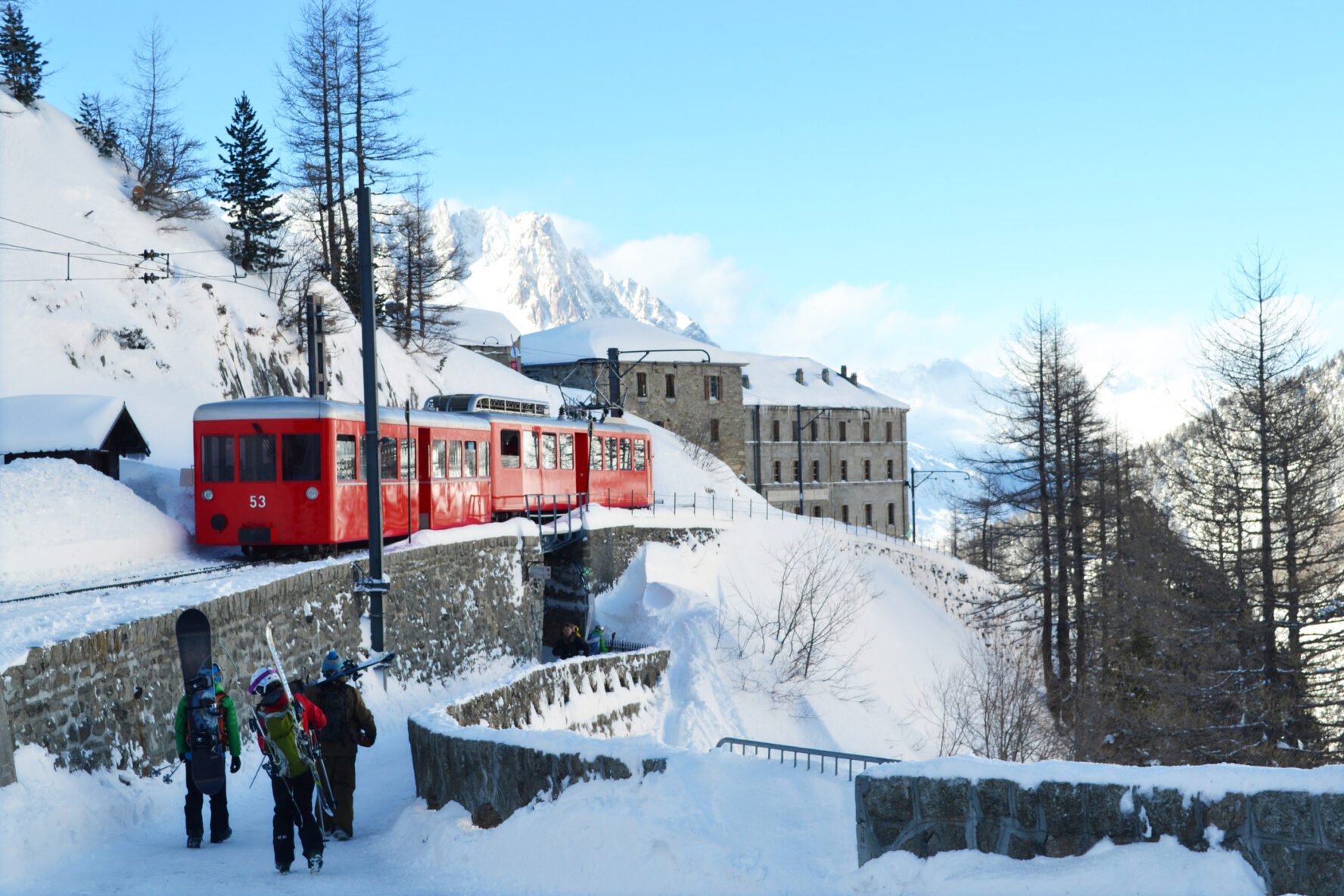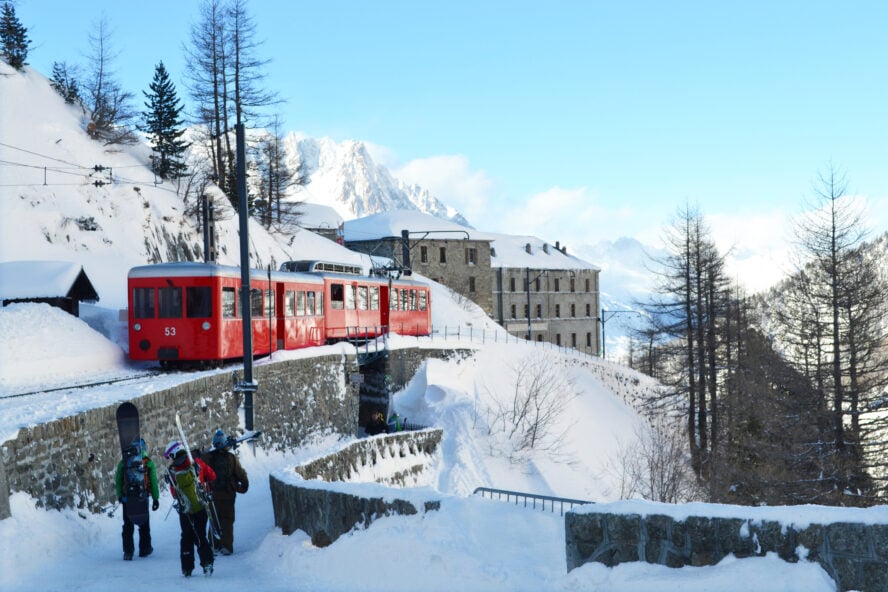 What to know about Chamonix backcountry skiing conditions
Chamonix has absolutely everything: vast glaciers, wide powder slopes, steep couloirs and tree skiing. The mountains are also very accessible from the center of town. Plus, you won't need a car because Chamonix has good public transportation connections through the valley, and for most of the routes, the use of gondolas or ski lifts is also possible.
Keep in mind, in Chamonix, every individual is responsible for their own safety. So get insured and know how to call upon the emergency services. Otherwise, hire a guide and let the experts take care of your time in the Alps. There are many crevasses and avalanche zones in the Chamonix valley, so make sure you have the right knowledge and equipment at all times.
When is the best month to ski in Chamonix?
The ski season Chamonix runs from mid-December to the first weekend of May, depending on snowfall. March is the prime month for spring backcountry skiing in Chamonix. Snow cover can be patchy lower down. Thankfully, most of your skiing will be spent at high altitude, above treeline, meaning remarkable snow conditions are reliable. The best snow quality in Chamonix is nearly always above the mid-station on Les Grand Montets. Later in the season, you should look for the slopes that are facing south.
How good of a skier do you need to be?
It helps to have your foundation as a skier. Chamonix is not ideal for backcountry skiing beginners. While this diverse ski area does have some more accessible slopes around the Brévent lift and Le Tour, for intermediate and expert skiers with a sense of adventure, Chamonix is a playground. The backcountry skiing options are endless, and no two routes will be the same. Chamonix does have ski mountaineering, abseils, steep couloirs, and wide-open glaciers. Powder chasers can choose from a number of excellent options to find the perfect backcountry ski run in Chamonix.
What is Chamonix famous for?
The real question is, what isn't Chamonix famous for? As one of Europe's premier mountain destinations, Chamonix's got beautiful scenery with its view of Mont Blanc, and an incredible Alps ski area where everything is available. In addition to backcountry skiing, Chamonix is known for ice and alpine climbing. After a bit of outdoor adventure, cross the Alps and head to wine tasting country.
How many days do you need in Chamonix?
If you are passing by and just want to take a peek at Chamonix, two to three days will be enough. However, you can draw out your trip to experience the best parts of the multitude of resorts and off-piste runs. Vallee Blanche can take an entire day of skiing to savor this iconic run. The opportunity for off-piste, backcountry skiing in Chamonix is massive. If you want the ultimate Chamonix experience, stay for at least a week.