This Adventure Talk covered:
Alpine touring basics
How to plan your backcountry adventure
Gear required for earning your turns
How to ski safely in backcountry conditions
Where to go—Rob will set you up for finding the best snow
What is "off-piste" skiing
The difference between "backcountry" and "slackcountry"
How to mitigate risk in backcountry conditions
Photos and videos of his amazing backcountry adventures
Heading into the backcountry this season requires that skiers know the risks and how to safely manage them, especially in avalanche terrain. If you're new to backcountry skiing, let internationally licensed mountain guide Rob Coppolillo teach you what you need to consider before leaving the groomers behind. From the avalanche courses you need to take to the safety gear you need to invest in to how to stay risk aware, Rob shareed with you some basic tools you can use on your backcountry journey.
This is not a replacement for formal avalanche education, but a primer on how to get started raising your level of awareness. With a little effort, humility, and willingness to learn, anyone can become a backcountry skier, and Rob will teach you about the importance of heading out with a guide and how they can help you prepare for backcountry adventuring in a safe way. Rob is the author of The Ski Guide Manual: Advanced Techniques for the Backcountry, as well as an AIARE Level 1 & 2 Instructor. His guidebooks are what guides turn to for info, so there is no better teacher than him!
Find out how you can safely experience the magic of backcountry powder with the help of Rob Coppolillo.
Reviews
Super props. Hugely helpful presentation. Exactly what I needed. Thank you!
Great mix of general as well as specific info ! Thanks!
I got absolutely what I needed. Rob presented extremely well and is very knowledgeable.
I got more than I expected. The gear choices, avy tips, group dynamics – all really important topics.
The Host: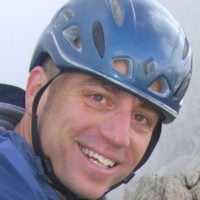 Rob Coppolillo
IFMGA/AMGA Rock, Ice and Alpine Guide
Rob Coppolillo is an AMGA and IFMGA Mountain Guide, and the owner of Vetta Mountain Guides. In fact, Rob's one of the first 100 Americans to have earned international certification through the International Federation Mountain Guides Association (IFMGA). Having lived in Boulder, Colorado, for 30 years, he now bases in Chamonix, France, with his wife and two sons. He's a freelance writer who speaks English, Italian and French, and his most recent book, "The Ski Guide Manual", will be published by Falcon Guides in November 2020.