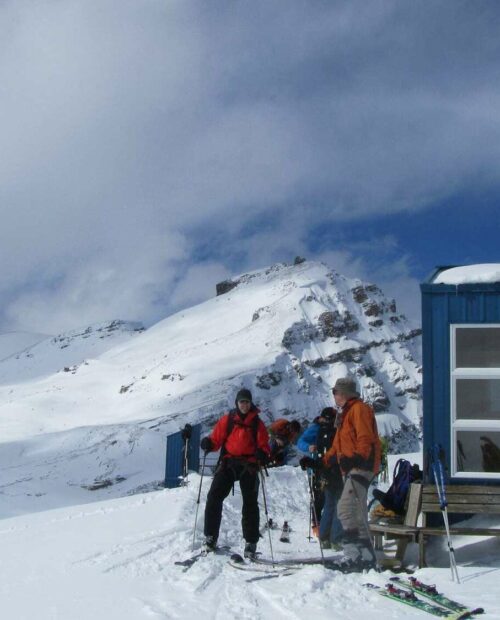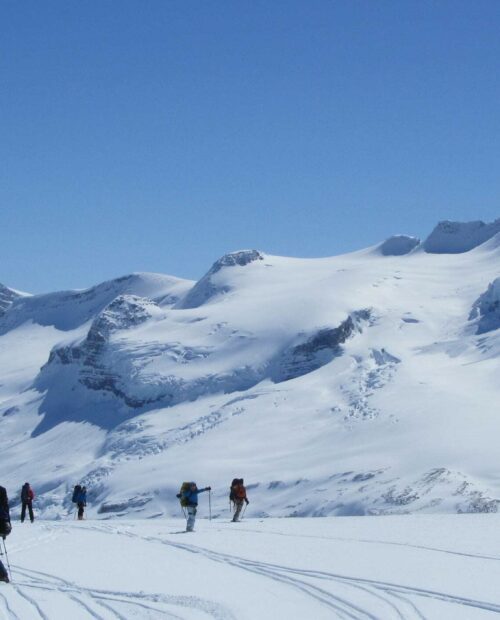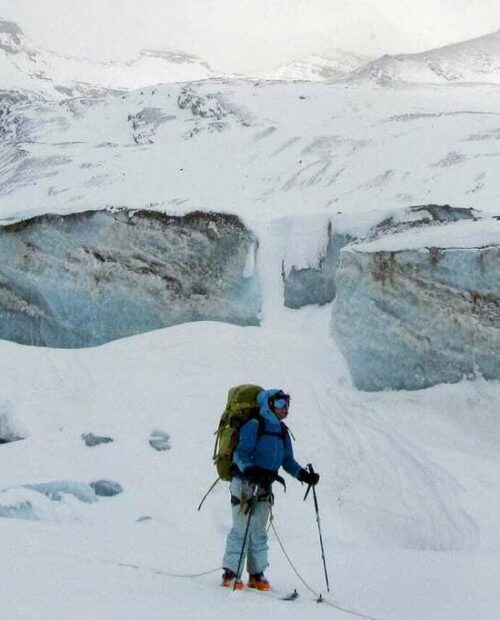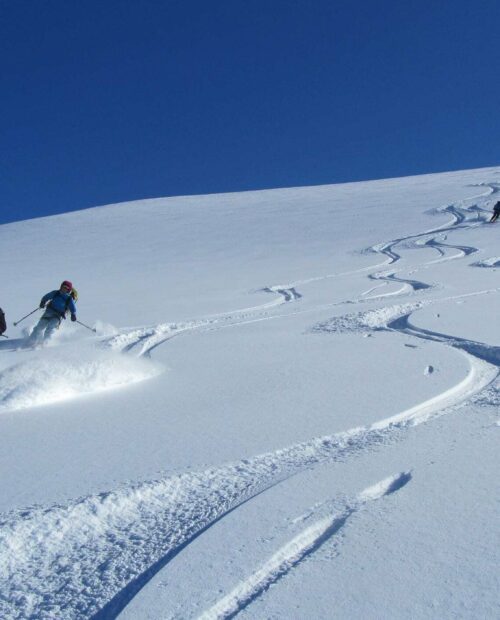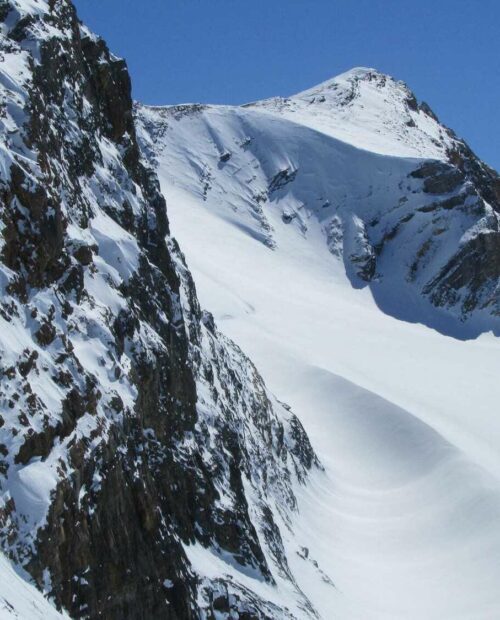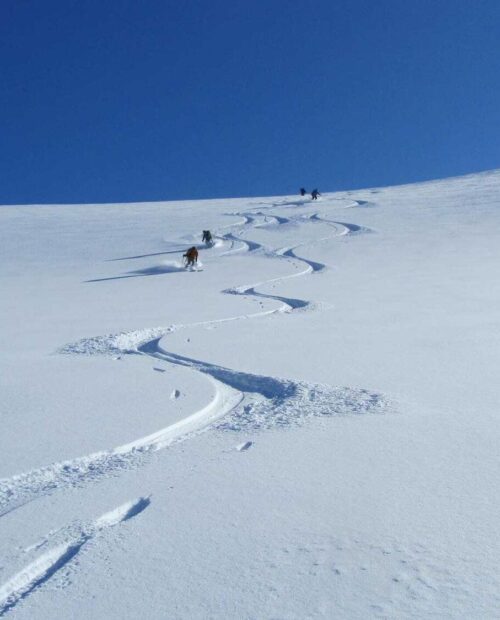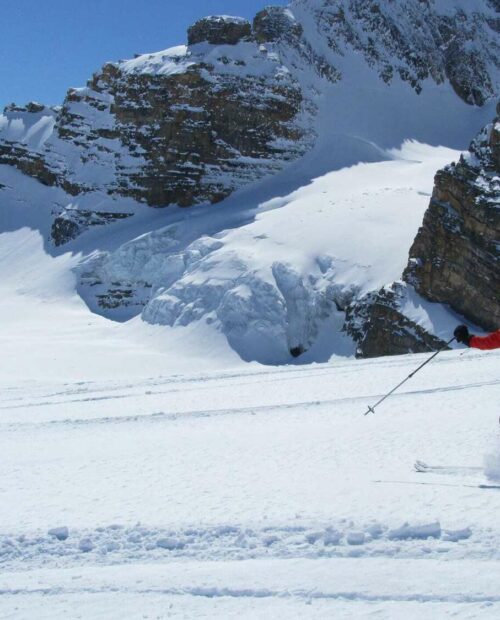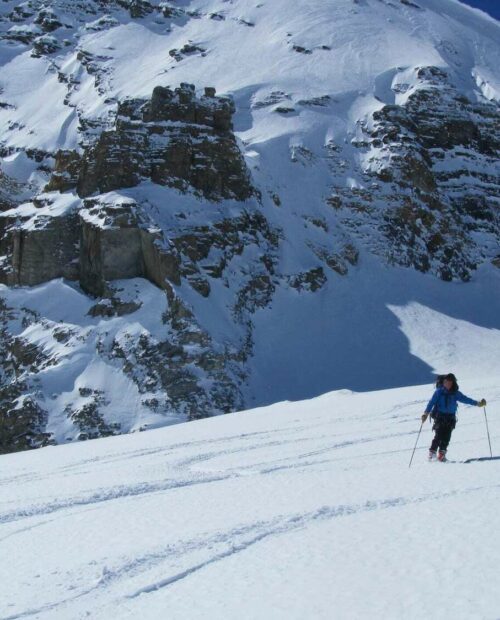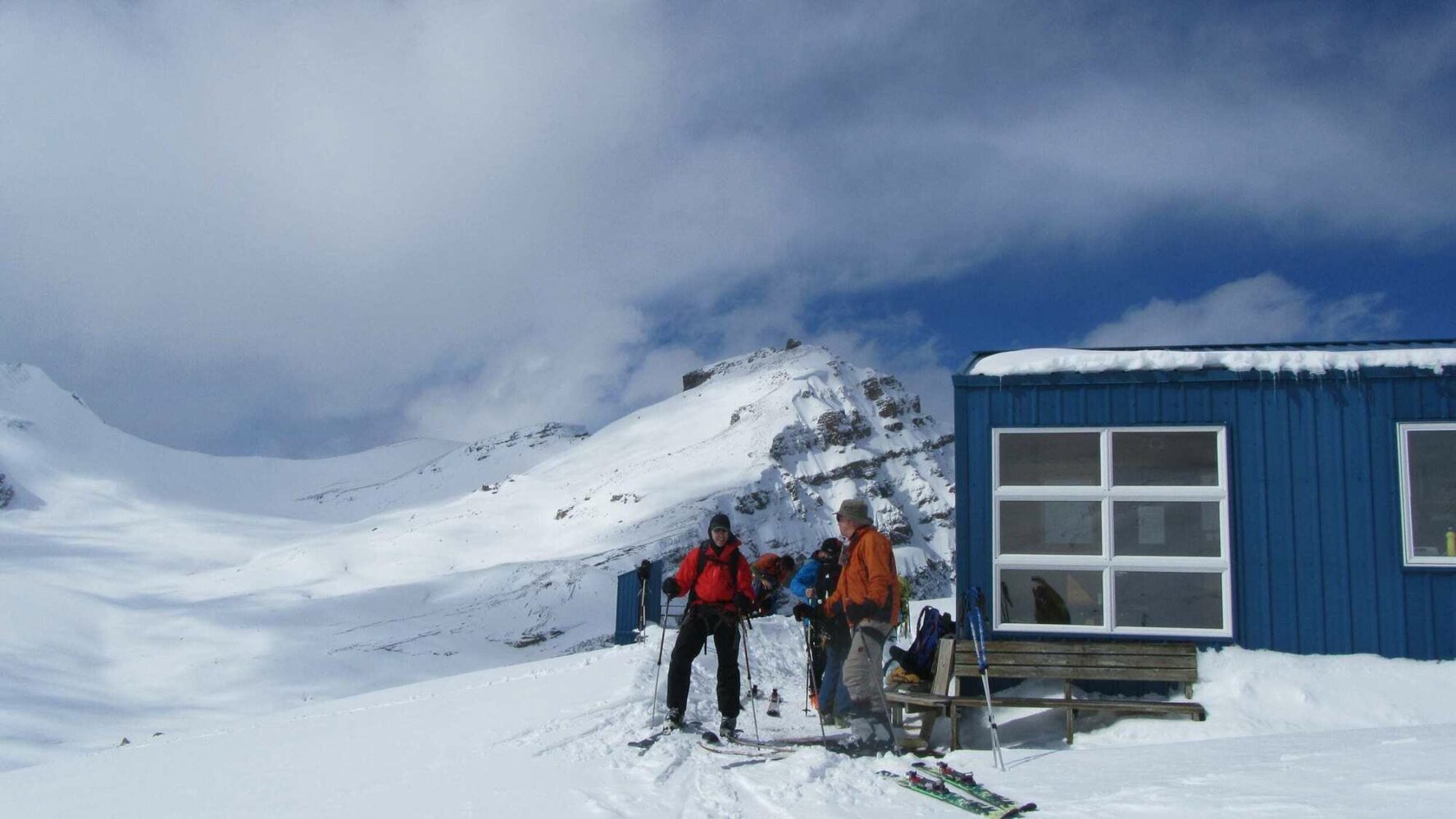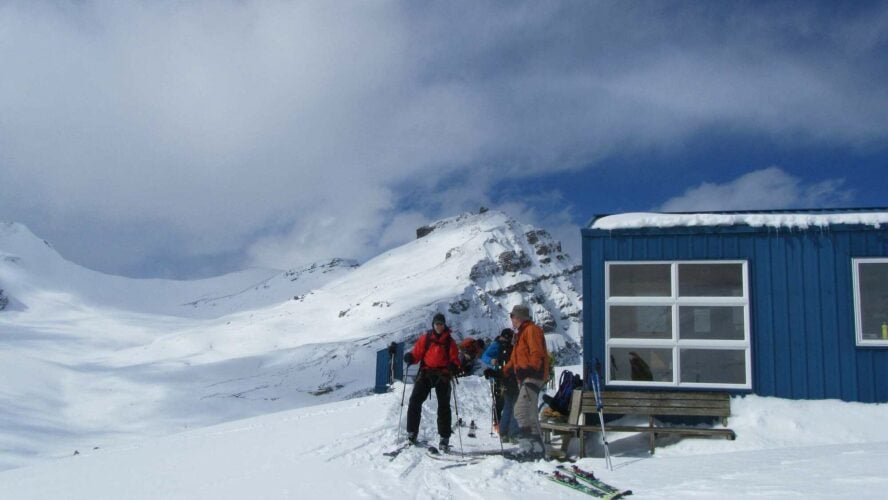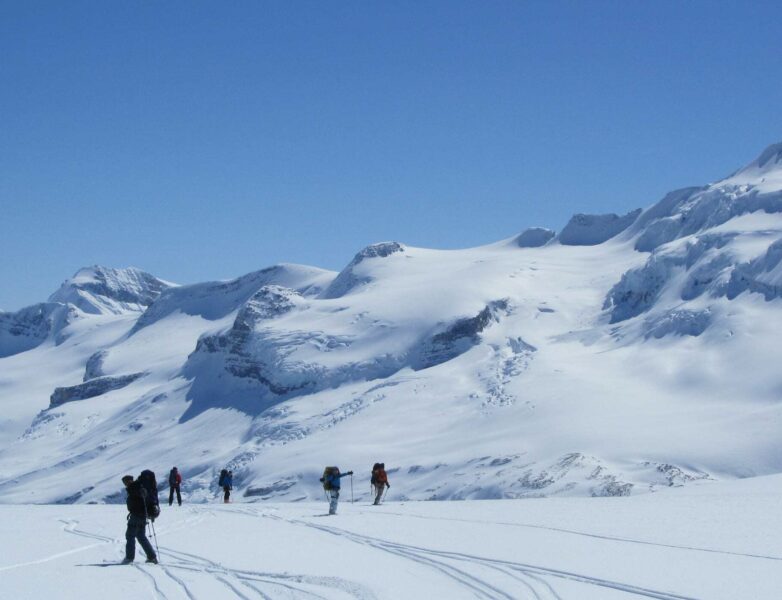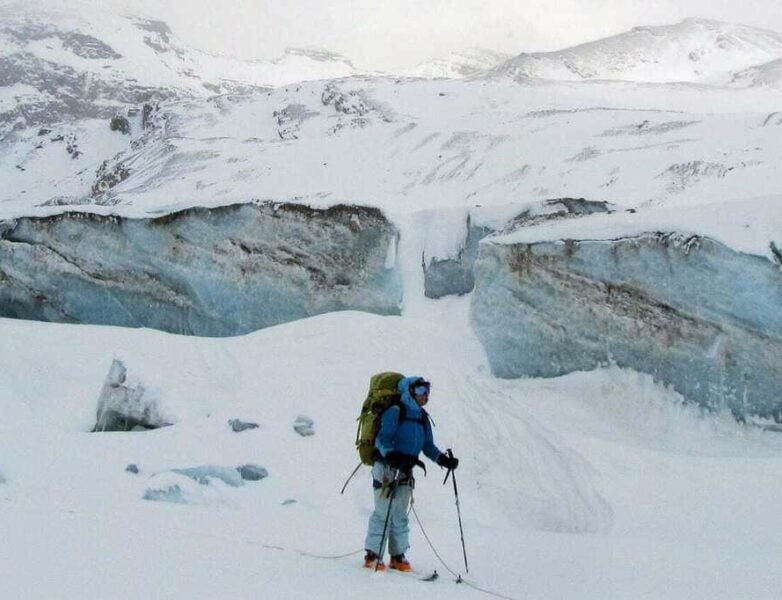 Backcountry Skiing in the Wapta Traverse
5.00

()
From $1,020 ()
/
3-4 days
The Canadian Rockies are home to some of the greatest hut-to-hut ski touring routes in the world, and the Wapta Traverse is the perfect example. Running north-south across the boundless Wapta and Waputik Icefields, the classic Wapta Traverse has built up a reputation as heaven-on-earth for ski touring and ski mountaineering. The hut system is well-developed and the huts are cozy and high-class. The powder is dry and the snowpack is settled, especially in the spring. The ski mountaineering objectives are plentiful and easily accessible from the huts. The experience is enhanced even further by the sublime nature of the sky-blue Peyto Lake, the imposing Waputik Icefield, and the colorful and wild Sherbrooke Creek. The Wapta Traverse didn't get its legendary reputation for no reason—it earned it through excellent huts, stunning views and, most of all, great ski touring.
Tour and mountaineer across the majestic Wapta and Waputik Icefields

Spend your nights in high-quality huts

Take in the breathtaking alpine views of the Canadian Rockies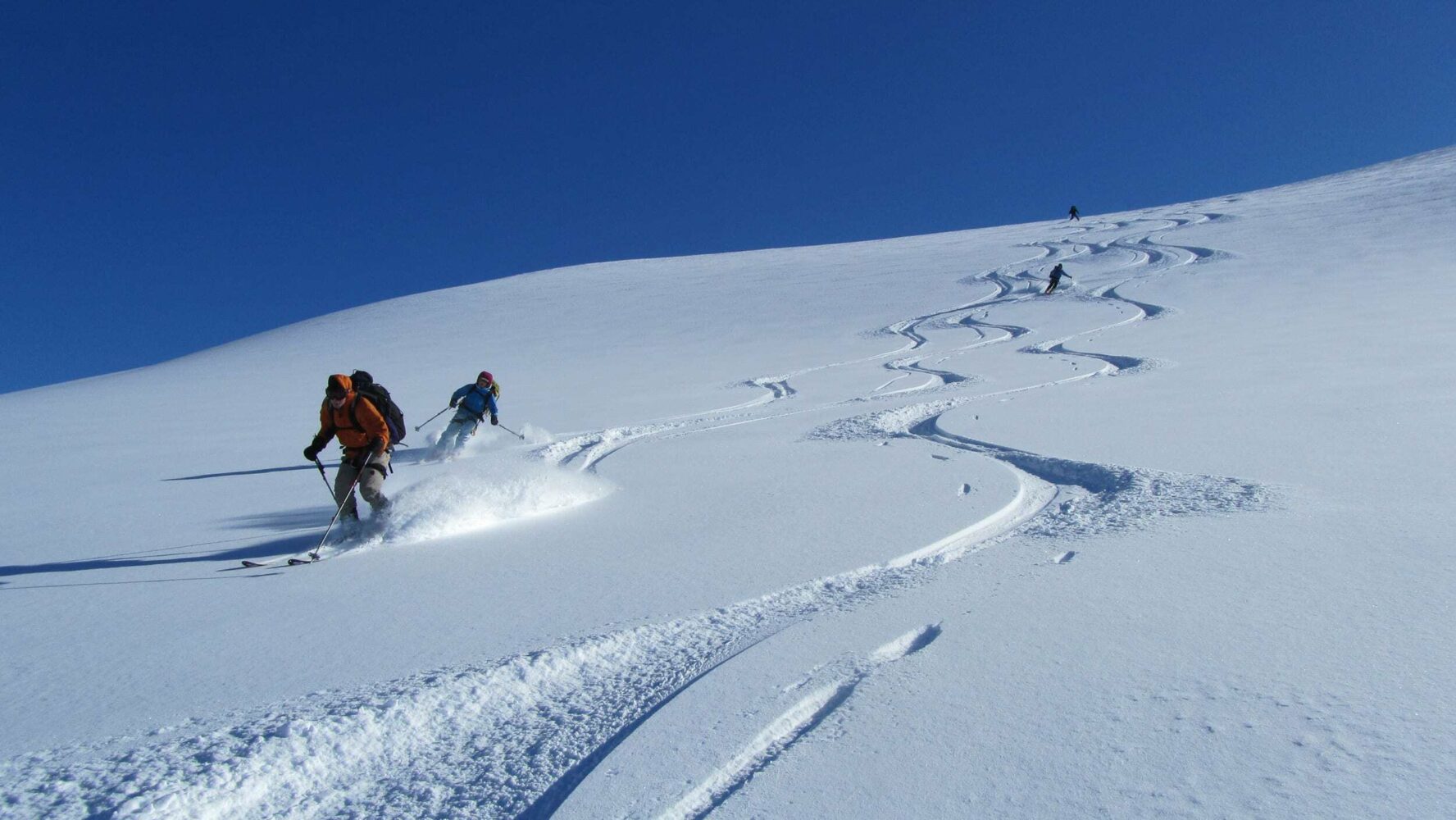 Blitz Three-Day Ski Tour of the Wapta Traverse
For all the get-er-done riders out there looking to truly push their limits, this itinerary will have you tackling the highlights of the famous Wapta Traverse in only 3 days. Join a seasoned local guide on a faster-paced tour of one of the most iconic ski traverses in Canada.
Meet your guides at a pre-arranged destination and get ready to spend your first night at the Balfour hut, tucked underneath the monarch of the ice fields of Mt Balfour. You will travel up to Bow hut for lunch and proceed onwards.

Continue your ski tour to the Scott Duncan hut. If weather permits, make an attempt on Mt. Balfour.

All of day 3 will be spent on a scenic ski ride back to the road. Your guide will help you choose the optimal way down.
Classic Four-Day Ski Tour of the Wapta Traverse
Tour your way from Bow Lake to the Great Divide Lodge in 4 action-packed ski days! Enjoy the ultimate Canadian Rockies hut-to-hut ski tour at a more direct, quicker pace, with an expert local guide leading the way.
After you meet your guides at a pre-arranged destination, make way to the Bow Hut in the beautiful Bow Glacier Cirque, with an endless supply of peaks to climb and ski until night falls.

Spend the entirety of Day 2 traversing to the Balfour Hut. If you feel like it, you can choose to climb a peak or two along the way in preparation for the big challenge ahead.

Tackle the crux of the traverse as you go up and over the Balfour High Col. If the weather cooperates, you can make an attempt on Mt Balfour (3285 m/10,778 ft), before proceeding onward to the Scott Duncan Hut for your final night in the Canadian Rockies.

End the tour by skiing one of two exit options: the scenic Bath Glacier or the Sherbrooke Lake exit.
Comfortable Six-Day Ski Tour of the Wapta Traverse
Make your way to Canada's magnificent icefields for 6 days of unforgettable ski touring! Test your skills on the classic Wapta Traverse, with high-quality huts, phenomenal dry powder and breathtaking vistas. Your experienced local guide will make sure that your touring goes by safely and without a hitch.
Meet your guides and your team at 6:30 pm in Field, BC at the "Truffle Pigs Bistro" (dinner is included in your trip fees). In case you haven't heard of it, this is one of the finest restaurants in the Canadian Rockies! After dinner it's back to your rooms where your guide will pay you a brief visit for an equipment check and distribution of group gear and food.

After introductions followed by a quick equipment check and distribution of group gear and food. Be sure you have already eaten breakfast; lunch and the meals for the rest of the trip will be provided. Join your guides for a drive to the trailhead at Peyto Lake. Shuttle drivers will accompany you to bring vehicles back to the trail's end. Ski for the next 5 to 8 hours until you arrive at Peyto Hut, where food will be waiting for you—courtesy of our energetic portering staff.
The duration of skiing from Peyto Lake to Peyto Hut depends on conditions and group speed. Spend the night at the Peyto Hut.

The mountains around Peyto Hut provide excellent ski touring objectives. You will stay at the Peyto Hut an extra night to enjoy the area!

Enjoy the spectacular ski over to Balfour Hut, which usually brings you up and over the Olive-St. Nicholas Col. After a relaxing lunch stop at Balfour Hut, spend the afternoon chasing a ski objective such as laps on the Diableret Glacier.

The traverse over the Balfour High Col is usually the highlight and crux of the trip. Ascend over heavily crevassed terrain next to the stunning serac-fringed east face of Mt. Balfour. After attaining the col, if conditions permit, ascend one of the nearby peaks like Lilliput or even Balfour's South Face.

All good things must come to an end. After a short run down from the Scott Duncan Hut, it takes about 30 minutes of gentle climbing to reach the Shark's Fin. From there it's mostly downhill to get to the intersection of Niles and Sherbrooke Creeks, where the gurgling of spring snowmelt, birdsong, and the smell of spruce trees presents a sharp contrast with the alpine world you settled into during the trip. After about five hours of travel, you will reach your cars. Expect to be back in Canmore by dinner time.
Get free trip brochure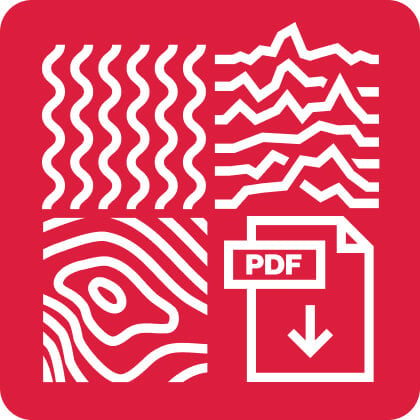 The brochure contains:
Adventure and location overview, itinerary, available dates, what's included, how to prepare, and much more.
Brochure sent, check your inbox
Talk with us
and let one of our adventure experts help you plan your perfect adventure.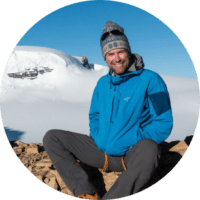 Tom Wolfe
IFMGA/ACMG Certified Guide
Tom Wolfe is an ACMG/IFMGA-certified mountain guide who's been guiding since moving to Canmore in 1995, the place he calls home. His winters consist of a mix of ski guiding at lodges, heli-ski operations, and remote backcountry destinations throughout western Canada. During the warmer months, Tom spends his days on water. He is a certified Paddle Canada Moving Water Canoe Instructor and Wilderness Canoe Guide.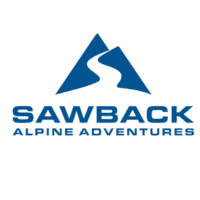 Sawback Alpine Adventures
Sawback Alpine Adventures
Sawback was founded by Tom Wolfe in 1995, running mountain hiking trips for groups. Since then they have expanded programming to offer just about any mountaineering adventure you could imagine. Tom is an IFMGA Mountain Guide and a member of the Association of Canadian Mountain Guides (ACMG). Although Sawback is primarily a one man show, many of their trips come out of partnerships with other guides.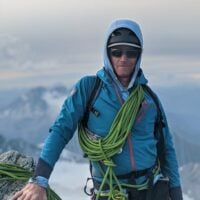 Jeff Bullock
ACMG/IFMGA Mountain Guide and Owner of Alpine Air Adventures
ACMG/IFMGA Mountain Guide and Owner of Alpine Air Adventures
When he first stepped foot in the mountains, Jeff knew this was home. He's been wondering what adventures the snow capped peaks have in store since he was 12. Jeff started training for his ACMG/IFMGA mountain guide certificate in 2002 and started his own business, Alpine Air Adventures. To this day, he has yet to find a better feeling than sharing his passion for adventure you can only find high up in the alpine kingdom of the Canadian Rockies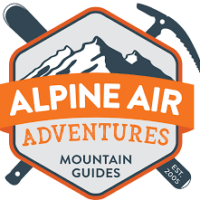 Alpine Air Adventures
Alpine Air Adventures
You're never on your own in the Banff wilderness because the experienced professionals from Alpine Air Adventures are here to guide you. While they know how to have a great time, they're always mindful of advanced safety practices. They're committed to showing each of their guests the best of the Rockies while protecting them every step of the way.
George M.J.
(source: Sawback Google Reviews)
I was out on trips with Tom Wolfe of Sawback Alpine Adventures twice during the ski season of winter 2018. Both trips were great. The Bow / Yoho Wapta Traverse was particularly spectacular traveling between Alpine Club of Canada huts. Tom really knows this area well.
Marilyn F.
(source: Sawback Google Reviews)
An awesome trip with a great, conscientious and professional guide. Definitely felt that Tom listened to the whole crew and took our collective objectives, safety, weather, snow conditions and skill sets to get the maximum we could have out of our Bow-Yoho traverse over new years 2018. Super fun trip and lots of hilarious and educational stories and experiences Tom shared with us. And Eric was great to in lending a hand where needed and carrying a ton of weight too. Would definitely recommend both Tom and Eric for any high adventure trips and for any furthering of backcountry education. Not only do they really know their craft, they present their knowledge in a smooth and easy way for all to understand and learn from. Great guides, great guys. All five stars for sure!
Daniel B.
(source: Sawback Google Reviews)
Tom is a top notch guide! In addition to delivering a great ski touring trip, he is a fun person to hang out with back at the lodge. I feel safe touring with Tom.
Nathan J.
(source: Sawback Google Reviews)
Excellent guiding, planning, hospitality and safe skiing. we are repeat customers now!
Things to know
57hours is committed to providing safe outdoor adventure experiences. We require all guides using our platform to have a COVID-19 safety plan and to make the details of that plan accessible to travelers. In most cases, group sizes will be reduced, guides will avoid overcrowded locations, and other safety measures will be met depending on the location and activity. 

We also expect clients to respect local regulations and take measures to protect themselves, their guides, and the communities they're traveling to. For more information on COVID-19 measures in the Wapta Traverse, British Columbia, please refer to British Columbia's Travel and COVID-19 website.

Please contact us if you have any questions or require further information. We are happy to provide you with the most up-to-date information!

What you get in this adventure: 

An experienced, certified ski guide with extensive knowledge of the area

Guided three-day, four-day, or six-day ski touring

For the three & four day tour, you get…

All meals from lunch on Day 1 to lunch on the last day
Permits
Huts

For the six-day tour, you get…

Food during the tour
Permits
Huts
Shuttle service (to bring guest vehicles back to Field for the end of the trip)
Porter service
Group equipment

What's not included:

Technical backcountry ski touring equipment

Transportation to Field, BC

Vehicles for shuttle (bring your own or carpool)

Accommodations before and after the tour

Vehicles for the shuttle (bring your own or carpool)

Guide gratuities — optional

To enjoy this backcountry adventure, you need to be in excellent physical shape. You will be on your feet for 5-7 hours a day for 3-6 full days, covering 6-10 miles (10-15km) or more of terrain every day. Hut elevations are approximately 7,200ft (2,200m), with 2,300ft (700m) vertical, and you will be doing your hut-to-hut traverse carrying up to 45lbs (20kg) of equipment. You will need to manage controlled descents in variable conditions. All participants should feel comfortable on challenging blue or black-level resort runs and be able to carry a loaded daypack while skinning up variable degrees of terrain.

To participate in this tour, you need to have previous powder skiing and ski mountaineering experience. You will be skiing, touring, and summiting on glaciated terrain for 5-7 hours every day. Your guide will take care of the planning, oversee your technique, and teach you how to better manage the terrain. They also have the experience and avalanche training necessary to keep you safe. 

If you've never backcountry skied before, we suggest joining a guide for a day of Intro to Backcountry Skiing.

For technical backcountry ski touring gear, you will need to bring:

Alpine touring skis, preferably with tech-style AT bindings, 150-185cm in length, wide (can be rented)

Ski crampons (mandatory, can be provided by guide for the Comfortable Six-Day Tour)

Touring boots and poles with powder baskets (can be rented)

Climbing skins

Climbing harness

Prusik cord and 120 cm sewn sling

Avalanche safety equipment (can be rented):

Digital, 3-antenna avalanche transceiver – a modern digital unit

Lightweight snow shovel

Collapsible avalanche probe

For personal items, we recommend bringing:

Backpack (at least 65 L) — can be rented

Helmet

Sunglasses and ski goggles

Long wool or synthetic underwear 

Extra warm shirt (not cotton)

Medium weight fleece sweater

Softshell or fleece jacket

Softshell pants

Insulated jacket (down preferred)

Insulated pants (fleece or other synthetic) — optional

Waterproof jacket with hood (Gore-Tex or equivalent)

Waterproof pants with side zippers (Gore-Tex or equivalent)

Socks (wool or synthetic)  

Wool or fleece hat

Waterproof ski mountaineering gloves or mitts

Lightweight ski gloves

Neck tube or balaclava

Sun hat

Three conventional locking carabiners and two non-locking biners

Repair kit and Leatherman for your equipment (can be shared between several people)

Water bottle and 1L of water

Thermos with a warm beverage — optional

First aid kit and small blister kit

Personal toiletry kit and toilet paper

Large stuff sack for carrying food

Sunscreen and lip balm

Pocket knife

Sleepin

g bag

—

three-season bag rated between -7 and -9°C

Stuff sack — optional, but recommended

Insulated booties or sandals

Camera — optional

All mandatory gear can be rented if you don't have your own. You can rent: 

Avalanche safety pack, including backpack, beacon, shovel, and probe can be rented in Lake Louise, Field, and Banff

Alpine touring or telemark skis, touring boots, and poles can be rented in Lake Louise, Field, and Banff

Splitboards can be rented in Lake Louise, Field, and Banff

If you plan on using alternate touring systems such as telemark skis, frame-style AT bindings, or splitboards, please contact us in advance.

Ski rental locations are in Field, Lake Louise, and Banff and should be picked up the night prior to your outing. If you need to rent gear, let us know and we can help make arrangements.

Group sizes:

This tour is not private. For the group tour, the max guest-to-guide ratio is 6:1. 

Cost is per person and it doesn't decrease as the group grows.

Ski touring in the Wapta Traverse can be arranged for larger groups. Contact us to make arrangements.

Min. age requirements:

If you are older than 18, you're good to go.

Minors may be permitted to join private tours on a case-by-case basis. If you plan to ski with anyone under the age of 18, please

contact us

prior to booking to make arrangements. 

If your group has ski tourers under the age of 18, contact us prior to booking to make arrangements.

For regular dates, a deposit of 50% of the total price is due with your booking unless otherwise indicated. Once your guide confirms your booking, your trip departure is guaranteed. Final payments are due 120 days before your trip starts.

If you need to cancel a reservation, please do so in writing (best by e-mail). Once your booking is confirmed, you and your Guides enter into financial obligations and they cannot refund payments or release you from your contractual obligations. Therefore, it is highly recommended buying cancellation insurance to cover your losses for the case that you can't participate or have to interrupt your trip "for any reason".

Your Guides do reserve the right to change guides, particular lodging or the itinerary or venue should unforeseen circumstances (guide sickness, hut or route closing etc.) force them to do so or should the physical condition of the participants, weather or mountain conditions make a continuation as planned too risky. Your Guides will not be deemed to be in default for any delay or failure to perform their obligations under this agreement resulting from acts of God, the elements, war, acts of government, civil or military authorities, natural calamities, catastrophe, fire, flood, accidents, epidemics, shortage of transportation, or any other like events beyond our reasonable control.

To get to the Wapta Traverse, most people fly into Calgary International Airport 2,5 hours away. From there, you can rent a car or take a bus straight to Field, Lake Louise, or Banff, depending on your chosen tour.

Once you and your guide agree on the details of your itinerary, your guide will suggest the best place to meet. This will be at the Truffle Pigs Bistro & Lodge in Field, BC, for the Comfortable Six-Day tour, or a different pre-determined location for the 3 and 4-Day Tours. From there, you'll head to your tour.
Get free trip brochure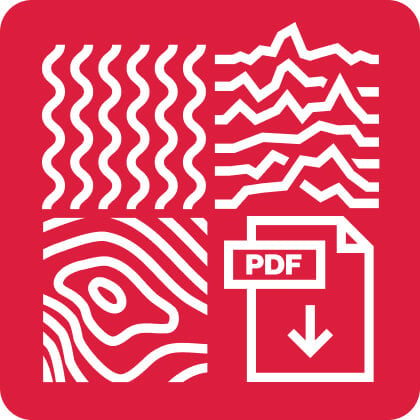 Adventure and location overview, itinerary, available dates, what's included and much more.
Brochure sent, check your inbox
Talk with us
and let one of our adventure experts help you plan your perfect adventure.
Other things to do in Canadian Rockies