Partner

ACMG Ski Guide Greg Hill shared:
Best of Revelstoke—home of legendary powder and perfect skiing conditions
His journey to becoming a better adventurer
The challenges and rewards of being part of the solution
How to upgrade and improve your own way of travel
Photos and stories from his green ski trips and ski-cations
Pro-skier and AMGA ski guide Greg Hill is known for two things: unimaginable undertakings in the mountains and his mission to make his adventures greener. Over the years, he's skied around the world, from the US and Europe to Japan and South America, but he keeps coming back to Revelstoke—home of the lightest powder and the most vertical terrain. Although he's explored so many areas around here, he's still finding new incredible places that he hasn't yet skied.
Still, the unfortunate truth is that, despite getting so much from the outdoors, every adventurer inadvertently harms the very places they love. Something has to change but what can one person do? This is the question that set Greg on the path of greener travel. After years of shredding the freshest pow, sending routes, and hiking stunning trails, he's decided to make a difference and become a part of the solution.
In this one-hour webinar, you'll find out how to improve your outdoor adventures and see what keeps bringing him back to Revelstoke on a virtual journey through its best ski locations.
Webinar host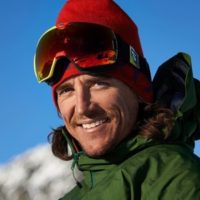 Greg Hill
ACMG Ski Guide and Emission-Free Adventurer
Greg Hill is known far and wide for incredible first ascents and all-around skiing prowess. He's also a good friend of 57hours. His mountain accomplishments are too many to list here, but he's known for skiing the odd two million vertical feet in a single year, and he's also skied 50,000 feet in 24 hours just because he can. Oh, yeah — he also climbed and skied 100 kilometers in a single month. Not too shabby. Greg's also changing the world with his outdoor pursuits by practicing zero-emission adventuring.