Where to Find the Best Backcountry Skiing in Aspen
Aspen backcountry is no laughing matter, but even beginners can gain bragging rights for bagging peaks on Colorado's notorious Elk Mountain Range.
Aspen Mountain is known for expert terrain drawing skiers and snowboarders from around the world to its four-mountain resort. Even though Aspen isn't known for sheer numbers like other nearby resorts — we're looking at you Vail — ample space and limited contact with gapers has added to the appeal of Aspen's backcountry skiing options. I personally find skiing in Aspen worth the added travel time due to the massive terrain, stunning vistas and sheer variety for all sorts of skill levels. Granted, having lived here for the better part of the last decade might make me biased.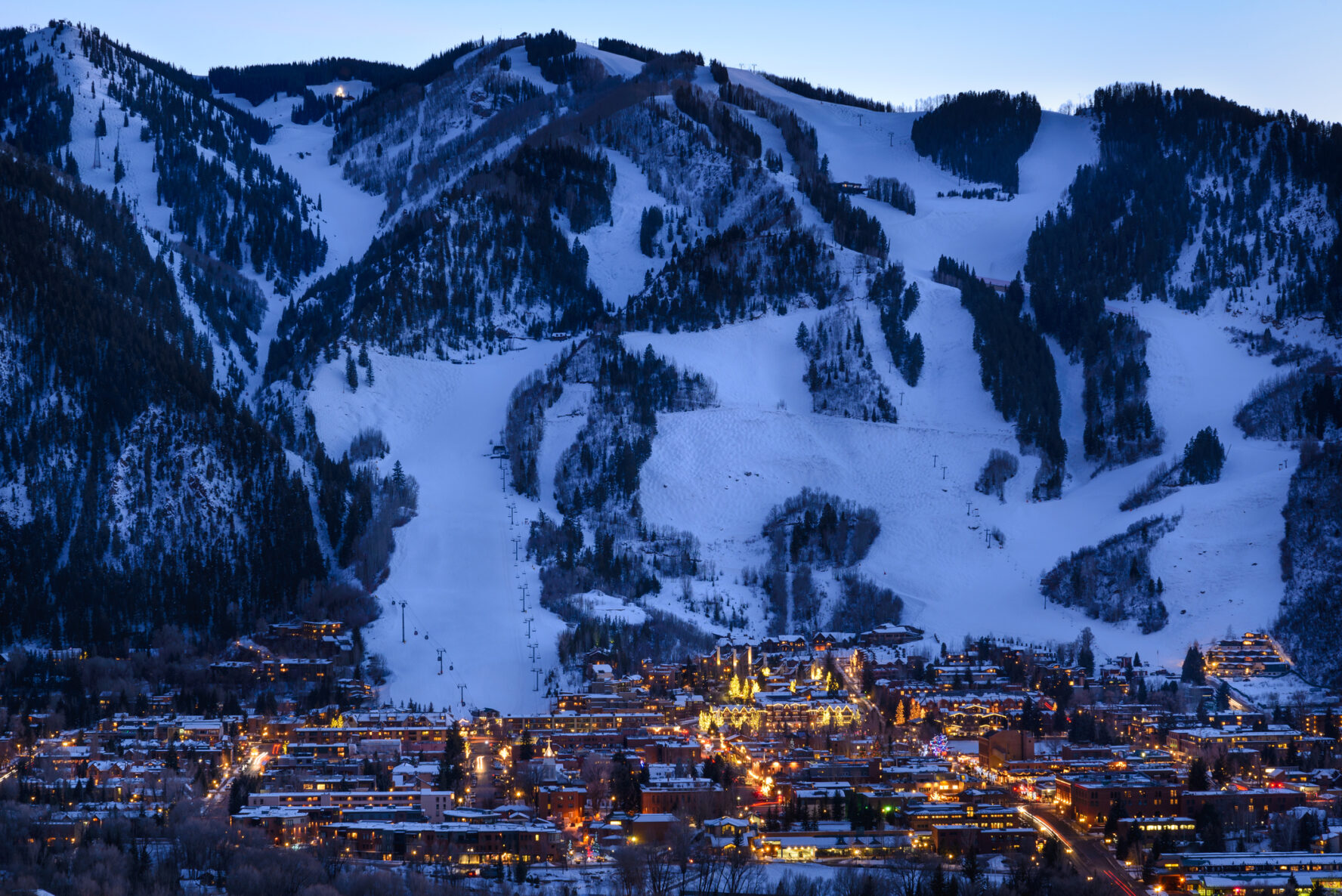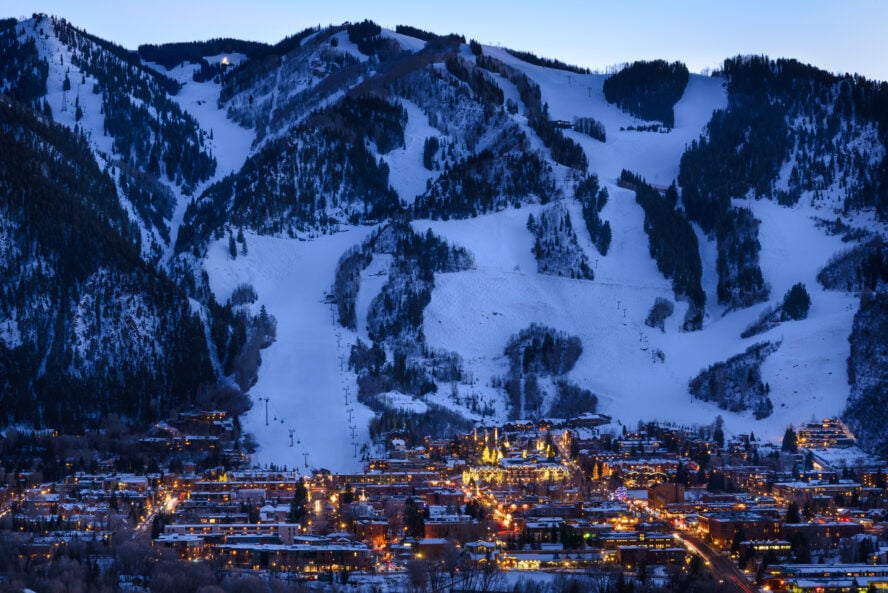 Pros and Cons of Backcountry Skiing in Aspen
Aspen's light, fluffy champagne power is plentiful
Nightlife and varied dining scene caters well to trips with friends
Four mountains with plenty of terrain to offset a lift ticket
Aspen's shifting snowpack and avalanche conditions require experienced and backcountry knowledge
Most backcountry isn't beginner friendly, but there are options for all skill levels
There's a reason Aspen is one of the best places for backcountry skiing in Colorado. Not only do Aspen Snowmass ski resorts offer handy lift-accessed out-of-bounds terrain to match a range of tastes, but the backcountry area away from the resorts offer the same deep powder and long descents you'll find in Utah or British Columbia. Beginners and anyone looking for an introduction to the area will want to head to the Sugar Bowls at Buttermilk Mountain, as in the home of the X Games Aspen and Tiehack Mountain lift, the local's favorite for uphill runs. Speaking of locals, Highlands Mountain is beloved for advanced skiers. The in-bounds powerhouse Highlands Bowl is opened separately from the rest of the modest resort and only accessed by boot-packing along a breathtaking ridge. It's known for winds but heavy on camaraderie. Highlands also offers lift-access, off-piste terrain with Five Fingers for rewarding backcountry skiing in Aspen.
Snowmass ski area delivers on variety, thrill and sheer size
My personal stomping grounds are found at Snowmass Ski Resort. The mountain's extensive terrain is perfect for anyone who doesn't feel the need to ski the same run twice — although you'll likely want to lap Big Burn. Snowmass is famous for its five-mile-plus Long Shot run, pure blue bliss accessible by a short and steep hike from the top of the Elk Camp chairlift. Skiers also get lift-access backcountry at East Snowmass Creek and West Willow. Aspen might not be the cheapest or easiest place to travel to (unless you have a private jet) but the payoff is huge.
The best way to find off-resort powder tours near Aspen
Similar to Aspen Mountain itself, the backcountry surrounding this resort town requires advanced skills and technical knowledge. Backcountry skiers triggered a record number of avalanches in 2020 — some from 800 to 1,000 feet away. Knowing safety precautions, how to use avalanche tools and knowledge of conditions is a must before backcountry skiing in the Aspen area. Even expert skiers have been caught in recent years due to overconfidence, timing or plain bad luck. Fortunately, that's where guides come in. If you're unfamiliar with Aspen's backcountry, the value you'll get out of a day of guided skiing is incredible.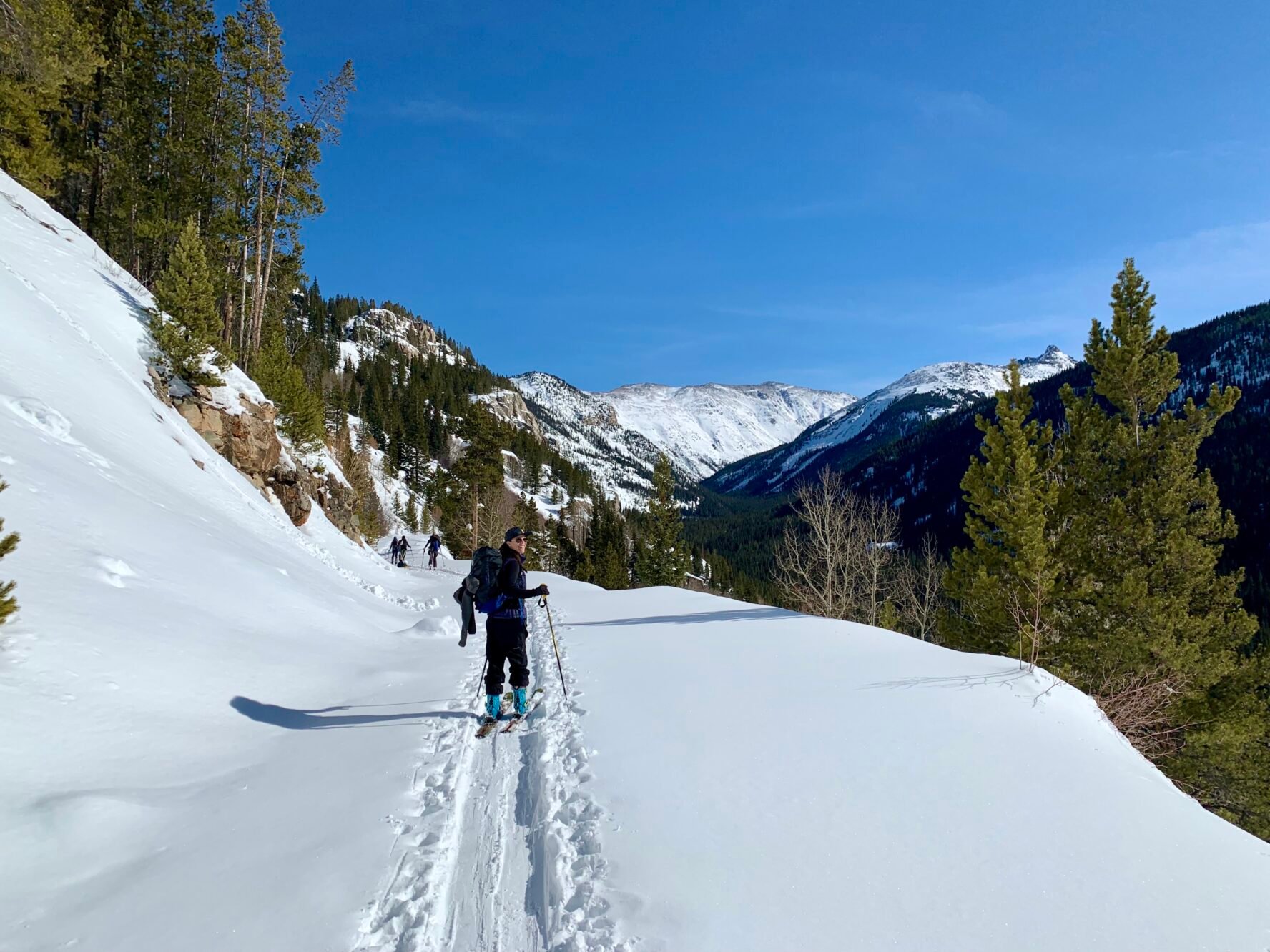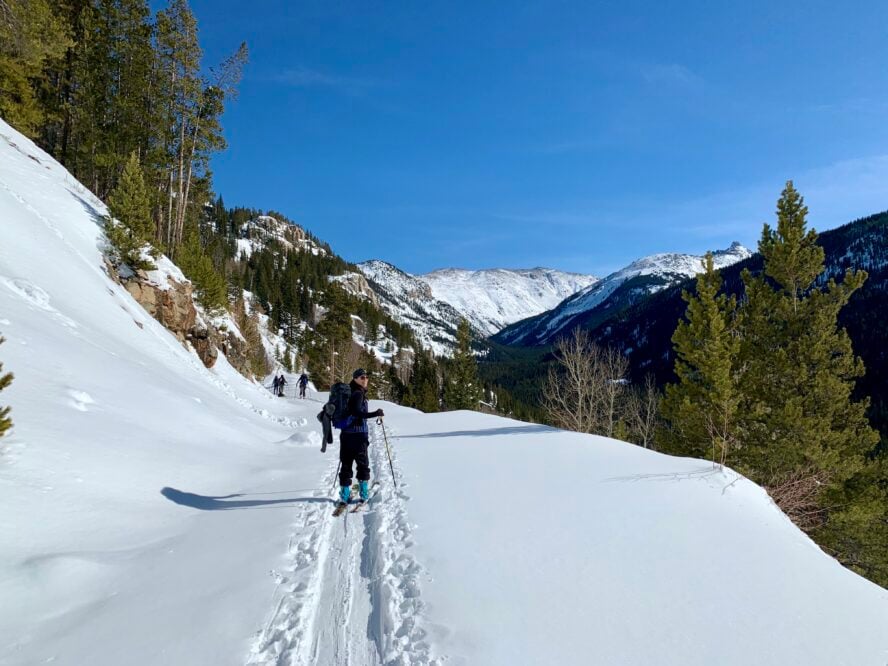 Aspen backcountry guides are the best way to enjoy the hut systems
Backcountry skiing around Aspen will take you right by some of the choice cabins in Colorado's 10th Mountain Division Hut Association loding system. Traversing to backcountry huts is truly a right of passage in Colorado and without a doubt one of the best ways to experience backcountry skiing around Aspen. The 10th Mountain Division, Summit Huts and neighboring systems in the Rockies include overnight stays in cabins ranging from basic bunks to accommodations such as an on-site, wood-burning sauna. Snagging a hut, especially on a weeked, is also near impossible due to the popularity. Guides often have first dibs on booking, can show where to head for daily powder runs and will cook for you each night.
The Best Backcountry Skiing Locations in Aspen
If you're looking for info on where to head off-resort, here are five backcountry skiing spots that highlight the Aspen area. From Five Fingers in the Highlands to Sugar Bowls at Buttermilk, from West Willow Valley to Richmond Ridge, there's plenty of terrain for everyone, no matter how seasoned or new to the sport you may be.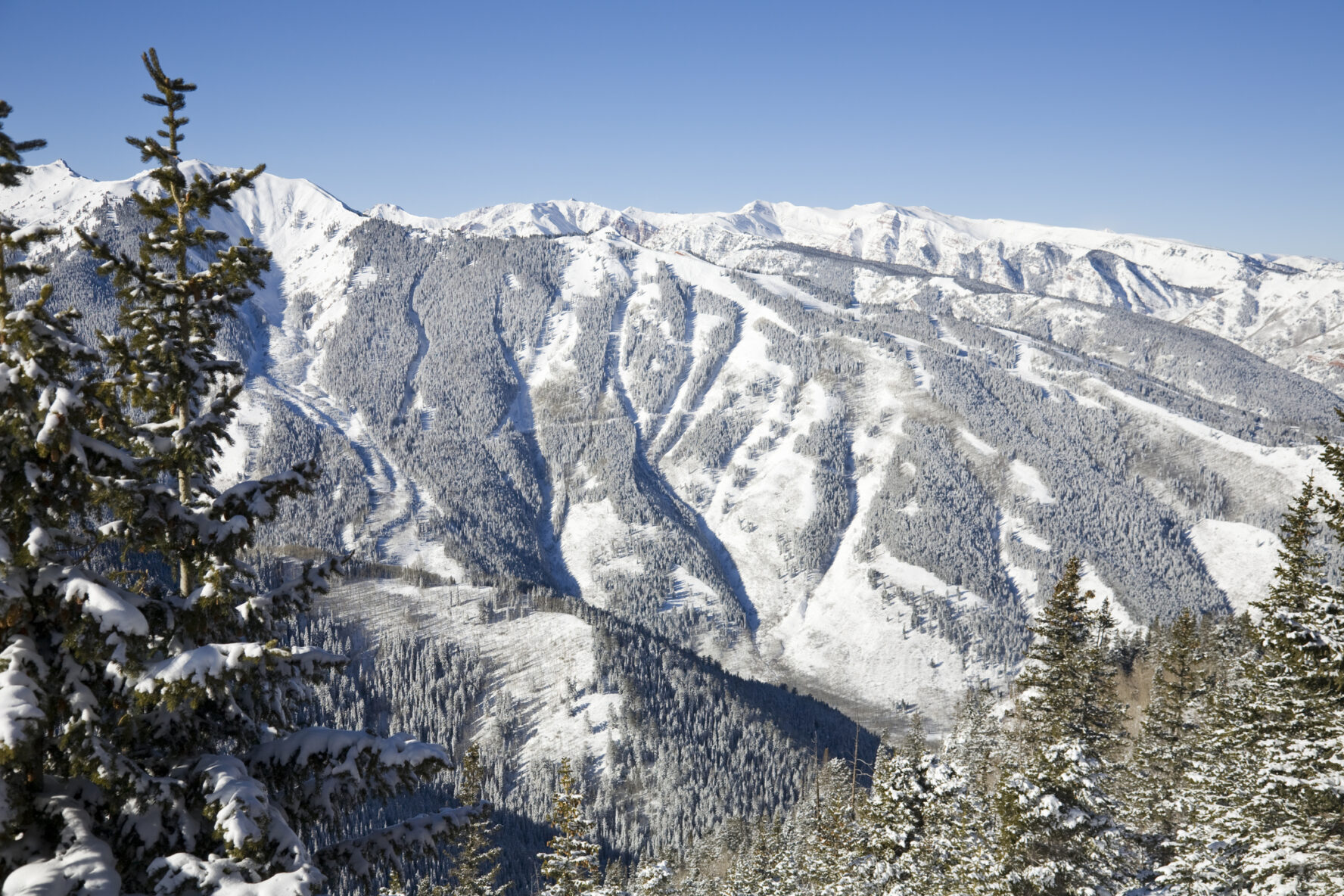 1. Five Fingers at Aspen Highlands: Experts shouldn't miss it
Aspen Highlands lift-access backcountry skiing is a "go big or go home" situation. The Highlands Bowl is an in-bounds jaw dropper loved by locals and visitors alike. You can then boot-pack past The Bowl to the Five Finger chutes, a staggering drop off from Highland Ridge into Conundrum Creek. If you're only boot-packing, you also don't need a traditional touring set-up. Of course, the hike up from the bottom of the drainage is the most scenic option. Early spring is when the season starts, but late snowfall in recent years has shifted the season a bit.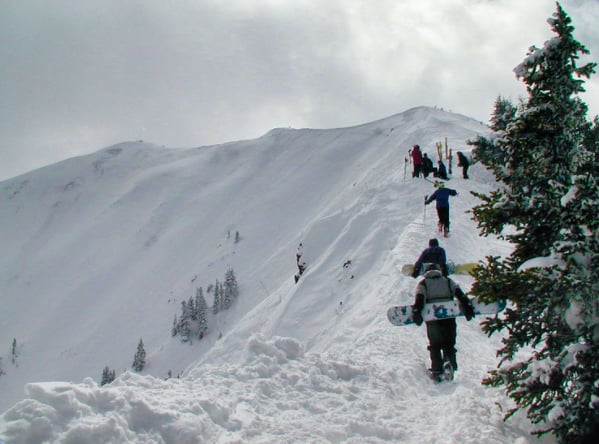 Five Fingers starts at Conundrum Creek for a stunning Aspen ski tour
Start at the Conundrum Creek Trailhead and follow Conundrum Creek Road to the summer trailhead. It's a large meadow, and the Five Fingers can be seen in the west. The only trick to the climb is passing across the creek. Make sure any snow bridges are stable and thick before attempting to cross. You're literally trusting your life with it. Once up top, you can soak in the views before descending the way you came. Also, check conditions for spring snow. This is avalanche terrain, so it needs to be compact even if hazards are low that day.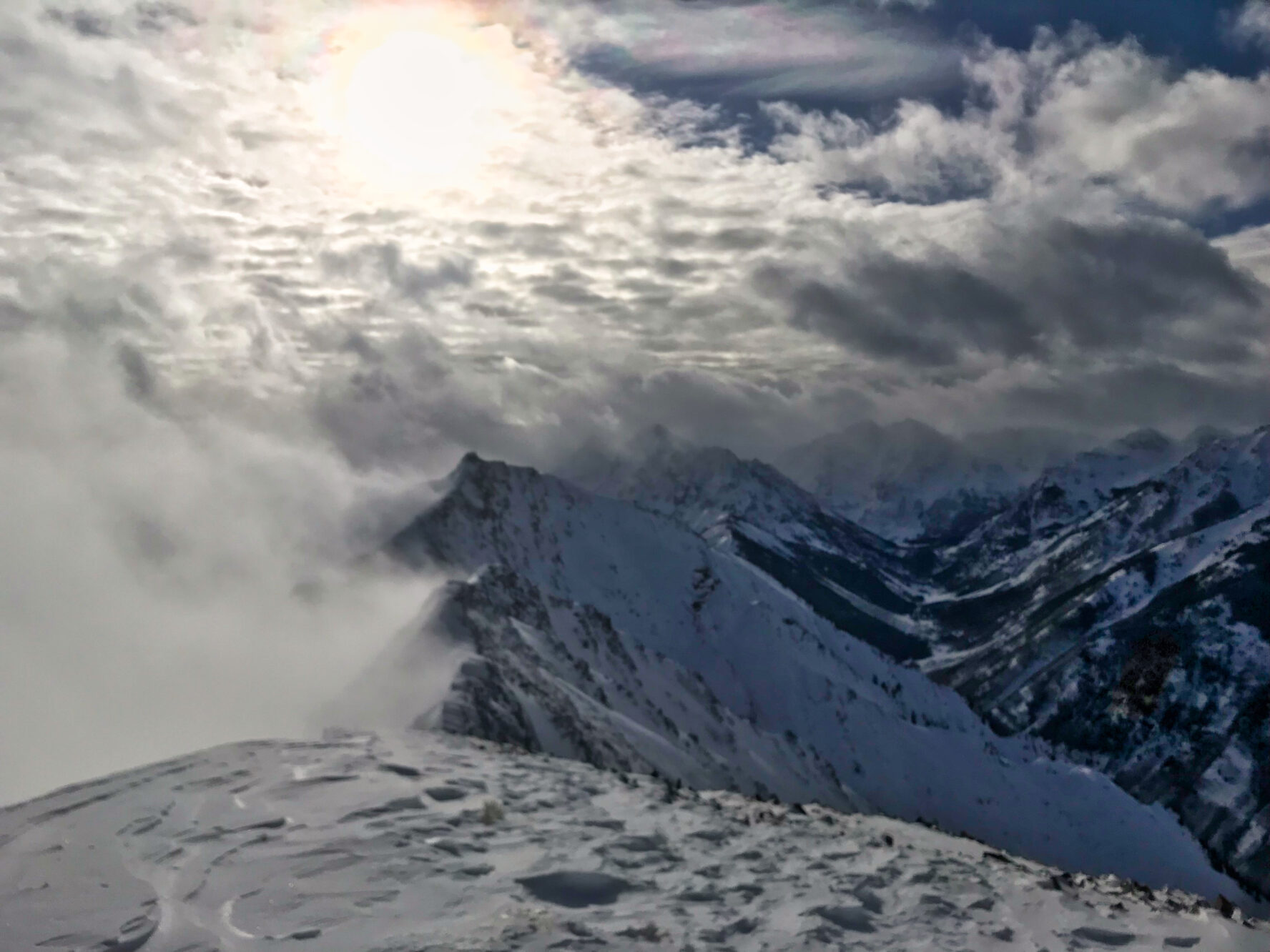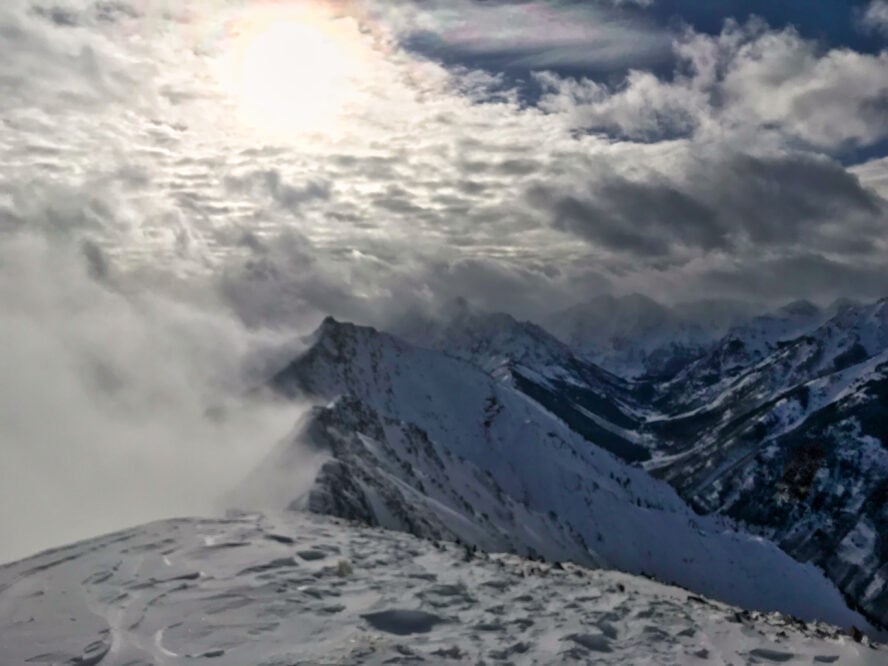 2. Sugar Bowls at Buttermilk Mountain: Best for beginner-friendly backcountry skiing
Buttermilk's Sugar Bowls are perfect for getting your backcountry ski legs. The Sugar Bowls are mellow, low-angle snow fields accessible from the lift system in West Buttermilk, also called Tiehack. It's basically a dirt parking lot with little fanfare. That said, parking goes quickly on the weekends. You can also begin your ascent from the bottom of the Tiehack lift. Don't mind if you're lapped by spandex-clad skiers. Skimo races, otherwise known as competitive ski mountaineering races, are big around here! The Tiehack climb is a great practice route for bigger tours. It will get your heart pumping.
Once you reach the Government Trail gate, you follow the route for about .9 miles until you reach an open field. Enjoy the traverse through the gorgeous Aspen trees for about a quarter mile. The terrain opens up to low-angle cruising.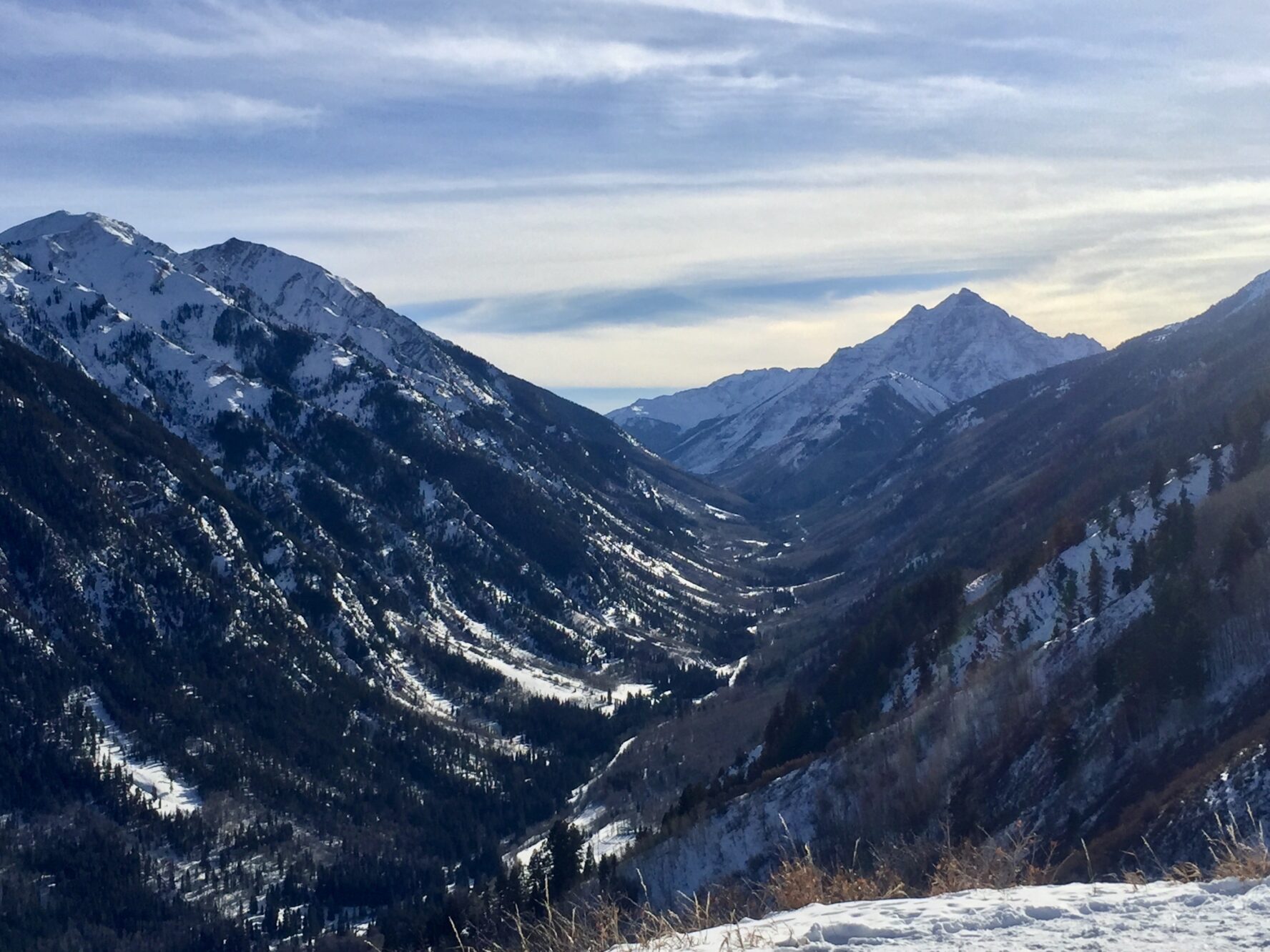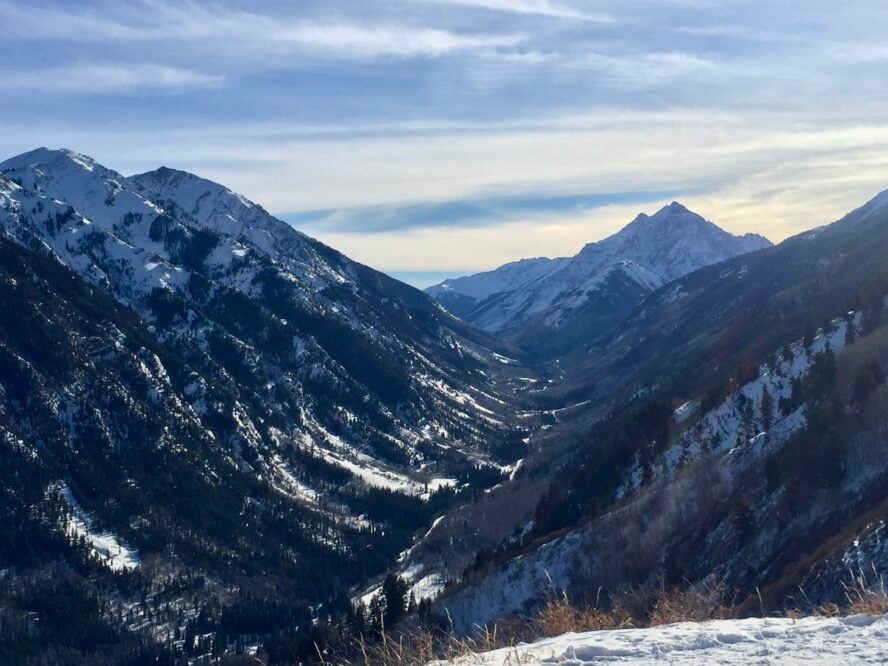 3. West Willow in Snowmass: Expert gate-access backcountry
Already known as an expert area, The Cirque is known for black diamond runs and backcountry access from a gate at the Hanging Valley Wall. The Hanging Valley Headwall and Cirque's Burn Wall in Aspen Snowmass backcountry skiing is some of the most extreme terrain in the area. Snowmass doesn't always get the recognition it deserves for advanced runs. West Willow might be the hardest out of the four mountains thanks to its open faces ranging to couliers. The backside of Snowmass Ski Area offers a range of options with lift access from The Cirque. Skiers and riders will use an old-school palma lift to reach the headwall.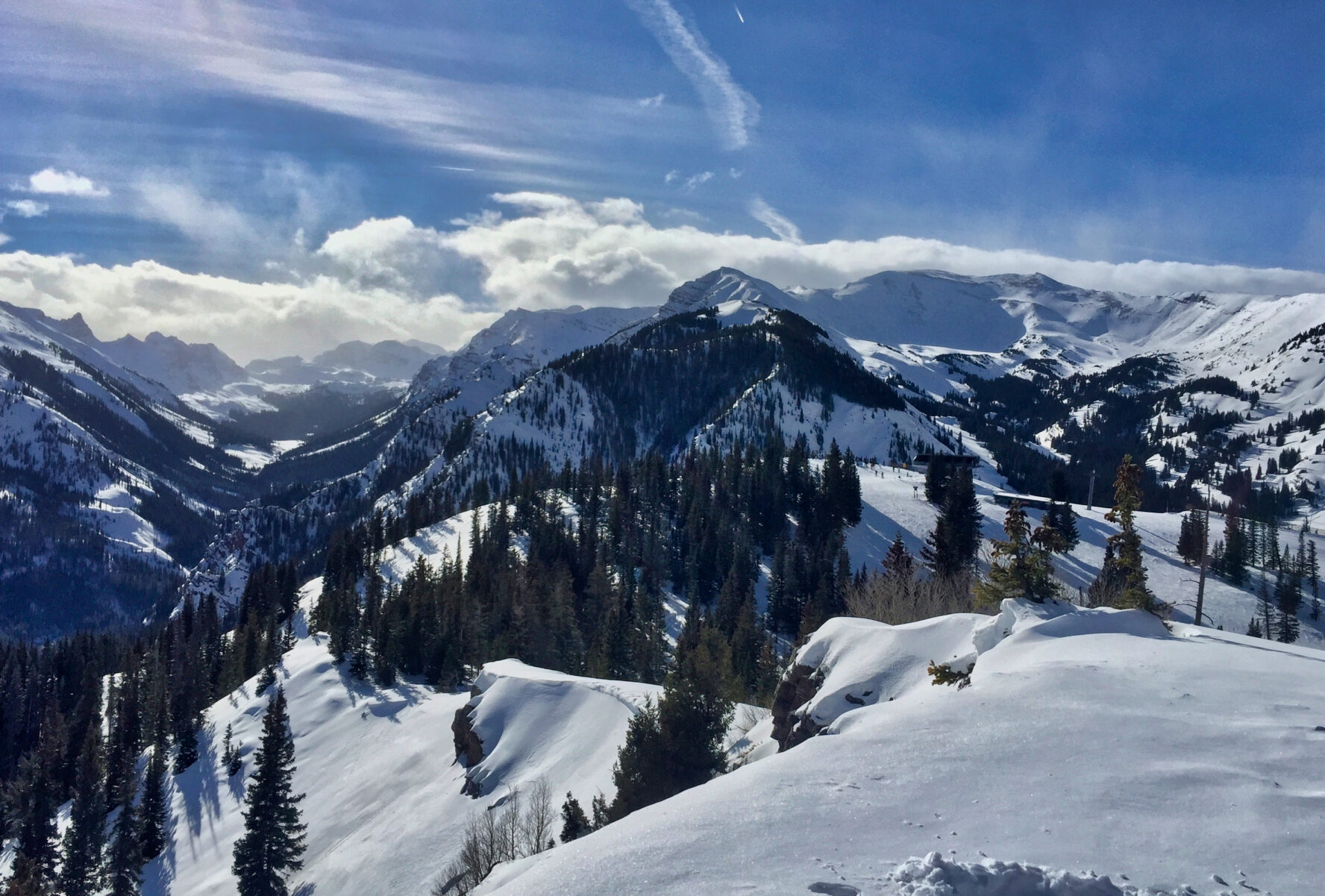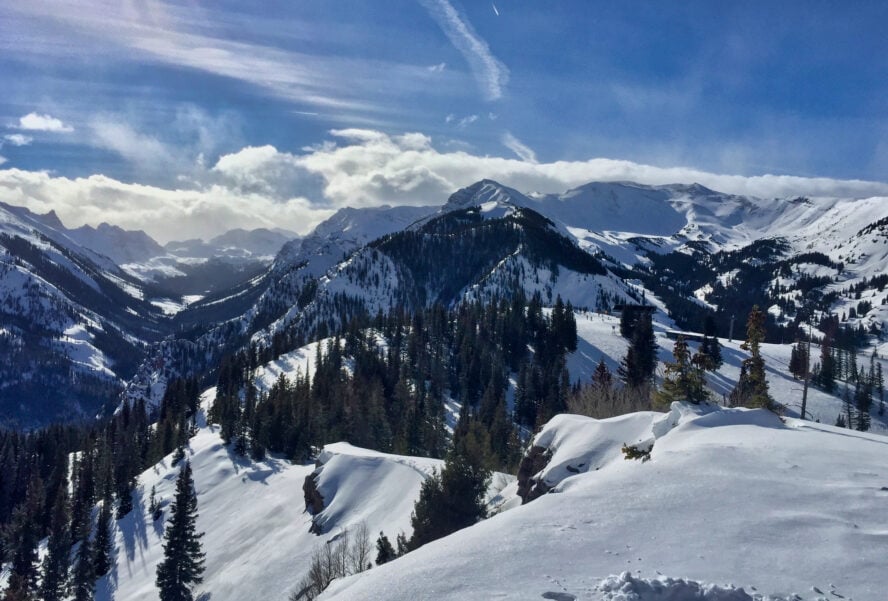 Hanging Valley Wall drops you into plenty of south-facing terrain
Take the palma all the way to the top and go east. The Hanging Valley Wall leads to West Willow Creek Basin, also known as West Willow Valley. It offers a handful of south or southeast facing drops, including Gaper Bowl, Mr Magoo's, Juan's Way, Hair Balls, Feather Bed, and Vertigo. West Willow then wraps into east-facing terrain through north-facing Novias and Do It Again. Despite the lift access, avalanche risk is always high here. And don't go below the saddle to the Northwest. People have gotten lost and needed rescue from the drainage below. It's true no-man's land.
4. Richmond Ridge: Scenic, simple and popular life-access ski tour
Richmond Ridge is popular with snowshoe, snowmobile and Aspen Skiing Company power tours. It's also what I'd call a solid intermediate route for anyone who isn't looking to white knuckle their turns. You also don't have avalanche risk here. Keep in mind, Richmond does have its fair share of avalanche gullies and bowls off the ridge. Richmond is especially trafficked due to the 200 feet of elevation gain, making the six-mile round trip from the gondola a little easier on the thighs. You start in the high alpine above 11,200 feet. The route is ideal beginner travel for about four miles where it adds a bit of a challenge. The route directs you to the Barnard Hut. If you're here for the vistas, you can follow it to the east side of Ashcroft Mountain.
Novice skiers will find mellow turns at Little Annie Basin
You can head to Richmond Ridge by riding the Aspen Mountain gondola or tour up Little Annie Road for a more scenic eight-mile trip. For a longer ski tour, you can take Caste Creek Road from the Aspen roundabout and drive to the Little Annie Road. The tour will take you through the forest to the open Little Annie Basin. This is a good spot for beginners to get in some turns, if the full climb to 10,600 feet isn't in the cards. Switchbacks will take you directly up to Richmond Ridge.
5. Hayden Peak in Ashcroft: An abandoned resort but true backcountry
Ski Hayden is true backcountry skiing for hearty and expert skiers and splitboarders. Hayden Peak is located in the Elk Range, or what people tend to think of when opting for Aspen backcountry skiing. In the late 1930s, developers wanted to turn Hayden into a Euro-style resort that linked to the former mining town of Ashcroft. They even built the Highland Bavaria Lodge on Castle Creek at the base of Hayden Peak. World War II and the death of one of the investors stopped the project. Today, Hayden's backcountry skiing is some of Aspen's finest.
Ski Hayden and South Hayden are popular touring options
Hayden Peak is really a cluster of three summits located about one-mile north of Electric Pass and close to the ghost town of Ashcroft. The peaks are approachable from about an eight-mile drive from the roundabout on Castle Creek Road. You'll find a large pullout but no trailhead sign. Backcountry skiers and riders are often referring to Hayden Peak's north summit coming in at 13,316 feet elevation, also known as "Ski Hayden." Hayden Peak's north face can be seen from Aspen and Aspen Highlands. The south summit is another skiable option and a bit taller at 13,540 feet. South Hayden is situated over American Lake, a popular in-and-back hike in the summer. The middle summit is the official Mount Hayden, but is less popular for skiers despite being the tallest of the trio.
Hayden is incredible spring skiing, especially on the southeast aspects
The views at Hayden — regardless of the summit you choose — are spectacular. You'll get views of Castle Peak, Cathedral Peak and Mount Raoul from Mount Hayden's summit. On Ski Hayden, the steep Stammberger face can be both the ascent and downhill route depending on stability. The spring skiing is also some of the best the area has to offer. For Aspen powder tours, I recommend traversing the snow on the sunnier, southeast aspects for true spring corn. Heading higher in elevation results in more reliable conditions in the spring when snowpack allows for it.
My Recommendations for Visiting Aspen in the Winter
What months can you ski in Aspen?
Typical months for skiing in Aspen are December to April, but each year is dependent on the weather. Backcountry is best starting in January. Sometimes an early snow will make for a banging early season. It's also normal for it to snow in June. If you're in Colorado in June, make sure not to miss some of its best hiking trails!
Aspen's resort season is from Thanksgiving to mid-April, but in good years like 2019, the lifts will open on the weekends well into May. Granted that's more akin to water skiing, but the thrill is still there.
Getting to Aspen can be cost-effective if you plan ahead
Backcountry skiing in Aspen rivals backcountry skiing in Jackson Hole in terms of accessibility if you think about it this way. The Aspen airport is so small it's a breeze to get through. It's also located about throwing distance from Buttermilk Ski Resort. Aspen's free shuttles will also take you to any of the ski resorts. If you can fly directly into Aspen. Do it. Flying into Aspen in the winter can be tricky due to the cost and unreliable weather. Flights are routinely canceled or rerouted due to wind conditions. One great alternative is to fly into Grand Junction and rent a car for the 90-minute drive. It's often more cost-effective and has less weather issues at the lower elevation. Eagle County Airport is another option to get closer to Aspen and a shorter drive from the airport.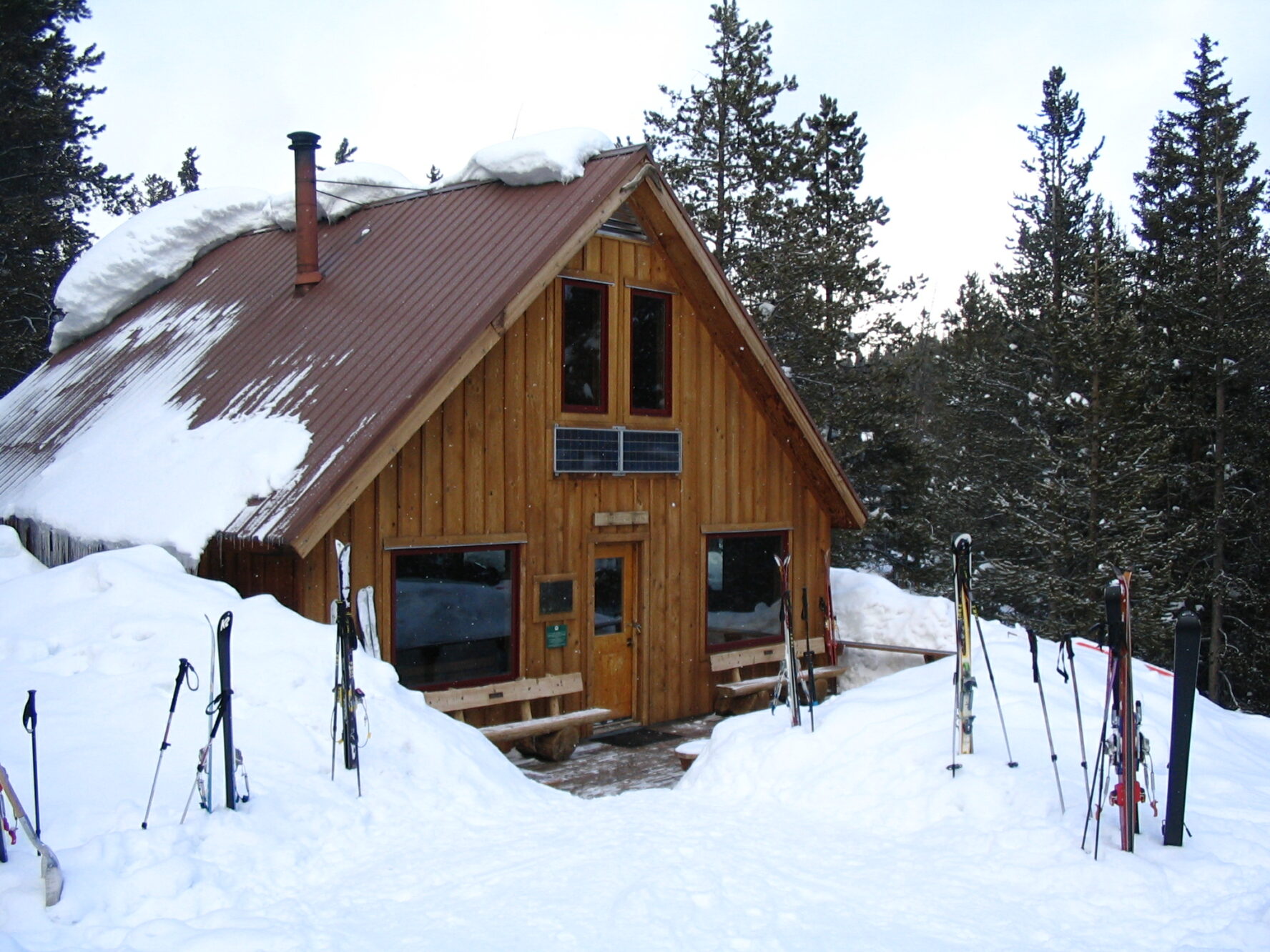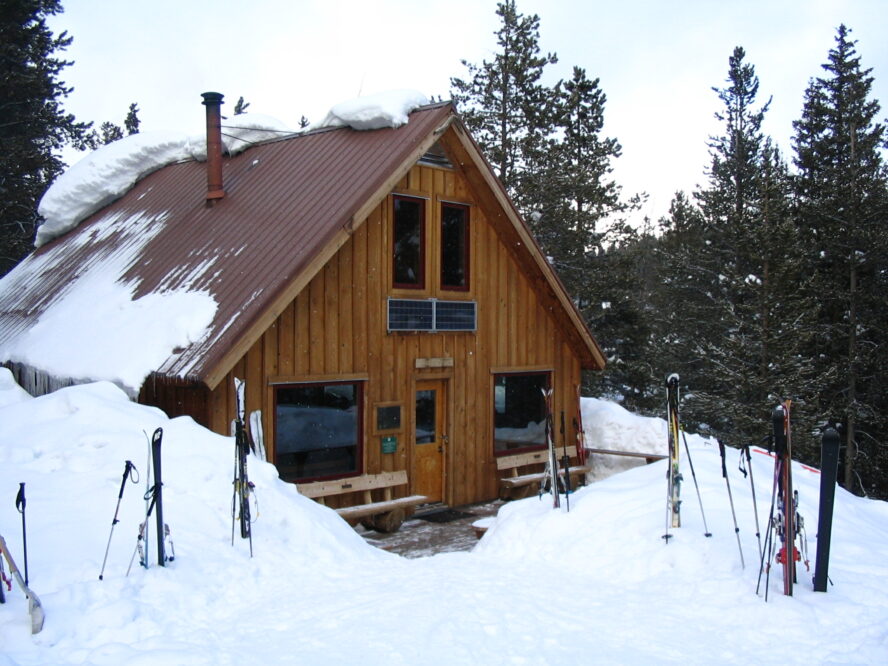 Driving from Denver requires driving over multiple mountain passes. Plenty of people do it, but it's an additional four hours to your flight time. My advice is to keep your eye on weather patterns and avoid holiday traffic. It's best to play it safe if there's going to be a weather event. It took me seven hours once to get to Denver, and it goes without saying I missed my flight. To avoid driving altogether, look into the Colorado Mountain Express for one-way rides to the resorts. They'll take all your gear and the pressure off.
Where to stay and eat in Aspen?
I recommend staying in Aspen at the Limelight Hotel or in its new outpost in Snowmass' Base Village. Mountain Chalet in downtown Aspen is another accessible option. The W Aspen is also a quick walk from Aspen Mountain. You'll find plenty of short-term rental options for groups and at-home dining options. Local Coffee House is a see-and-be-seen barista shop with excellent breakfast snacks. Aspen Meat and Cheese offers seasonal menus and daily special tacos that can be called in and ordered to go. 5280 Grill is a low-key lunch spot. Aspen Brewing Company expanded to a full service restaurant with outdoor seating and plenty of beer on tap. If you want to see a version of historic Aspen, I recommend heading to Hotel Jerome to grab a seat at J-Bar or neighboring The Living Room for craft cocktails and people watching.
If you're new to backcountry skiing, get advice from IFMGA/AMGA Guide Rob Coppolillo in his 57hours Adventure Talk, Intro to Backcountry Skiing:
Ready to head out backcountry skiing in Aspen? Safe and prepared for backcountry conditions, Aspen mountain guides can scout thrilling lines to suit any skill level. Whether headed to Vail Pass for backcountry skiing or you want to traverse powder on a hut trip in Aspen, 57hours can pair you with local guides.