Ski Touring Iceland With the Country's First IFMGA Guide
There's skiing, and then there's ski touring in Iceland. Nowhere else can you travel through lava fields and icy fjords, earn your turns on glaciers and volcanoes, then ride down all the way to the ocean.
Translated from Icelandic, my name, Jökull Bergmann, literally means Glacier Mountainman. Now that I think about it, my choice of profession was always written in the stars, wasn't it? Thanks, Mom.
I live in Northern Iceland, in a village called Dalvík on the coast of the Troll Peninsula. In the mountains just 20 kilometers to the west you can find my ancestral farm, where my family raised sheep for generations. That's where I grew up, chasing their wooly coats, barely visible against the persistent blanket of snow. Today I run a heli-ski lodge on that same plot of land and lead ski touring trips all over the island.
You can call me biased, but Iceland might just be the most amazing place on Earth to be an outdoor enthusiast. Here, on the edge of the Arctic Circle, millenia of seismic and volcanic activity have birthed a dramatic landscape full of stark contrasts: fiery volcanoes and frozen glaciers; desert plateaus and verdant valleys; jet-black beaches and mountains awash in color.
When the driving snowstorms hit the island, causing total white-out blizzard conditions, this wildly varied terrain transforms into a niveous dreamland blessed with endless skiing. As Iceland's first and only IFMGA-certified guide, I feel privileged to share with you this overview of the finest ski touring in the country.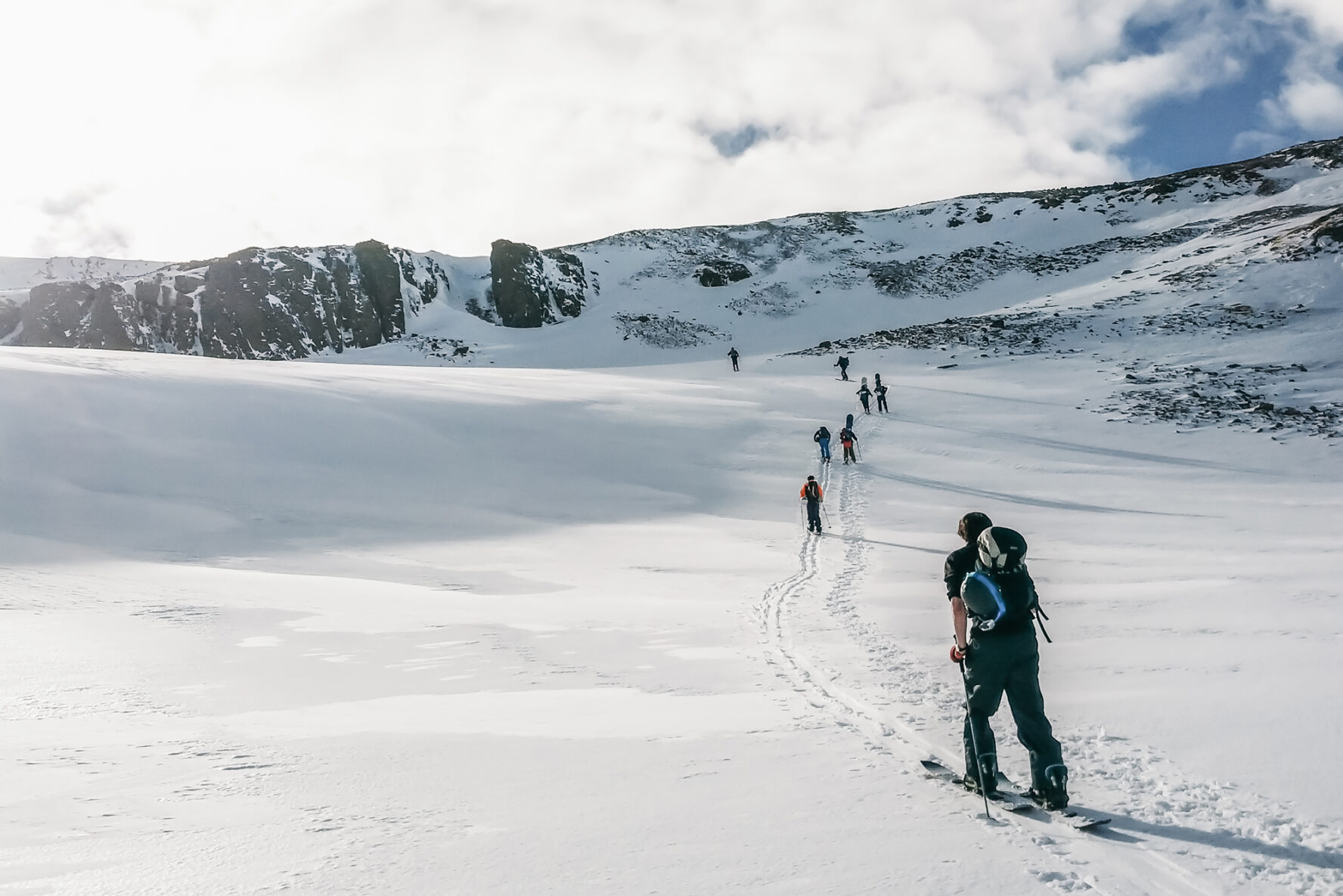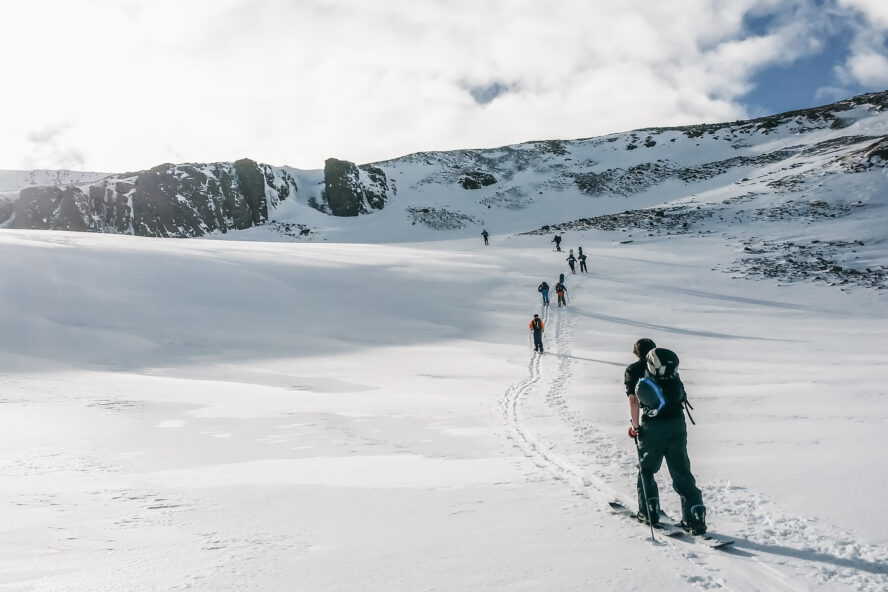 Pros and Cons of Ski Touring in Iceland
Pristine slopes as far as the eye can see with very few people to share them with
Stunningly varied landscape with a great road system so you can ski coast-to-coast
Notoriously unpredictable weather conditions
There's not a lot of elevation on Iceland's mountains
Ski Touring in Iceland: The Puff of Legends
Ain't no mountain high enough—to keep you from getting to sea level
Iceland offers a different style of skiing than most of the world. For one thing, there are no trees here. As the joke goes: if you get lost in an Icelandic forest, just stand up!
You also won't reach extreme altitudes on our mountain peaks as few reach above 1,500 meters. But the coastal ranges do provide something irresistible: you can ski all the way down to the ocean.
While the altitude of our mountains is nothing to write home about, the actual length of ski slopes and vertical descent is on par or greater than in Alaska or Canada's top backcountry ski locations. This is made possible by the felicitous combination of generous snowfall and utterly unique geology, which caused the island to be littered with mountains and V-shaped valleys carved out by Ice Age glaciers.
No lines at the Icelandic hotspots
You won't find ski tours like these anywhere else. En route to your untouched slopes, one second you're sailing between fjords, the next you're walking on lava fields and on through fishing villages and farmstays wafted by the ocean's breath.
Those in the know take hidden hiking trails that string together Iceland's most unbelievable sights. And the rare inhabited places you see are not some soulless tourist traps, but authentic settlements with rich histories, their own vibrant culture and, without fail, the unmissable geothermal bath.
Let me tell you, if you really want to feel the pulse of Icelandic life, you owe it to yourself to visit the baths. As guides, we make it a point to take our guests out for a soak and expose them to the locals in more ways than one.
Iceland is my land, Iceland is your land
For a mountainous country enveloped by snow, Iceland warmed up to ski touring unusually late, as its hiking trips are arguably more popular, especially the Laugavegur trek. Sure, we've been active in the wilderness for a long time, but our approach to outdoor activities has been decidedly North American. Snowmobiles, snow bikes, super jeeps, anything with lots of horsepower—that's the way to go around here. It's only in the past decade or so that people started to embrace non-motorized outings in the backcountry.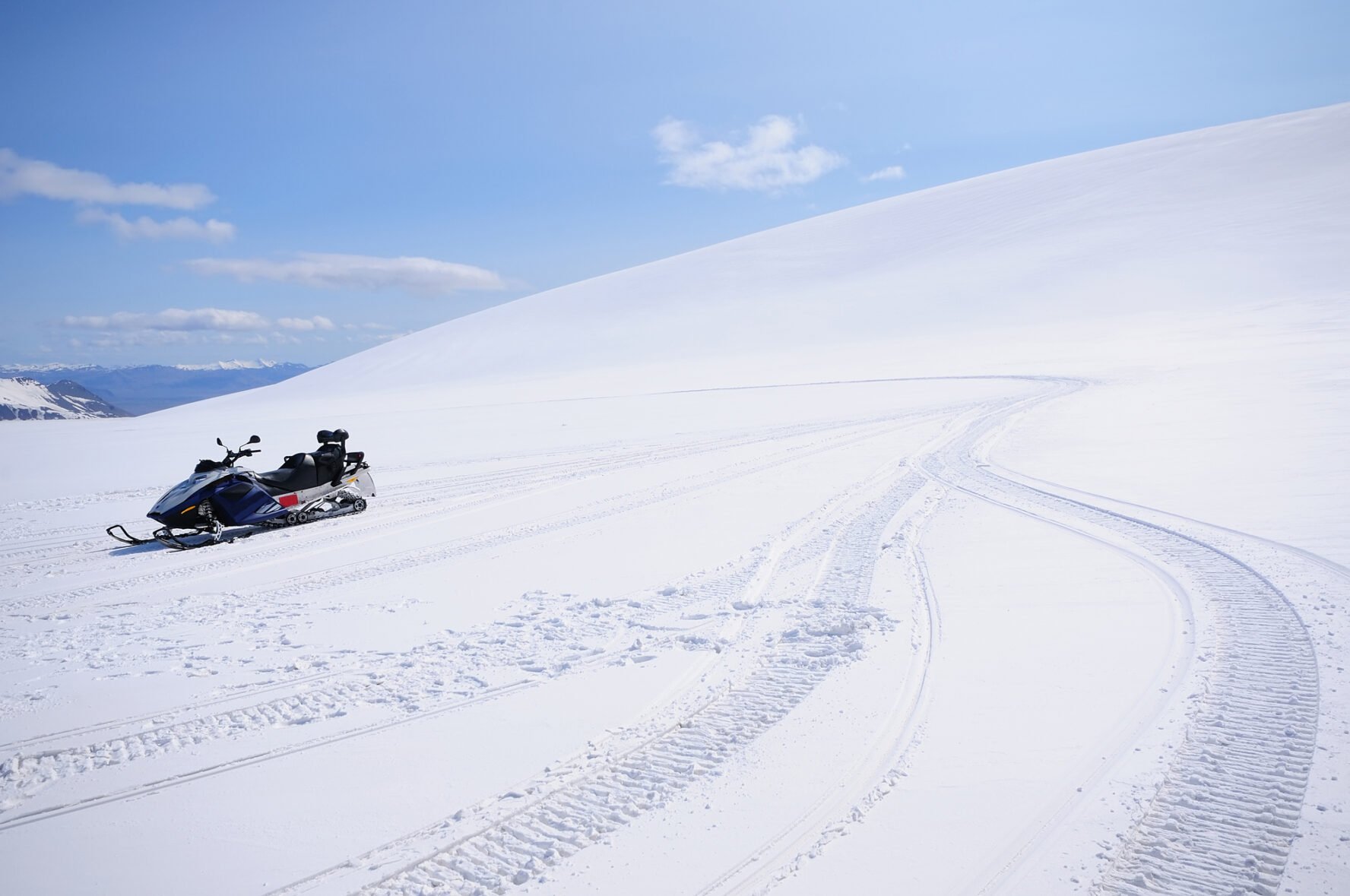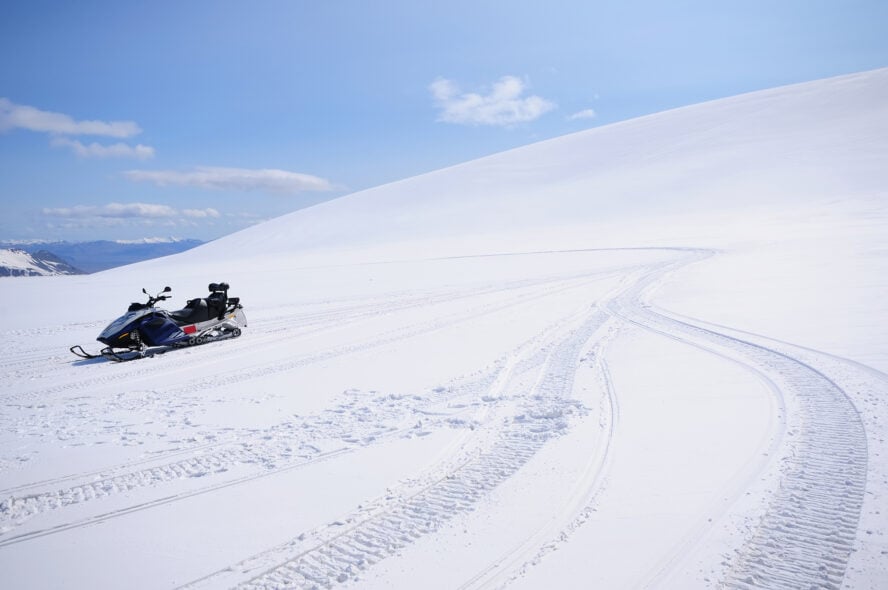 What sets ski touring in Iceland apart from any other location is maths: the sheer quantity of skiable terrain per square kilometer of mountain range (Sτ / Km²). That spot you were eyeing is taken by another group? No problem. A sudden storm is brewing on the slopes? Easy, there's untouched snow with perfect ski conditions all over the island! Thanks to our well-connected roads you can go from coast to coast in about eight hours.
Although we do get our fair share of that coveted fluff, you don't really come to Iceland for neck-deep blower pow. For the best powder in the world, Japan, British Columbia or Jackson Hole are where you want to go.
No, no, skiing in Iceland is all about the corn! You know, that perfect sweet spot when the snow's neither too icy nor too soft—for North America, that only happens in the spring. We get that all the time (well, for a large part of the season, anyway!). Because we're just south of the Arctic Circle, the summer sun doesn't set, but rather floats watchfully over the island, treating us to 24-hour days. As a result, you can always find ski spots cooked to perfection and ski that sweet golden Orville Redenbacher to your heart's content. And they'll not get as crowded as, say, Chamonix—though skiing La Vallée Blanche in Chamonix is a fantastic and scenic experience, Iceland's major advantage its lines attract far less people.
Your A to Z of the Best Ski Touring in Iceland
The Troll Peninsula: You have to ski it to believe it
No overview of the best ski touring areas in Iceland would be complete without Tröllaskagi, or the Troll Peninsula.
Located in the wild Northern Iceland, this high lava plateau boasts more than 3,400 square kilometers of mountainous terrain. Like a giant cudgel jutting into the Atlantic Ocean, it bears the brunt of northeastern storms that bring copious precipitation to the island. What's more, the weather conditions here frequently allow us to ski well into June.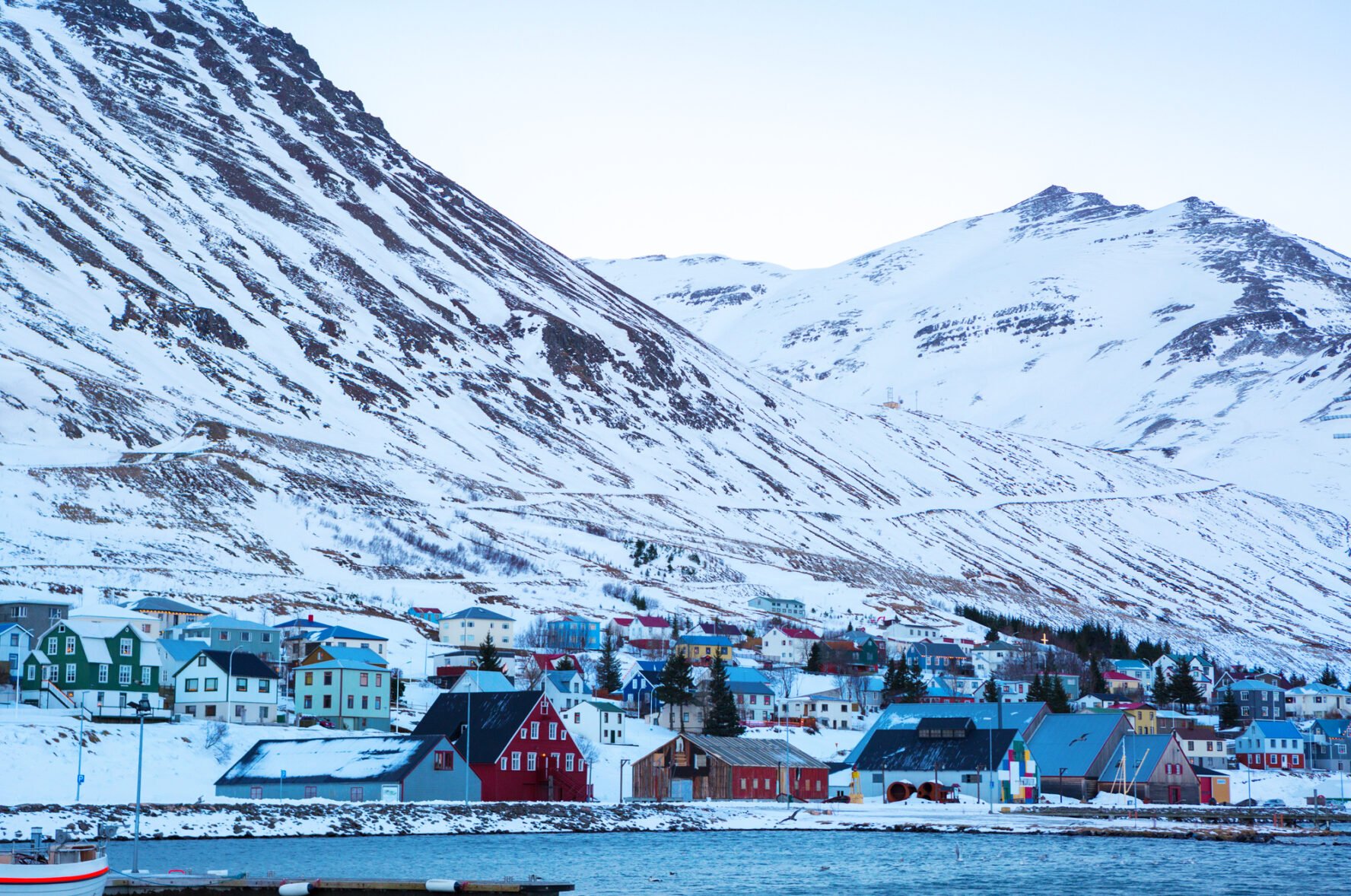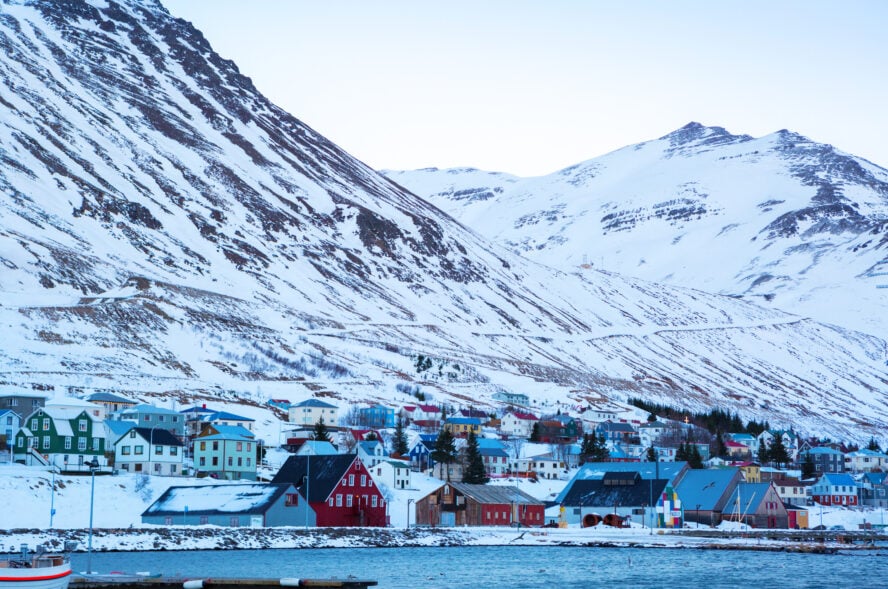 Tip a cap to the best skiing on the peninsula
Even though I was born here, I'm still flabbergasted by the amount of skiable terrain. The best of it lies between the three towns on the peninsula's northern tip—Dalvík, Ólafsfjörður and Siglufjörður.
If you go inland from Dalvík, you can access the bigger peaks in the high country. That's where Arctic Heli Skiing and our lodges are based. In some parts of the world, mechanized travel in the backcountry is frowned upon, but in Iceland that's the tradition. Ólafsfjörður, for example, is the local capital of motor sledding. You can rest easy, though; riders steer clear of touring groups so you won't have folks landing on top of you and blitzing down the uptrack.
Siglufjörður is the hip place to be. Here you'll find an assortment of cozy restaurants, busy bars and breweries, and two other heli-ski companies to boot. In terms of tourist value, the town offers the most options regarding accommodation and attractions. But when it comes to pure skiing, Ólafsfjörður and Dalvík are strategically the best locations. The town of Akureyri, also known as "the capital of the North," takes domestic flights (typically from Reykjavík), which further adds to the area's great accessibility.
Take your skis and boards towards the East Fjords
The East Fjords are a 120-kilometer stretch of coastline from the scenic town of Berufjörður in the south to the puffin domain of Borgarfjörður Eystri in the north. It's a long drive from the international airport in Keflavik, so it's best to fly domestically to Egilsstaðir and rent a car there.
Compared to the spacious and smoothly carved Troll Peninsula, there are more plateaus, eroded cliffs and peaks to be found in this long strip of land. But what the East Fjords lack in surface area, they make up for in charm: the region is brimming with gorgeous narrow fjords harboring rustic fishing villages tucked away inside.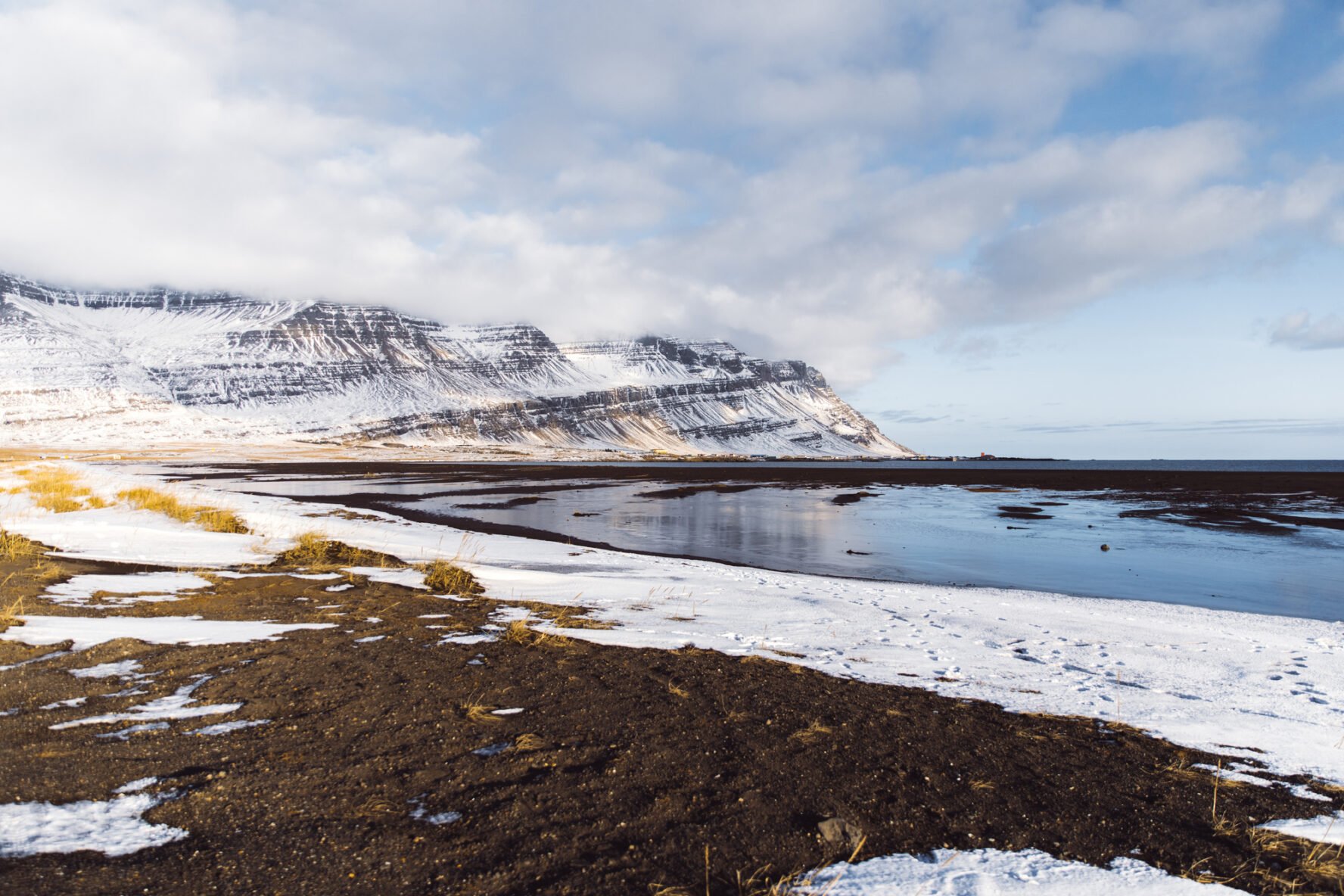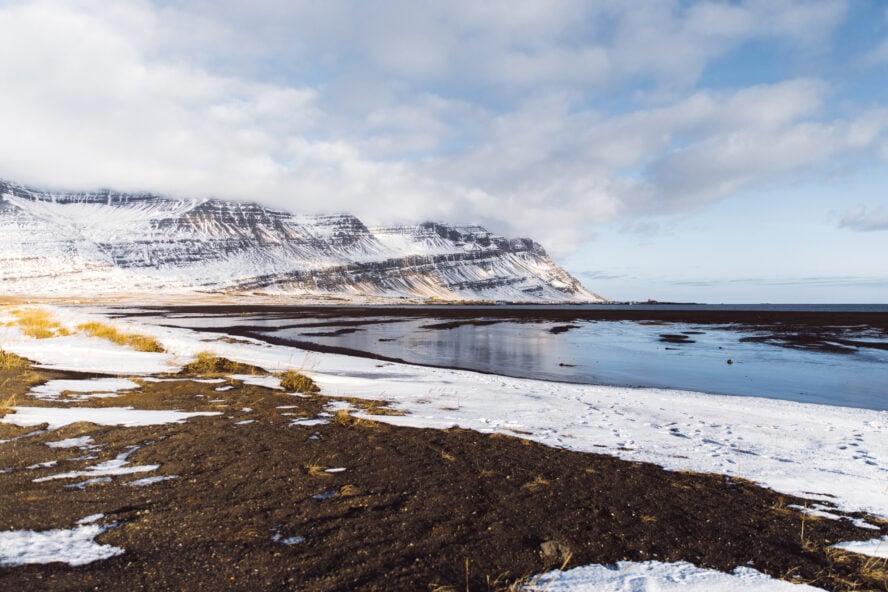 This largely unexplored skiing location holds an inexhaustible wealth of runs and terrific road access. Coming here means stringing together objectives peak after peak, and making first descents all day long. On top of that, you won't find anyone else on the slopes, let alone distractions like helis or sleds.
A tour of the East Fjords runs through lovely small towns and villages. One of them is Eskifjörður, a fishing port with good local grub at Randulf's Sea House. Another staple is Oddskarð, which has a ski area equipped with two tow lifts and a lodge. You can even catch a permanent art exhibition in the open. Some of East Iceland's signature fjords, such as Norðfjörður and Seyðisfjörður, are also a must-see.
The West Fjords are called the Best Fjords for a reason
On the other end of the island we find the West Fjords, a large antler-shaped peninsula protruding far into the Denmark Strait towards Greenland.
Due to its heavily indented coastline and mountainous terrain, this far-flung locale is notoriously difficult to traverse, which is why a lot of its skiing requires boat access. Besides sailing, you can enter the West Fjords by negotiating its long circuitous roads or by simply taking a plane to the region's capital, Ísafjörður, a historic coastal town serviced by domestic flights. With plenty of hotels, restaurants and tours to offer, it can very well act as your homebase while you're exploring the rest of the island.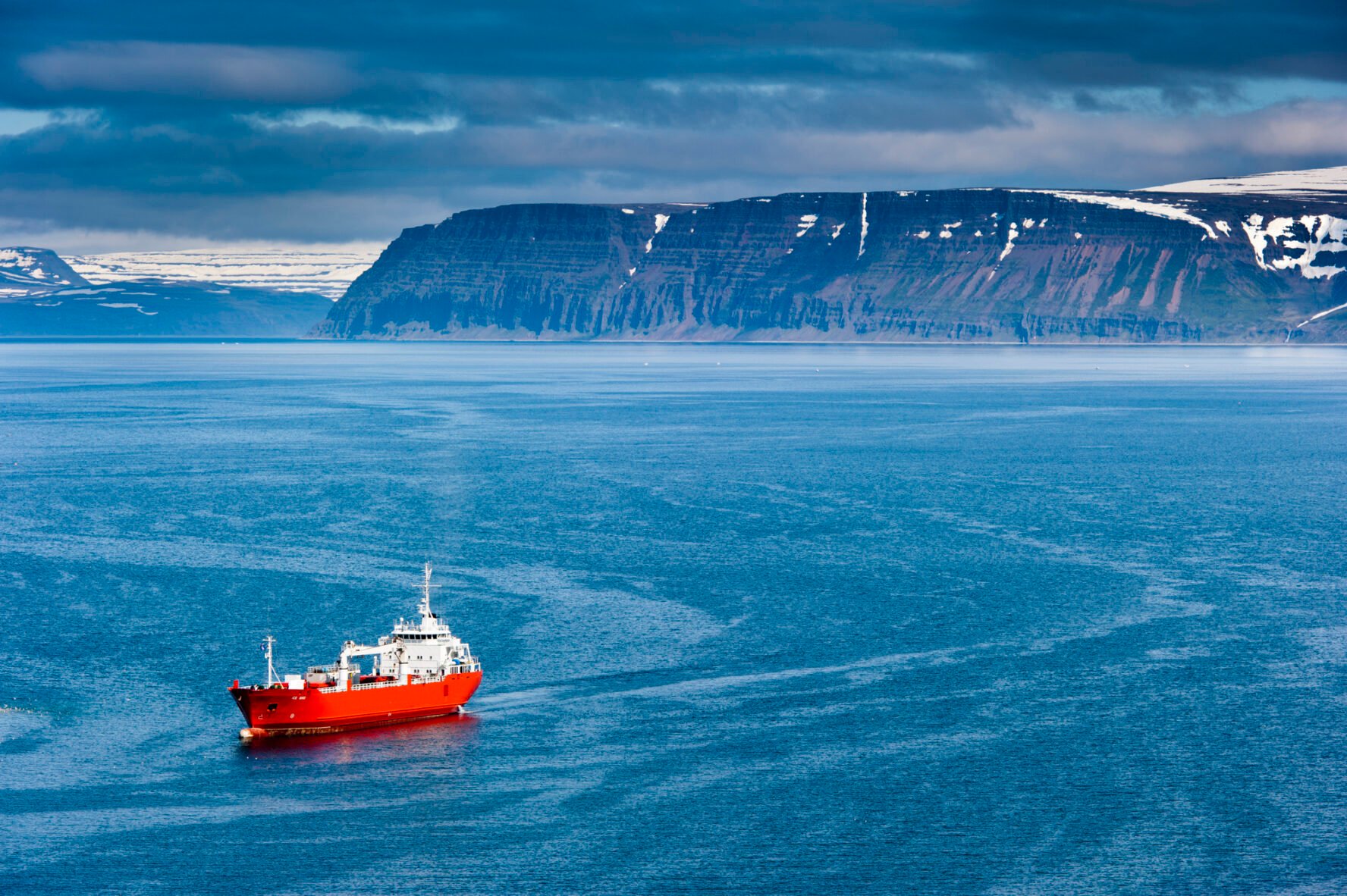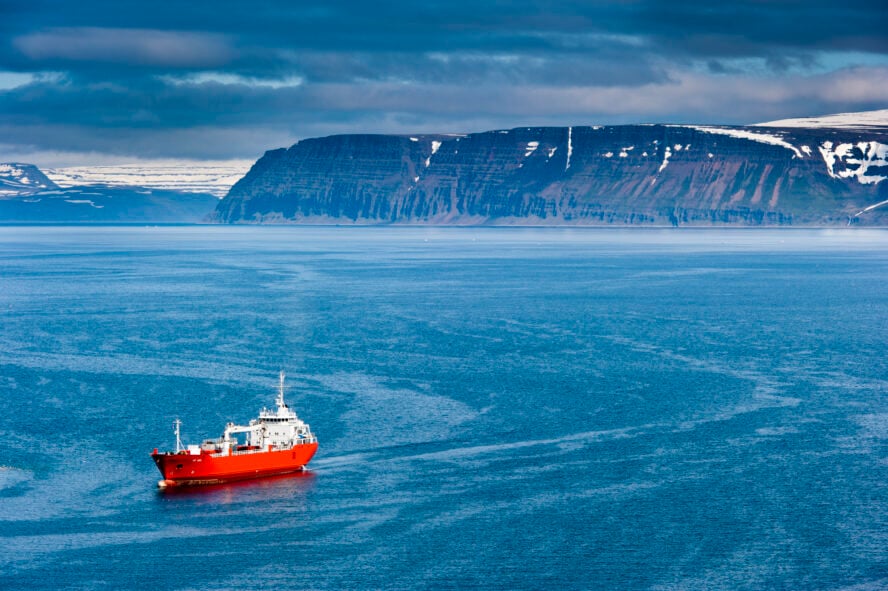 Ski touring in Iceland's remotest corner entails strong winds, the coolest sea level temperature in the country and exceedingly steep slopes. These extreme features are, somewhat fittingly, connected to the rest of the island by just a single narrow isthmus. The valleys of this peninsula are blessed with a consistent snowpack and on a good snow year the precipitous mountains invite more experienced skiers to top-tier turns in dizzying couloirs.
There is another reason why the West Fjords are so important to note. This is where all trips to the Glacier Fjords begin and end.
Fording the five Glacier Fjords
Before moving on with our Iceland ski tour, there's still a few surprises to check out in the northwest. Five of them, to be exact.
At the uppermost tip of the West Fjords lies the Hornstrandir Nature Reserve, a desolate strip of land without roads or phone reception that can only be accessed by boat. What brings us here are the Glacier Fjords, a sequence of five indentations that cut into this barren land like a watery hand reaching out of the ocean to clutch the shore. None of the mountains here reach above 500 meters in elevation, but since the fjords face south, heavy storms dump an ungodly amount of snow on them, while the low elevation ensures a super stable snow pack.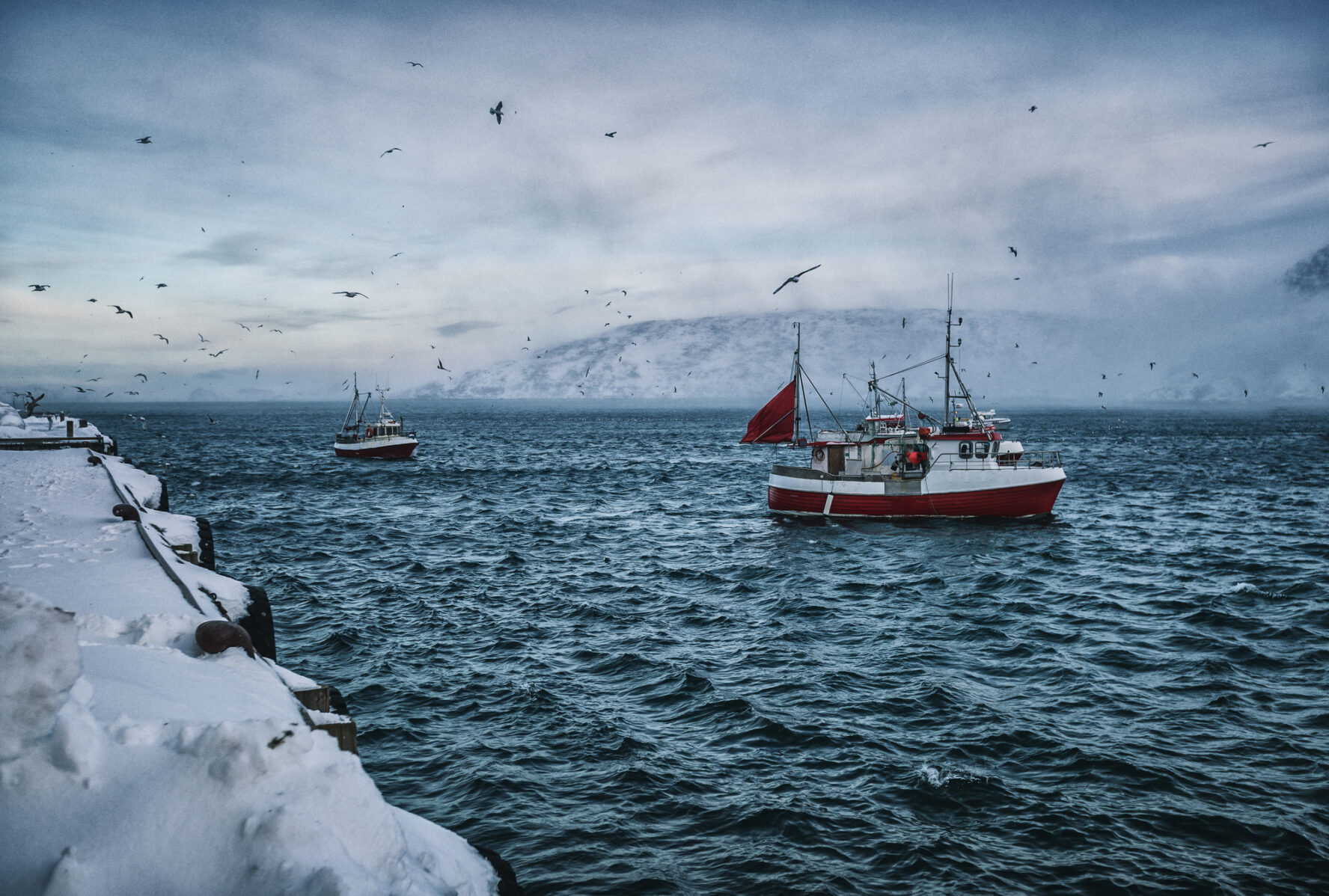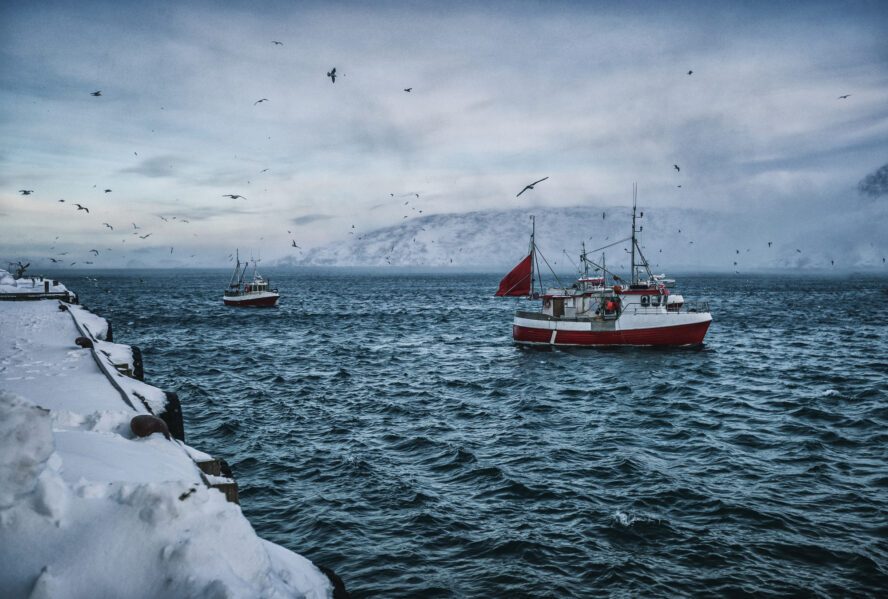 I don't know any other place in the world where you can drop down massive convex slopes that roll under themselves so comfortably. When I was living in Canada and working on my guiding certification in the 2000s, the convexities there would have me in a cold sweat, but here I feel completely at ease.
What really sets this tour apart, though, is the boat experience. Here you'll effortlessly sail from fjord to fjord, sipping hot coffee on deck between laps on chutes and couloirs—just you, the sea and the slopes.
Oodles of white-hot fun in Snæfellsjökull National Park
Standing at 1,446 meters, Snæfellsjökull is a stratovolcano rising from the ocean on the Snæfellsjökullness peninsula, an elongated piece of westward-stretching land beneath the West Fjords. Only a few hours from Reykjavík, there are more visitors on the slopes, but also restaurants and bars to cap off the day.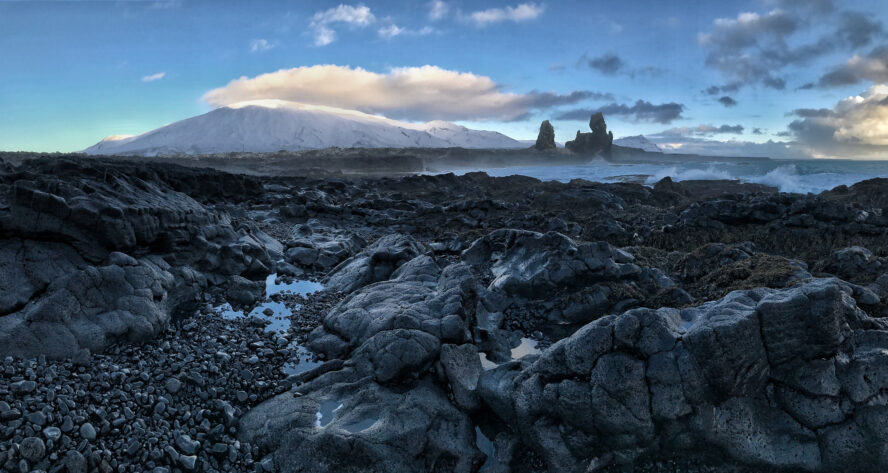 Believe me, you won't mind sharing your turns with others because the ski mountaineering objectives will knock your socks off. It takes about three hours to reach the top, upon which you're treated to an unforgettable view of the entire peninsula surrounded by the ocean on three sides.
Normally you're guaranteed a great day's outing here, but when the snowstorms bring ample precipitation, you can expect several days of touring bliss. No matter if it's icy, slushy, packed or powder, you're in for some of the best backcountry skiing Iceland has to offer.
Good-to-know Info for Your Iceland Ski-tinerary
When does the ski season start in Iceland?
Iceland's ski season starts in January, when days only last five hours. In February heli-skiing kicks off as we transition to 12-hour days, then all the way through March we're blessed with excellent cold weather powder skiing. Another big reason to visit during this period is to see the night sky illuminated by Iceland's Northern Lights. Unlike coming here for hiking (usually done in the summer), April into mid-May is the best time to visit Iceland for skiing, when the combination of favorable weather, spring corn and 20 hours of sunlight jolts backcountry skiers into action. My favorite period, however, is mid-May to June, when we get 24 hours of sunlight, and you get to try other adventures in your off-time, such as hiking in Thorsmork Valley.
Where do I fly into?
International travellers fly into Keflavík Airport, located about 50 km southwest of Reykjavík. From there you can take connecting flights to regional airports like the ones in Egilsstaðir (east), Akureyri (north) or Ísafjörður (northwest).
What about the temperatures?
People often picture Iceland as a great wilderness encased in perpetual ice, but that's not the case at all. Thanks to the warm Gulf Stream flowing along the southeast coast, we experience higher average temperatures than other parts of the world located at a similar latitude. The dark winter days bring out the Northern Lights and take us several degrees below freezing temperature, while in summer the average temperature is around 10°C. It's also important to stress that we get affected by extreme weather, which can dramatically tip the scale either way. If it gets too cold, you can always warm up in one of Iceland's hot springs!
What should I pack?
For ski touring in Iceland, you're going to need your standard helmet, goggles, gloves, as well as a warm waterproof jacket and ski pants. And don't forget your swimsuit!
Keep in mind that over here backcountry ski gear is hard to come by. I suggest bringing your own touring and avalanche safety equipment. Mid-fat to fat skis are best suited for our conditions, and ideally they wouldn't be too soft. If you take your skis to the shop for a tune-up before your trip, make sure to ask for a warm temp wax. We have a good ski shop for repairs and hot waxing at our lodge, but you can also bring replacement parts and a small tool kit to fix common issues.
Where can I buy skiing equipment in Iceland?
Although we don't have a lot of gear shops here, Hlíðarfjall in Akureyri should have everything you need for ski touring in Iceland. Most guiding companies also rent out equipment, but I suggest bringing every piece of gear with you if you can. That would immediately resolve a lot of potential issues for both you and your guide, leaving everyone with even more time to enjoy the backcountry.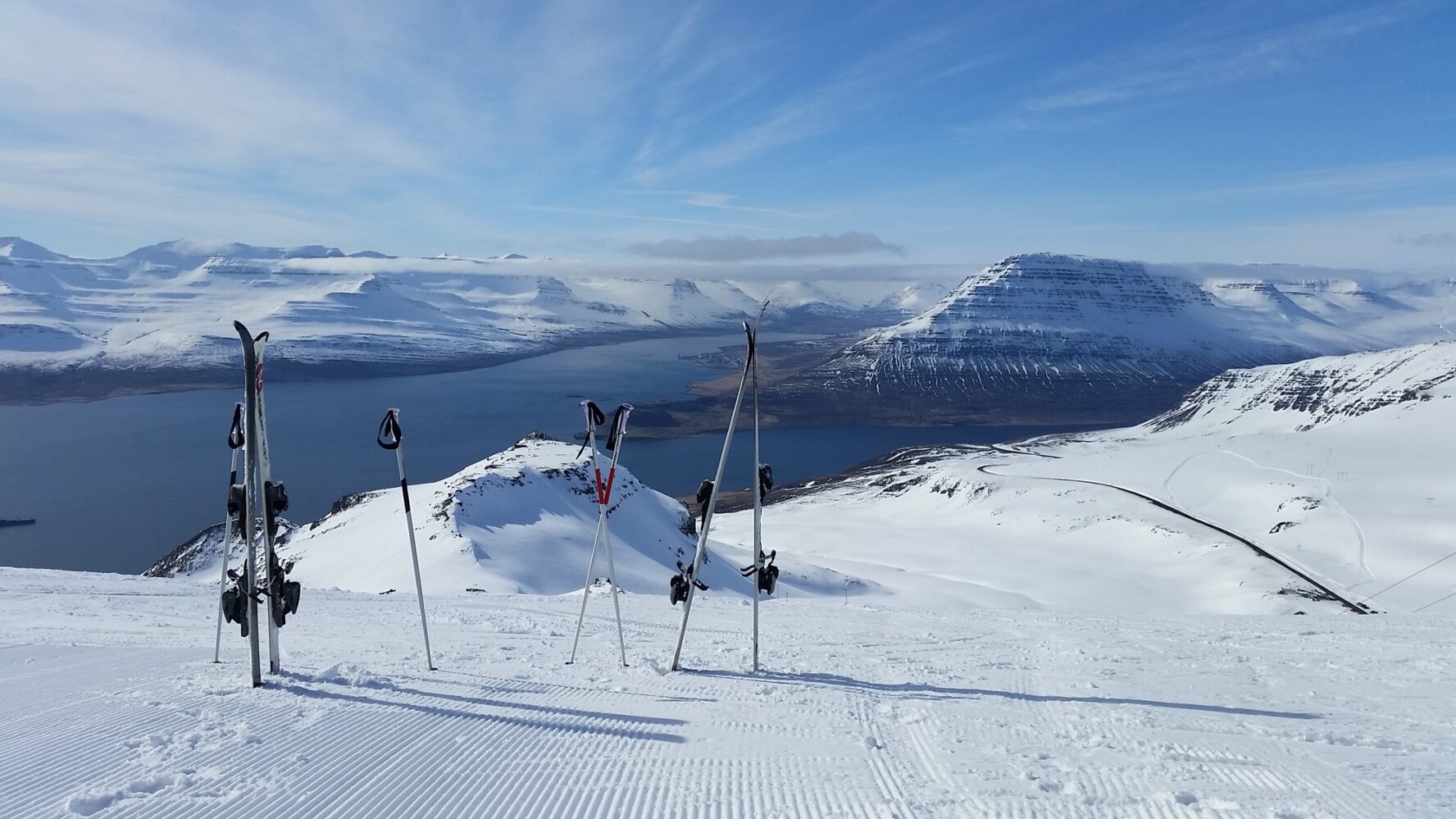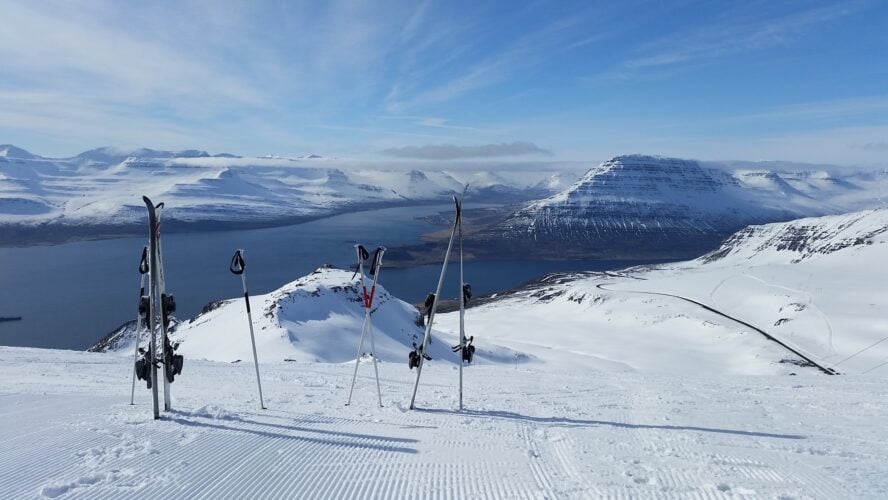 Visiting shouldn't be a matter of "if," but of "when"
Everyone needs to see Iceland at least once in their life. You might have heard stories, seen photos or even watched a documentary, but none of them do the island justice.
Maybe you're unsure. Luckily, we have a saying for that.
Translated to English it goes, "I totally come from the mountains," which means, "I have absolutely no idea." But when it comes to skiing, we snow-loving folk know that the mountains are the very best place to be.
Ready to visit Iceland but feeling like you're coming from the mountains when it comes to choosing a destination? No sweat! We recommend Backcountry Ski Touring in the Troll Peninsula for wild riding on a high lava plateau.