Backcountry Skiing in the San Juan Mountains From Hut to Hut
When roughing it doesn't cut it, head to the alpine huts of Colorado's San Juan Mountains for full-service, Alps-like, backcountry skiing. They'll have the fire lit, and cocktails mixed.
Canada and Europe know how to do hut-based ski tours. The U.S.? Not so much.
But here you are in America the Beautiful and you're looking for a fully-catered multi-day tour without having to hit Duolingo or book an international flight. What are you to do? Head to the high alpine of southwest Colorado, that's what.
Packed into the rugged southern end of the Rockies, you'd be hard-pressed to find a more fulfilling alpine experience than a backcountry skiing trip in the San Juan Mountains. Known for their craggy steeps, aesthetic couloirs, long skiable vert, frequent blue skies and tricky snowpack (more on that later), lesser known are the many impeccably placed and artfully constructed huts hanging out near-treeline at 11,000'.
In fact, this combination offers ski traverse potential that is virtually unrivaled in the United States. Without further adieu, welcome to our little slice of the French Alps right here in Colorado—full-service with just enough rough-around-the edges charm.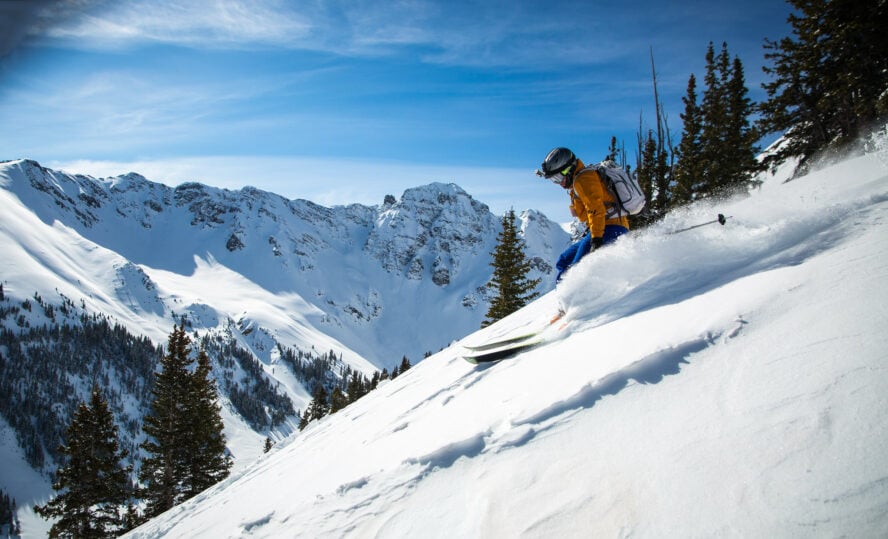 Pros and Cons of Backcountry Skiing in the San Juan Mountains
200+" of snow per year with 300 days of sunshine
Hut reservations are much easier to get compared to those in less remote parts of the state
Easy access to a wide variety of descent options
Unwind with a hot tub or sauna at the end of the day
Avalanche conditions are often dangerous through the winter and into the early spring
The terrain is generally steep and best enjoyed by intermediate to advanced skiers
High altitude can make things more challenging, from sleeping to skiing
The "Biggest Little Mountain Range"
The San Juan Mountains are one of Colorado's most aesthetic ranges. Uplifted by volcanic activity, carved by glaciers, and sharply eroded, they are especially coveted when covered in their winter white.
As Colorado's youngest chain in terms of geologic time, they feature unique, deep couloir features, perfectly pitched high-alpine bowls, endless glades and long, continuous vertical relief. The result is that the "biggest little mountain range" has a high concentration of incredible skiable terrain packed into a relatively small area. In fact, they cover approximately the same acreage as the Swiss Alps, and have a developed hut system similar to their European counterpart.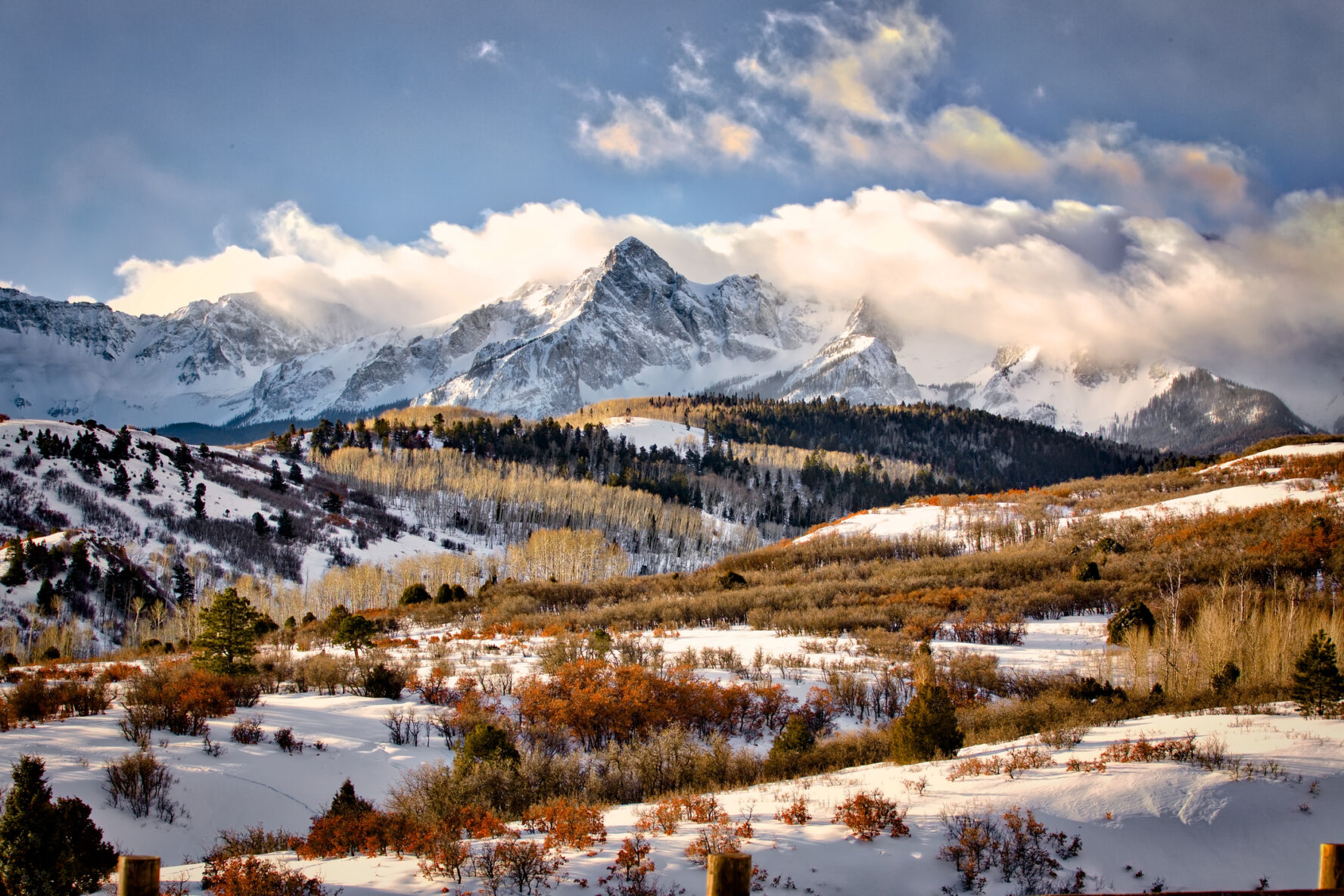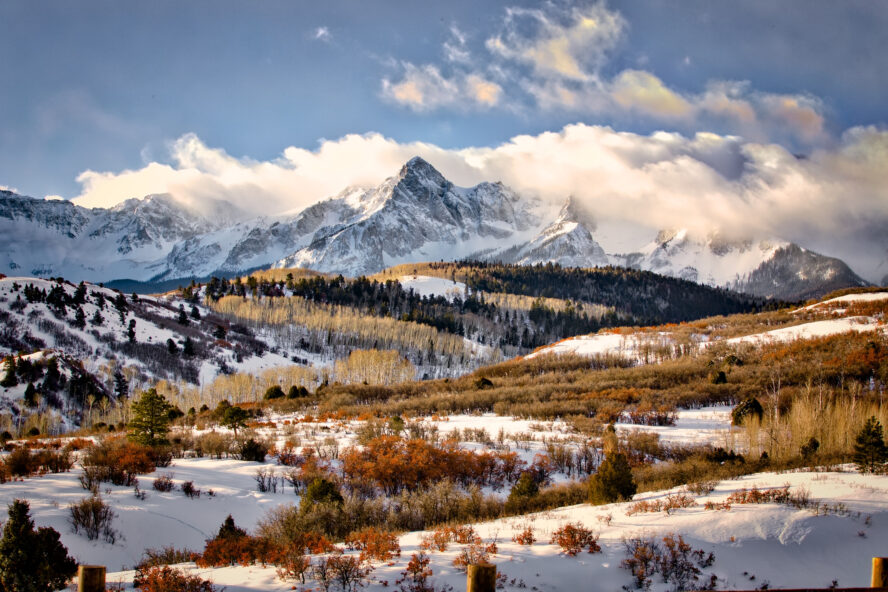 Not only are the mountains unique, so is the snow
The semi-arid climate produces light, dry and low-density powder when it snows—usually around 200" per year—making for excellent skiing and offering some of the best backcountry skiing in Colorado. Thanks to over 300 days of sunshine annually, you are almost assured of clear and sunny conditions at some point during your trip.
Be mindful: What to look out for with the snowpack
However, it's worth noting that the San Juan snowpack is exceptionally tricky to manage most years, and stability varies throughout the winter. This part of Colorado—due to the aforementioned days of sun and large temperature swings—sees long dry spells between storms, which create persistent weak layers within the snowpack.
The snowpack is also usually punctuated by facets (weak snow) at its base. When a thick slab of strong, cohesive snow sits over weak, collapsible grains that a skier or rider is able to trigger, it creates a recipe for dangerous avalanche conditions. This elevated hazard necessitates careful decision making and respect. Local backcountry skiers often reference the "white dragon in the basement," and trust us, you don't want to wake it up.
In other words, you'll want to be dialed in with your understanding of avalanche safety in the backcountry before coming here.
When is the best time to go backcountry skiing in the San Juan Mountains?
With that said, conditions generally become more stable in the spring months, starting from late March to April. Be mindful that others will be getting after it too, so you'll want to review some backcountry skiing etiquette tips for Colorado before you head out.
And no matter the season, checking the Colorado Avalanche Information Center (CAIC) bulletin can help you determine the level of risk. Also note that access to many of the huts I'll talk about below are affected by highway closures due to avalanche mitigation—you'll want to stay on top of conditions and any closures in advance of your trip.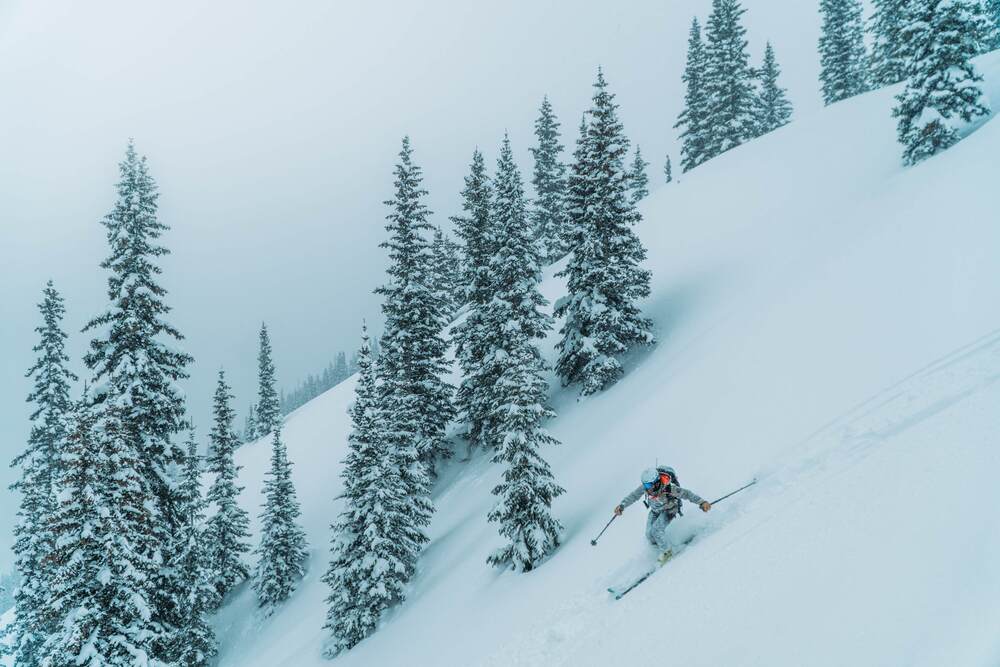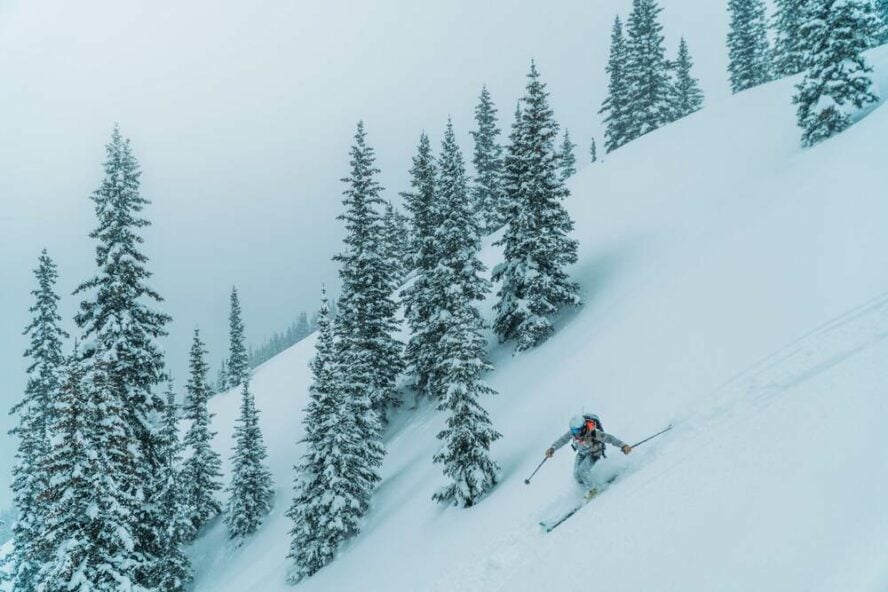 Consider hiring a guide for your San Juan Mountains backcountry skiing trip
If you don't feel confident with your snowpack assessment and avalanche avoidance skills, a local guide can help facilitate your backcountry hut trip in the San Juans. They can take the stress out of the planning process and help you seek out the best snow, wherever you're seeking to do a backcountry skiing tour.
Since these peaks are rugged and craggy, coverage can be variable in the alpine, and the skiing around here is often lovingly described as "scrappy" in certain terrain. In other words, it's generally not the deep snow you'll find among the best backcountry spots in Japan, but it makes up for it with scenery and unrivaled access.
Rest assured that the San Juans hold a lifetime's worth of steep terrain and inspiring descents when conditions allow, much of it convenient to get to from a full-service hut.
It's challenging terrain: How fit should you be?
All of the huts listed have access to a good mix of intermediate backcountry skiing terrain, all the way up to highly technical, expert-level descents. Further, each one sits above 11,000', so the altitude makes everything feel a bit more challenging, from sleeping to skinning.
Those planning a ski hut trip in the San Juans should definitely prepare and come as physically fit as possible. That way, you'll be able to focus on the good stuff, like making perfectly-spaced powder turns visible from the hut window, rather than gasping for air on the uphill.
While a wide range of terrain is available, skiers who can confidently ski black diamond terrain on the ski resort will have much more fun skiing the terrain accessed from these huts. You should ideally be comfortable with ascending and descending a minimum of 1,500' per day to get the most out of what these special places have to offer.
Get to Know the San Juan's Backcountry Skiing Huts from a Local Guide
Few moments make the soul sing quite like waking up miles from anyone, to a vibrant sunrise over alpenglow-painted peaks. Bonus points if you're watching it with a steaming cup of coffee in hand, surrounded by your best ski buddies. Pair it with a restful night's sleep—in a real bed—and a hearty breakfast cooked for you, to get you out the door and directly into deep, untouched powder. Now we're talking.
I have been fortunate enough to call this range home now for seven winters, and all of the huts mentioned in this article stand within a 15-mile radius of my home. In the colder months, I spend my time ski guiding with Mountain Trip and teaching avalanche awareness and rescue courses in the San Juans. When I'm lucky enough, I get to guide guests out to the goods surrounding these outstanding backcountry huts.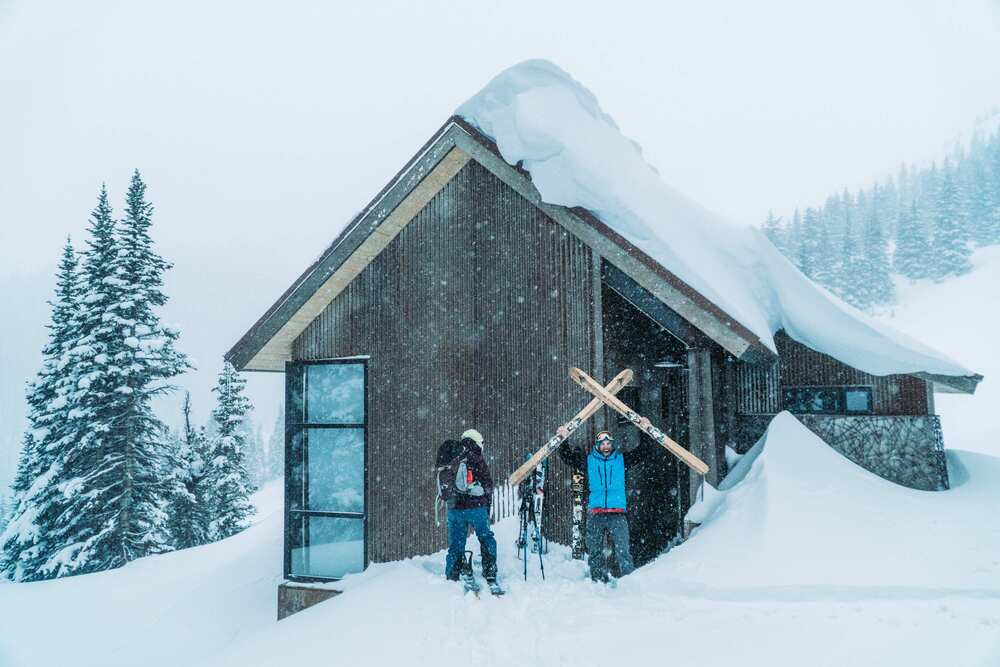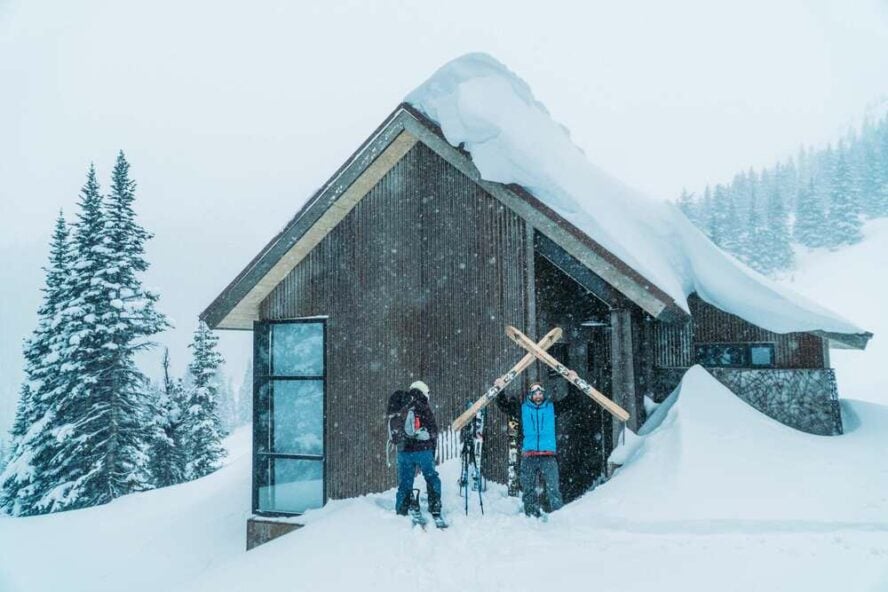 The reason most of these incredible operations have been able to proliferate is the many small mining claims and in-holdings in national forest land. Virtually all of the huts are independently owned and operated—and most offer a full-service, catered experience.
This is in stark contrast to Forest Service huts that you'll encounter in other ranges, or those you'll find backcountry skiing in RMNP which are largely run or managed by the 10th Mountain Division—and that facilitate a more do it yourself adventure.
While many huts in other countries operate as coalitions, all of the huts and backcountry lodges in the San Juans (aside from the San Juan Hut System, that stretches from Telluride to Moab) are run independently. While some huts have a longer history, most of them have been built within the past two decades.
A San Juan huts packing list: What to bring?
The beauty of these huts is that they have most of the gear and food covered for you, so no need to haul in an excessively heavy backpack. Most require that you bring a pillowcase and sleeping bag liner, but otherwise, all bedding is already available. These refuges help slim down your load for the approach, and help you focus purely on the skiing.
Cozy hut clothing, personal toiletries and medications (as slimmed down as possible; don't bring your entire twelve-step skincare routine), light shoes to get to/from the sauna or hot tub, a backpacking towel, snacks and lunch materials for throughout your stay are all essential to each of the huts listed.
I also always pack ibuprofen, a sleep aid (to offset the effects of high altitude, which makes it difficult to fall asleep) and antacids (sometimes digestion works slower up high), as well as a sleeping mask, headphones and earplugs if staying in a communal hut space. Bring a large water bottle with electrolyte mix and drink up, as proper hydration will be one of your best acclimatization tools to help you feel better on both the uphill and the down, and will help offset those post-ski beverages.
Obviously it goes without saying that you'll need all of your backcountry gear as well, including beacon, shovel, probe, pack, skis with AT-capable bindings, skins, poles, helmet, goggles, sunglasses, hat, long underwear, and more.
No WiFi, no problem
All huts have power and outlets available for charging, but a small power bank can be helpful for keeping your personal devices charged. Only a couple of these huts have potential for WiFi access and a few have only very limited cellular service. At several of the huts, if you'd like to reach out to the outside world, you'll have to bring an inReach or other satellite communication device. Or, you can take the time to unplug entirely, a rare opportunity. I'd recommend you to relax, slow down and get your head fully out of your inbox for a few days.
Most are full-service
The Alta Lakes Observatory is the only hut listed below that isn't full service, so in that case you'll need to bring your own food (and alcohol, if desired) for the duration of your stay. All other huts listed have liquor licenses, so don't BYOB. Remember, if at a full service hut, it's customary to tip your hut keeper, so bring along cash or a credit card for that purpose.
The Best Ski Huts of the San Juan Mountains
Apart from the endless inspiring ski terrain, you'll take advantage of some key additional amenities, like saunas and hot tubs to soothe your sore muscles after skiing from dawn to dusk, cocktails and impressive food cooked with care, creative architecture and craftsmanship to admire, and full immersion into a lifestyle of zero distractions.
With that, we've compiled all you need to know to dive (or better yet, ski) into the best alpine huts of southwest Colorado.
Map of the Backcountry Skiing Huts in the San Juan Mountains
Below, each marker indicates one of the huts I'll be chatting about.
OPUS Hut
Quick facts:
Best for:

Those who want to get a bit deeper into the backcountry of the San Juans and have a truly remote experience.

Elevation:

11,700'

Amenities:

Wood-burning sauna, no wifi to fully unplug

Price:

As low as $144/person per night, including all food. See website for additional pricing options.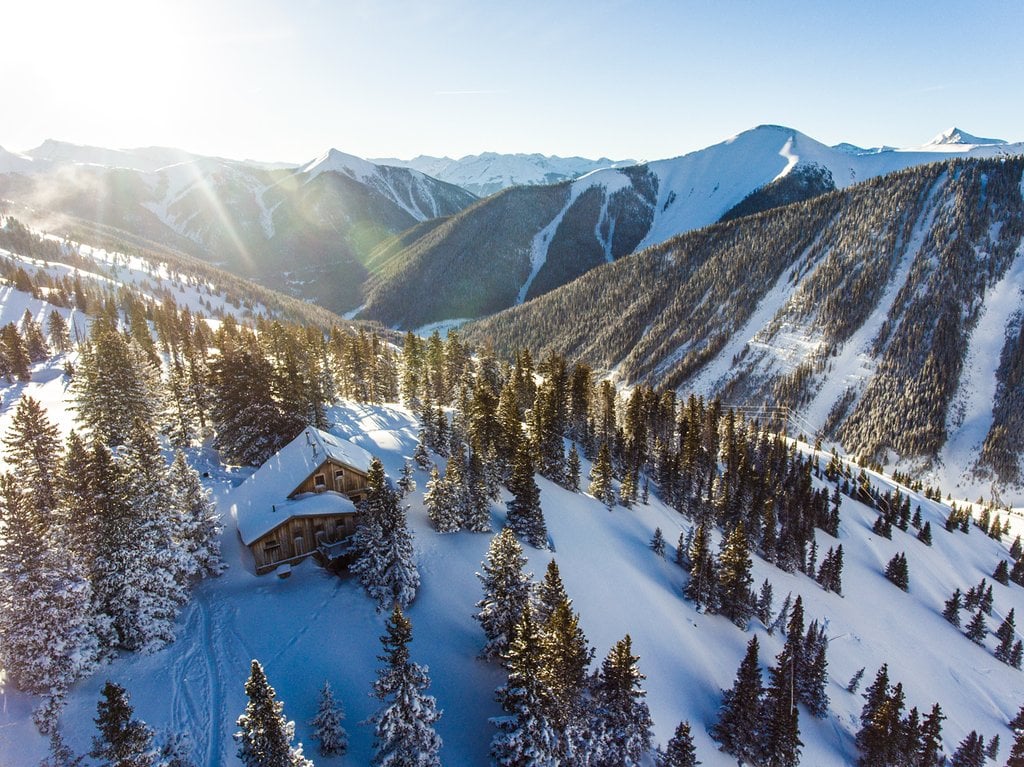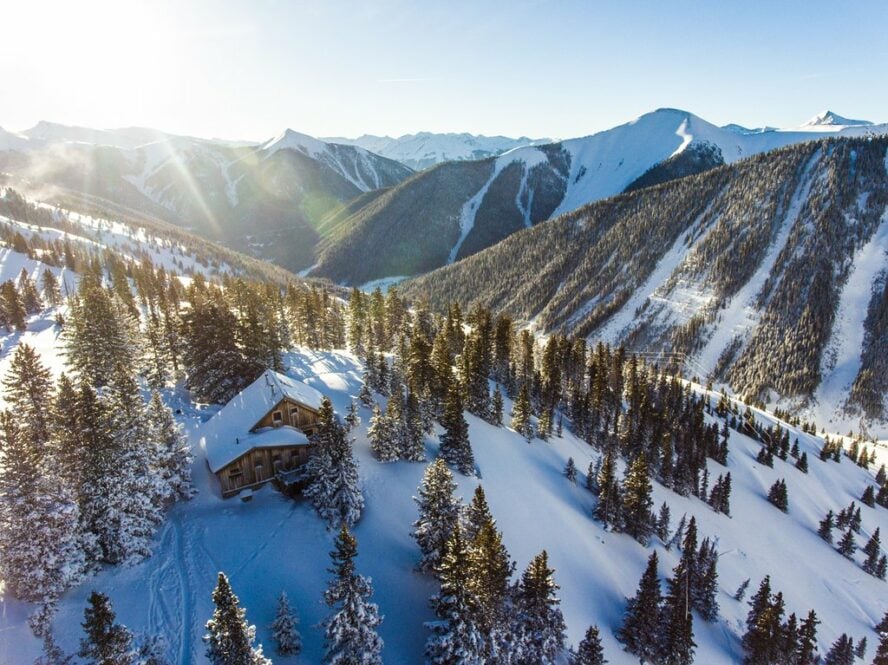 I'd like to consider myself well-traveled, and I've skied in many amazing places–but the OPUS Hut is still one of my favorite spots in the entire world. Built with painstaking care by hand and fully timber framed, the OPUS Hut creates a cozy, high mountain atmosphere like none other.
"OPUS" stands for Ophir Pass Ultimate Ski Hut, and was built by the original owner Bob Kingsley in the early 2000s. The location was hand-selected for its incredible variety of terrain, and access to big alpine lines. You'll arrive after a fairly strenuous ascent from either the west (town of Ophir) or from the east (Highway 550). Both routes cross several large avalanche paths of which to be especially mindful, depending on conditions. Generally, the approach from the east is favored as it's more straightforward route finding and is typically already set by the hutkeepers. When the fire is roaring, soup is on, and the powder is plentiful, there's truly nowhere else you'd rather be.
Approach: The longest approach of any hut listed. 3.5 miles and ~1,800' of vertical ascent from either Highway 550/Red Mountain Pass (recommended) or the town of Ophir.
Red Mountain Alpine Lodge
Quick facts:
Best For:

The discerning backcountry skier of any level who would prefer to be fully catered or guided, those who may not want to backcountry ski.

Elevation:

11,030'

Amenities:

Sauna, luxury furnishings, radiant in-floor heat, showers

Price:

From $278 per person for loft spaces.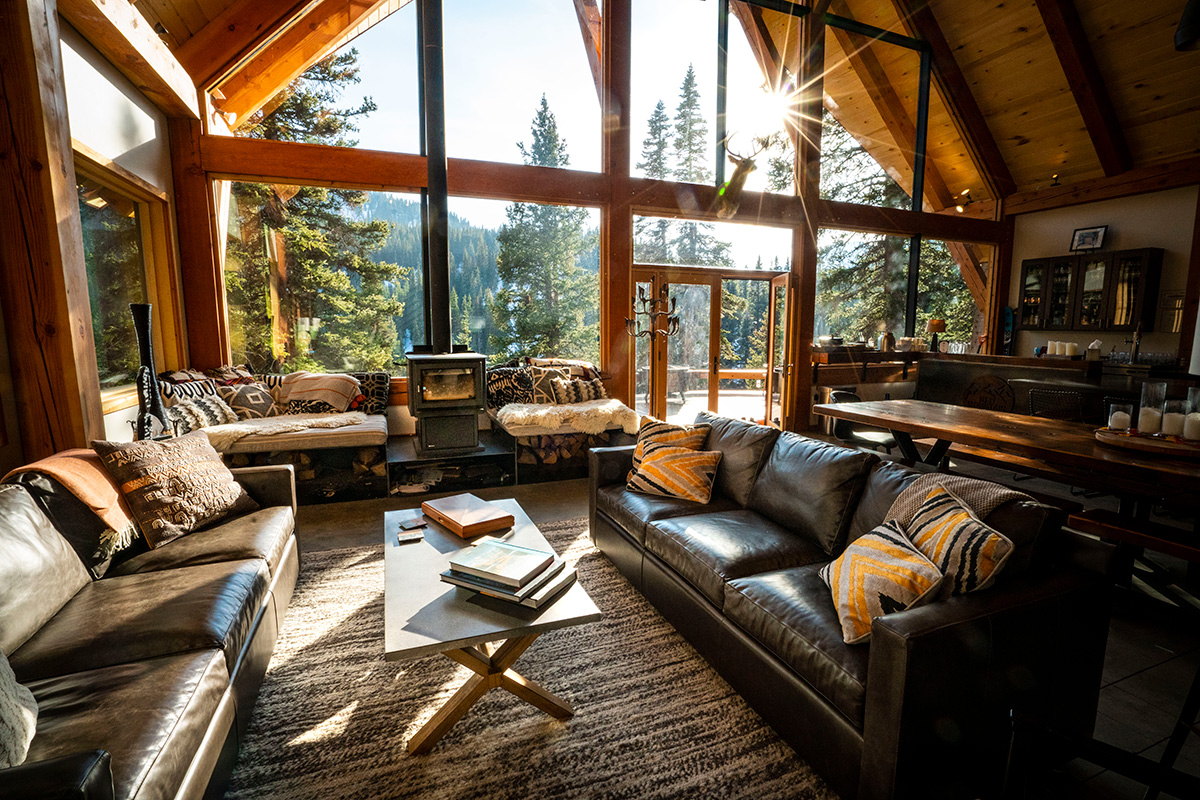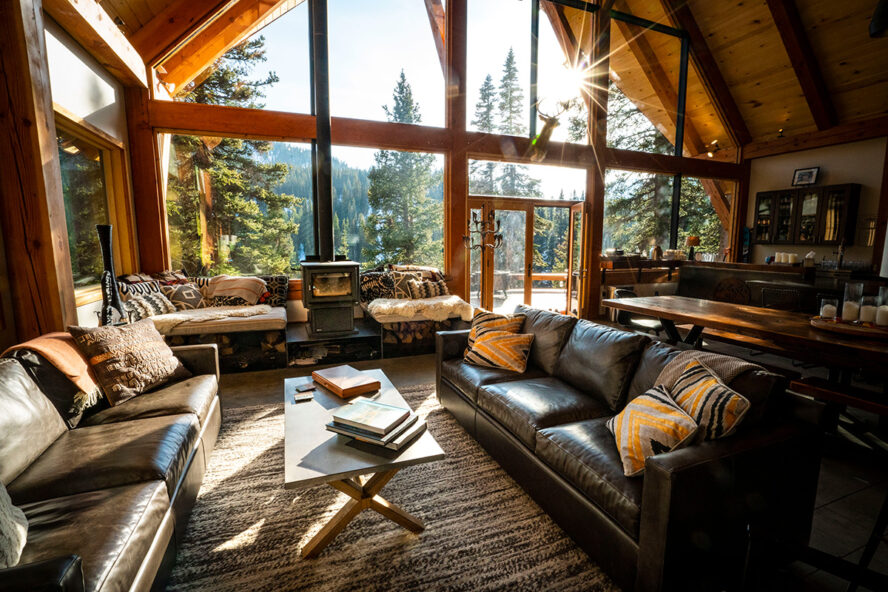 Red Mountain Alpine Lodge (RMAL) is the newest construction of the huts in the San Juans, with a stunning vaulted front window to admire the views. Calling RMAL a "hut" would be doing it a grand disservice.
Like the OPUS, RMAL features European-style, full-service hutkeeping, with a full bar and breakfast, aprés snacks and dinner. As an added bonus, RMAL's close proximity to the highway makes it much more accessible for groups with members who would prefer to approach on snowshoes, or simply check out the hut life for an evening.
Approach: The backcountry skiing is accessed near the summit of Red Mountain Pass, a mere 300 yard approach from the highway.
Thelma Hut
Quick facts:
Best For:

Newer backcountry skiers who want the hut all to themselves and a shorter approach, families

Elevation:

11,500'

Amenities:

Sauna, shower, radiant in-floor heat, potential for in-room massage visits

Price:

$690/night for the whole hut. Two night minimum.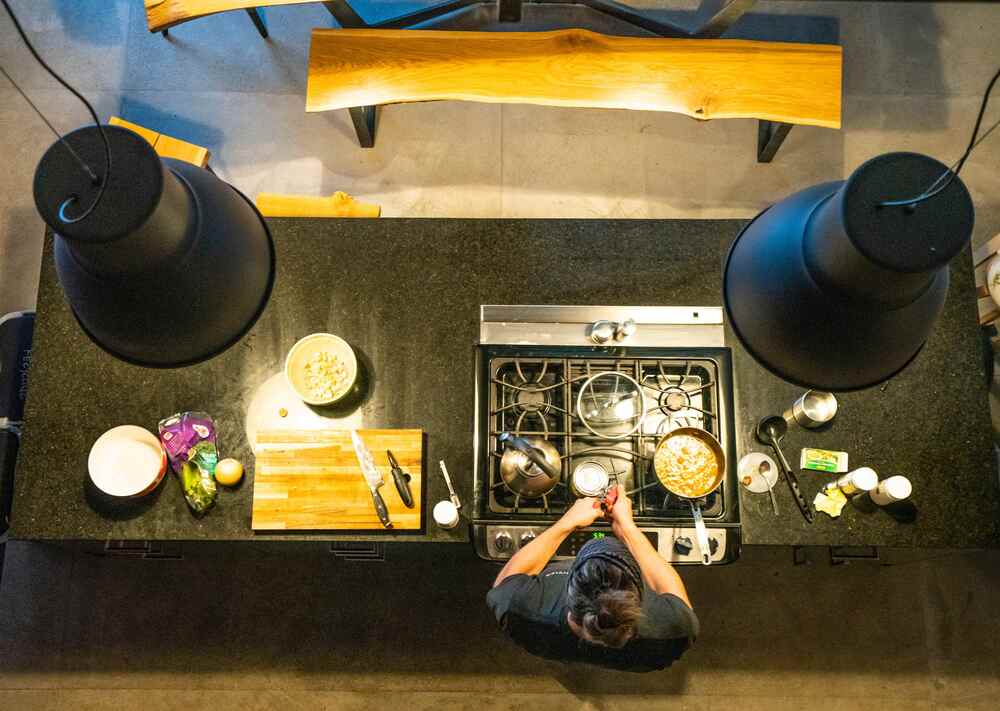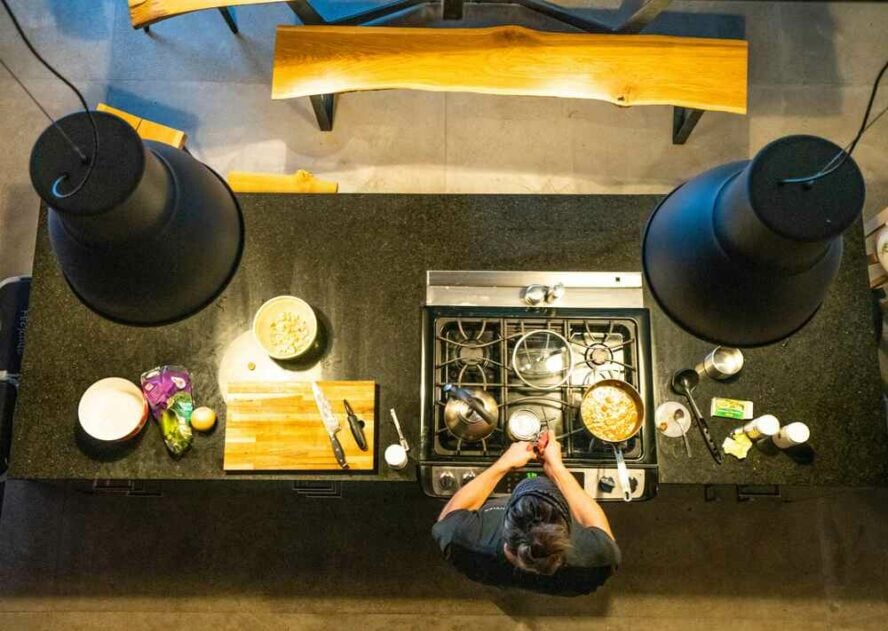 For a private and intimate backcountry experience for you and your crew, the Thelma Hut is the perfect hideaway. Just south and across the highway from RMAL, the Thelma Hut also features a short and simple approach up a country road that is unmaintained in winter. About 600' of ascent will bring you to the doorstep of the Thelma, a stunning, modern cabin with custom ironwork, high ceilings, an open floor plan, beautiful views and a massive back window to take it all in.
The only slight downside to the Thelma is that much of the terrain accessible directly from the hut is south or east facing, and can catch a lot of sun and quickly transform from powder to breakable crust in the springtime. But if you catch it during a storm cycle, there's plenty of great skiing and exploration around Porphry Basin and neighboring drainages.
Approach: About a half mile and 600' of ascent from Red Mountain Pass/Highway 550.
Alta Lakes Observatory
Quick facts:
Best For:

Skiers who want more of a "do it yourself" private experience, parties and events

Elevation:

11,300'

Amenities:

Hot tub, stainless steel appliances, very comfortable beds, giant fireplace stocked with wood, showers. Note: NO FOOD is provided

Price:

$1,000/night for the entire hut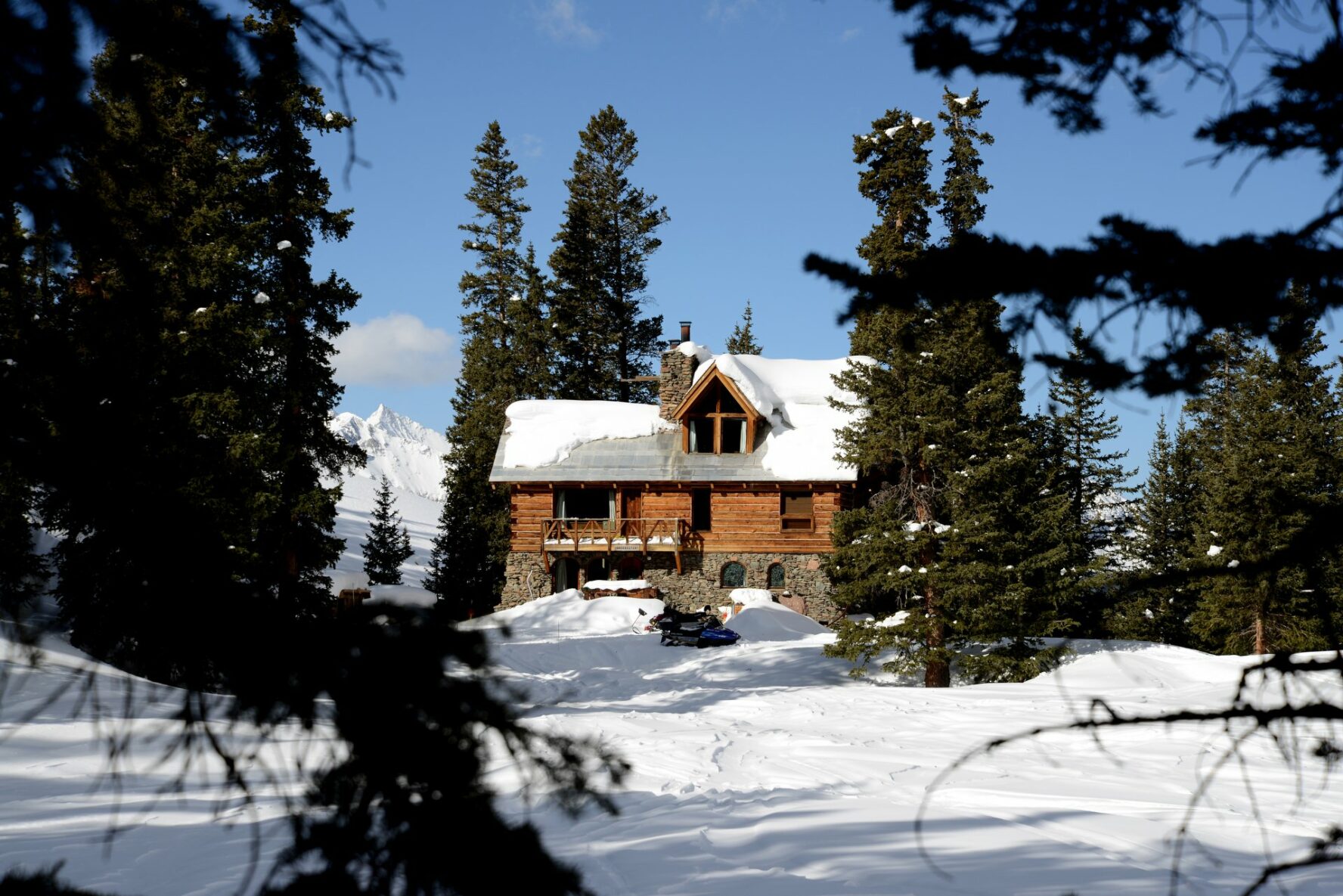 This spacious and beautiful lodge is the stuff of backcountry legend in the local community. Unlike the other huts featured here, the Observatory does not have a hut keeper, and is an entirely private experience.
You'll have an impressive range of terrain to choose from, most of which is a descent all the way back to the front door, which is a huge bonus. If you tire of what's accessible to you directly above the hut, multiple neighboring basins provide even more skiing with a more remote feel.
The granite countertops and stainless steel appliances combine with custom woodwork, stained-glass windows and a massive, roaring fireplace all combine for an unmatched atmosphere that will make you never want to leave. I'd certainly cheers to that under the stars in the bubbling Observatory hot tub.
Approach: Downhill ski and half mile skin from Telluride Ski Resort via the Alta Lakes backcountry gate near Bald Mountain, or a 3.2 mile, 1,000' ascent from Highway 145. Enquire with the Observatory about snowmobile assistance.
Other Huts in the San Juans
Surprisingly, the above list doesn't even begin to cover the plethora of hut offerings in the San Juans, from modest bivvy cabins, to full-service experiences. Here's a brief listing of a few of the other great places to hang your hat for the night in the San Juan Backcountry:
Hayden Hut

Addie S Hut

San Juan Hut System: North Pole, Last Dollar and Corbett Huts

The Bridal Veil Base Camp
Hut-to-Hut Traverses in the San Juan Mountains
To add to the appeal of these huts, and if your route-finding skills are high, you can easily link several locations together to create a true, Haute Route-esque experience without ever leaving the Rockies.
The best traverse that we can dream up would be skiing from the OPUS, to the Thelma, to the Hayden Hut—but the potential is endless.
A quick sample itinerary: OPUS-Thelma-Hayden Huts
Your traverse will begin with the ascent up to the first hut, the OPUS Hut, via the Highway 550 approach. Keep in mind that starting the traverse this way will require shuttling a car from Ouray to the base of Ophir Pass.
Sidenote: There's endless ways to go about this traverse, and to avoid a car shuttle, you could also ski out the backcountry gate of the Telluride Ski Resort and access the OPUS Hut that way—if conditions allow—which would then allow you to descend directly back to your car from Hayden Hut after a traverse up Ophir Pass.
This particular traverse features roughly 22 miles and 12,000' vertical gain and descent, with many not-to-be-missed ski lines around each hut as well. We'd suggest spreading this itinerary out over four to six days.
We'd emphatically suggest hiring a local guide for a ski hut traverse in the San Juan Mountains to take the guesswork out of it, unless you have high level navigation and mapping skills.
If You Think the San Juans Are So Good in the Winter, Just Wait for the Summer!
Not only are these alpine refuges great places to stay in the winter, many of them are also available in the summer. They make for top-notch base camps for mountaineering objectives throughout the San Juans, day hiking, trail running and mountain biking.
Likewise, there are many high alpine routes and trails that make hiking (or even mountain biking) between huts possible with keen route finding. The best time to visit for the summer months would be between early July and mid-September, when the wildflowers, alpine lakes and verdant aspens are impressively beautiful.
Ready to Go Backcountry Skiing in the San Juan Mountains?
The only step left now is to gather your gear, gather your partners, and head to the San Juans for the hut trip of a lifetime. Most huts need to be booked far in advance, especially for holidays, prime dates and weekends, so check out websites when they open for booking around October before each season. Hopefully you soon find yourself with a post-ski beverage in hand, bone-tired from a memorable day, watching the sunset over the San Juans.
You'll agree with me then: In that moment, there's nowhere else you'd rather be.
These blankets of pure white beckon the bold to carve their tracks… are they calling to you? Book your trip for a Ski Hut Trip in the San Juan Mountains today!