Skiing at Sunrise Lodge in the Selkirk Mountains
Trip review
|
Rob Coppolillo
I first heard about Canadian ski lodges last spring and they sounded like everything I wanted in my next winter trip: a remote destination, great snow and mountains that look like the European Alps, but much, much bigger.
British Columbia and the Selkirk Mountains have the perfect ski-balance of amazing snow, bluebird weather and lack of crowds — it takes more effort to get there, so it definitely falls into the category of being a skier's mountain. No party people, only true skiers who mean business and are always searching for untracked snow. My wife prefers places like Japan, but for me, BC's bigger and steeper lines and its perfect, dry snow that stays fresh for weeks only compares to Alaska aside from other best places for skiing in the world. BC, though, is a safer bet in terms of weather especially when you move east towards Alberta and away from the Pacific. It's cold out there, but with the right preparations you can manage the chill with no problems, more on that later.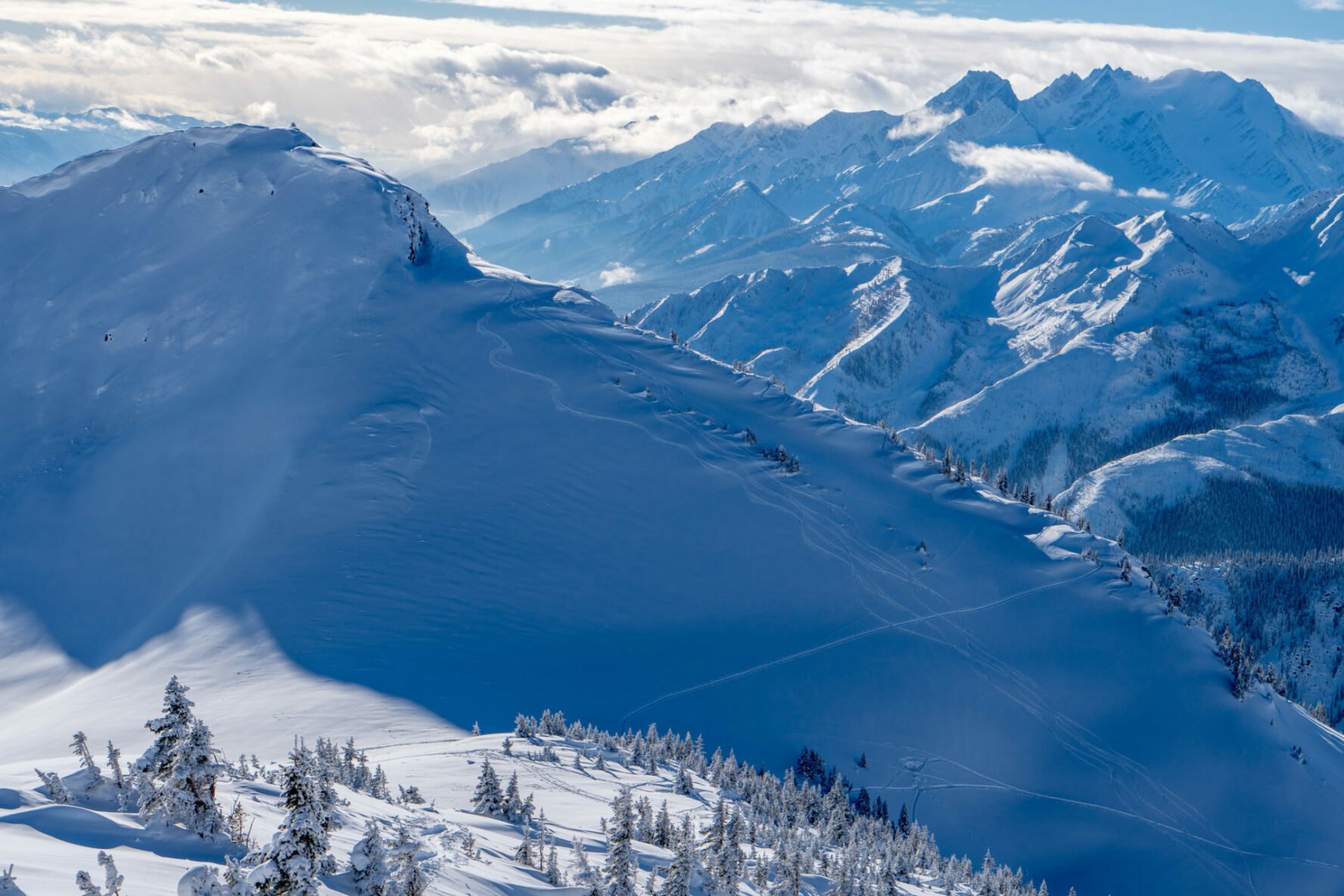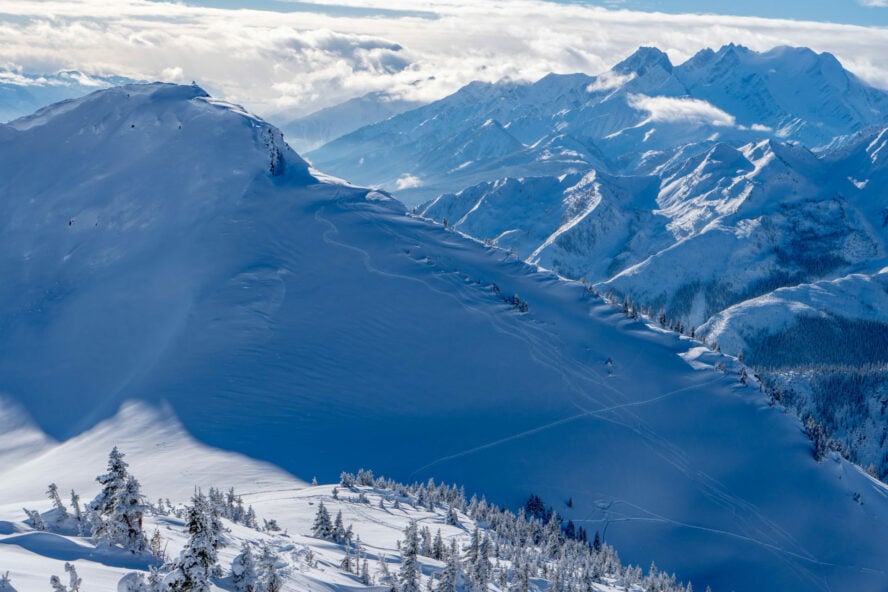 Pros and Cons of Skiing at Sunrise Lodge
It can get really, really cold
So when our friend Rob said he was running a trip out of Selkirk Lodge and that there were two spots left I didn't hesitate. Skiing the Selkirks turned out to be one of the best ski trips I've ever been on. If you are considering lodge-based ski touring in Canada, think about it this way: the Selkirk range has a dozen lodges, but the skiing and setup is similar at each of them and you won't make a mistake by going to one over another. The success of the trip boils down to who you're touring with, your guides and the weather. My wife and I hit the jackpot with all three.
Getting to Golden
Sunrise Lodge is owned and operated by Golden Alpine Holidays (GAH). The meeting point for most lodge-based trips with them is in Golden, BC, which is about a three-hour drive from Calgary. We flew to Calgary direct from Newark on Friday afternoon, got a shuttle to Golden, and spent a night at the Kicking Horse River Lodge, which turns out to be the meeting point for pretty much everyone who's going backcountry or heli-skiing in the area. At 9:00am Saturday morning we took our gear and met with our guides, Tom and Rob, a chef and the 10 other people in our group. There were 16 people which is the max capacity for the lodge. Getting there took a while because we made the trip in groups of four at a time.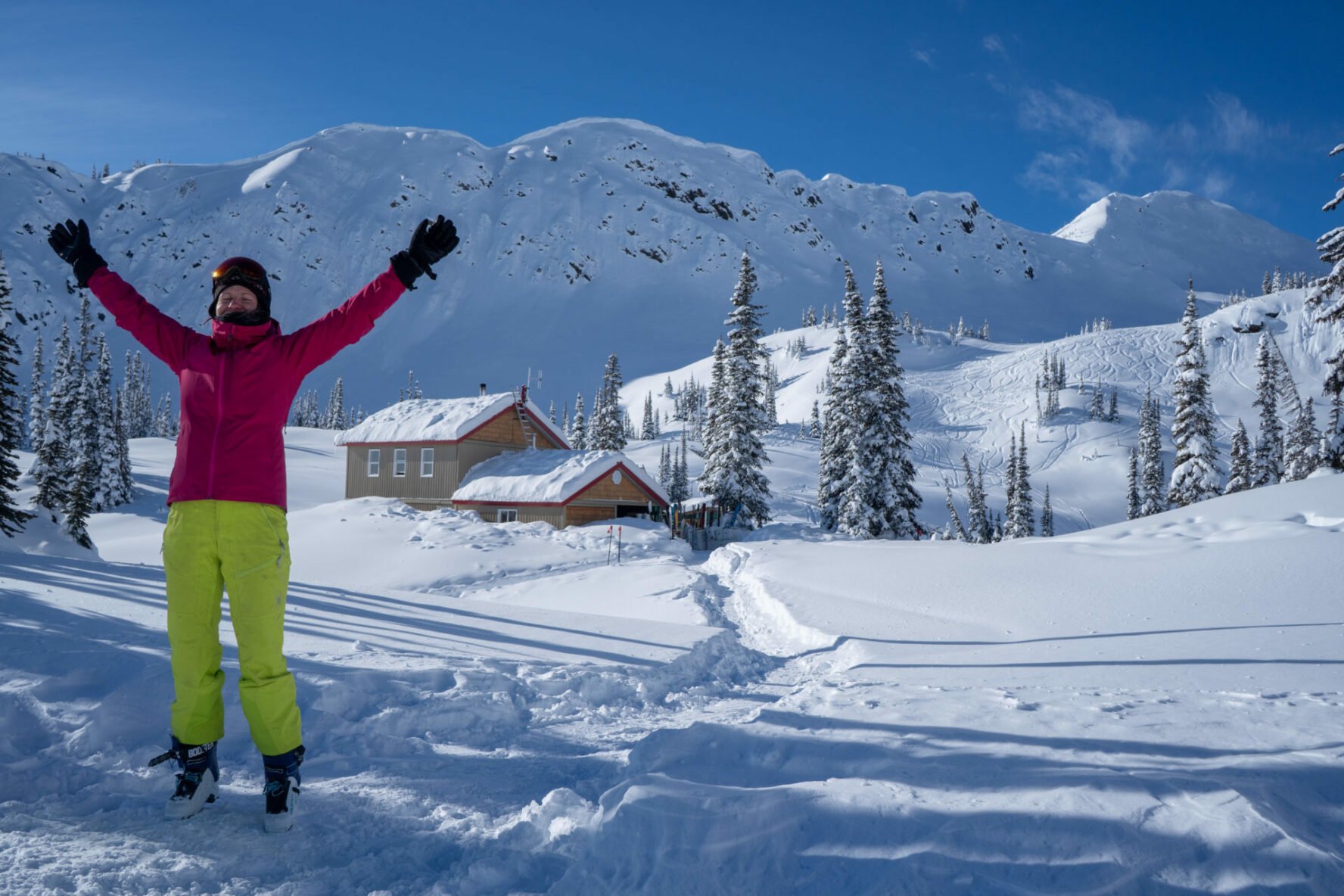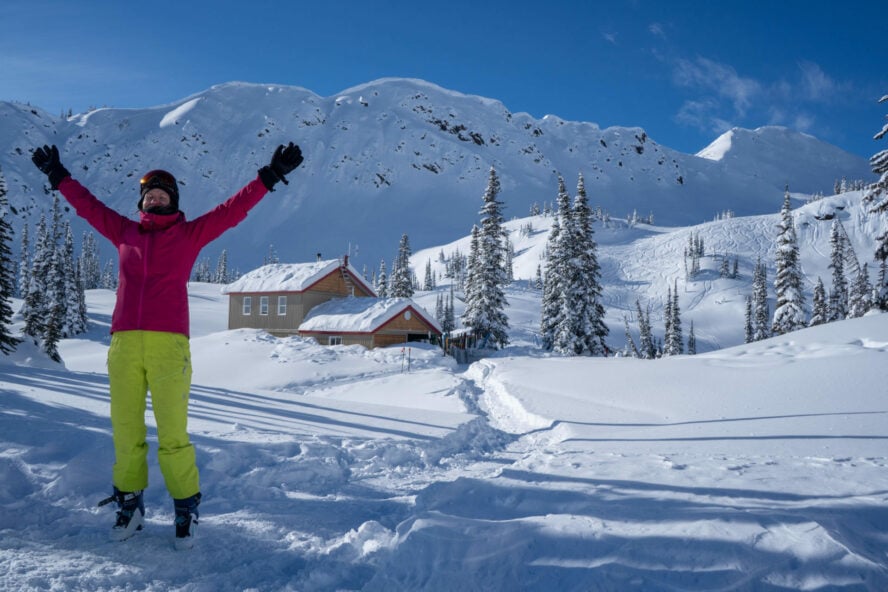 The Lodge
By 1:00pm we were at the lodge. Gord, who was our host at the lodge, (hired by GAH) showed us around, told us the rules and after that we were ready for a quick tour. It was one of the coldest weeks so far that winter and the outside temperature was -28℃, but it was sunny, too, with no wind and felt much warmer than it was. I've experienced worse cold in NYC walking from the subway to work on a windy winter day.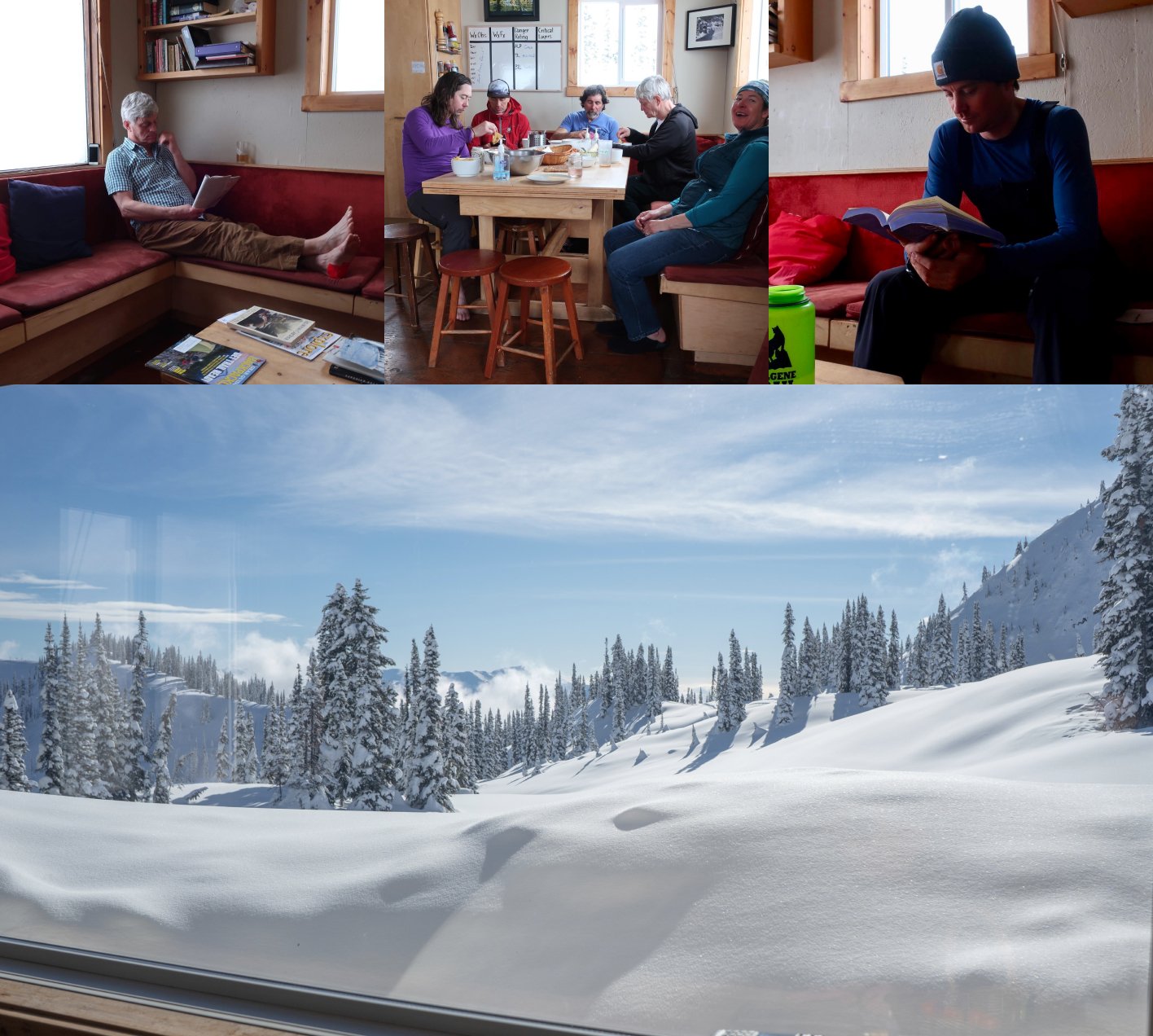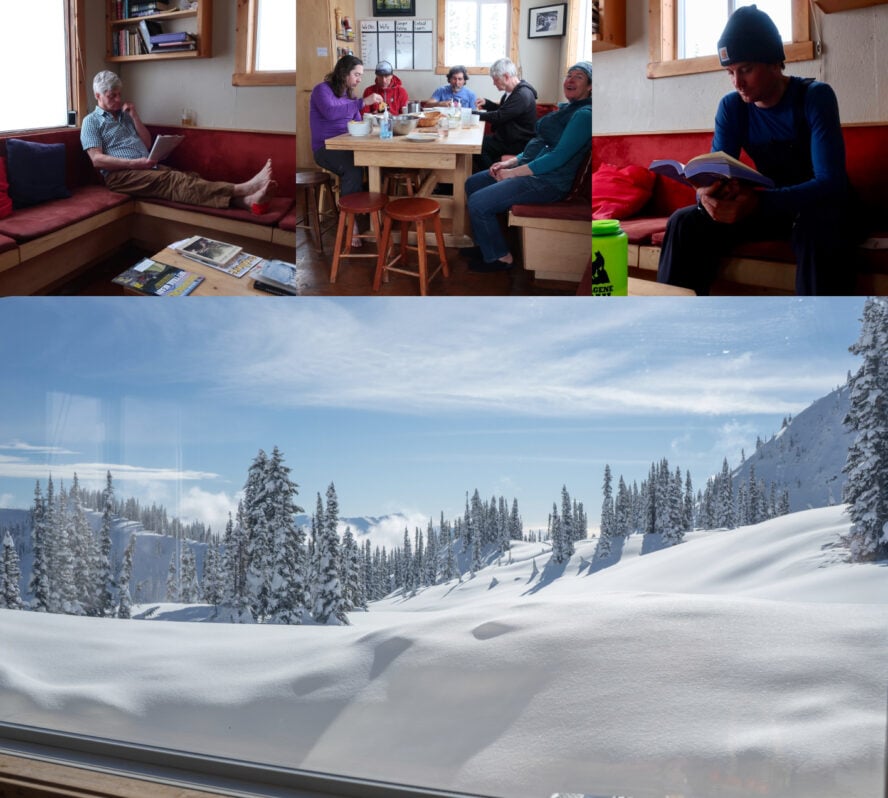 The rooms are doubles and fairly small but none of that was problematic for us. The common area is decently sized and it was a great place to hangout for the week. The toilets are about 100m from the lodge (bring a jacket), but from them, there's great views of the valley, river and lakes. There's a sauna, too, which we ended up using religiously every day after skiing. I'm not usually a big fan of saunas in general, but we were very happy to have it as an amenity.
Guides and groups
Our two guides were Tom Wolfe ACMG/IFMGA, owner of Sawback Alpine Adventures based in Canmore, Alberta, and Rob Coppollio AMGA/IFMGA, owner of Vetta Mountain Guides, hailing from Boulder, Colorado. The guides' nationalities reflected the composition of the group: half were from Canada and half from America.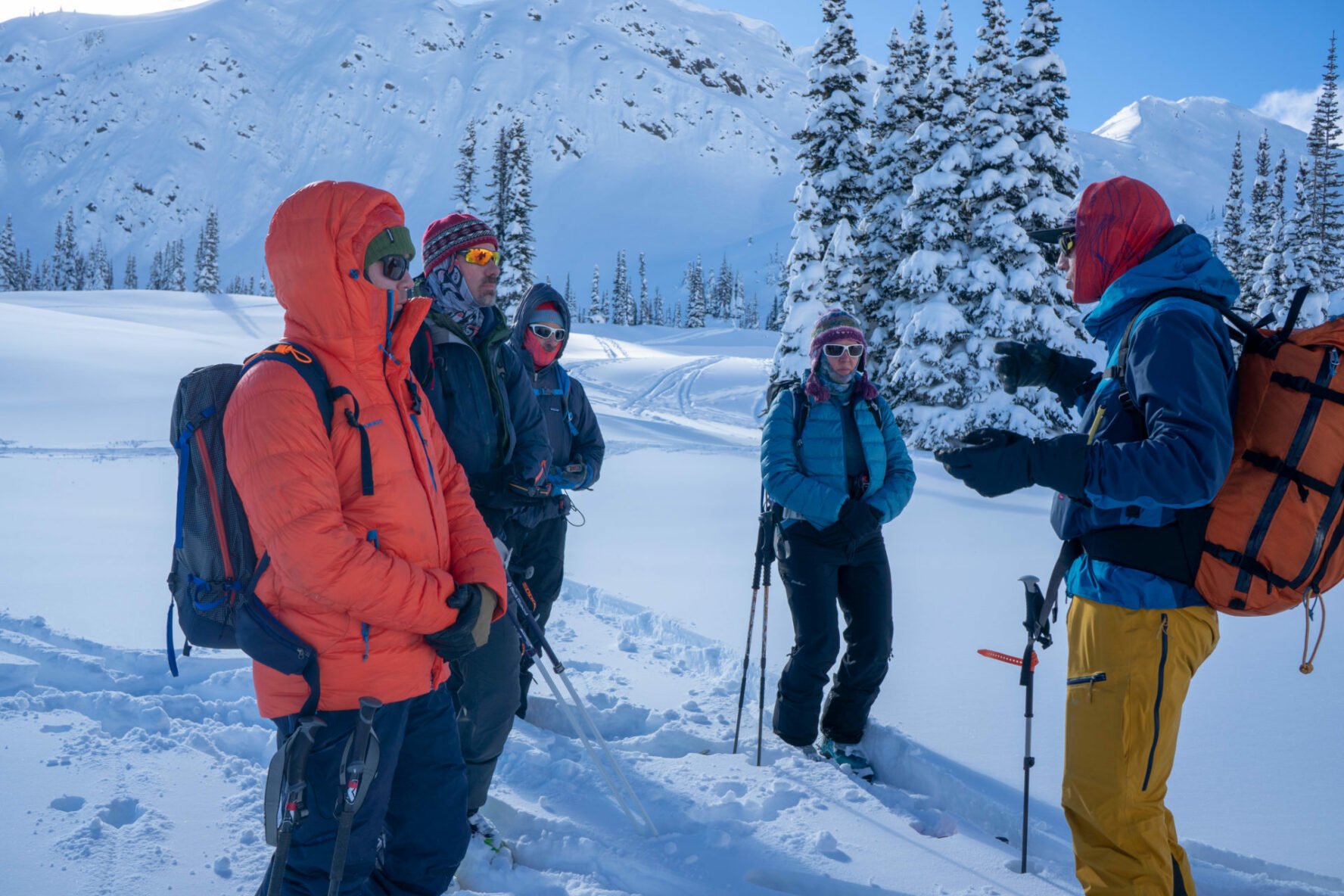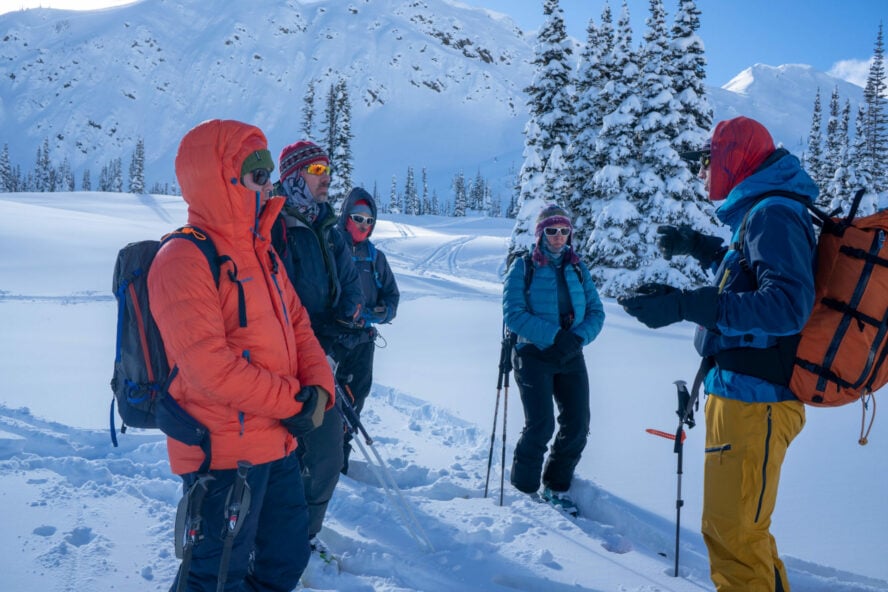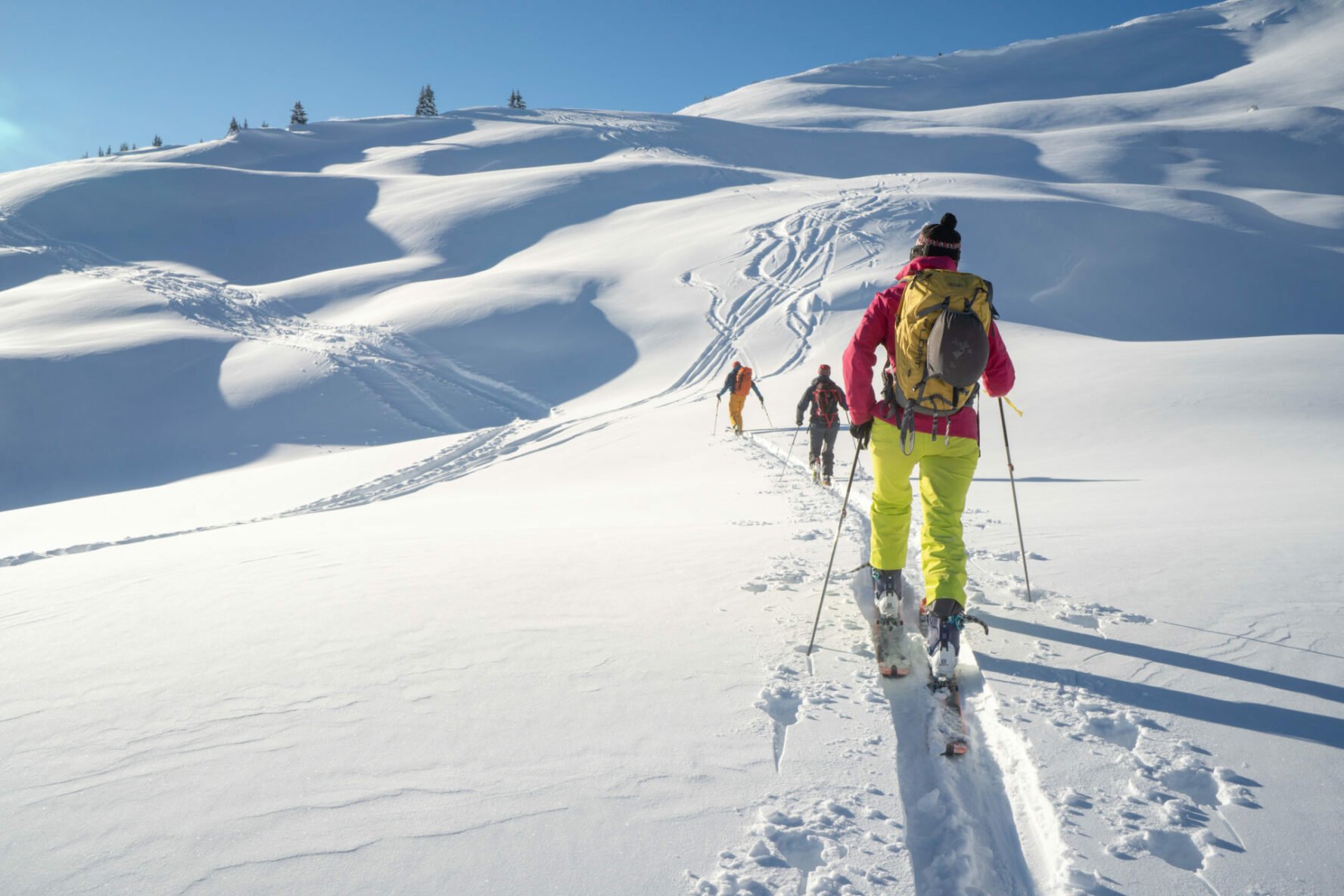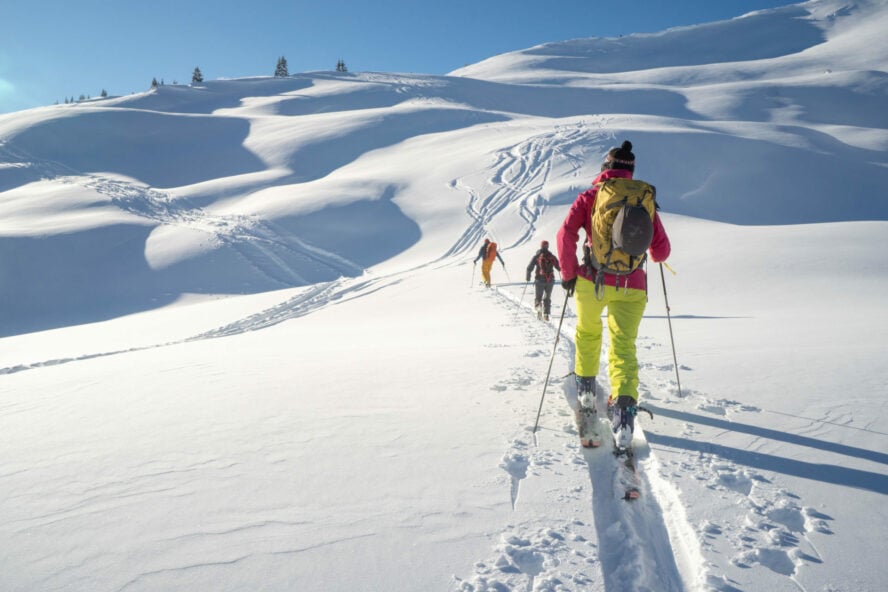 Each day we'd split into two groups – one led by Tom and the other, Rob. Most of the older guys hung out with Tom, and Karmen, who was three months pregnant, joined up with them every day. I switched between the groups depending on how I felt but I enjoyed each equally.
The skiing was really, really good
The conditions in terms of snow were great. Prior to our arrival, there wasn't any fresh snowfall for a week or so but the cold temperatures and high altitude perfectly preserved what was there. However, avalanche danger was at a considerable level in the treeline and below and a moderate level in the alpine (higher altitude).
Due to these conditions, we started out very carefully on those first couple of days and stuck to skiing 30° or less slopes. I didn't mind because we were skiing untracked powder run after run. I was also very happy that I chose to bring my 125mm fat skis because this was the time for them to shine. Imagine the best possible snow on earth: bottomless and fresh. You'll definitely want your biggest skis with you. By the second half of the week we started hitting pillow jumps in the trees and doing steeper stuff, and even the odd bit of ski mountaineering just for fun.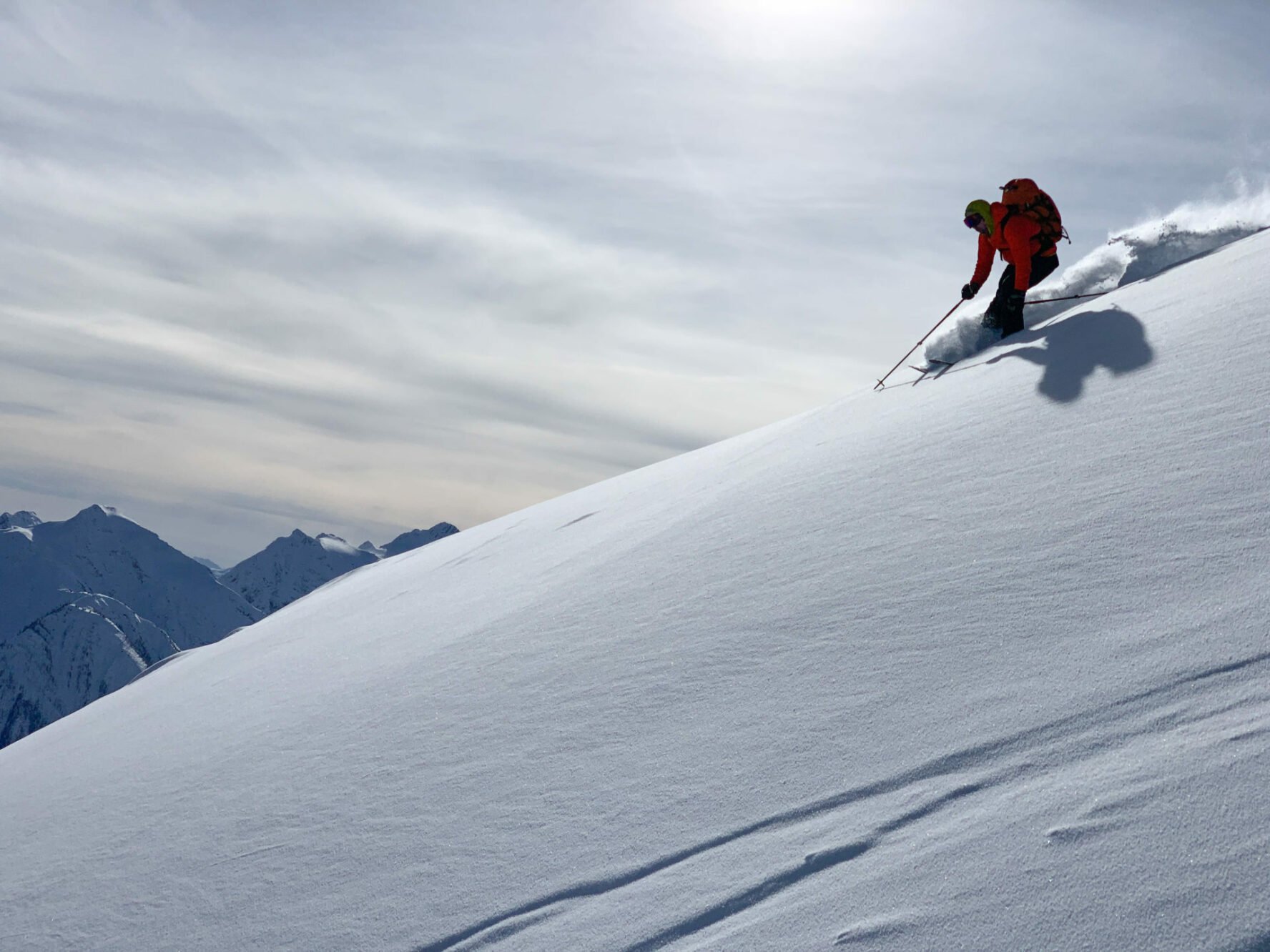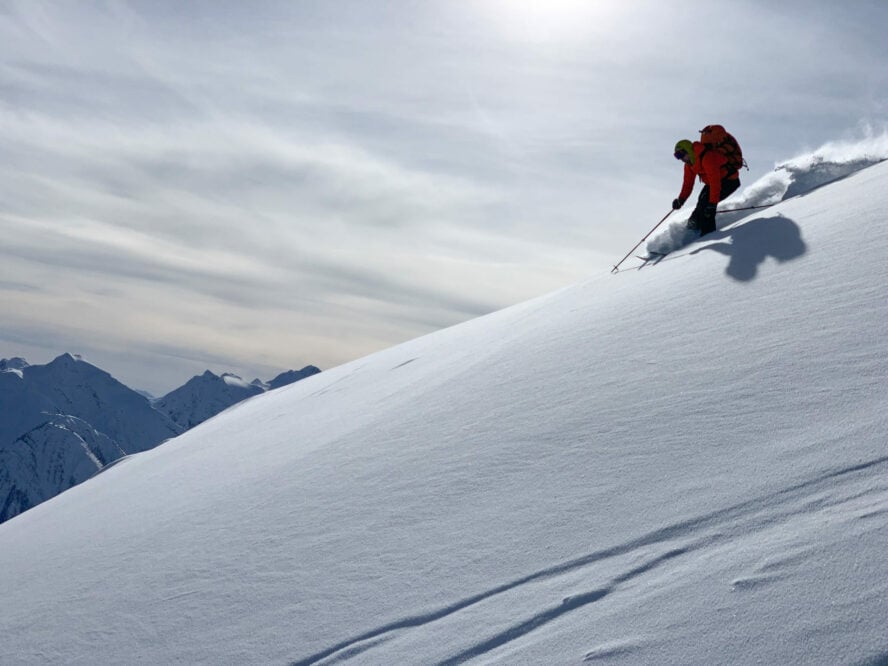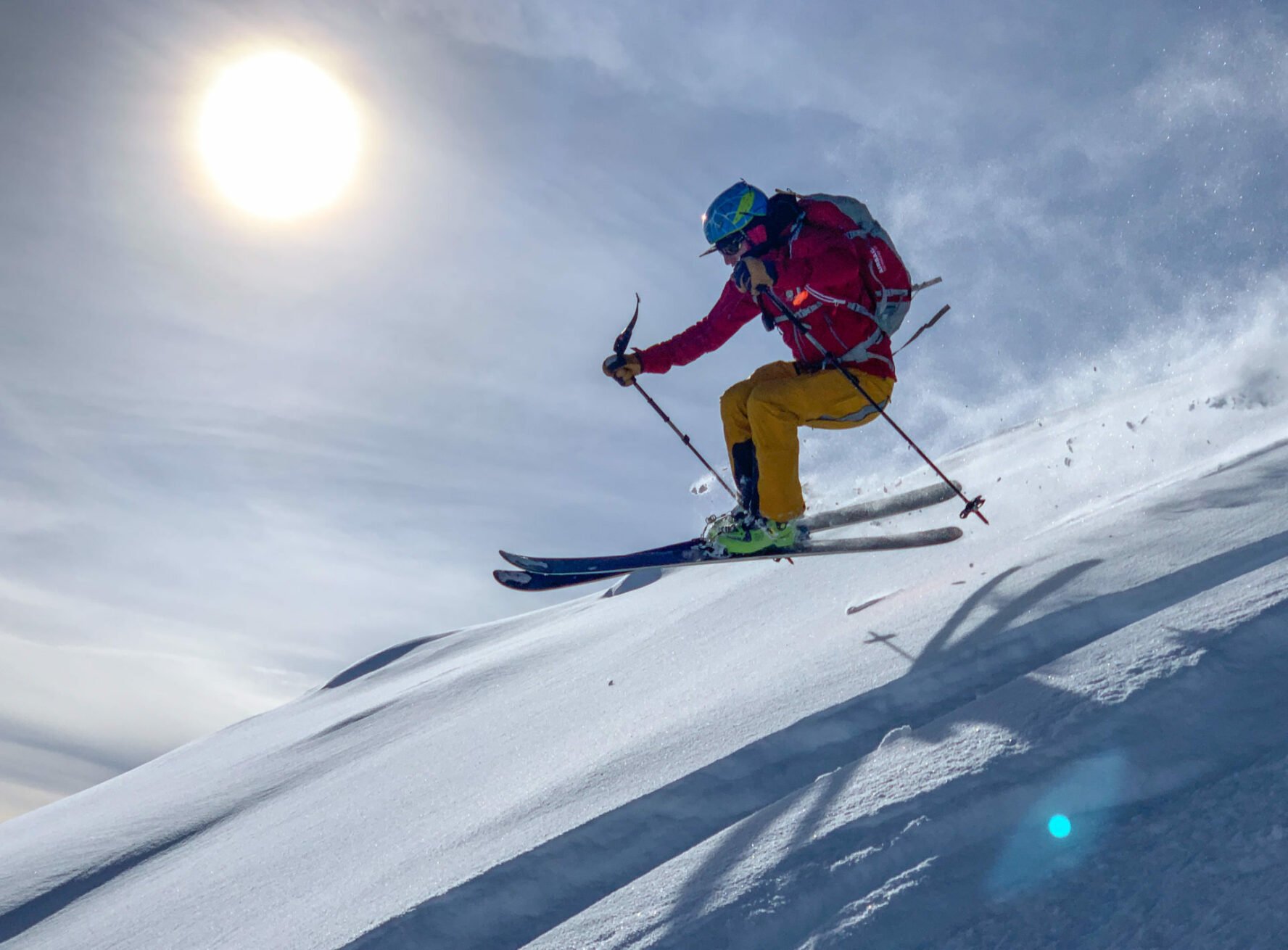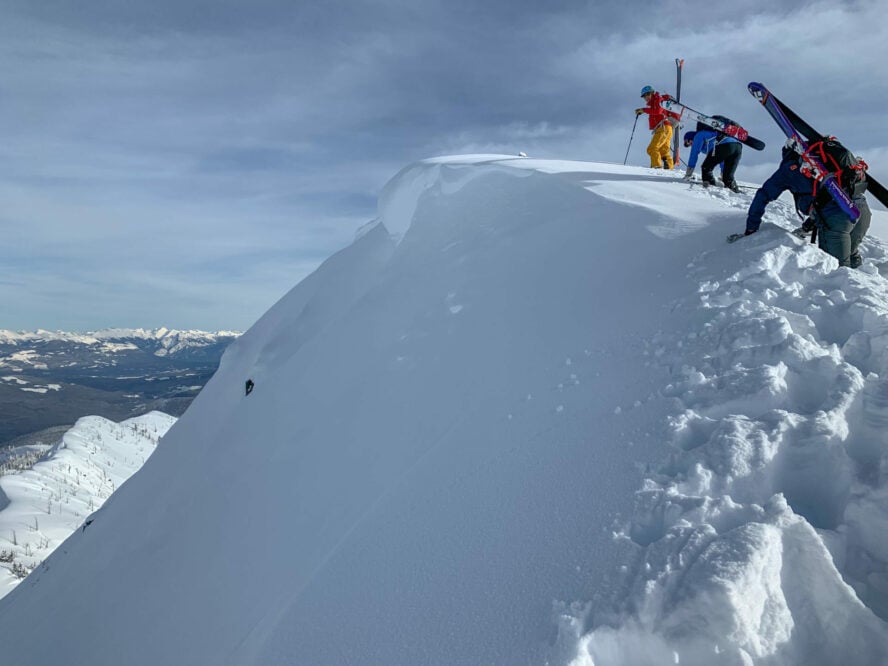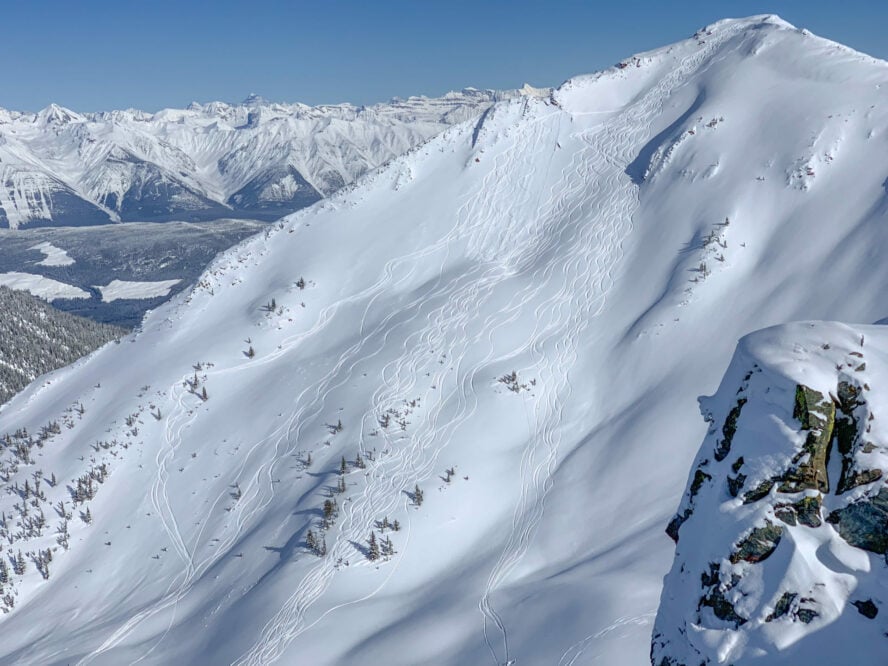 Rob skiing some mellow lines
BC is famous for powder tree skiing but out of the six days we spent, four were in the alpine, higher altitude above the tree line because the conditions were more stable. I actually loved it that way even better because the landscape, environment and those huge mountains are so beautiful to watch all day long.
In the morning we'd leave the lodge around 9:30am and get around 1000-1500m vertical every day, which translates into 3-6 runs and come back around 4:00-5:00pm for a quick snack and then have dinner at 7:00pm.
I think the photos speak for themselves, for me, the skiing was unparalleled. I think that only heli-skiing in BC could top it, but otherwise I can't imagine a better place to ski great snow day after day.
Amazing eats
Michelle, our chef, was simply amazing. I've never seen anyone do what she did: each morning she'd be up at 6:00am, make the most amazing breakfast, ski with us all day long, and then head back to the lodge and make an amazing dinner. I was expecting average food but it was exceptional every day. We had Mexican, Italian, Korean, and French inspired dinners and there was plenty every night.
The six days passed by super quickly. When my wife and I got to the lodge, we expected to relax and take time off, we thought the week would last much longer than it did. But Saturday came faster than expected. I skied so much every day that I could barely walk by the end of the week, but I did feel like a new person.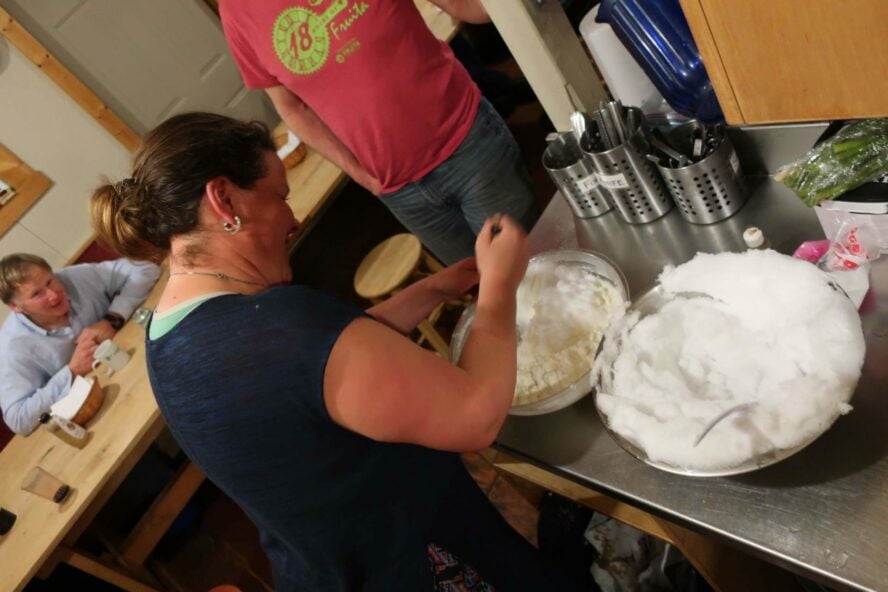 Hire a guide!
Before the trip, I knew Rob and his guiding style very well. He's amazing. It was great to tour with Tom and see another pro at work. Tom was as patient, friendly and knowledgeable as Rob. We lucked out. These guys are amazing people and it was a pleasure to hang out with them, listen to their stories, and learn about the mountains and snowpack.
Hire a guide if you go! Here's why: we saw tracks around from the group who stayed at the lodge before us. It looked like they were skiing the same run pretty much all week long. It seemed like they were touring without a guide and were unnerved because of the sketchy conditions, whereas Rob and Tom took us daily to a new location they knew would be safe, allowing us to ski fresh tracks all of the time. I don't think I crossed a single ski track for the whole week…
Who should ski here?
I'd recommend this kind of trip to pretty much anyone who can ski. We had people in the group who were not experienced powder skiers and there were also people who ski like pros. Everyone had a ton of fun. If you're looking for a place where you can unplug, forget about civilization and ski fresh tracks everyday, the Selkirks are definitely worth the journey.