Partner

Rob covered:
Photo and video highlights of his 2019 epic journey in Svalbard
What skiing "Arctic Pow" is like and the ski conditions you can expect
The sailboat Rembrandt, and why it's your biggest asset
What skiing the celebrated Arctic powder feels like
The gear, logistics, and preparations for a Svalbard ski trip
The benefits of exploring Svalbard with a guide
Fun activities in Longyearbyen, the northernmost settlement in the world
Imagine shredding a mixture of soft Arctic powder and perfect spring corn on an awesome summit-to-sea run you just discovered. At the same time, a multi-course dinner is laid out for you on a 150-foot yacht under the midnight sun. It's easy to see why guide Rob Coppolillo loves his day job.
Starting from Longyearbyen, the world's northernmost permanently inhabited settlement, Rob takes his passengers island-hopping in search of the best possible skiing. From low-angle lines and mild open bowls to long spines and 50-degree technical chutes, the options are as vast as the Arctic ocean. But the fun doesn't stop off the slopes—between runs, they're gliding on a luxurious schooner, enjoying delicacies prepared by a private chef, and meeting the occasional polar bear.
After a two-year layover, Rob is finally back for another Svalbard tour—and the 2022 dates have sold out in a heartbeat!
If you want to learn why Svalbard is one of the best-hidden secrets of European skiing, check out this FREE WEBINAR and find out from an internationally licensed mountain guide and the author of The Ski Guide Manual.
Webinar host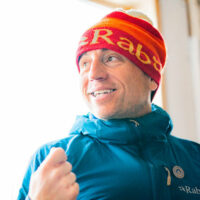 Rob Coppolillo
IFMGA Mountain Guide
AMGA/IFMGA Mountain Guide Rob Coppolillo is one of the first 100 Americans to have earned an international certification with the International Federation of Mountain Guides Associations (IFMGA). Having lived in Boulder, Colorado, for 30 years, he's now based in Chamonix, France, with his wife and two sons. He's a freelance writer who speaks English, Italian and French, and his educational book, The Mountain Guide Manual, is one of the official textbooks of the AMGA.