How to Backcountry Ski Rocky Mountain National Park Like a Pro
I've skied some of the steepest lines of my life in Rocky and lived to tell the tale. With the right intel and prep, you can too. Here's what you need to know.
Colorado is home to some of the USA's best backcountry skiing… if you know where to look. Rocky Mountain National Park is a good place to start. One of the US's marquee national parks, Rocky offers world-class rock climbing, alpine climbing, and if you plan right, exceptional backcountry skiing. A playground of steep couloirs, forest glades, and secret stashes, it's also known for sketchy snowpack and hordes of hungry backcountry skiers. But, with some shrewd decision-making and the right attitude, you can find unforgettable skiing in Rocky's 265,000 acres. Learn where to go, when to go, and how to make the most out of one of Colorado's top spots for backcountry skiing.
Pros and Cons of Skiing in Rocky Mountain National Park
The towering peaks, rowdy couloirs, and hidden stashes make for prime backcountry skiing
Thrill seekers will find in-your-face steep skiing
Safe, fun tree glades for less extreme skiers
Shallower, weaker snowpack than many other places
Come mid-winter, the weather gets tough
The park gets crowded during peak season
Backcountry skiing near Estes Park
Travelers to Rocky will most likely arrive through Estes Park, a small mountain town that's surrounded on three sides by Rocky Mountain National Park. It's gangbusters in the summer with RV traffic, tourists scarfing cotton candy, and various knick-knack shops. Winters used to be dead quiet, but Colorado's exploding population has busied Estes Park. Still, if you're willing to get up early, go a little farther, you can find fewer people, untracked snow, and fantastic riding conditions.
The best access spots
One of the highest national parks in the nation, Rocky Mountain National Park tops out at an elevation of 14,259' at the tip of Longs Peak (one of Colorado's famed 14ers and site for one of the best hikes). You can access Rocky from its western side, outside Winter Park and Granby, at the Grand Lake Entrance Station, but few do in the winter. It's cold, remote, and far from the best skiing.
More likely, you'll arrive from Denver, Boulder, or Fort Collins, on the east side of the park. From there, you have two main road options: the Bear Lake Road or up Highway 34 towards Trail Ridge Road (the highest paved through road in Colorado). Trail Ridge is closed in winter, but they drop the gate just past an abandoned ski area, Ski Estes Park. The little ski hill closed down in 1991 but has since become a popular spot for backcountry skiers and splitboarders. Bear Lake Road ends at, you guessed it, Bear Lake. The National Park Service offers these Rocky Mountain National Park maps of the area for reference.
Most skiers know this zone as "Hidden Valley," but whatever you call it — the skintrack gets established early in the season and is a great pre-season training spot. It's fun, social (hopefully again in 2021 with all this distancing!), and has many options to reduce exposure to avalanche terrain. Rest assured, though, there is avalanche terrain in Hidden Valley, so keep your guard up! I've had some really fun, expectedly good days here, on courses and just skiing with friends. Go get some!
Ski touring in Rocky Mountain National Park
Although Rocky Mountain National Park earns its rep among the best places to backcountry ski in Colorado, riding in Rocky requires some prep, careful terrain assessment, and solid fitness if you want the goods. Essential before leaving the trailhead is Mark Kelly's Backcountry Skiing and Ski-Mountaineering in Rocky Mountain National Park. This RMNP guidebook is the reference for Rocky and will steer you to 85% of the goods. And the other 15%? Well, Mark will be the first to tell you, exploration and map reading will get you into the secret stashes — but you've gotta work for it!
Years ago, Mark and I both apprenticed with the same mountain guide. Mark was years ahead of me in the guide program, so I was lucky enough to steal some of his tricks and learn from him. He never gave up all of his stashes, but he gently pointed me towards a couple. Thanks, dude!
The Best Rocky Mountain National Park Backcountry Ski Spots
Armed with appropriate terrain choices and Mark's guidebook, start looking at lines suited to your goals. Big day atop a 14'er? No problem, Rocky will deliver. Safer glades like the east face of Flattop or above Hidden Valley? Easy! Looking to see what true 50-degree terrain feels like? I'd recommend waiting until the bulletin goes all green and/or until spring, but to each his own. Taylor headwall, the east face of Notchtop, or the north face of Longs Peak — these and many other lines will give you a taste of what "you-fall-you-die" skiing feels like. These big mountains require expert terrain selection and management, so keep in mind, you're playing with fire… but if that's your thing, you'll find it in Rocky.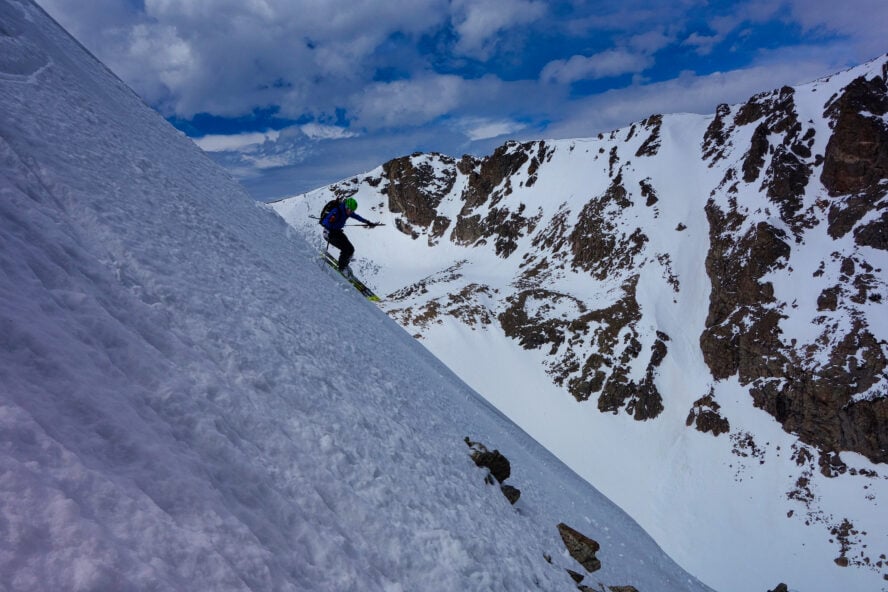 1. Skiing the iconic Longs Peak
Longs Peak, accessed usually from the Longs Peak Trailhead on Highway 7, is a plum skimo summit, but it's a long way back there, so ticking it in a day will tax the legs. It's doable, but realize a one-way trip to the summit is going to cost you over ten miles, and the weather can be downright Patagonian in its ferocity. Skiing any line off Longs is a hero day, so consider a bivy, the right partners, and steel yourself to the rigors. It's worth it!
I mustered up the nerve to try the North Face (AKA "Cables Route") with two buddies and we indeed skied it. But not before our forecasted bluebird day turned into an overcast, refrozen horror fest. I admit nothing, but let's just say one of us was a little puckered and might have had an ice ax out for the first couple hundred meters.
2. Safer skiing below treeline on Flattop
The east face of Flattop has low-angle glades, perfect for skiing and riding if the avalanche danger is higher than you like. You'll park at Bear Lake and skin for … a while. If you're coming from sea level, you'll feel it! Plan on around two hours to the top if you're casual and onsighting. Take your time, hydrate, and relax. The winter skintrack loosely follows the summer trail, but have your maps dialed and don't mindlessly follow tracks — pay attention, put in a quality uptrack, and set yourself up for a good run!
3. Level up at the Banana Bowl
Above the east-facing glades lies the Banana Bowl. It's a step up in terms of avalanche exposure, with above-treeline skiing and more exposure to the wind, but it's a reasonable tour many days of the year. Check the avalanche bulletin and watch for obvious signs of unstable snow — cracking, whumpfing, and avalanches.
This terrain catches wind-distributed snow from the long plateau above, which both raises avalanche danger, but can also provide some very deep skiing. One of my first pow days up here I tagged along with IFMGA guides Eli Helmuth, Miles Smart, Liz Smart, and a few others. I had no idea the skiing could be so good just an hour into the Rocky backcountry. So good!
In and around the old ski hill, you'll find decent alleys in the trees and even a bit of above-treeline skiing. In the last few seasons, there's been a beacon park established, so you can practice your search skills a bit, too. Hidden Valley has become a hot spot for Front Rangers looking to get into the backcountry, so go early and keep your eyes peeled for skiers above you. The terrain is relatively forgiving, but that doesn't mean there aren't terrain traps and occasional avalanches! Great skiing, though, and a fun social scene.
5. The Dragontail (and Dead Elk)
For better or for worse, it seems like the entire Front Range ski community knows and covets the Dragontail Couloir. It faces southeast and offers a fantastic line down to Emerald Lake. Park at Bear Lake and follow the hammered-in skintrack to Emerald Lake. Fast groups can do this in a half-hour. Me? I like to stop for donuts (from the Donut Haus in Estes!), so let's just say I hold no FKT's in the park.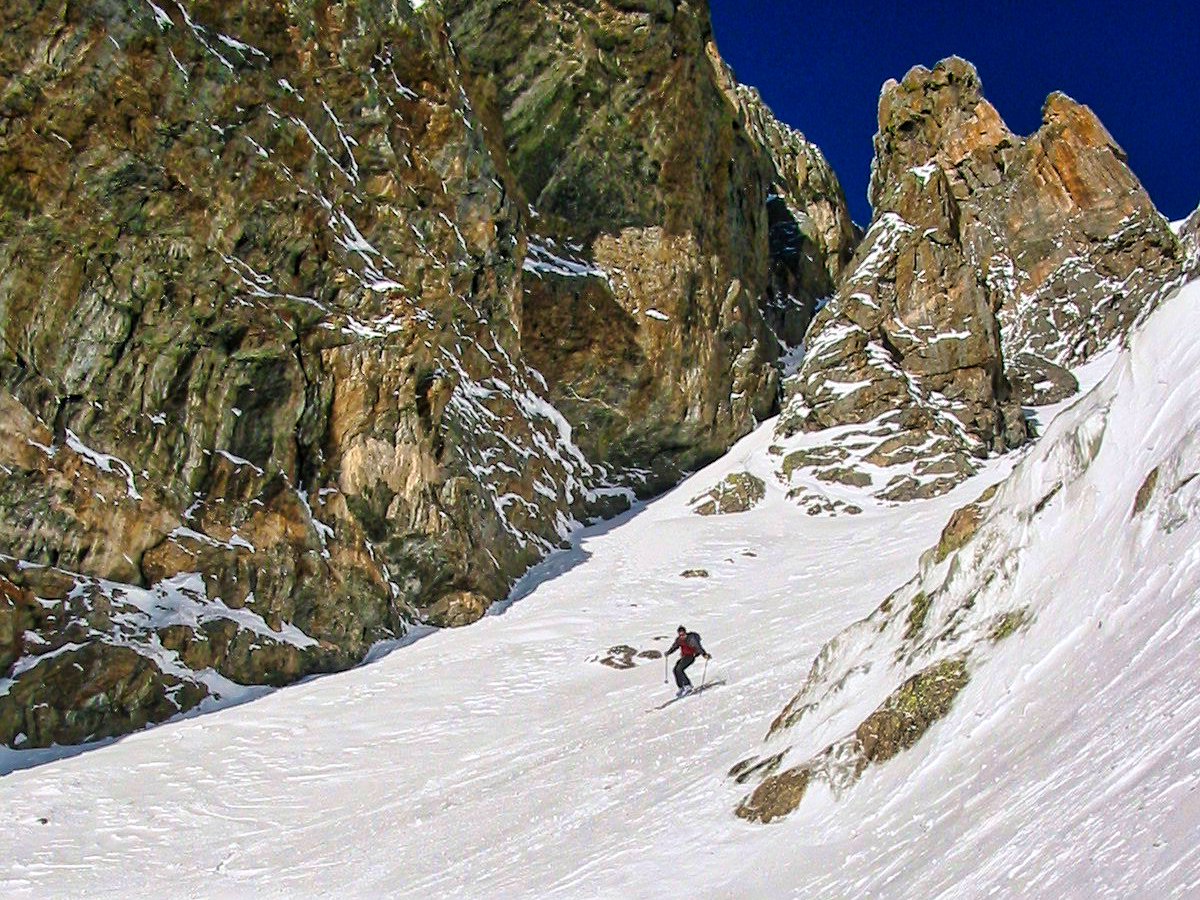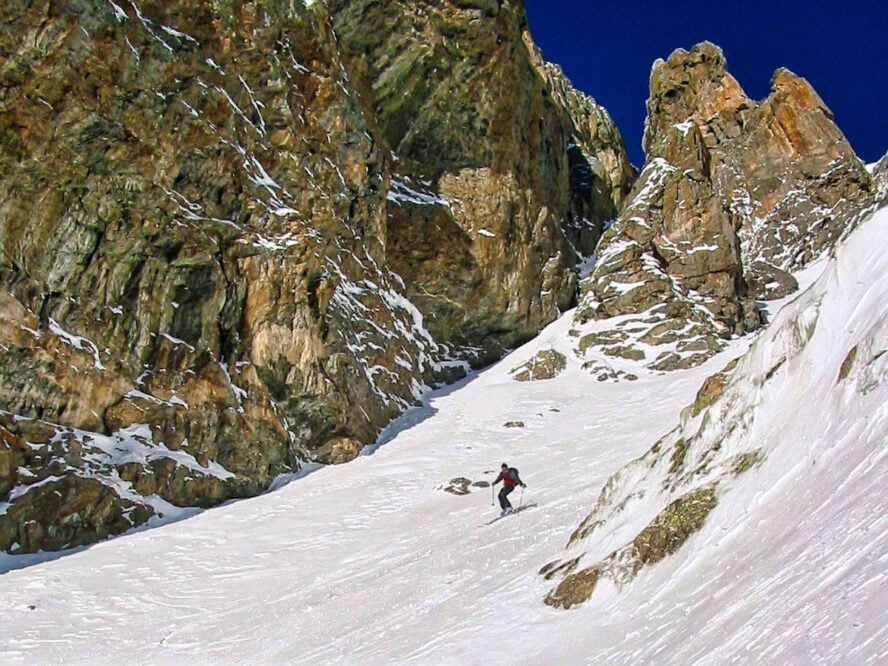 Do not underestimate the Dragontail, nor the "apron" beneath it. The apron is exposed to avalanches, and the couloir itself pukes regularly. It receives sun at first light, at least from March on — if you sleep in and start booting the thing at 9 a.m. under bright sun, you might be asking for trouble. With the crowds in Colorado now, booting the entire feature might not be the best call anyway. For a top-down ski, approach from the Flattop trail and carefully evaluate the drop-in. It is often wind-loaded, and it's steep. Mark's guidebook will get you there, but you need to evaluate the snow carefully and consider if there are people below you.
The Dead Elk Couloir sits just west of the Dragontail. It also offers amazing skiing but is high-commitment terrain. An avalanche in the gully would be unforgiving. Awesome ski, but definitely serious terrain.
6. The Big Four
The Taylor Headwall, the east face of Notchtop, Longs Peak's north face, and the Notch Couloir (on Longs) — these are four of the most notorious plum lines in Rocky. They are steep; in firm conditions, a fall would most likely be fatal; and they're proud. Don't even consider riding these lines unless you are knowingly playing the game. This is lethal terrain that has killed climbers and skiers.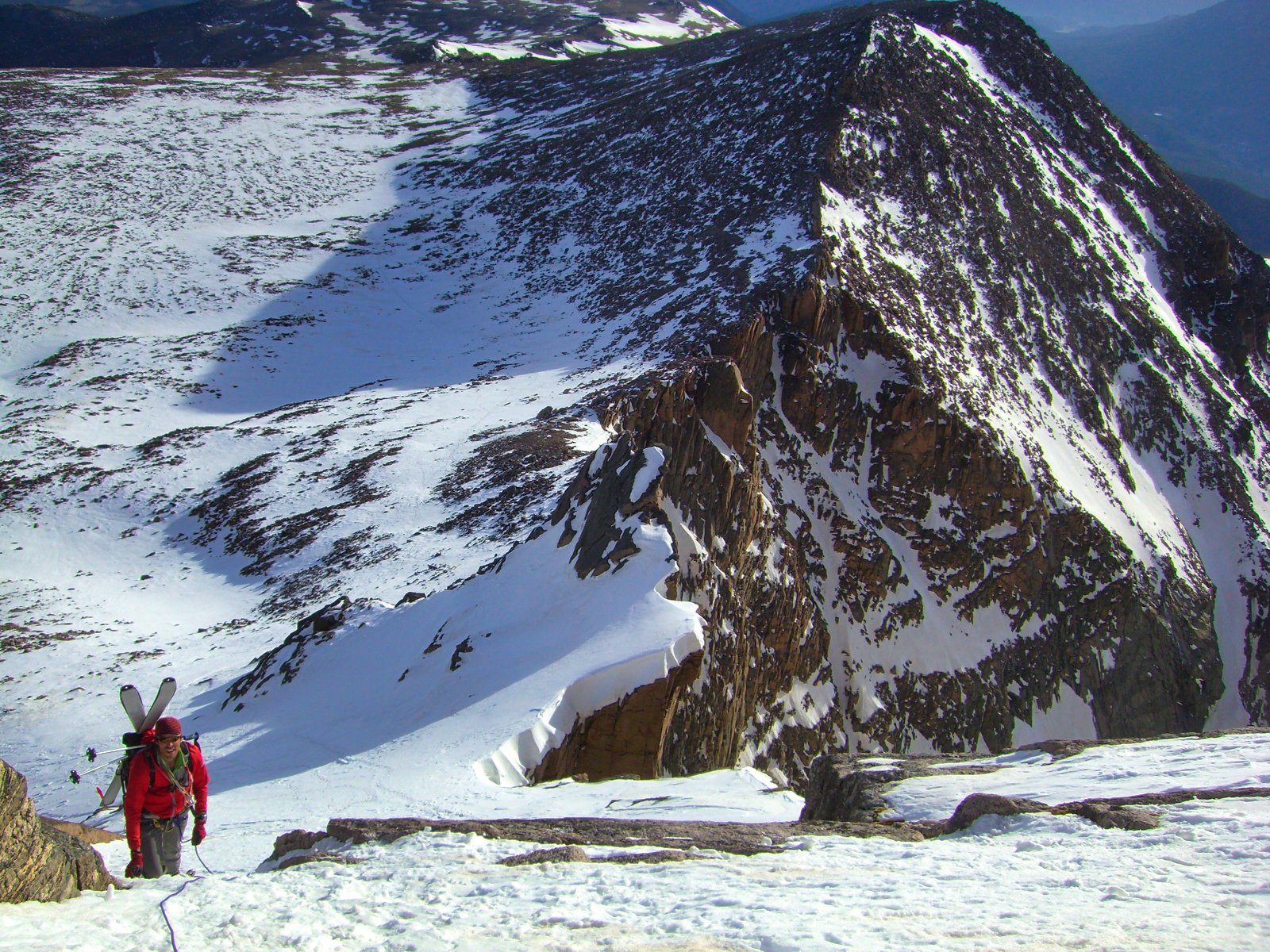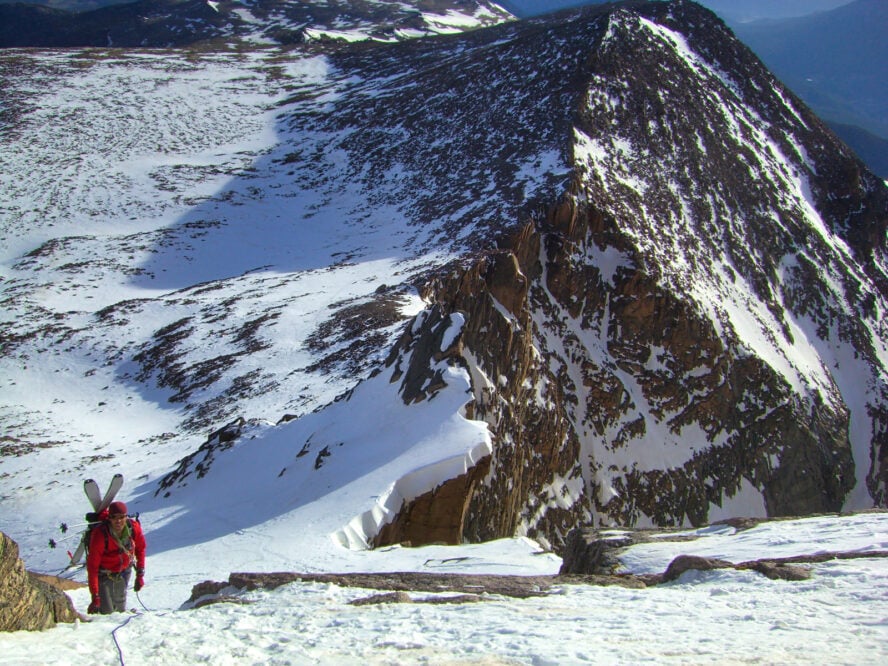 That said, if you're prepared and have both the decision-making and movement skills, then these are all-time descents, ones you will remember forever. They're previewed in Mark's book, and he gives them due respect — listen to his sage advice before dropping in!
I skied the Taylor Headwall with Joey "The Matador" Thompson one spring, after we'd developed a deep, stable snowpack. I'd just purchased a pair of crazy-light skis which were fantastic on the up, but only so-so on the down. I peered into the drop-in (I won't put a number to it, but it's the steepest thing I've skied for sure!), and as I slid over the lip, I popped a ski off my uphill foot. "What the f*ck?!," I yelled at what could have been a disastrous moment. Luckily, I had on a leash and could easily side-step back to the transition spot, regain my composure, and make damn sure my bindings were dialed. But, whoa!
My Advice for Backcountry Skiing in Rocky
Before hitting the backcountry, here are some helpful tips to make planning your ski getaway to Rocky Mountain National Park easier (and safer):
Estes Park has everything you need
Estes Park offers adequate supermarkets (Safeway opens 6 a.m., while The Country Supermarket opens at 7 a.m.), and during busier seasons, there are several other markets to shop from. Starbucks will pull you shot at 4:30 a.m. if you're on dawn patrol (a good idea!). Kind Coffee is a local hotspot, but doesn't open until 6:30 a.m.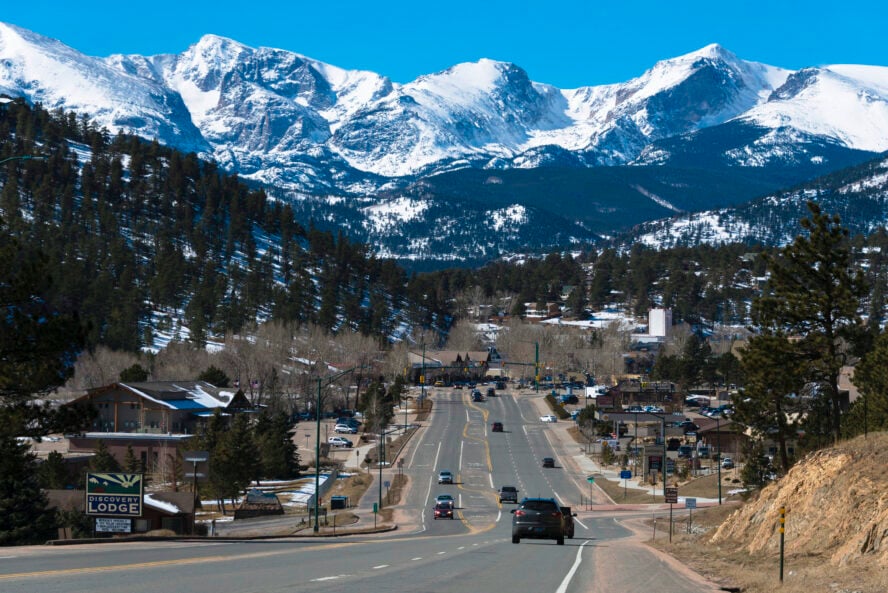 Hotels, VRBO's, campsites abound. Heads up if you're van-living, as there are strict parking restrictions, especially in summer.
Another option, and one that I recommend, is to stay in the Colorado Mountain School (CMS) owned hostel. In addition to offering guides for hiking, climbing, skiing, and avalanche courses, CMS owns a small compound in Estes. You can inquire about crashing here for a reasonable fee. It's warm, comfy, and has hot showers — and you'll be around skiers, climbers, and yes, guides. Hey, two out of three's not bad, eh?
Early starts and spring riding
Because of the long season, backcountry skiing is one of the best things to do in Colorado. You can ski more than six months of the year in Rocky, but the prime time, in my estimation, is spring. The snowpack consolidates, avalanche danger often goes down (but not always!), the days are longer, and the temps warmer. Lines like the ones mentioned above come into condition with a deeper, more stable snowpack. Keep in mind Colorado gets a ton of sun, so a warming snowpack presents its own problems, but with an early start, you can tick awesome lines like the Dead Elk, Dragontail, Notchtop Couloir, and many others.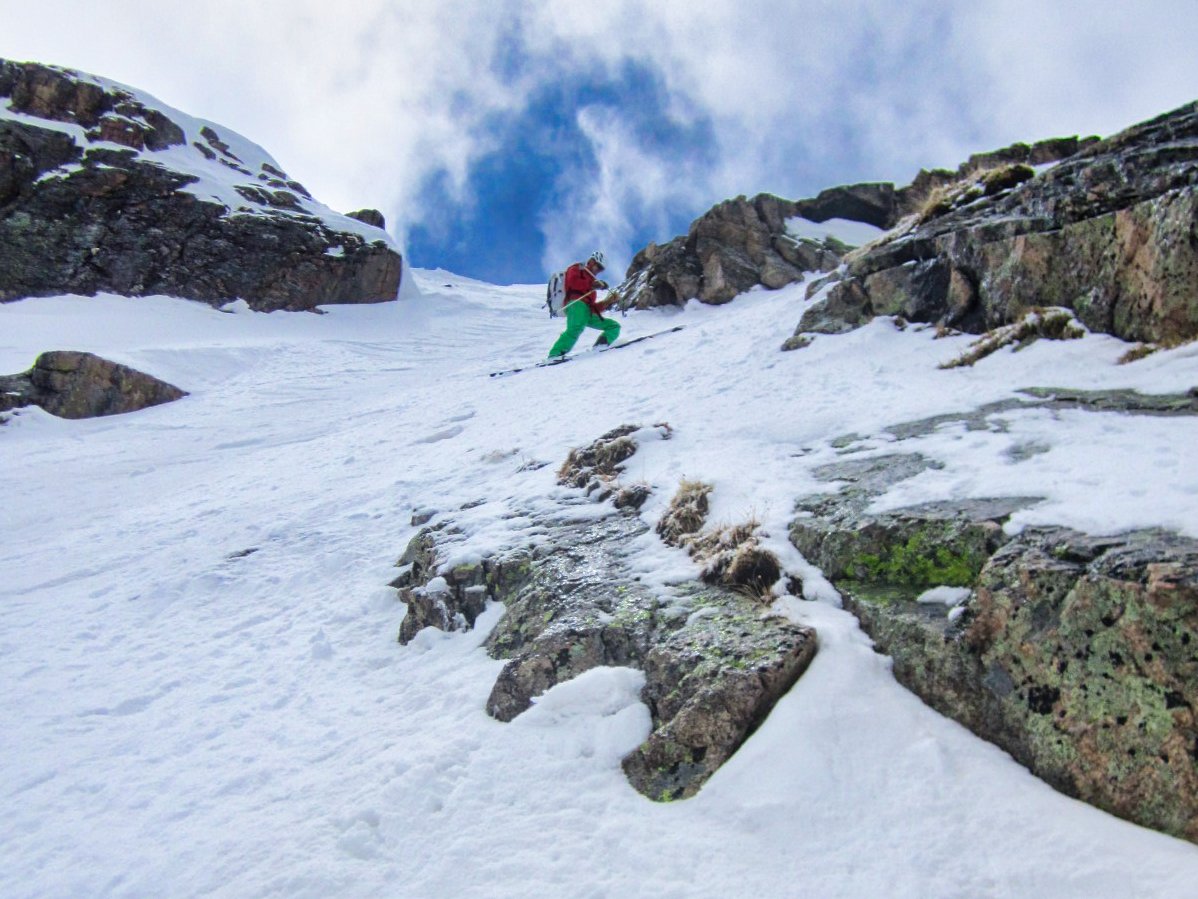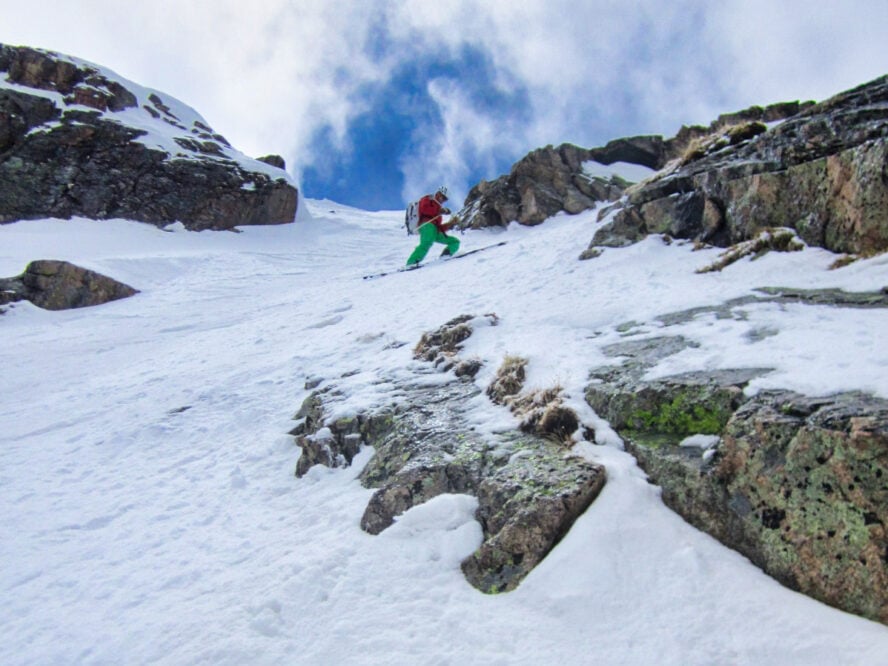 Any time you're skiing in the park, but especially in spring, you'll want an early start. Warmer temps and intense sun can spike avy danger, and crowds from the Front Range can wreck your day, both ski-wise and traffic-wise if you wait until 8 a.m. to start up the hill. The bottom line is that the reality in Colorado has become beating the crowds, and this means dawn patrol. Discipline yourself, get up early, send early, be home early! Or, first to the pub for an apres-ski beer. Ed's Cantina in Estes Park is where I head for my hard-earned pint and it's worth checking out.
Prep for backcountry skiing in Rocky
Riding safely in Rocky means proper planning, so don't just check the Colorado Avalanche Information Center the morning you want the gnar — you should be watching park conditions all year, monitoring weak layers, and waiting for the right day for the right terrain. That means the right weather, the right danger rating, the right team, the right gear. You don't want uncertainty in your process or plan if you're looking to ski something big. Patience, senders, patience!
No, ski touring in Rocky does not mean certain death. Far from it. The avalanche conditions get a mostly deserved rep for being tricky and unforgiving, but that said, if you keep your terrain selection reasonable and don't succumb to any of the number of biases that can get you smoked, you'll survive.
Get some avalanche education under your belt
The best way to stay safe in Rocky's backcountry? Take a quality avalanche course taught by an experienced educator. If and when you book, ask if the instructor has a decade-or-more of experience. Is she a certified ski guide? Has he taught many courses before? My preference and experience has been within the American Institute for Avalanche Research and Education (AIARE), but no matter the curriculum, make sure you're learning from a solid instructor.
Another option: Leave the planning and prep to someone else
Rocky Mountain National Park is one of those locations where it makes sense to hire a backcountry ski guide. It's a steep-skier's dream, but the terrain is demanding and technical, and having a local guide to show you around can make all the difference — especially given that conditions can sometimes be fickle. They'll take the majority of the planning out it for you and ensure your safety while showing you the best secret stashes in the area. Already mentioned in the best places to crash, The Colorado Mountain School is located in Estes Park and is one of the established go-to backcountry guiding services in the area. Have one of their guides take you out for a day or strengthen your backcountry skills with one of their AIARE avalanche education courses. The Mountain Guides are another solid option, with more than 50 years in the guiding business.
Do you need a permit to backcountry ski in Rocky Mountain National Park?
If you want to camp in Rocky Mountain National Park, a $30 permit is required from May 1st through October 31st. For non-camping visitors, the park offers a Day Pass that costs $25. A seven-day vehicle pass is $35, and a seven-day motorcycle pass is $30. An annual pass for the park is $70.