Where to Find The Best Backcountry Skiing in Rogers Pass
Rogers Pass has everything I've ever wanted as a backcountry skier — big vertical, deep powder and endless opportunity.
Rogers Pass is a name synonymous with deep powder and long descents. I first heard of it through rumors of light, silky Selkirk snow that piled up endlessly. There's an unparalleled amount of snow, which, when combined with a longer than usual season, makes this area one of the best backcountry ski spots in the world. The enormity of the Pass means it has massive potential, but it's not without its risks. Here's what you need to know to ski safely in this backcountry wonderland.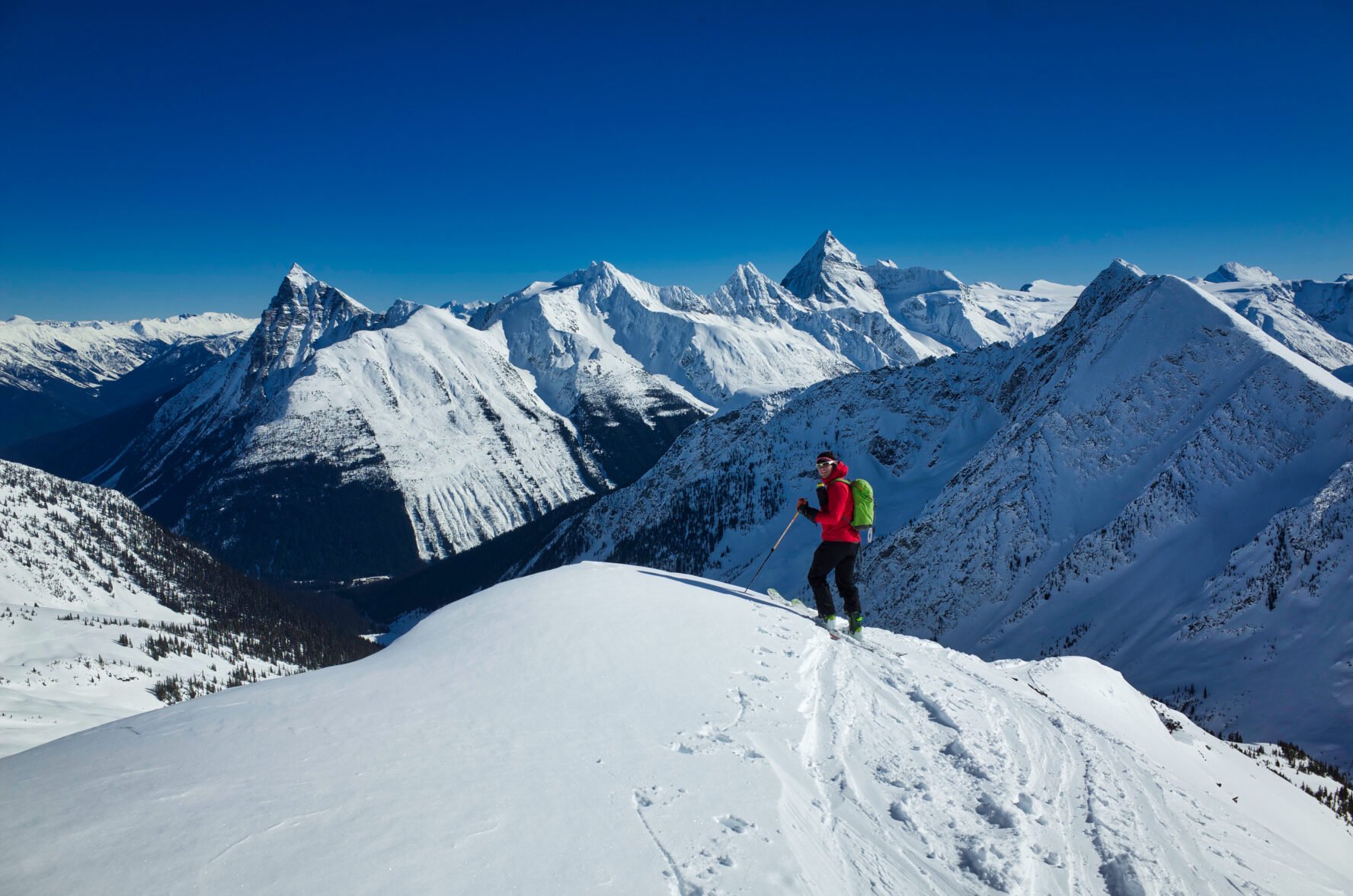 Pros and Cons of Backcountry Skiing in Rogers Pass
40 feet of snow annually, most of it diamond dust powder
Endless options regardless of level
Long descents with perfect conditions
Getting busier as the popularity of ski touring grows
The vertical is large, not a lot of tours below 3000ft of touring
Gather as much information as possible from Avalanche Canada
My first intro to just how dangerous Rogers Pass can be was a wild event. In 1999, I was almost bowled over by a massive class 4 and ended up being a first responder. Sadly, some friends of mine were injured, and a new friend Shane passed away that day. This all happened on the same slopes as the famous Rogers Pass Avalanche that claimed the lives of 68 people in the early 1900s.
This may sound like a dark warning, but it's meant as a reminder to visitors to gather as much information as possible from Avalanche Canada and either be very experienced or hire a guide. Even with plenty of experience, hiring a guide in an area like this will no doubt have its benefits. I have enjoyed the bounty of Rogers Pass for years and it's one of my favorite places to ski, and I can say that yes, there is a risk, but the rewards are absolutely worth it.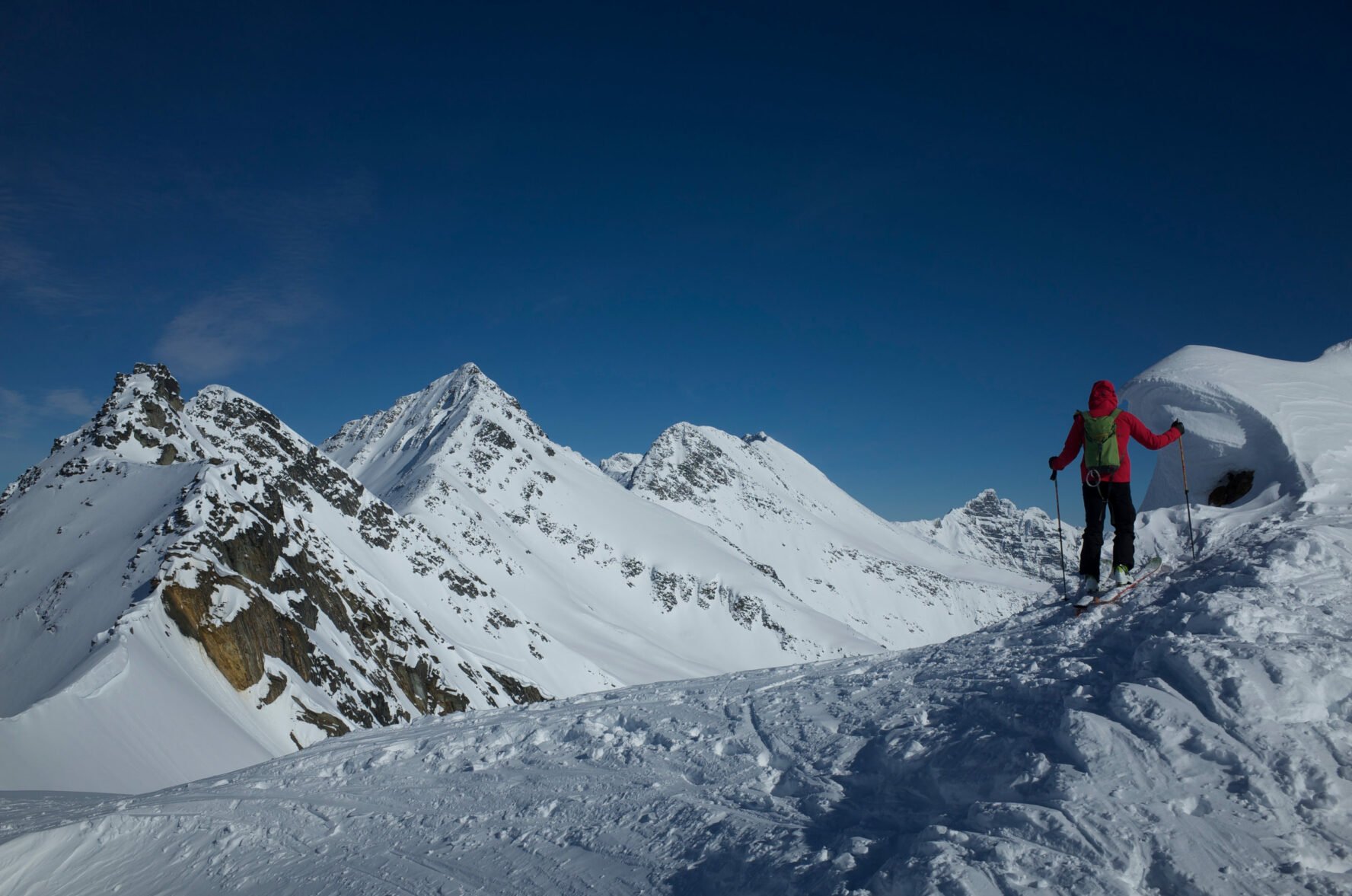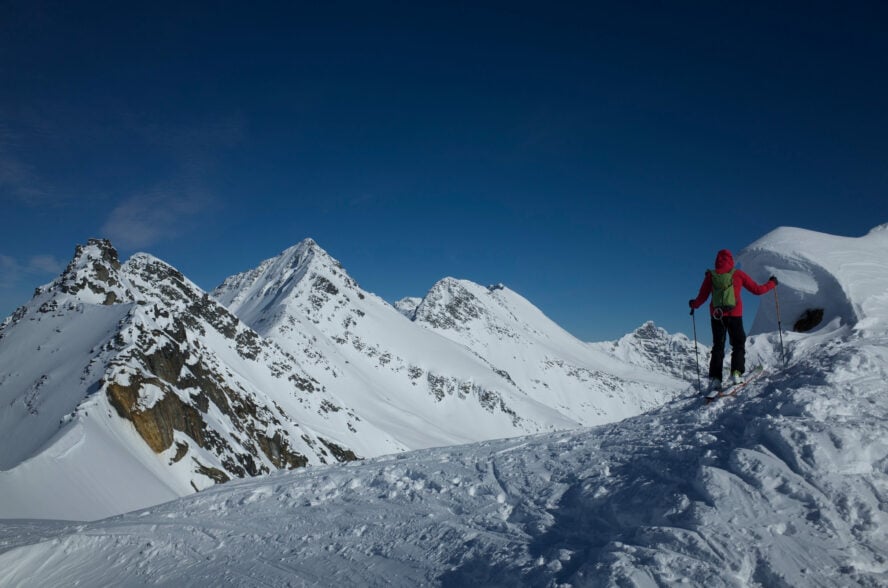 The Best Spots of Rogers Pass Backcountry Skiing
Here is a selection of spots that I usually recommend to my friends that are coming to ski at Rogers Pass. The best valley to initially discover in Rogers Pass is the Connaught Creek. The amount of skiing up this valley is unparalleled. Wandering to Balu Pass will allow you to pass under many incredible couloirs and impressive mountainscapes. Heading up towards 8812 or Video Peak will excite the backcountry dreamer in you and give you weeks worth of skiing.
The Illecillewaet is one of my favorite spots. The imposing Sir Donald towers above the skin track and the blue ice of the glacier reminds me of times past. The Illecillewaet Glacier is the oldest studied glacier in North America and is shrinking daily. Heading up to Pearly Rock gives you priceless views and many skiing possibilities while letting you get up close and personal with an epic piece of Mother Nature.
Out of the hundreds of routes to choose from, here are four of my favorites. In my opinion, these are simply some great runs that show off the full potential of this area.
1. The Seven Steps of Paradise
There are two ways of approaching the Seven Steps of Paradise. The first is to go directly up the Asulkan Valley and straight to the run. This route places you in the awkward and scary position of being below the last step and having to skin or climb it. I have never liked this option.
I prefer the longer and more aesthetic approach of wandering up the Illecillewaet Valley, under the imposing face of Sir Donald, and onto the Illicileweat Glacier. Sir Donald is the highest mountain in Rogers Pass, one of the 50 Classic Climbs of North America, and a beautiful piece of rock. Climbing up onto the glacier, the expanse of the Selkirk Mountains becomes very apparent, with some of the highest mountains towering in the background. The flat glacier becomes a beautiful nordic slide, with changing views. Youngs Peak beckons in the background and slowly gets closer. It's a quick view down the Forever Young Couloir (which is probably also a classic!) and then a fantastic ridge skin right to the summit of Youngs Peak.
This places you on the top of the Seven Steps of Paradise, and as cheesy as it might sound, this run is as good as it gets. Honestly, I am unclear precisely on the seven steps, whether they go to the Asulkan Hut or down the valley. Regardless, skiing off the summit and down to the valley below is incredible. Scoot through the mousetrap and slide/sidestep/pole your way out the Asulkan Valley back to your car. Often referred to as the "A-slog out" or the A-slog in," this valley takes a while to go out.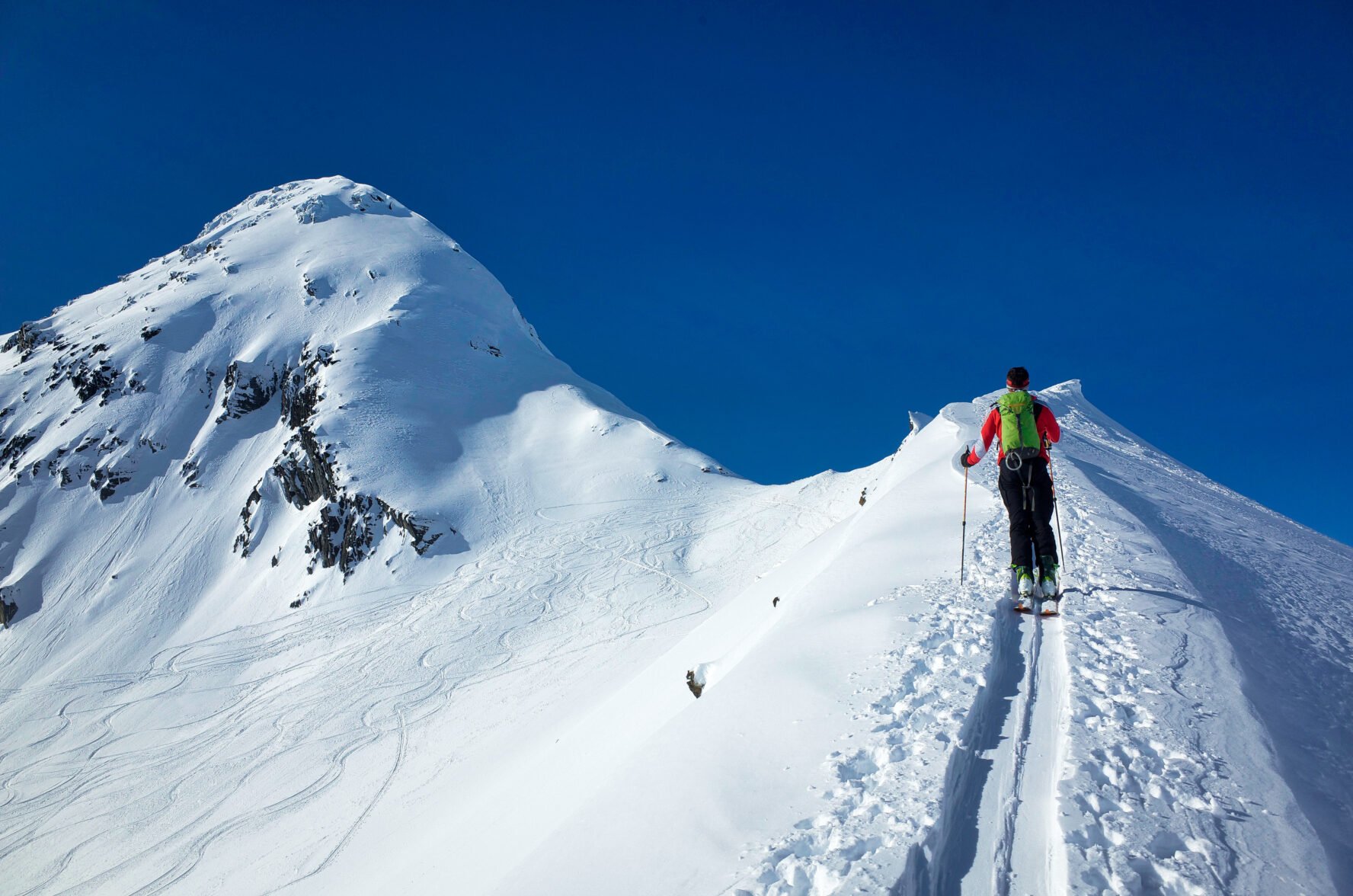 2. 8812 Bowl
The beauty that is the 8812 Bowl begins right from the Rogers Pass Information Center and goes up Connaught Creek. What I like about this route is the ease of it all. It shows off this valley and gives back with a moderate run that goes on forever.
You'll skin up the Connaught Drainage, under the steep rocky couloirs of Cheops Mountain. Daydream about skiing all the wild exposed lines while you skin up the trail. Always stay on the right side, as these Cheops lines sometimes fill the valley. Two slide paths come from the right side that you need to be wary of. Well, let's be honest, you should always be wary everywhere in the mountains.
Head up and right of Hospital Gully, and work your way over to the Bruins Ridge. A scary traverse leads you onto the ridge, where you can skin and wind your way up perfect skin track terrain. Eventually, the ridge narrows and you can skin or walk, depending on your comfort with exposure. The 8812 Bowl is now on your left, and you can look down and prepare yourself mentally for the great run ahead, scoping out where you want to go. Drop down for 50 feet, skin up to Bruins Pass, and take your skins off. If you have energy, a nice low angle run drops north, or if not, point your skins down and shred the slopes of 8812 Bowl. 3000 feet of awesome skiing awaits! It's a fast and fun bobsled run out the valley to your car… with only one minute of sidestepping.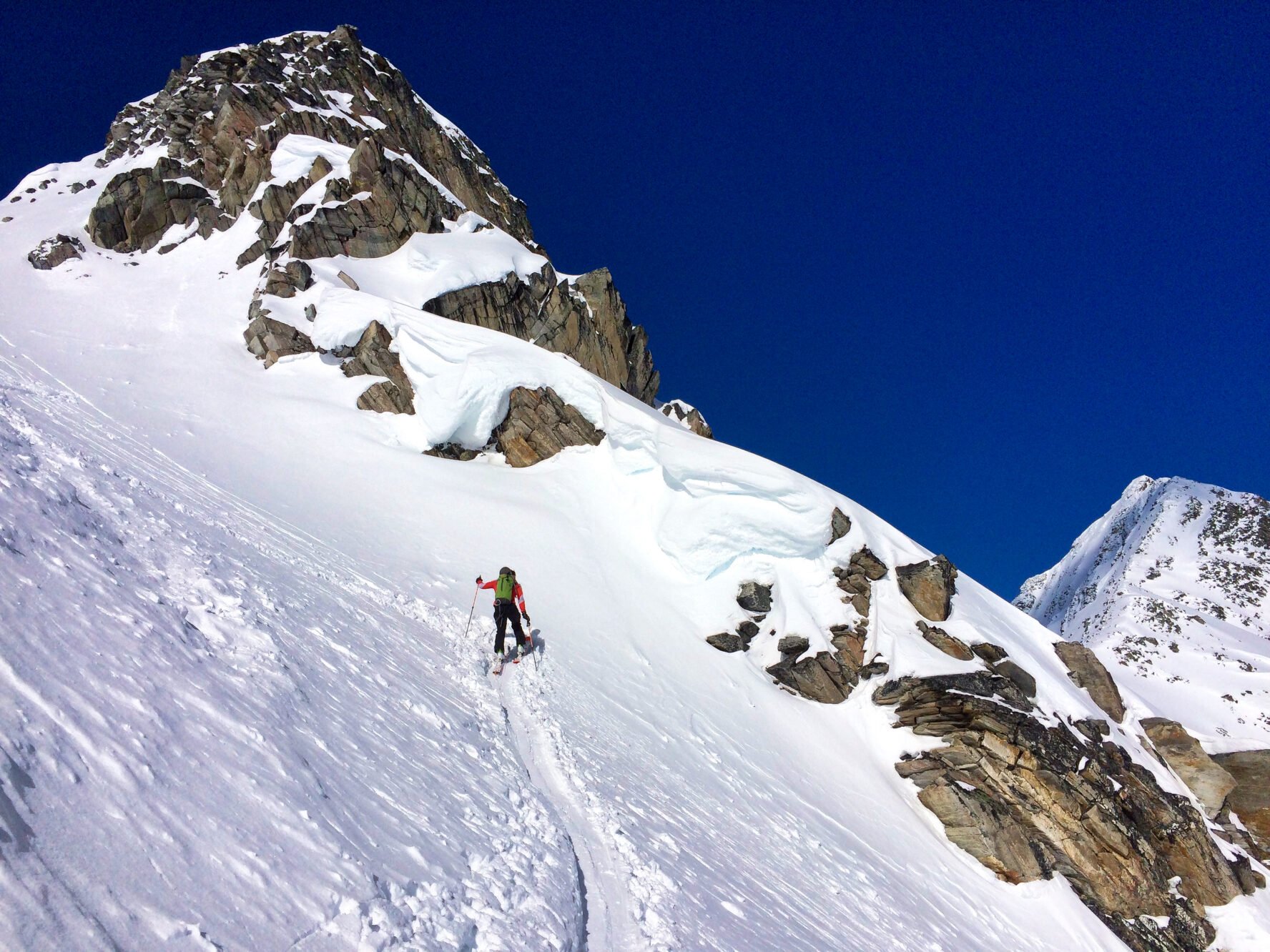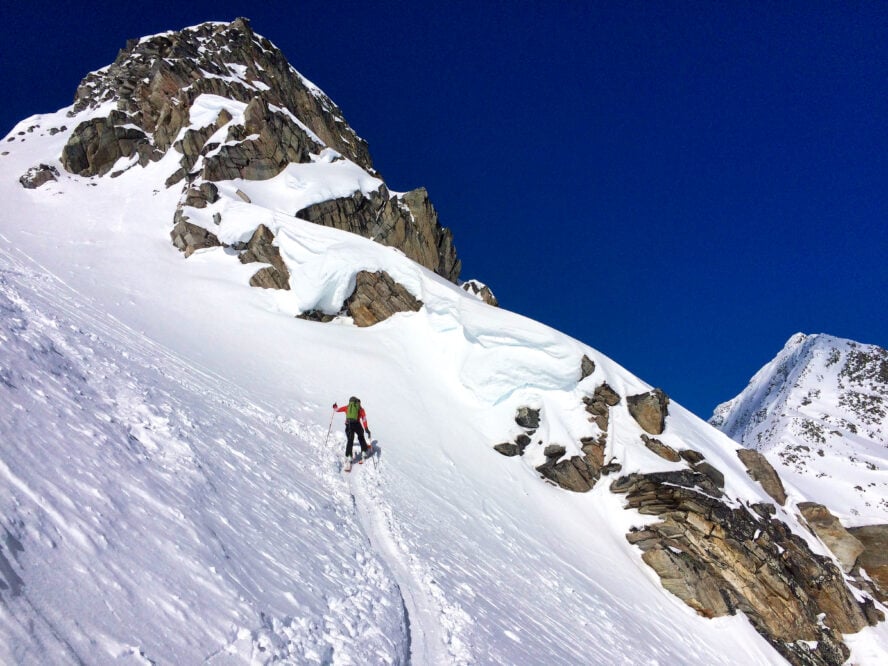 3. Little Sifton Traverse
The Little Sifton Traverse is special because of the variety of terrain you get to tour up through and ski down. It starts at the Roger Pass Center and almost immediately goes up the forest of Grizzly Shoulder. Beware of this skin track; it can be nasty, and almost always worth setting your own unless you like a challenge. Over the first 3000 feet, you will tour past massive spruce trees, through small avalanche paths, old whitebark pines and small gnarled Balsam firs. The final stretch skins under a vertical rock wall, before breaking onto the ridge.
The views open up as you tour your way up mellower terrain with the summit of Little Sifton floating in the distance. Old moraines, from a long-ago receding glacier, make for fun skin track choices. The final pitch is eerie, and you must make your decision to summit or not. If you do, it's a great place and a fun couple of turns down.
If you have extra energy, the 1000-foot run down to your skin track is worth it, since you can reuse it back to the high col.
From the high col, a little cornice drop or sneak around starts the varied run into the hermit area. I love that there are so many micro choices on this 5000- foot run. You can hit pillows, ride ridges, and the potential is endless. Follow the skiers right of the avalanche path; some awkward moments leads you to a nice little finish to the road. From there, you can skin the one mile back to your car, staying on the inside of the snowbank, furthest from the road.
To do this traverse, you must check that the areas are open and get a winter permit.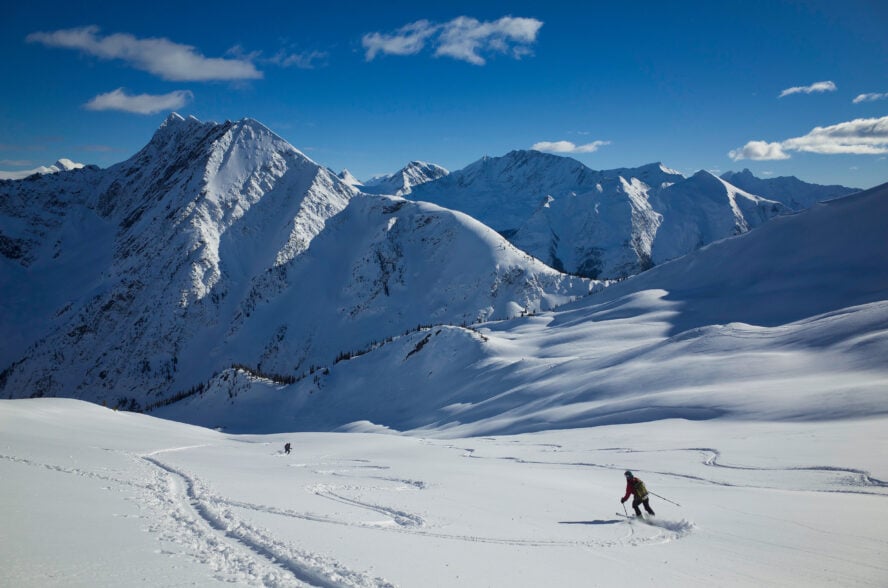 4. Bonney Moraines
Bonney Moraines is the most exciting 3000-foot run in Rogers Pass. If I know my clients have a 3000-foot threshold, I love taking them here.
The tour starts up a beautiful brook, under some cool rock pillars from the old railway, and works its way upstream. If you're lucky, you can see a hole through Ross Peak, an interesting feature that I've always wanted to explore. Eventually, you get to the Elephant's Trunk, a weird little feature that provides for hard skinning, or boot packing. Don't dilly dally here, as it sits under thousands of feet of snow. If it's late and hot, I would seriously reconsider going through here.
Take a break once you hit the trees, a safe spot. From here, there are two options, one is to go directly up the trees, or my favorite, go the long way around. This route will have you wandering past the moraines above the valley and under the imposing faces of Mount Swanzy, Mt. Clarke and Mt. Bonney. The blue seracs of the tumbling Bonney glacier are so incredible to view.
Regardless of which way you choose to go up, eventually, you get onto these little moraines, which provide great 600-foot runs, that can easily be recirculated for more. Depending on energy levels, there are endless options here. When you have little energy for more runs, get to the top of the lookers right moraine and ski off its left side, which will flow you down 2000 feet of wicked skiing to the valley below. A little sidestep through some trees and fun skiing brings you to the Elephant's Trunk and out the valley. Back to your car, it's a quick and easy out. If you are out of water, drink some of the fresh glacier water in loop brook.
Again this is a winter permit area that can only be accessed on certain days, so check with the center and get a permit.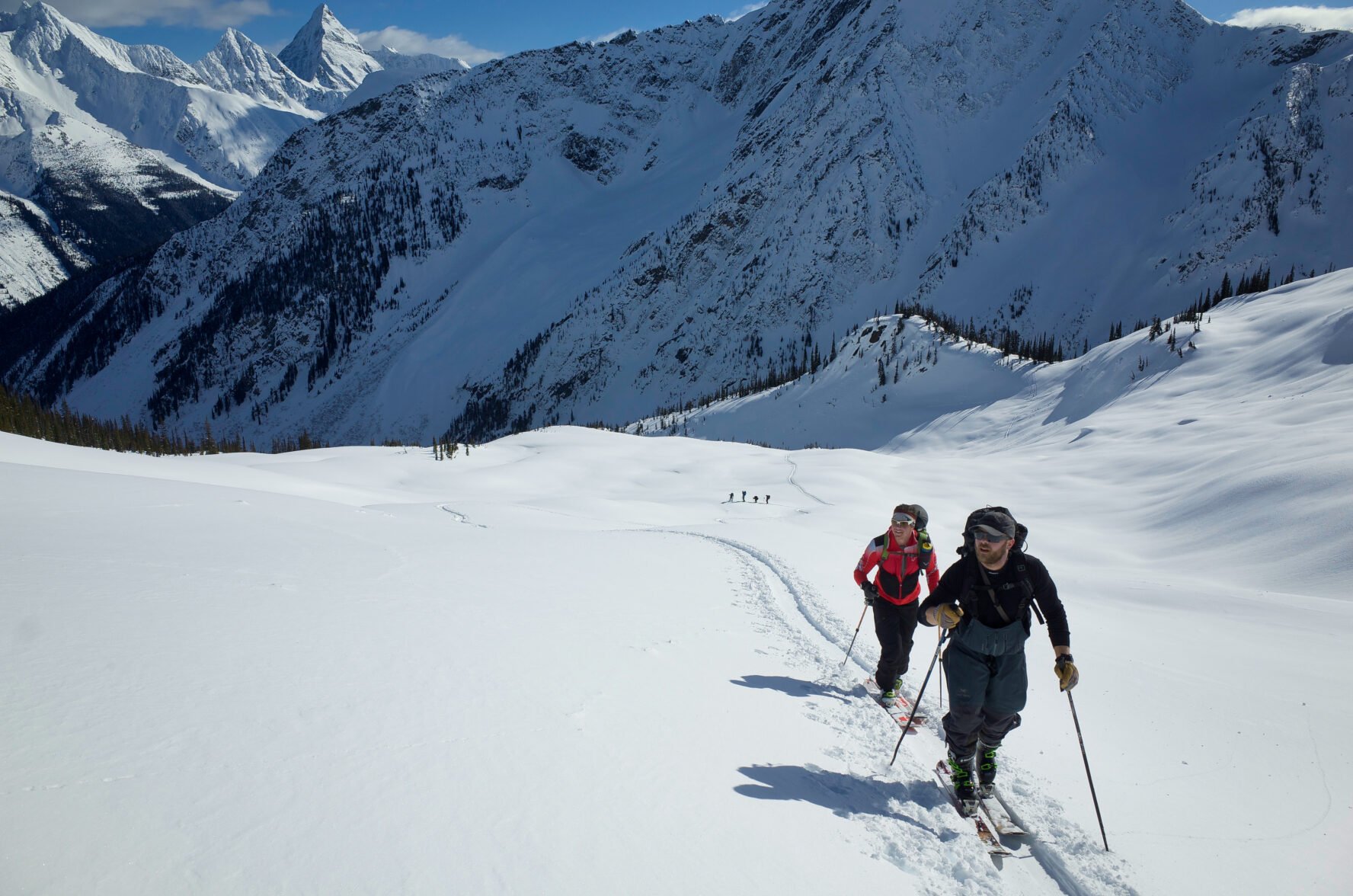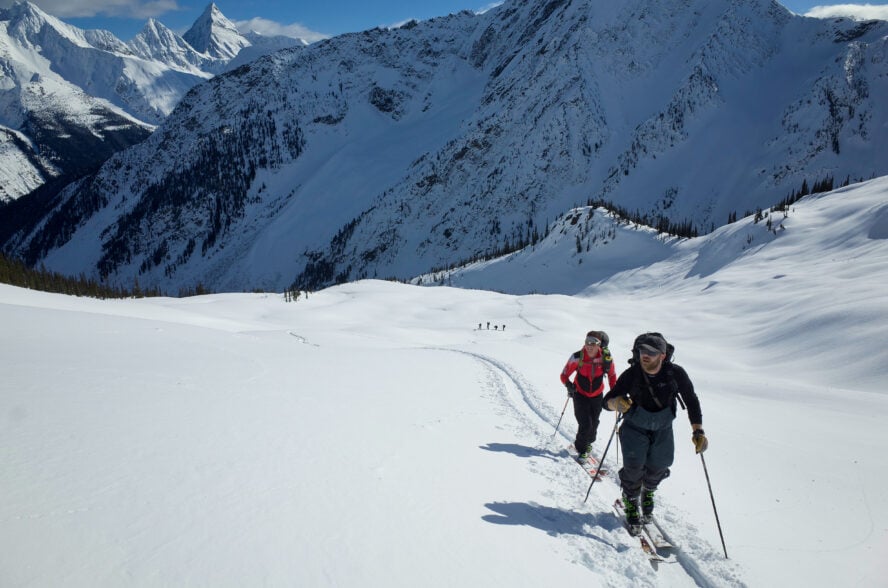 What You Need to Know for Visiting Rogers Pass
Between the Winter Permit System, the hut system, the best time to go, where to stay and where to get gear, there's a lot you need to know before you make the trek to Rogers Pass. Luckly, I've lived here a while, so I know quite a bit. Here's some helpful information to get you started:
How did Rogers Pass get its name?
Rogers Pass is named after Major Rogers, a legendary burly individual. Short, yet boasting an incredible handlebar moustache A.B. Rogers was known for his exploration of this pass while searching for a practical route for the Canadian Pacific Railway.
A heli-ski free zone
The beauty of Rogers Pass is that all access is by foot; there is no heli-skiing permitted. It sits in the middle of Glacier National Park, which has protected the area since the park's formation in 1886. When it was first discovered by adventurers, it quickly became world-famous for its glaciers, its sharp crenelated ridges, and its 10,000-foot summits. The railway built the Glacier House Hotel, which began attracting mountaineers from around the world, making it the center of Alpinism in North America in the late 1800s.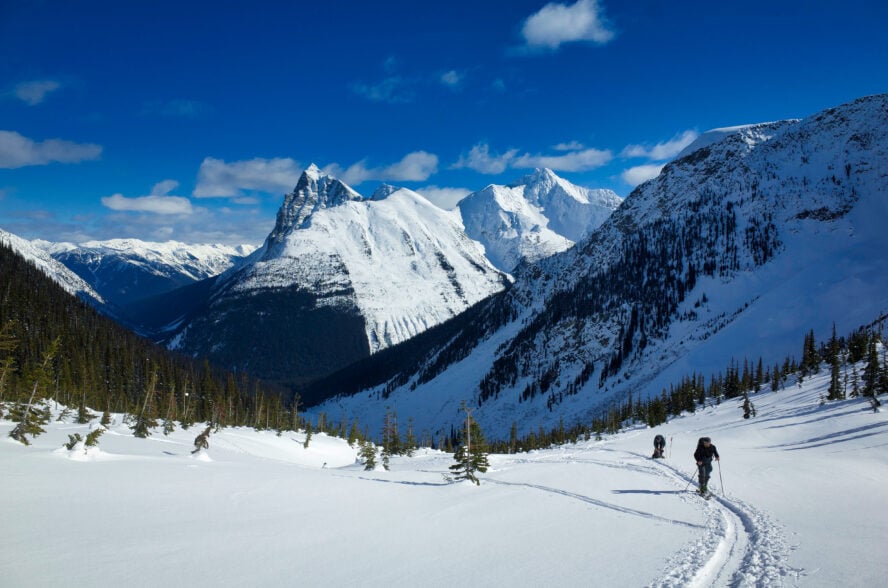 The Rogers Pass backcountry ski season
Although its rise to fame began with mountaineering, it's Rogers Pass' backcountry skiing that has elevated the area to near mythical status. The skiing usually kicks off in November and builds up till the powder slowly disappears by the end of April. Keeners can find some corn skiing, but it doesn't really lock into a spring cycle and is rather short-lived.
When is the best snow in Rogers Pass?
Rogers serves up a variety of snow, depending on the time of year. November to January usually brings lots of snow and bottomless tree skiing. February to March is when it goes off, the base is deep, and the skiing is endless. The alpine lines get filled in, and it's the usual time to stand on summits and shred steep lines. In April, the south faces get firm, but the northern slopes tend to host silky spring snow, where you can ski fast and take chances on bigger lines.
The Rogers Pass backcountry permit system
The Pass is unique in that it has a permit system in place. Keeping traffic moving on the busy Trans-Canada Highway — which passes through Rogers — is essential. The main focus is the transportation corridor, as there are over 140 avalanche paths that hit the highway. Depending on stability, safety control measures may need to be performed, which are done by a variety of mitigation techniques. Mostly, they shoot the slopes with large artillery, massive howitzer guns! Yes, I am serious. To ensure everyone's safety (and to make sure there's no one within danger's range), slopes adjacent to the highway are closed. Yet when they are not bombing, they open these mountainsides. They could easily close the entire area, yet they try and work closely with us so that we can ski these incredible slopes.
This permit system is in place so that users can understand what is open and when to ski the right slopes at the right time. Not the "right slopes" in terms of avalanche stability but more compliance with a system that is very important for the future of skiing in Rogers Pass. More information can be found here, learn it, know it, follow it!!
For any questions and excellent information, be sure to stop by at the Roger Pass Discovery Center, where you can buy your National Park Pass and get information for the winter permit system.
Rogers Pass backcountry ski huts
There are a few cabins that people can stay in while skiing in Rogers Pass. There are four huts run by the Alpine Club of Canada. The Wheeler Hut, is an amazing hut that can accommodate 24 people, making it a great option for big groups or families. It sits 2km off the road and is easily accessed. There's also the Asulkan Cabin, situated at 6,890′, it sleeps up to 10 skiers and offers excellent skiing opportunities.
For the most adventurous, there is the Sapphire Col Hut, a simple hut in a hard to reach, inhospitable yet beautiful spot. There's also the very remote Glacier Circle, which is mostly used by parties doing the Bugs to Rogers ski traverse.
The ski towns of Golden and Revelstoke
If you're not sleeping in the backcountry, most people stay in either Golden or Revelstoke. Both offer the quaint mountain town feel, and each has its own great ski resort (Kicking Horse in Golden and Revelstoke Mountain Resort in Revelstoke). It's worth your time to ski at each of these resorts; both boast very different resort styles that will test any skiers and boarders. It's a great way to get some easy backcountry access or to warm up your legs for the big vertical of the Columbia Mountains.
Let's be clear, I am biased towards Revelstoke having lived here for 20 years. In these years, I have watched it develop into an awesome place for people to visit. Compared to Golden just down the road, there are more places to eat, drink and dine in Revy, which adds considerably to its vacation potential.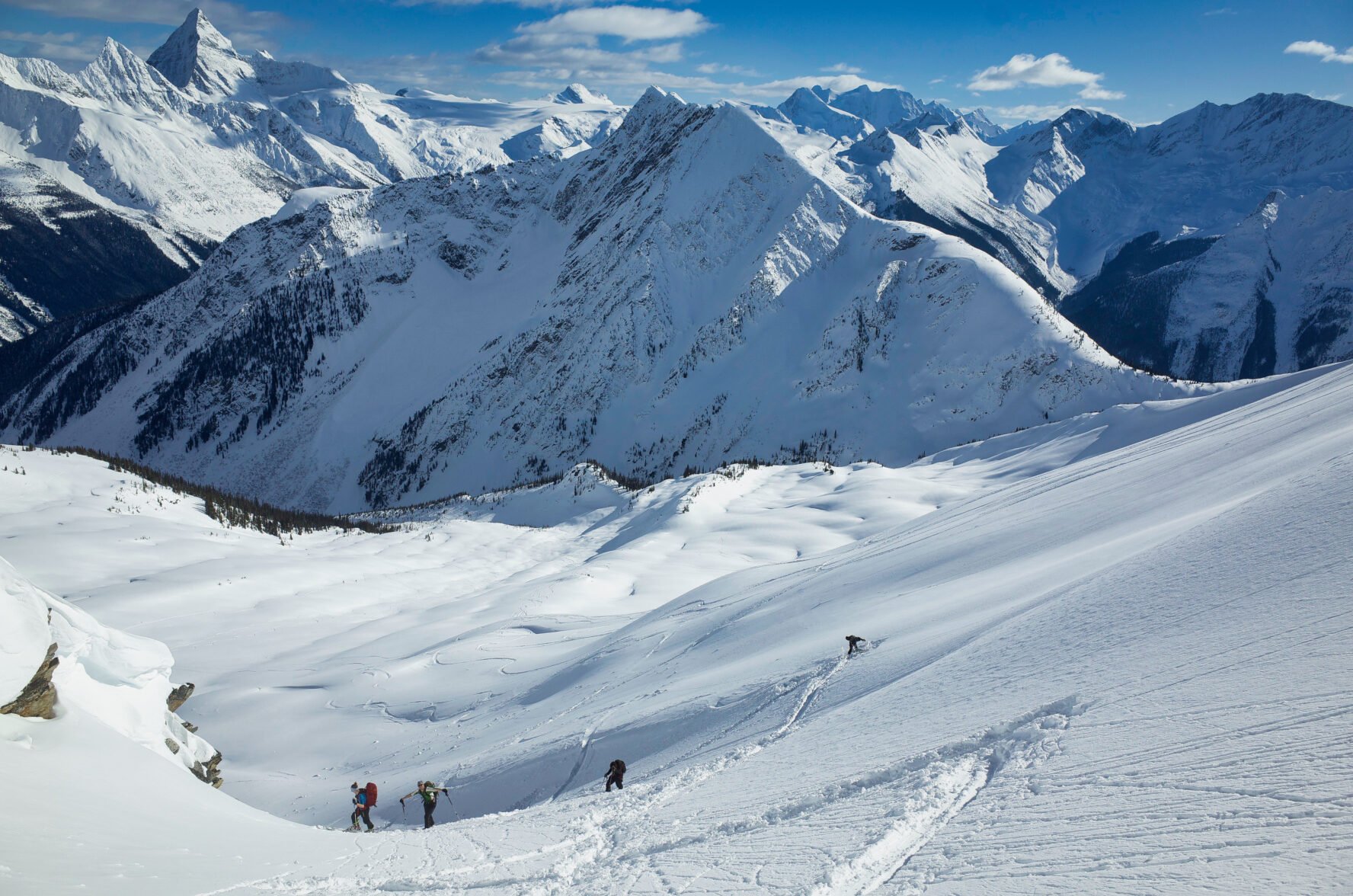 How to get to Rogers Pass
To get to Revy, many flights fly to Kelowna, which is an easy two-hour drive. Or, fly into Calgary International Airport (YYC), from which it's a four-hour drive west on Hwy 1 over two high passes (Rogers being one of them). Golden is three hours from Calgary and sits to the east of Rogers Pass, so you only need to cross one pass to get there.
Where to get backcountry gear in Revelstoke
Should you have forgotten some part of your essential backcountry gear, there are several gear rental places in Revy that have backcountry gear for rent. Revy's Repair & Rentals is a good place to start. Skookum is another gear store in town that sells and rents gear.
It may seem like there is lots to know about Rogers Pass, and well, frankly there is. Yet who wants to explore something simple? This area is a must-visit on anyone's backcountry tick list, yet it is so expansive that multiple visits will be needed.