Why Skiing at La Grave Makes Other Resorts Look Tame
Despite its name, skiing la Grave is more than intimidating terrain and technical couloirs. You can be an intermediate freeride skier and still have a lot of fun—the sheer diversity of off-piste skiing la guarantees it!
La Grave. Few names resonate with such power in the collective unconscious of ski lovers around the world. Nestled against the giant north face of la Meije in the French Alps, this freeride locus—the biggest lift-accessed off-piste skiing in the world—is synonymous with some kind of Valhalla.
What could I do in the face of that aura?
Well, I fell for the area in the first moments. How the formidable la Meije coddles the rustic village, the untamed tracks by tradition, the more than 2,000 m of freeride descent. Who can say why things happen exactly, but I think I was predestined to come to la Grave, skiing and all.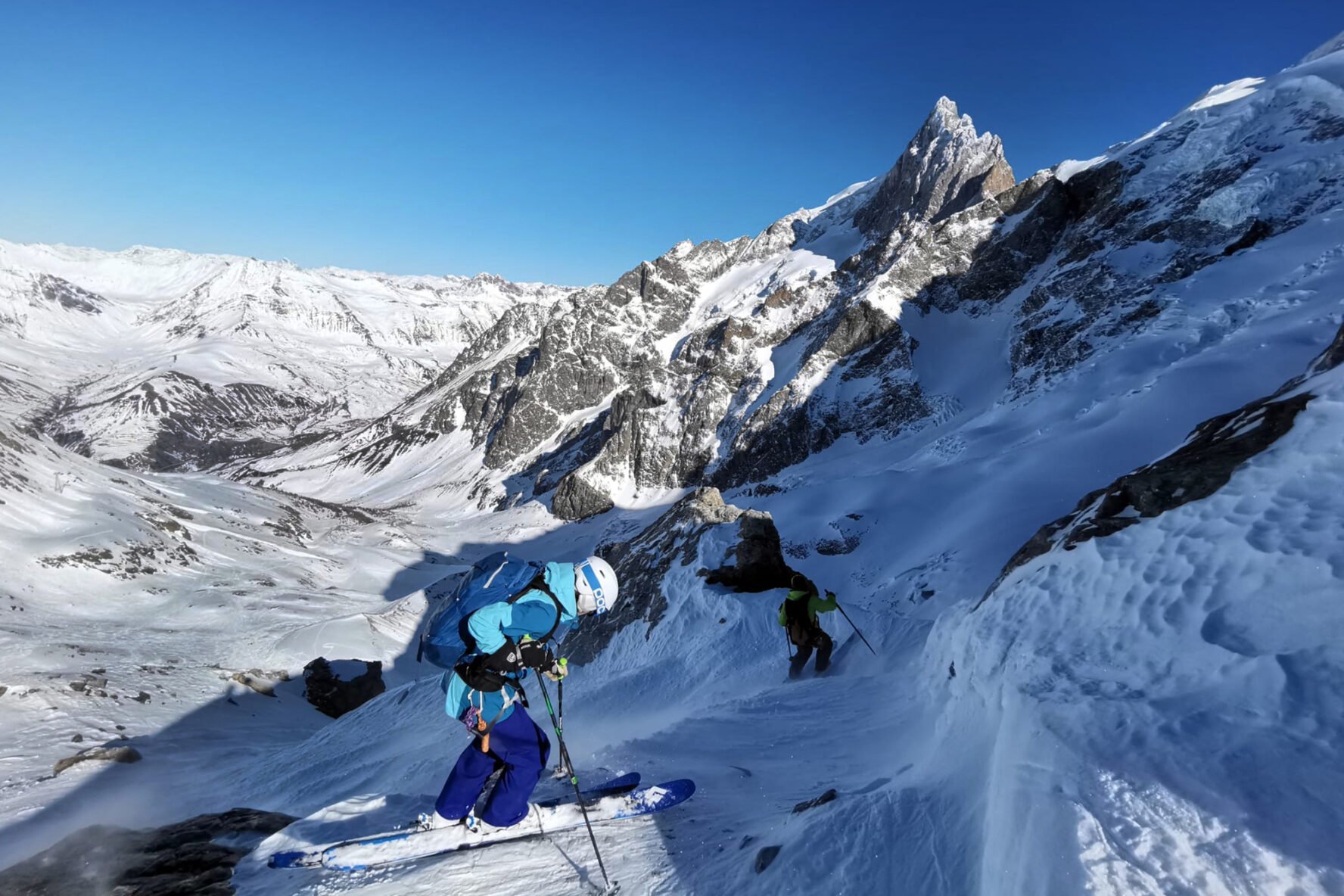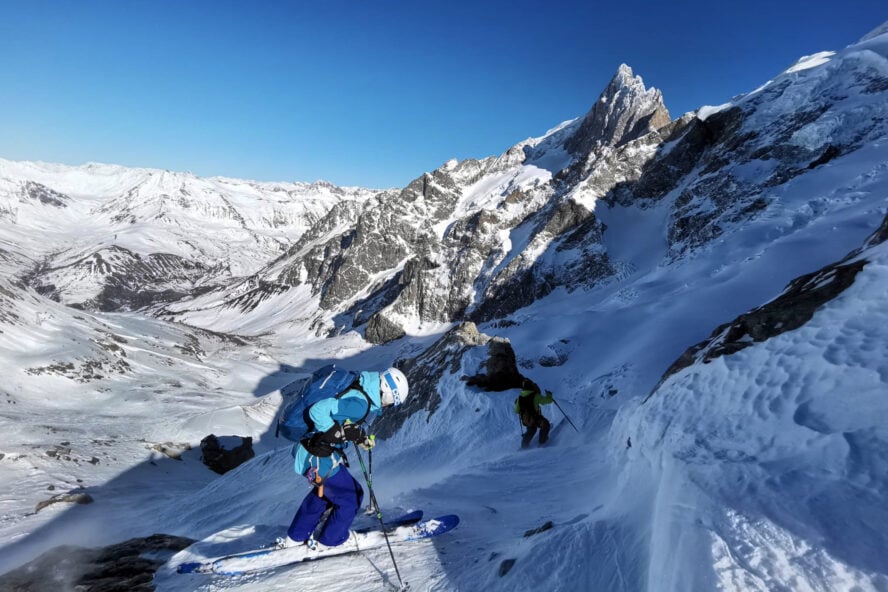 Home Is Where the Pow Is
From the age of 4, the Alps were our pilgrimage from the flat lands of Normandy. Coming from a family of cross-country enthusiasts, the snow and mountains became my training wheels, and I started alpine skiing when I could barely walk. It quickly became obvious that big ranges were to be a central part of my life.
When I completed a degree in journalism and photography in my mid-twenties, I moved closer to the Pyrénées for skiing and climbing, and also the food, architecture, and culture.
Fast forward a few years: I am on my way to Switzerland for a job assignment and decide to stop in la Grave for a couple of days. Little did I know that this short stay would mean a major change in my existence. The magnitude! Its wild and untouched vibe! The cosmopolitan population that made up this tight-knit community of less than a thousand souls! I had found the place where I always wanted to live.
Pros and Cons of Skiing at la Grave
A huge vertical drop and an incredible variety of terrain
Perhaps the best entirely off-piste skiing in France
Snow coverage until late April
Authenticity of the village and the area
Be prepared for biting cold in early winter
A limited number of options when it comes to nightlife
La Grave Is Not Your Typical Ski Resort
Located at the border of the Écrins National Park in France, la Grave is more of a village with a lift than your typical ski resort. It also happens to have some of the best backcountry skiing in Europe.
Looking outside my front window, I see century-old stone houses with unnamed streets, hamlets with a staggering view, as well as a wild mountain which you explore under your own responsibility. Indeed, the lift will only take you up; once you step out of it, you have to use your skill and experience to safely navigate down the entirely off-piste terrain.
Skiing at la Grave you'll encounter steeps and flats, open fields, gullies, forests, clearings, and couloirs involving rappels—essentially any kind of terrain you can imagine in more than 7,000 vertical feet.
In the same day you might ski incredible powder then run into snow that has been chopped up or smoothed out by the wind. You never truly know what to expect and that makes skiing la Grave without a doubt the most fun I've ever had being humbled.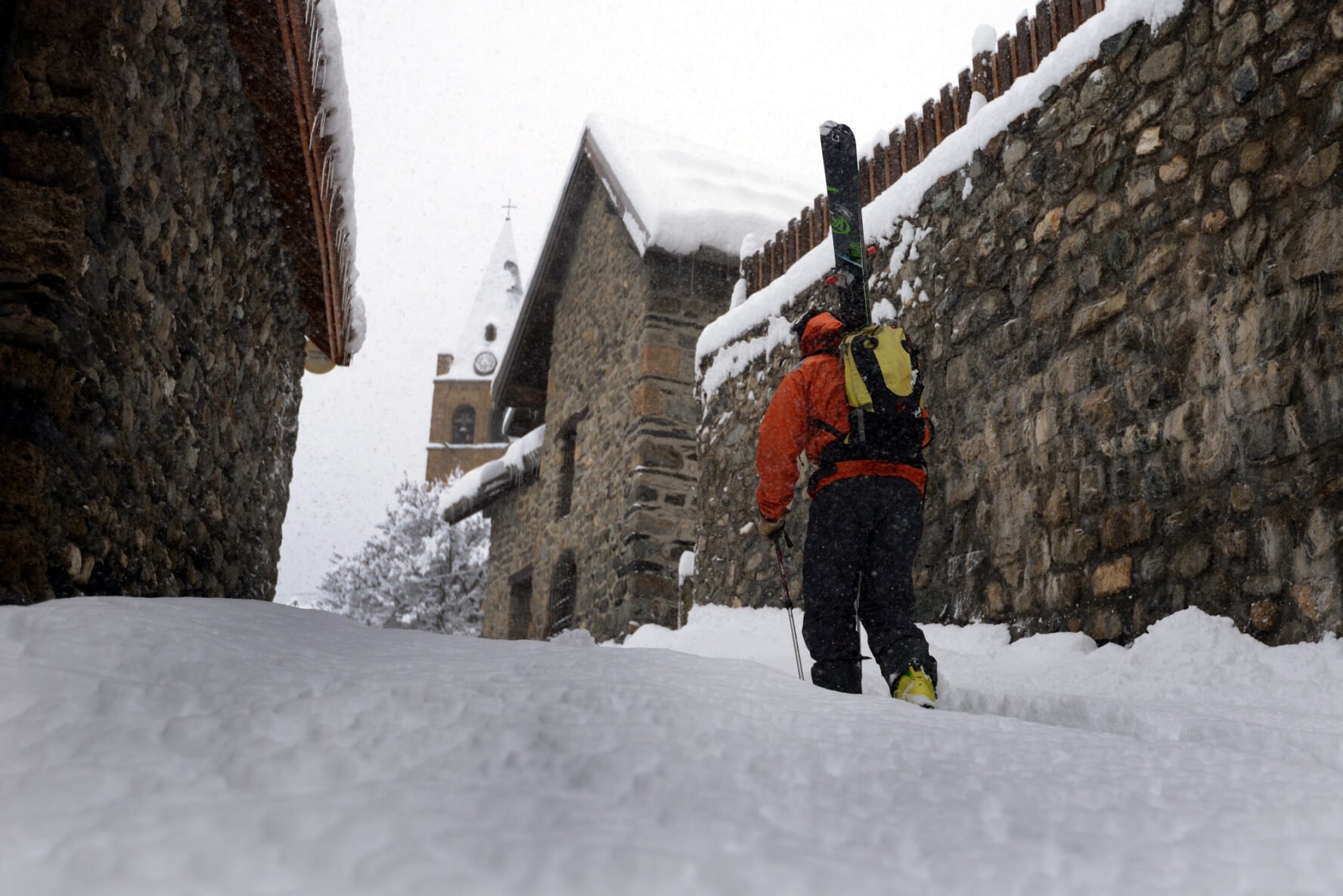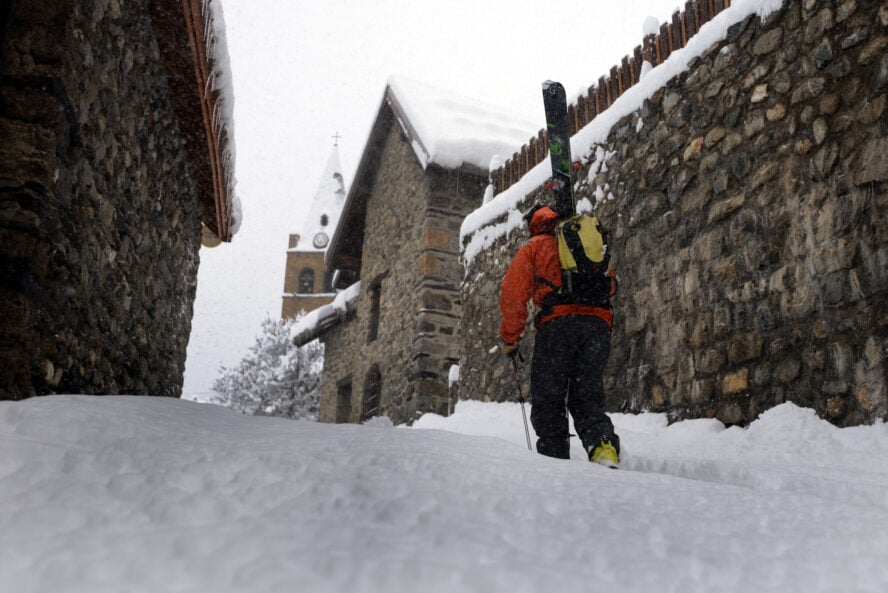 Legendary Ski Figures Helped Shape the Myth of la Grave
Let's go back in time for you to understand the unique history, and characters, of the place. It's 1988 and a few freeride addicts are enjoying their après drink in one of the ski bum hangouts of Argentière, close to Chamonix. The Grands Montets is getting too crowded, they grumble.
One of them has heard talk of a mountain with lots of vertical, good forest and nobody around. They decided to check it out and never looked back.
More than 30 years later, the Crud brothers still spend each winter here. Swedish mountain guide and skiing legend, Pelle Lang—who infamously traded Chamonix for la Grave for the untamed terrain he was longing for—is a fixture as the owner of Skiers Lodge. Doug Coombs, a mainstay of the freeride scene in Jackson Hole and one of the pioneers of heliskiing in Alaska, chose the village as a base for his steep skiing camps in 1993 until he sadly fell to his death in 2006 on one of the challenging couloirs above town.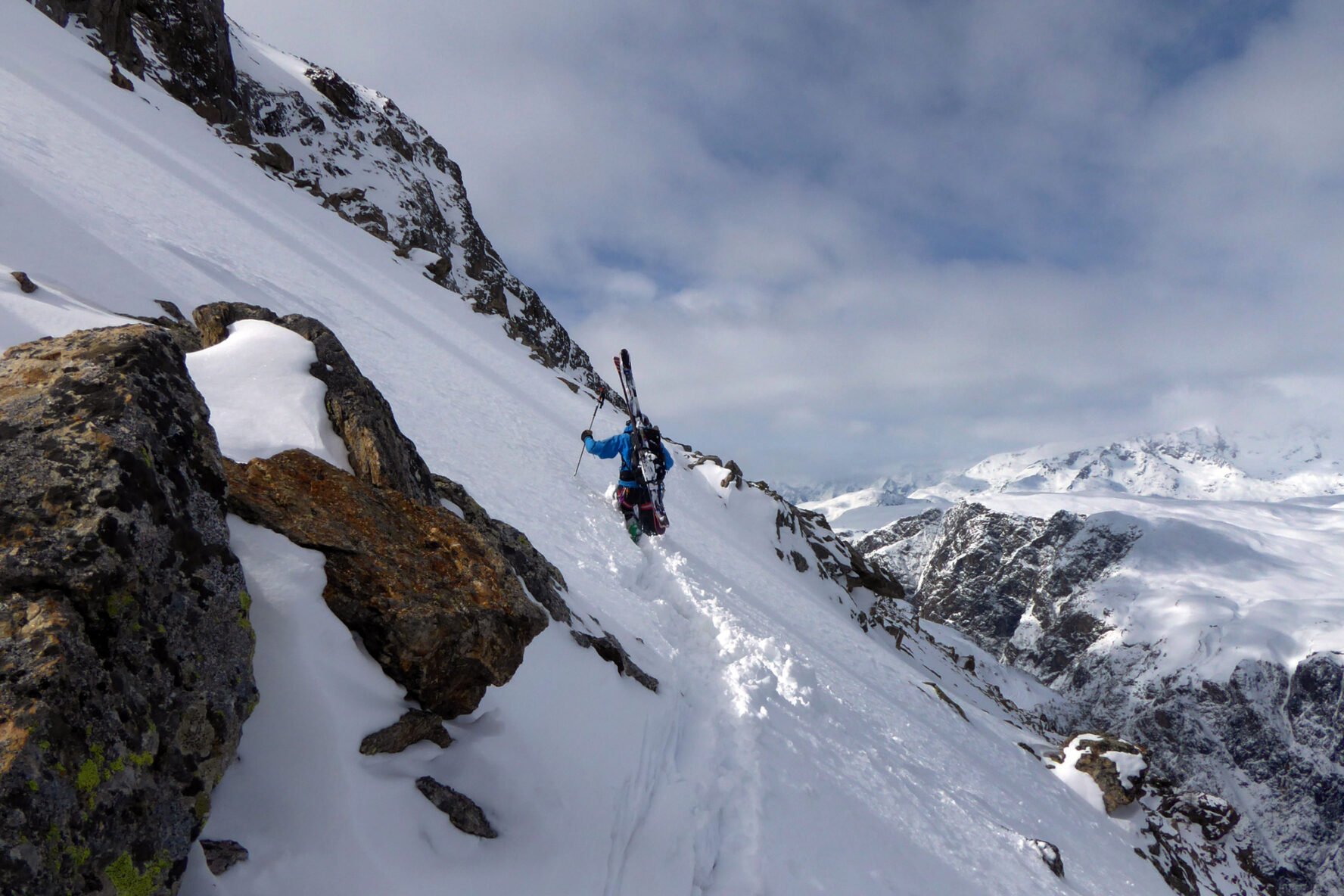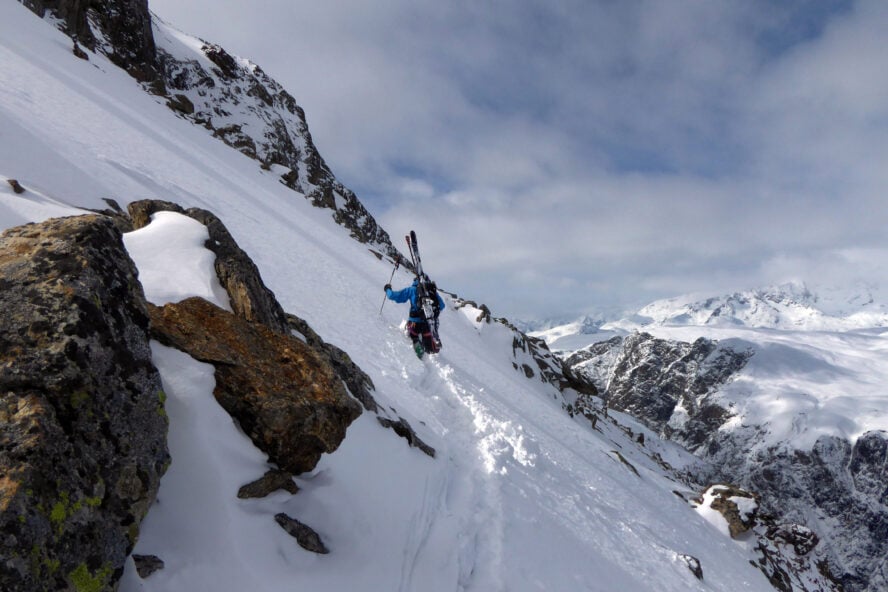 Despite the steady flow of skiers, journalists and photographers spreading the word, the wild skiing at la Grave remains an open-air secret in the shadows of Chamonix, Val d'Isère, skiing routes such as skiing La Vallée Blanche in Chamonix, and other more famous destinations.
Still, there's no need to get up at dawn for fresh tracks on some of the best backcountry skiing you can find around the world, only a few shops populate the town, and we all call to each other on a first name basis. Just like it was when the grumbling ski bums found it. And just like I did on that fateful stopover.
Seven years later it's hard to imagine being anywhere else. And of course, skiing played a big part in my decision to move here!
3 of the Best Ski Runs in La Grave
If you're in search of freedom among the hills, I want to share some of the best runs for you to enjoy your time here. But I need to make one thing abundantly clear: the skiing is wild!
There are no bounds
The mountain sets its own standards and rules: no groomed pistes, no tracked itinerary, no artificial snow, no avalanche control.
In fact, la Grave has an avalanche system with no equivalent on the planet. Every time a snowfall occurs and the avalanche grade is rated 3 or above, a team of local guides and patrollers hop on the lift and ski the area to assess the risks. A commission is summoned and evaluates the hazard, delivering their conclusions to the mayor, who eventually decides whether the lift will open or remain closed for the day.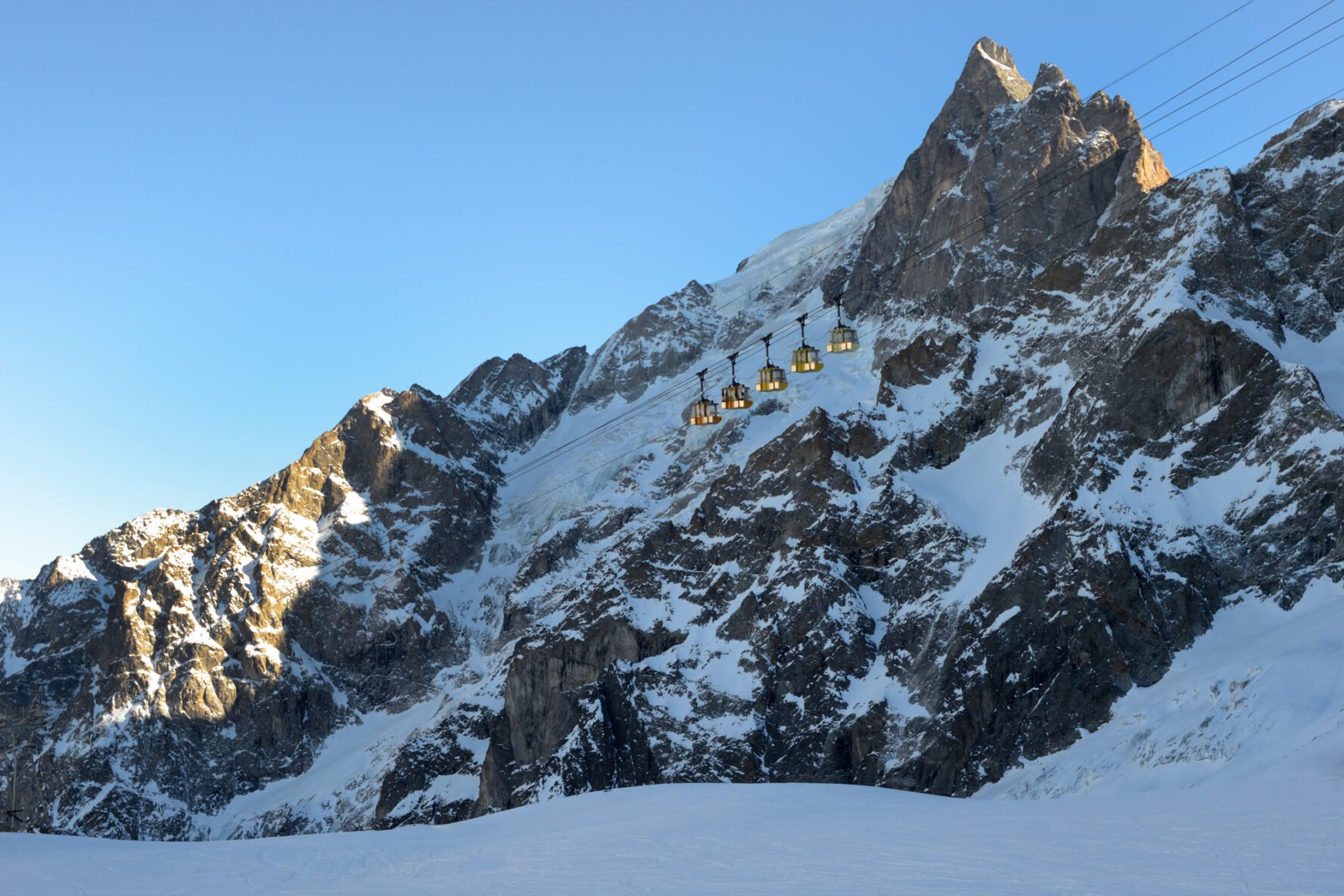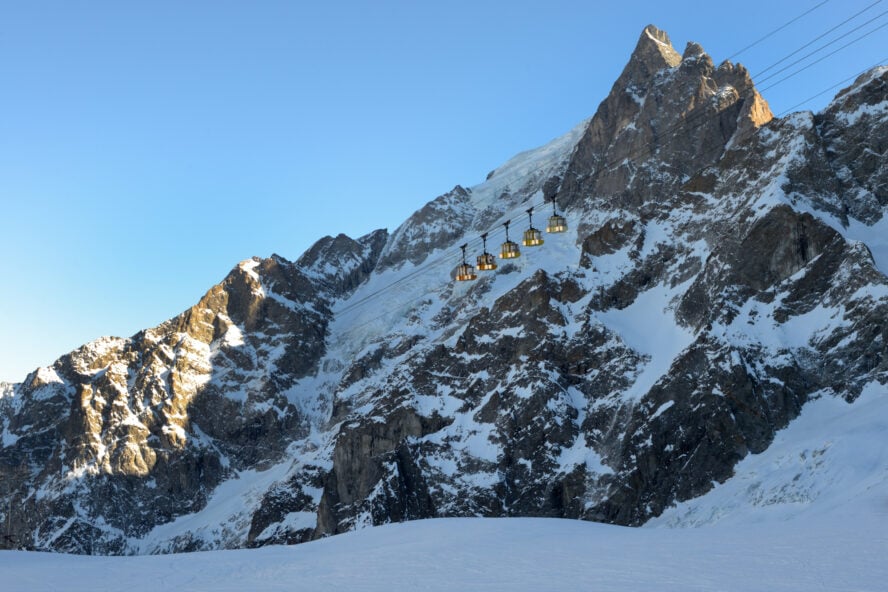 La Grave does not only mean intimidating terrain
You can be an intermediate freeride skier and still have a lot of fun because of the sheer diversity of off-piste skiing.
To head into the mountain there is one cable car that takes you to an altitude of 10,500 feet and then on the glacier, a T-bar takes you to an elevation of 11,800'. From there, two major classics, Vallons de la Meije and Vallons de Chancel, offer incredible lines amid glaciers and larch forests. From these major routes you have a ton of options, but three runs remain among my favorites.
1. Vallons de la Meije and Zone Interdite: Bienvenue to Skiing la Grave
Vallons de la Meije probably stands as The Classic of la Grave. This 6,000 foot vertical run navigates through an incredible variety of terrain and jaw-dropping panoramas. This side of the mountain, nestled against the giant north face of la Meije, does not get much sun until mid-March, which means we are sometimes gifted amazing powder skiing.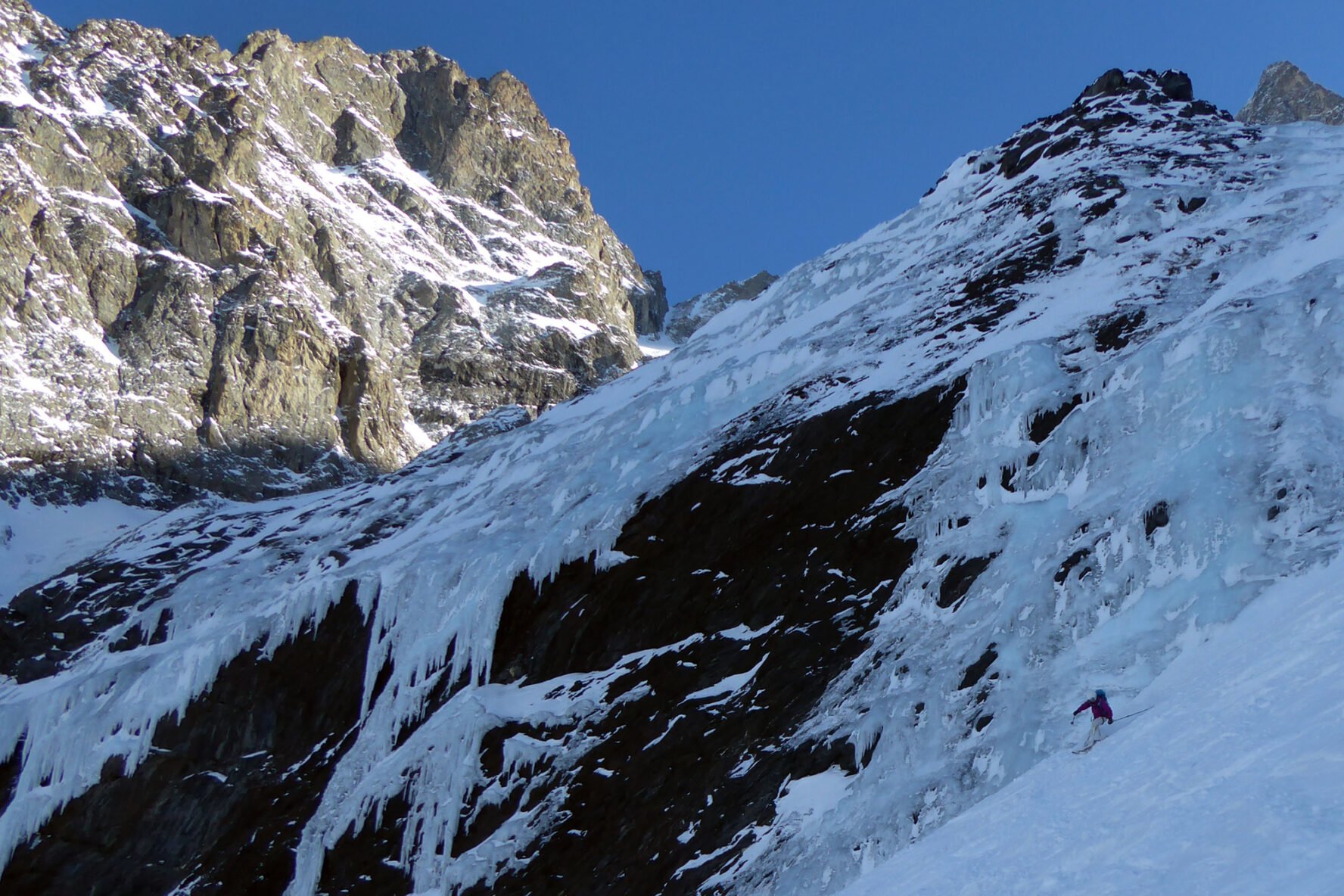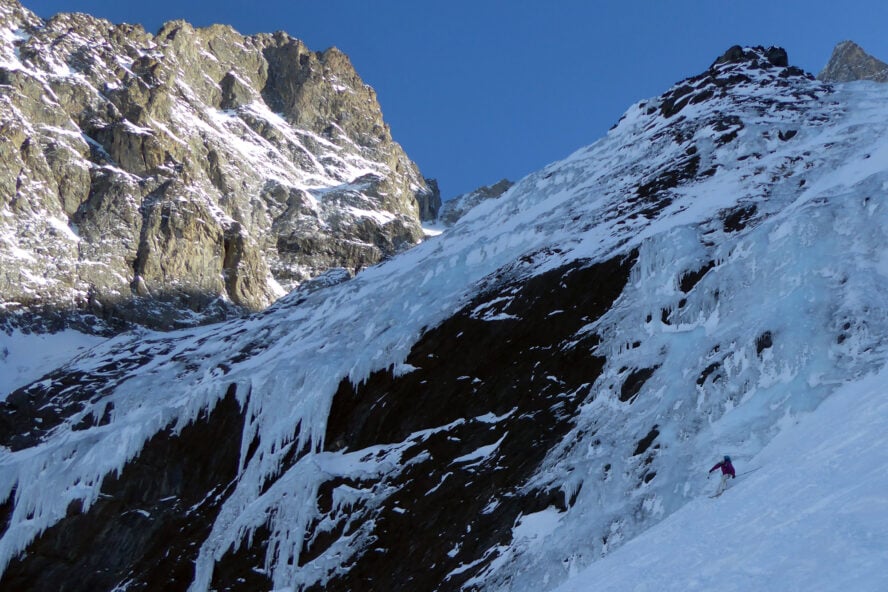 The first section offers a mix of relatively steep and lower-angle planes. Then once at the top of the moraine you come to a lesser-known area called Zone Interdite, where you ski at the foot of imposing seracs below the summit. The landscape is awe-inspiring, surrounded by immense cliffs and ice chunks.
Not so many people venture here, and I often find that on January days there are only one or two people around. Exiting Zone Interdite, you descend through larch forest and a thematically different type of skiing, until you reach the Romanche river which flows below the village.
2. La Voûte: A Must-Do Couloir
La Voûte is the first long itinerary that I skied here in la Grave. I still have vivid memories from that special day, rappelling down the entrance of the couloir with my good friend Andy. I was very emotional after completing that run—it is surely one of the most beautiful descents I've ever done!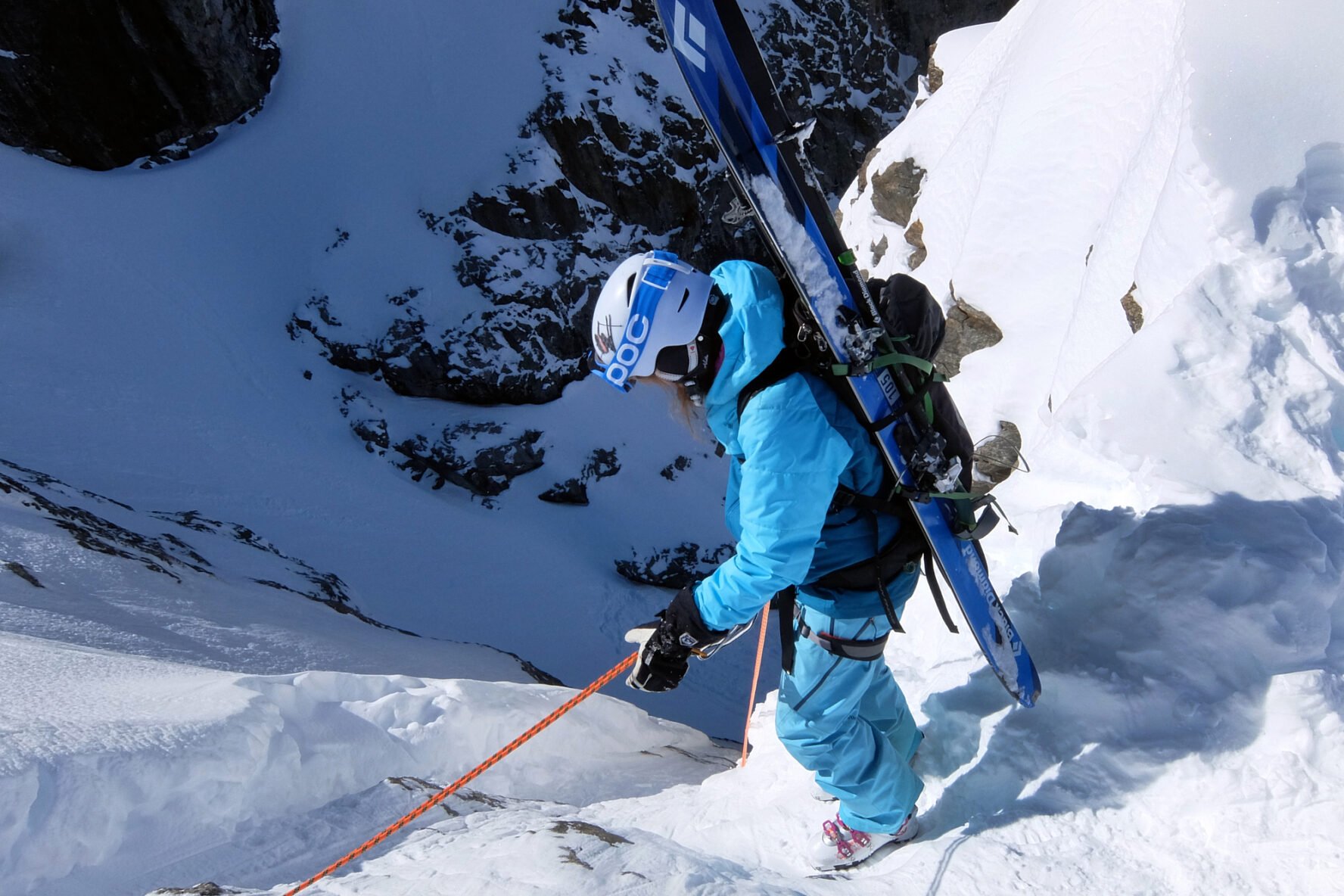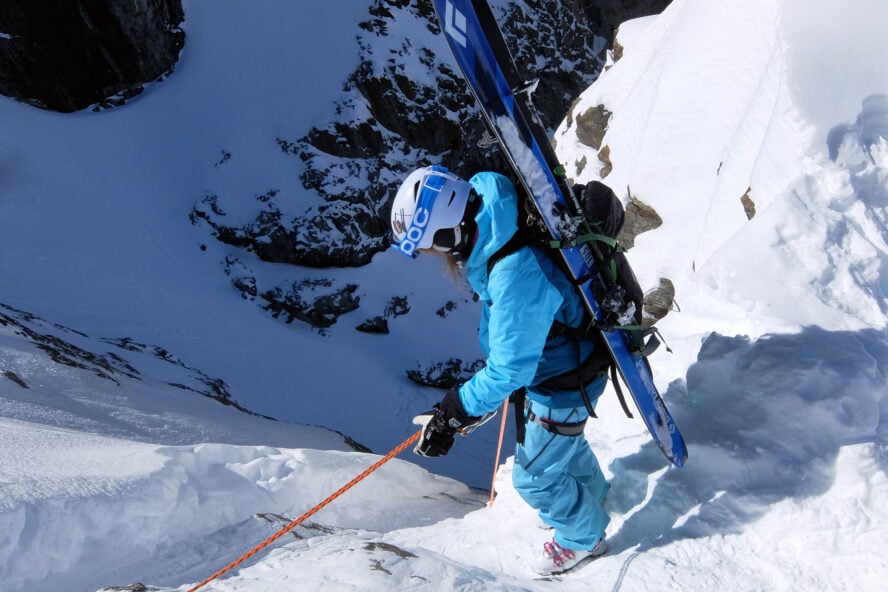 To get here, you first have to take the lift and the T-bar to the top of the Girose glacier. Starting an elevation of almost 12,000 feet, you are in for a 7,800 vertical drop!
The first section is a beautiful ride through the open low-angle glacier until you reach the slope failure. The beginning of the couloir might be a bit complex to find, making the expertise of a mountain guide necessary if you are not familiar with the area or if you do not feel confident enough to manage the route finding or rope techniques. Skiing gets steeper until you get to a rappelling point marking the entrance of La Voûte. This is skiing in a high alpine environment at its best.
Once you are in the couloir, a fairly sustained line is every off-piste skier's dream. First surrounded by vertical cliffs, you reach the forest and eventually the river—legs tired but grinning from ear to ear.
3. Saint-Christophe-en-Oisans: A Wild Escape in the Heart of the Écrins
The lift is mostly known for access to a huge north-oriented terrain but one of my favourite ski runs in la Grave is the one leading to the small village of Saint-Christophe-en-Oisans in the Vénéon valley.
Just like for La Voûte, you have to reach the top of the Girose glacier, namely the Dôme de la Lauze, with the T-bar. A short walk leads you to the entrance of this itinerary, with incredible views over the Barre des Écrins (the highest point of the Écrins mountain range culminating at 13,458 feet) and the surrounding summits. The first part is a perfect 3,200 feet sustained drop—a slope with an angle of about 40°​​—until you reach the floor of the wild Selle valley amid a stunning landscape. There the skiing becomes more gentle.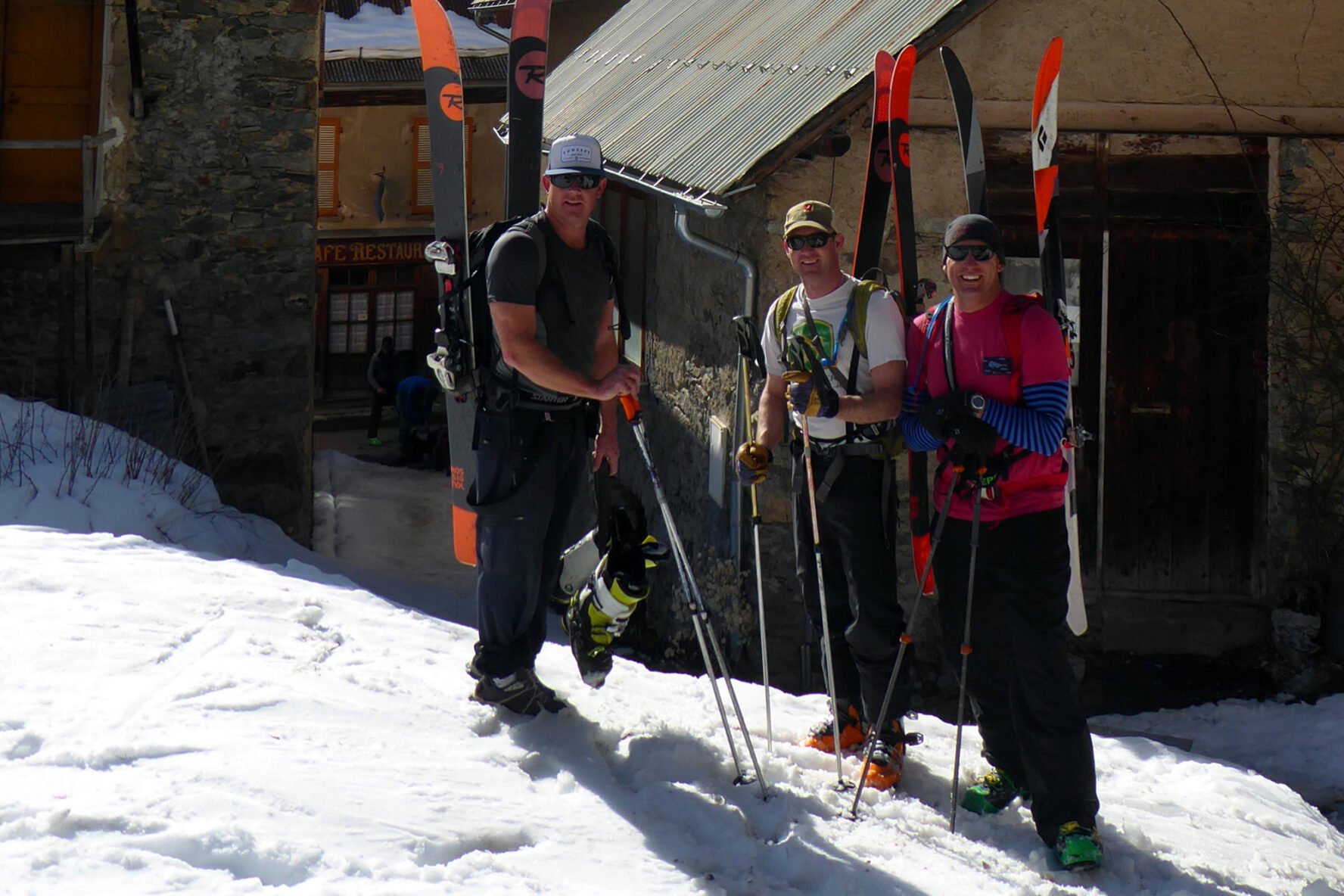 Following the valley we wind up in the remote village of Saint-Christophe. Here, less than a hundred people live year-round. Owned by the colorful Marie-Claude Turc, a descendant of a prestigious family of mountain guides, the small café-restaurant, La Cordée, is a legendary place and a must-stop for any skier getting there. The delicious food she cooks and serves is the perfect reward after a great day of adventure skiing!
Tips for Your First la Grave Skiing Trip
For you to enjoy your stay in the best possible way, here are a few tips when it comes to experiencing this very special mountain.
Ride with awareness
If you are an intermediate off-piste skier or do not feel confident exploring the terrain by yourself, there are two different options to ensure the logistics of your skiing trip will be a breeze:
First, you want to talk with the ski patrollers whose hut is nearby the departure station of the lift. They will give you valuable information about the weather forecast, avalanche risk, and also how to find your way while on the two main classics. Remember, once you are on the mountain la grave has neither a trail map nor signs.
Second, if you want to feel even more secure, do not hesitate to hire a mountain guide. Certified guides can help you manage risks in the backcountry and offer training for avalanche awareness, supporting you not only in enjoying the pow but learning in the process.
La Grave is a world-class destination when it comes to off-piste skiing and there is a large contingent of guides from different nationalities working here. You have a wide range of options from the local Bureau des Guides, guides from the Skiers Lodge owned by Pelle Lang or from Snowlegend managed by Didi Haase, a well-known ski figure in France, or even independent guides (may I suggest my partner, Nacho Garrido-Lestache!).
When should you plan your la Grave skiing trip?
With its north-orientation and high elevation, the la Grave boasts undeniable assets in terms of snow quality: cold smoke powder skiing and sizable snow coverage often lasts late in the season.
The skiing season in la Grave is a bit longer than you might find generally in France. If you want to avoid crowds but are not afraid of biting cold, January is definitely an option. There are typically just a few skiers on the mountain and you will feel like you are enjoying the vast white expanses for yourself. With longer days, February and March are a better plan when it comes to exploring the big itineraries starting from the top of the glacier—it is often filled with more snow in the second half of winter, lasting until late April in some years. Sure, a few weekends might be busy—especially noticeable at the departure station—but once on the mountain, the place is so huge that crowds quickly thin out.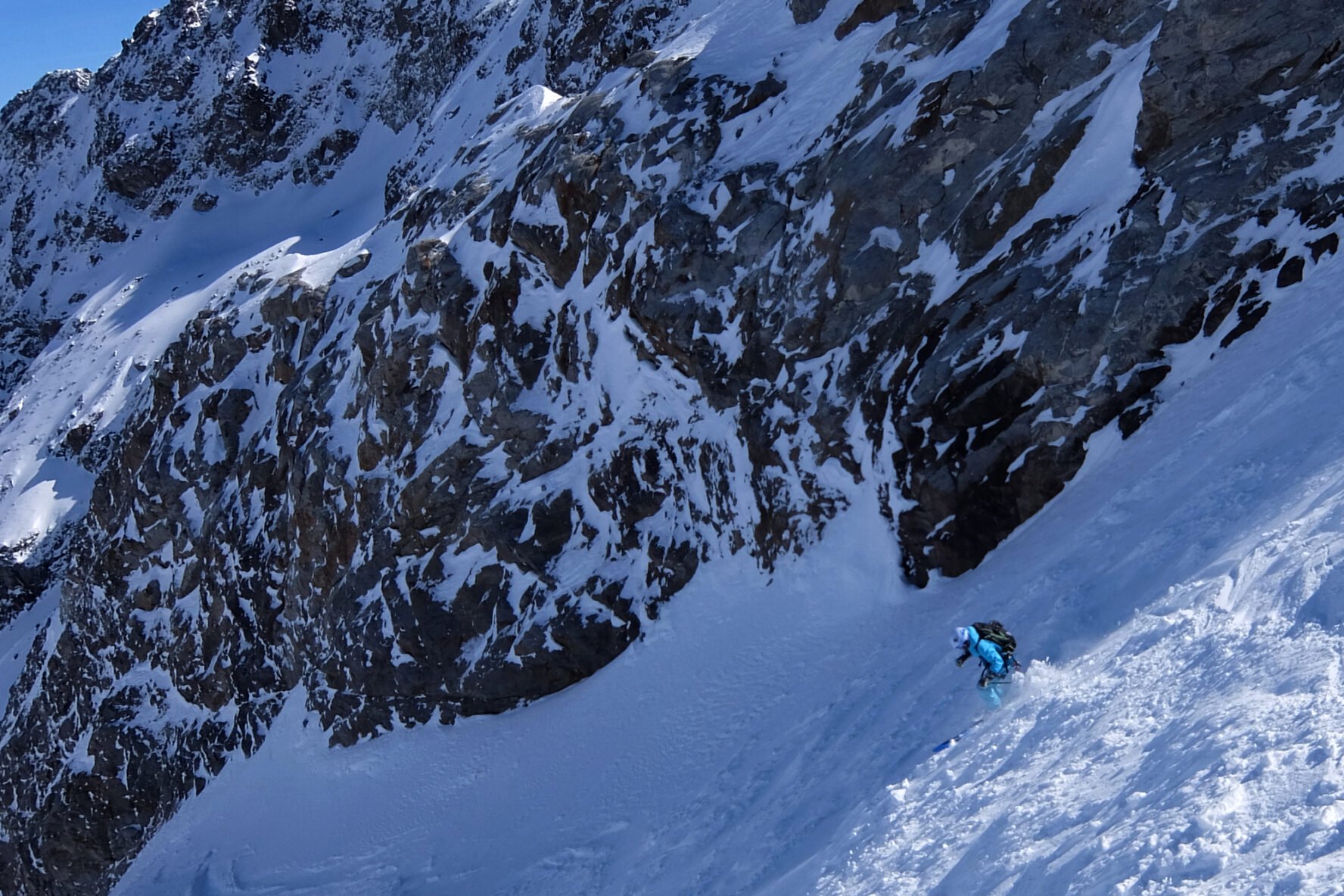 How to get to la Grave
If you fly to the Alps, you have the choice between landing in Lyon-Saint Exupéry or Torino. From those two airports, there is a direct shuttle bus with Linkbus. Or, if you are coming from the city of Grenoble, there is also a shuttle via the regional bus line.
Another option, which can be more sustainable and is an opportunity to make new friends, is to connect with fellow travelers on the popular car sharing app, BlaBlaCar. You can read more about the different options on the la Grave "resort" site.
Where to stay in la Grave
There are a bunch of lodging options in la Grave despite the small size of the village. Hotel Castillan, owned by a local family for generations, is a crowd favorite. It has a perfect location across the street from the lift, retro decoration, and delicious food. In the center of the village, Hotel Edelweiss, managed by a friendly Dutch and Scottish couple, will charm you with its cozy atmosphere, tasty food, and good selection of wine. The Skiers Lodge here in la Grave, operated by legendary, Per Pelle Lang, offers packages that include food, accomodation, and guide services. Last but not least, le Gîte du Rocher, has excellent value for the money—and its awesome staff host some memorable parties!
Where to refuel
The terrace of Hotel Castillan is the perfect hangout for an après-ski. Bathed in sunshine at the end of the day and with stunning views of la Meije, it is every skier's favorite. No wonder you will hear so many different languages spoken amidst the cosmopolit crowd! Further down the valley is a local brewery, and their IPA beers are some of the best deals around.
If you are in for a night of dancing and live rock music, head to the famous K2 bar located in the center of the village, part of Skiers Lodge. Before the concert, you can order fresh, simple food, and once the party gets started, it's time to spend the energy you haven't yet used on your skis!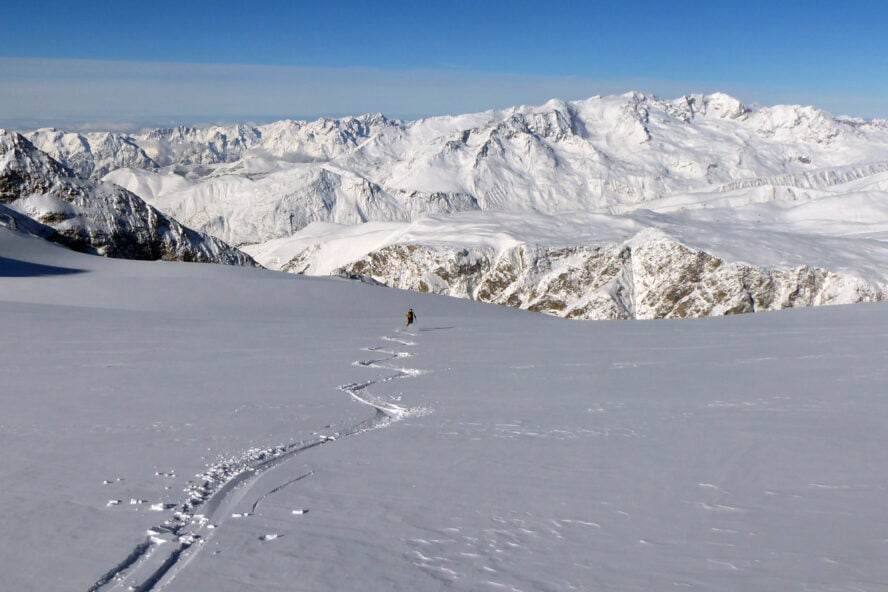 The Derby de la Meij Festival
If you plan to come skiing in la Grave during spring time, one event that should be on your bucket list is the infamous Derby de la Meije. Whether you decide to take part in it or simply watch it from a distance is up to you.
Held for more than 30 years the first weekend of April, it consists of a giant race from the top of the glacier to the bottom of the village. More than a thousand people participate in all kinds of riding gear (ski, snowboard, telemark, monoski, "weird home-made devices"), some of them even in fancy dress. Over two days, the whole village lives to the rhythm of this one-of-a-kind competition!
Ready to Come Skiing at la Grave?
As I write this, snow is just starting to fall over the Écrins range. Together with friends and neighbors, we feel the excitement and anticipation that each winter season brings. Which new adventures will I have the chance to experience below la Meije this year? I look forward to tackling new itineraries and discovering other hidden gems, enriched but also humbled by the power of the nature in my adopted home.
Has Vanessa piqued your off-piste interest? Get in touch and set up your next trip to la Grave for some of the best skiing in France, today!