Greg shared:
Photos and videos from the greatest powder paradises on Earth
Japan, home of JaPOW—does the iconic Hokkaido snow live up to the hype?
Norway—can it get any better than sea-to-summit skiing?
France—the Alps are the stuff of mountaineering legend, but are they passé today?
British Columbia—THE heli-skiing mecca… Or is it?
Grand Teton—famous for its ski mountaineering objectives, but how good is its powder?
Pros and cons of each location before declaring a winner!
Join emission-free adventurer and ACMG Ski Guide Greg Hill, as he explores five famous skiing locations in search of the best powder the world has to offer. Is the best snow in Japan, Jackson Hole, the French Alps, seaside in Norway, or deep in the interior ranges of British Columbia? Greg has searched for powder in all these incredible areas. You're invited to come along as he covers each location in depth, reliving his experiences and sharing photos and videos of his epic adventures.
Greg is known all over the world for his backcountry skiing feats. He's journeyed to Japan to shoot the perfect glove shot, taken a boat trip around Norway in search of the best sea to summit skiing, searched for beautiful backcountry snow on his first electric road trip to Jackson Hole, taken the first turns off French mountain tops, and is in constant search for the untracked in his home range in British Columbia. When it comes to skiing, Greg has seen it all and done it all.
Check out this free webinar recording, as Greg revisits his turns in each of these famous powder locations. Which location will Greg crown the winner?
Webinar host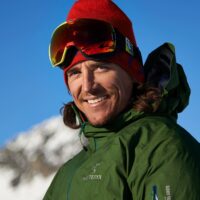 Greg Hill
ACMG Ski Guide and Emission-Free Adventurer
Greg Hill is known far and wide for incredible first ascents and all-around skiing prowess. He's also a good friend of 57hours. His mountain accomplishments are too many to list here, but he's known for skiing the odd two million vertical feet in a single year, and he's also skied 50,000 feet in 24 hours just because he can. Oh, yeah — he also climbed and skied 100 kilometers in a single month. Not too shabby. Greg's also changing the world with his outdoor pursuits by practicing zero-emission adventuring.