The Best Places for Backcountry Skiing in California in 2023
Known as the Golden State, California fulfills its promise for sun and surf, but it also has some of the best laid-back powder stashes in the country. "Eureka!" indeed.
Table of Contents
California is known for the ability to move from shoreline to ski run in a matter of hours. When you're sick of desert adventures such as the best Joshua Tree hikes, there's a whole winter wonderland awaiting just hours away.
Not only is California home to some of the best ski resorts in the U.S., the backcountry skiing in California delivers nothing short of powder-perfect conditions. Whether you're looking for the deepest snow, the steepest vertical or the best local vibe, you'll find it on this list of the best places to backcountry ski in California. Without further ado, here are our top spots.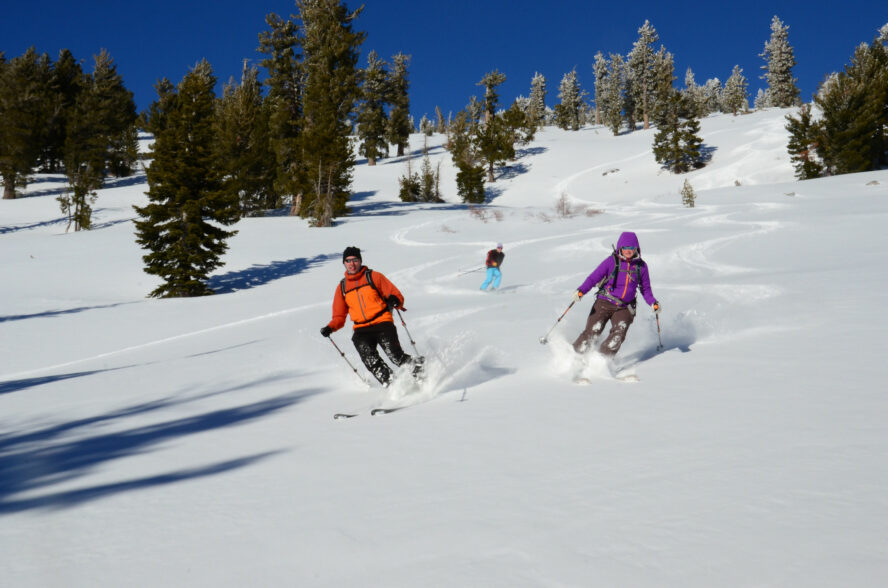 Several mountain ranges are found across the state. In Northern California, Mt. Shasta attracts devotees to no-frills ski mountaineering in the Cascade Mountains. In Southern California, day trippers head to the mom-and-pop resort in Big Bear. But it's the Sierras that claim all the notoriety. The Sierra Nevada Mountains, known in the summertime for housing of the best hiking in San Diego, stretch for almost the entirety of the Golden State, renowned for its terrain, powder and vertical drops. In the eastern Sierra, Mammoth backcountry skiing is a huge draw. The hands-down classic touring spot for backcountry skiing in the Sierra landscape is Lake Tahoe. Perhaps the most famous skiing in California, Lake Tahoe is an unforgettable bucket-list destination.
Where is the best snow in California?
Thanks to its average snowfall of 450 inches (and 300 days of sun), the best snow in California is in Palisades Tahoe, near Lake Tahoe. Much of the Eastern Sierra backcountry skiing is comparable with the best of Colorado backcountry skiing or Utah's top skiing destinations. Tahoe has some of the best skiing in California, but it's not alone. Advanced skiers and splitboarders head north to Mount Shasta to traverse an active volcano in the Ring of Fire. Travelers are fond of Mammoth Mountain when seeking bowl skiing and elevation. Mammoth backcountry ski tours are worth the journey to this section of the easter Sierra. Several AMGA/IFMGA licensed guides offer programs to skiers across the state looking for a weekend out of bounds.
Find the best backcountry skiing near Lake Tahoe and Truckee
Tahoe, where most of the spots on our list are situated around, offers varied and extremely challenging terrain—if you're looking for that sort of thing. Lake Tahoe's deep blue water is surrounded by mountain ranges with the desert to the east. The lake itself is split in half by the border of California and Nevada states. The majority of developed ski areas are on the California side. Tahoe backcountry skiing is a major draw for locals and weekend warriors in the Bay Area looking for a quick fix. Tahoe's Olympic Valley, at Palisades Tahoe, hosted the winter games in 1960.
Neighboring ski towns around Lake Tahoe include Truckee and North and South Tahoe all have tantalizing objectives available just off the road. Worthwhile runs are found on resort, just out of bounds and deep in the backcountry. What's most interesting about backcountry skiing in Tahoe is that the resorts have begun to embrace it, too. But, it's not just Tahoe that holds all the goods. Read on to find out what we consider to be the best six backcountry ski destinations in California:
California
1. Mammoth Lakes and Mammoth Mountain
TOP CHOICE FOR REMOTE TERRAIN
Reputation for high snowfall and lighter snow due to high elevation
Abundant terrain for a range of skill levels
Casual amenities and laid-back atmosphere
Some find it hard to get to Mammoth, but remote means less crowds
High winds are common due to Mammoth's location and altitude
Mammoth backcountry skiing is found in eastern California near the world famous Yosemite National Park. Mammoth Lakes and its namesake mountain are located 313 miles (about 500 kilometers) north of Los Angeles and 360 miles (580 kilometers) west of San Francisco by winter roads. Despite the 5.5-hour drive, Mammoth backcountry skiing is the mountain of choice for Los Angeles powder seekers. Tahoe backcountry skiing is only 2.5 hours north, so linking the two locations is an option for multi-day trips. You're going to want time to explore Mammoth Mountain Resort, which covers over 3,500 acres with a peak elevation of 11,053 feet. The family-friendly area features plenty of diversions if you're looking for an easy day trip. The Mammoth area is renowned for its numerous natural hot springs, ideal for a soak in spring. If you want to resort hop, hire a guide and tour the classic traverse from Mammoth Mountain to June Mountain.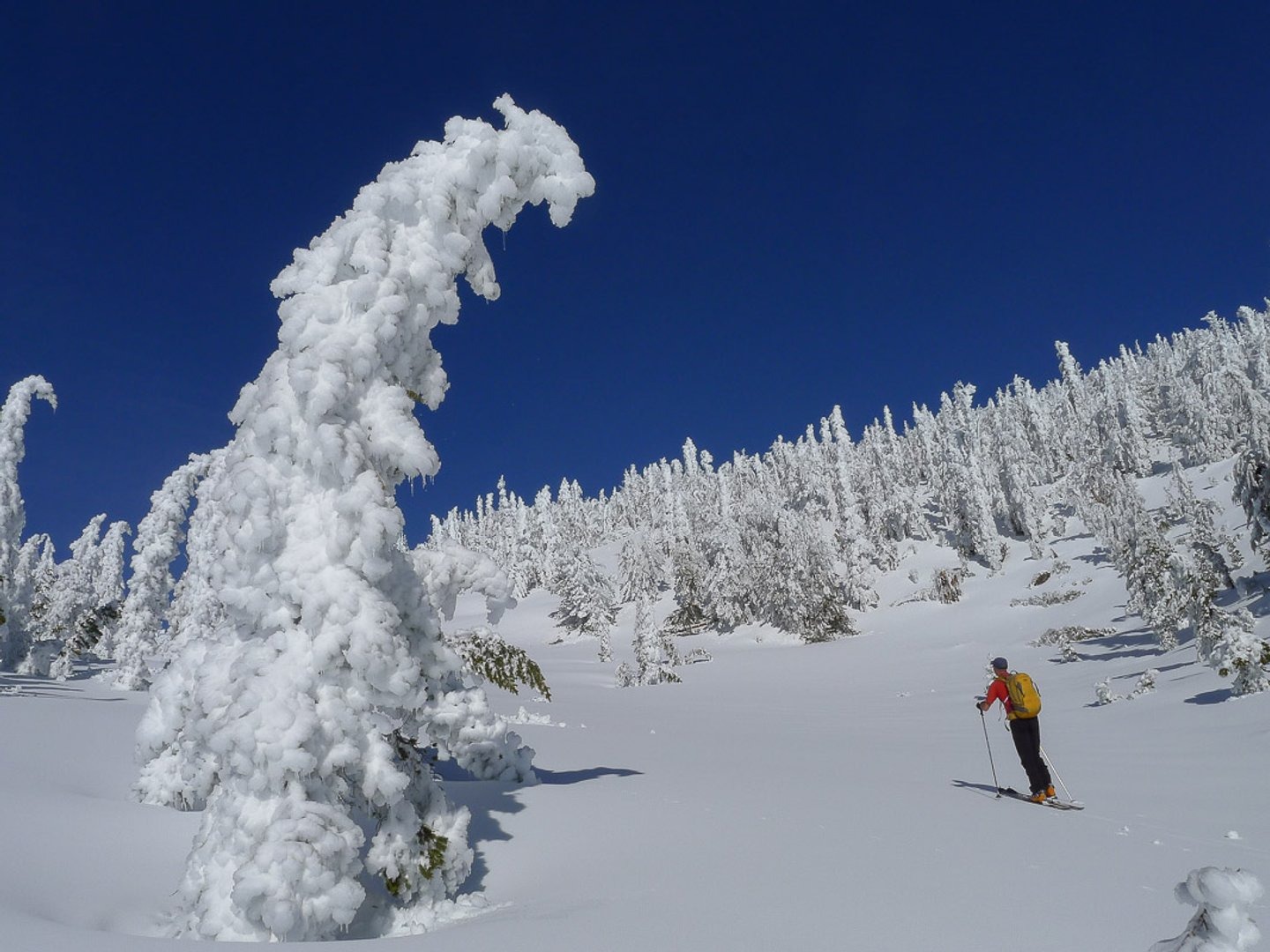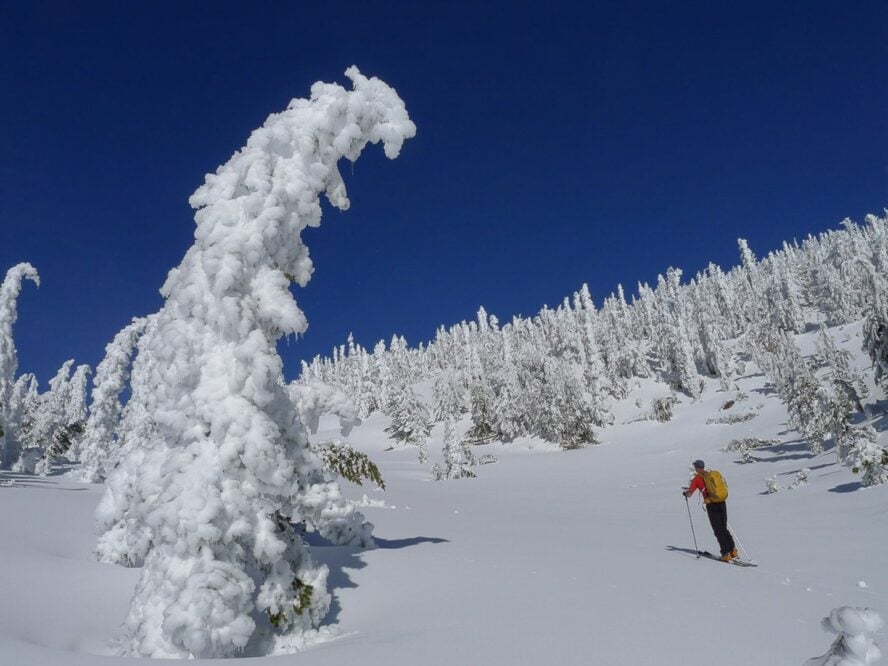 Mammoth area has easy access to bowl and high elevation routes
Surrounding the town of Mammoth Lakes are opportunities for backcountry skiers and riders. Mammoth Lakes is also home to plenty of non-resort backcountry options like Mammoth Crest and Mount McGee. Local, certified Mammoth backcountry guides are available to help you access the rock, ice and snow. If you're not headed to the resort, this section of Eastern Sierra has other areas to explore for backcountry skiing. The Lakes Basin, Duck Pass and Devil's Postpile areas all offer great terrain. Lake Mary Road provides easy access to many objectives. If you stay close to the road, consider the Sherwin Bowls, where, you guessed it, there's plenty of bowl skiing. Other good runs within Mammoth include the Tele Bowl (along Sherwin Creek Road) with solid options at higher elevation like the Bardini Chutes and Punta Bardini. Other favorite spots include descents from Mammoth Crest and Mount McGee, where the corn skiing can be had all of the time.
Travelers can surf in the morning and catch a flight to the slopes on the same day. Mammoth backcountry skiing is quintessential California culture.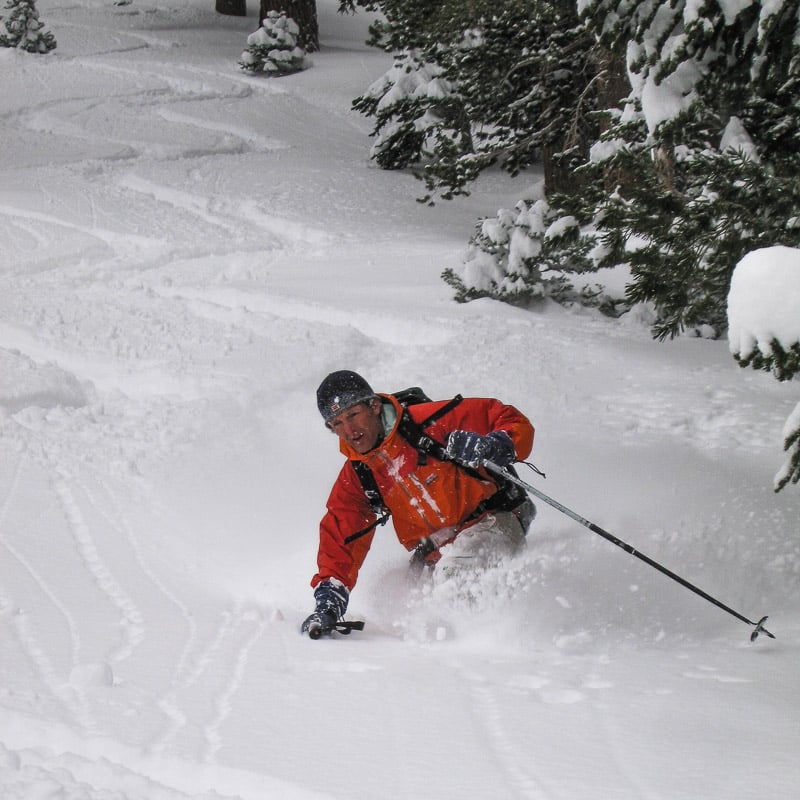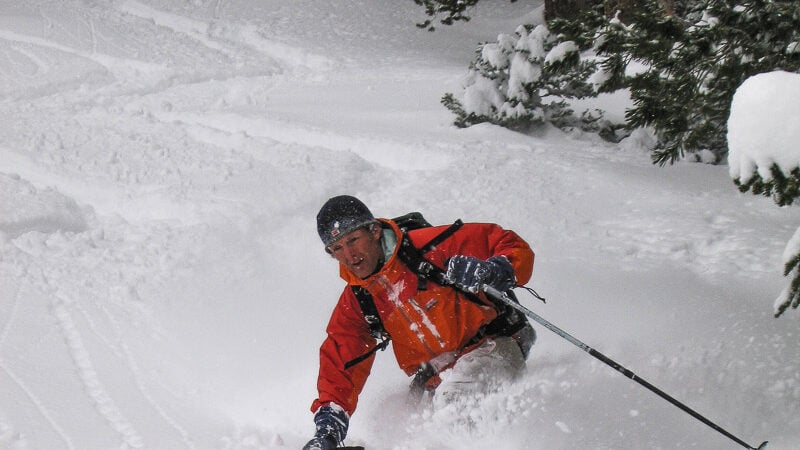 March 1st, 2017, Splitboarding Mammoth Lakes Backcountry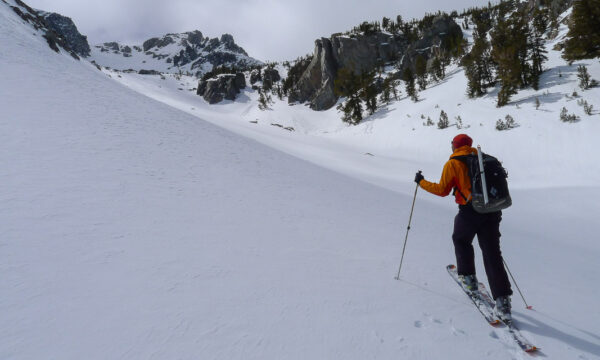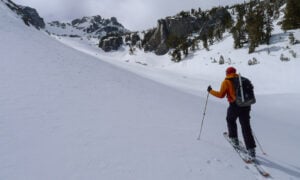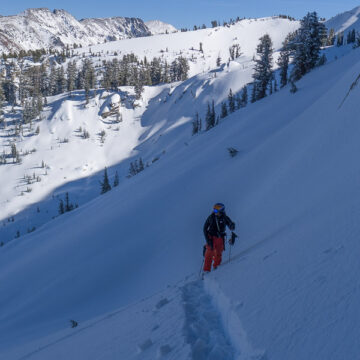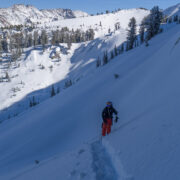 1. Mammoth Lakes and Mammoth Mountain - Good to Know
Skill level:
Intermediate to advanced
Terrain:
Alpine, trees, steeps and the odd cliff
Backcountry access:
The resort's infrastructure offers easy access to the goods, but there's plenty of other access via nearby roads
Snow:
Approximately 400" of annual snowfall, considered lighter because of its eastern Sierra orientation
Best season:
February through mid-April
Location:
Eastern Sierras, California
Guided trips:
California
2. Palisades Tahoe-Alpine Meadows
TOP CHOICE FOR LEGENDARY TERRAIN
Skiers flock to Palisades Tahoe for its amenities and proximity to San Francisco
Legendary Olympic terrain attracts a multitude of riders
Alpine Meadows caters to families but delivers with awesome backcountry
Palisades Tahoe draws crowds, so be prepared
Lower elevation means rain can be an issue when it warms up
Lake Tahoe is a stone's throw from San Francisco, making dependable backcountry skiing accessible for locals and travelers alike. The newly named Palisades Tahoe Ski Resort area, has long attracted a jet-setting crowd to the North Shore of Lake Tahoe. Tahoe's famous pow ranks among the top ski destinations in the U.S, not just the best skiing in California. Palisades Tahoe is a former Olympic village for the 1960 Winter Games, and for good reason. It has one of the largest terrain, good aprés, and a legacy that attracts extreme skiers looking to recreate Warren Miller movies. Its diverse terrain caters to all skill levels, but Tahoe's backcountry skiing reputation attracts pros and thrill seekers.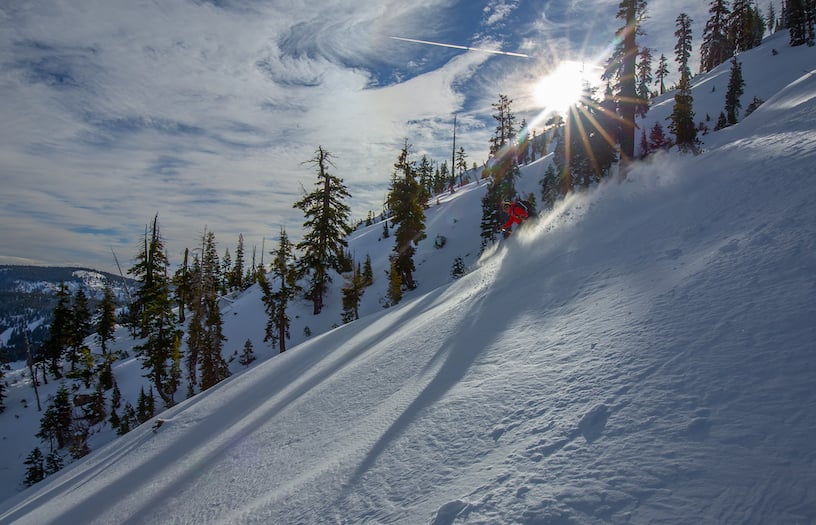 Tahoe skiing with two for the price of one
In 2011, Tahoe's most famous resort paired with neighboring Alpine Meadow and began to operate as one. You'll need only one season pass to get the goods. Although merged, they have distinct personalities. Each caters to different types of skiers. If you get tired of crowds, you can find a more relaxed atmosphere at Alpine Meadows. It's more focused on the ski experience and less on aprés and glamour. Alpine Meadows is also great for family vacations. This location sometimes gets overlooked because it's low-key compared to the other Tahoe resorts.
Head to these three zones for ski touring in Tahoe's backcountry
The resorts are connected with backcountry access gates and a shuttle service. The lifts give you access to three zones: Tram Ridge, Nat Geo Bowl and Munchkins, the latter of which is good for backcountry beginners. Backcountry access here is easy and convenient. The more notable places are Twin Peaks, and Grouse Rock for skiers and splitboarders looking for a tough climb. Beginners should look to Stanford Rock, which is mellower, but you still need to earn those turns. Easy access shouldn't lure you into riskier decisions — the backcountry is for intermediate to advanced skiers and riders. If you're unsure how to start backcountry skiing, make sure you have a solid foundation skiing at the resort then hire a guide. Trust us, it's more fun when learning with the pros (and friends, of course).
For anyone looking for more extreme Lake Tahoe ski touring, consider Granite Peak and the Palisades. With only a moderate hike, you can reach Granite Peak and ski wide bowls and steep chutes with full lake views. If you are looking for something more laid back, sidecountry options require minimal hiking.
Whether you are a veteran in backcountry terrain or still getting the hang of it, the chutes, couloirs and bowls of Palisades Tahoe Alpine Meadows have the best uncrowded runs.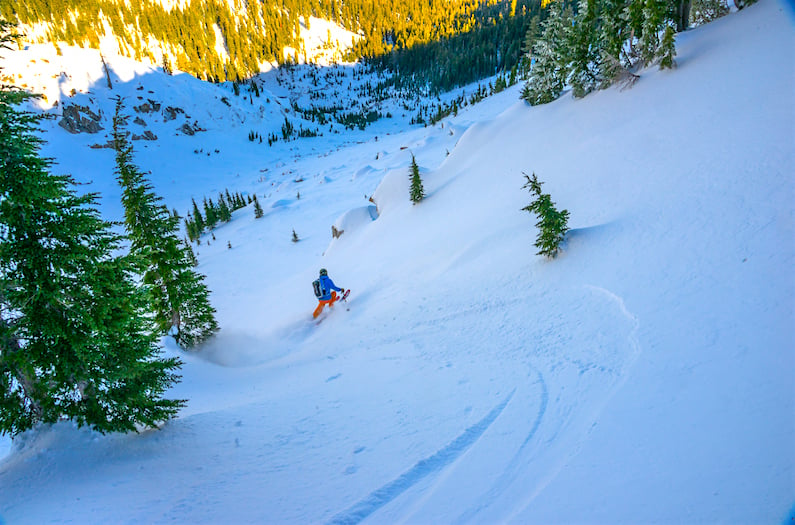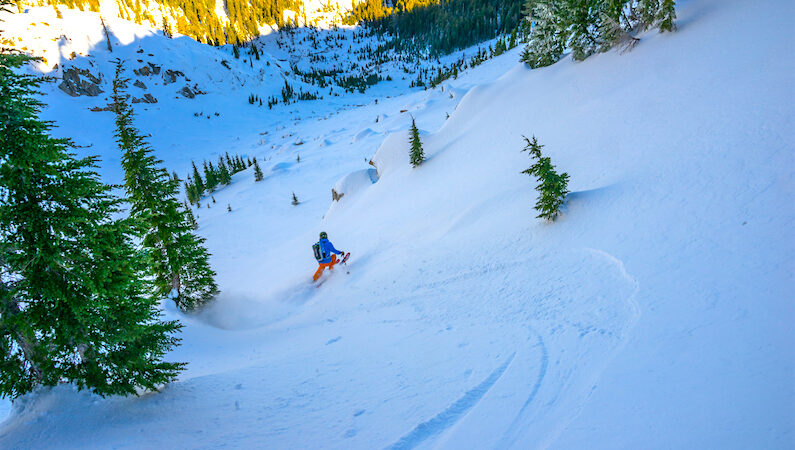 Alpenglow Expeditions - Backcountry Tours at Palisades Tahoe | Alpine Meadows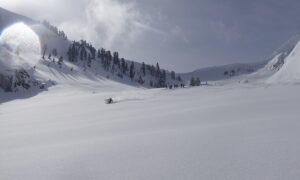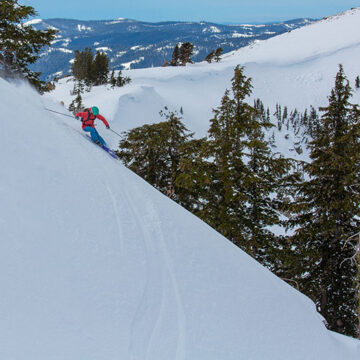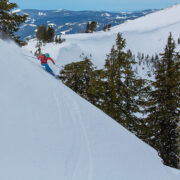 2. Palisades Tahoe-Alpine Meadows - Good to Know
Skill level:
All levels are welcome. Lots of pros flock to the area
Terrain:
Chutes, wide couloirs and even some decent tree runs
Elevation:
6,200′ (Palisades Tahoe) 6,835′ (Alpine Meadows)
Backcountry access:
For Palisades Tahoe there's sidecountry terrain because of ski-lift infrastructure. Alpine Meadows is more true backcountry experience and you need to be more physically fit
Guided trips:
Best season:
Mid-January to April
Location:
Placer County, California
Backcountry ski map of Palisades Tahoe Alpine Meadows:
These maps show you the runs on the backsides of both Palisades Tahoe and Alpine Meadows
Snow:
This area gets great snow but Palisades Tahoe attracts plenty of people so fresh powder on weekends is tough to find
California
3. Mount Shasta
TOP CHOICE FOR SPRING SKIING
Snowpack makes skiing well into summer possible
You're skiing on an active volcano, enough said
Find an epic and continuous crevasse-free run on the south side
It's a volcano (that hasn't erupted since 1786)!
Certain routes are popular, so local knowledge needed to find secret stashes
Mt. Shasta is a spring skiing destination without any of the frills. Did we mention it's an active volcano? Mt. Shasta is one of the southernmost and the second largest of the Cascade Mountains' Ring of Fire. Granted, the last blast erupted in the 18th century. Backcountry skiers have long esteemed its numerous access points and mellow glaciers. That said, Mt. Shasta backcountry skiing is no joke. If you're interested in making the summit, check the weather, be prepared for a challenging climb and know how to manage the crevasse hazard. Also, bring lightweight crampons and ice axes. Chances are you'll need them on the south side, but definitely on the east and north sides of Shasta.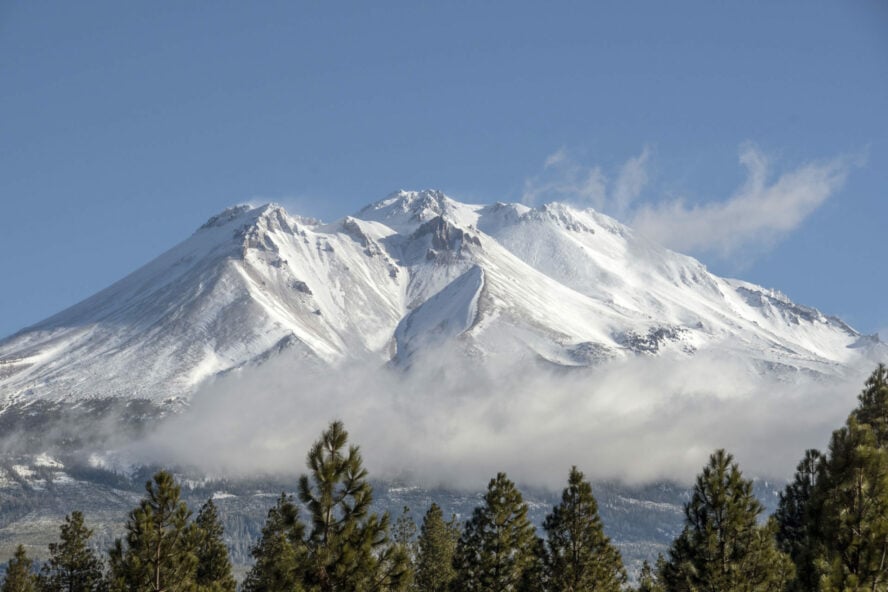 Avalanche Gulch is Mt. Shasta's classic backcountry route
Most ascents and descents are for the experienced only. You'll find more routes and lines than you can shake a ski-pole at. Ample guiding services are in the area, if you're looking for a gentler start. Unlike the summit, low to mid mountain is approachable in winter. The classic line up is Avalanche Gulch. Some say it gets too crowded, especially on weekends. The Hotlum-Wintun ridge on the northeast side is a good alternative. The line off the summit is steep and unforgettable. Pro tip: Head out on dawn patrol with a small experienced group. The early rise will be worth it.
This challenging ascent up the side of an active volcano is perfect for advanced skiers who want true corn skiing and no frills.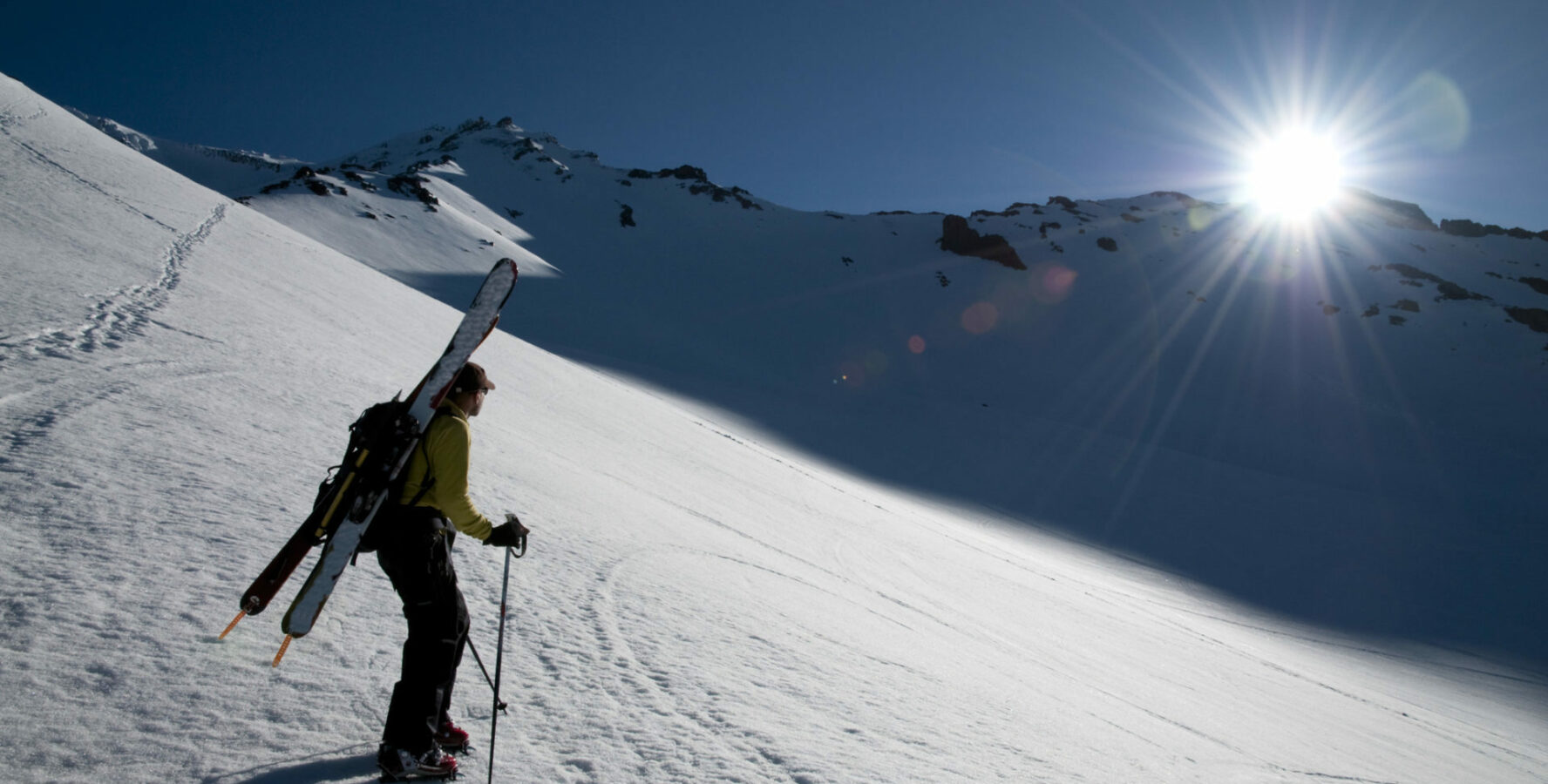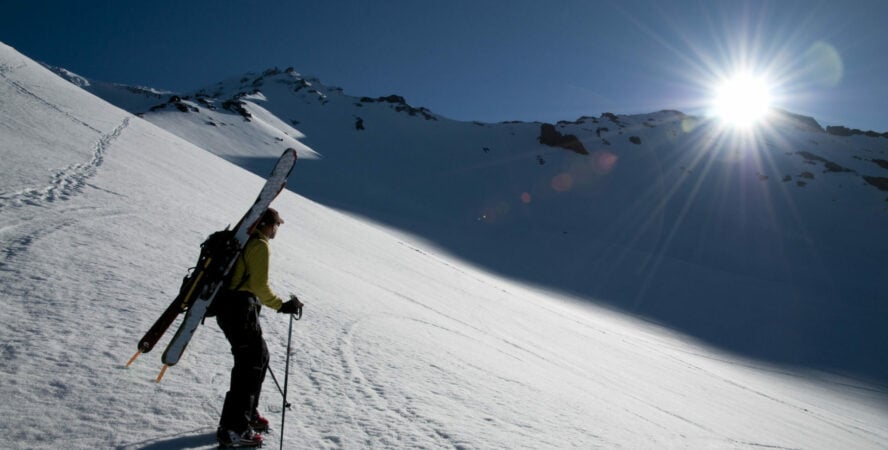 Mt Shasta Ski Descent June 2016 | Hotlum Wintun Route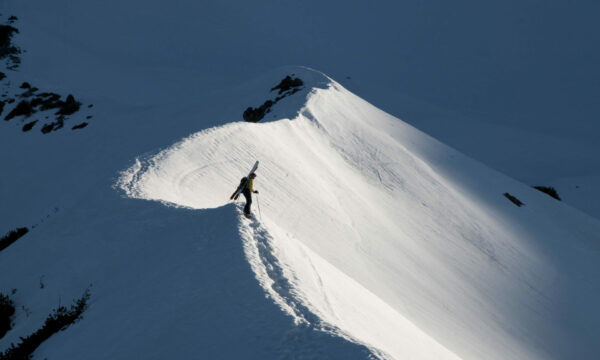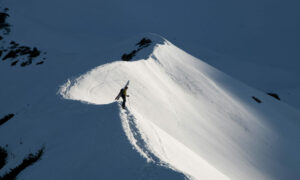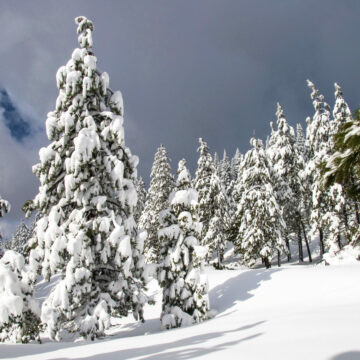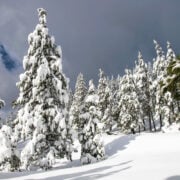 3. Mount Shasta - Good to Know
Skill level:
Intermediate to expert
Terrain:
Open glades, chutes and consistent steep slopes
Elevation:
Peak tops out at 14,180'
Backcountry access:
Access is relatively easy, though the usual hazards prevail
Guided trips:
Best season:
February through June
Location:
Southern Cascades in Northern California
Backcountry map:
Snow:
Generally solid maritime snowpack; corn in spring!
Great area for an intro to backcountry ski or splitboard touring
Diverse terrain for experts looking for a thrill
Small, rustic village for affordable, slope-focused trips
Less in-park vertical and less terrain than other Tahoe-area resorts
Warmer storms can mean hard, wet snow called "Sierra Cement"
Sugar Bowl is one of the more ski-focused Lake Tahoe area resorts. Situated near Truckee, the understated resort has operated since 1939. Despite the initial investment by Walt Disney himself, Sugar Bowl doesn't have the Disneyland feel of other Tahoe resorts. It's never too crowded and rarely tracked out. The resort also has a great relationship with backcountry skiers. Sugar Bowl offers uphill passes and excellent lift access to off-piste areas via the Summit and Crows Nest. For beginners, dedicated courses are also availables, like introductory classes, avalanche classes, and tours of Anderson Ridge and the summit of Mt. Judah to Donner Lake. Regardless of whether you are using the resort's facilities, you can still get to the goods by parking in the lot and ski touring the old fashioned way.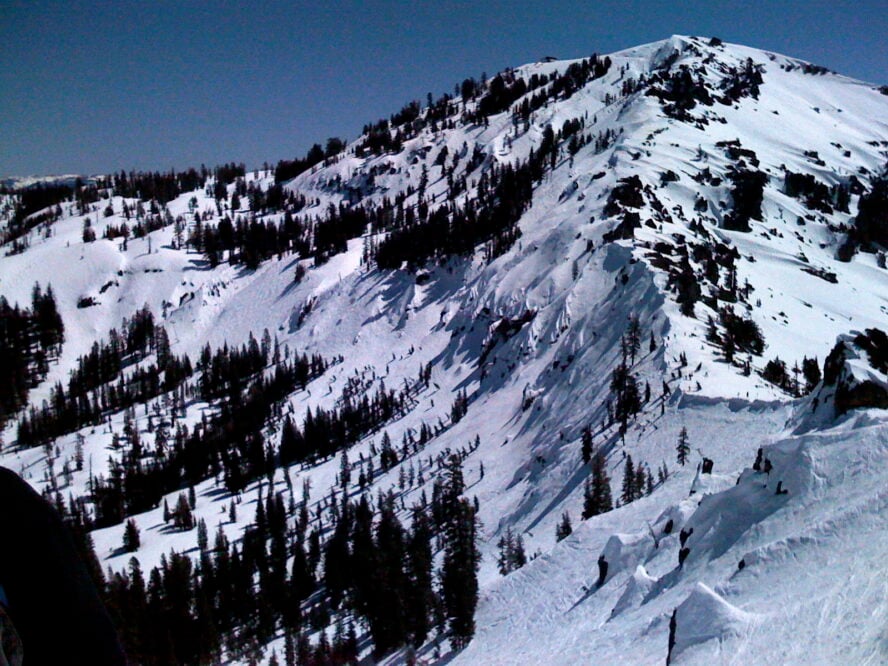 Don't miss the Heart down the north face of Donner Peak
There truly is something for every level of skier here. The resort has eight different backcountry gates, all of which provide access to diverse terrain. Be prepared when you leave the resort, as the outside areas are not patrolled and there's no regular avalanche precautionary control. One run worth checking out is the Heart, a line down the center of the north face of Donner Peak. Do look out for the cliff drop. Another well regarded line is the Lake Run, which offers a descent of 1,300 feet (400 meters) with the option to catch some air as you make your way down to Donner Lake. Sure, there are plenty of other places to check out in the Tahoe area. Sugar Bowl should still be at the top of your list for its charm and terrain.
Despite the initial investment by Walt Disney himself, Sugar Bowl doesn't have the Disneyland feel of other Tahoe resorts.
4. Sugar Bowl - Good to Know
Skill level:
Intermediate to advanced
Terrain:
Cliffs, trees, and chutes. There are some good places to catch some air!
Backcountry access:
The resort has amazing lift-accessed backcountry access. Some would say it's the finest in the Tahoe area
Guided trips:
Best season:
Mid-January to March
Locations:
Norden, California
Snow:
Plenty, around 500" annually and the area gets hit first by any incoming Pacific storm
California
5. June Mountain
Affordable and very peaceful resort that caters to backcountry skiers
Easy to find fresh powder after a snow storm
Lofts of uncrowded lifts make backcountry access easy
Less lively apres scene compared to Tahoe resorts
Modest terrain compared to neighboring Mammoth
Tucked away and unpretentious, June Mountain attracts a different crowd compared to the other California resorts. Locals have put a lot of effort into maintaining June Mountain as a backcountry skiing safe haven — and their efforts have paid off. This mom-and-pop backcountry hidden gem is just 20 miles north of Mammoth Lakes. Compared to Tahoe backcountry skiing, June Mountain Ski Area is an easy drive from Southern California. The mountain's medium-sized 1,500 acres cater to off-piste skiing and snowboarding. June Mountain's steep peaks often draw comparisons to the Swiss Alps. In addition to its numerous intermediate and advanced routes, June Mountain is also a cozy, family-friendly place for powder hounds of all ages. Welcoming locals are trying (and succeeding) to maintain a backcountry scene for true powder lovers.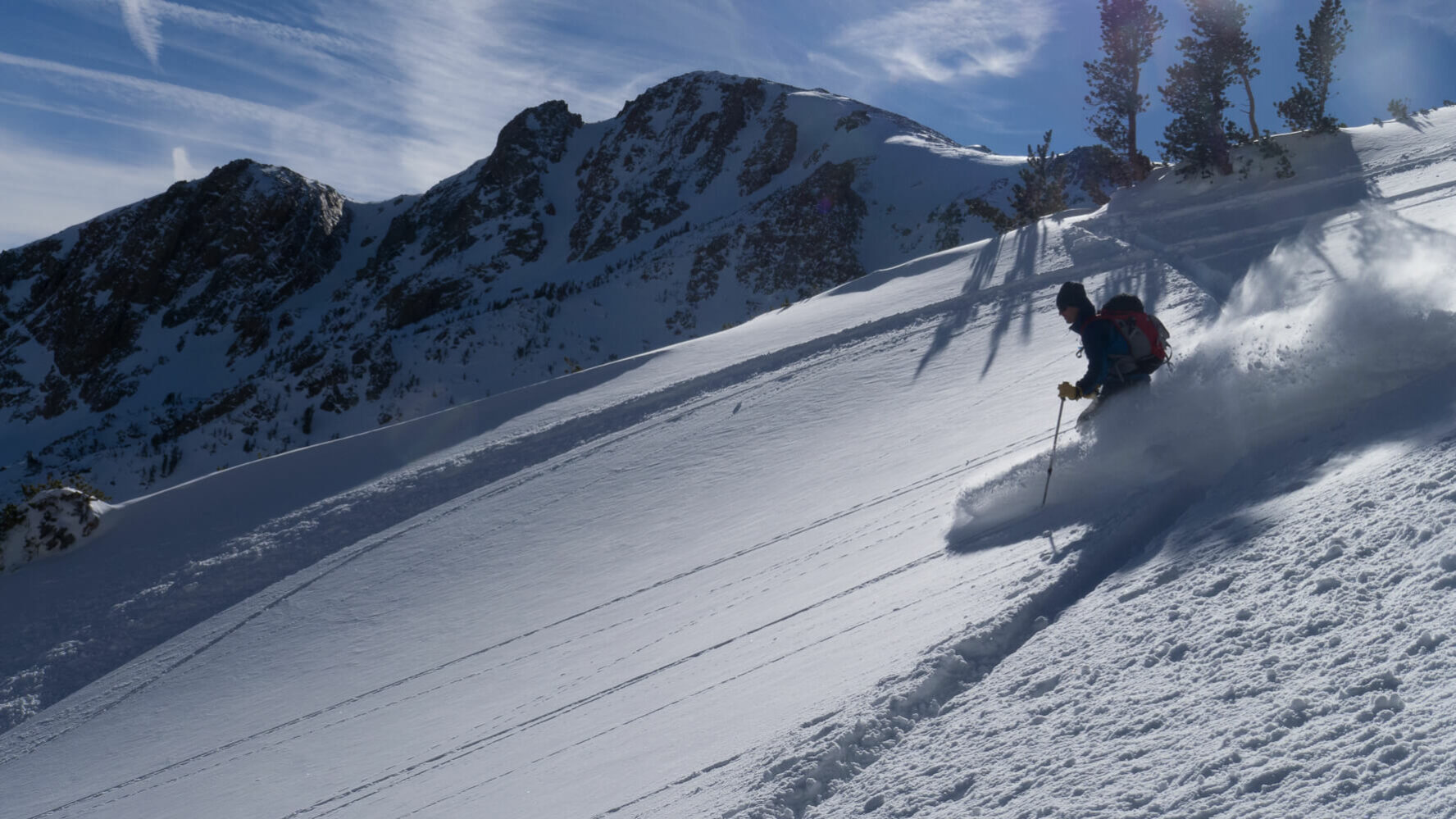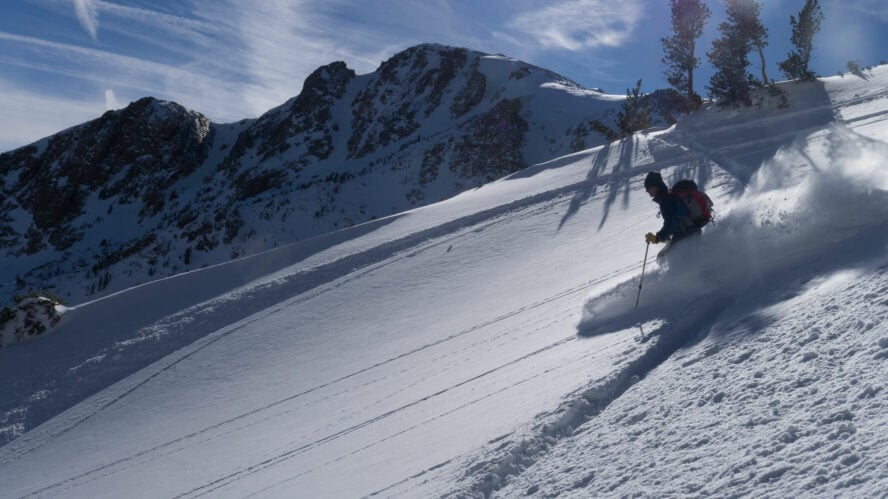 June Mountain's seven lifts are well placed for backcountry access
June Mountain backcountry also delivers on access. The double chair takes you up to mid-mountain, then branching into Rainbow Mountain and June Mountain 10,000-plus foot routes. Terrain ranges from steep chutes and couloirs to open fields and tree runs. The resort seven-lift infrastructure isn't extensive, but it takes you to all the right places. After a 30-minute hike, you reach some of the best backcountry skiing in California. Must-ski spots — and some of the easiest to access — are Carson Peak, The Negatives, San Joaquin Ridge, Glass Creek, Devil's Side and Four Seasons. June Mountain might receive less snow than Mammoth but with spacious terrain and fewer crowds, the mountain stays untracked longer. Also, most runs are north facing, so the snow stays fresh.
A short shuttle from Mammoth Lakes, June Lakes is an unpretentious backcountry haven for people who are true powder lovers. Enough said.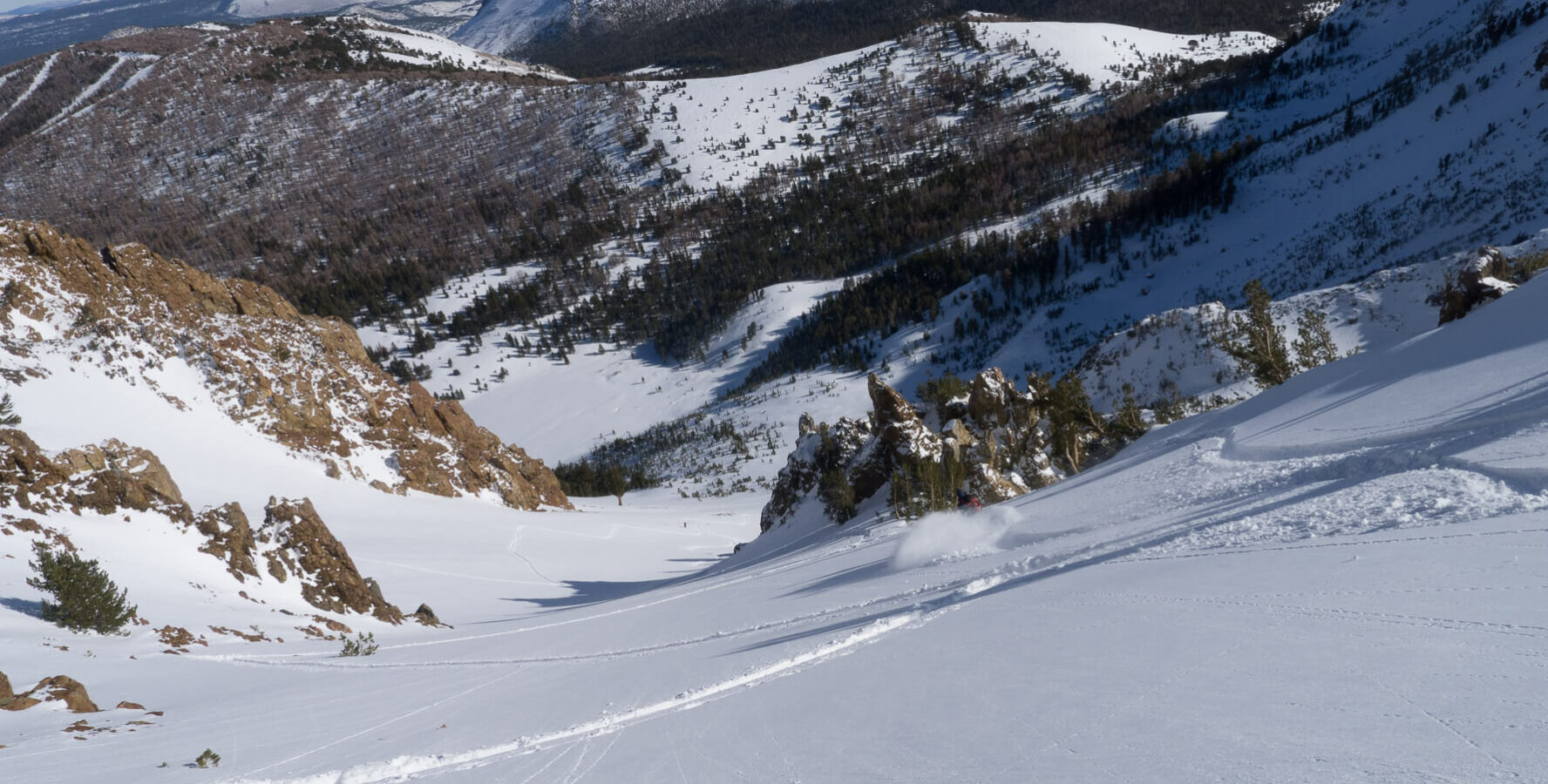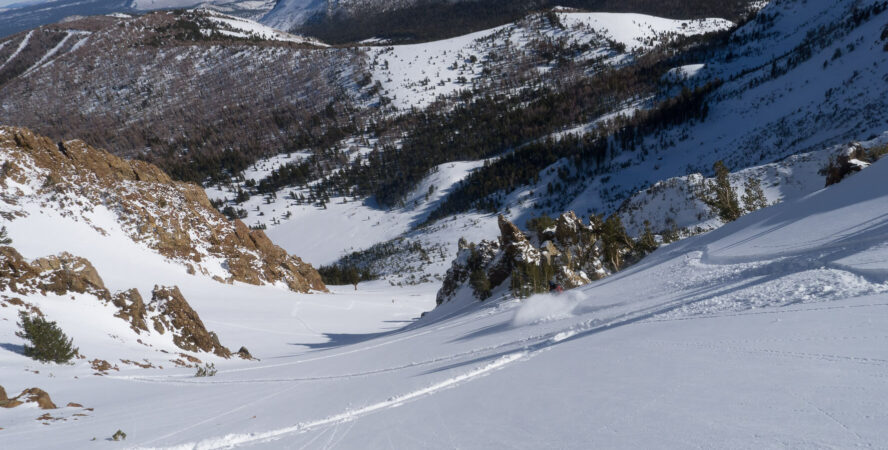 Mammoth to June via the Ritter Range, March 2014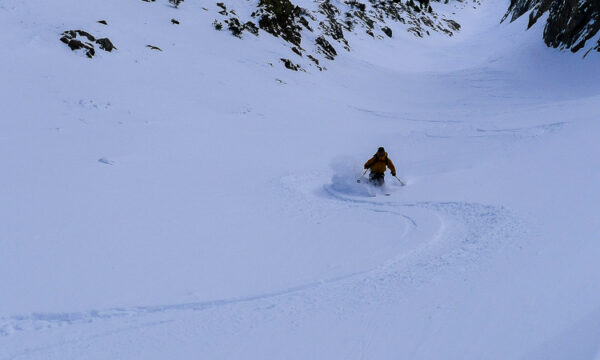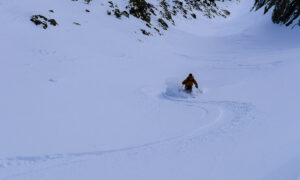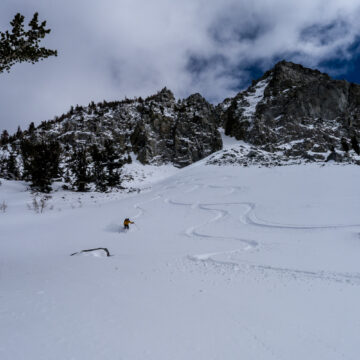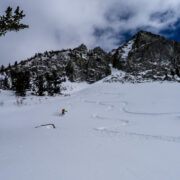 5. June Mountain - Good to Know
Skill level:
Intermediate to advanced
Terrain:
You can find steep chutes and gullies, milder open bowls and even some tree runs
Backcountry access:
The most advertised thing about June Mountain is the backcountry access. It's almost unbelievable how much amazing terrain can be reached due to ski lift positioning
Guided trips:
Best season:
February to mid-March
Location:
Inyo National Forest
Backcountry ski map:
Snow:
What June Mountain lacks in snowfall it makes with the fact that is not crowded
Nevada
6. Mt. Rose Highway
TOP CHOICE FOR LOCAL VIBES
High elevation makes for consistent powder
Solid route options and good backcountry access in the Carson Range
Closest Tahoe-area ski resort to Reno, Nevada
The wind can be a major deterrent if you want to summit
Less amenities than other big-name resorts
Not technically in California, but the skiing's so good at this close to the border location we're giving it honorary status. Mount Rose is the third highest peak on the Nevada side of the Tahoe basin. Mt. Rose Ski Resort is also a 25-minute drive from Reno, making it accessible but also an overlooked spot for backcountry skiing near Tahoe. The 10,776-foot (3300 meter) peak is part of the 30,000-acre Mount Rose Wilderness area. Especially helpful for ski touring, the namesake highway gives skiers a head start at 8,000 feet (2500 meters) in elevation. Access is easy from the top of highway 431. The Mt. Rose Wilderness has meandering meadows, challenging descents and plenty of chutes and basins to choose from. Plus, unlike other Tahoe backcountry skiing destinations, routes along the highway are dependable and rarely crowded.
Tamarack, Incline and Relay Peaks are worthwhile objectives
Aside from Mt. Rose summit objectives, skiing adjacent Tamarack and Incline Peaks are popular options. Tamarack Peak is a 1,000-foot (305 meter) climb from the car and has great views back to Lake Tahoe. The skiing is good on all sides. The northeast facing Hourglass Bowl is popular and less crowded. There's also an Hourglass variation that will take you back to the Mt. Rose highway. The east facing Proletariat run, which is steeper, but the terrain is wider, allows for bigger turns. Another Mt. Rose Highway favorite is nearby Relay Peak for low-angle touring.
Find really long and low-angle ski touring on a skin from Tahoe Meadows to Relay Peak — the views of Lake Tahoe are some of the best in the area. It should be noted, though, that this tour shares a snowmobile path. Avoid heading into the Galena Creek Drainage, if you tour east routes. Also, traversing back around the mountain to reach your car requires staying high or another ascent to connect back with the highway.
Don't head out before checking Mt. Rose backcountry conditions
Remember, Mt. Rose Highway backcountry conditions are worth checking before heading out for the day. The summit can be more difficult due to wind conditions in the winter. Mt. Rose's elevation, however, results in great powder for much of the season.
Mt. Rose is a wilderness playground for ski touring on the mellow side of Tahoe — and the views of Lake Tahoe are some of the best in the region.
6. Mt. Rose Highway - Good to Know
Skill level:
Intermediate to advanced
Terrain:
Chutes, trees, corn on the south side and good old trees
Backcountry access:
Access is easy off of Highway 431, there is slackcountry available via Mt. Rose Ski Area, too
Best season:
Late January through April
Location:
Tahoe side of Nevada
Snow:
Light and dry, due to elevation
Additional Info for Backcountry Skiing in California
Can you ski in Tahoe in March?
March is arguably the best month to go skiing in Tahoe. Skiers and snowboarders are able to head out on the slopes with some of the best spring skiing in the country. You'll find plenty of snow, sunshine, and less crowds. Backcountry conditions also tend to fill in by spring. Early season conditions can result in unstable or disappointing ski touring conditions.
Where can I ski near San Francisco?
Many people drive a few hours from San Francisco to ski at Lake Tahoe. Tahoe's most popular ski area is Olympic Valley, now known as Palisades Tahoe, which formed when two neighboring resorts merged, resulting in massive skiable and snowboarding terrain. Lake Tahoe offers multiple resort and backcountry skiing options for anyone traveling from San Francisco or headed south from Sacramento. Other popular Tahoe backcountry skiing destinations include the low-key Sugar Bowl and backcountry-heavy Mt. Rose Highway.
Where can I ski near Los Angeles?
Mammoth Mountain is the best skiing destination near Los Angeles. Mammoth is a 5.5-hour drive or short flight, but it's worth it. The terrain spreads over 3,500 acres and the peak reaches an elevation of 11,053 feet. The family-friendly area features plenty of diversions if you're looking for a multi-day trip and plenty of lodging for an extended stay. Nearby June Mountain is a popular traverse from Mammoth for backcountry ski tours. June Mountain's rustic vibes and ski-focused amenities make for a relaxed getaway.
Steps for new backcountry skiers
If this is your first season in the backcountry, there are some things you need to know to head out safely. Rob Coppolillo, an IFMGA and AMGA Mountain Guide, has all the info you need. In this 57hours Adventure Talk, Rob discusses the steps you need to take to start safely skiing in the backcountry, covering everything from the avy courses you need to the gear you should invest in and more. Check it out on the 57hours YouTube channel!