Adam covered:
Why Georgia is the hidden gem of Eastern European skiing
What to expect and how to prepare for the slopes
The best ski spots in the country
Tips for winter camping
What to bring on your ski trip
Getting there, where to stay, and other logistical tips
A rising star in the world of skiing, Georgia is a place worth visiting for the slopes alone. You won't find any high-end hotels, advanced lift systems, or ritzy nightclubs here. It's just you, the snow, and unspoiled views all around.
What Georgia lacks in fancy amenities and après-ski action, it more than makes up for on the pow. With a neck-deep snowpack, massive vertical drops, and a near-endless supply of untracked terrain—both treed and alpine —it's the type of hidden gem you wish to keep for yourself.
Want to learn more about the next big thing in backcountry skiing? Make sure to check out our free webinar, where a seasoned guide covered everything there is to know about skiing in Georgia.
Don't get left behind in the snow dust—discover Georgia before the crowds do!
Webinar host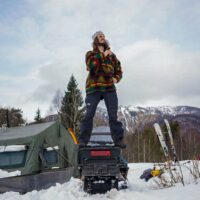 Adam Robenek
Co-founder of Snow Vigil