The Best Backcountry Skiing on Mount Hood, Oregon
Accessible year-round skiing in the heart of the Cascades is why I high-trailed my way west of the Mississippi to Mount Hood. You Ore-gonna love it here!
Oregon's highest mountain and unmistakable landmark offers something no other peak in North America can: some of the best powder skiing in the world year-round, much of it lift-served. Visible up to 100 miles away, this 11,249-foot dormant volcano (or is it?) draws adventure seekers like me to its glacial horn with abundant snowfall and a backcountry ski season that runs deep into June. And for the looney ones that are determined for summer pow, a hike to the peak to seek out the glaciers and snow patches is a local rite of passage. As a rock and ski guide in Oregon, I've traveled to many of the country's most spectacular locations but I always return to Mount Hood. From 1,000-foot green runs down to your car in under an hour to full day summit-ascent-to-descents, backcountry skiing on Mount Hood offers it all. Read on to see why it keeps me coming back with renewed fervor.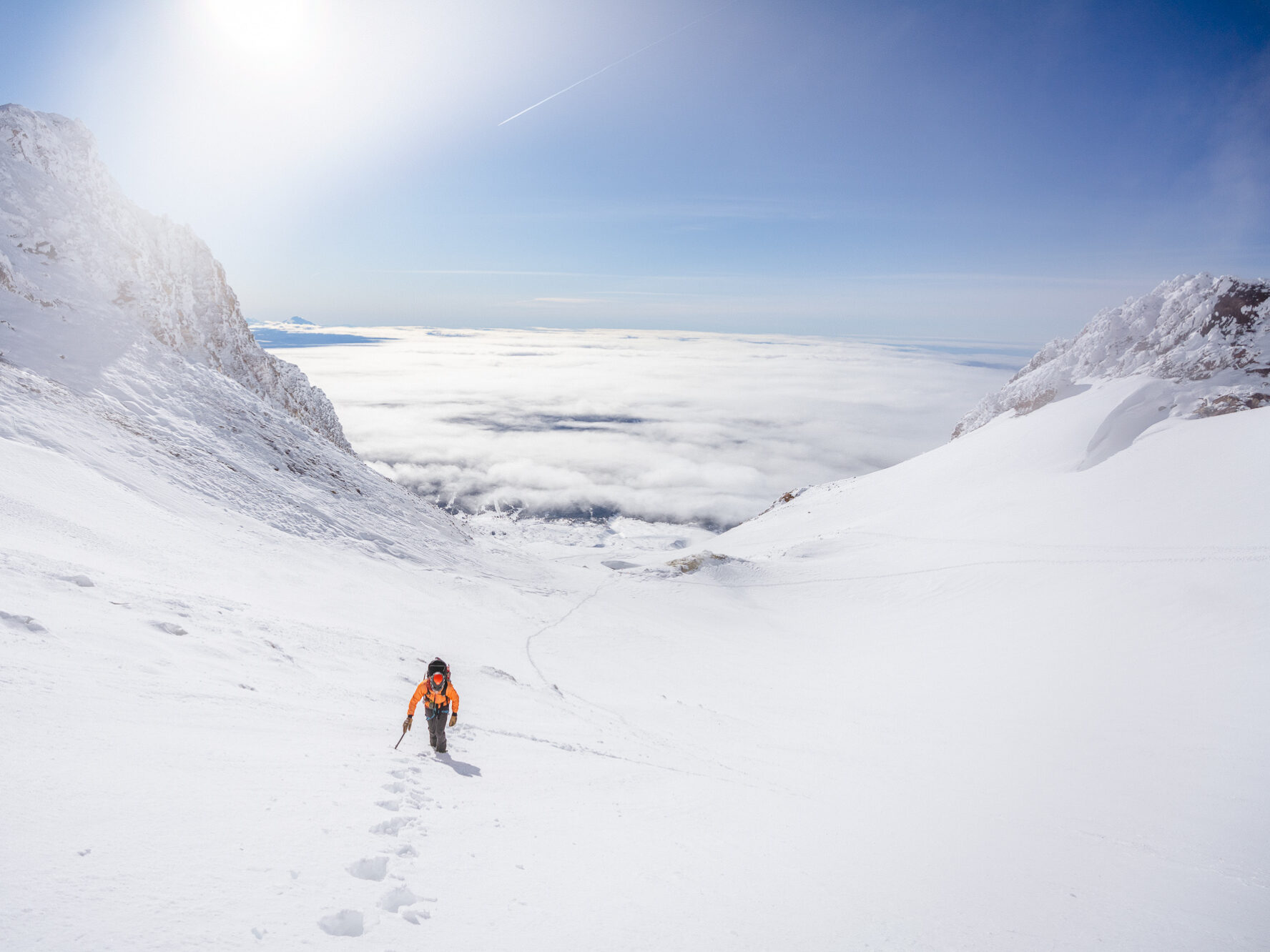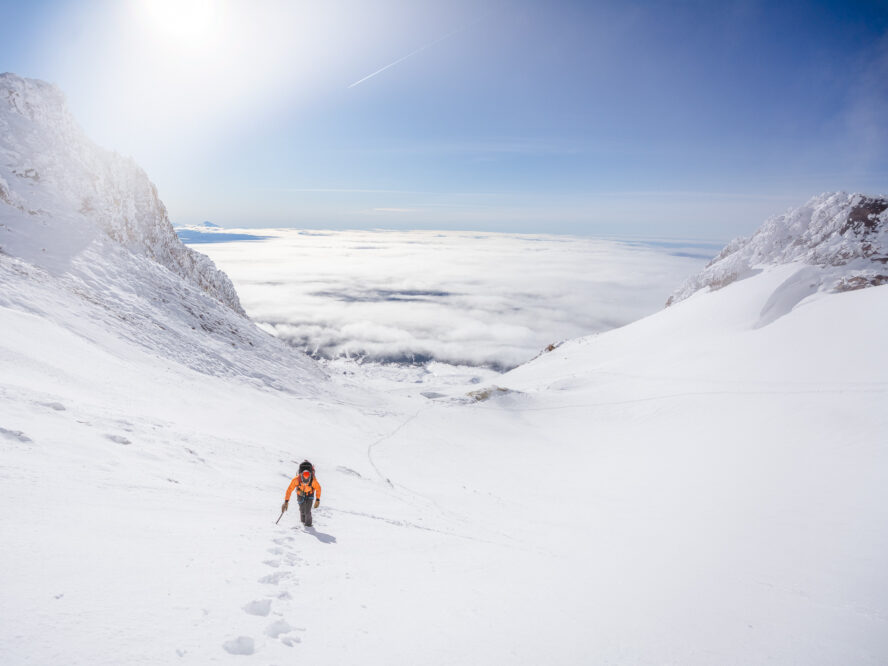 Pros and Cons of Backcountry Skiing on Mount Hood
Excellent side-and-backcountry skiing year round
Loads of terrific, easily accessible runs to choose from
Ski mountaineering on the summit will knock your boots off
Sudden storms come with the territory in the Pacific Northwest
If the rain doesn't get you, the crowds on beginner slopes might
Earning My Turns from Illinois to Oregon
Growing up in the Midwest, I spent my weekends camping, canoeing and skiing with my father. After nine summers of working in a Boy Scout camp in Wisconsin, I decided to pursue adventuring as a profession and share my love for the outdoors with others.
My guiding career
has since taken me to Portland, where I live with my wife and our two-year-old son. I've had the pleasure of thoroughly exploring the state's outdoor scene, from
the best rock climbing across Oregon
to the pristine slopes of Mount Hood's wilderness. I can tell you, the Beaver State has the natural amenities to go toe-to-toe with any other place I've been.
Peeking Under the Hood: A Breakdown of the Best Skiing on Mount Hood
From easy
backcountry skiing for beginners
to steep heart-pumping bowls that evoke
backcountry skiing in RMNP
, Mount Hood overflows with diverse terrain and exhilarating runs. Perhaps the Cascade's most accessible ski mountain, Mt. Hood features two connecting roads that loop around the slopes for easy entry to many elevations, while the ski resort lift systems make navigating the sidecountry a smooth affair. The ease of earning your turns in the Oregon backcountry makes Mount Hood an unmissable experience.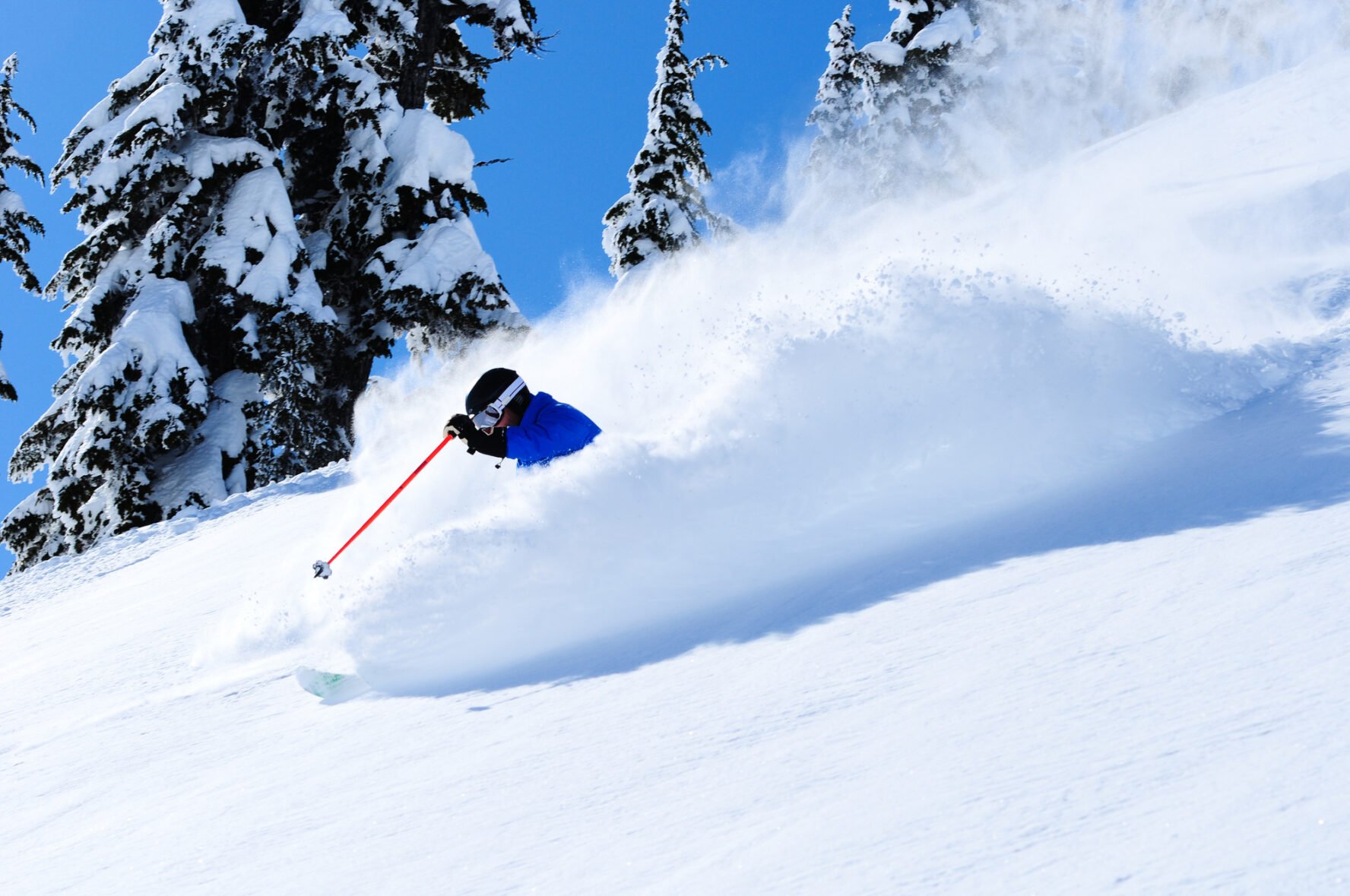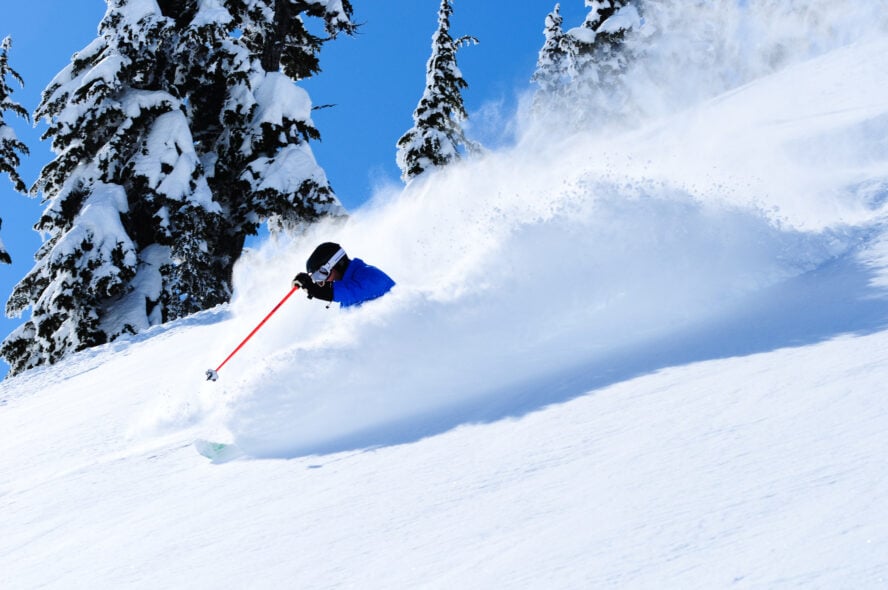 The land of eternal skiing
With an annual snowfall of 400-500 inches, Mount Hood matches the
backcountry skiing in Utah
, and is right up there with
the best of California's backcountry
and
Colorado's top skiing destinations
. We get every kind of snow too, from dreamlike fluffy powder that rivals the
backcountry skiing in Canada
to the deep maritime snowpack—that wet and heavy kind which tends to stick around and lets you enjoy the vaunted summer skiing on Mount Hood. As far as the backcountry is concerned, for the most part we're looking at a window from December—when the frigid and stormy weather on Mount Hood makes for enjoyable skiing despite the lower snowpack—all the way through to June, or even July in some years. We transition into spring skiing pretty early, when the finest corn, rivaling the
top skiing in Washington
, takes over our lives. You can even find die-hard skiers who will hike forever just to ski a tiny glacier in the middle of September!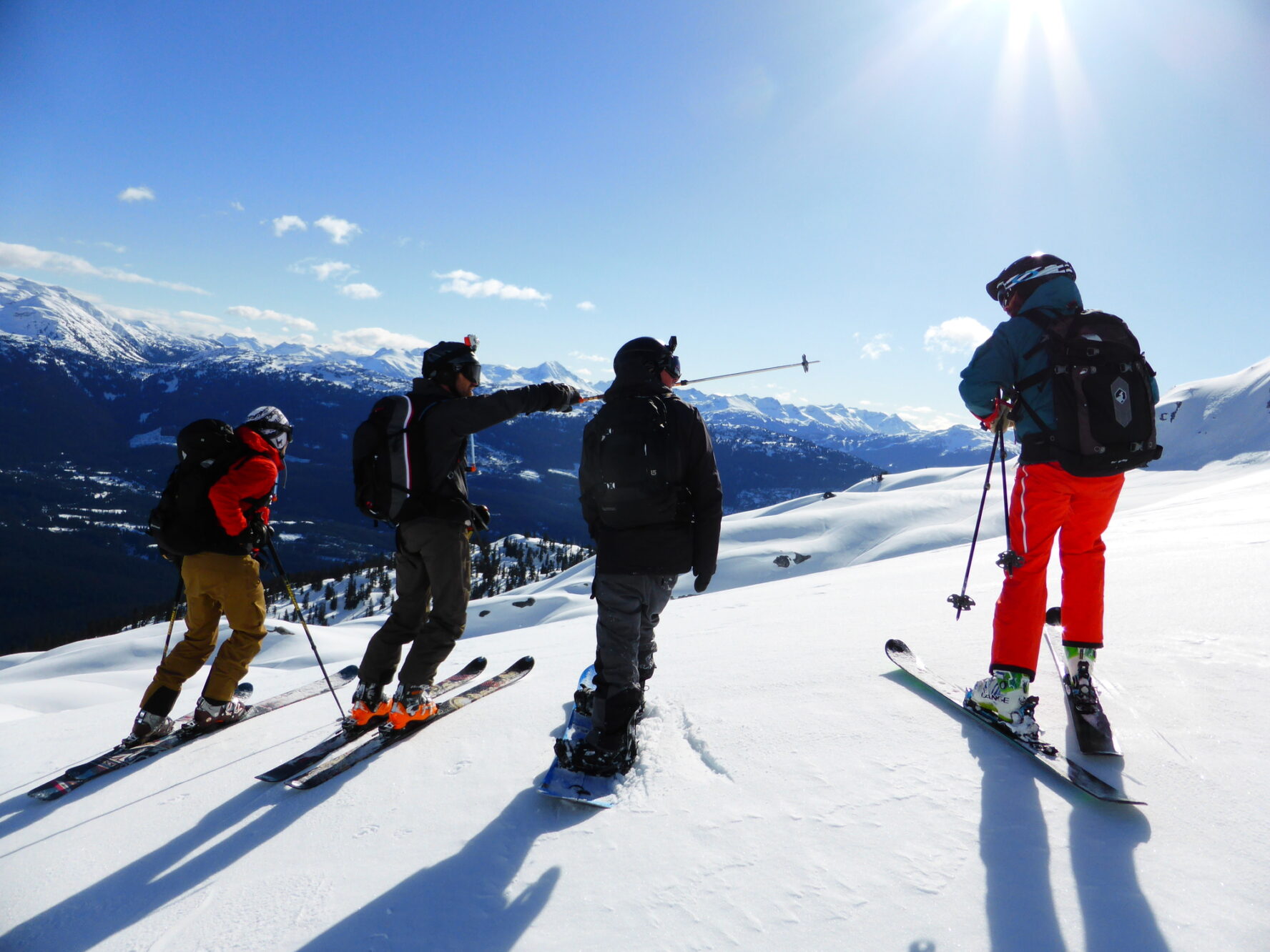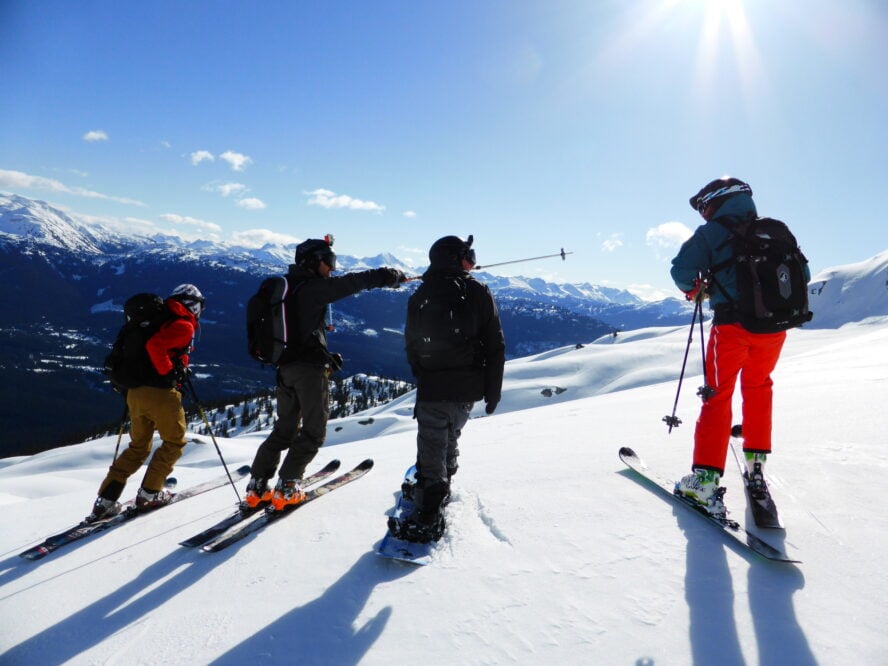 Compared to places like Jackson, Salt Lake City or Bozeman, the backcountry community in Oregon is not nearly as competitive and closed-off. Here you'll find plenty of easy-going people ready to give you a hand on a moment's notice. I've received help from folks on the mountain and have likewise coached total strangers down runs. Newcomers can expect to be treated with the same hospitality. Mount Hood does not come without its share of challenges, though. The driving storms that feed the generous snowpack add a dash of unpredictability to every backcountry adventure. And as much fun as it is to leave your worries behind to explore glaciers and bomb down powder bowls, it's still important to practice avalanche awareness. Always check the weather conditions before heading out on your next backcountry skiing trip on Mount Hood.
Growing Pains to Powder Gains: Best Slopes for Beginners
1. No backcountry skiing trip to Mount Hood is complete without Palmer Snowfield
Sometimes the key ingredient for success is simplicity. Palmer Snowfield, a stalwart of the Oregon ski scene, is the perfect launching point for new backcountry skiers. Here you get to try out Mt. Hood's ungroomed powder, on low-angled terrain, without having to explore the actual wilderness. Over the years, Palmer's easy entry has made it the overwhelming favorite. Nothing since has come close to its level of popularity.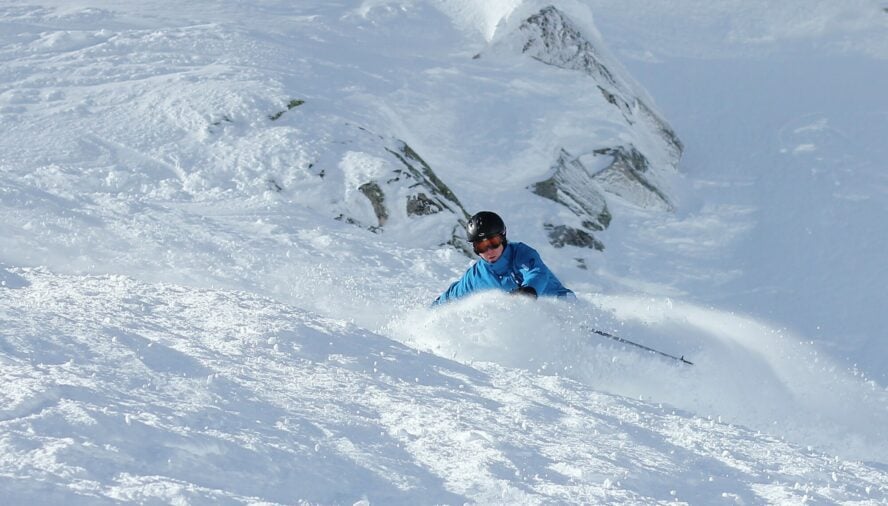 To reach Palmer Snowfield, simply park at the Timberline Lodge and hike up. Once you get to the top, turn around and ski 2,500 feet right back to your car! Feel free to repeat this lap as much as you like. In fact, recently I wanted to do 10,000 feet of elevation gain in a single day and I chose Palmer because it's so easy to navigate.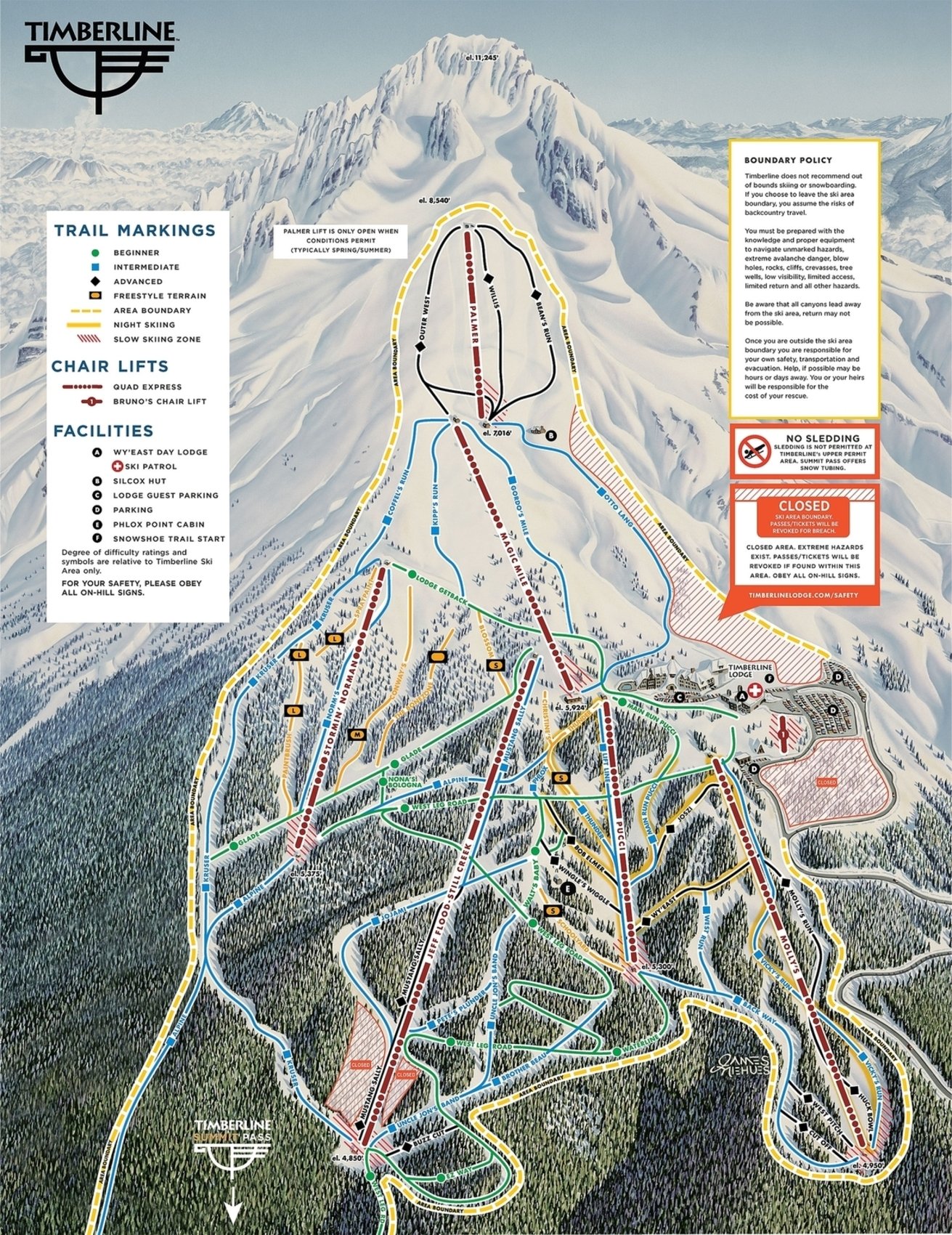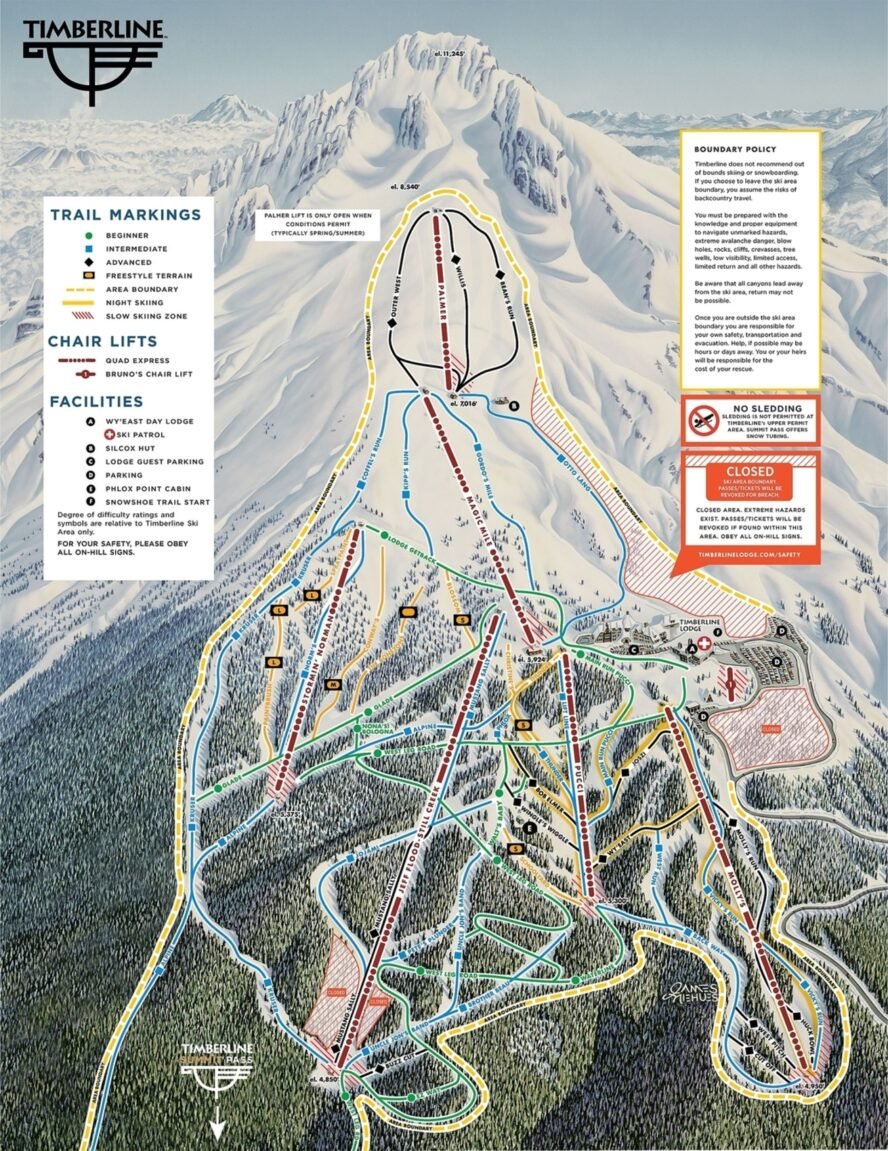 2. Some swimming upstream required in the Salmon River Canyon
Beginner backcountry skiers who have cut their teeth on Palmer's gentle slopes will find transitioning to Salmon River Canyon a smooth progression towards more exciting terrain. What it lacks in variety, Salmon River makes up with convenience and playfulness. Just like with Palmer, you park at the Timberline Lodge. Instead of heading uplope, you cross a little drainage to the east of the boundary line to access a broad moraine. Then enter the canyon. This is one of my go-to
backcountry skiing adventures
for a day of 25-degree runs away from the crowds. If the snow conditions are right, you can also drop down from several faces and enter the upper White River Canyon where you can tackle 40-degree slopes. If you're not ready for that, no worries. You will have plenty of fun running laps in Salmon River Canyon.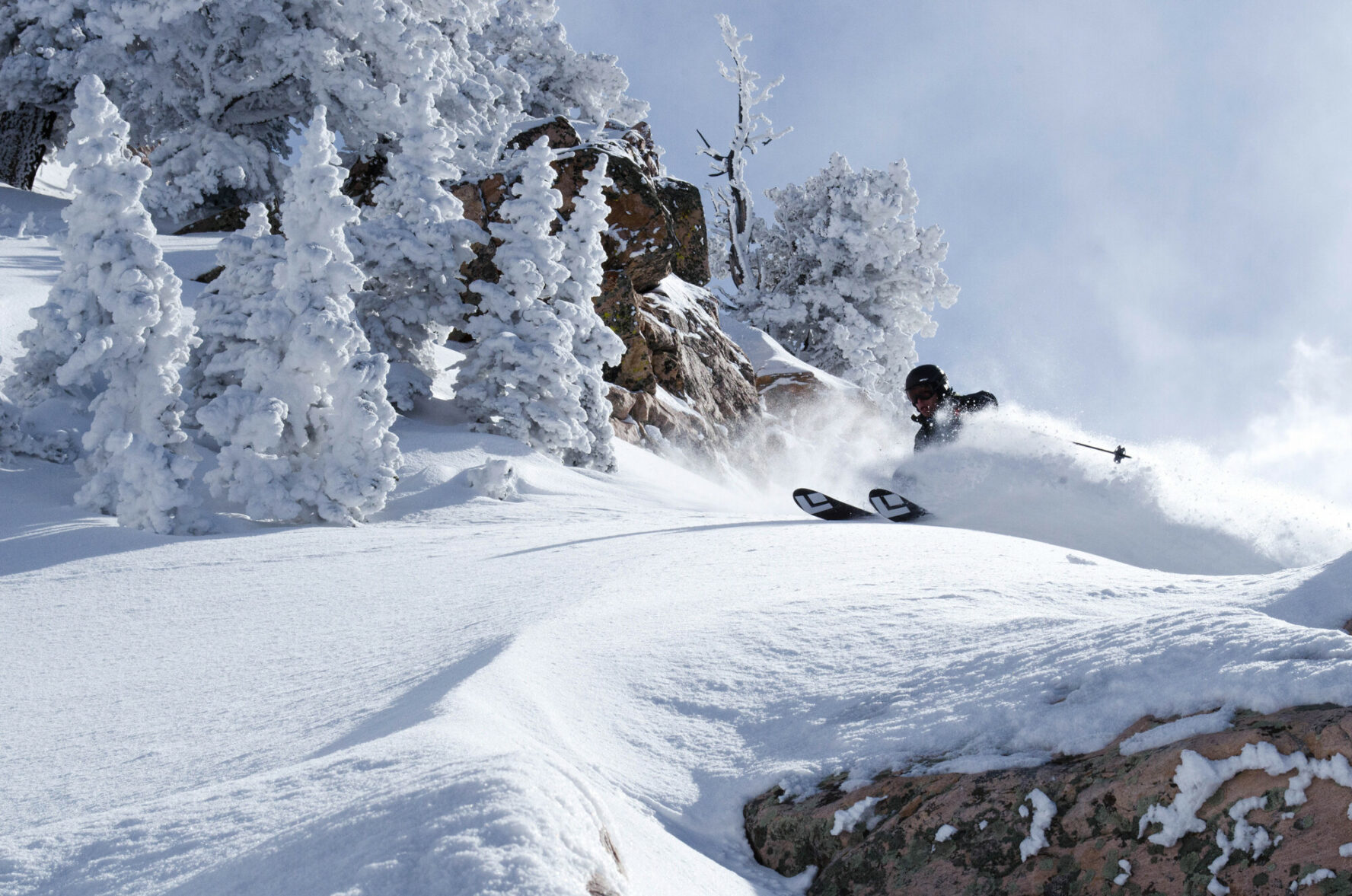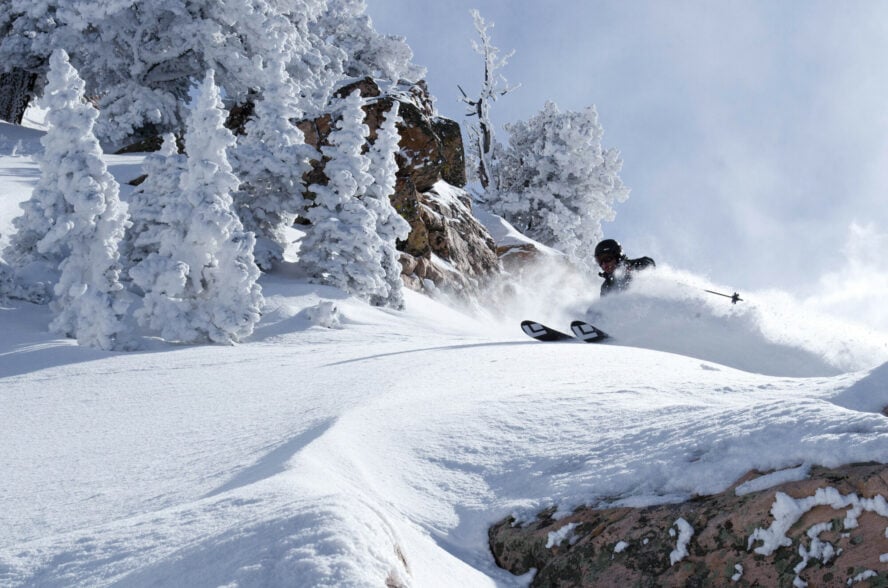 3. Enjoy family time on Glade Trail
Glade (or Alpine) Trail is an excellent spot for backcountry beginners as well as families looking for a fun day on the snow. This well-trafficked route is narrow, low-angled and densely treed on both sides, so you don't have to deal with many obstacles. I've brought my two-year-old here and he had an absolute blast strapped to my back in his little carrier. Better yet is the accessibility. The trail itself connects Timberline Lodge to Government Camp, a small mountain town at the base of Mount Hood that is a great homebase for trips. To get to Glade Trail, I suggest parking in Government Camp as this makes the logistics easier. From there you'll hike 1,000 feet up to the resort boundary and ski back down to your car.
4. Let's take it from the top on Bennett Pass
The unique thing about Bennett Pass is that you approach it from the top, at around 5,000 feet of elevation. This is a great place to put in a couple of laps before skinning back to your car. You park at the Bennett Pass Trailhead on the east side of the mountain, near the entrance to the Mount Hood Meadows Ski Resort. The parking lot has a five percent grade, so make sure your tires are up to snuff. From there you take an old forest service road and after a half-mile walk, five different points of entry will reveal themselves off the side of the road. Take your pick!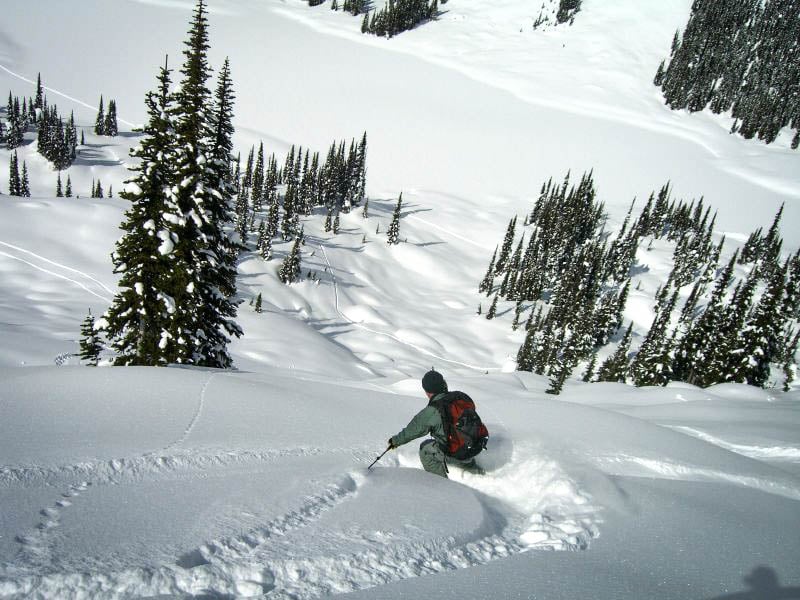 Though a bit steeper than Glade Trail, Bennett Pass nets you about 500 feet of superb entry-level skiing, especially on powder or storm days. The run ends once you hit the road below, at which point it's time to put on your skins and go back for seconds. I like to mix it up by starting my runs from a different spot every time.
5. In White River Canyon beginners and pros get their fill
White River Canyon is one of the most underrated touring areas on Mount Hood, located just outside the boundaries of the Timberline and Meadows resorts. So far we've been skirting around this brilliant spot by mentioning areas on its flanks, but there's even more great skiing to be had in the center. In White River Canyon's wilderness you're treated to an exciting zone filled with a wide variety of options for all skill levels. Come spring, the canyon turns into a corn factory and its diverse, largely untreed terrain becomes a playground for all sorts of winter sport enthusiasts. After leaving your car at the White River Snow Park, there are three main spots you can explore, each one a completely different experience. For the first option, take the trail going up the side of White River Canyon. Here you can follow a subtle ridge through open, scarcely treed terrain. After about 1.5 miles and a few hundred feet of elevation, you reach a break in the trees where you're treated to a spectacular view. Because the White River drainage basin goes all the way to the summit of Mount Hood, you have an undisturbed view of its imposing pyramid looming 7,000' above you. If you turn around here, you will enjoy a pleasant low-angle run back to your car as an easy warmup.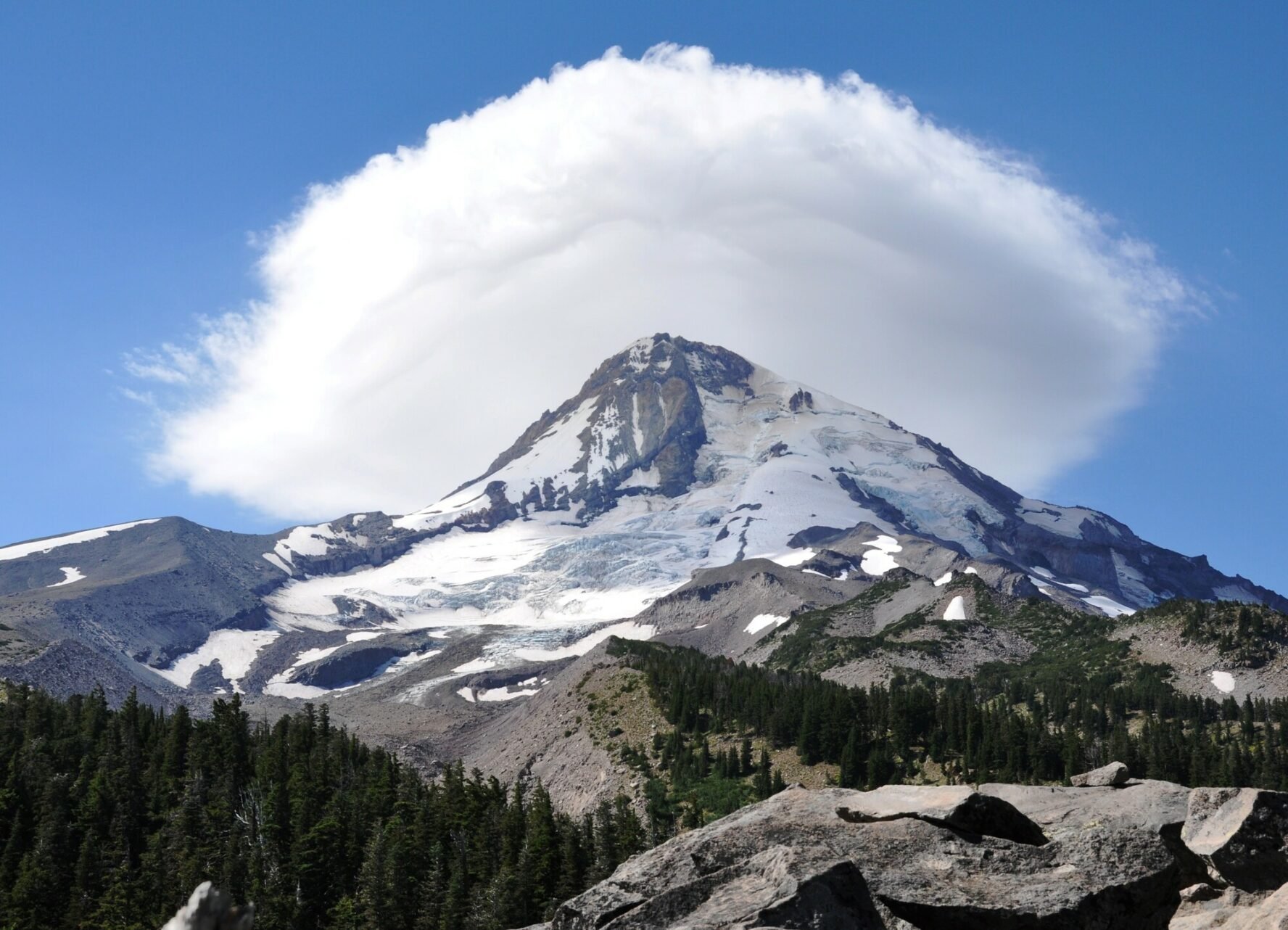 Should you decide to skin further up a nearby bowl, you can ramp up the challenge in a fun area that features steep, intermediate-level terrain. That's area number two. Lastly, the third and most advanced option has you dropping down into the center of the canyon. Here you'll encounter a terrific mounded zone with steep 600-foot runs that would make even an experienced backcountry skier think twice. On the whole, White River Canyon's a riot. Due to its wide variety of options, I would equally suggest it for family outings, high-level skiing and even training activities. For example, I find the meadows in White River to be an ideal ground for beacon practice, which is why I usually hold my avalanche courses here.
Many Rides Go Through, and Around, the Meadows
Along with Timberline Lodge, Mount Hood Meadows is recognized as one of the cornerstones of Oregon's winter sports scene. It's the largest of the mountain's resorts, sprawling across the southeast flank with a hefty 2,150 acres of skiable terrain and an elevation up to 7,300 feet. For over 60 years, Meadows has enjoyed a well-deserved reputation for a playful and diverse offering unsurpassed by its competitors. Rest assured, these sought-after qualities don't evaporate at the resort's boundary lines. As any local backcountry aficionado will tell you, what's on the outside is even better! Here are some of my favorite spots to ski in the area around Meadows.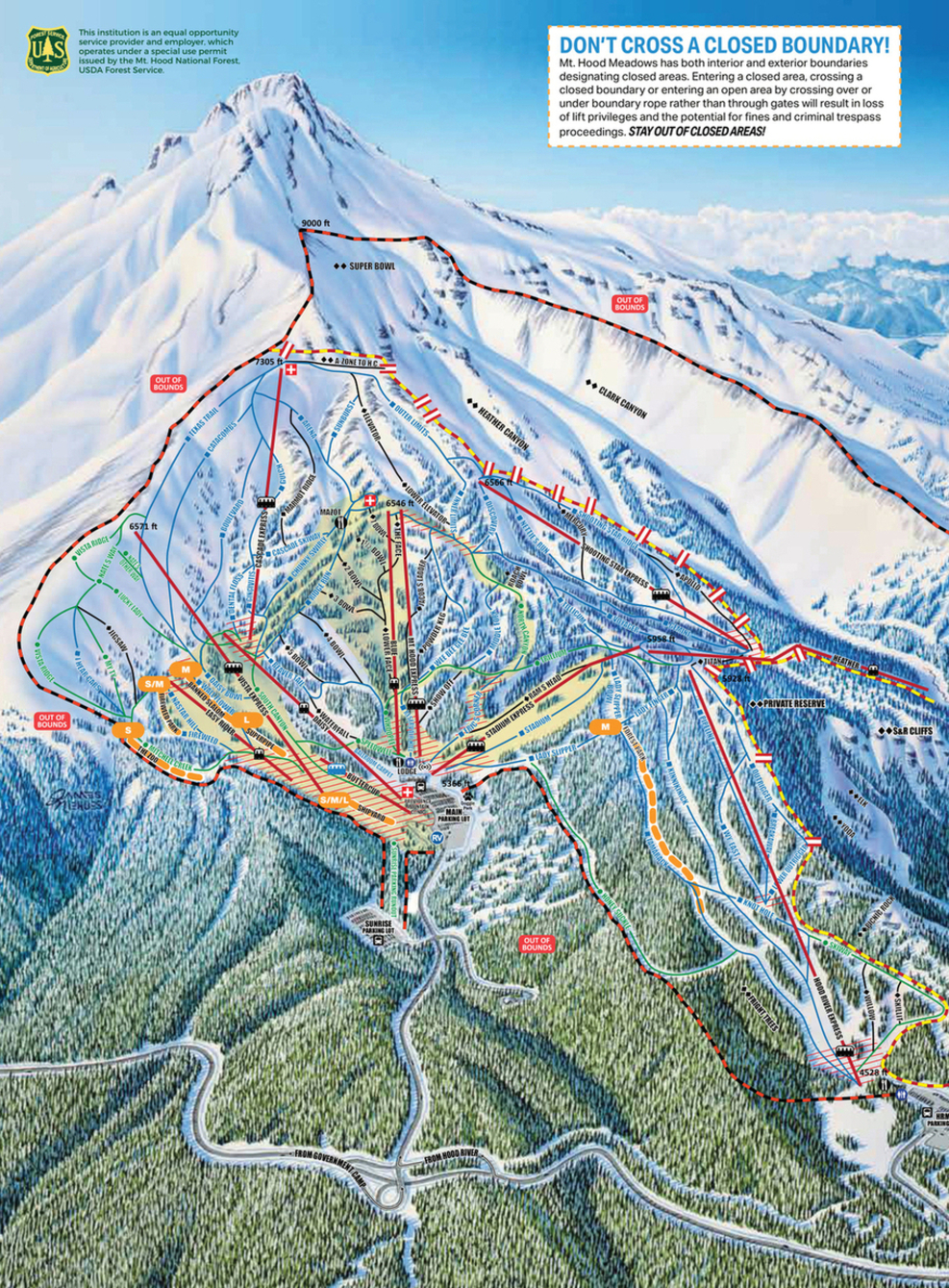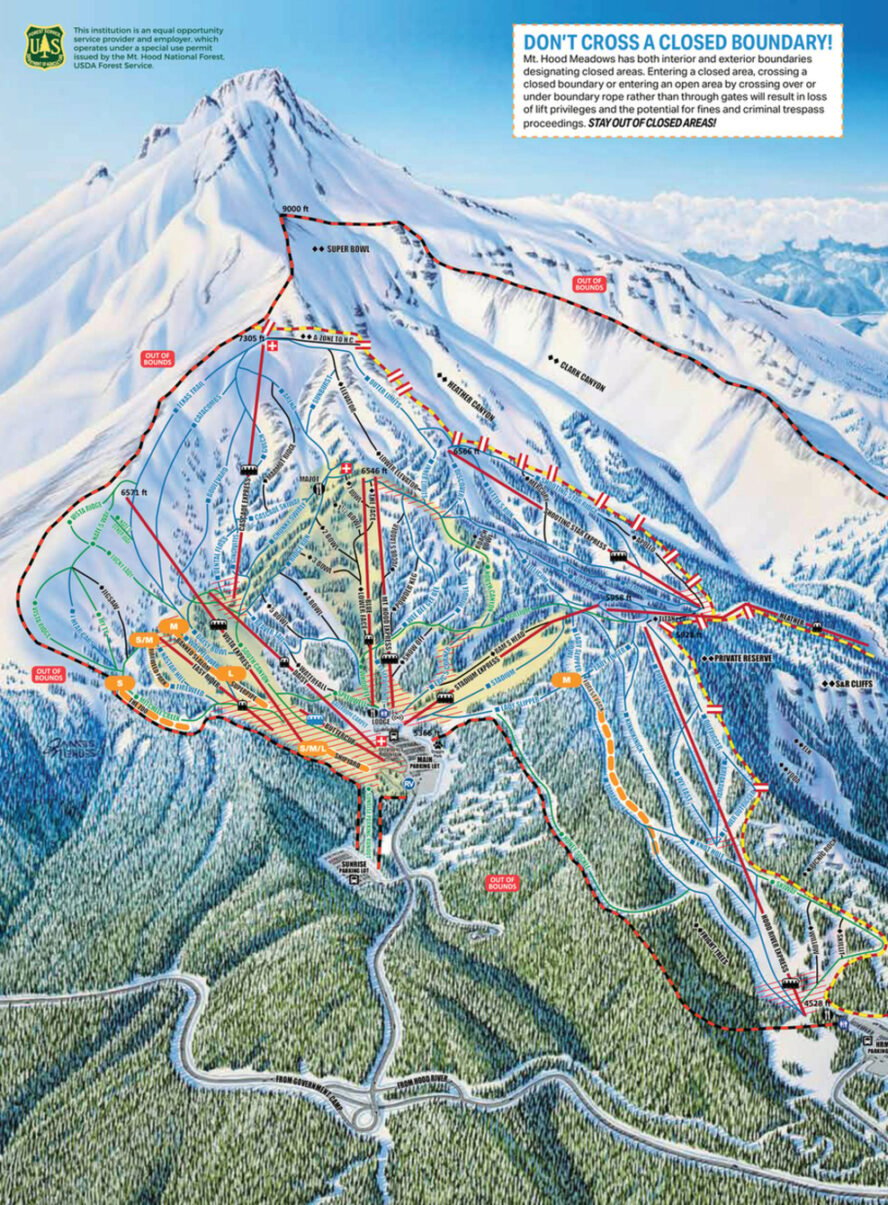 1. When in doubt, trust the locals: Heather Canyon's where it's at
Heather Canyon is inarguably Meadows'—and Mount Hood's—most popular sidecountry. There's a full range of terrain, from steep chutes to cliffs and trees, all coalescing into an advanced skier's dream. Following big snowstorms, this is the spot to find those coveted deep powder turns. Standing on Shooting Star Ridge and gazing into the steep bowls below is enough to make the hairs stand up on the back of your neck. What makes Heather Canyon even better is its lift access—with a return chairlift to boot—so you can forget about skinning back to the top. Your legs will be thanking you at the end of the day.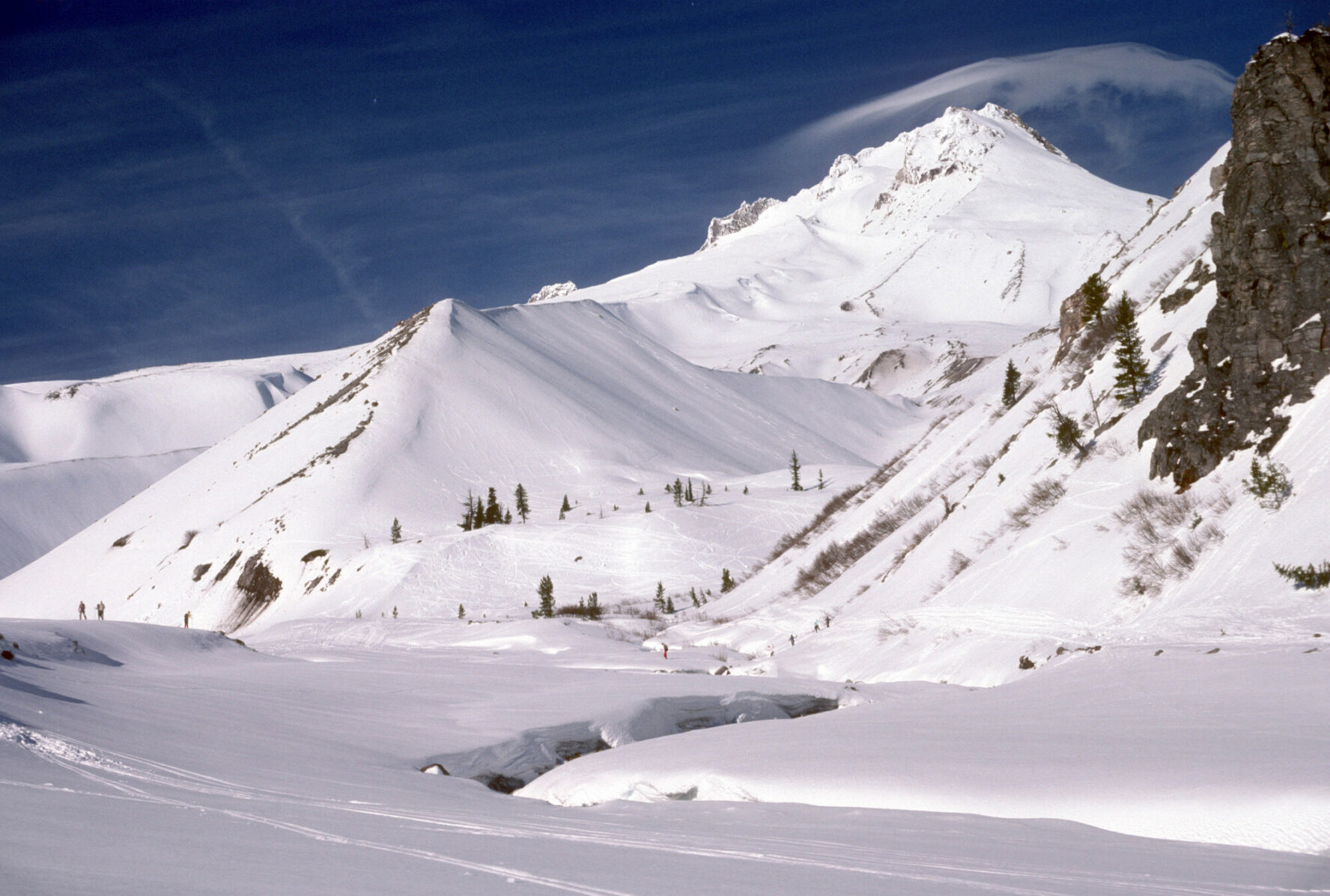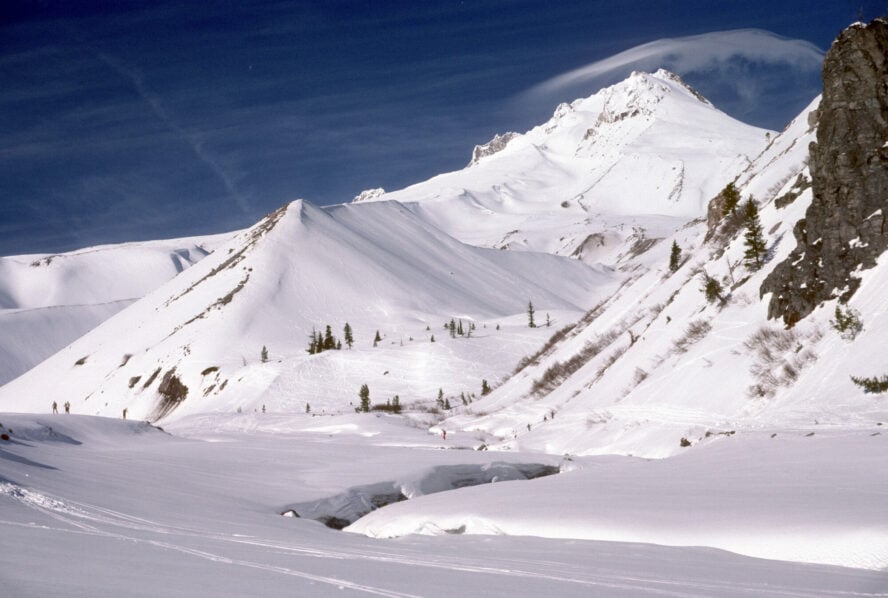 2. Vista Ridge is the spot for ambitious backcountry explorers
Spreading along the southern boundary of the Meadows Resort, Vista Ridge is another advanced spot well worth the effort. There are two ways to approach the ridge. The first is by riding the chairlift to the top of the resort—and paying—then skinning up to the ridge. The second method entails skirting around the resort before heading up. If you really want to earn your access, the second method adds a couple thousand feet of vertical. When you finally get to Vista Ridge, you can ski some very steep faces. Here, the prize is the Newton-Clark Headwall, a large alpine glacier on the southeast slope, and one of the
50 Classic Ski Descents
In
North America
. If you're up for the challenge, you can combine the descent with Newton Canyon—whose long, steep, and sheltered slopes offer some of the best skiing in Oregon—to circumnavigate the resort. If that sounds too ambitious, you can simply ski through the resort to your car.
3. Ride with ease in Mitchell Trees
Up next we have Mitchell Trees on the east side, just out of bounds of the Meadows. This scenic backcountry route follows Mitchell Creek along a bowl and offers gorgeous views of the Mount Hood wilderness. What the area lacks in elevation, it makes up with an assortment of sweet half-mile low-angle runs, most of them around 500 feet in drop. If you plan on riding the chairlifts, you're not allowed to leave Meadows right there. This means that you first have to ascend on skins to exit the boundary, then ski down on the other side. Saying that, you're rewarded with a great area for beginner and intermediate-level skiers. To get back to the parking lot, duck back into the resort—where it's allowed!—and ski to your car.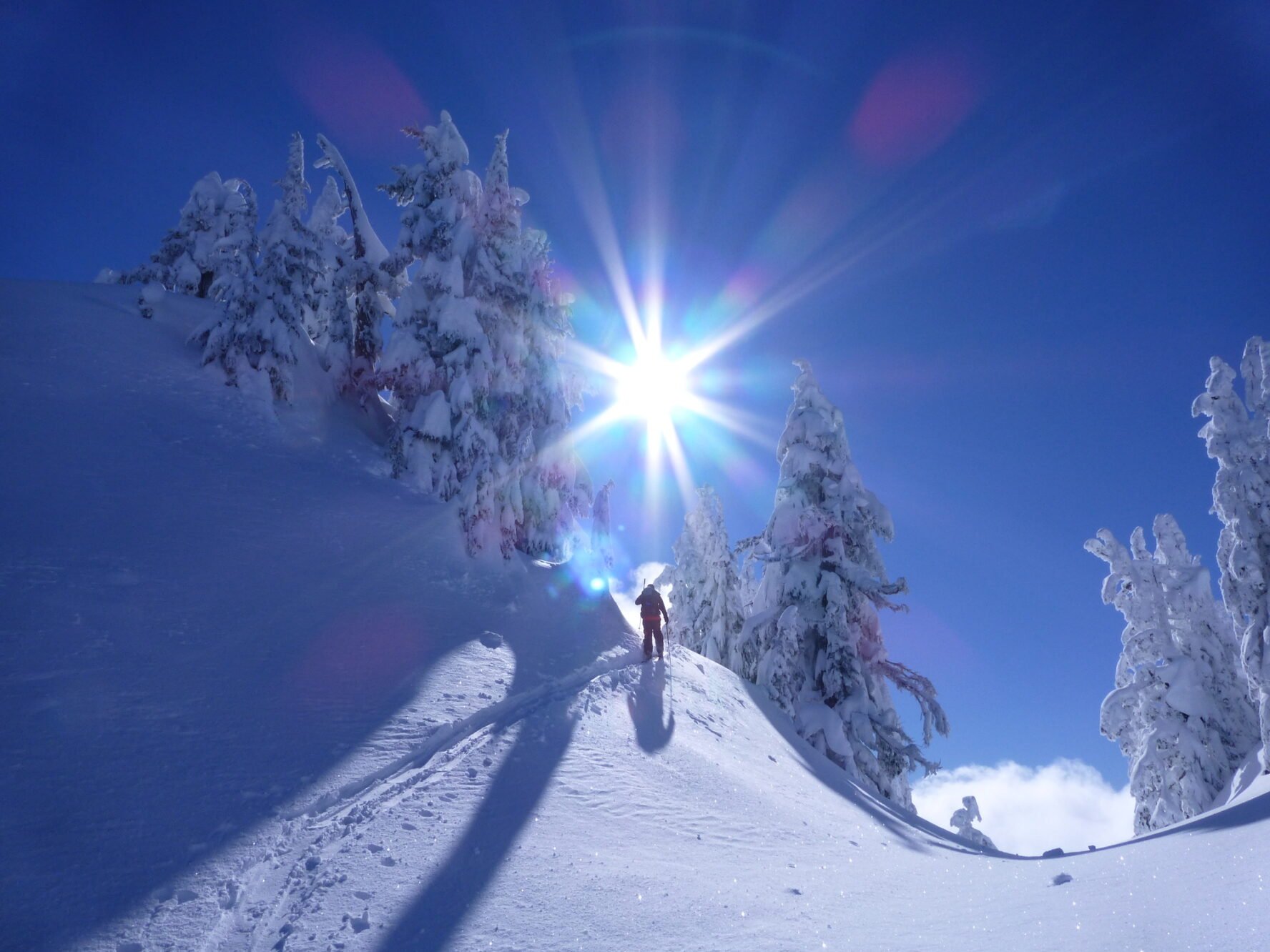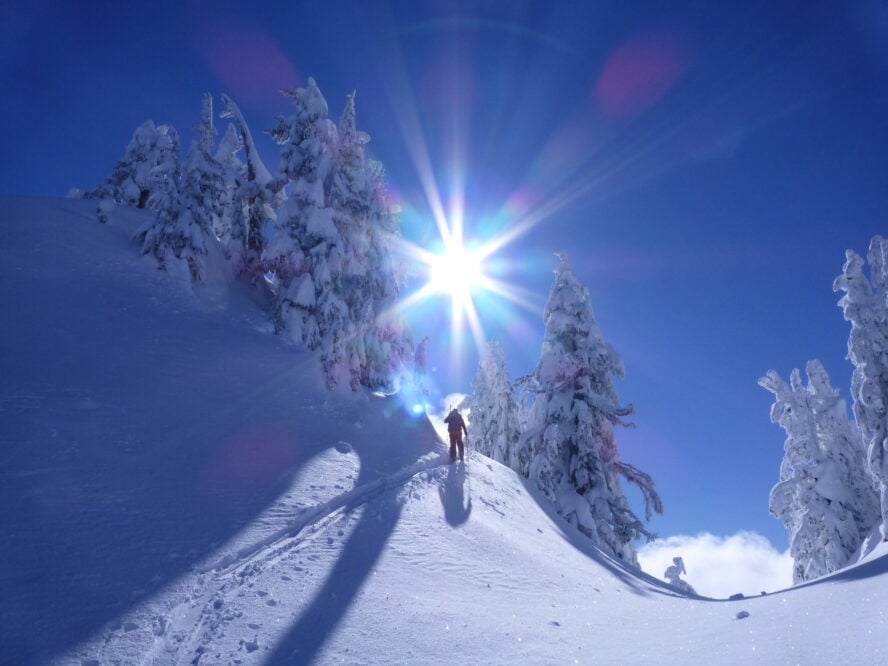 Resorts like Timberline and Meadows are generally friendly towards backcountry skiers who pop into their area here and there. Just to be sure to do your research beforehand so you know where and when to cross inside.
Plenty of Thrills to be Found Beyond the Usual Suspects
1. Tom, Dick and Harry Mountain is no nameless backcountry skiing area
Now that we've covered the side-and-backcountry around Meadows, we can move on to more distant spots deserving our attention. Just to the west of Mt. Hood Skibowl we find a north-facing spot that will first grab your attention with its unique name, then charm you with its excellent turns. Named after the three distinct volcanic peaks that crown Skibowl, Tom, Dick and Harry Mountain is a foothill of Mount Hood standing at just 5,000 feet of elevation. This makes TDH safer than more prominent areas exposed to the winter snowstorms that roar through.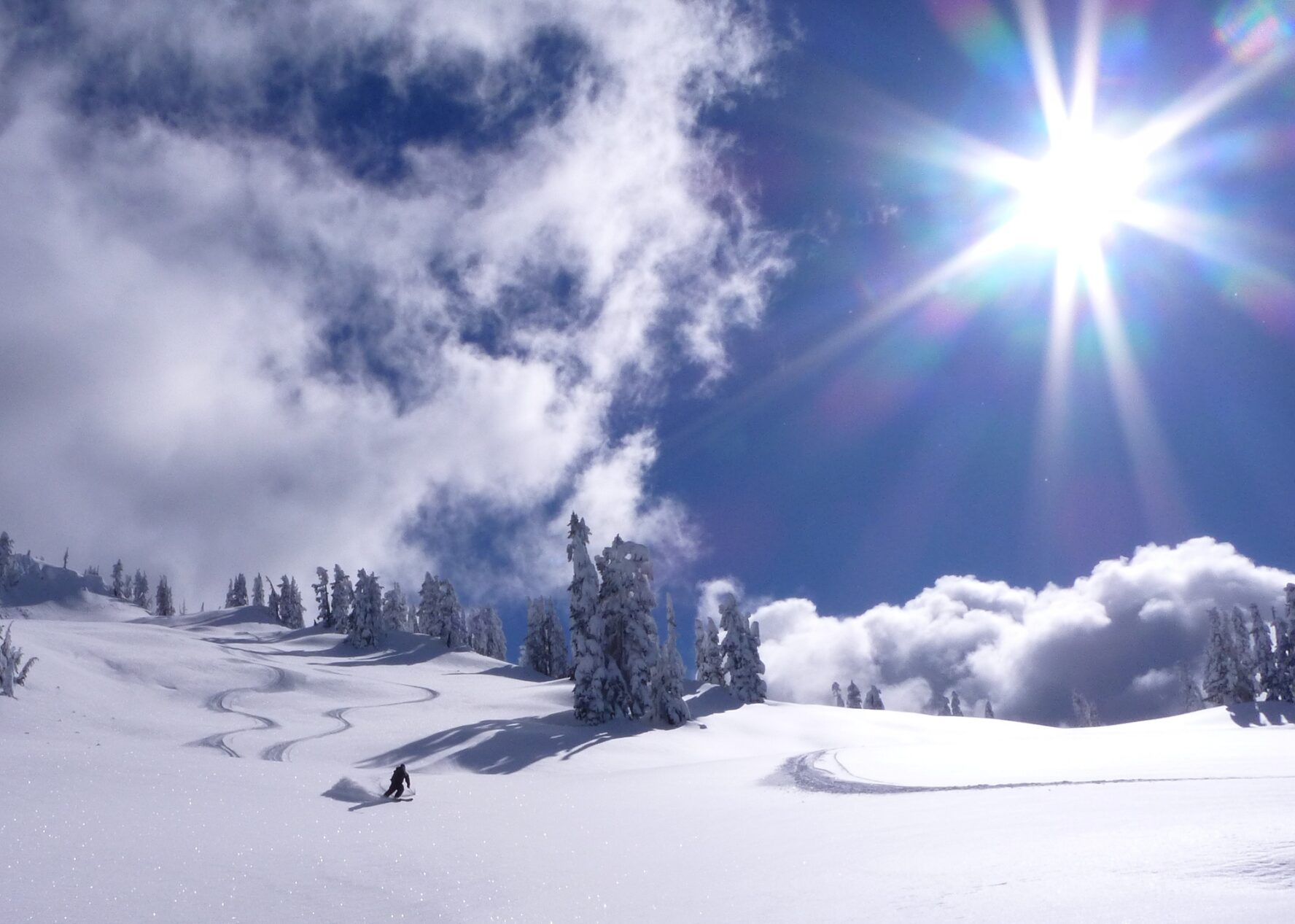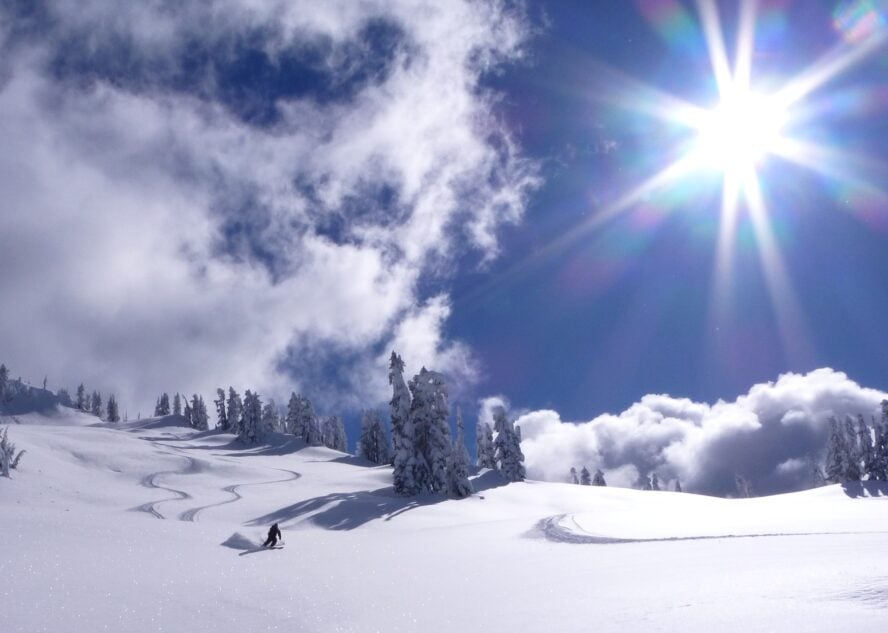 Don't get discouraged when you start off with a two-mile hike through unassuming terrain. If you stick with the trail, you'll soon come upon some of the finest terrain near Mount Hood. TDH is a backcountry skier's playground with plenty of diverse options to ensure a full-day ski adventure on its endlessly lappable cliffs, faces and glades.
2. Ditch the crowds for Tilly Jane
Tilly Jane is a less trafficked cross-country ski trail on the northeast side of Mount Hood. Easily accessed from the Tilly Jane Sno-Park, the area offers treed, fairly low-angle terrain with enough variety to ensure a day's worth of skiing. If you've grown tired of the hip spots—in or out of bounds—you should definitely check out this spot for a healthy serving of serenity. Cloud Cap Road, which leads to Tilly Jane Campground and Cloud Cap Inn, will take you to another area chock-full of tree-rific skiing. Just note that the road is closed during winter so you'll have to do a bit more self-powered travel. If you're in the mood for mixing things up, you can go further up the Tilly Jane Ski Trail to check out the Cooper Spur Ski Area. This fun little mom-and-pop resort on the north side will add some on-piste flavor to your backcountry perambulating.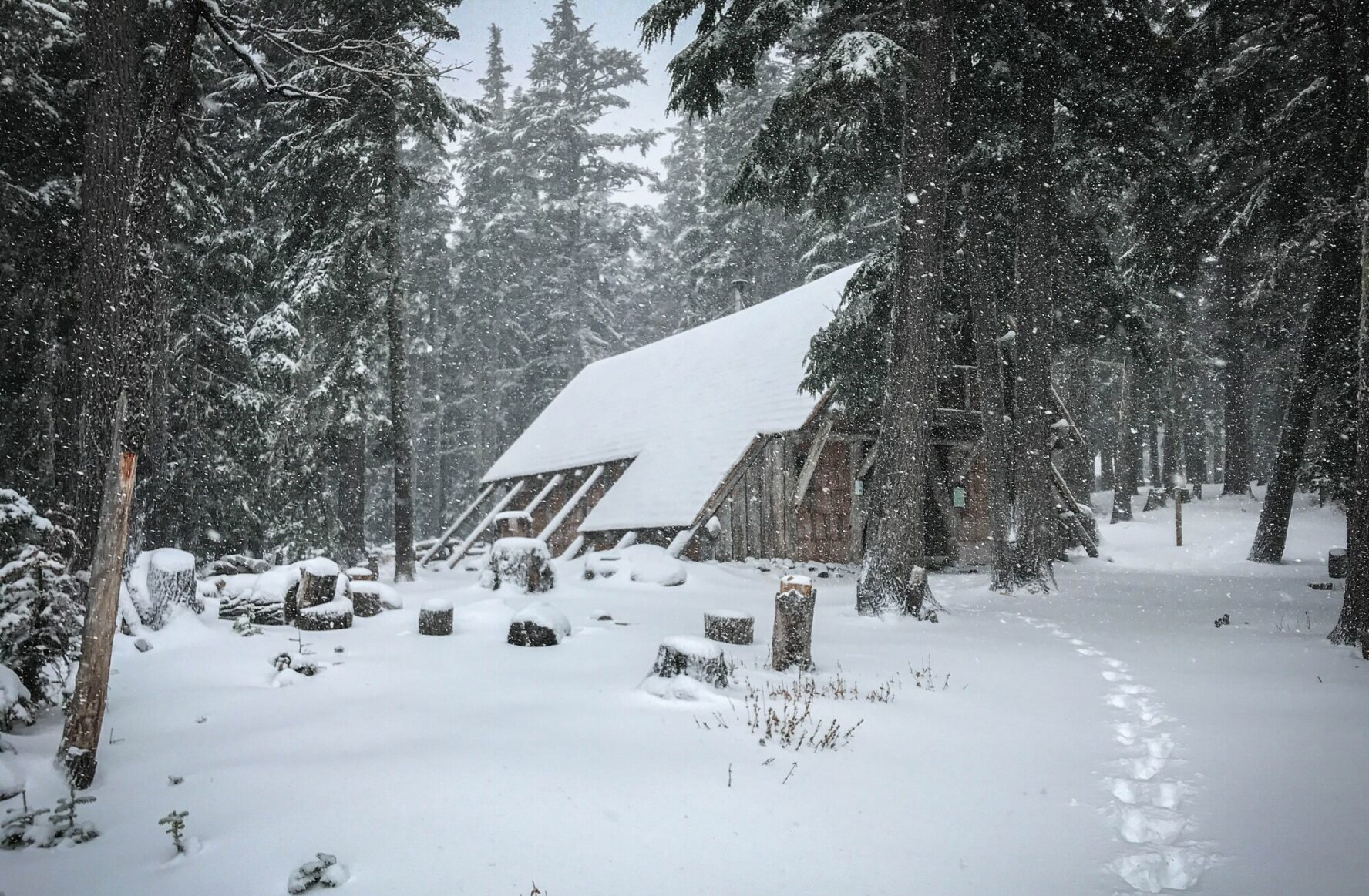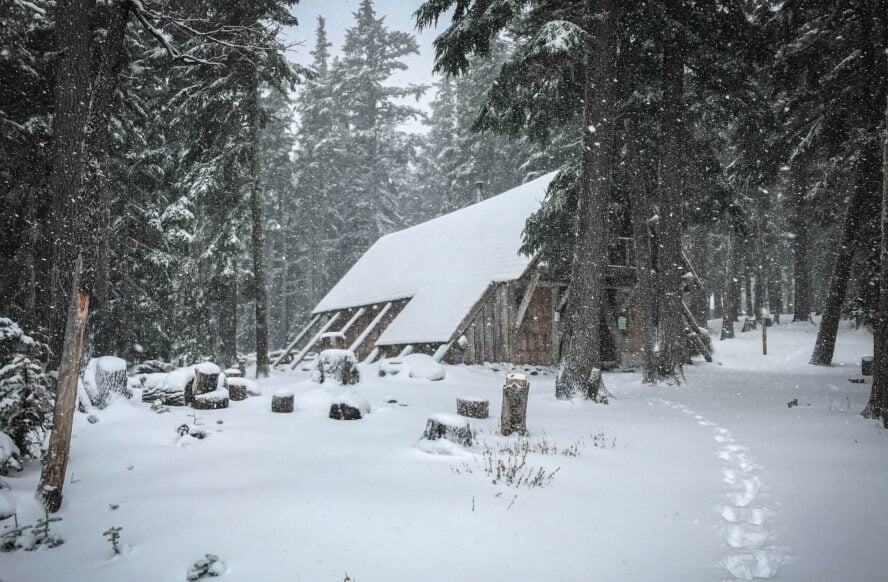 Since you're already here, I recommend checking out a local legend. The Tilly Jane A-Frame, a remote mountain cabin situated at 5,700', has been offering overnight shelter to weary travelers for almost a century. Who knows, your single-day backcountry outing might just turn into a full-fledged, all-weekend trip!
3. Let's get physical in Newton Canyon's lower zones
Newton Canyon (also known as Pea Gravel Ridge) is another top touring location on Mount Hood. This area is popular for long, sheltered slopes ripe for first-class corn skiing. There's plenty of options too, whether it's staying among the timber or taking it above treeline at the head of the canyon. Beginners beware, though: you'll find plenty of elevation here and the grades get up to an enticing 35 degrees. However, for the more advanced skiers, what I appreciate most is that because the area is so accessible. Like
skiing in Tuckerman Ravine
, you can easily do a full tour and still have plenty of time for tougher runs elsewhere.
Your Mountaineering Adventure Starts Here
1. Smooth skiing under the summit on Cooper Spur
The Cooper Spur Route is a climbing line to the summit of Mount Hood and one of the highlights of Oregon's backcountry ski scene. The skiing is primarily done on the lower Cooper Spur, up to about 8,500' in elevation (an area known as the Cooper Spur Plateau). Above that, the terrain steepens drastically (around 50° at its steepest). If you're heading to the peak, you'll need to switch from snowshoes or your ski-touring setup to crampons and an ice axe. For skiing, the terrain is completely above tree level and is mostly smooth thanks to the deep snowpack. Sometimes, when the conditions are right, you can drop onto nearby Eliot Glacier for some advanced technical action. Just don't go without your avy gear!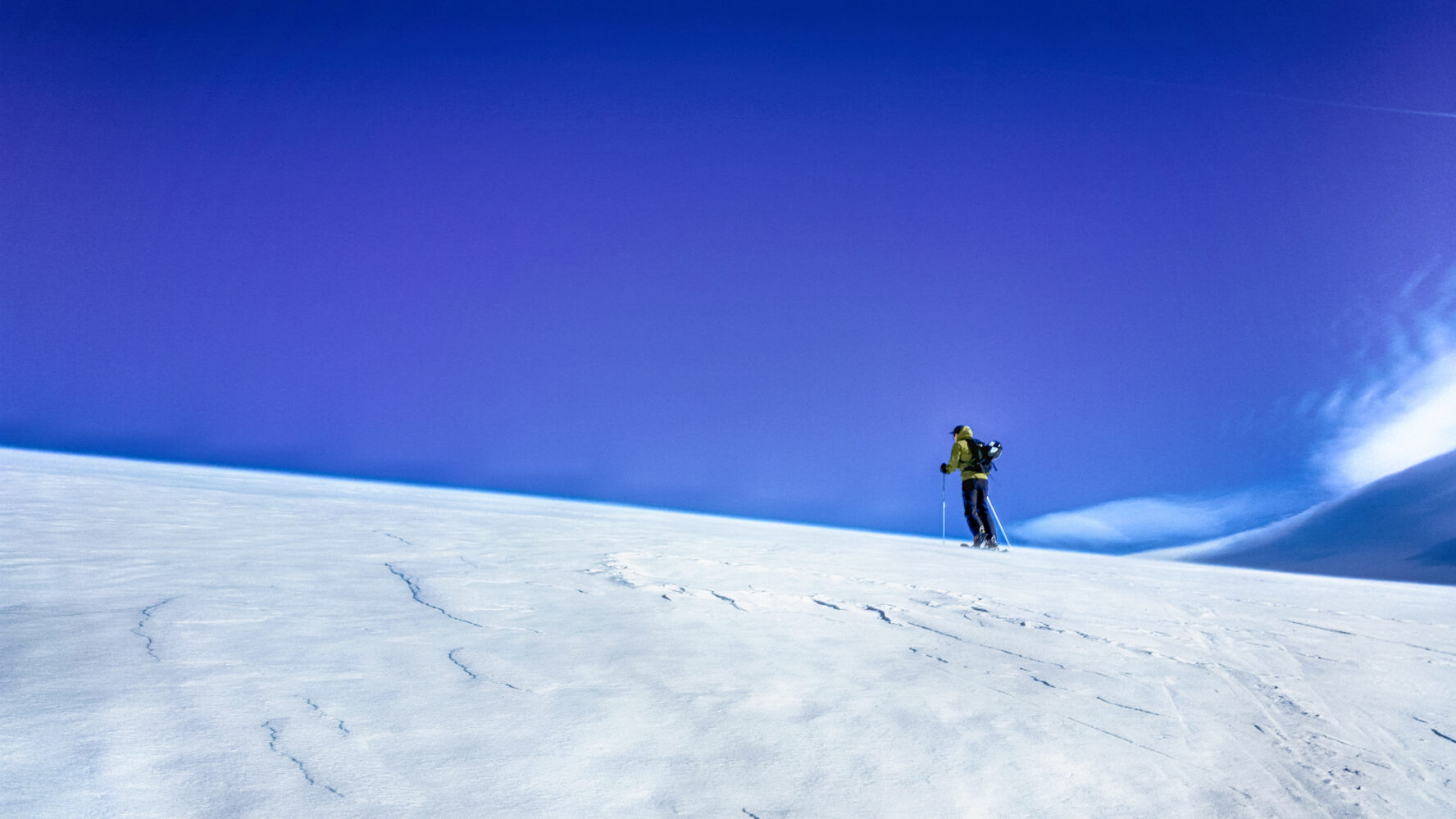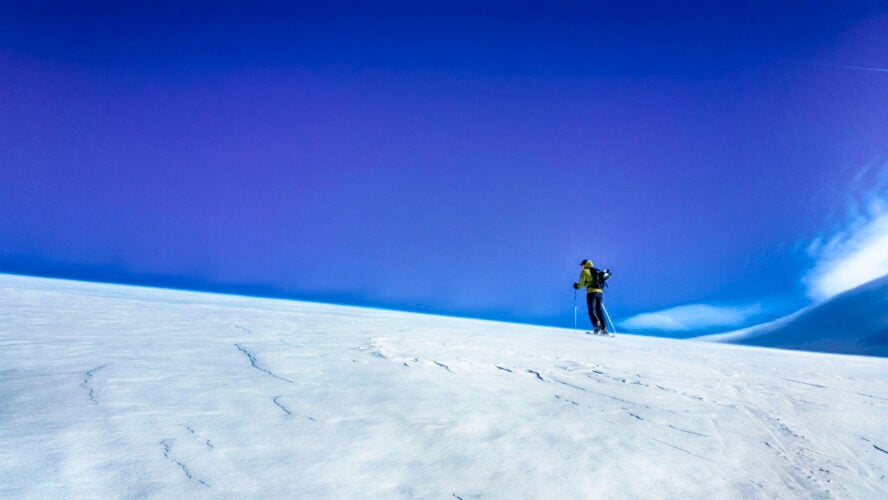 2. Summiting Mount Hood
This is it, the big enchilada of backcountry skiing on Mount Hood. Upon laying their eyes on Mount Hood's snow-capped spire, the gnawing question in the back of every wide-eyed skier's mind is: "Can I ride down from there?" The answer is a resounding yes. And not only can you ski from the summit of Mount Hood, but you can do it almost year round—December through April is fantastic. If you time your storms right, it can feel like true winter skiing. After that we transition into spring skiing, which lasts until June, the ideal time to pull off this dastardly deed. There are several routes you can take to the top. However, all of them are steep and exposed, and almost every one summits via the south side. To start, park at Timberline Lodge and hike up the Palmer Snowfield above the resort until you reach a spot called Devil's Kitchen at around 10,000 feet. That's where the transition from mellow snow walking to technical climbing happens, and I recommend intermediate-level skiers leave their skis behind.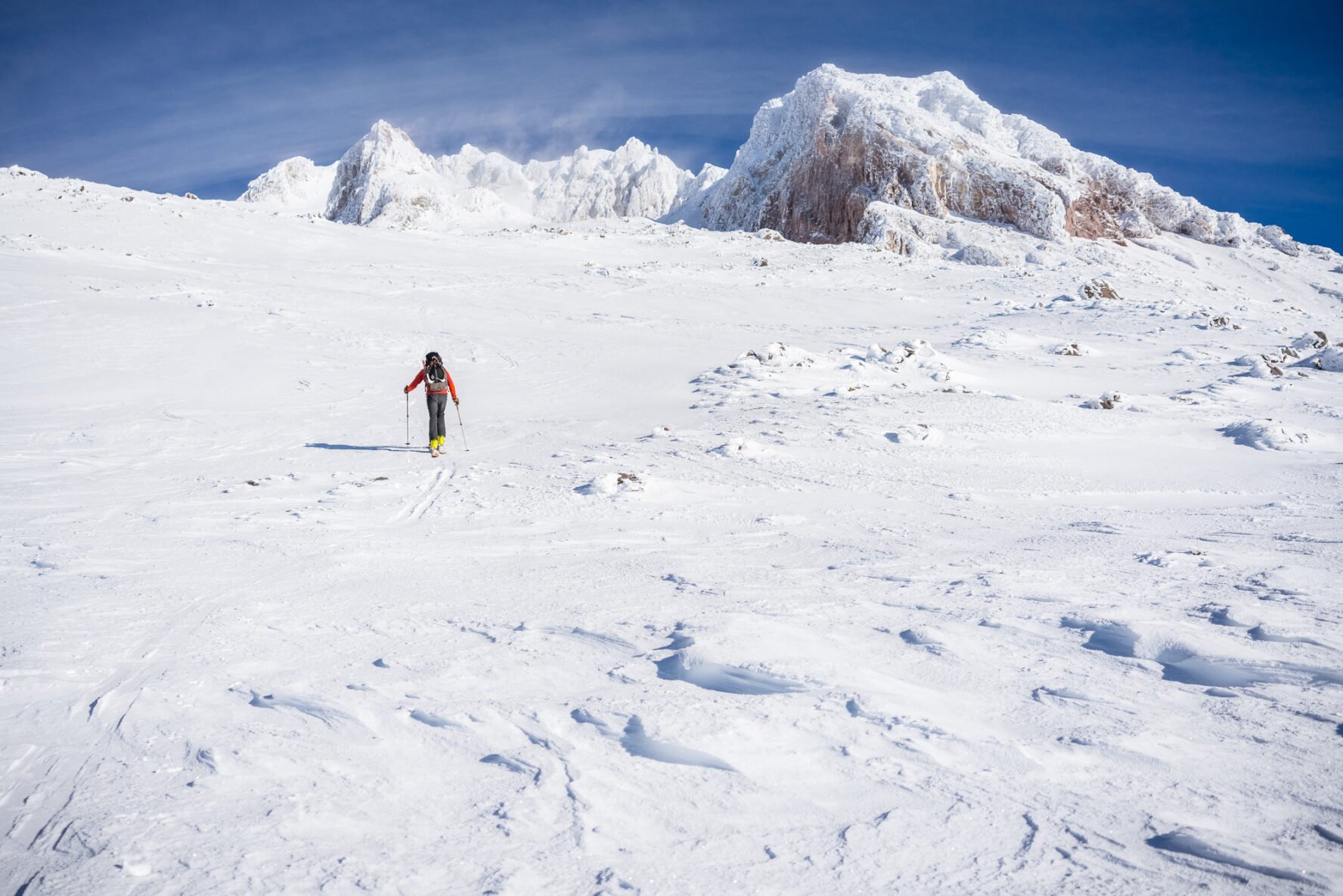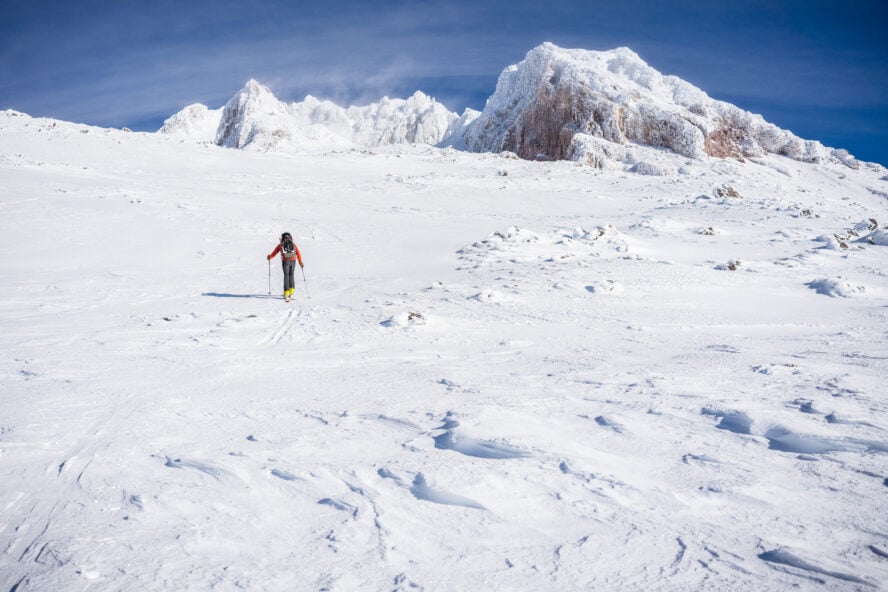 From Devil's Kitchen you have two options. One is climbing Pearly Gates, a more popular advanced route; the other is the easier, old-school way of taking the Old Chute. Whichever you choose, you'll encounter steep terrain and need to use crampons, ice axes, and ropes. I'm fond of Old Chute because it's actually a pleasant run, which many people find surprising. I would even call it a blue. All in all, you're in for about 5,000' of elevation gain, which can take anywhere from five hours (if you're going really fast) to 16 hours for an inexperienced group. The grades ease up a bit below the summit, so there's lots of opportunities for safe, crevasse-free skiing. Another great thing about summiting Mount Hood is that, if for any reason you decide to quit, you can easily turn around and walk back down at any point.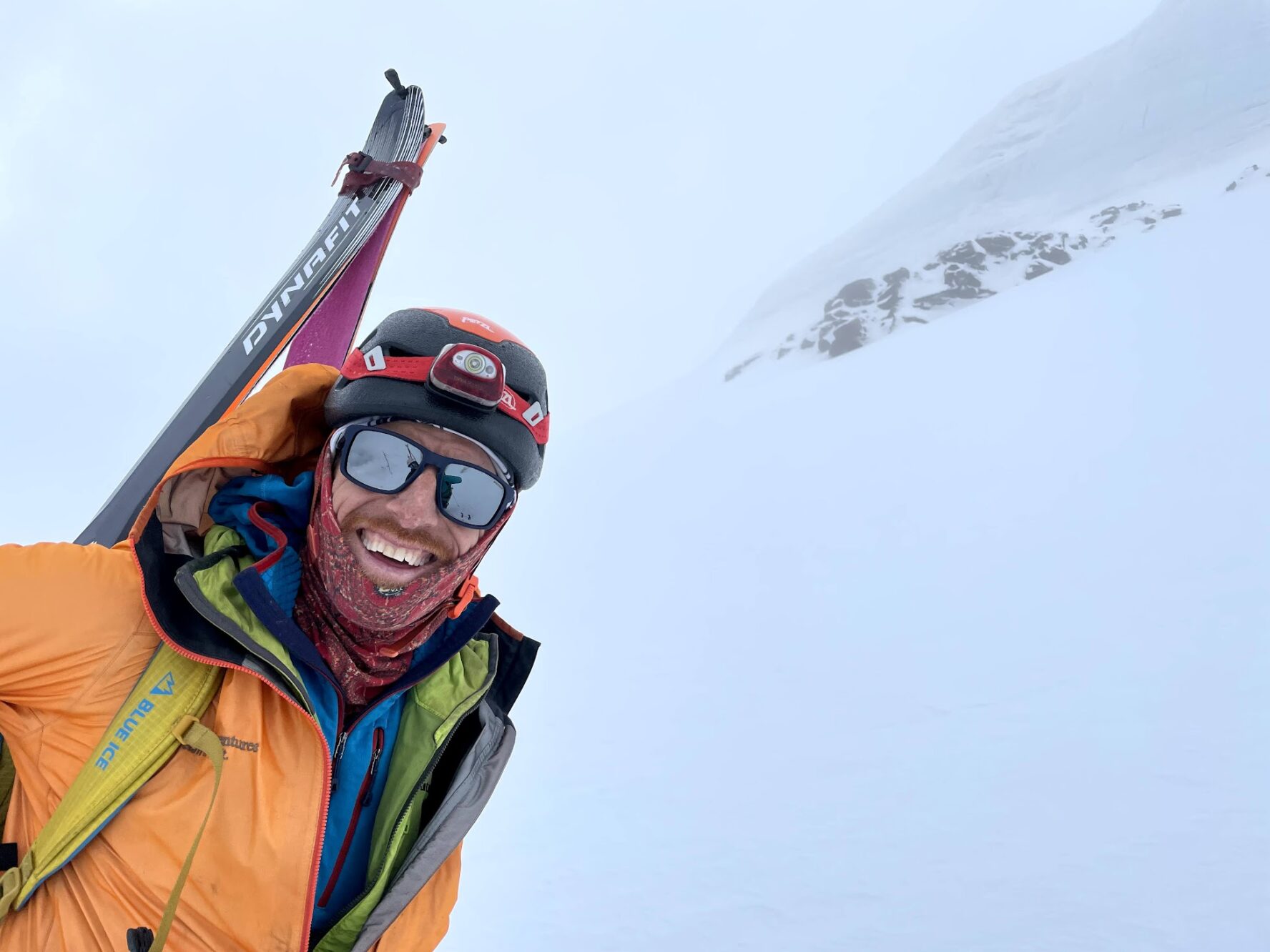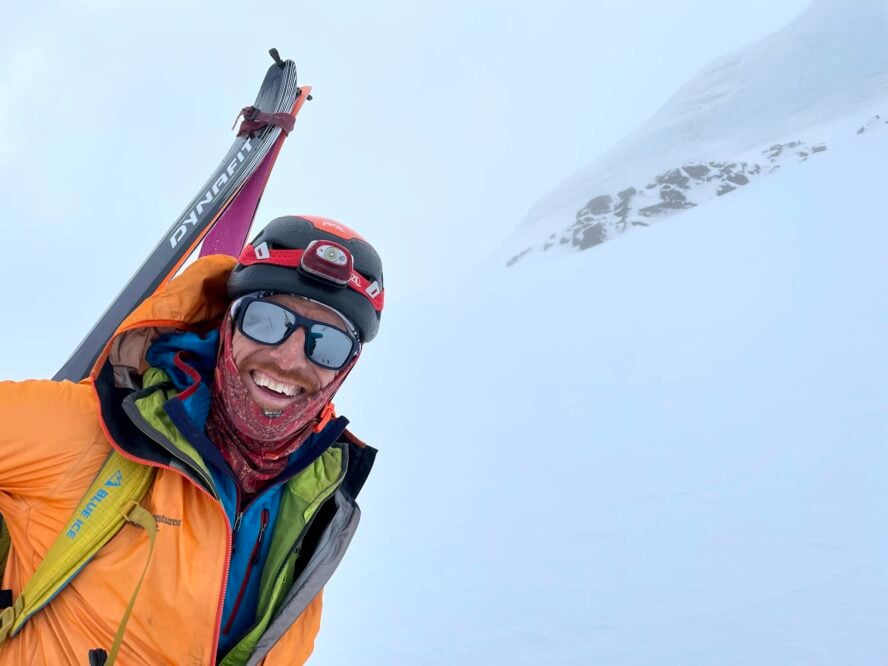 Frequently Asked Questions About Mount Hood
Which resort is better: Mount Hood Meadows or Timberline Lodge?
Both of these great resorts possess their own unique charm. If we're talking purely in terms of sidecountry and backcountry, Meadows is the superior choice due to the variety and quality of options. Timberline is good for beginners who are looking to earn their first turns, but if you ask the locals, you'll find that most diehards prefer the area around Meadows.
How many resorts does Mount Hood have?
Technically, there are five on Mount Hood. The big ones, and among the best ski resorts in Oregon, are Mount Hood Meadows and Timberline Lodge. Mount Hood Skibowl is next in line. Summit Pass is officially a part of Timberline, but it's situated below it and has just one chairlift. The last one is Cooper Spur Ski Area on the north side.
Can you camp on Mt. Hood?
There is no wilderness permit system in place on Mt. Hood, so you can camp pretty much everywhere. Even if you go above the resorts, there are no camping restrictions to worry about.
What is there to do in Government Camp?
The ski town of Government Camp is your homebase for all backcountry-related activities on Mount Hood. Here you'll find a general store, a couple of small ski shops, bars (my picks are Glacier Public House and Ratskeller), and accommodation galore. There's not much equipment to buy other than the basic stuff. For more substantial shopping, you can go to Sandy, the next big town in the area.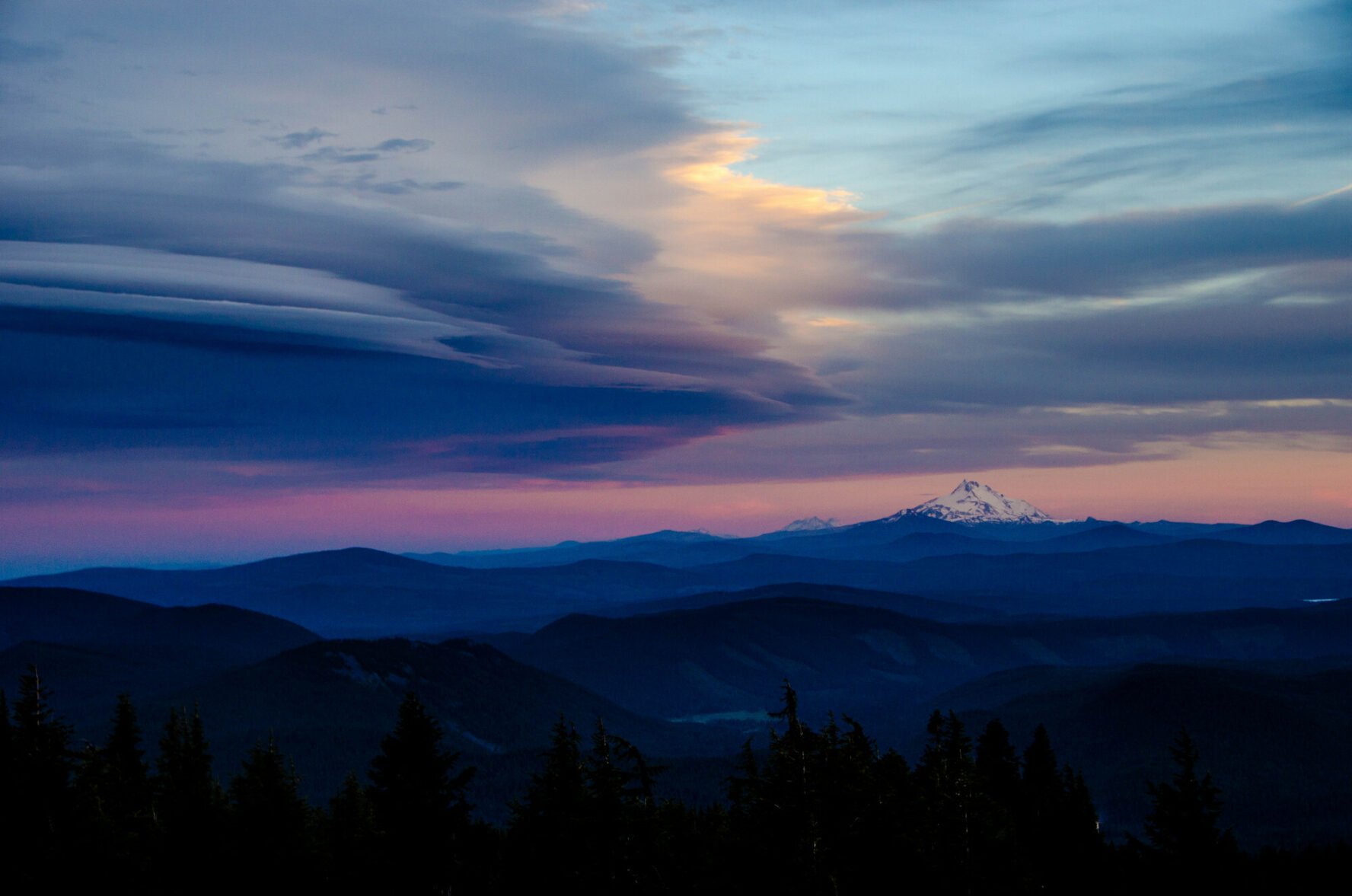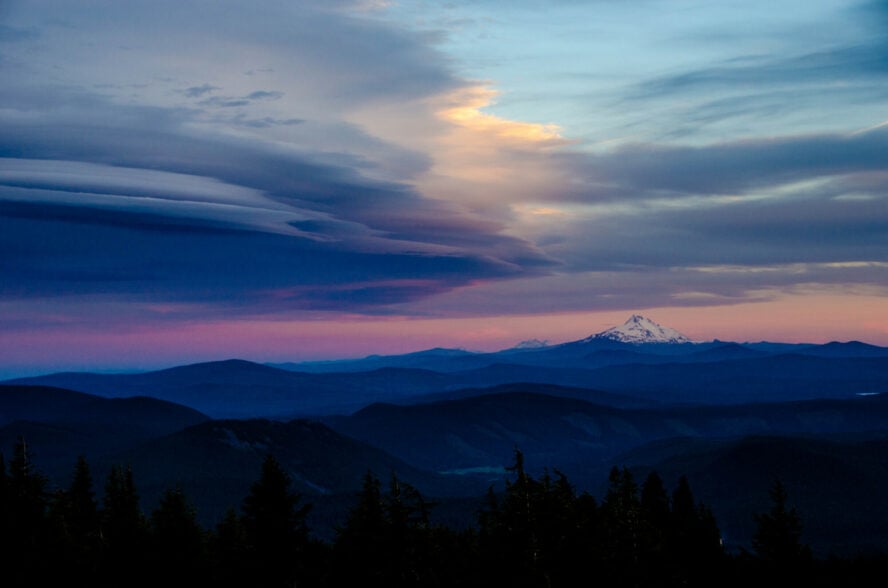 Find out why Mount Hood's the Best in the Northwest
I hope I've managed to give you a taste of the beauty—and challenge—that backcountry skiing on Mount Hood holds. Excelling both on and off-piste, it's a diverse skier's paradise boasting top-notch runs that cater to all tastes and skill levels. The generous snowpack and lift service that support year-round skiing are just the icing on the cake. For me, it's the perfect place to bring my family and friends, enjoy nature's glorious gifts in silence, or introduce new people to the wonders of the backcountry.
Ready to experience the premiere backcountry skiing on Mount Hood? Join John and book your adventure today!