7 Reasons Why Backcountry Skiing is Better in Lake Tahoe
Lake Tahoe is home to arguably the best skiing on the West Coast thanks to its deep, stable maritime snowpack. Throw in easy access to airports, amenities, and vast backcountry terrain and you have a recipe for success.
Table of Contents
I circled the world chasing the remotest ski runs and gnarliest climbs I could find, just to end up right back where I started: backcountry skiing at Lake Tahoe under the electric blue sky of NorCal. For the uninitiated who have only heard tales of the so-called "Sierra cement", they may be surprised by my choice…
Located in the backyard of the Bay Area, Lake Tahoe is the quintessential four-season playground, with a rich history of world-class skiing. When the first blanket of snow covers the surrounding mountains, it becomes our Whistler, Jackson Hole, or Vail.
So let's shed the outmoded myth, shall we? Strap on your skins and join me on a tour of the best of the backcountry in Tahoe!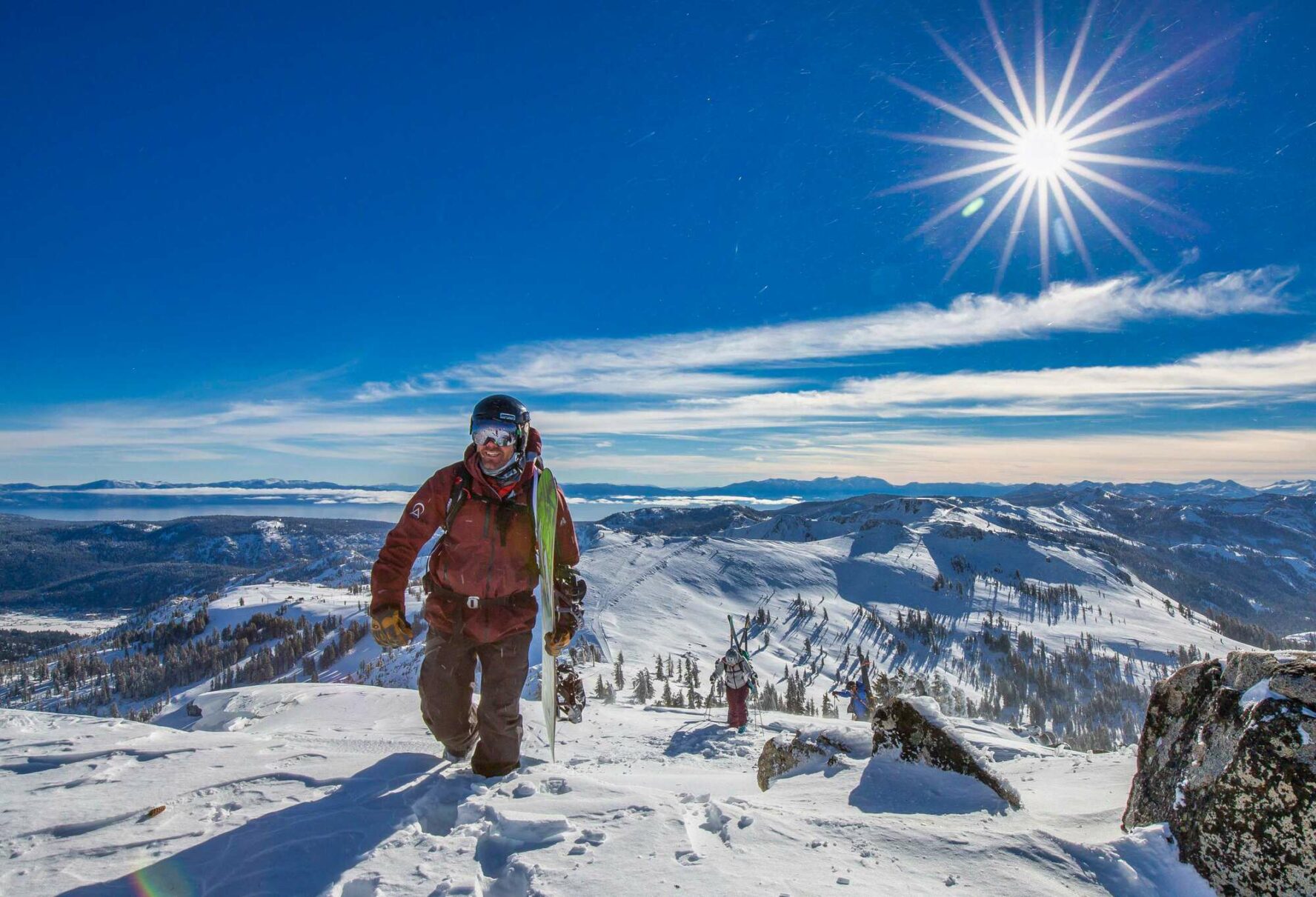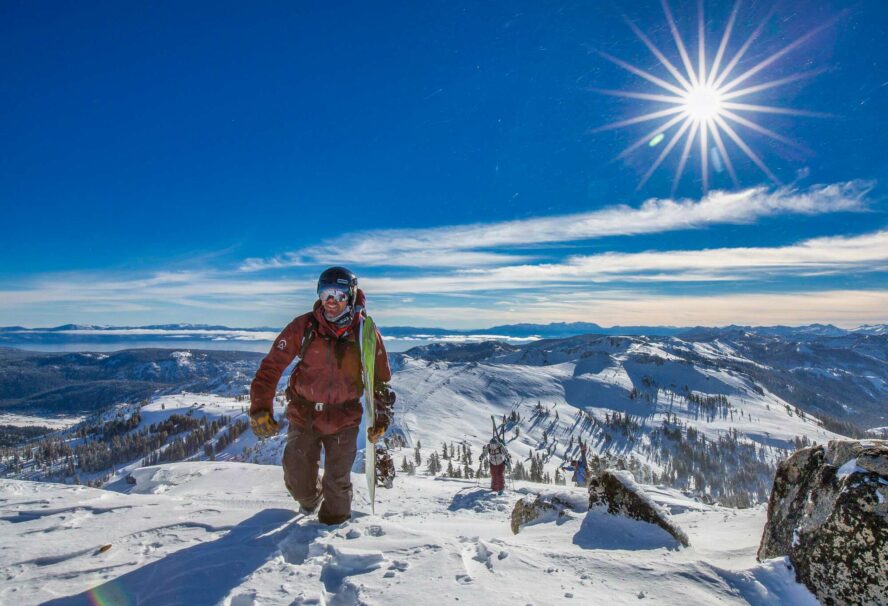 In Tahoe, Backcountry Skiing is Older Than the Resort
The history of skiing in Lake Tahoe goes back to the 1930s, when Wayne Poulsen, an accomplished young athlete from Reno, envisioned this place as a mountain community dedicated to skiing—as a way of life. After completing a scientific survey, he found the snow conditions in the Sierra were suitable for the development of winter sports, and started buying land in the Olympic Valley.
Those efforts brought about a wave of interest in skiing, at a time when there was no avalanche control or lifts. Investors soon saw the potential too, and in 1949, what we know today as Palisades Tahoe—the largest skiing complex in the region—was established. For his contributions, Poulsen was inducted into the National Ski Hall of Fame and the 7,742-foot Poulsen Peak in the Sierra Nevada was named in his honor.
An area renowned for bluebird days and easy access to skiable terrain
The mountains around North America's largest alpine lake offer some of the best backcountry skiing in California. Add to that almost 300 days of sunshine and descents that can reach 8,000 vertical feet, and you've got yourself a world-class skiing destination.
I'll further that claim by saying that people are often surprised by how easy it is to access the backcountry here. Thanks to roads that are plowed all winter long, quite a few trailheads are easy to get to. For example, Donner Summit and Donner Pass virtually never close in the winter (except during storm cycles, for avalanche mitigation).
Although you might not find much alpine skiing, the sheer quality of the tree skiing more than makes up for it. And thanks to the expansiveness of the area, it would take a crowd on the scale of the record-setting December 2021 snowfall for you to have to share the slope with someone.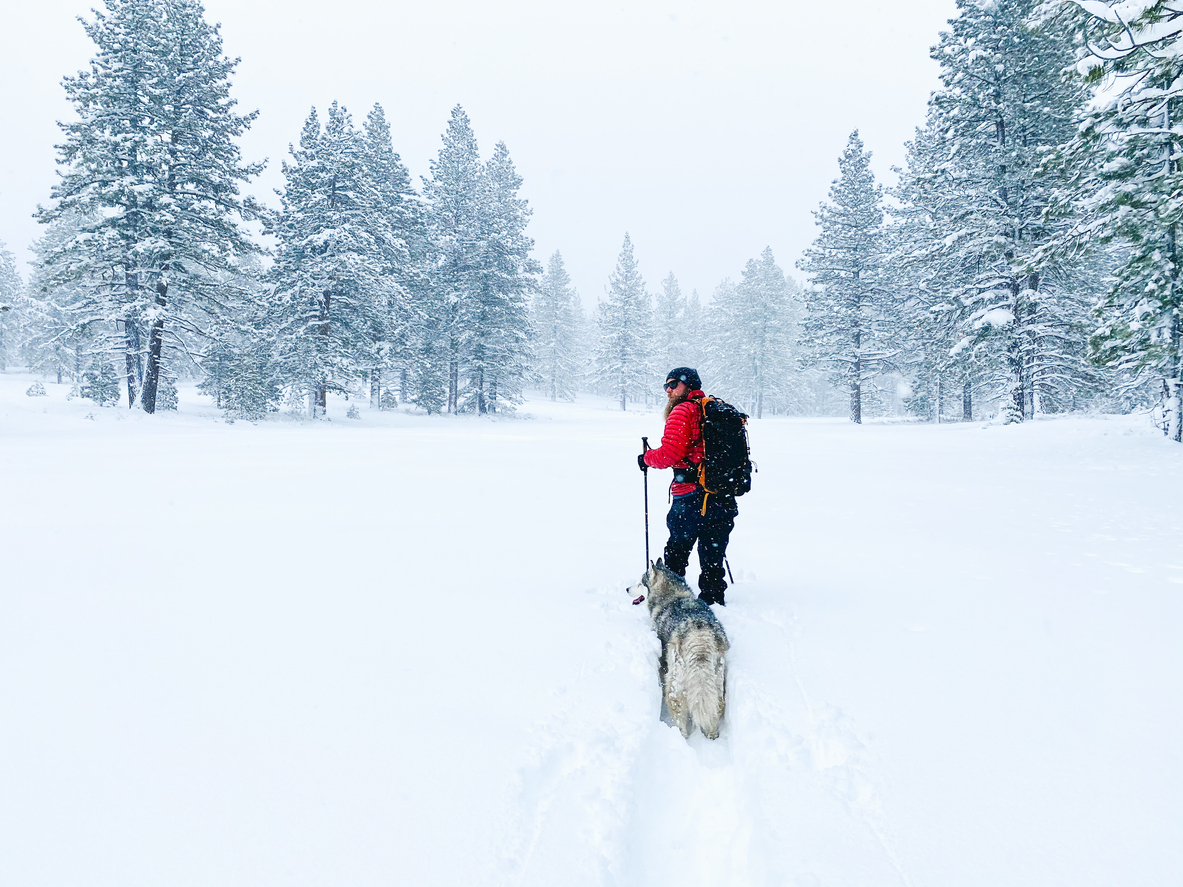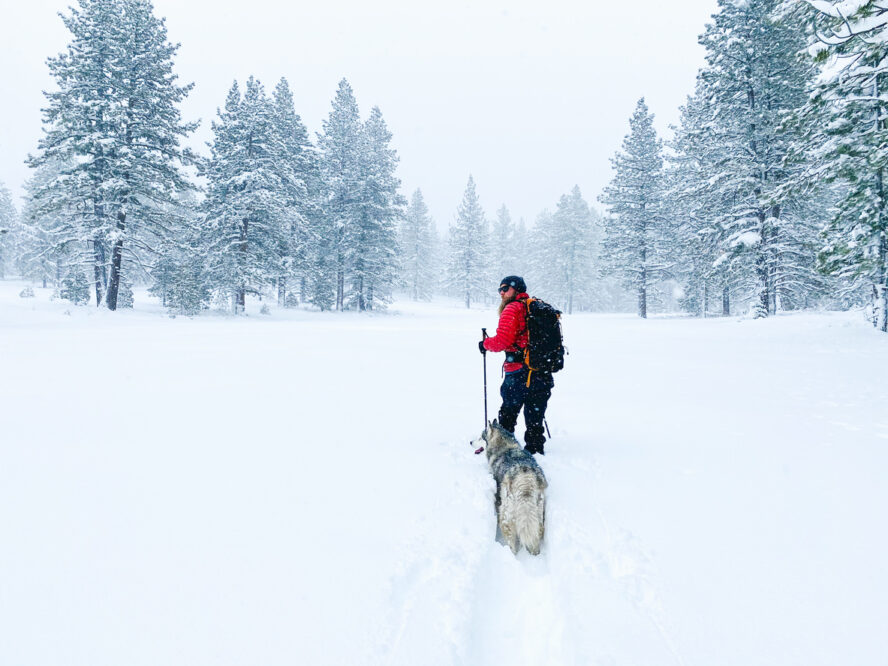 Skiing conditions in the Tahoe backcountry
Now, on to the most compelling reason to head to Tahoe for backcountry skiing: the snow. When other places in California—or the West in general—are not yet suitable for skiers, Tahoe is your best bet to find powder.
That's because the Sierra Crest, where I "settled", is the first big landmass snowstorms run into. Thanks to this maritime snowpack (meaning the ocean is the predominant force delivering precipitation to the area), if the seas are cooking up any snow it's heading here before anywhere else.
As you can guess, our ski season is long, running from late November to mid-April. And it's historically full up—a usual season brings well over 500 inches of snow. In fact, we recently had a winter for the record books: in December 2021 we received 193.7 inches of snow in a single day! If we're lucky, we can ski the Tahoe backcountry all the way through June.
For safety guidance, we rely on the Sierra Avalanche Center, which reports everything an hour north and south of us, covering a sizable chunk of the Sierra Nevada.
Don't be put off by the myth of Sierra cement
Some people like to call the snow around the lake "Sierra cement", considering it overly wet and heavy. I don't mind, less naysayers coming to Tahoe just means more snow for us!
Compared to skiing around the Tetons or the backcountry of Colorado—where the cold polar air mass from the north is the main supplier of dry flakes—the Sierras tend to get warmer snow, and more of it. Another benefit of the wet heft is that it is less prone to avalanches.
However, our snowpack can sometimes behave quite differently depending on the conditions. Most notably, early spring brings a higher avy risk, with multiple persistent weak layers present, including a surface hoar. That's something you'd expect to see in a continental snowpack, which you might experience when backcountry skiing in a place like Utah, for example.
Life as an international backcountry skiing guide is no match for Tahoe
I grew up skiing in the mountains of California, and parlayed that into a gig as an outdoor educator taking high school kids out on backpacking trips. From there, it was like a linear graph up and right and around the globe—one day ascents of El Capitan, big alpine climbs in the Himalaya, ski descents on Denali. Turns out you can make a living leading big mountain international trips so I joined Alpenglow Expeditions as Chief Guide.
In spite of all the places I've been, I always find myself coming back to my home turf, guiding backcountry ski tours in Lake Tahoe and the Sierra Nevada.
The 7 Best Places in Tahoe for Backcountry Skiing
Now that you know why Lake Tahoe is a true West Coast gem, here are some of my favorite places to explore in the area:
Silver Peak, best for beginners

Castle Peak, best for a high-elevation start

Andesite Peak, best for a quick and easy run

Alpine Meadows, best for lift access

Mount Rose, best for a full day of skiing

Jake's Peak, best for gorgeous scenery

Mount Tallac, best for terrain diversity
Silver Peak
1. Silver Peak
Beautiful views of Lake Tahoe
Close to Alpine Meadows and the Olympic Valley
Diverse options to choose from
The terrain could use a little more steepness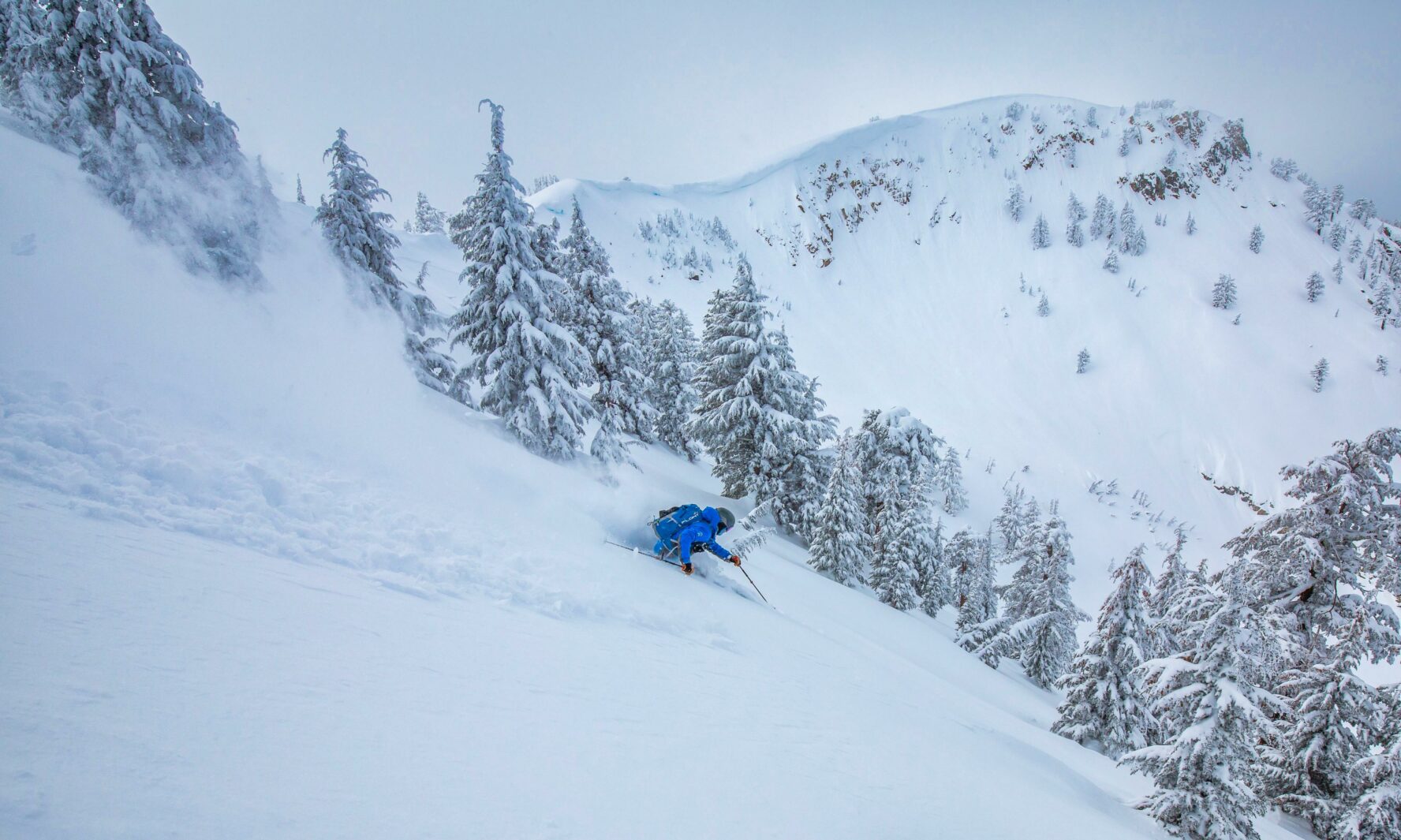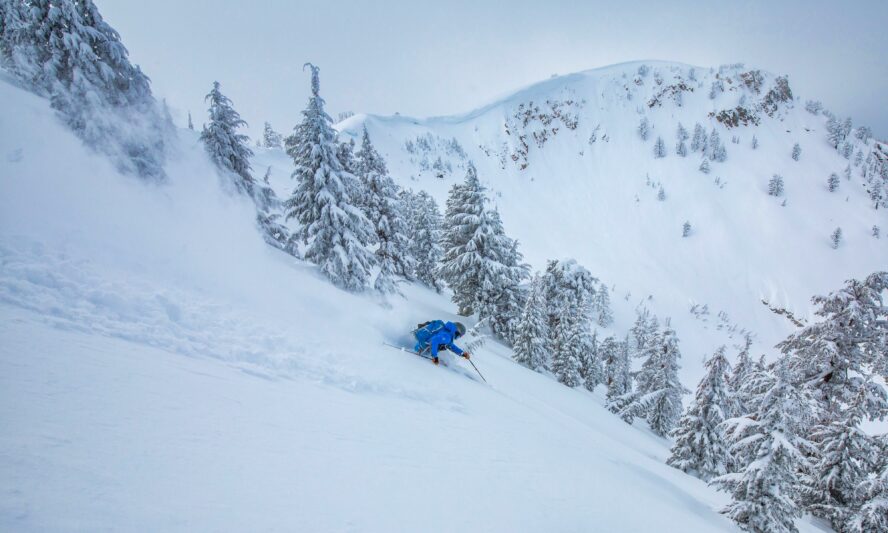 Perfect for beginners or newcomers looking for something classic
Silver Peak is considered Tahoe's hidden gem because of its proximity to Alpine Meadows in the Olympic Valley but with just a fraction of its crowds. Locals have been enjoying the peace and quiet on this long, mellow run for decades. A great intro for beginner backcountry skiers, it starts with a low-angle one-hour ascent along a snowy road, then becomes a moderate climb to an east-facing bowl.
From there, the terrain varies, from shorter bowl runs to long romps among the trees. With so many options, it's the perfect place for someone dipping their toes into skiing or splitboarding. The highlight, for sure, is the small summit waiting at the end—the sweeping view from up there will make you feel like you're on top of the world.
When it comes to classic Lake Tahoe skiing, Silver Peak's backcountry is right up there with the best of them.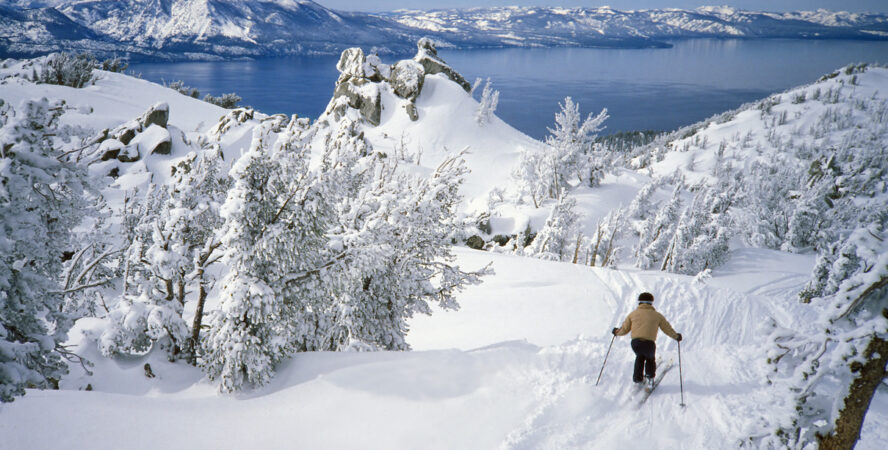 Backcountry Skiing At Silver Peak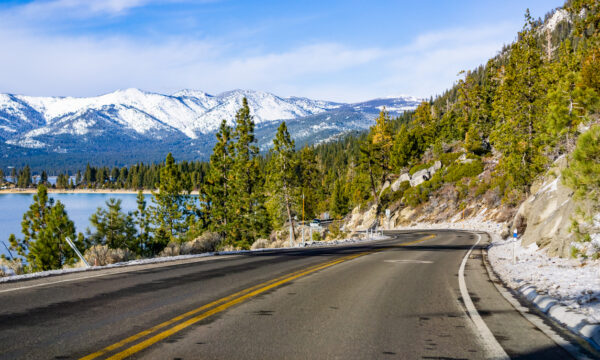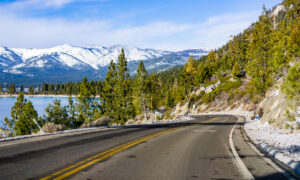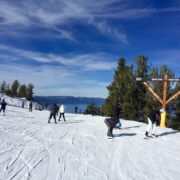 1. Silver Peak - Good to Know
Difficulty:
Easy to moderate
Elevation gain:
2,328 feet (709 m)
How to get there:
Take US 89 along the Truckee River, then turn up Squaw Valley Road and park at the end. Alternatively, you can access Silver Peak from the Pole Creek drainage.
Approach:
Skinning up to the peak from Squaw Valley Road requires a bit of route finding. You'll hardly see the peak until you get near and you might bump into some rocks and  steep spots along the way.
Insider tip:
Spend the night in Sierra Club's Bradley Hut north of Silver Peak for a good intro to ski touring.
Castle Peak
2. Castle Peak
TOP CHOICE FOR A HIGH-ELEVATION START
Easy access from Highway 80
Plenty of fun, mellow terrain
You start at a higher elevation than usual
The bowl to the north is prone to avalanches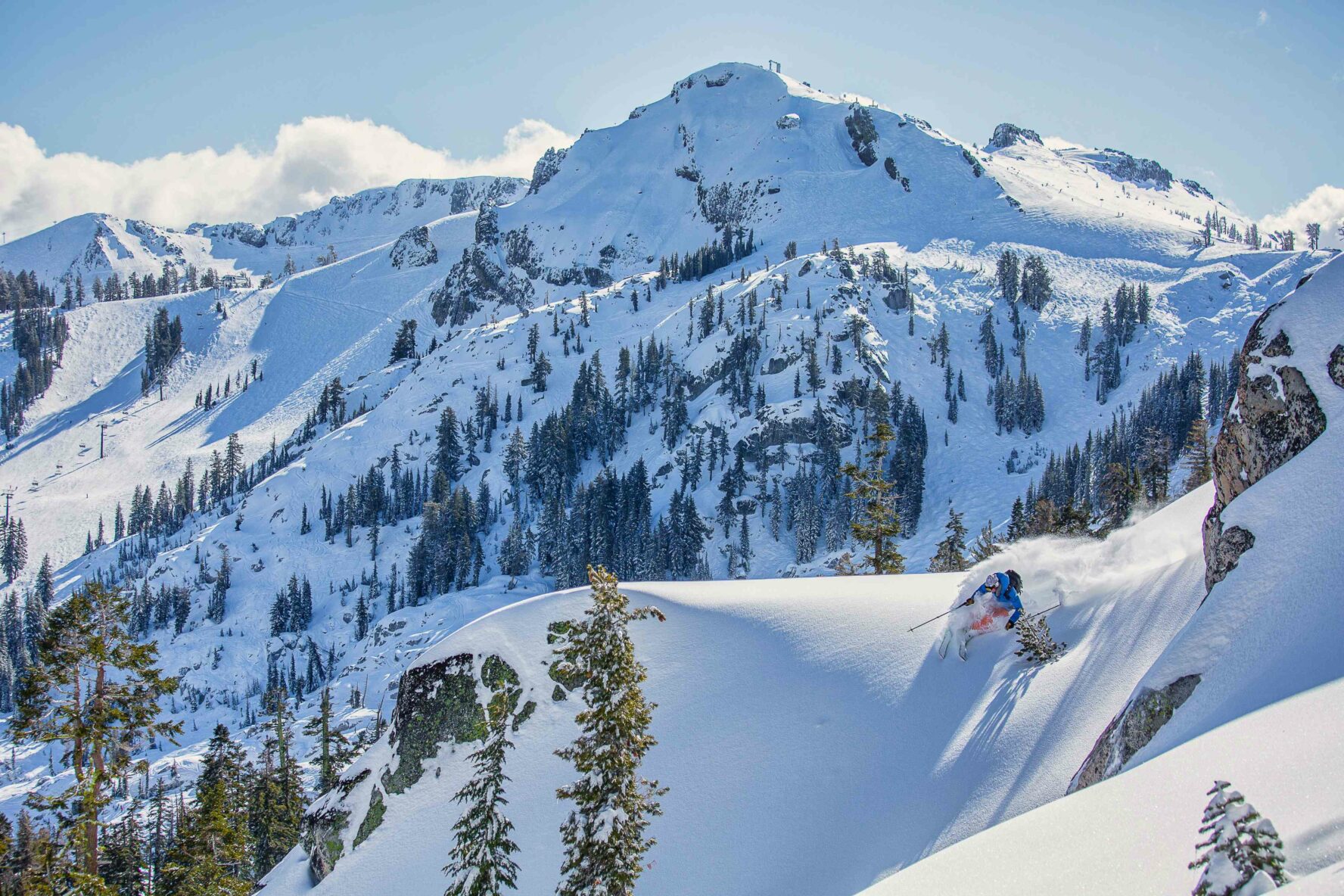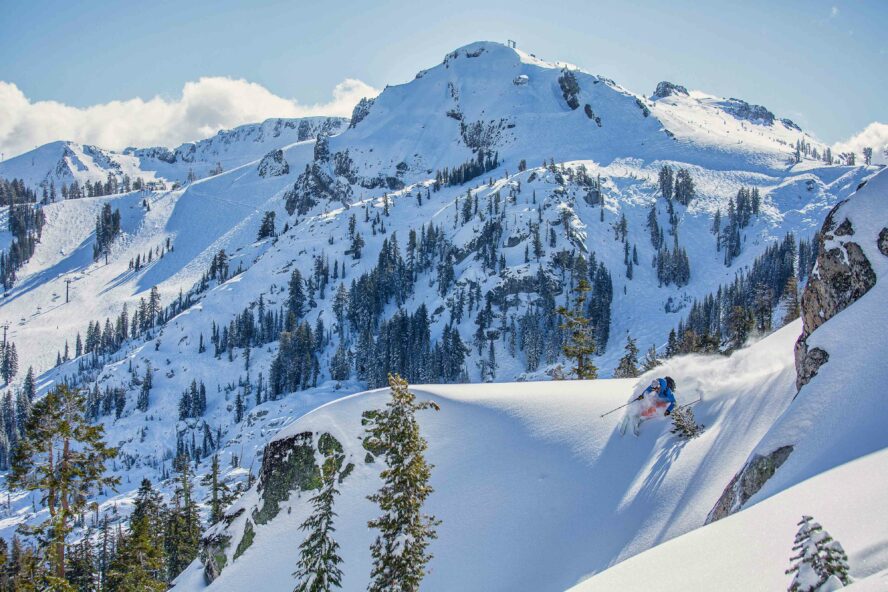 Best place for avalanche rescue practice or ski mountaineering
Castle Peak sits at a little over 9,000 feet and offers plenty of terrain options for both spring and storm skiing. It's no wonder all the parking lots are jam-packed from the early hours—which means dawn patrol is absolutely necessary. Don't think you'll be elbowing your way through the backcountry, though, most people are actually here for sledding, not skiing.
When you start your hike, you'll pass by the beautiful Castle Meadow, a perfect place for a day of avalanche rescue practice. Even if you already took an avalanche course in Lake Tahoe, a prerequisite for venturing out into the backcountry on your own, it's recommended that you periodically refresh your knowledge and keep abreast of new rescue techniques.
Castle Peak is a great place for leveling up your skiing abilities and learning about managing backcountry risk. For one, the peak has a craggy summit especially suited for ski mountaineering training. From there, you can drop onto a popular 2,000-foot south face for exquisite corn skiing. The runs below the buttress are great for doing shorter laps, while the other option is heading to an expansive north bowl with drops into some exciting chutes.
If you're a backcountry neophyte or a skier looking to hone your avy knowledge, you can't go wrong with Castle Peak.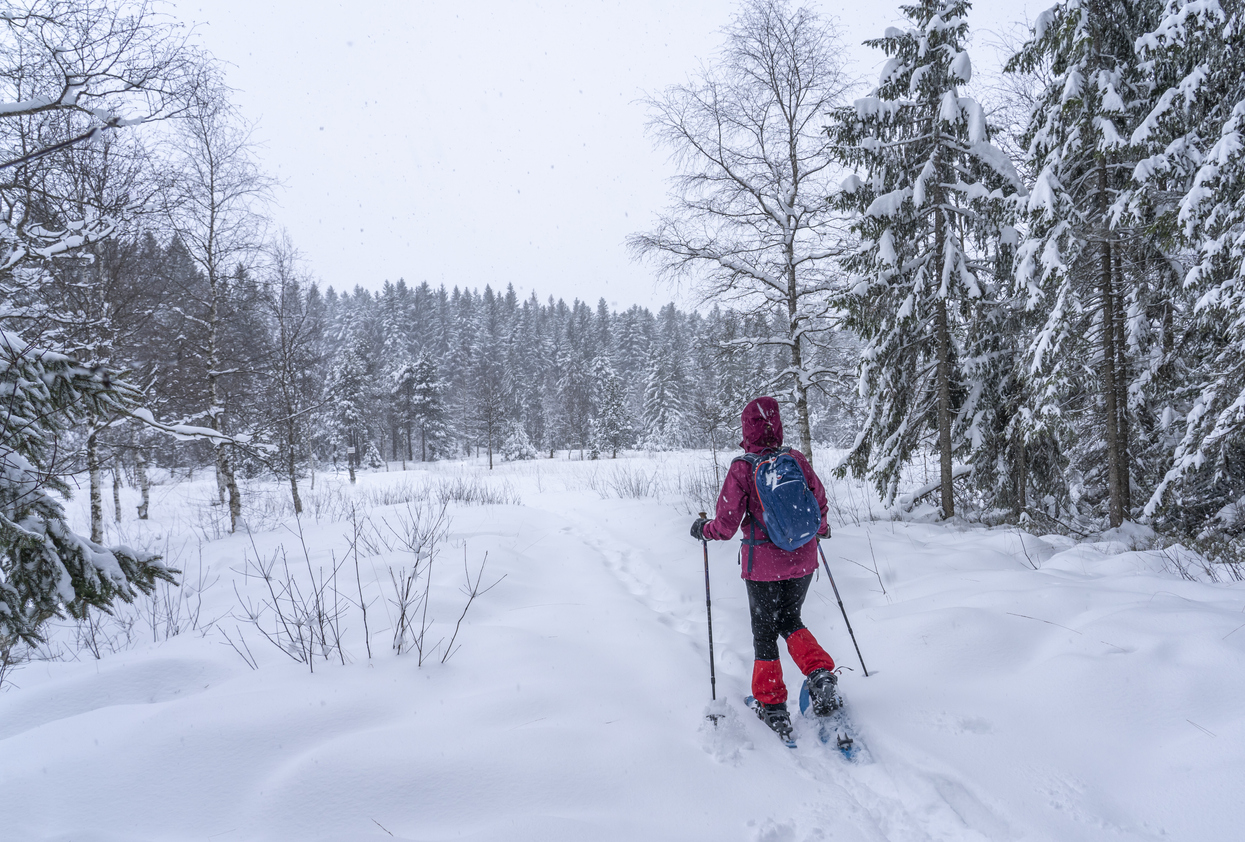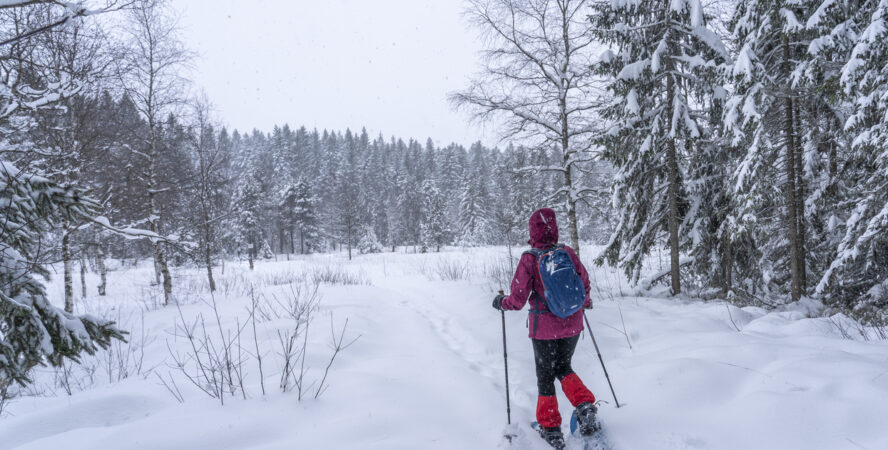 Backcountry Skiing Castle Peak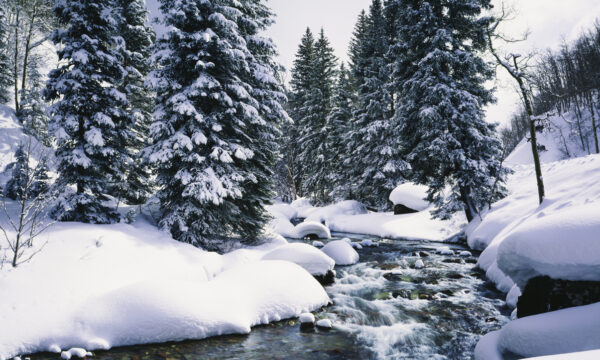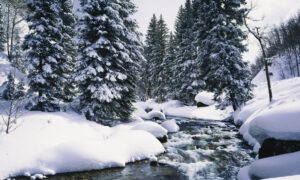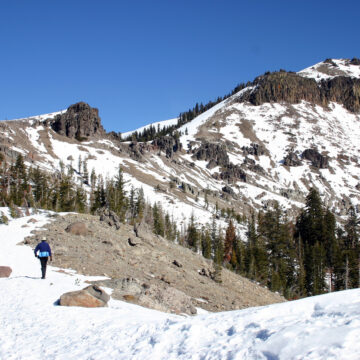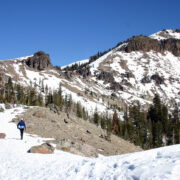 2. Castle Peak - Good to Know
Difficulty:
Easy to moderate
Elevation gain:
1,921 feet (585 m)
How to get there:
You can leave your car in the parking area next to the Boreal Ski Area Parking Lot, south of Highway 80. It's best to get there early on weekends.
Approach:
The climb up to Castle Peak is not difficult, but it can take a while. There's around 2 miles of gradual uphill before the more strenuous final stretch.
Insider tip:
Extend your stay in the Tahoe backcountry by staying at Peter Grubb Hut below Castle Peak's western flank.
Recommended guided tour:
Andesite Peak
3. Andesite Peak
TOP CHOICE FOR A QUICK AND EASY RUN
Beautiful beginner-friendly terrain
Can be skied when avalanche danger is high in nearby areas
You can easily reach Castle Peak from the saddle
Not as exciting as larger or more technical areas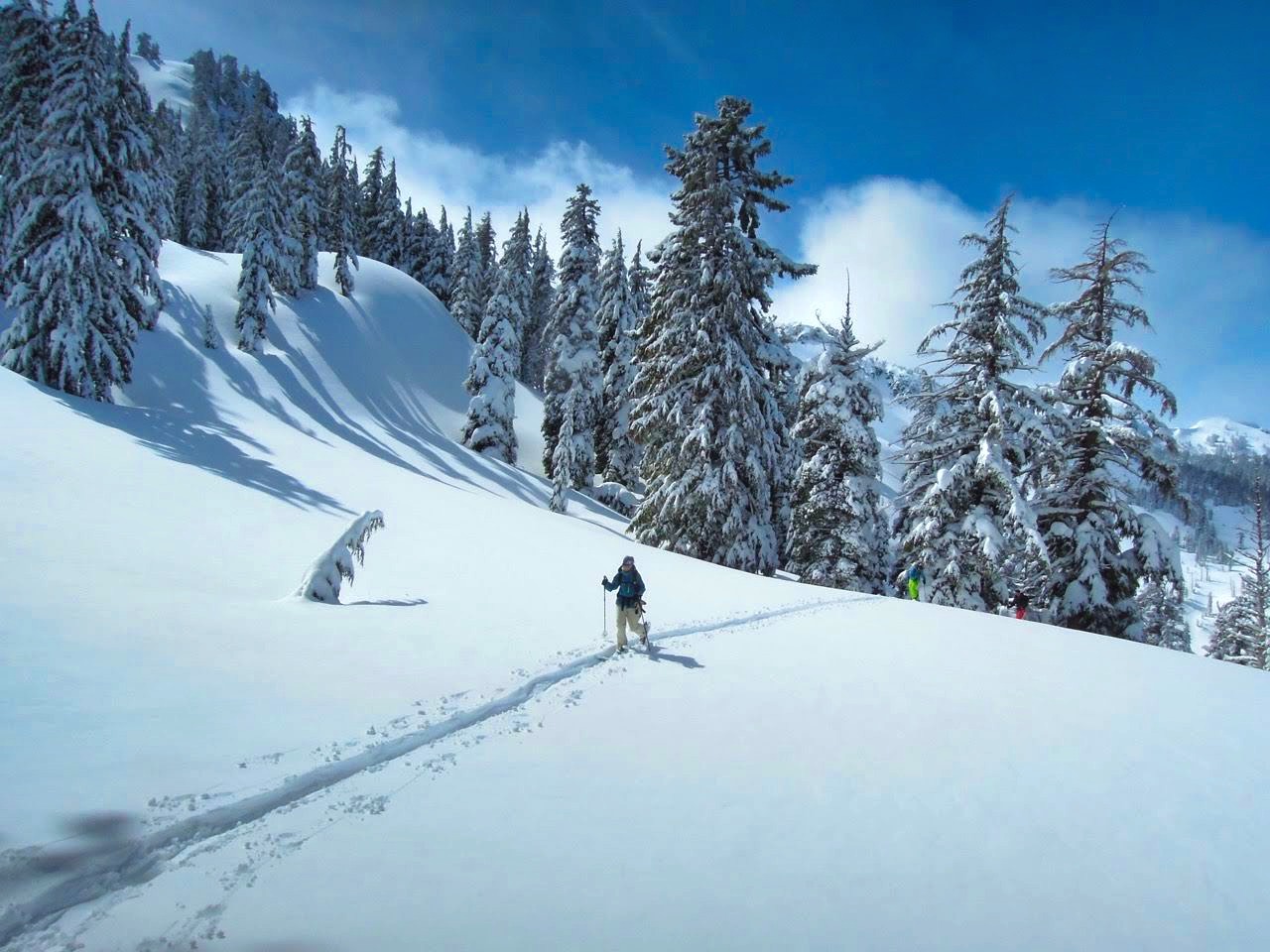 Beginners will enjoy the saddle despite the vertical
For a quick and easy run, head over to Andesite Peak. The Andesite Peak saddle is the main drop off point for skiing in the Castle Peak area. Because of its access to different types of terrain, the saddle makes a great option when avalanche danger is high in other places.
The approach is mellow and makes for an easy day. The lower trail of Castle Valley North Road has perfect conditions for snowshoeing because the snow is nicely packed in without much sink. As you go further up, it will likely reach your knees. On the last stretch of the hike, the vertical grade increases a bit, but it's still perfectly suitable for beginners.

The saddle of Andesite Peak is the perfect place to go for a quick and easy Lake Tahoe run.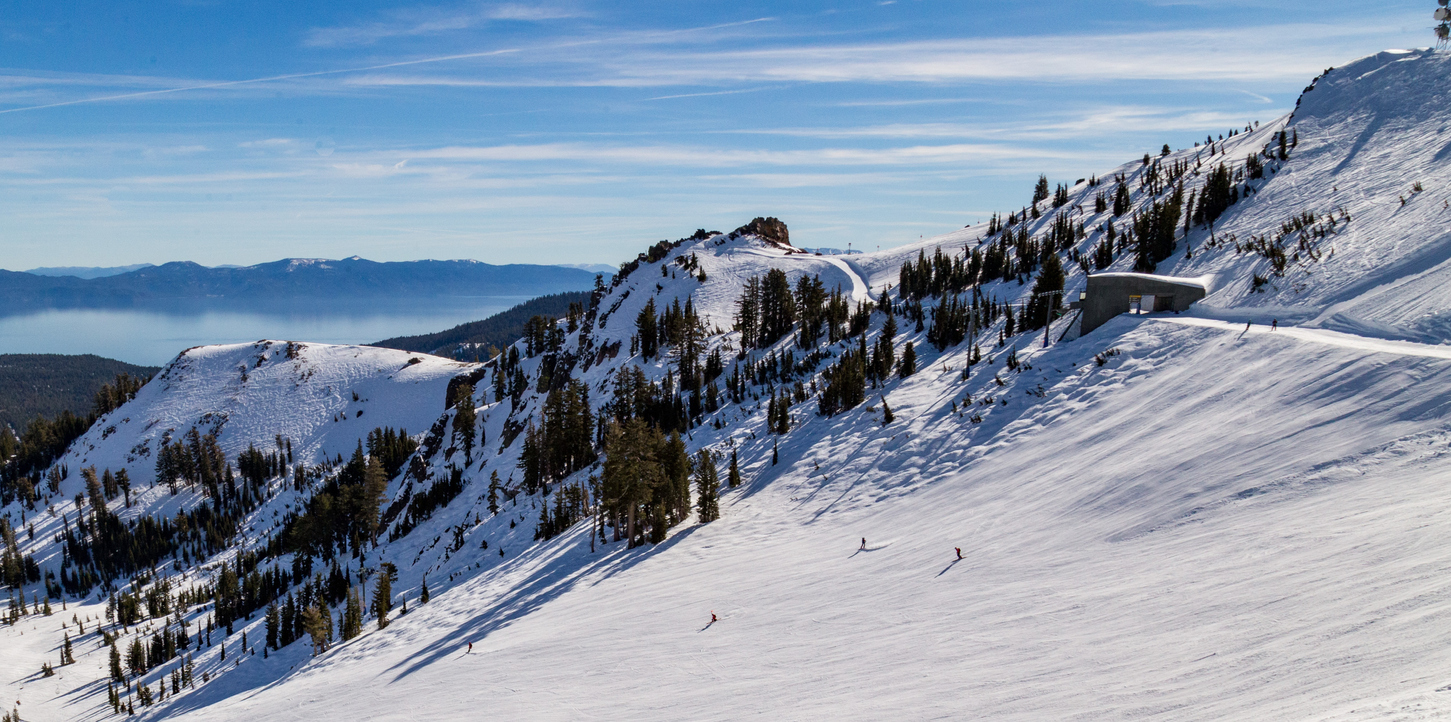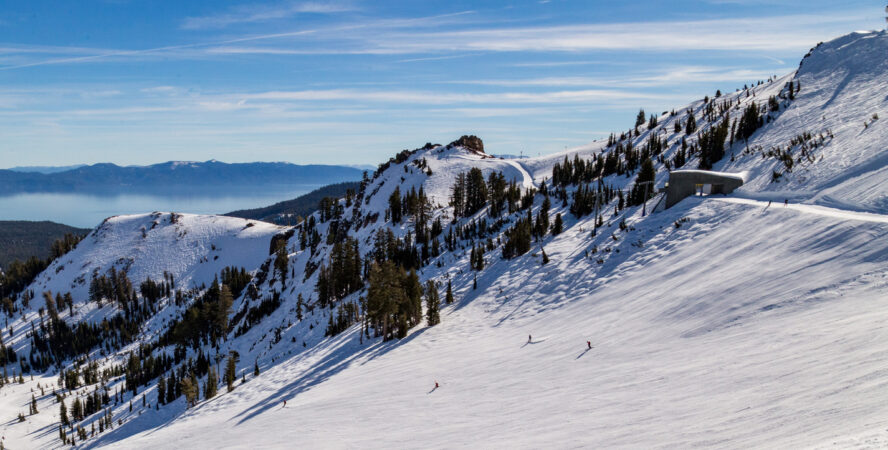 Beautiful Lake Tahoe backcountry skiing (Andesite peak - Lake Tahoe, CA)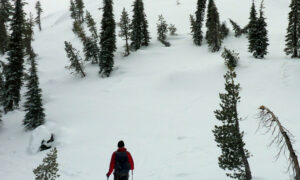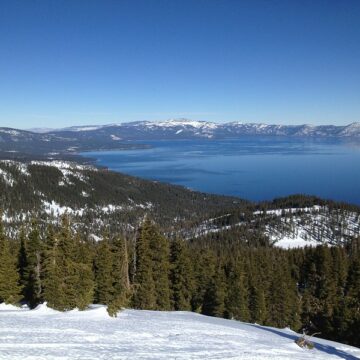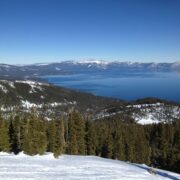 3. Andesite Peak - Good to Know
Difficulty:
Easy to moderate
Elevation gain:
897 feet (273 m)
How to get there:
Same as Castle Peak. If the road to the trailhead is too icy, go under the freeway and park at the Donner Summit Sno-Park.
Approach:
The climb starts from the same trailhead as Castle Peak. Follow the snowmobile road until you reach a fork. Turn left and continue your ascent through lodgepole and fir trees, wrapping around Andesite Ridge and up to the peak.
Insider tip:
In order to park your car in a Sno-Park area, you'll need a daily or seasonal permit.
Palisades Tahoe
4. Palisades Tahoe
TOP CHOICE FOR LIFT ACCESS
Incredible terrain variety
Lift access means less skinning and more skiing
Some of the finest chutes and bowls in the region
No ducking under the ropes to reach the sidecountry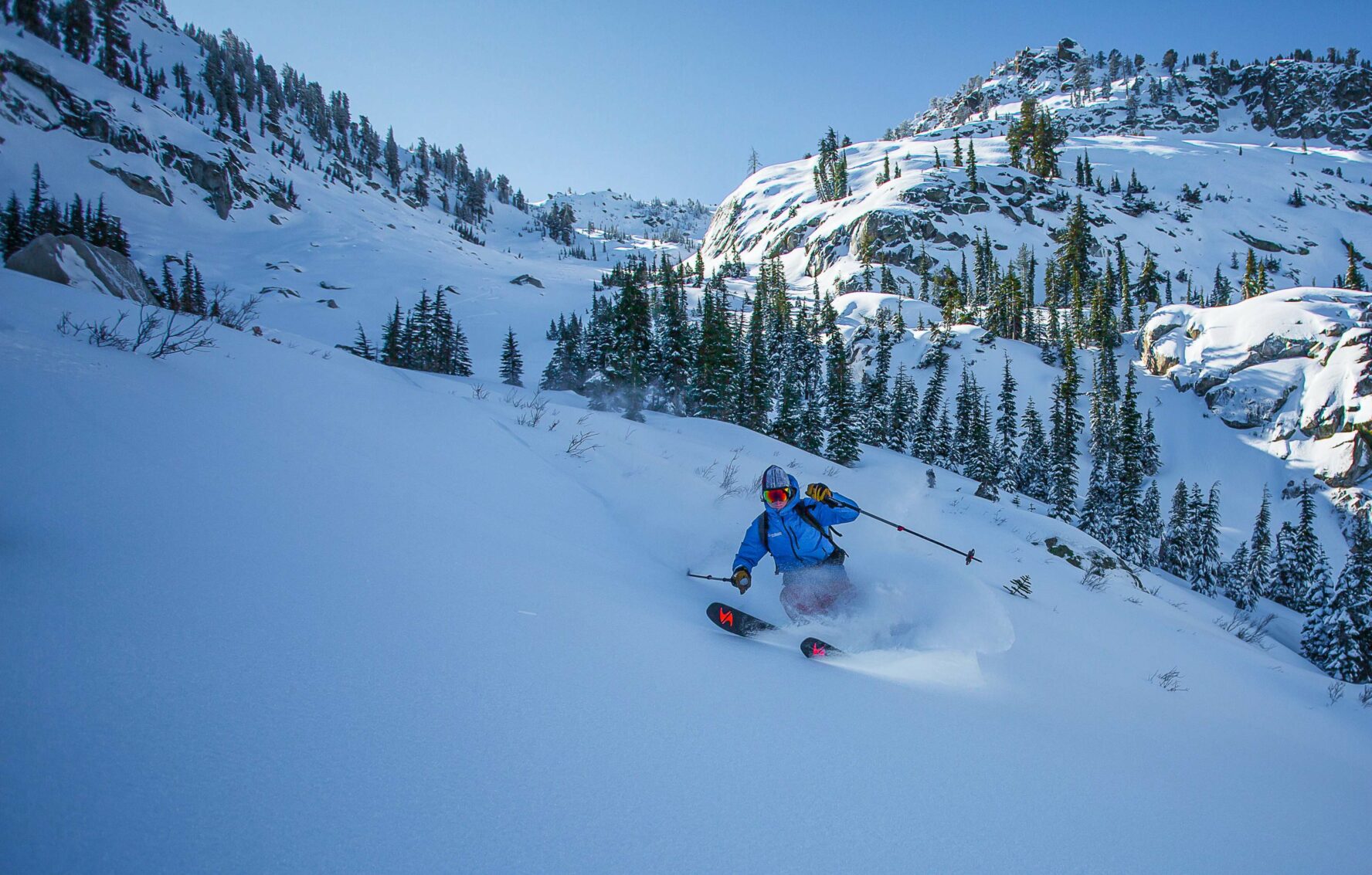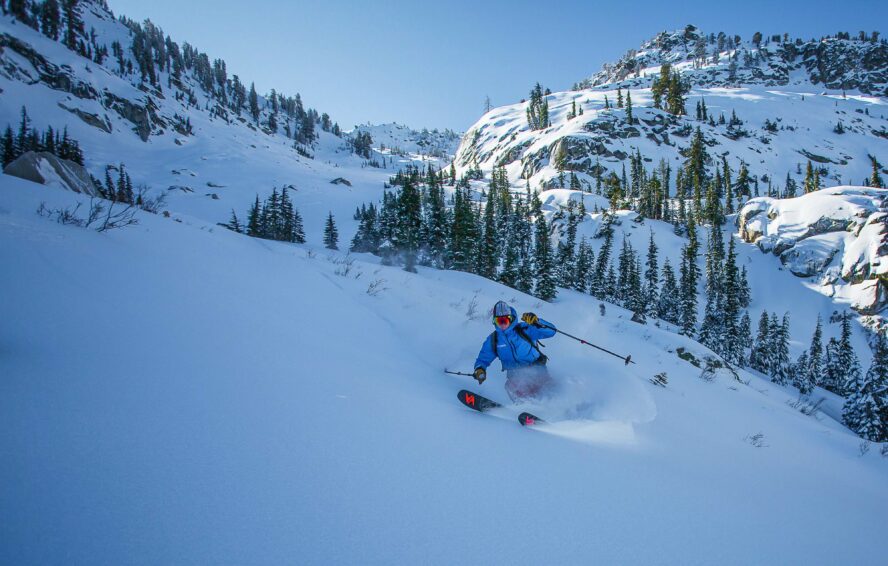 For powder hounds seeking a premier backcountry experience
Backcountry access through the resort is only available at Palisades Tahoe. Located on private land, Palisades has closed borders—you can't just duck under a rope to find untracked snow. The mostly private designation for skiing in Tahoe is really a shame because the resort is surrounded by some epic backcountry terrain.
Alpenglow Expeditions is fortunate to have an agreement with the resort to use their lift system to access more remote backcountry areas. That way, reaching Granite Chief Peak, which sits at 9,000 feet, becomes a cakewalk instead of a full day's walk. There are three main areas to explore in Alpine Meadows: Tram Ridge, Munchkins, and the famed National Geographic Bowl.
My favorite of the three, the advanced and remote Nat Geo, has everything from wide open bowl runs to tight chute squeezes to rocky, steep descents. Discovering new runs along the bowl ridgeline feels like a treasure hunt. We usually drop down, then hike back up a few times before heading back to the resort and skiing all the way down. While the lift does do part of the heavy lifting, every turn still has to be properly earned.
Palisades Tahoe and the surrounding terrain are steeped in legend—and feature legendary steeps.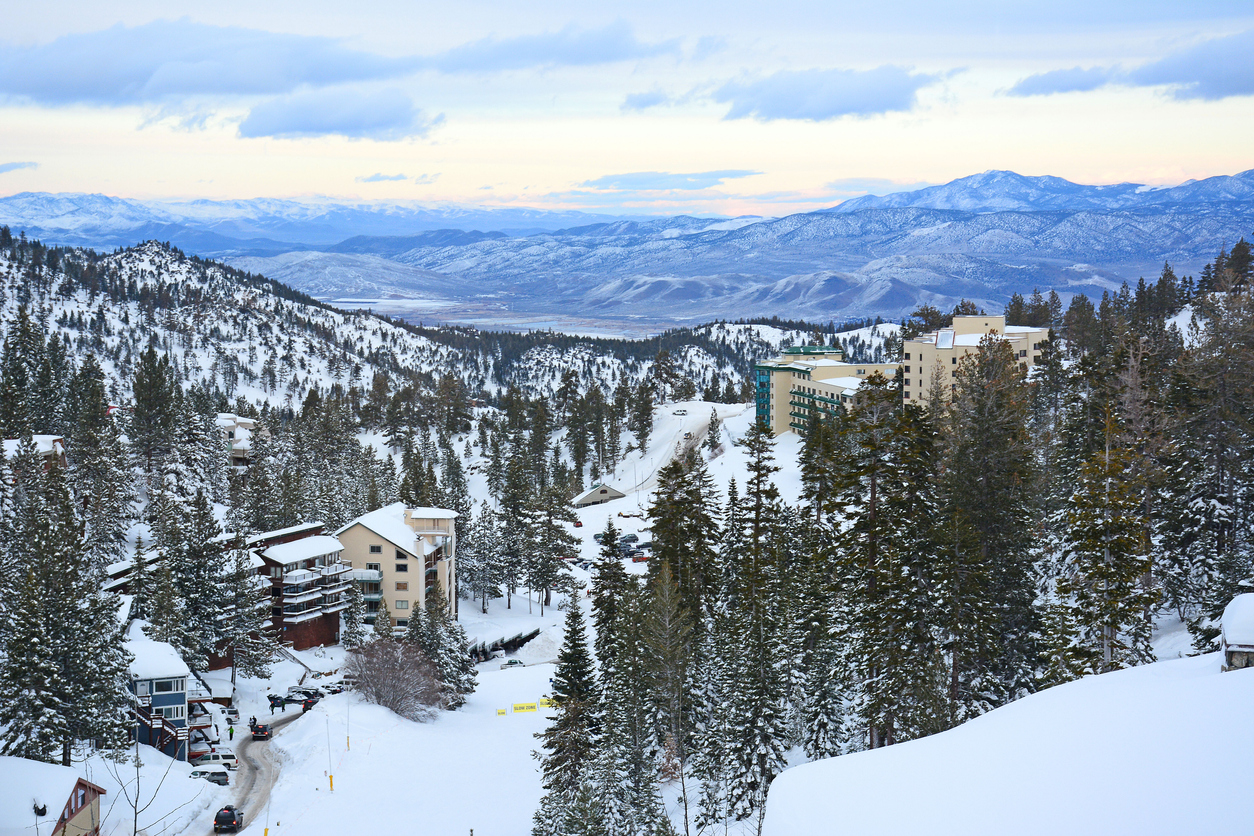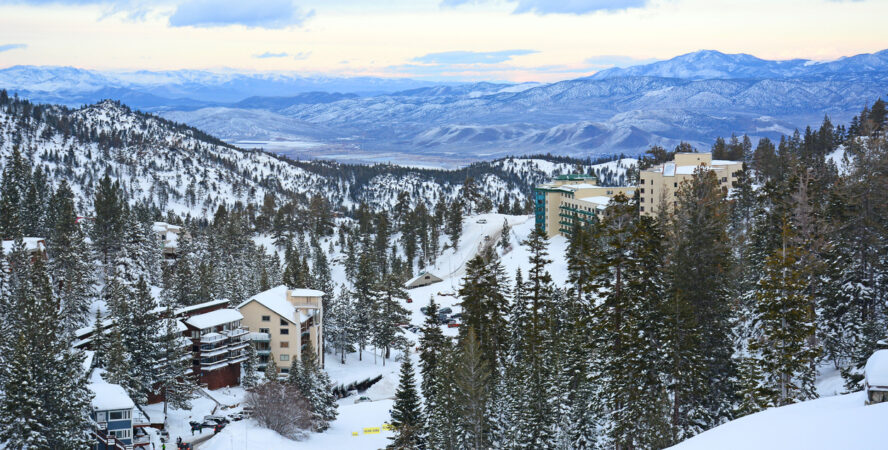 Inbound / Outbound: Squaw Valley Alpine Meadows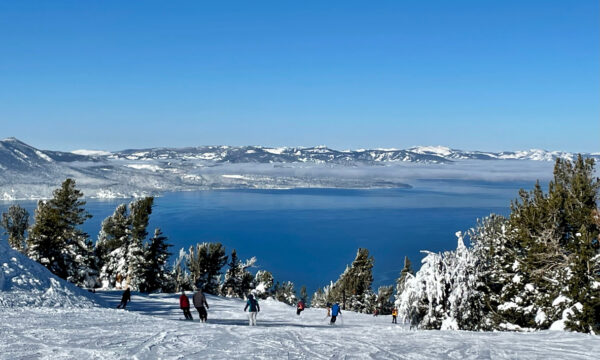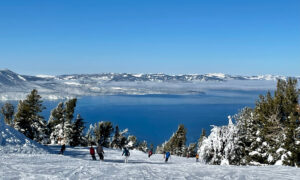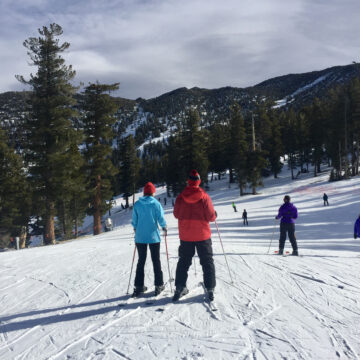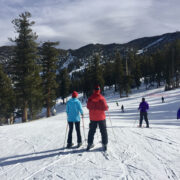 4. Palisades Tahoe - Good to Know
Difficulty:
Moderate to advanced
How to get there:
Leave your car at the Village at Palisades Tahoe, which has over 4,200 free parking spaces.
Insider tip:
You can easily travel between Palisades Tahoe's two valleys with the Base-to-Base Gondola.
Recommended guided tour:
Mount Rose Wilderness
5. Mount Rose Wilderness
TOP CHOICE FOR A FULL DAY OF SKIING
Holds some of the highest trailheads in the region
Reliable snowpack and a long ski season
Wealth of powder and corn skiing
The peak is usually wind-scoured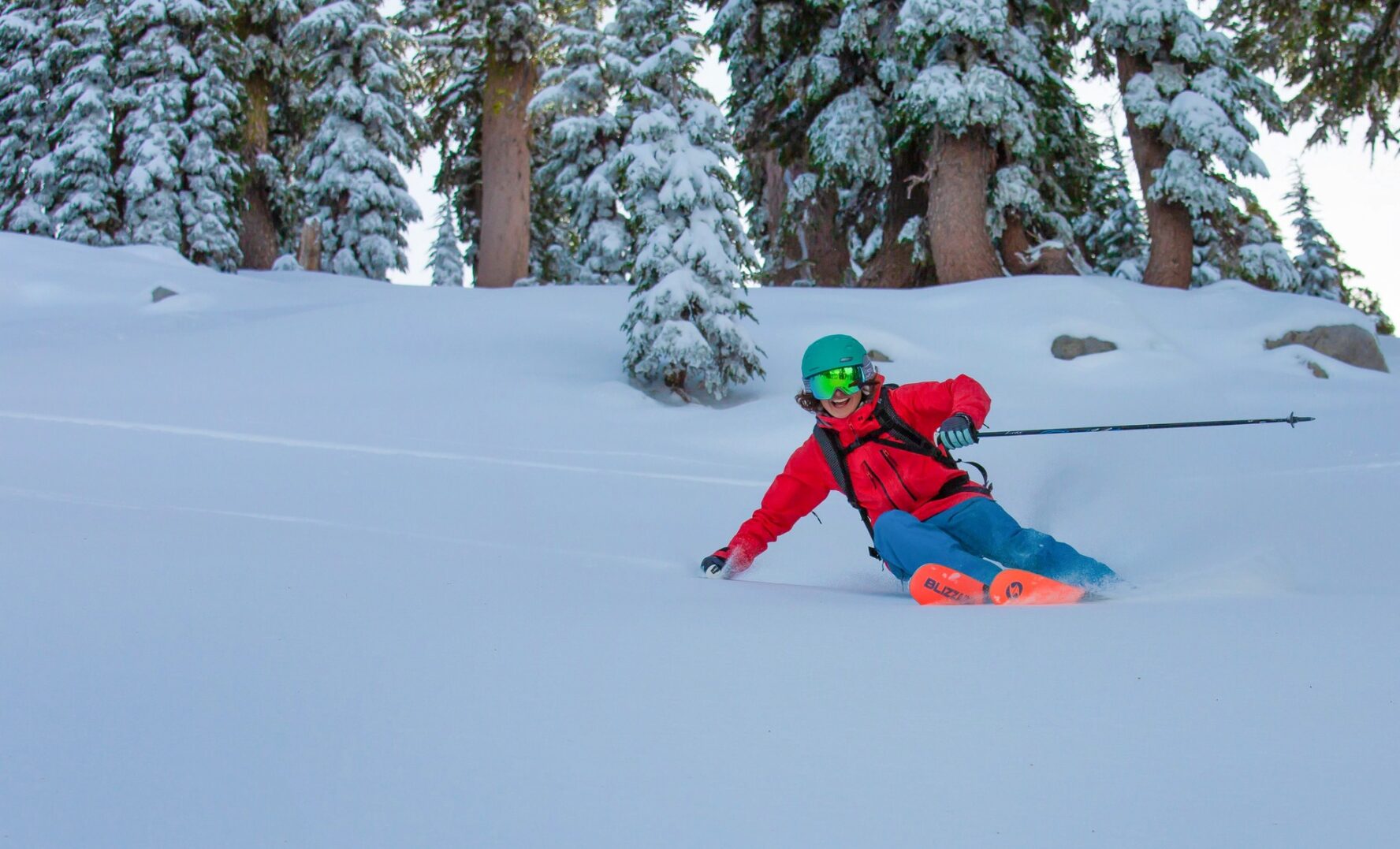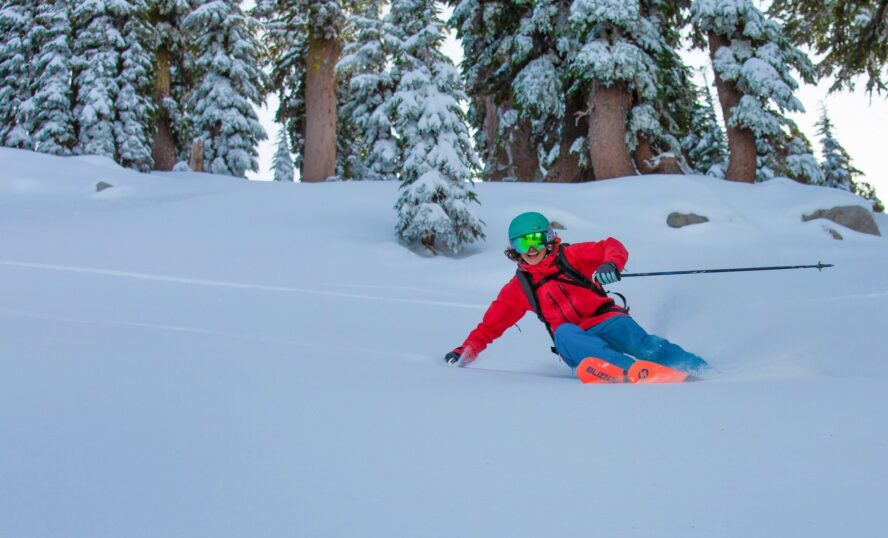 A high-elevation powder keg that will blow you away
The extinct volcano of Mount Rose holds some of the finest easy-access, high-elevation powder and corn skiing in the entire Tahoe area. Located at the northern end of the Carson Range, just east of the Sierra Crest, these runs are just as good as the ones on the more renowned neighboring peaks.

The Mount Rose area is great for those looking for a longer, crowd-free day out on skis. I like to skin up the right side and climb the south saddle between East and West Galena Peaks (where the famous Fireplug zone is located) before putting on my skins and going back up the mountain's southwest flank.
From there, you can head to the saddle between Mount Rose and Mount Houghton and switchback the west side. If you time your trip right, you could catch a 2,000-foot descent down the south gullies all the way to Galena Creek. The chutes spreading down the south flank of the mountain hold plenty of snow, making them the most reliable lines on the mountain. After heavy snowfall, you can follow the long northeast drainage towards Whites Creek, where a shuttle can take you to your car.
Mount Rose is one of the more prominent peaks in the Tahoe area. It requires a good deal of skill, but its rewards are plentiful.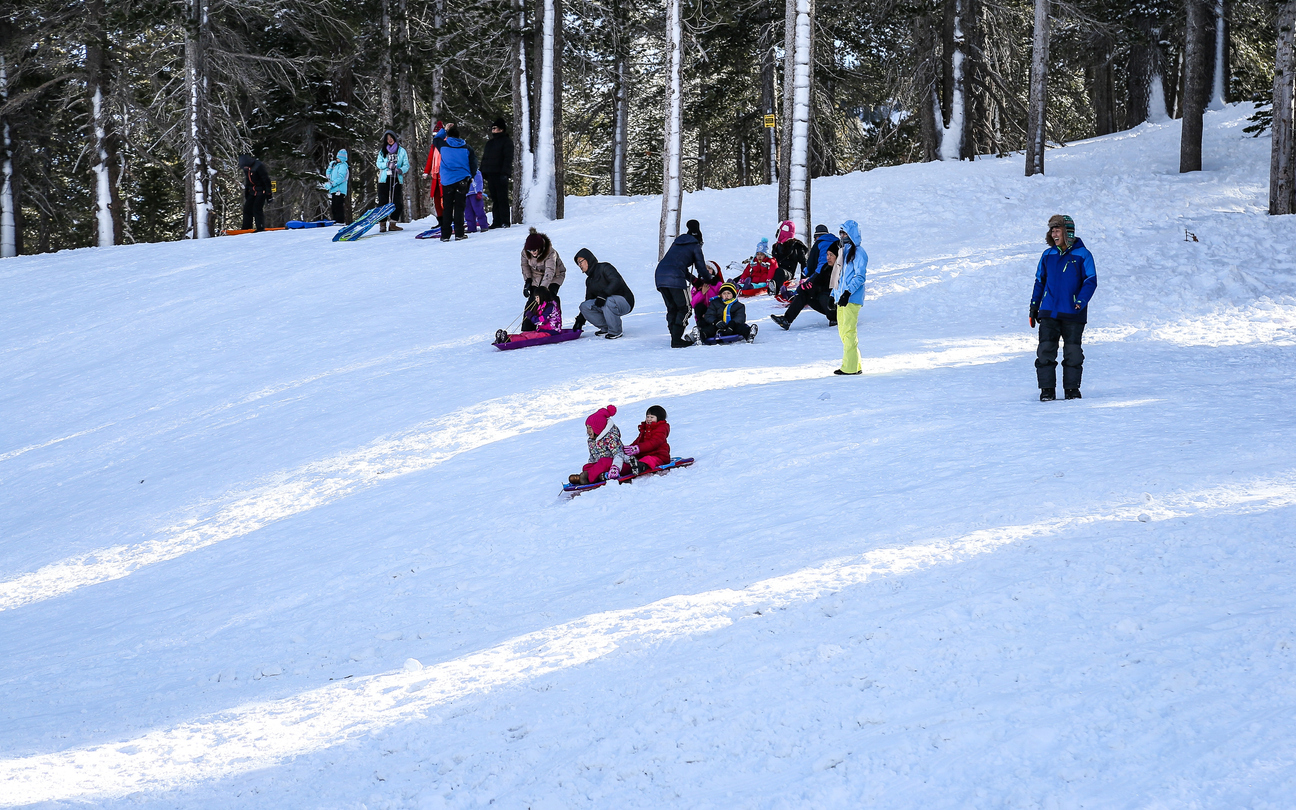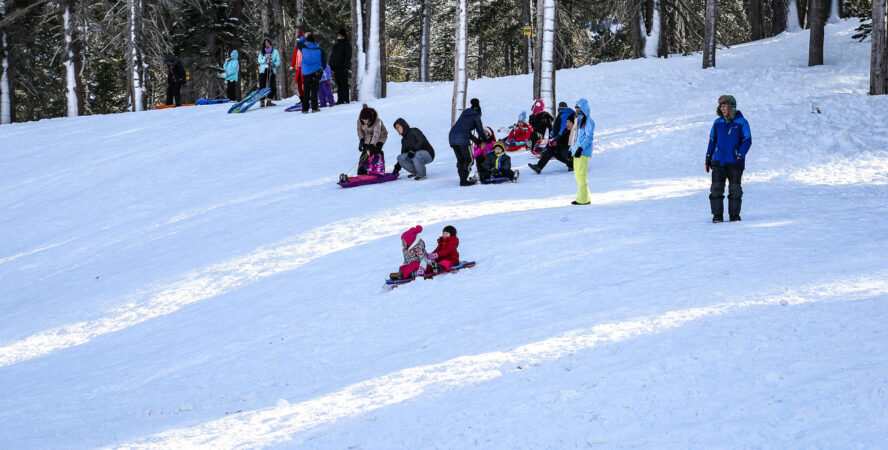 A Tour of the Truly Technical Mount Rose Chutes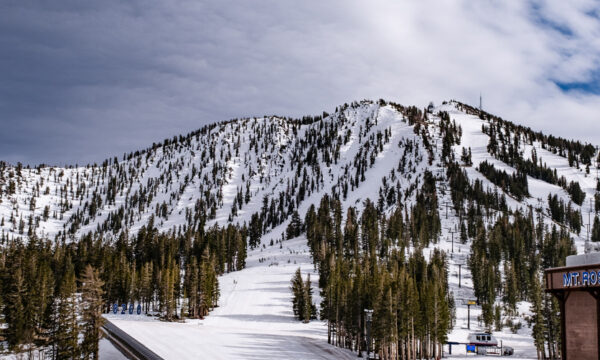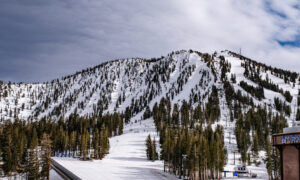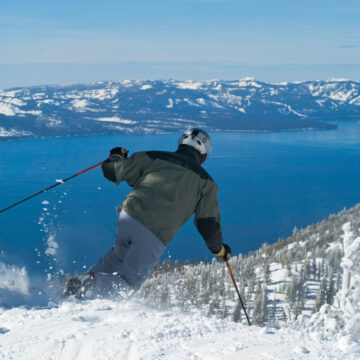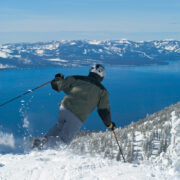 5. Mount Rose Wilderness - Good to Know
Difficulty:
Moderate to advanced
Elevation gain:
2,176 feet (663 m)
How to get there:
Leave your car at a high-elevation parking area at the top of Highway 431, above Lake Tahoe's northeast shore.
Approach:
There are multiple options. I prefer skinning up the right side and climbing the south saddle between East and West Galena Peaks, then going up the southwest flank.
Insider tip:
If you go on the high east slopes, don't drop too deep into the Galena Creek Drainage because you'll have to go back around the mountain while staying high enough to reach your car.
Jake's Peak
6. Jake's Peak
TOP CHOICE FOR GORGEOUS SCENERY
Beautiful evergreen forests that open to lake views
You can find parking even at the popular trailheads
You're hardly ever alone on the slopes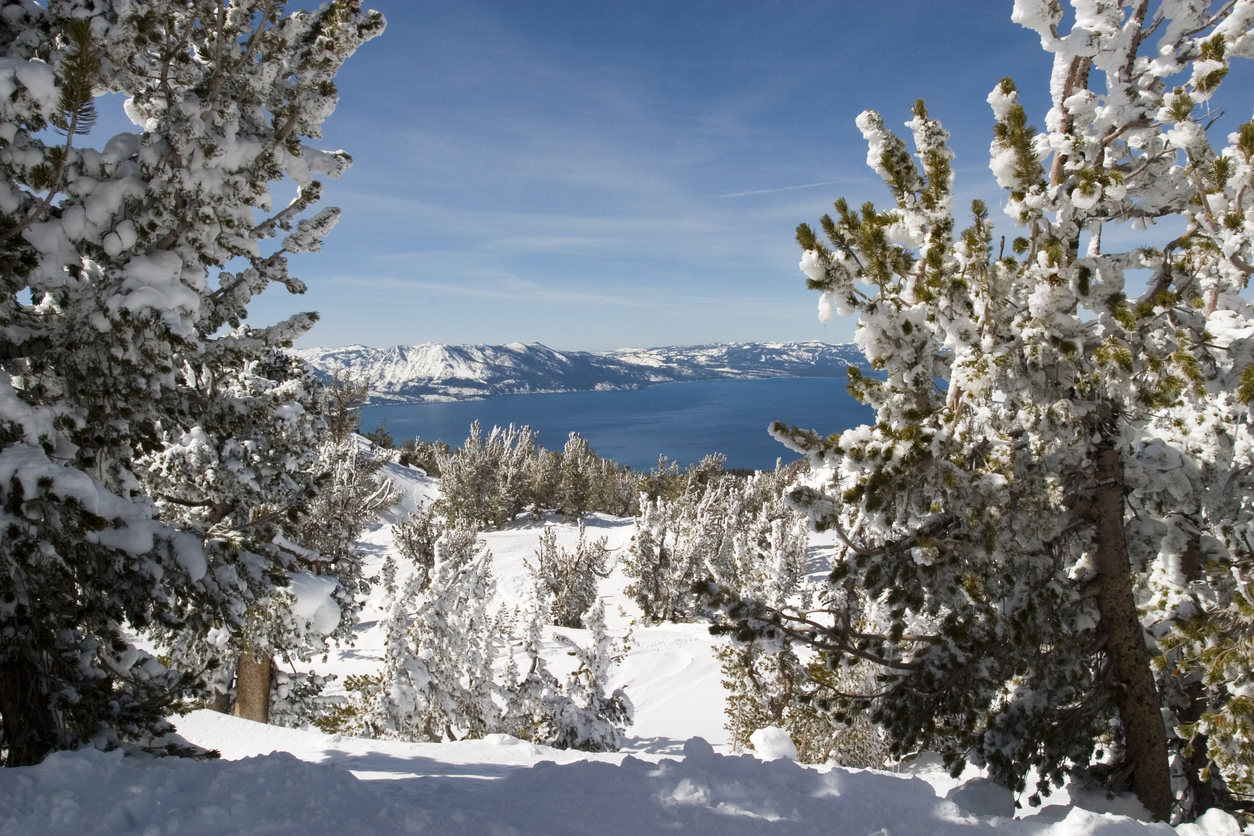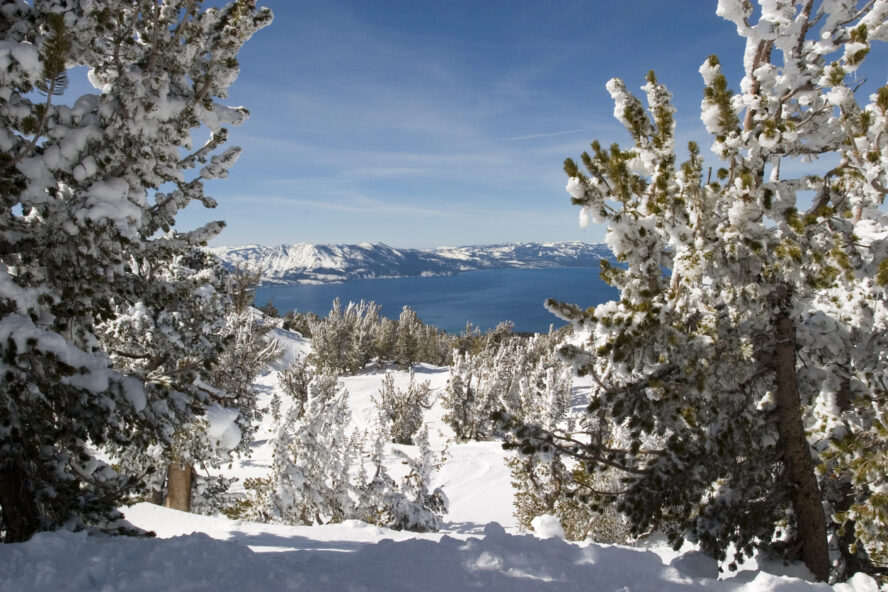 When in doubt, go where the locals ski
Located on Lake Tahoe's western shore, Jake's Peak is a staple of the local backcountry scene. With easy access to the skiable vert, a wealth of terrain options that includes steep glades, chutes, and 2,000-foot descents over the lake's crystal waters, a day spent here will stay with you for a lifetime. Slaloming among these old-growth red firs and lodgepole pines is one of the most thrilling experiences you can have backcountry skiing in California.
The most inviting parts of Jake's Peak are the steep descents found in the insulated glades above the midway bench at 7,600 feet. The slopes there keep skiers safe from harsh winds, while the forest is wide enough for carving wide turns. The gladed terrain is generally safer than the chutes to the east and south, but you can still get the odd snowslide on storm and powder days.
Although brimming with brilliant runs, the terrain facing east and south doesn't get that much traffic because skiing there heavily depends on a stable snowpack. The chutes facing south also require heavy snowfall. That's why, when conditions aren't that favorable, you'll most likely find yourself in the northeast-facing glades.
The spectacular setting and dazzling terrain at Jake's Peak will make you forget about the crowds.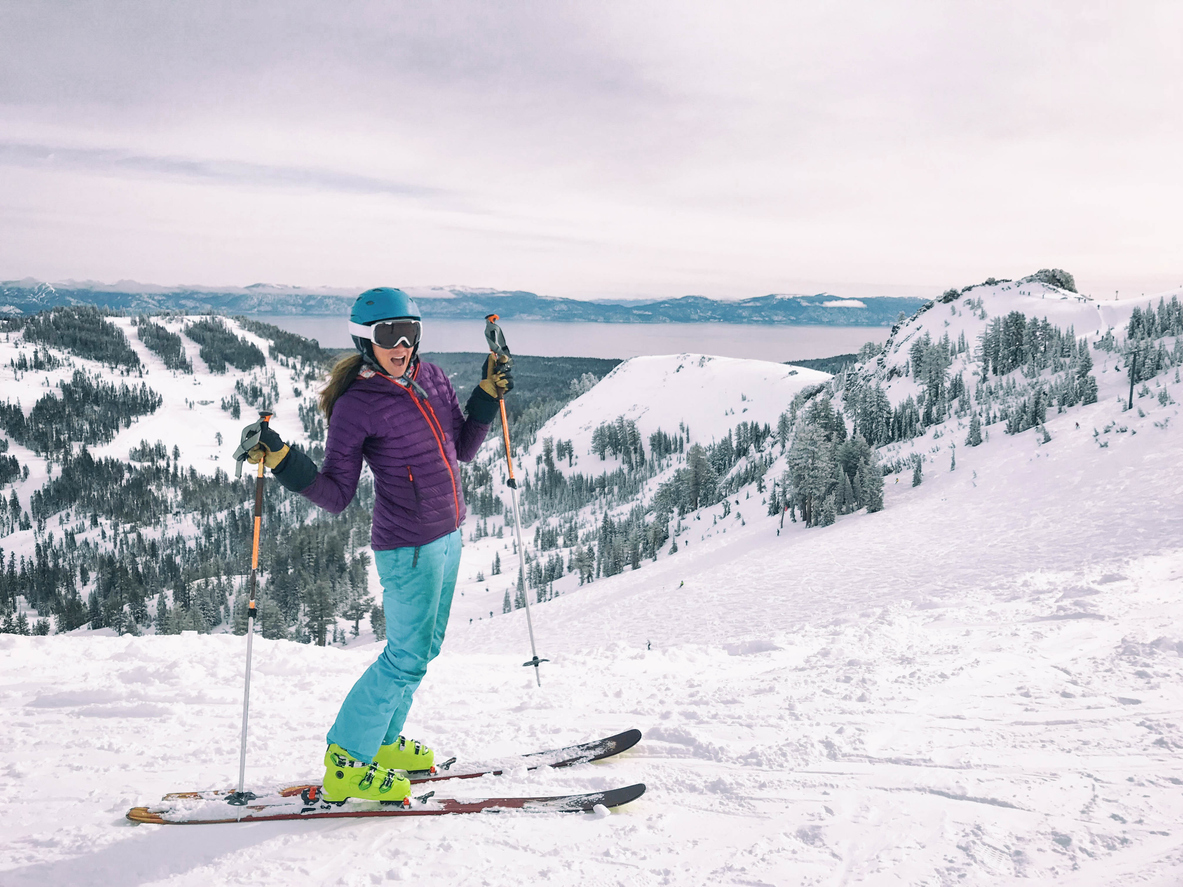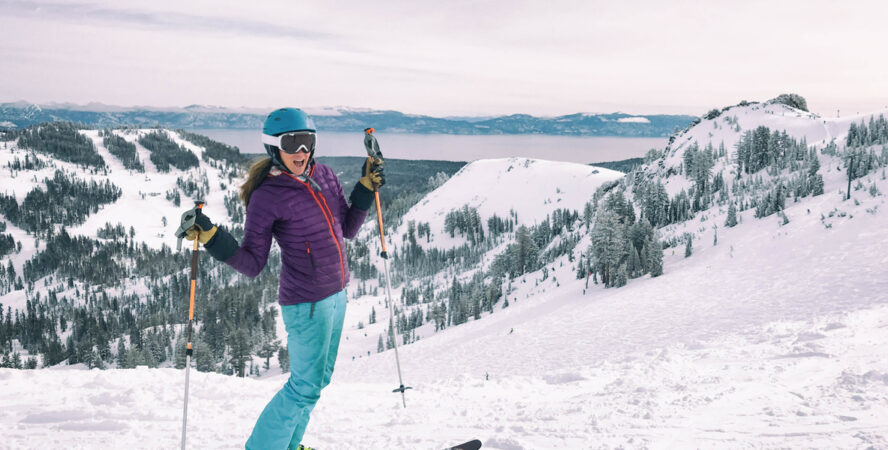 Tahoe Backcountry Jake's Peak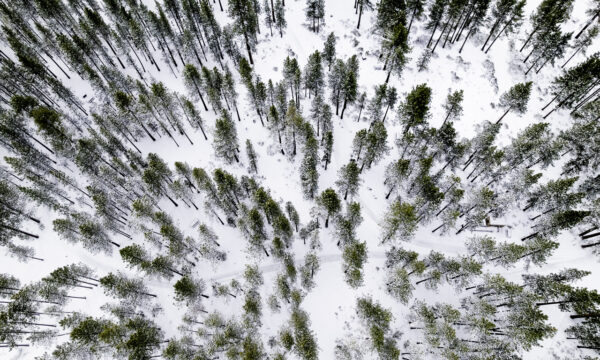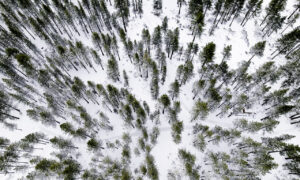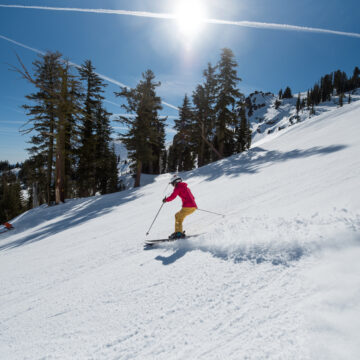 6. Jake's Peak - Good to Know
Difficulty:
Moderate to advanced
Elevation gain:
2,357 feet (718 m)
How to get there:
The easiest way is to leave your car at a parking pullout on the east side of Highway 89, south of the entrance to D. L. Bliss State Park. Walk across the road and you'll see the wide starting skin track next to some large rocks.
Approach:
You'll never be the first skier at Jake's. Simply follow the skin track through the trees until you reach the top.
Insider tip:
The east and south slopes are the most lauded, but they require a very good snowpack.
Recommended guided tour:
Mount Tallac
7. Mount Tallac
TOP CHOICE FOR TERRAIN DIVERSITY
Great number of options to choose from
Unparalleled views from the top
Plenty of extreme descents for adrenaline lovers
You'll never want to come back down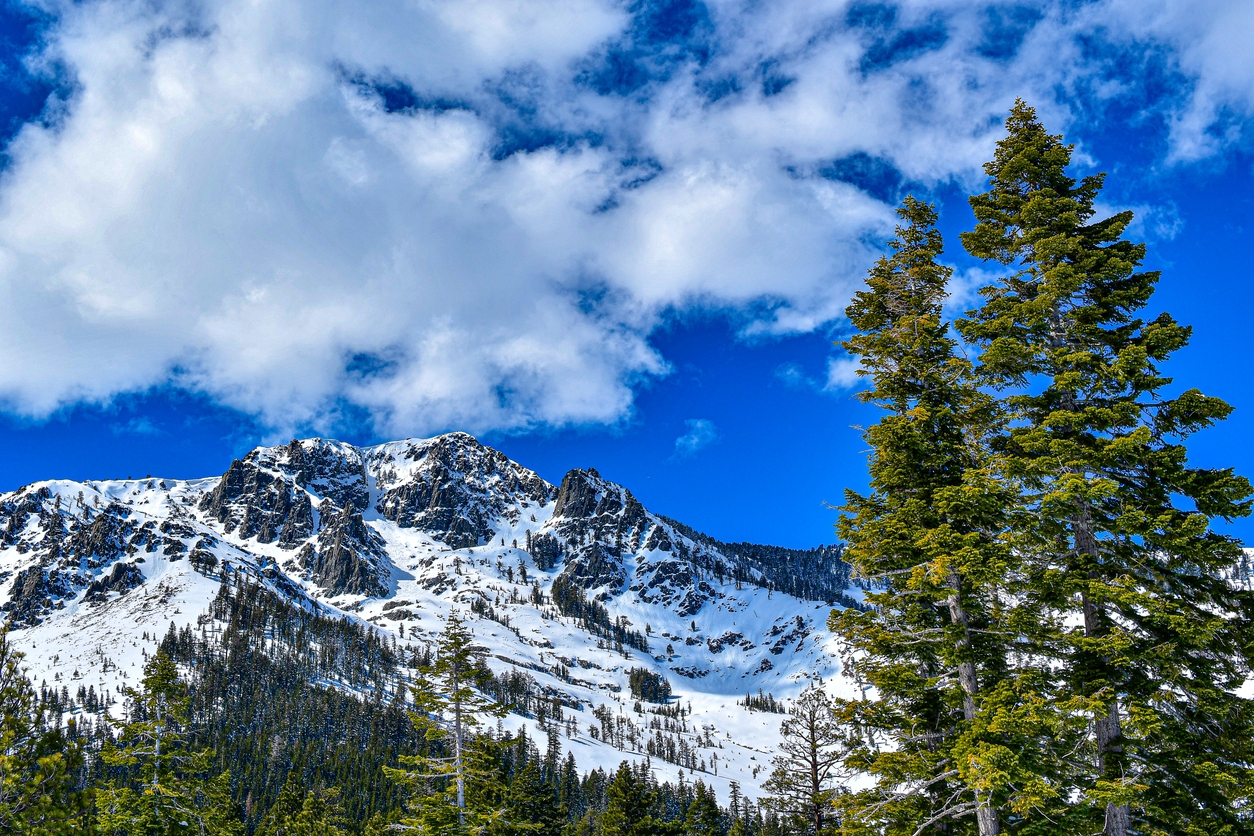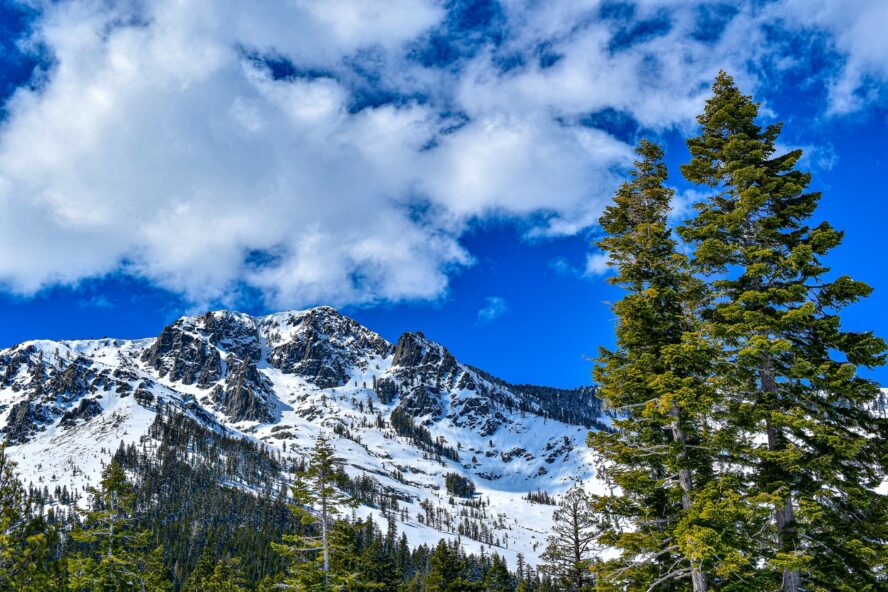 Welcome to the crown jewel of the Tahoe Basin
Rising above the southwest corner of the lake, with a distinctive snowy cross etched into its side, Mount Tallac is the most recognizable of the Tahoe Area peaks and a rite of passage for any local backcountry skier. No peak in the area can hold a candle to this lakeside giant when it comes to terrain variety and views. Then add reasonable access and relatively long runs, and you've got yourself a must-ski destination.
The most direct route to the summit is from the end of Spring Creek Road. A short walk through densely packed trees will take you to the bottom of the Northeast Bowl at around 7,400 feet. Head north onto the treed ridgeline and follow it until you reach the spine of the mountain. From there, go left to wrap around the south side and shoot straight towards the summit.
Tallac is not too hard to summit, so you'll have plenty of energy left to explore the wealth of terrain opening up below you, all the way to the enchanting waters of Lake Tahoe.
If you're only going to ski one mountain in the Tahoe Basin, make it Mount Tallac.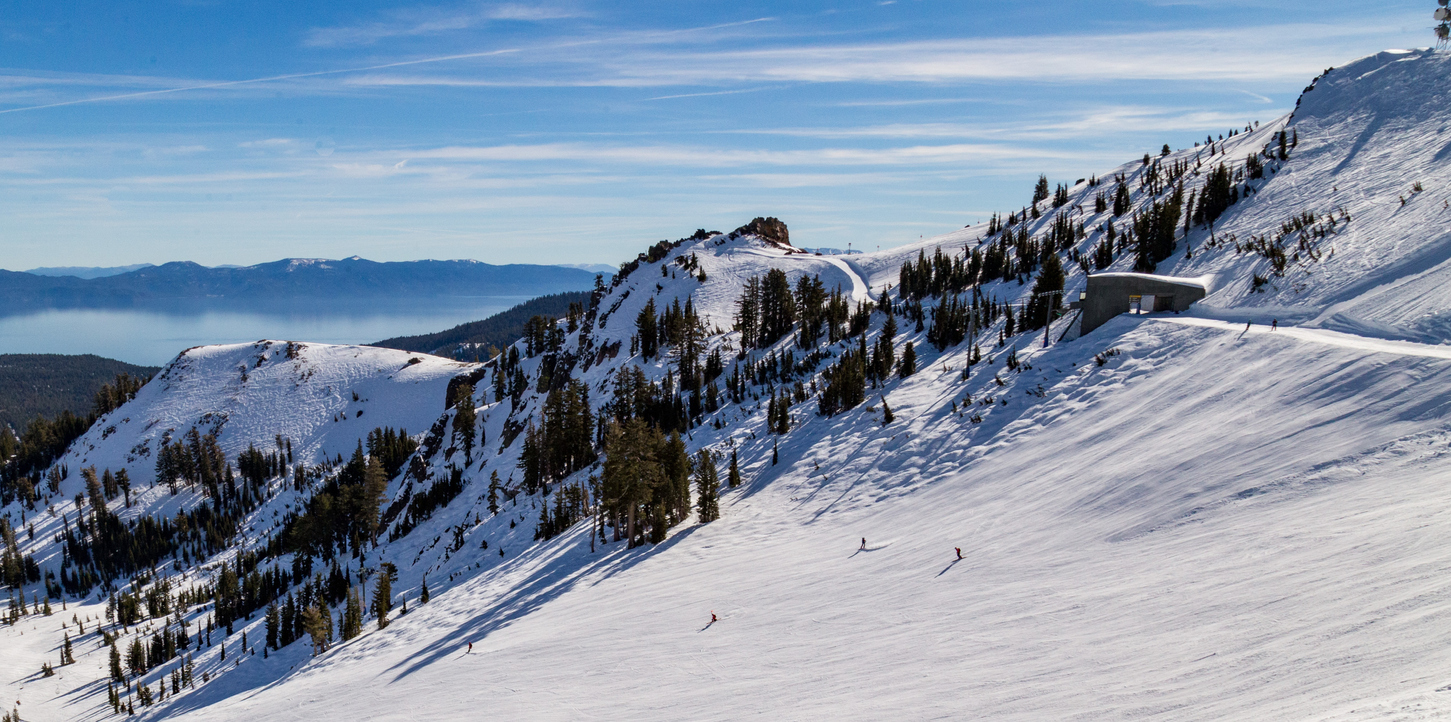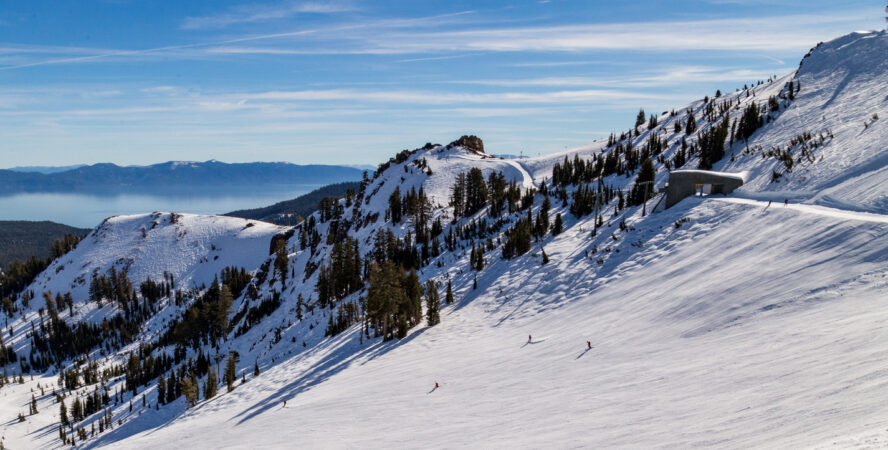 Skiing Mount Tallac Tahoe CA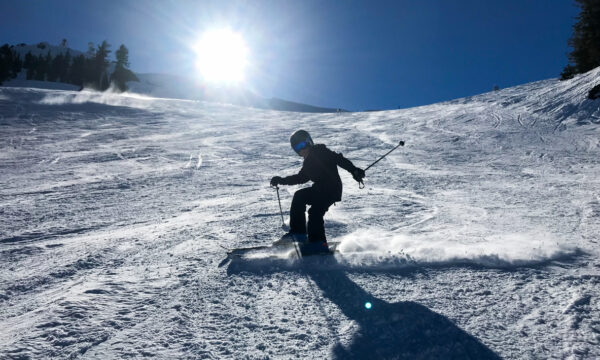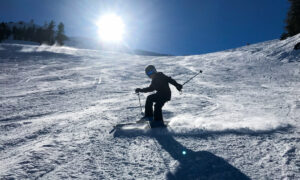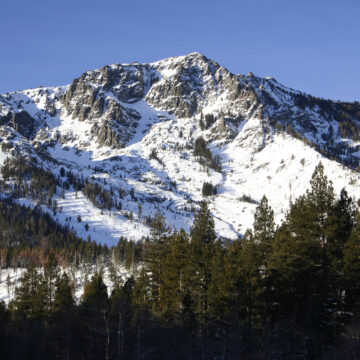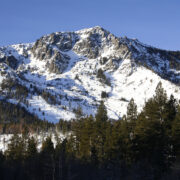 7. Mount Tallac - Good to Know
Elevation gain:
3,200 feet (975 m)
How to get there:
Park at a pullout near the junction of Spring Creek Road and Highway 89, then walk down the plowed road for about a mile until you reach the starting point. Alternatively, leave your car at the Taylor Creek Sno-Park.
Gnarliest run:
The Cross Couloir just south of the summit.
Insider tip:
You can find some low-angle runs in the high bowl. If you're looking for the best corn skiing, go to the south-facing Cathedral Bowl.
Recommended guided tour:
Good-to-Know Info For Backcountry Skiing at Lake Tahoe
Before you take your first step in the vast Lake Tahoe backcountry, it's a good idea to arm yourself with as much knowledge as possible. I've compiled a list of the most common questions I get from first-time visitors to the area. I hope you find this information helpful.
Where to go backcountry skiing close to Lake Tahoe
If you spend your winter skiing in Tahoe, consider heading south into the High Sierra, which goes from Yosemite all the way down to Mount Whitney. There's plenty of options for ski mountaineering on 14,000-foot peaks way above treeline and even some small glaciers.
One of my personal favorites is the U-Notch Couloir, a world-class descent in the Palisades out of Big Pine California. Getting to this craggy ridge requires seven to eight hours of ascent, over 4,000 feet of elevation gain, and ski mountaineering experience.
Mount Tom right outside of Bishop is a perfect introduction to the area. You usually have to start before dawn, then endure about 4,600 feet of skinning before the final technical push to the summit at 13,652 feet. You can take fresh breaths of air looking over Bear Creek Spire to Minarets Peak to the north. The views are absolutely spectacular and the way down seems never ending. Few places in the world hold so much skiable terrain over such a wide area.
Backcountry ski maps and guidebooks for Lake Tahoe
Backcountry Ski & Snowboard Routes: California by Jeremy Benson and 50 Classic Backcountry Ski and Snowboard Summits in California: Mount Shasta to Mount Whitney by Paul Richins Jr. are good guidebooks to start with for the Lake Tahoe area.
Backcountry Ski Maps provides some great topographic route maps for Lake Tahoe, splitting maps into areas like Lake Tahoe: Southwest, Lake Tahoe: North, Lake Tahoe: Carson Pass and Lake Tahoe: The Best of the Rest. These backcountry ski maps are available in both print and digital formats.
Permits aren't needed for backcountry skiing unless you're camping
The Lake Tahoe backcountry is mostly unregulated. You don't need any permits except for camping overnight in wilderness areas. There are some parking restrictions: Castle Peak requires a parking pass at $5 for a day or $25 for the season. And for almost all of Tahoe backcountry areas, it is important to get an early start to get a parking spot. The rule of thumb is to arrive (at least) before 8 AM.
When to go backcountry skiing in Lake Tahoe
The ski season in the Lake Tahoe Basin runs roughly from late November to mid-April, though going early requires you to go high up into the mountains.
January can be a hit-or-miss month, but February, March, and April are generally the sweet spot for shredding those epic stashes of powder that Tahoe is known for. During those months, we get the biggest storms and more hours of daylight.
Backcountry huts for skiing in Lake Tahoe
If you'd like to extend your stay in the snowy wilderness and treat yourself to a multi-day trip, consider staying in one of Clair Tappaan's four backcountry huts for skiing in Lake Tahoe.
The most famous among them, Peter Grubb Hut, is located at 800 feet of elevation just 3 miles north of the Castle Peak trailhead. Ludlow Hut (1,100′) is around 5 miles from the Rubicon-McKinney trailhead and gives you access to the shore of Richardson Lake and Miller Meadows.
Next up is the Bradley Hut (1,600′) around 5 miles from the Pole Creek trailhead. This option nets you some sweet turns in the bowls near Deep Creek, after which you can connect to nearby Benson Hut (1,800′), another popular hut located just below Anderson Peak.
Where to stay in Lake Tahoe
The area around Lake Tahoe isn't lacking for accommodation. There are many Airbnbs with a wide variety of price tags, so you'll surely find something to your taste. If you're looking for a hotel, my best recommendation is Cedar House in Truckee. It's a sports hotel with a great vibe. It's not too expensive but feels luxurious with great food and accommodations.
Renting or buying gear for skiing in Tahoe
Backcountry gear is not that cheap, so for most first timers it's just not worth investing right away. Before you decide to commit to backcountry tours, renting is the way to go. Alpenglow Expeditions has a partnership with Blizzard Techinca and Jones Snowboards in the Tahoe area. Both brands provide a great fleet of split boards and skis. You can rent all of your avalanche gear before going for a day out.
If you want to make a purchase, I recommend Alpenglow Sports in Tahoe City. It's one of the best mountain shops in the United States. Operating for over 40 years, they know what they're talking about when it comes to backcountry gear. Alpenglow sports and Alpenglow Expeditions are not related, but are great long-time friends. In Truckee, head to Tahoe Sports Hub for another respected ski shop in the area.
Tahoe restaurants for an après-ski beer and bite
Tremigo is a newly opened Mexican restaurant for locals in the Squaw Valley village. It's great for a bite right off the slopes. The best place for a cheap bite when driving back into Truckee is the Golden Rotisserie. It's great for dinner if you want to avoid the crowds of the resort. You can also treat yourself to Moody's Bistro in the historic district of Truckee. It's a steak and wine kind of vibe, so change out of your skinning layers and put on a nice shirt.
How to get to Lake Tahoe for backcountry skiing
Reno, Nevada is home to the nearest large international airport. The Reno-Tahoe International Airport services all of the major hubs, including New York, Chicago, Seattle, Salt Lake, Los Angeles, Denver and Dallas.
Only about 30 to 45 minutes from Lake Tahoe, you can get a rental car and be there with relative ease. Since Reno is lower in elevation, the airport isn't as impacted by the snow as Tahoe, which makes coming and going much easier.
How to stay safe in the backcountry
I do not recommend going into the backcountry without a guide or proper education. It's best if you have both.
Nothing's stopping you from venturing into the unknown without avalanche training, but to be able to assess what is and isn't avalanche terrain, you'll need proper education. A beacon is useless if you don't know how to use it. If you're not acquainted with your avalanche gear, I suggest you don't go. People's lives might depend on it.
If we're talking about skiing in the backcountry and not just touring, you should be a strong intermediate skier. If anyone in your group is at the beginner level, send them to ski school first; simply, the ramifications are much harder to deal with than it would be at a resort. Be smart about your decisions and enjoy your time on the snow.
Other skiing destinations in the West
If you're interested in what else the West Coast has to offer, I recommend checking out the top 5 locations for backcountry skiing in Washington. The North Cascades are famous for their record-breaking snowpack.
Then there's the excellent backcountry skiing on Mount Hood, Oregon's tallest mountain and renowned powder paradise. Whichever you choose, you're in for a mighty good time!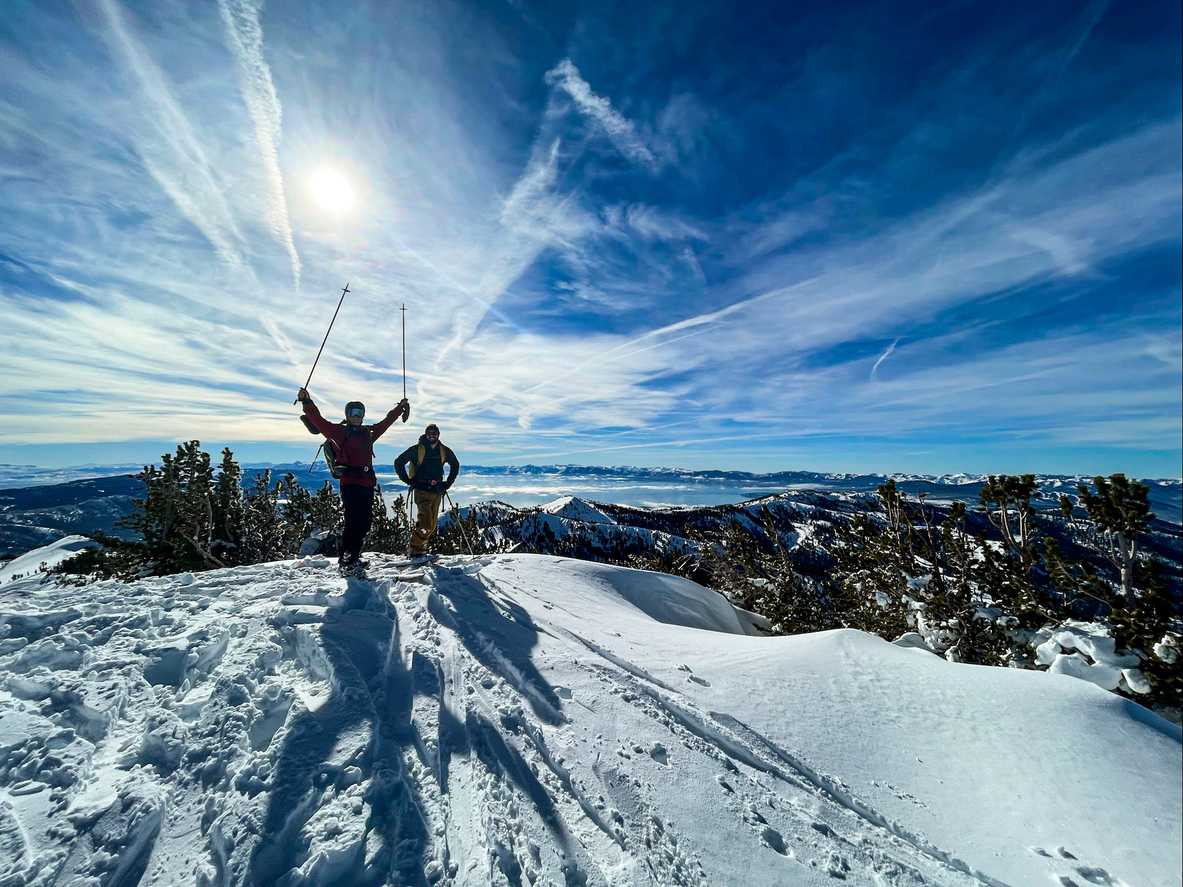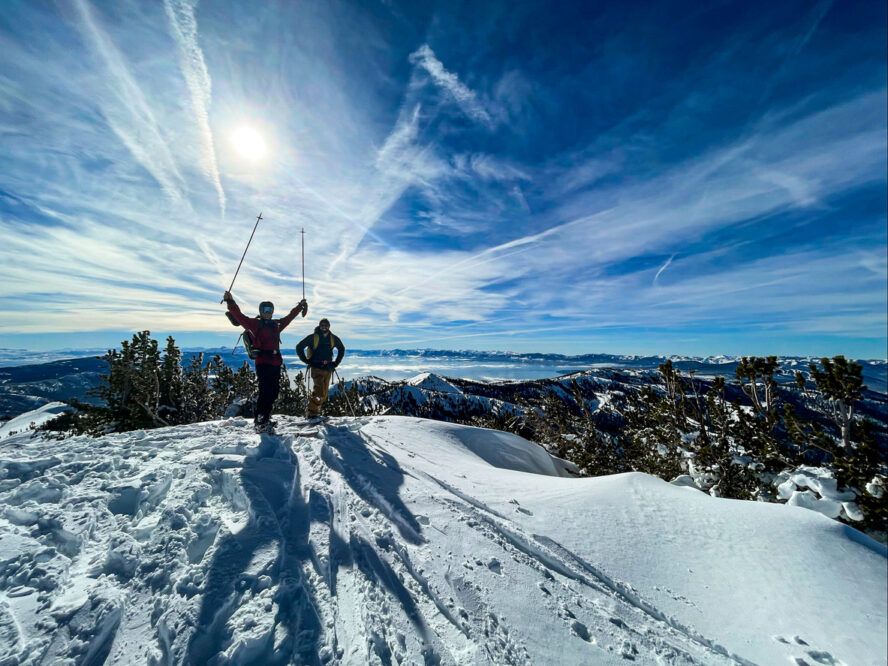 Never-ending Skiing at the Lake That Never Freezes
It's true: Lake Tahoe never freezes. Thanks to its small surface-to-volume ratio, great depth and a relatively small circumference, very little heat escapes from the lake during the cold winter months. Its proximity to the warm Pacific Ocean further limits the rate at which stored heat transfers to the air above it.
At least that's what science says. But when you're up there, with the crisp air pinching your cheeks and fresh powder purring under your eager skis, you find only one explanation. "This lake is magical", you whisper to yourself as the glimmering waters dance amidst a frozen wilderness.
The lake is always there, guiding you down into its vast embrace.
Ready to venture out into the vast Lake Tahoe backcountry? Join a local guide and find some of the best spring and corn skiing California has to offer!