Discover Adventure Skiing at its Finest in Svalbard, Norway
There are once-in-a-lifetime adventures. Then, there's an arctic skiing and sailing expedition that lets you call a yacht home.
The Svalbard islands are an archipelago located halfway between Norway and the North Pole, stretching from 79° to 84° north in the Arctic Ocean. Adventure travelers come to this glaciated region for the snow, ice and sea. Arriving in Svalbard, you'll land in Longyearbyen, the world's northernmost permanently inhabited city. Travelers are met with mountainous backcountry access, stunning fjords and buzzing nightlife. The Norwegian metropolis is surprisingly cosmopolitan thanks to its around 2,900 residents from almost 53 different countries. Polar bears actually outnumber the city's residents, where an estimated 3,000 polar bears roam the ice-covered arctic region. Originally settled by Europeans as a whaling outpost, Svalbard now hosts wildlife enthusiasts, researchers, coal miners, and its fair share of skiers and spitboarders.
Rob Coppolillo, AMGA/IFMGA Guide and owner of Vetta Mountain Guides, leads a skiing and sailing expedition every year to this magnificent landscape. If you've ever wanted to journey to the furthest reaches of the planet for the ultimate adventure, here's what you need to know.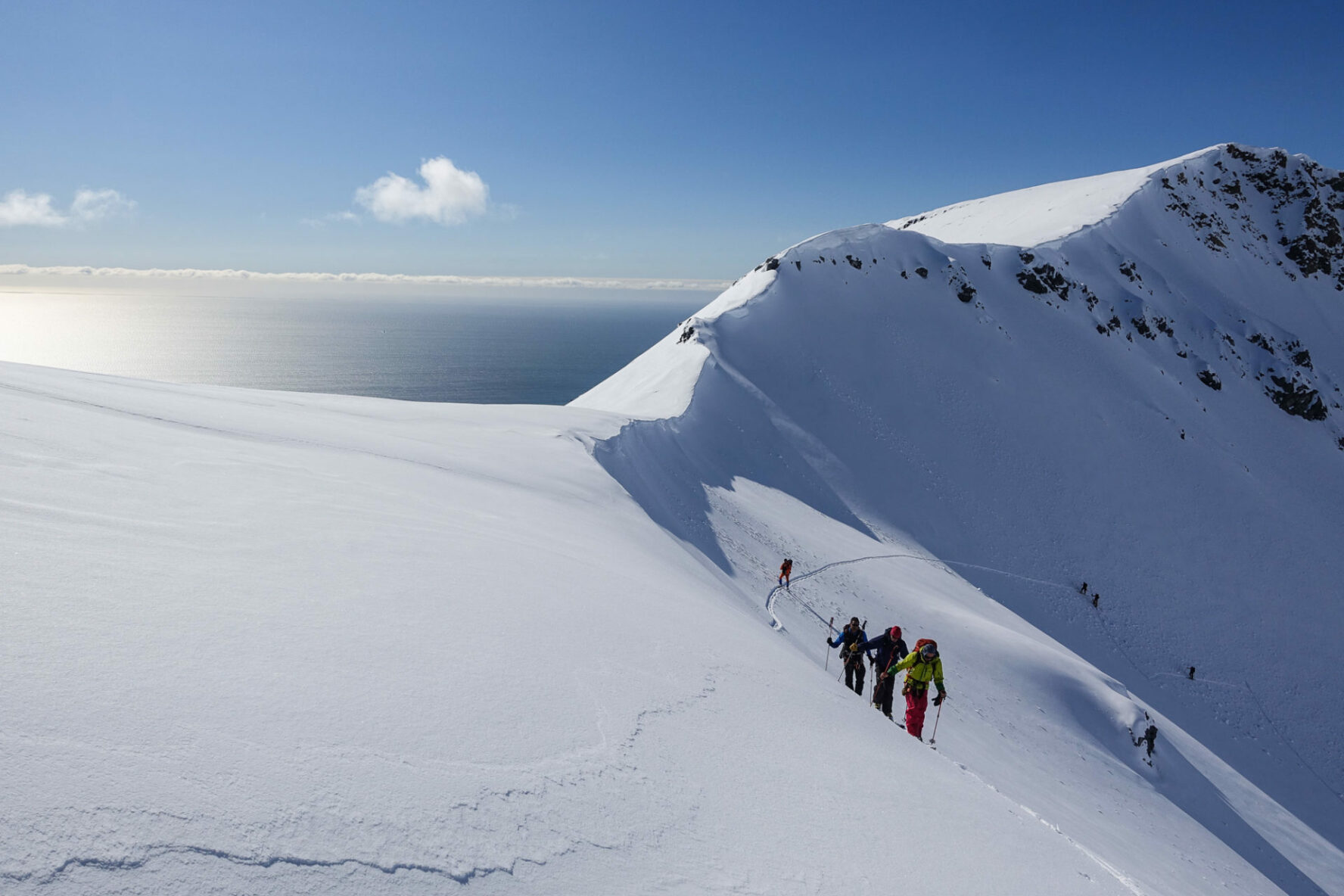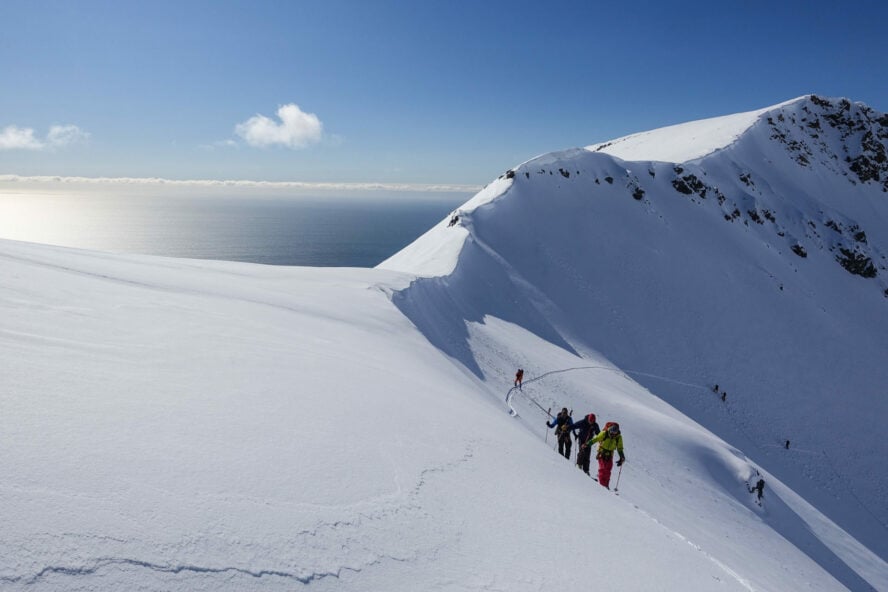 Pros and Cons of Skiing and Sailing in Svalbard
Sail and ski touring in Norway covers a lot of terrain
Guaranteed untracked powder in famous "arctic corn"
Small groups are paired with expert backcountry guides in this wildlife capital
Polar bear country is not the faint of heart, but guides are well prepared for any encounters
Destination skiing means it takes dedication to embark on the long journey to get here
Svalbard, and its main island of Spitsbergen, set a range of records for northern attractions. Travelers will find the world's northernmost pub, wine cellar, church, museum and the site of the farthest north battle of World War II. The war led to much of the island's population to evacuate and to the eventual 1925 treaty establishing an open borders policy for the archipelago. Anyone can live in Svalbard without a visa, which led to its diverse population. Norway law governs the islands but its low tax-base means its citizens are largely self-sufficient. Tourism is the main driver in this stunning, polar region — and for good reason. The city of Longyearbyen also features a surprisingly bustling nightlife and plenty of dining options. Svalbard is known for its social attractions even during the long, dark winter months.
Svalbard is a polar expedition with all the comforts of home
Svalbard's rugged landscape is truly special for its snow-capped mountains, icy glaciers, and deep fjords, making it one of the best skiing areas in the world. Almost two-thirds of the Svalbard islands are protected lands. Almost everyone who comes to Svalbard gets to see reindeer, walruses, and countless birds. Only the luckiest visitors on Svalbard trips see a polar bear or Arctic foxes. Although sightings are rare, you can luck out. On Rob's first trip here, he and his crew watched a polar bear from their boat. As Rob tells it, "I wasn't as excited when the bear approached within a kilometer of our touring group. This is why guides are trained with rifles and required to carry them at all times. Fortunately, the bear decided to head in the other direction. We could then return to the sailboat to observe for about an hour from a safe distance. It was an unforgettable experience."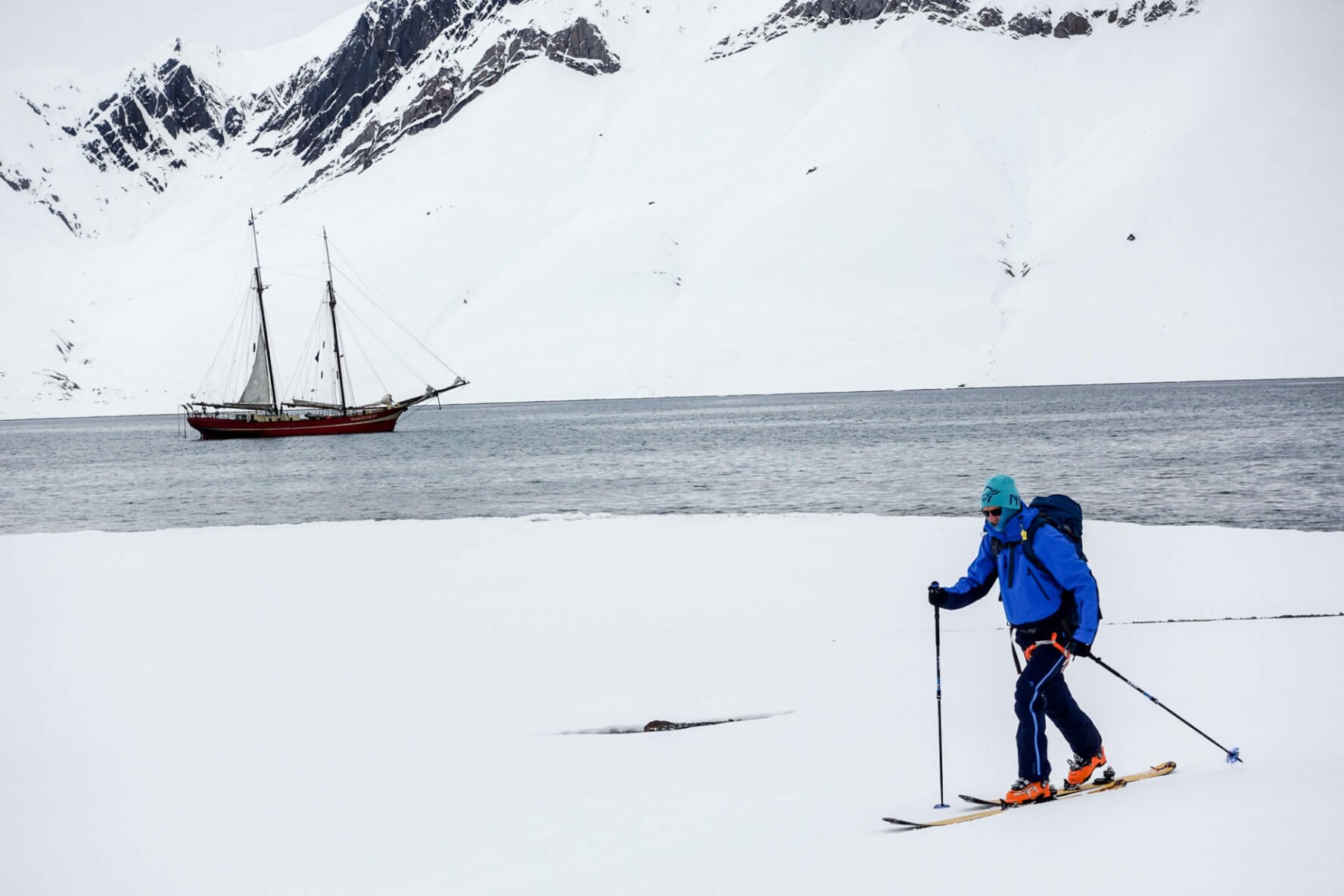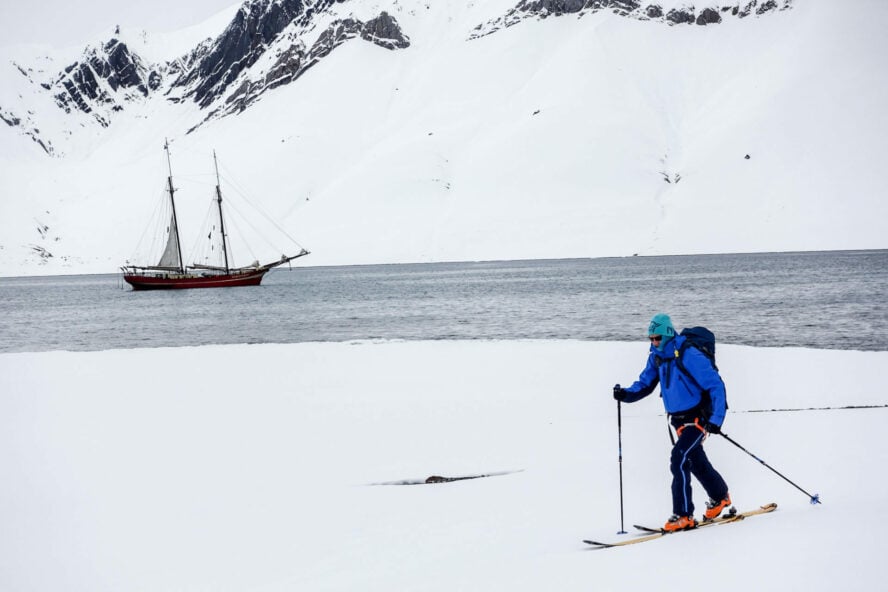 Longyearbyen delivers on sights and accessibility
Guests arrive in Longyearbyen, where they have the option of arriving three days early. It's a great opportunity to settle in before boarding the boat and sailing to the remote corners of the islands. A variety of restaurants keep everyone fed while in Longyearbyen. Guests also have the option to take a day tour over to the funky Sovet Union-era coal mining towns. The town of Barentsburg is still inhabited by Russian expats. Rob says, "It's like something out of the Cold War. We toured over to the bar at midnight under full sun during our summer visit. We went inside to find people smoking, drinking vodka, and passing time in a dark, Soviet-era building. It's way different than the Norwegian side of the island." The other mining town is Pyramiden, an abandoned outpost first acquired by the Soviet Union in the 1920s. In its heyday, the town supported around 1,000 residents. It gives a post-apocalyptic vibe, in the best way.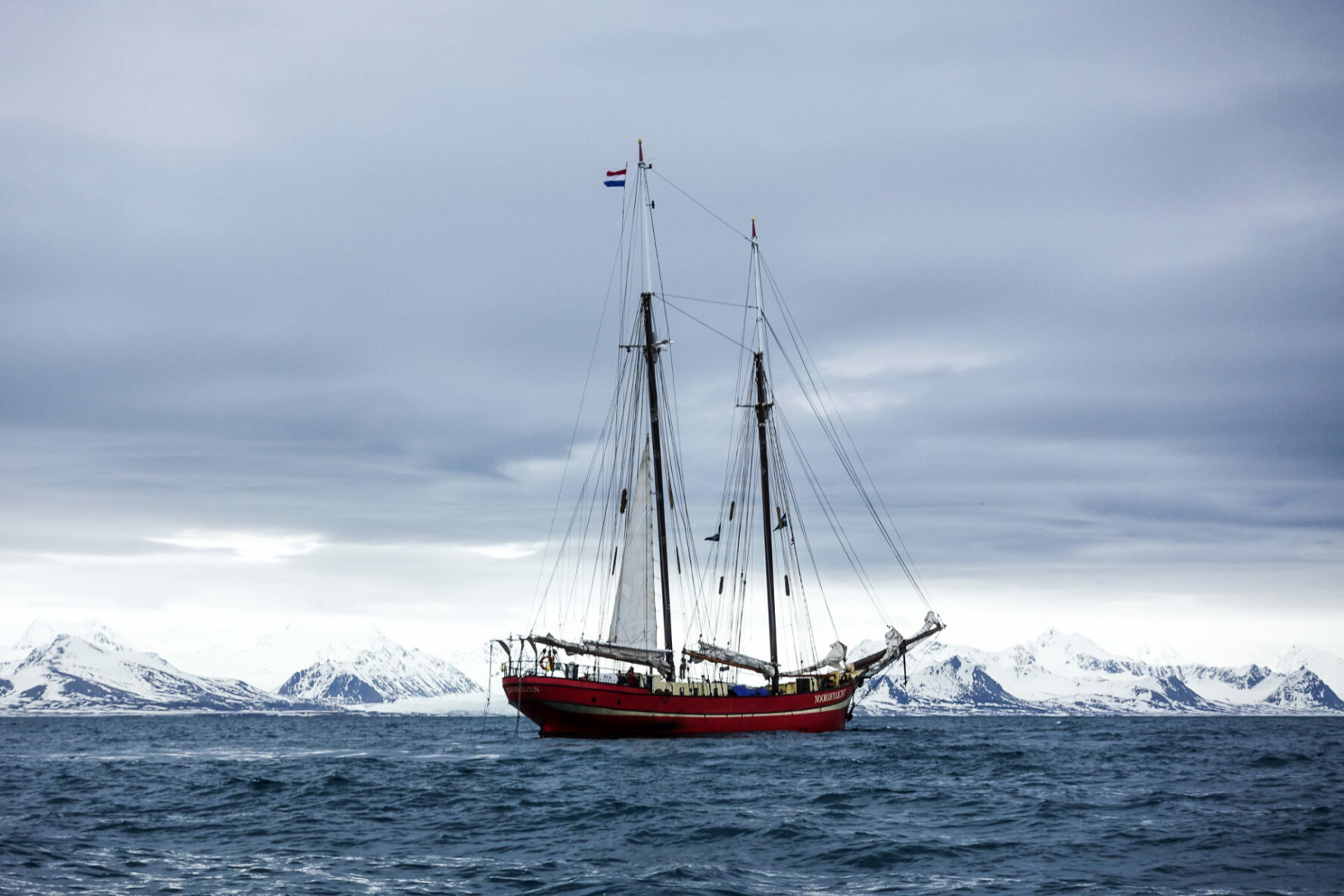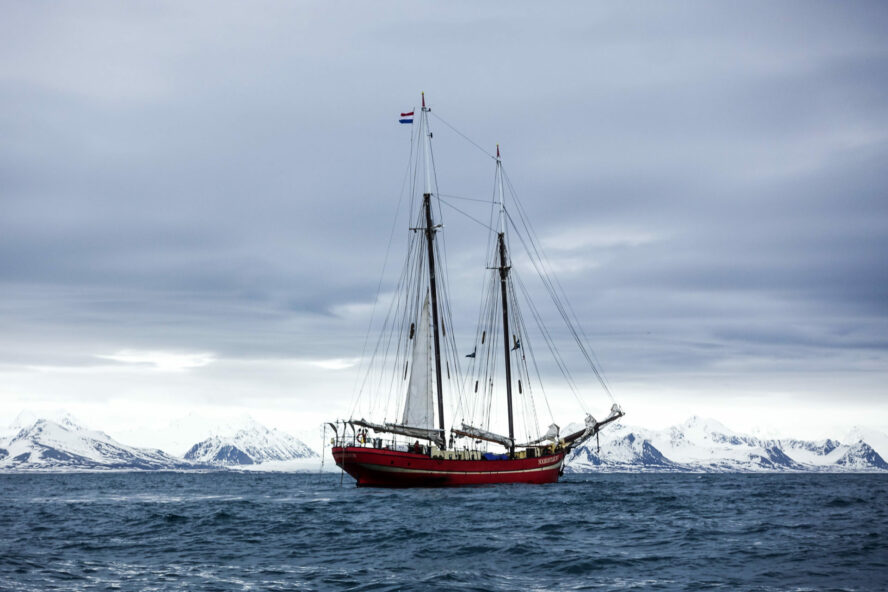 Svalbard expeditions pair backcountry skiing and yacht sailing
While ski touring out of Longyearbyen is easy, getting deeper into the Svalbard wilderness takes some planning. Rob is one of the few internationally certified mountain guides who hosts sail-and-ski adventures in Norway's islands each year, leading small groups with fellow guide Tom Wolfe, a Canadian mountain guide based in Canmore in Alberta, Canada. They bring guests sailing in the remote fjords and then bag peaks with endless ski runs on during their curated, week-long expeditions. Ski touring days are generally low-key with four to seven hours of skiing. Peaks are also around 900 meters (3,000 feet) in elevation, making for approachable ascents.
In the days before and after the sailing tour, guests are also able to try dog sledding, visit the island's ice cave and head out on wildlife tours. Guided hiking tours in Svalbard are also gaining in popularity. It's really amazing how much there is to do on this small island.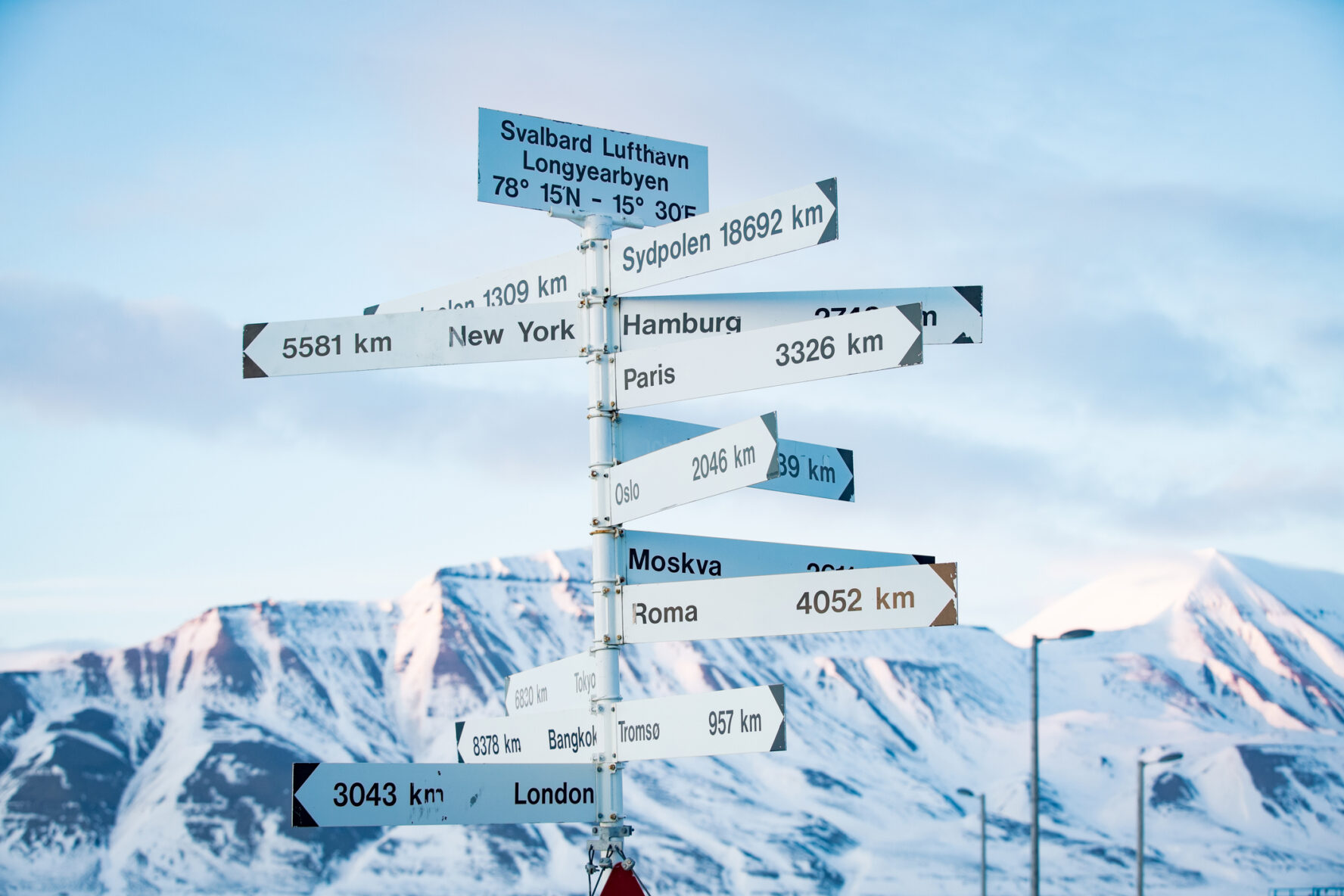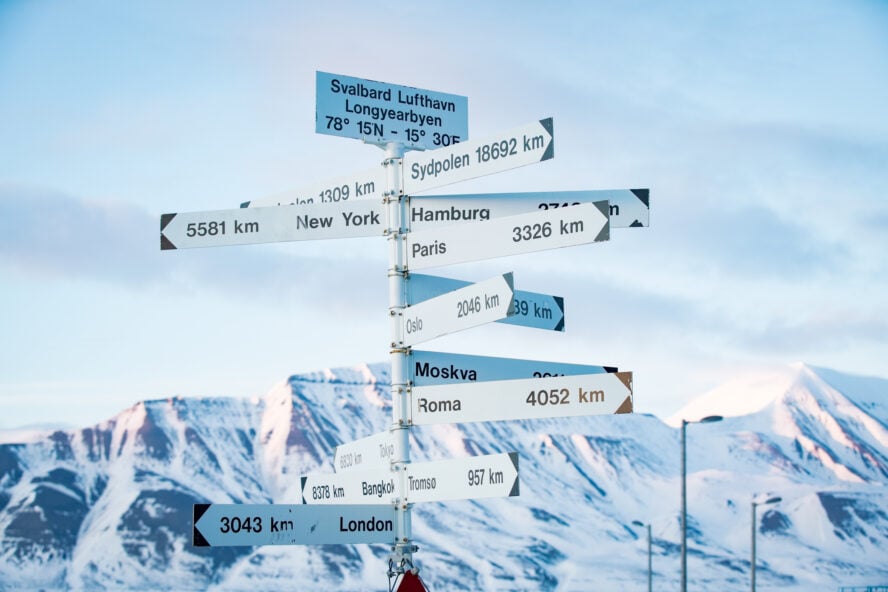 Navigating by boat for multiple days of remote ski touring
Boats — sail or otherwise — are key for an adventure like this. Rob's Svalbard ski and sail tours rely on a 150-foot, three-masted schooner, called The Noorderlicht. The sailboat opens up a lot of terrain, and you can switch locations daily. The boat sleeps up to 25. This includes four crew, a chef, a couple guides, and a bunch of hearty guests who love ski touring, good food, and epic scenery. It's unlike most expeditions because you'll stay as guests on the yacht spending days ski and spitboard touring. Arctic skiing is stretched even longer during the summer with 24-hour days of sunlight.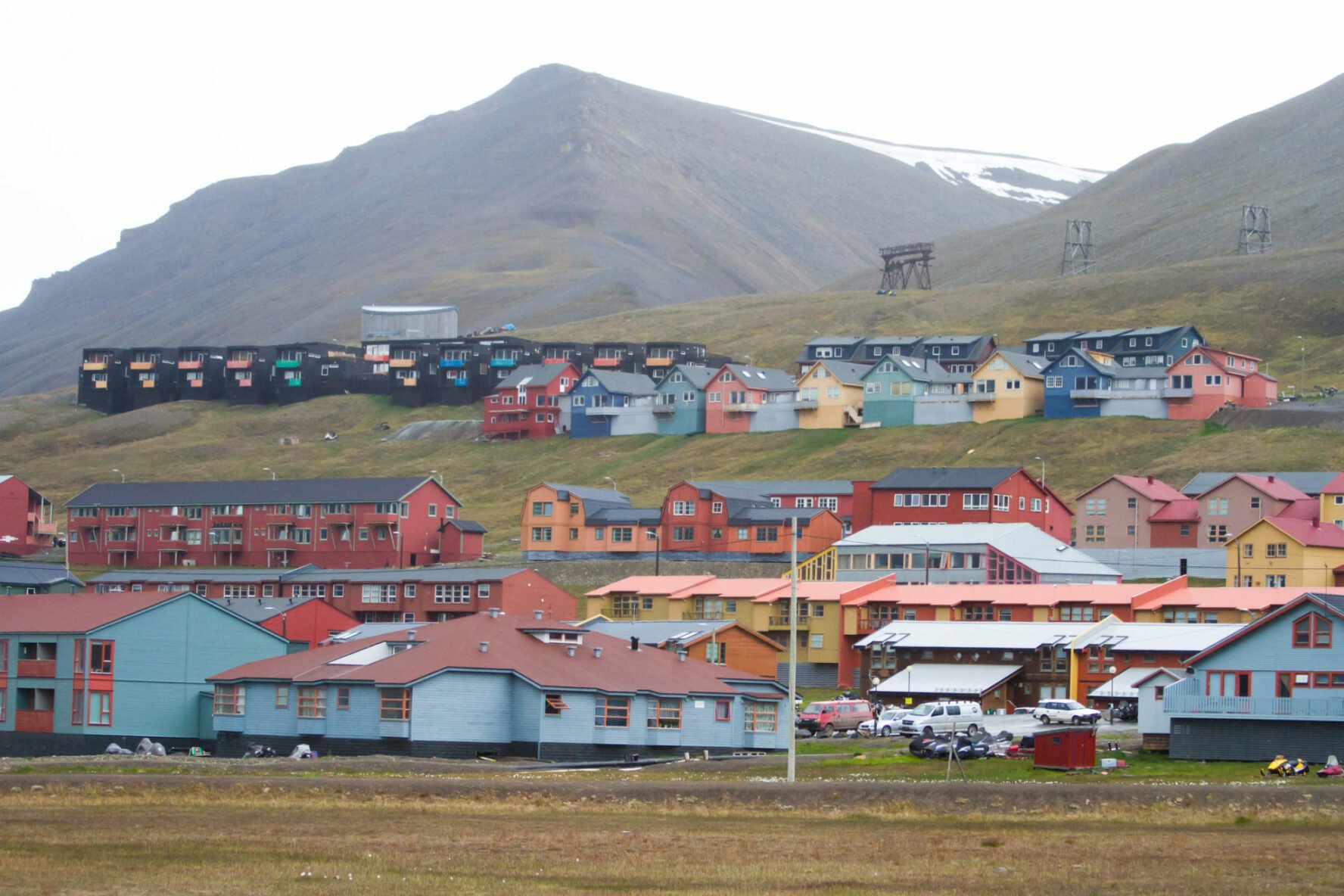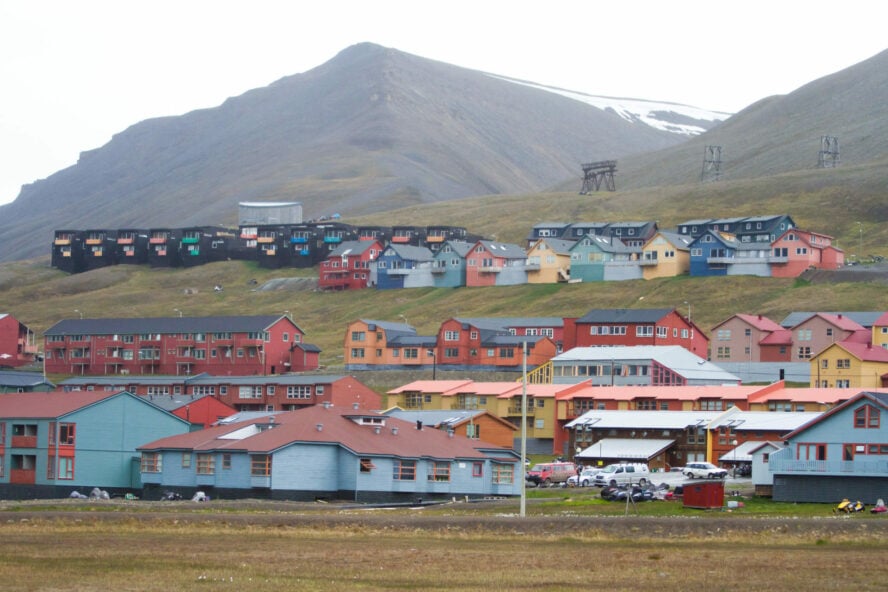 All aboard for this Svalbard ski and sail tour
After some touring and rest in Longyearbyen, everyone boards the Noorderlicht and sails to remote, peaceful fjords, with glaciers descending to the sea and 2,000 to 3,000-foot peaks soaring into the blue, arctic sky. The skiing can be variable, but typically it's a mix of 'arctic pow' — soft, recrystallized cold snow — and perfect spring corn-skiing. The open sky and ocean are only interrupted by spectacular, snowy landscapes. It's unbelievable. Add that to the skiing and living on a sailboat, it's a once-in-a-lifetime trip. So good.
Svalbard skiing features mellow approaches and descents
Svalbard is largely glaciated. Guides carry crevasse-rescue kits, and guests must be experienced skiers. The terrain, though, is remarkably accessible. Gradual, scenic climbs give way to long, beautiful runs back to the water. Most of the skiing is consistent with low 30-degree angles. Steeper skiing can be found for anyone looking for a challenge. Once you climb to higher elevation, you might be struck by open glaciers and coastline in every direction. And best of all, the warm, comfortable boat is waiting at the end of the day. Unlike self-supported trips, you won't be roughing it. If you want to learn how to tour on self-supported trips, a polar expedition training course is highly recommended. It's a rewarding and challenging way to experience arctic landscapes.
Typical day on the sail and ski tour in Svalbard
The day starts waking up on the sailboat in a new location before taking zodiac boats to the shore. The crux of the day is making sure no one falls into the water — after the ride, it's mellow from there on out. You won't need to do too much climbing to bag any peaks. You might split up into two groups to allow options for anyone who wants to do multiple runs versus bag a peak and head back to the boat. A trip like this can accommodate a range of goals. Plus, you get to enjoy these remote Svalbard skiing areas essentially all to yourselves. You may see only one other boat along the coastline and for one day of the trip. The views are unbelievable and the lines are endless. Once you've skied a few laps, you'll then head back to the sailboat to eat meals cooked by a chef and compare notes. Instead of sleeping in a tent every night, like you would for a polar expedition to the North Pole, guests stay in bunks on the boat.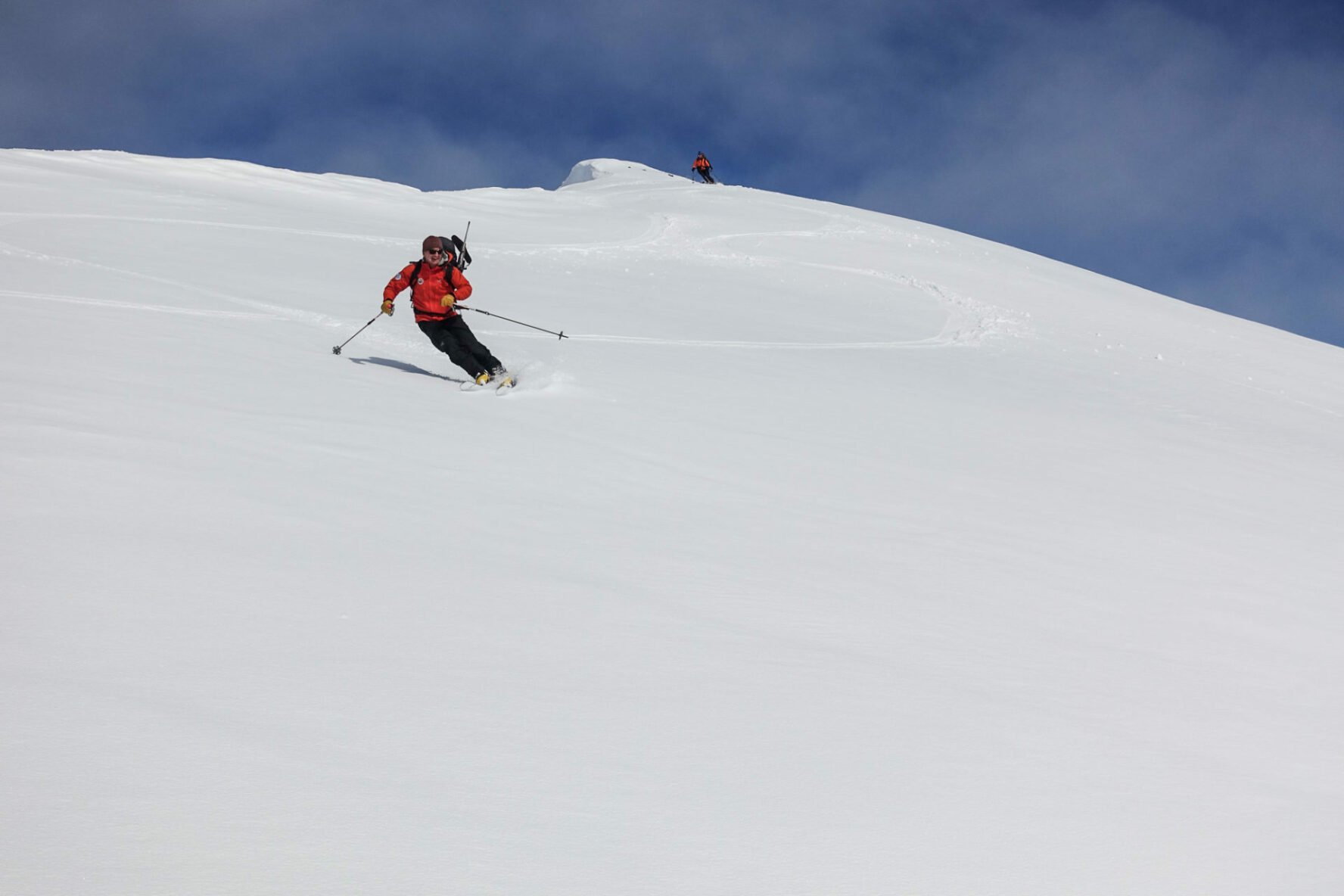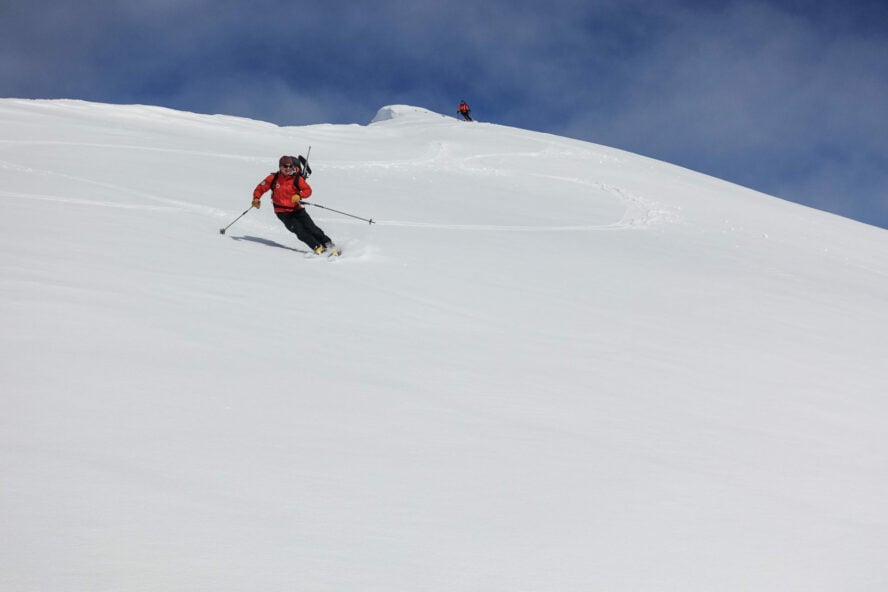 Planning a Svalbard Nordic Skiing Expedition
For anyone looking for a little more adventure and the unknown on their next trip, Svalbard is a bucket-list destination. Rob and Tom plan to offer a Lofoten, Norway trip as a stand-alone or in conjunction with their annual Svalbard dates. The first thing to keep in mind is that Svalbard skiing is intermediate to advanced skiers, despite the mellow runs. Rob does host other tours and provides advice as well as training on how to start backcountry skiing for beginners. Building a solid foundation as a backcountry skier is necessary to enjoy these types of arctic trips safely.
What is the best time to visit Svalbard?
The best time to visit Svalbard is March to June for ski season — and the famed midnight sun. Eternal sun means plenty of time to tour, ski and socialize. The snow also doesn't melt and form a crust overnight since the sun is always out.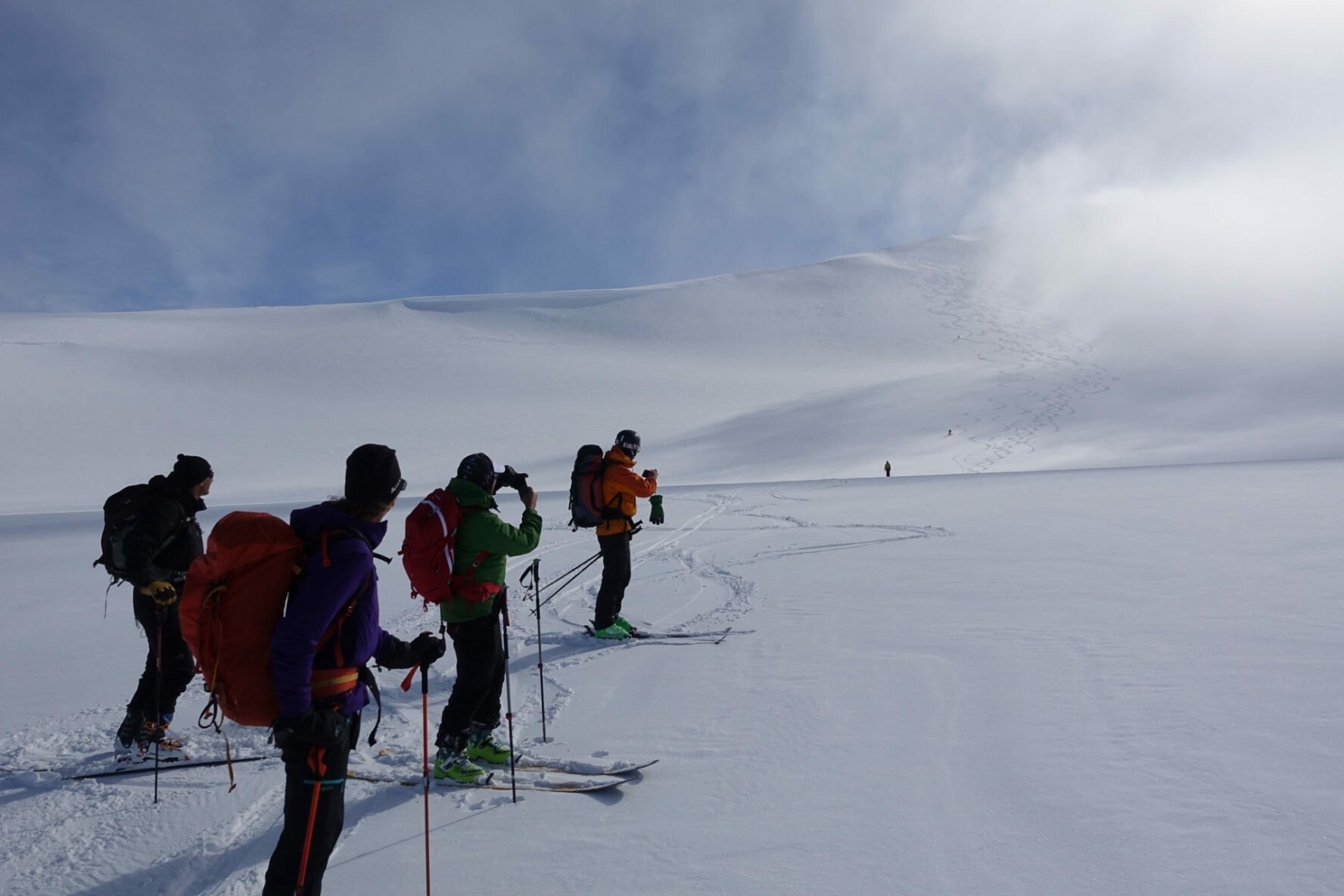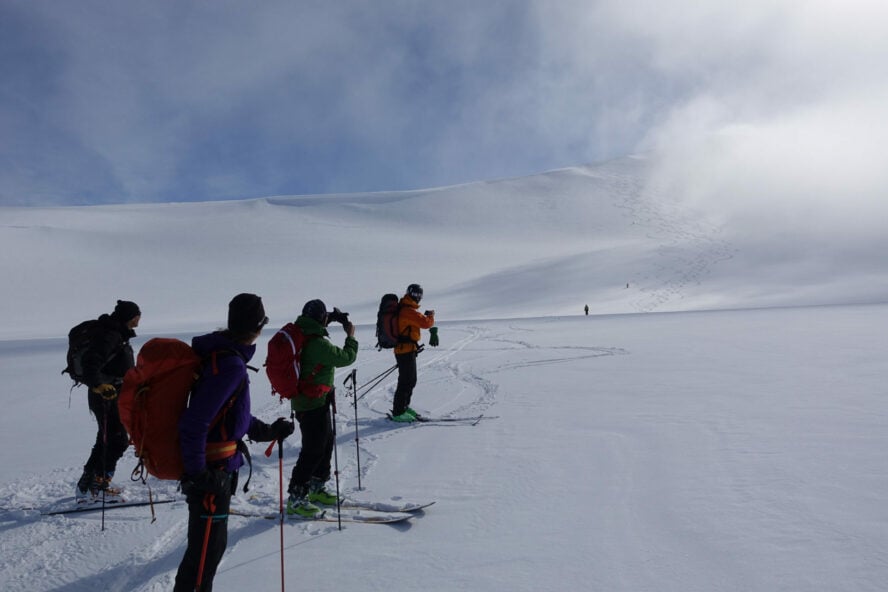 How cold is it in Svalbard?
Svalbard is known for being cold, but the climate is mild compared to other areas at the same latitude. It is not uncommon, however, to endure periods during the winter with temperatures between -4°F and -22°F. The average high is just 7°C (44°F) in the summer. The year-round results in 60 percent of the island being covered in glaciers and a year-round permafrost. It's recommended travelers bring a down jacket, even in summer, due to the humidity. The damp air can bring an additional chill. In many ways, Svalbard lives up to its polar expectations.
Not only is Svalbard the most northern point in many respects, this Norweigan outpost is also warming five times quicker than in the rest of the planet. That makes it the fastest-warming place in the world. We recommend all travelers to purchase carbon offsets from a place like terrapass.com. We want to preserve these majestic destinations for generations to come.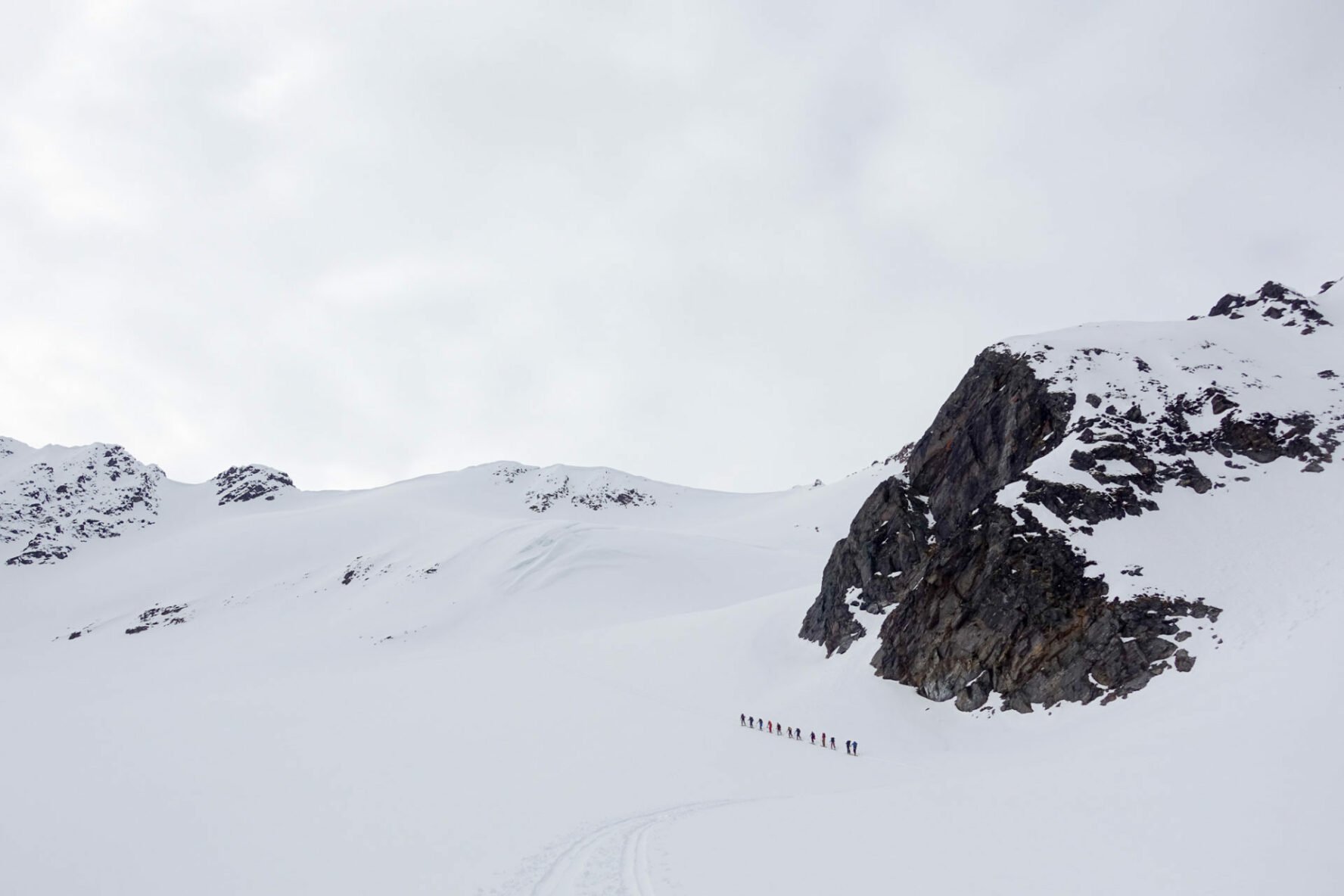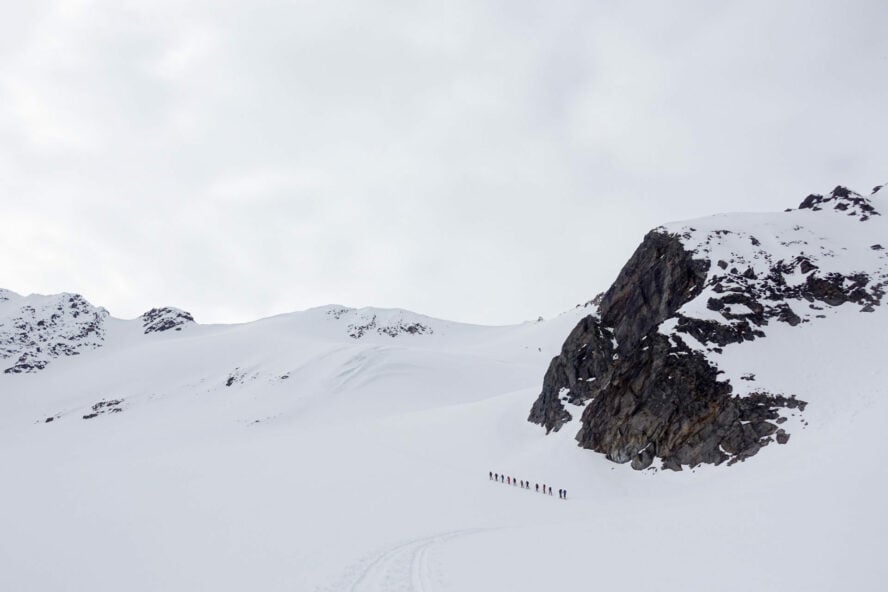 Can you see Northern Lights in Svalbard?
The Northern Lights dominate the sky both day and night in Svalbard from October to January. This time of year is known as the polar night. Svalbard is dark for almost the entire four months, making it prime for spotting the glow of the Northern Lights, although not exactly ideal for backcountry skiing. Despite the perpetual darkness, plenty of cultural activities are held in Longyearbyen to keep up the social atmosphere.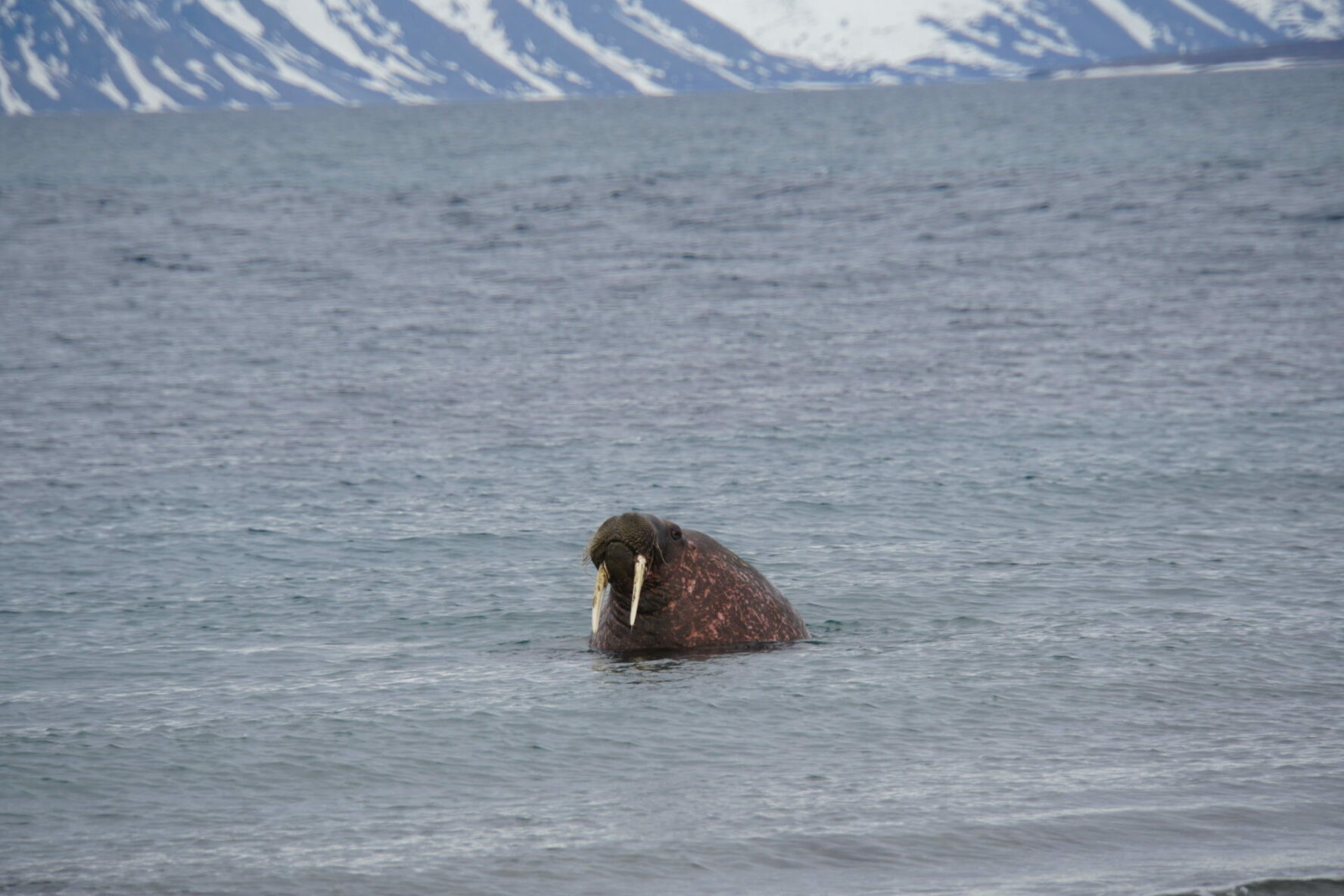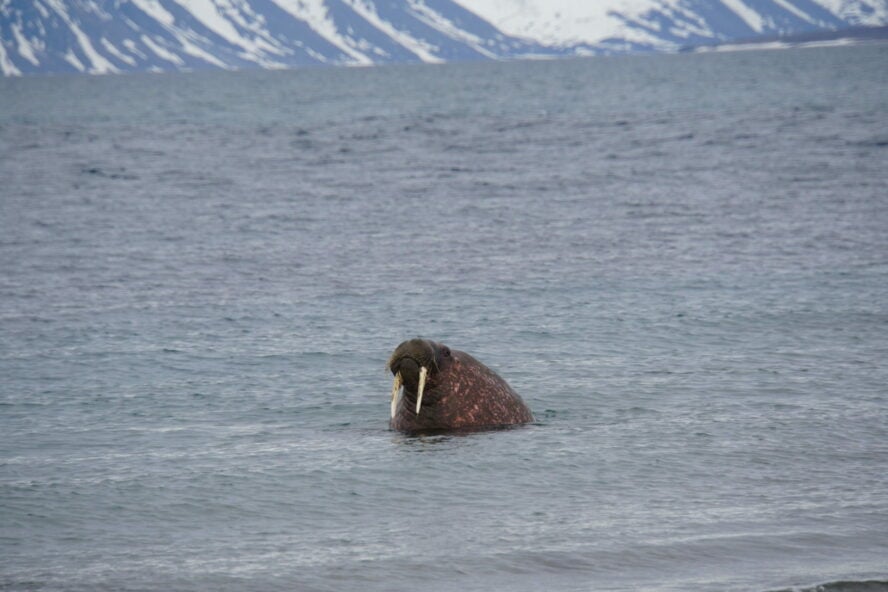 Getting to Svalbard for skiing in Norway
You can get to Svalbard from Oslo and Stockholm flies directly to Longyearbyen. Flight time is about three hours from Oslo in Norway and 1.5 to two hours from Tromsø in northern Norway. Traveling from Stockholm is about 5.5 hours by plane. An airport shuttle service is available for all scheduled flights for transport to many of the area's hotels and guest houses. Getting around the island is simple because there are so few roads. The sailboat then provides both sightseeing and access to unforgettable terrain. You don't have to take sailboats around the islands. Some rugged travelers prefer self-supported ski tours across the main island of Spitsbergen. These traverses require dragging gear in a sled or traveling light with a backpack. Physically it's quite a bit harder, but it's an option for anyone interested in a self-supported Svalbard expedition.
Want to hear more? Watch Rob deliver his Epic Adventure Webinar, where he goes into even further detail about skiing and sailing in Svalbard (and hear that polar bear story firsthand!)