Skiing Rogers Pass in British Columbia's Backcountry Is As Good As it Gets
Synonymous with deep powder and long descents, Rogers Pass is classic Western Canada backcountry skiing at its best.
Rogers Pass is a classic backcountry ski destination in Western Canada and a must-ski location for any backcountry enthusiast. Backcountry skiing in Rogers Pass delivers powder almost daily, and because of the winter permit system, the runs never get crowded. Rogers Pass offers complex avalanche prone terrain, so it is not to be taken lightly. You can rely, however, on the extensive network of Revelstoke backcountry ski guides. That's what my family did, and it was one of the best backcountry ski experiences I've had.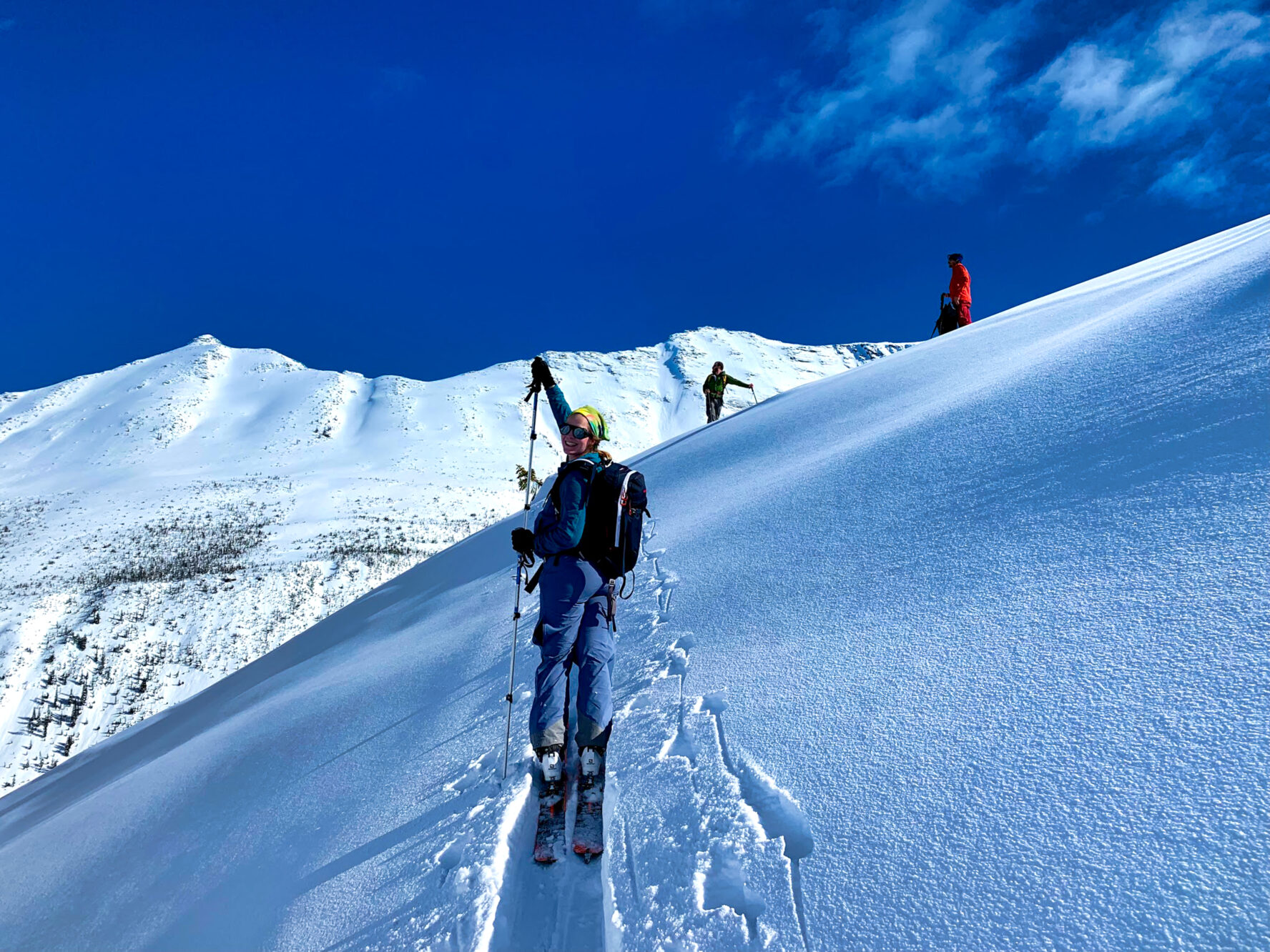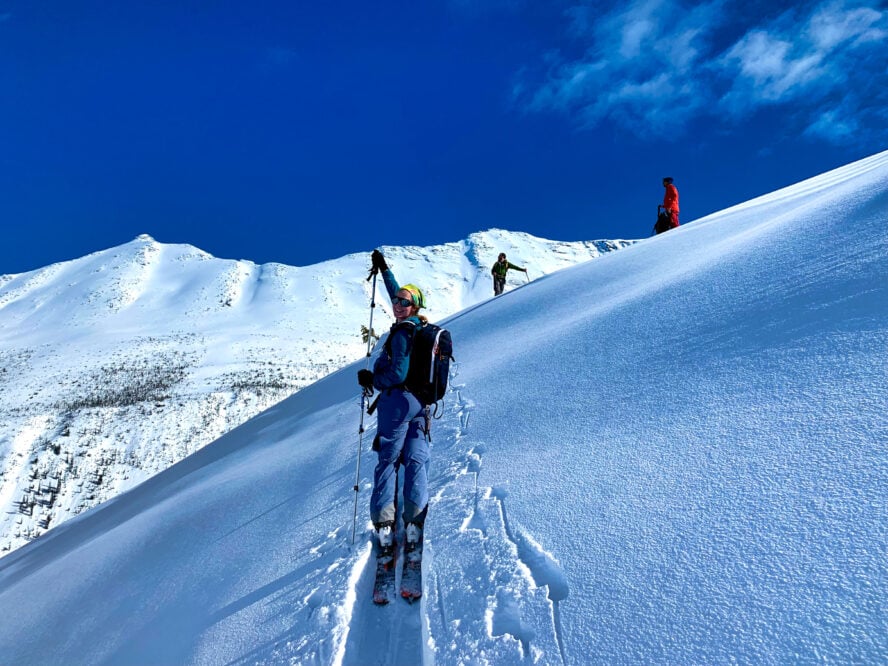 Pros and Cons of Skiing in Rogers Pass
Lot of vertical in just one day trip (don't plan for an easy up and down trip)
Fantastic terrain for all kinds of skiers
Revelstoke is the closest town for lodging and it's about an hour away
Rogers Pass backcountry is prime skiing in the Selkirks
My family and I first discovered Revelstoke on a week-long skiing road trip through Western Canada. We had the fortune of visiting Banff, Lake Louise, Revelstoke, and Golden. Revelstoke is the one place that really stood out. So a few months later, we returned, only this time, we had more time on our hands to fully experience everything the area has to offer. We spent our time skiing at the resort, which is a beauty in itself, but we also ventured out for
Revelstoke backcountry ski touring
, and more specifically, to Rogers Pass with ACMG ski guide Greg Hill. Rogers Pass is located in Glacier National Park, about 45 minutes from Revelstoke. Rogers Pass was first used by the Canadian Pacific Railways in 1885, after Major A.B. Rogers (hence the name Rogers Pass) found the much looked for route through the
Selkirk Mountains
. Rogers Pass is also "the heart" of Glacier National Park. It's covered by upward of 400 glaciers and consists of more than ten peaks.
Revelstoke delivers options and North America's greatest vertical
Revelstoke Mountain Resort has North America's greatest vertical at 1,713 metres (5,620 feet). While it might be a little harder to get to than some of the bigger and popular resorts, Revelstoke is definitely worth exploring. Don't let the size fool you. The town is lively and the skiing is exceptional. Rogers Pass is just a quick drive away, featuring plenty of terrain to explore for a whole week or more.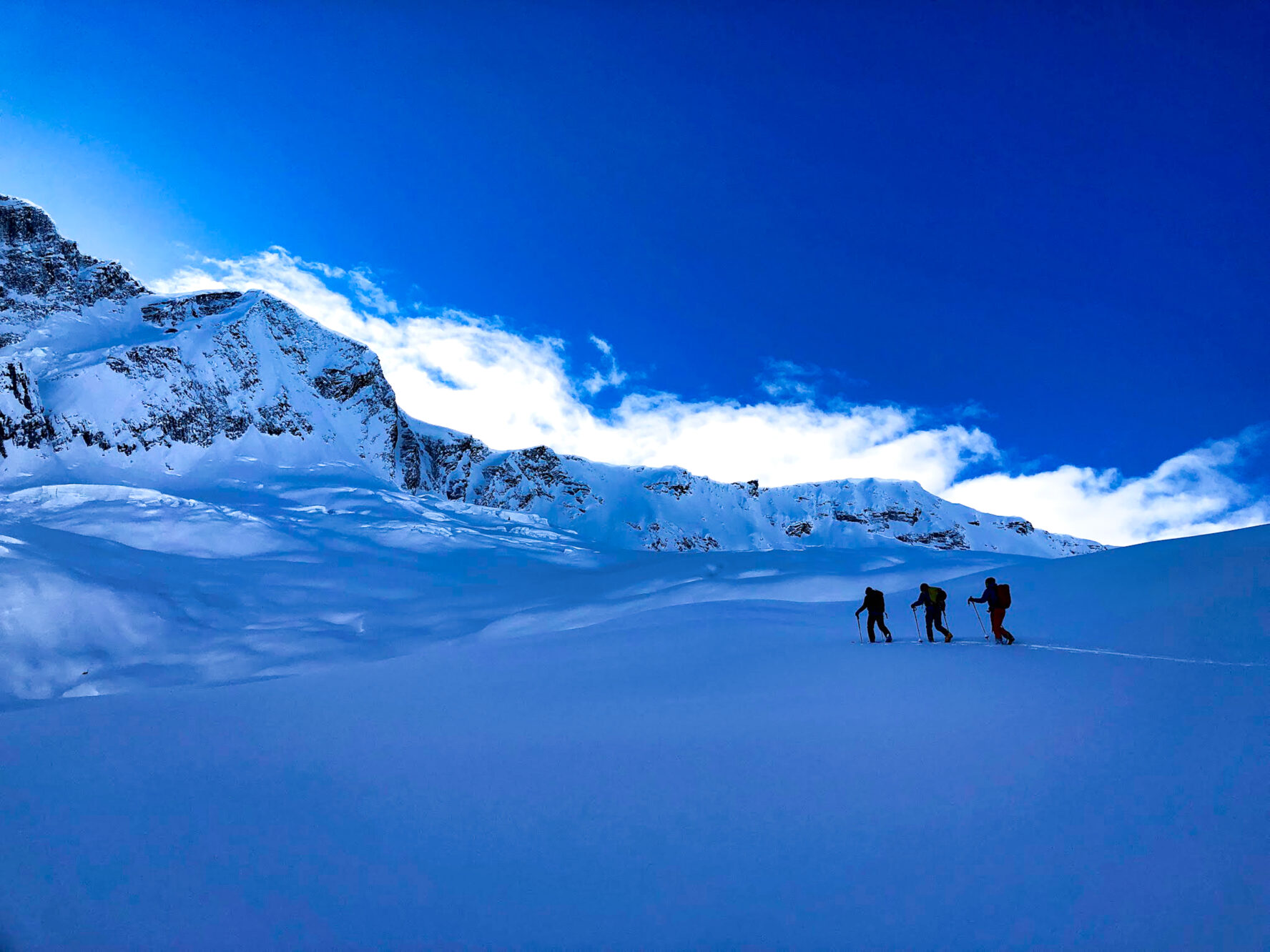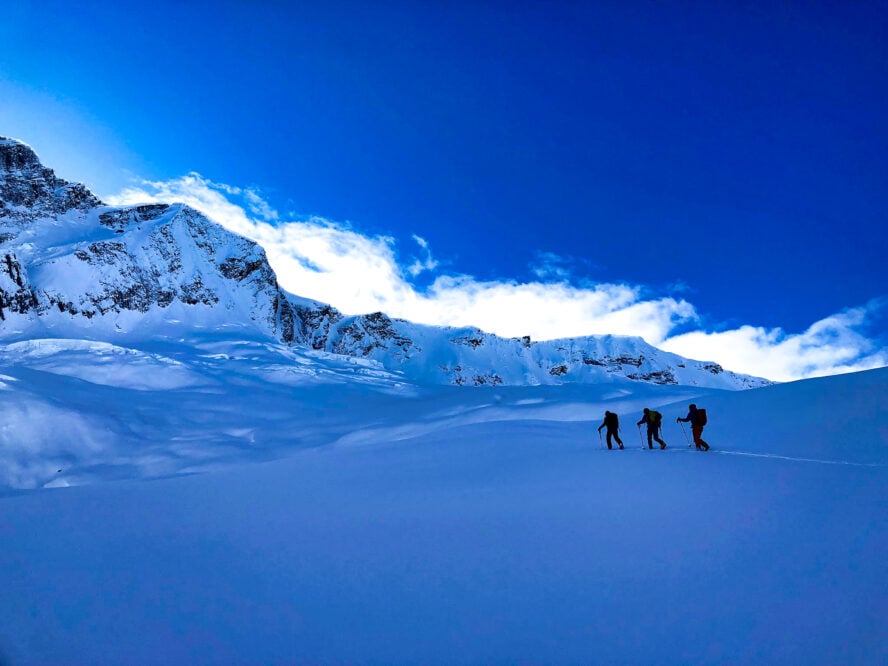 Prepare with permits and location scouting before you go to Rogers Pass
You need to navigate a couple of logistics in order to ski at Rogers Pass. First, Rogers Pass, along with all the mountain slopes that face the Trans-Canada Highway and the railway corridor, are part of the
Winter Permit System
. You'll need to get a permit at the
Rogers Pass Discovery Centre
. Each member of your group needs a daily or annual winter permit. To comply with local rules, you also need to display a permit in the vehicle you are driving. In addition to the winter permit, each member of your group needs a
national park pass for Glacier National Park
. Once that's all set, you can check which areas are open for the day on the
Rogers Pass Backcountry Access interactive map
. You'll need to stay updated on which areas are open daily, as many areas close for explosive avalanche control. You'll also need to know where to park your car safely off the highway. Then, you're ready to go! Because of the many logistical challenges that come with backcountry skiing in Revelstoke, this is one area where it really pays to have a guide and save yourself the headache of planning.
Our day backcountry skiing with the legendary ski pro Greg Hill
Our day started in Revelstoke, where our guide for the day and a Revelstoke local, Greg Hill, picked us up. Greg is well-known on the world ski scene and an expert on the
best places for backcountry skiing in Canada
. (He also knows
a thing or two about climbing
!) If you're heading into Revelstoke's backcountry,
Greg is who you want leading the way
— you couldn't be in safer hands. We drove for about 45 minutes and learned all about life in the beautiful mountains of Canada. We stopped at the
Rogers Pass Discovery Centre
to take care of a last minute "educational" bathroom stop. I call it educational because the building was filled with the history of Rogers Pass and its connection to the Canadian Pacific Railway. In fact, it's a replica of a historic railway snowshed. From there, we got to the base of our skinning route, took our gear from the car and did a last minute avalanche safety refresher.
You can't beat the simple approach to backcountry access
One of the positives of Rogers Pass is the quick approach from your car. Our skinning route started right next to our car and we had the ability to ski directly to the parking lot. Even after years of backcountry skiing, I still sometimes don't follow the "stay warm, start cold" rule. Canada at this time of year was sunny, but I still wouldn't consider it "warm," so I started with a plethora of layers on me. Mistake. Big mistake.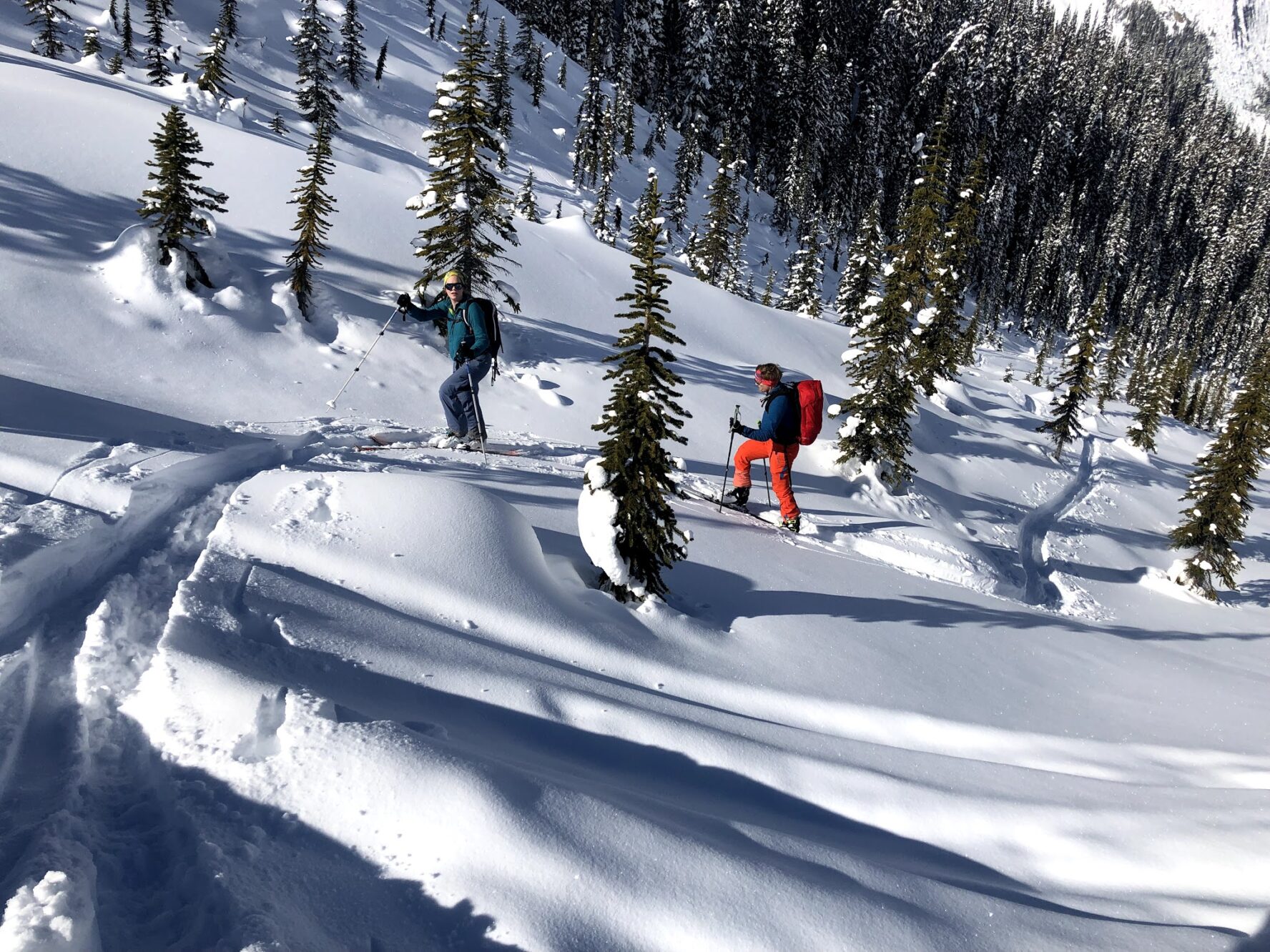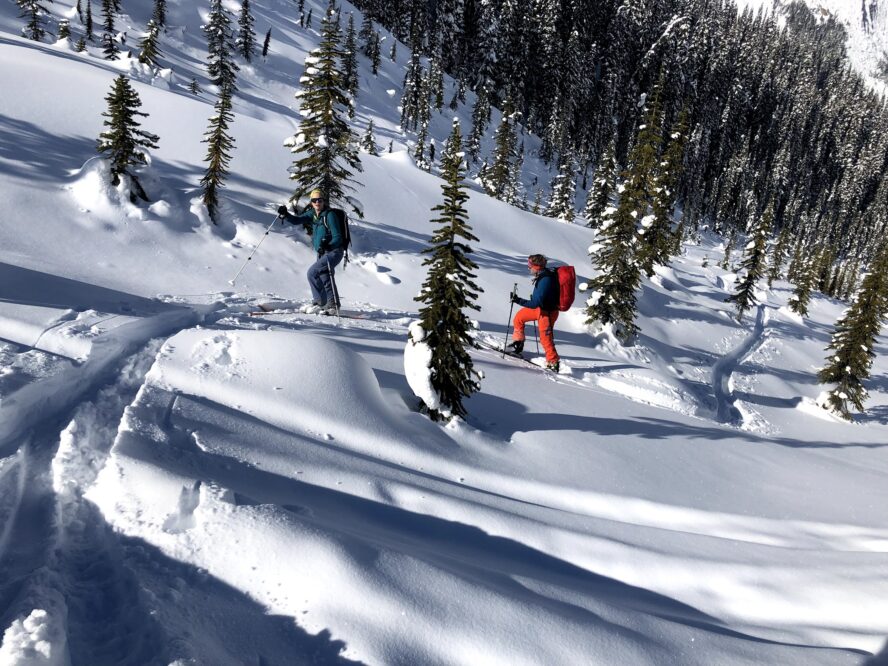 Don't underestimate the quick approach: prepare for a steep skin up
A typical day at Rogers Pass is long, but very rewarding. It is the epitome of "earn your turns." But rest assured, those ski turns will be more than worth it. I started our day, which averaged somewhere between 4000 and 6000 vertical feet, thinking it was going to be a quick skin up and a quick ski down. Don't make my mistake. You will be skiinning for quite some time, so "stay warm, start cold" by wearing less layers in the beginning and allowing your body temperature to build. Too many layers can result in sweat, a much bigger problem than being chilly for a bit. All that said, it was a beautiful skin up. There was a variety of terrain surrounding us, from big open bowls, to covered tree sections and steep exposed rocks.
A multitude of backcountry skiing routes in Rogers Pass
On our way up, Greg talked about the
endless backcountry skiing options that Rogers Pass offers
. The MacDonald/Avalanche area is one of those areas that is easily accessible from the parking lot. You can get quick and easy verticals. From there, you can see south towards the Great Glacier area, east to the Grizzly drainage. You can go back down where you skinned up, head over to Avalanche Glacier, or go north for the couloir. This is just the tip of the iceberg. There are so many more routes that I don't remember and even more that I haven't heard about yet.
Getting my ski legs on the first Rogers Pass turns
After a few hours of skinning up, it was time to get our skins off our skis, switch our boots from walk mode to ski mode, and start going back down. My first few turns took me by surprise. I was riding a pair of my dad's very light touring skis, which are extremely different from my all time favorite skis, the Line Pandora 110. My Pandoras are my all-around ski. I never go anywhere without them. They fit me like a glove, but today I wanted to try something new. Combined with my super light skis and the nice fresh snow of Rogers Pass, for the first few turns, I felt like a toddler that was learning how to walk. I went straight down an open bowl with minimal turns so I could reach my maximum speed. We then made our way to a ridge, and skied until we reached a more secluded area. We continued down, sun shining, smiles on our faces, until we reached the trees and wiggled our way out back to the car. All in all, a great day in the backcountry, made all the better with Greg leading the way.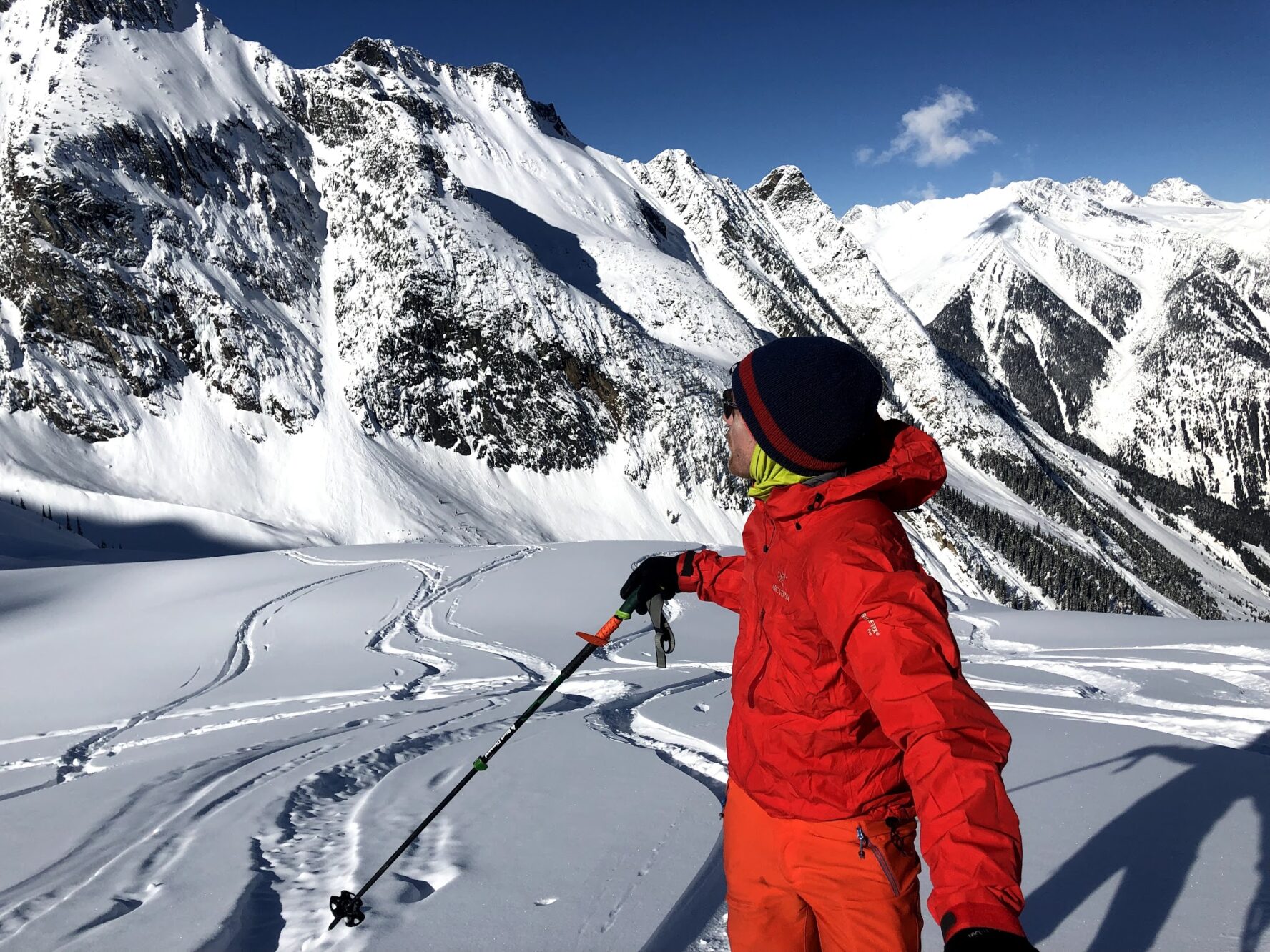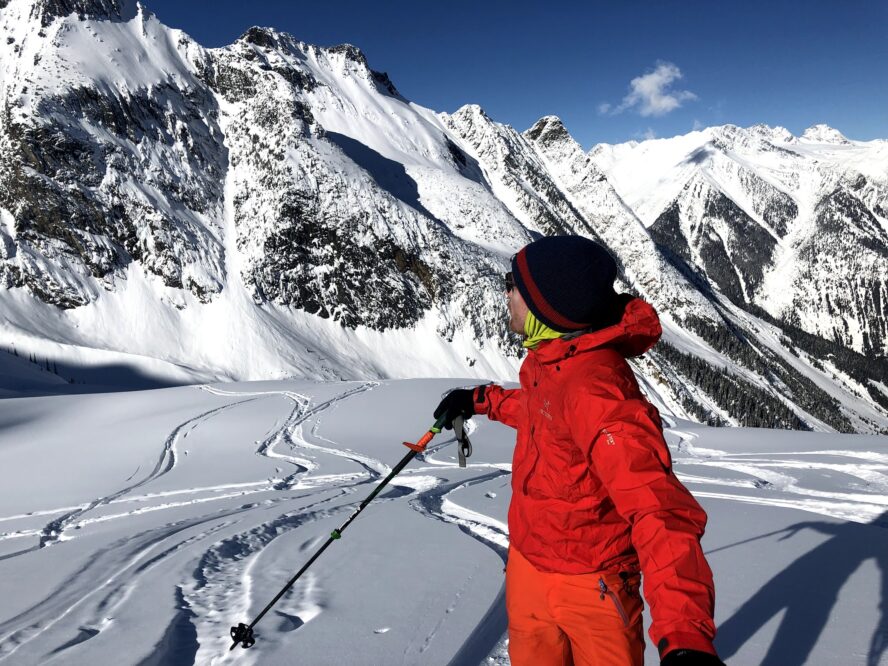 What to Know Before Backcountry Skiing in Rogers Pass
Before planning your backcountry ski trip to Revelstoke and the surrounding area, there are few things you need to know in advance about Glacier National Park and Rogers Pass. Revelstoke is the town that most people decide to stay in, and here are some of my tips and advice to make your stay here a memorable one:
The Winter Permit System
The Winter Permit System that controls access to the Trans-Canada Highway and Rogers Pass is different than at most other skiing destinations. Parks Canada conducts avalanche control to reduce the risk of large slides hitting the highway. Access to slopes along the highway corridor is determined by the avalanche control program. Canada's park system created the Winter Permit System in order to allow people into certain 'restricted areas' when no avalanche mitigation is planned. For this reason, you need a winter permit and a national park pass to ski the Revelstoke backcountry. The other areas are Winter Prohibited Areas and are never open in the winter. There are also Winter Unrestricted Areas, which are open for backcountry skiing, so you only need the park pass.
Logistics and planning
So, how do you know where to go skiing in the Rogers Pass backcountry? Make your first stop at the Rogers Pass Discovery Centre. Not all of the locations in Glacier National Park require permits, but a big majority do. Frequent visitors have an annual permit. You can also do this online, if you want to avoid waiting in line at the Discovery Centre. As I said above, some areas are closed due to avalanche control, so it is important to check and see what's open and the
avalanche forecast
before you go. This is a good checklist to use before you go to Rogers Pass:
Check which areas are open (Rogers Pass Backcountry Access interactive map is a good resource for this)
Get a national park pass for all of your members
Get a daily or annual winter permit at the Rogers Pass Discovery Centre
Check the avalanche report in the area you will be skiing before you head out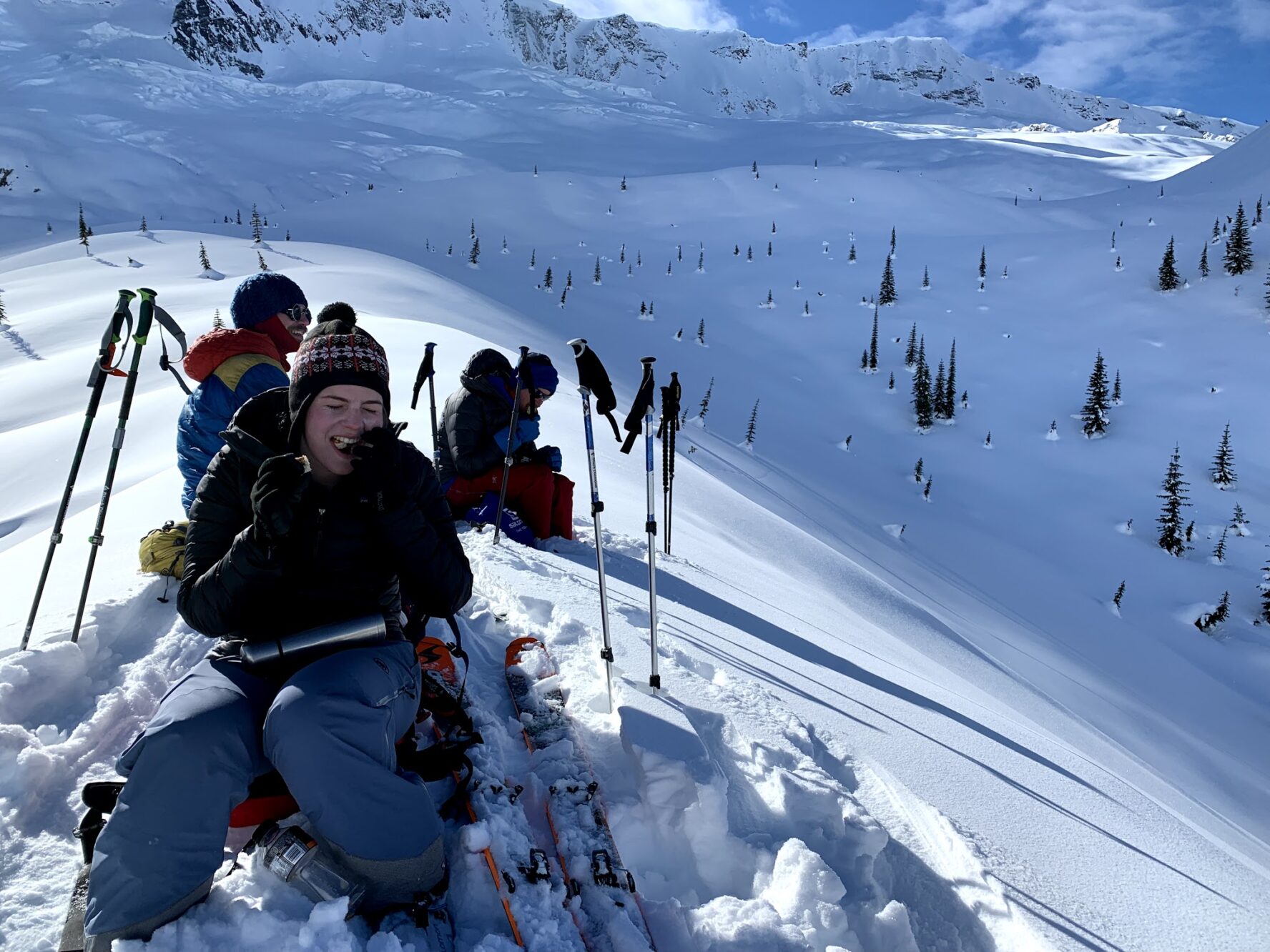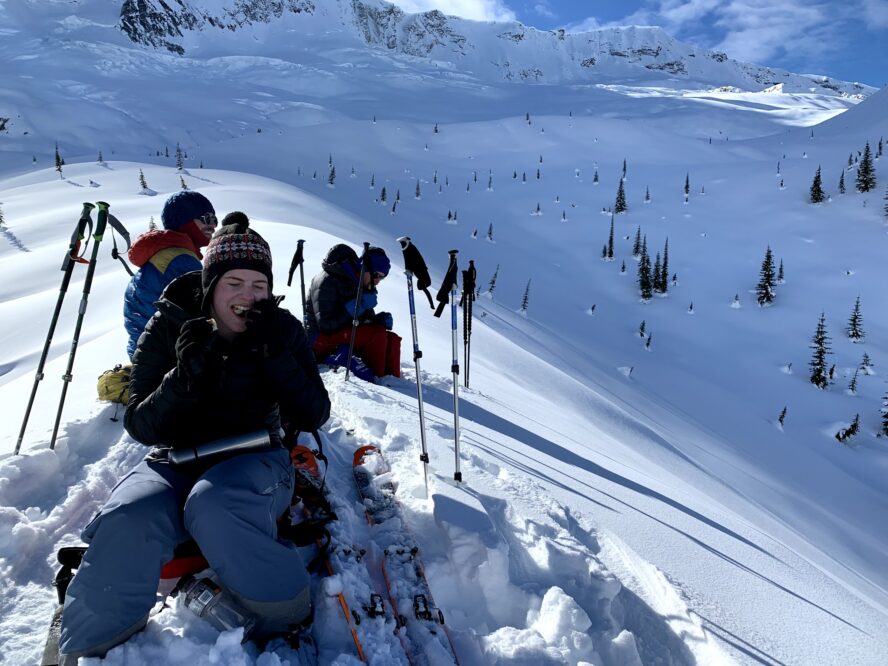 How to get to Revelstoke
Since we were coming from New York with a lot of big ski bags, we flew into Calgary and then drove the five hours to Revelstoke. The drive to Revelstoke from Calgary goes over Rogers Pass. It is a spectacular drive, but can be dangerous if the weather isn't right. Calgary International Airport (YYC) also offers the most rental car options. Your next best option is to fly to Kelowna, and do the shorter drive from there. The Revelstoke airport is just for private planes and charters. So, if you really want to avoid the drive, the closest airport is Kelowna Airport (YLW), which is a two-hour drive from Revelstoke. Kelowna Airport has direct service from Vancouver, Calgary, Toronto, Edmonton, Seattle and Los Angeles. At the end of the day it is all just a personal preference.
When is the backcountry ski season in Revelstoke?
Famous for its powder, the backcountry ski season in the Revelstoke and Rogers Pass area usually starts in November and lasts until the powder disappears around April. November to January is when you'll have lots of snow and endless tree skiing. February to March is the best it gets. The base is deep and the options are bottomless for shredding steep lines. In April, the northern slopes are where you'll find that silky spring snow, and you'll have the best luck at skiing fast, big lines.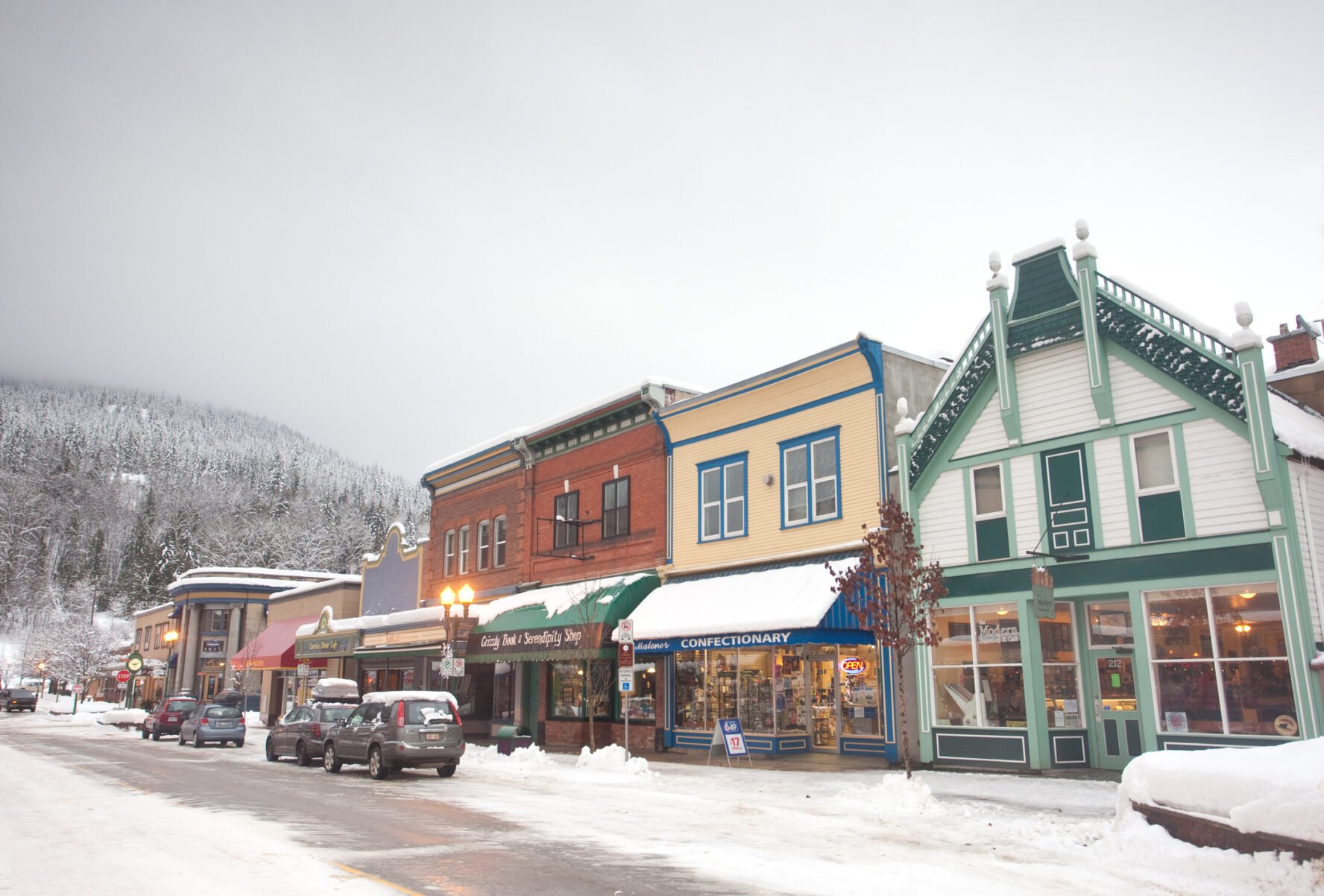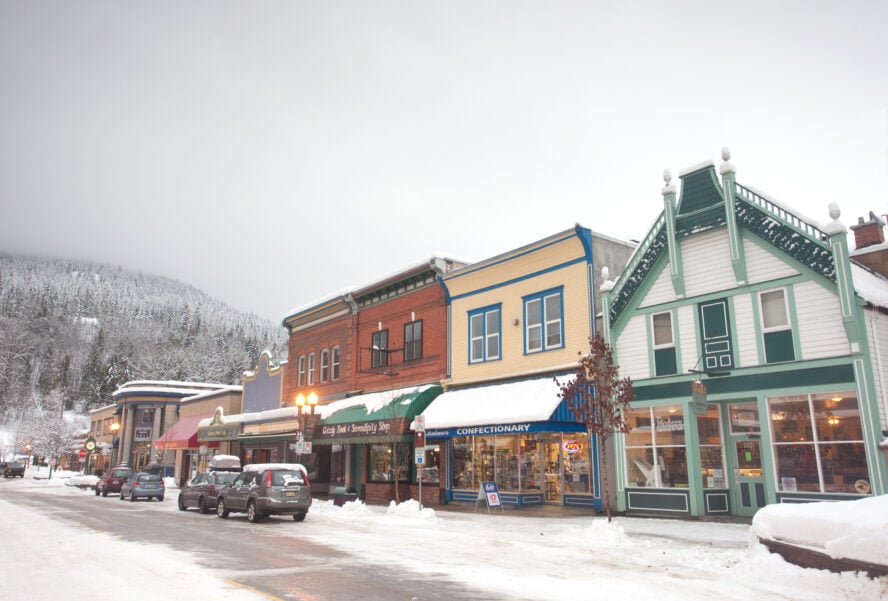 Lodging in Revelstoke
We rented a house through Airbnb. There were eight of us, so we needed something that would accommodate everyone. The prices are reasonable compared to a lot of other ski towns. Our group also wanted to be near the center of town, so we could be near the restaurants and other activities. Airbnb definitely has a lot of options in Revelstoke, and I personally loved our stay. The closest hotel to the ski slopes is the Sutton Place Hotel Revelstoke Mountain Resort. It is farther away from the town, but that in itself has a certain charm to it. Considered a luxury condominium-style hotel, Sutton Place is on the high-end of accommodations in Revelstoke.
The Stoke
is a cool boutique hotel that has tons of charm, good coffee and great design. It also depends on which time of the season you are looking to go at. Revy is a hot spot for winter activity so you'll need to plan ahead to get your first choice at accommodations.
Where to grab gear and food in Revelstoke
There are plenty of places to buy or rent ski gear in Revelstoke. Following Greg's recommendations,
Revy's Repair & Rentals
is a good place to start, and
Skookum
is another gear store in town that sells and rents gear. For food,
there's no shortage of great options in Revy
. Some of the hits are
Nico's
for poutine and pasta,
Chubby Funsters
for a chill pub vibe, and
Mountain Meals
for some good takeaway.
Things to do in Revelstoke besides skiing
Revelstoke has a small-town vibe with no shortage of recreation. On one of our nights in town, we went to a
Grizzlies hockey game
. The local hockey game brought out the whole community. I have lived most of my life in a city, and I'll admit, I'm not into hockey. Even though I didn't understand most of the rules, this was still an experience and a half! Other fun winter activities include snowshoeing or
soak in the hot springs
after a full day of skiing. Revy isn't just a winter town either,
there's plenty to do in the summer
as well.