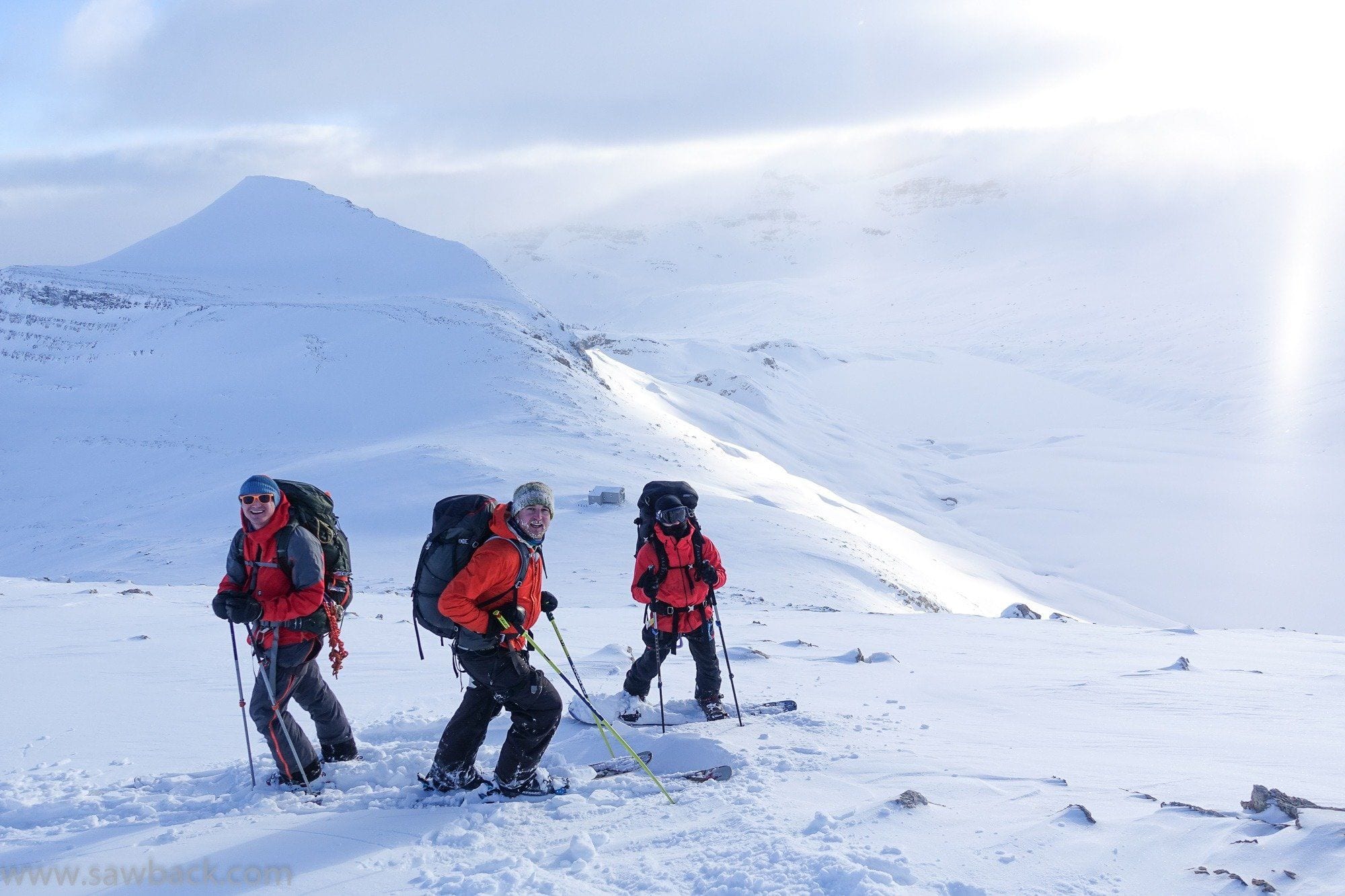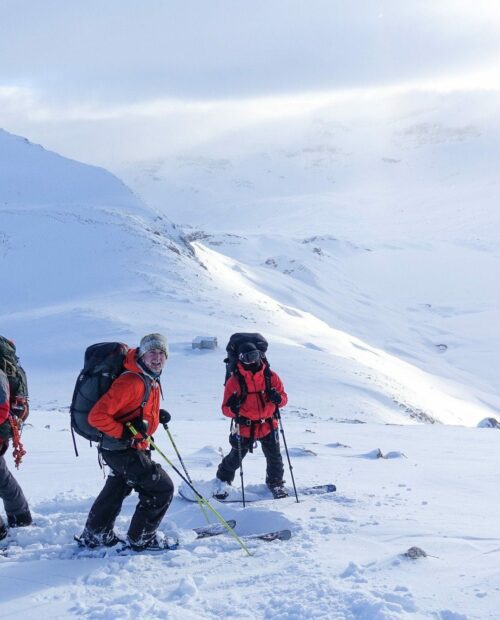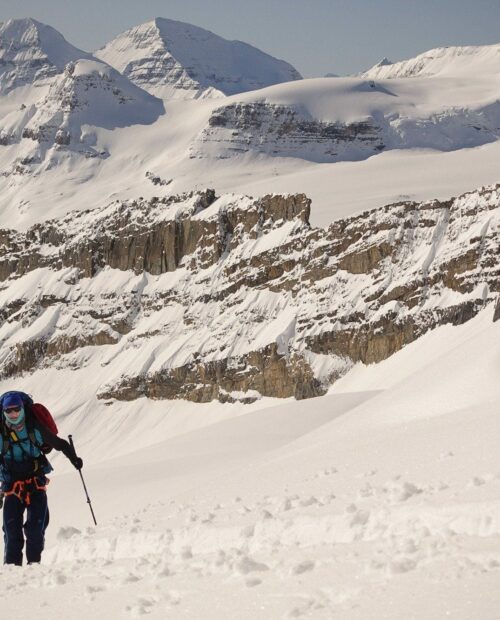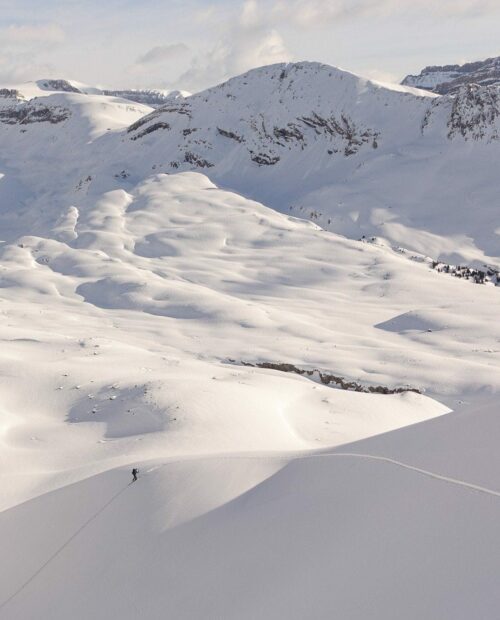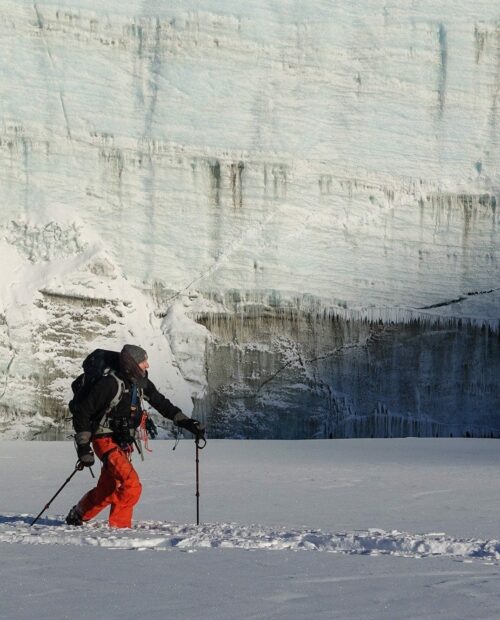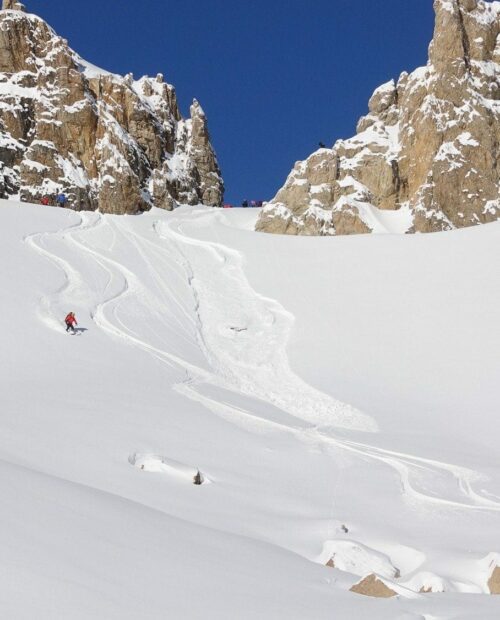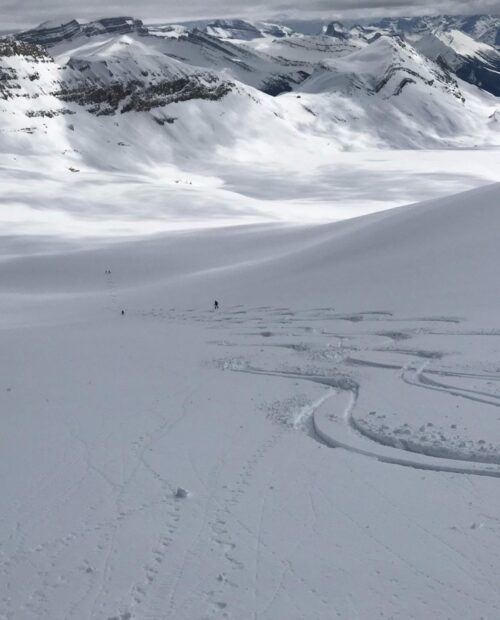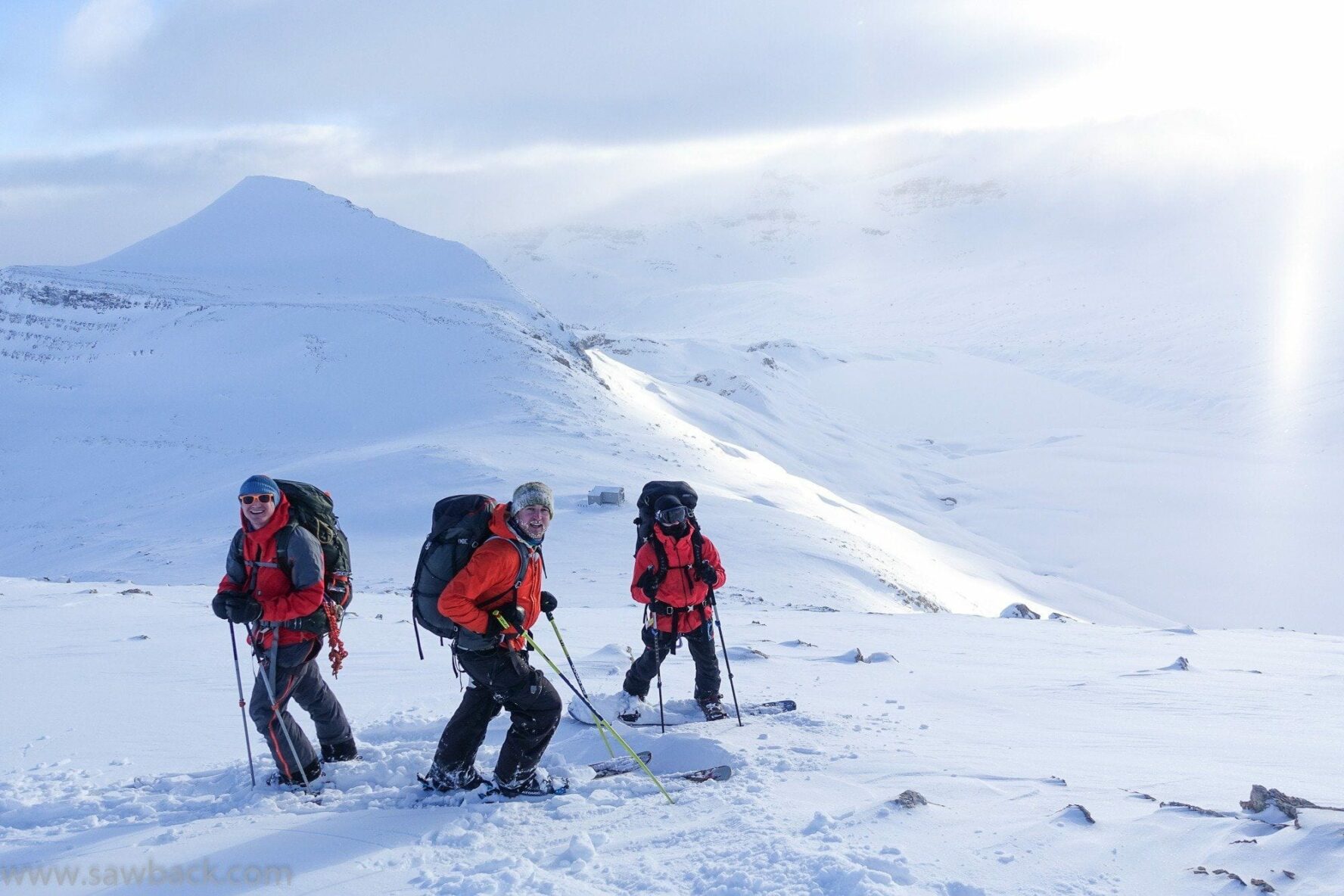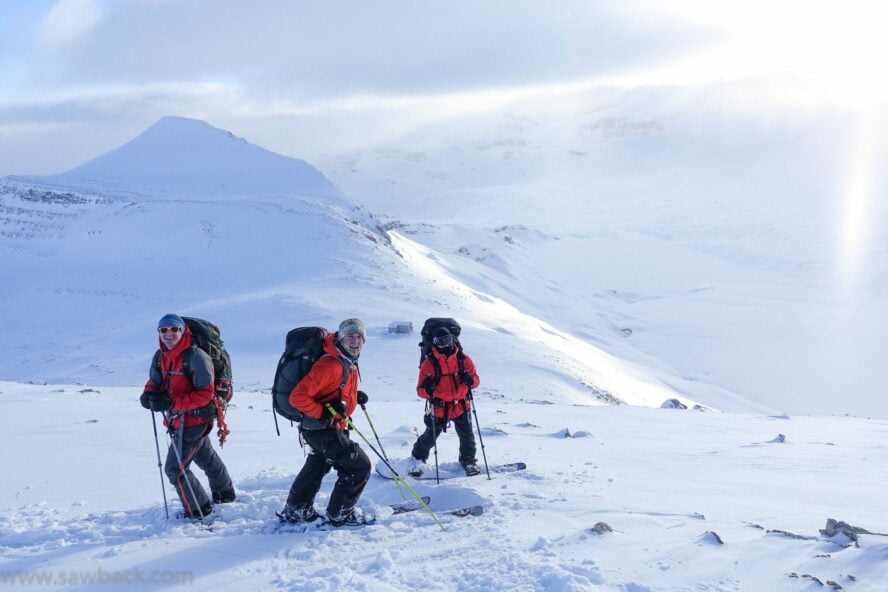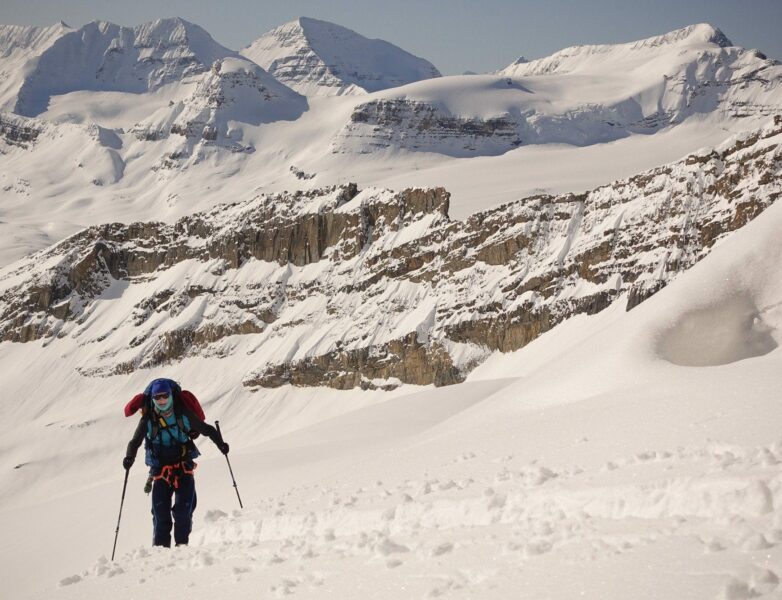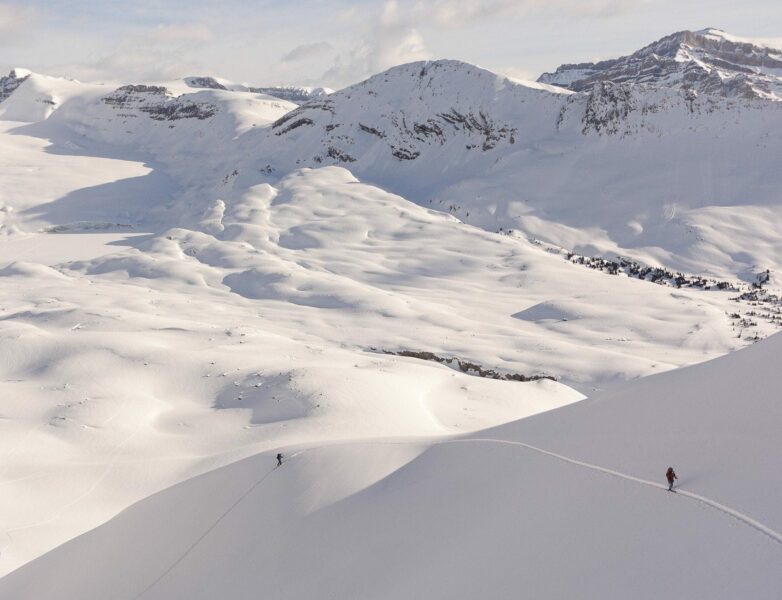 Backcountry Skiing in the Bow-Yoho Traverse
5.00

()
From $1,320 ()
/
5-7 days
The stunning Bow-Yoho traverse, running from Bow Lake to the Yoho Valley, has lived in the shadow of its neighbor—the famous Wapta Traverse—for years. However, it has recently started catching up to the competition, thanks in great part to the addition of the Richard and Louise Guy Hut, by far the most deluxe hut in the area. Some of British Columbia's most scenic peaks—which were previously reachable only through days of walking or high camping—are now more accessible than ever before! The Yoho and des Poilus glaciers abound with ski traversal and powder hunting opportunities, and the cozy huts add a level of sophistication and comfiness to the rough Canadian backcountry. You even get the opportunity to ski in a storm—what's not to love!
Conquer British Columbia's once inaccessible peaks

Spend your nights in Bow-Yoho's cozy and modern huts

Try storm skiing, one of the most breathtaking experiences you can have in the backcountry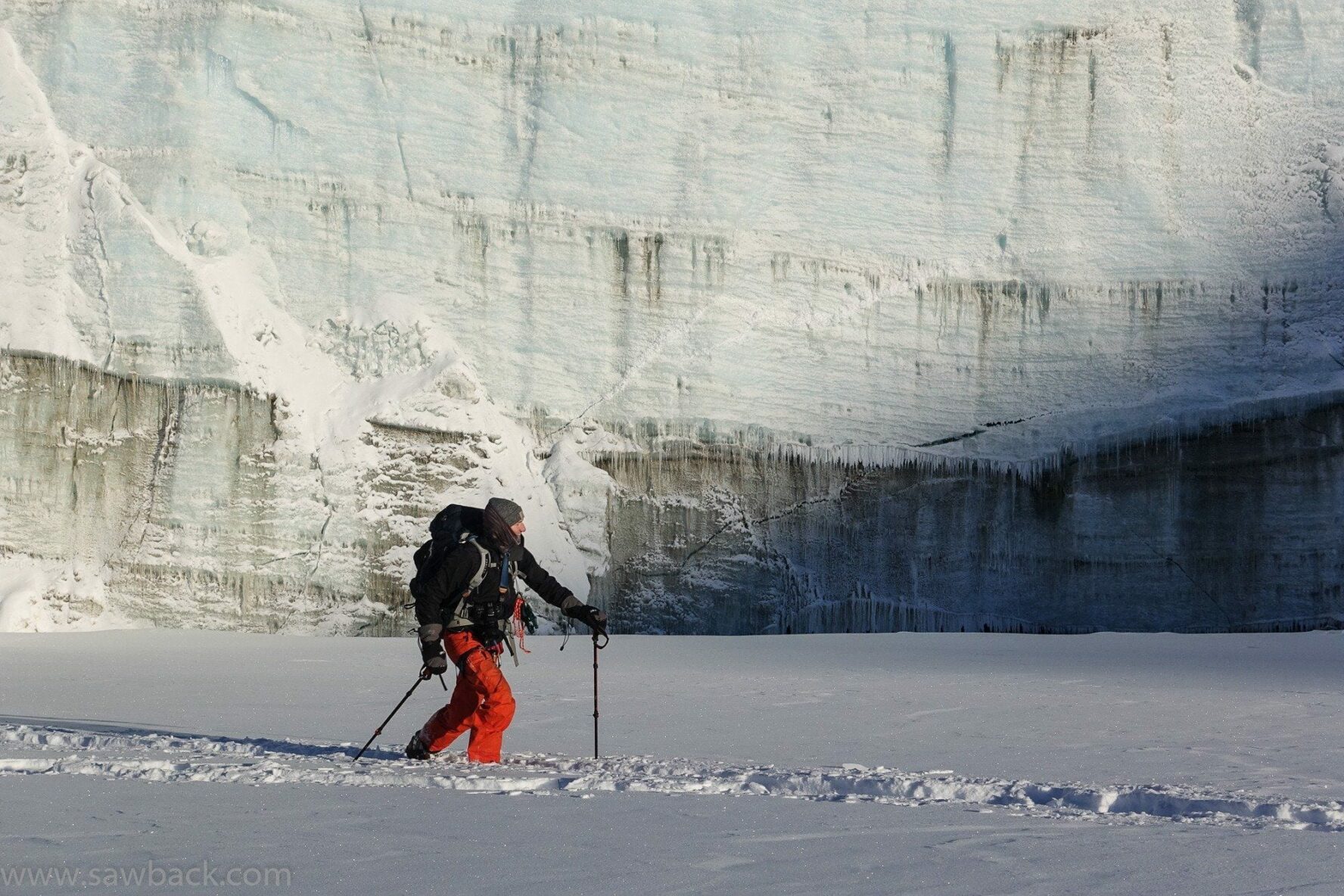 Five Days of Ski Touring on the Bow-Yoho Traverse
Enjoy five days of ski touring on the remote Wapta and Yoho glaciers with a seasoned local guide. Experience all the highlights of this renowned Rockies ski tour, including Mt. Collie, the descent to the Stanley Mitchell Hut, and Little Yoho Valley, as part of a more compact itinerary.
Meet your guide at the Alpine Center in Lake Louise at 8:30 AM. Get organized and head to Bow Lake where your adventure begins. After an hour-long avalanche companion rescue exercise, you'll spend 3-4 hours ascending to the Bow Hut. If you get there early enough, you'll have some spare time to go skiing in the afternoon before retreating to the hut for the night.

Rise up and early to traverse the Wapta Ice Field to Yoho Glacier and Mt. Collie (3,145 m/ 10,320 ft). Then, enjoy a fantastic ski run down to the Des Poilus glacier, where the brand-new Alpine Club of Canada Des Poilus hut awaits.

Ascend to the Isolated Col and enjoy an exciting ski descent to the Stanley Mitchell Hut in Little Yoho Valley. Take the opportunity to ski some of the fantastic glaciated runs in the area, as well as the flanks of the 3,015-m (9,890 ft) Mt. McArthur.

Spend the entirety of day 4 skiing in Little Yoho Valley. Tackle some of the area's fantastic mountaineering objectives, such as the Presidents (3,140 m/10,300 ft).

Follow the Ice line trail, traversing the full length of the Presidents. Then, enter Yoho Pass and proceed to Emerald Lake, marking the end of your great adventure!
A Week of Ski Touring on the Bow-Yoho Traverse
Head to Canada's spectacular Bow-Yoho Traverse together with for a week of conquering peaks, running awesome slopes, and enjoying fantastic nature. Spend your nights in rustic and cozy flagship huts, and your days traversing and shredding British Columbia's stunning powder. An experienced backcountry guide will be there to show you the best that the Bow-Yoho has to offer!
NOTE: The exact dates for this trip are subject to huts availability. Once the guide books the huts, you will be notified about the exact dates, which may change by a day or two.
Meet your guide and team over dinner in Field, BC, at the Truffle Pigs Bistro. After dinner, retreat to your room. Your guide will take you through an equipment check and distribution of group gear and food.

After a leisurely breakfast, pick up your lunches provided by the Kicking Horse Lodge. Make sure your backpacks and ski gear are packed and ready to go. At 9:00 AM, depart for the trailhead at Bow Lake from the Num-Ti-Jah Lodge parking lot. The ski tour from Bow Lake to Bow Hut takes anywhere from 3 to 5 hours depending on conditions and group speed.
If there's enough time, run a quick lap on the awesome slopes above Bow Hut at the end of the day.

Traverse day! Set course west for the Guy Hut, traversing over the Gordon-Rhondda pass and the Yoho Glacier's gnarly icefall, below the spectacular Mt. Collie, and a short distance down to your hut below Yoho Peak.

Peak bagging day! The Guy Hut is not only the premiere hut on the Wapta, it's also an excellent staging point for many of the great ski runs in the area, including Yoho Peak N and SE faces, Des Poilus SE face, the subpeak to the north of Des Poilus, Mt. Collie! While most of the objectives are ideal in fair weather, there's a tree run that provides amazing storm skiing.

Pick one of two ways to get to Stanley Mitchell Hut, both equally exciting. The first takes you over Isolated Col.It is steep and relentlessly exposed to avalanche hazards on both the north and south sides. The second is over the Whaleback, which is less exposed to avalanches and which, in the right conditions, offers a good ski descent through a lightly treed avalanche path to the valley bottom and then a trudge up-valley to the famous and ancient Stanley Mitchell Hut. If avalanche hazard is low, drop your load at the top of Isolated Col for a hot lap on the amazing 300 m (950 ft) north-facing side for an outstanding powder run, and complete the day in style with a long descent down the south side!

If you're in the Little Yoho Valley with the wood stove crackling then you will definitely want to stay for at least one more night. Take the chance to bag the Presidents, Mount MacArthur, Isolated Peak, Mt. Kerr, or use the opportunity for some loop trips or storm skiing on the Vice President trees or glacier.

The ski out from Stanley Mitchell Hut is best if you can head up over the Iceline trail and out via Yoho Pass and Emerald Lake Lodge. This requires good stability and cool conditions, so you might have to slog out via Takakkaw Falls road. Your guide will aim to have you back in Field by early afternoon. Kick back by the shores of the Kicking Horse for another night, or just jet back home.
Get free trip brochure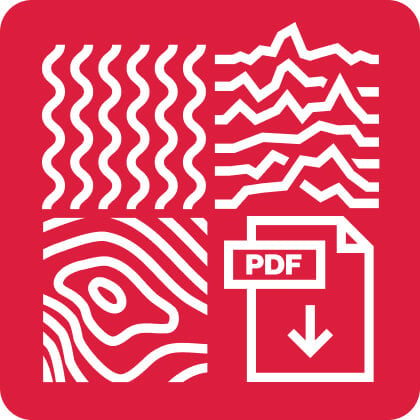 The brochure contains:
Adventure and location overview, itinerary, available dates, what's included, how to prepare, and much more.
Brochure sent, check your inbox
Talk with us
and let one of our adventure experts help you plan your perfect adventure.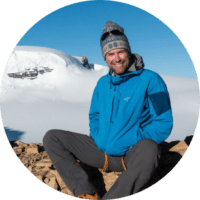 Tom Wolfe
IFMGA/ACMG Certified Guide
Tom Wolfe is an ACMG/IFMGA-certified mountain guide who's been guiding since moving to Canmore in 1995, the place he calls home. His winters consist of a mix of ski guiding at lodges, heli-ski operations, and remote backcountry destinations throughout western Canada. During the warmer months, Tom spends his days on water. He is a certified Paddle Canada Moving Water Canoe Instructor and Wilderness Canoe Guide.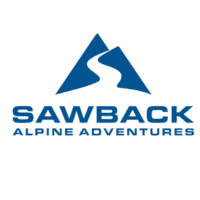 Sawback Alpine Adventures
Sawback Alpine Adventures
Sawback was founded by Tom Wolfe in 1995, running mountain hiking trips for groups. Since then they have expanded programming to offer just about any mountaineering adventure you could imagine. Tom is an IFMGA Mountain Guide and a member of the Association of Canadian Mountain Guides (ACMG). Although Sawback is primarily a one man show, many of their trips come out of partnerships with other guides.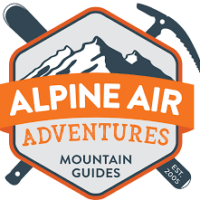 Alpine Air Adventures
Alpine Air Adventures
You're never on your own in the Banff wilderness because the experienced professionals from Alpine Air Adventures are here to guide you. While they know how to have a great time, they're always mindful of advanced safety practices. They're committed to showing each of their guests the best of the Rockies while protecting them every step of the way.
Marilyn F.
about
Sawback Alpine Adventures
on Google Reviews
An awesome trip with a great, conscientious, and professional guide. Definitely felt that Tom listened to the whole crew and took our collective objectives, safety, weather, snow conditions, and skillsets to get the maximum we could have out of our Bow-Yoho traverse over New Year 2018. Super fun trip and lots of hilarious and educational stories and experiences Tom shared with us. And Eric was great in lending a hand where needed and carrying a ton of weight too. Would definitely recommend both Tom and Eric for any high adventure trips and any furthering of backcountry education. Not only do they really know their craft, but they also present their knowledge in a smooth and easy way for all to understand and learn from. Great guides, great guys. All five stars for sure!
David T.
about
Sawback Alpine Adventures
on Google Reviews
Tom Wolfe guided our group across the Bow-Yoho Traverse, and I can confidently say he is the best guide for the job. Despite the inclement weather and touchy terrain in our tour, I knew Tom was constantly assessing and minimizing risk for our group, and that our safety was at the forefront. He's also a great person and our group enjoyed sharing stories and blasting through plenty of untouched powder on our tour. Overall 10/10 for Tom and the crew at Sawback Alpine Adventures, I'd highly recommend him to my friends, family, or anyone looking for a fantastic guide.
Helen W.
about
Sawback Alpine Adventures
on Google Reviews
We had two amazing ski trips with Tom Wolfe of Sawback Alpine Adventures last winter – one on the Bow-Yoho Traverse where we spent a week crossing the ice fields and exploring the nearby glaciers and peaks and a second at Valhalla Mountain Touring where we skied epic powder every day for a week. I would highly recommend Sawback Alpine Adventures and am looking forward to next year's ski trip with Tom!
Lee L.
about
Sawback Alpine Adventures
on Google Reviews
The Bow-Yoho Traverse April 1 to April 7, 2019. Tom, the guides (Mel and Ken), and an assistant (John) led this trip with care, kindness, humor, and expertise. When conditions required it, we were able to form 2 or 3 groups according to abilities and motivation. That was fabulous. Staying the first night in Field with supper and breakfast provided is a great way to begin the trip. The shuttle at the start and the end was well-planned. When I signed up for the trip I had concerns about the quality of the food. Tom reassured me. He was right. Michelle Heerchop's 'Touch of Love" provided the food. It was varied, tasty, and nutritious. I am very very pleased that I was able to be part of this trip. I highly recommend Tom's Sawback Alpine Adventures.
Things to know
57hours is committed to providing safe outdoor adventure experiences. We require all guides using our platform to have a COVID-19 safety plan and to make the details of that plan accessible to travelers. In most cases, group sizes will be reduced, guides will avoid overcrowded locations, and other safety measures will be met depending on the location and activity. 

We also expect clients to respect local regulations and take measures to protect themselves, their guides, and the communities they're traveling to. For more information on COVID-19 measures in the Bow-Yoho Traverse, British Columbia, please refer to British Columbia's Travel and COVID-19 website.

Please contact us if you have any questions or require further information. We are happy to provide you with the most up-to-date information!

What you get in this adventure: 

An experienced, certified ski guide with extensive knowledge of the area

A pre-trip meeting and gourmet dinner at the Truffle Pigs Bistro (for the 7-Day Tour)

Five or six days of backcountry ski touring

Food for the duration of the tour

Hotel accommodation for the first night of the 7-day tour

Hut accommodation 

Parks Canada backcountry permits

Drivers to bring guest vehicles back to Field at the end of the trip (for the 7-day tour)

Porter service (included in the 7-day tour, available for an added fee for the 5-day tour)

What's not included:

Technical backcountry ski touring equipment

Transportation

Vehicles for the shuttle (bring your own or carpool)

Pre and post-trip accommodations

To enjoy this backcountry adventure, you need to be in excellent physical shape. You will be on your feet for 5-7 hours a day for 5 or 6 full days, covering 6-10 miles (10-15km) of terrain every day. Hut elevations are approximately 7,200ft (2,200m), with 2,300ft (700m) vertical, and you will be doing your hut-to-hut traverse carrying up to 45lbs (20kg) of equipment. You will need to manage controlled descents in variable conditions. All participants should feel comfortable on challenging blue or black-level resort runs and be able to carry a loaded daypack while skinning up variable degrees of terrain.

To participate in this tour, you need to have previous powder skiing and ski mountaineering experience. You will be skiing, touring, and summiting on glaciated terrain for 5-7 hours every day. Your guide will take care of the planning, oversee your technique, and teach you how to better manage the terrain. They also have the experience and avalanche training necessary to keep you safe.

For technical backcountry ski touring gear, you will need to bring:

Alpine touring skis, preferably with tech-style AT bindings, 150-185cm in length, wide (can be rented)

Ski crampons (mandatory, can be provided by guide)

Touring boots and poles with powder baskets (can be rented)

Climbing skins

Climbing harness

Prusik cord and 120 cm sewn sling

Avalanche safety equipment (can be rented):

Digital, 3-antenna avalanche transceiver – a modern digital unit

Lightweight snow shovel

Collapsible avalanche probe

For personal items, we recommend bringing:

Backpack (at least 65 L) — can be rented

Helmet

Sunglasses and ski goggles

Long wool or synthetic underwear 

Extra warm shirt (not cotton)

Medium weight fleece sweater

Softshell or fleece jacket

Softshell pants

Insulated jacket (down preferred)

Insulated pants (fleece or other synthetic) — optional

Waterproof jacket with hood (Gore-Tex or equivalent)

Waterproof pants with side zippers (Gore-Tex or equivalent)

Socks (wool or synthetic)  

Wool or fleece hat

Waterproof ski mountaineering gloves or mitts

Lightweight ski gloves

Neck tube or balaclava

Sun hat

Two conventional locking carabiners and two non-locking biners

Repair kit and Leatherman for your equipment (can be shared between several people)

Water bottle and 1L of water

Thermos with a warm beverage — optional

First aid kit and small blister kit

Personal toiletry kit and toilet paper

Large stuff sack for carrying food

Sunscreen and lip balm

Pocket knife

Sleepin

g bag

—

three-season bag rated between -7 and -9°C

Stuff sack — optional, but recommended

Insulated booties or sandals

Camera — optional

All mandatory gear can be rented if you don't have your own. You can rent:

Avalanche safety pack, including backpack, beacon, shovel, and probe can be rented in Lake Louise, Field, and Banff
Alpine touring or telemark skis, touring boots, and poles can be rented in Lake Louise, Field, and Banff
Splitboards can be rented in Lake Louise, Field, and Banff

If you plan on using alternate touring systems such as telemark skis, frame-style AT bindings, or splitboards, please contact your guide in advance.
Ski rental locations are in Field, Lake Louise, and Banff and should be picked up the night prior to your outing. If you need to rent gear, let us know and we can help make arrangements.

Group sizes:

These tours are not private. For the group tours, the max guest-to-guide ratio is 6:1.
Cost is per person and it doesn't decrease as the group grows.

Ski touring in the Bow-Yoho Traverse can be arranged for larger groups. Contact us to make arrangements.

Min. age requirements:

If you are older than 18, you're good to go.
Minors may be permitted to join private tours on a case-by-case basis. If you plan to ski tour with anyone under the age of 18, please contact us prior to booking to make arrangements.

If your group has ski tourers under the age of 18, contact us prior to booking to make arrangements.

Secure your spot for next year with a 10% deposit! This tour gets sold out very quickly, but with early-bird booking, you will be the first one to know about any new upcoming dates. Pick your preferred dates without the risk of your bucket list adventure selling out!

Only 10% of the total amount should be paid as a deposit upon booking. This deposit is non-refundable, but can be transferred to another 57hours adventure any time in case the dates don't suit you.
Once the dates for 2024 are set, you can confirm your booking by the end of this year by paying another 20% of the total amount.
The final balance is due 3 months (90 days) prior to departure.
Once the trip has been confirmed, the regular cancellation policy applies.

For regular dates, a deposit of 50% of the total price is due upon booking. Once your guide confirms your booking, your trip departure is guaranteed and second payment is due 120 days before the trip.

If you need to cancel a reservation, please do so in writing (best by e-mail). Once your booking is confirmed, you and your Guides enter into financial obligations and they cannot refund payments or release you from your contractual obligations. Therefore, it is highly recommended buying cancellation insurance to cover your losses for the case that you can't participate or have to interrupt your trip "for any reason".

Your Guides do reserve the right to change guides, particular lodging or the itinerary or venue should unforeseen circumstances (guide sickness, hut or route closing etc.) force them to do so or should the physical condition of the participants, weather or mountain conditions make a continuation as planned too risky. Your Guides will not be deemed to be in default for any delay or failure to perform their obligations under this agreement resulting from acts of God, the elements, war, acts of government, civil or military authorities, natural calamities, catastrophe, fire, flood, accidents, epidemics, shortage of transportation, or any other like events beyond our reasonable control.

To get to the Bow-Yoho Traverse, most people fly into Calgary International Airport 2,5 hours away. From there, you can rent a car or take a bus straight to Field or Lake Louise, depending on your chosen tour.

Once you and your guide agree on the details of your itinerary, your guide will suggest the best place to meet. This will be at the Truffle Pigs Bistro & Lodge in Field, BC, for the 7-Day Tour, or the Alpine Center in Lake Louise for the 5-Day Tour. From there, you'll head to your tour.
Get free trip brochure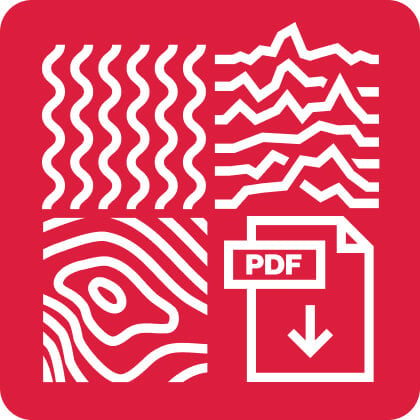 Adventure and location overview, itinerary, available dates, what's included and much more.
Brochure sent, check your inbox
Talk with us
and let one of our adventure experts help you plan your perfect adventure.
Other things to do in British Columbia