Partner

Betsy & Rebecca shared:
Why they love skiing in the Tetons, sharing their experience and knowledge as professional ski guides
What they teach at their all-women two-day deep powder ski camp, from how to choose ski terrain, to appropriate gear, basic rescue, setting a skin track and downhill technique
Their personal favorite ski runs and the resources you need to find awesome runs of your own
The highlights and history of skiing on Teton Pass and a look at the history of women skiers in the Tetons (and beyond)
Local backcountry ski etiquette you need to know
Plus, tons of photos and videos of their backcountry ski adventures!
One of the most remarkable aspects of the Tetons is that these iconic mountains hold something for everyone. Their reputation for challenging and steep lines may proceed them, but this Wyoming ski hub has terrain that emcompasses everything from mellow touring to fun tree skiing, ridgeline traverses and grand couloirs, made all the more appealing by easy backcountry access. Join Betsy Manero and Rebecca Yaguda from The Mountain Guides as they take you on an adventure through this incredible area — covering everything from the history of women backcountry skiing in the Tetons to its modern heyday.
When you combine the local conditions and the breadth of areas for ski touring — from Wyoming Range, Palisades, Teton Pass, Grand Teton National Park, Big Holes, Togwotee Pass and more — with the character of the ski runs, it's an equation that makes for epic backcountry powder days. Betsy and Rebecca shared their wealth of knowledge on the area and gave you the tools you need to seek out the best spots for yourselves. They also delved into the all-women deep powder backcountry ski camp, which runs in March, and went over what makes the Tetons a great place to build community while leveling up your backcountry skills.
This is a webinar for women who want to learn, ask questions in a welcoming space and connect with other women who share the same passion for outdoor adventure. If you want to discover what draws skiers from all over the world to this incredible location or hear more about what you'll gain from a deep powder camp, check out this free webinar recording to find out!
Webinar hosts
Betsy Manero
AMGA Apprentice Ski & Rock Guide and AIARE Instructor
Betsy is an AMGA Apprentice Ski and Rock Guide and an AIARE Instructor working with The Mountain Guides. She started skiing in Maine and New Hampshire at a young age and has been hooked on the mountains ever since. She started climbing in Vermont during college and moved to the Tetons in 2015 to pursue bigger mountains. When not guiding for JHMG, Betsy can be found skiing, touring or climbing in Grand Teton National park or exploring sandstone formations of Southern Utah.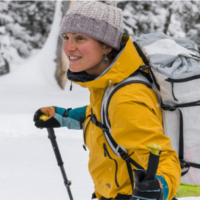 Rebecca Yaguda
AMGA Apprentice Rock, Alpine and Ski Guide at The Mountain Guides
Rebecca "Guda" Yaguda is an AMGA Apprentice Ski and Rock Guide and an AIARE Instructor who originally hails from New Jersey and Vermont, where she utilized the world-class ice to develop herself as a State Champion and collegiate alpine ski racer. When she moved out west in 2010, she discovered rock climbing and powder skiing, and never looked back. She has worked in outdoor education for ten years, primarily as a rock climbing, winter camping, backcountry skiing and backpacking instructor at NOLS. When not guiding, Guda enjoys climbing on any rock formation she can find, riding her mountain bike, and exploring the incredible ski lines of the Tetons.