Skiing in Tuckerman Ravine: Deep, Steep, and Heaps (of Fun)
Spurred on by the thunderous cheers of spectators below, skiers hurl themselves over the ravine headwall at lightning speeds. Awaiting them at the bottom is either eternal glory or a stretcher to an ambulance. In Tuckerman Ravine, this is a Tuesday.
Sleep hovered over our eyes as we shuffled through the snow
.
After another half hour of hiking, we poked out of the trees and reached the base of the ravine on Mount Washington, the famed peak of New Hampshire. In the dawning sky, we stopped to catch our breath under the looming headwall of a steep glacial cirque.
The group didn't know each other very well—I was the common denominator—but backcountry skiing at Tuckerman Ravine has a way of bringing people together. In the Northeast, we ski in a lot of crappy conditions throughout the year, so by force of circumstances we learn to relish the moments we get to spend in the backcountry.
On that day, we were blessed with a warm, windless morning. Light flooded the predominantly east-facing bowl, and all around us pure white snow bathed in brilliant shades of orange and pink, a soft carpet for our eager skis.
We came there as strangers, but thanks to those wild alpine slopes and sweet Mount Washington corn, we left as friends. We met many more that day too.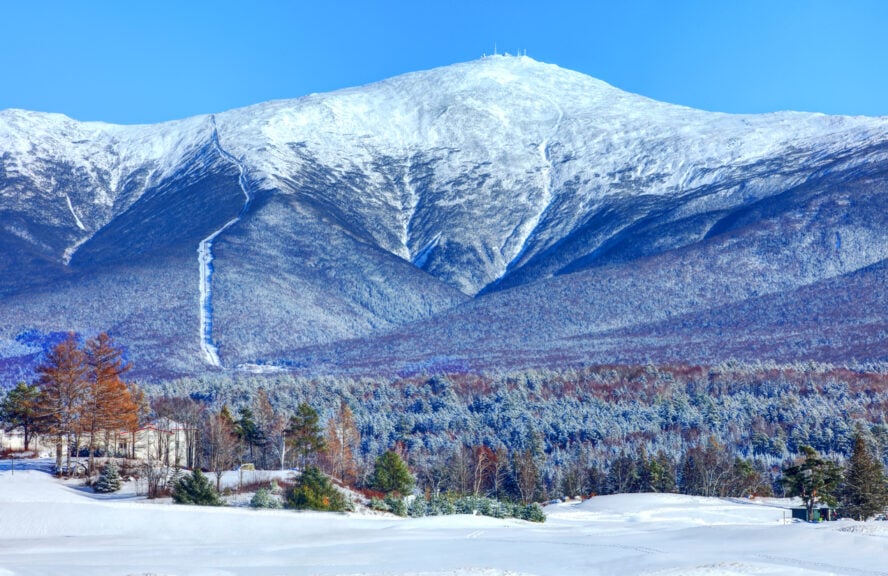 Pros and Cons of Skiing in Tuckerman Ravine
Finest backcountry terrain in the Northeast
55-foot snowpack and high elevation that allow for a long ski season
Easy access to skiing above the treeline
Community you won't find anywhere else
You have to be an advanced backcountry skier to let loose here
Look up "avalanche terrain" in the dictionary and you'll find a photo of Tuckerman Ravine
Welcome to the Birthplace of Extreme Skiing in the US
Carved into the southeast face of Mount Washington,
the highest mountain in the Northeast
(6,288 ft / 1,917m), Tuckerman Ravine is New England's top backcountry ski descent and a rite of passage for any East Coast ripper.
Known simply as "Tucks" among locals, this high alpine playground is infamous around these parts for the steepness of its many chutes and gullies, which range from 40 to 55 degrees. Globally, it's known for its extreme conditions; in 1934, the second highest wind speed in history (231 mph) was recorded atop this very bowl.
It's crazy to think that people actually ski here, but locals have been doing it for over a century! As early as the 1930s, giant slaloms, Ivy League races, and Olympic tryouts were all held in the ravine, along with the famed American Infernos—4.2-mile summit-to-base races on Mount Washington—in which 19-year-old Toni Matt completed the legendary first-ever straight-line descent over the Tuckerman Ravine headwall.
Why is Skiing in Tuckerman Ravine So Good?
Backcountry skiing in the White Mountains
is a pretty big deal, but ask anyone in the East, and they'll tell you that Tuckerman Ravine is
the
place to go for skiing, snowboarding, sledding, you name it. Some will even say that it's one of the greatest slopes on the continent. Ask me and I'll tell you that Tucks is home—and that's where the heart is.
How I got my start here
I've been backcountry skiing for almost a decade now. My first taste of the alpine environment was right next to Tucks, on the winding path of Gulf of Slides, but the big kahuna itself didn't come until later.
There's a certain mystique around Tuckerman Ravine that not a lot of places have. I was well aware of its reputation, so I wanted to make sure I was ready to face its challenges. And good thing I did, because this bowl means business.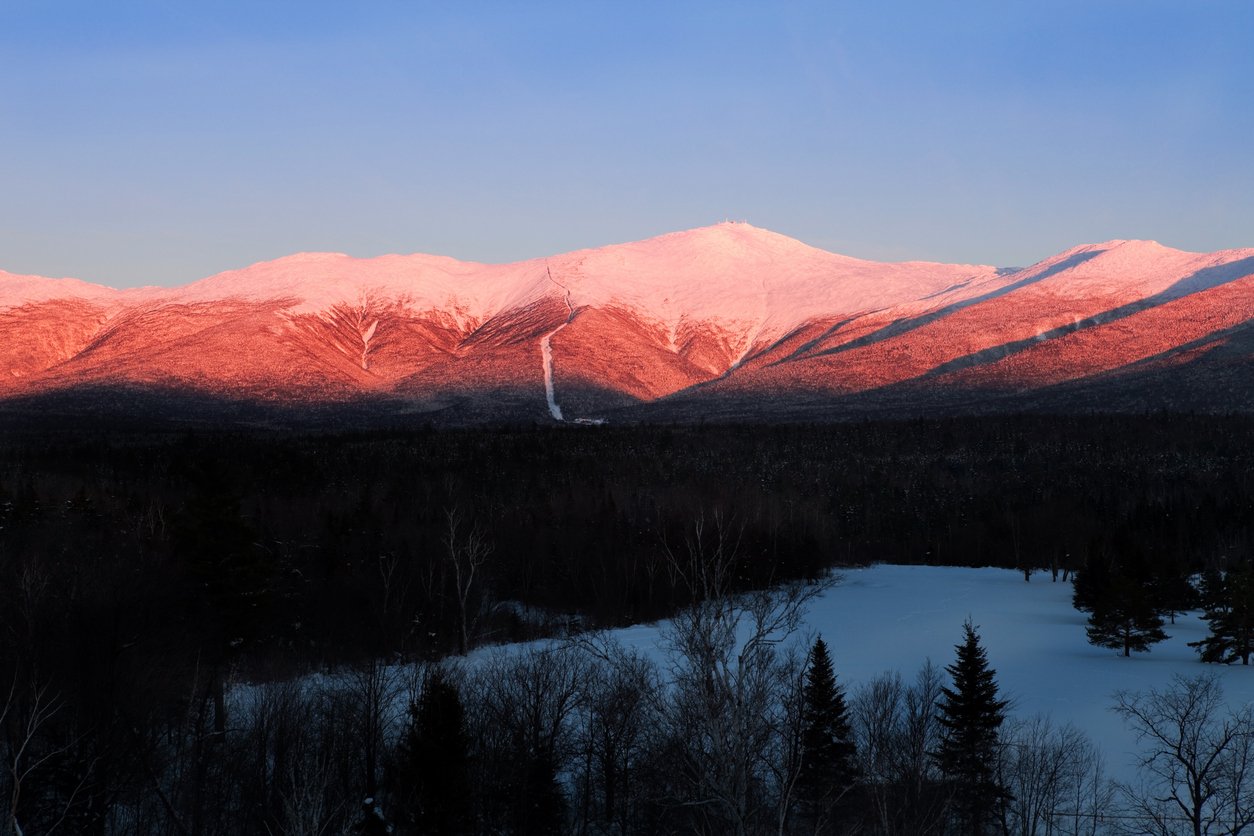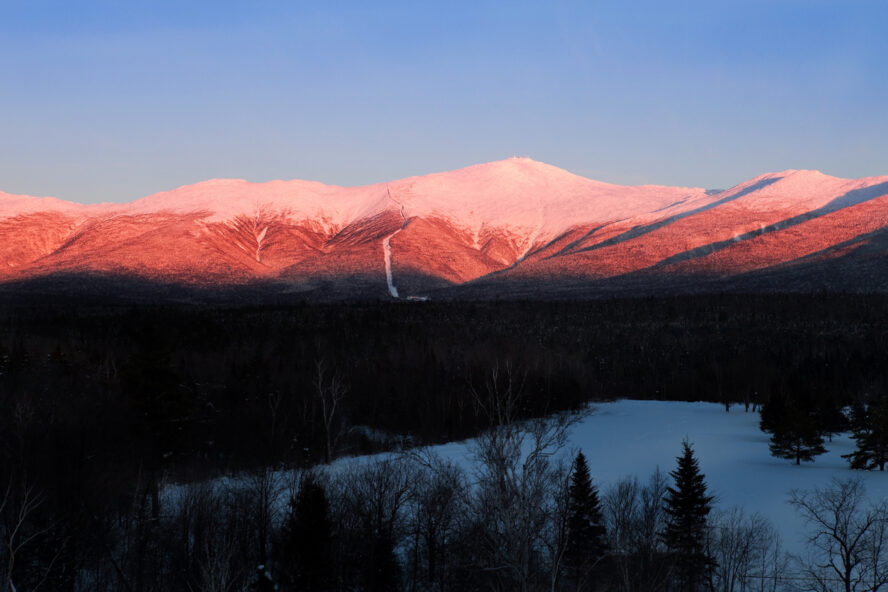 Make it a full day of skiing at Mount Washington
A lot of factors combine to make backcountry skiing in Tuckerman Ravine—and Mount Washington in general—the stuff of legend. For starters,
skiing above the treeline is not that common in the East
. Then there are the steep slopes, which allow daredevils to hurtle down the mountain at wildly acute angles.
What's more, the high elevation means that you can ski here even when the glades in nearby ski areas have started to melt out. Other than a few spots on Mount Katahdin,
you won't find such steep and treeless big mountain skiing in this part of the country
.
One of the many great things about backcountry skiing in Tuckerman Ravine is the number of options to choose from. You can enjoy a couple of short runs at the bottom or go all out, linking different ravines, tag the summit of Mount Washington, then ski down the beautiful East Snowfields for 8-10 hours of pure backcountry bliss. For the finale, drop into Tuckerman Ravine, then take the Sherburne Trail all the way to the bumper of your car.
Being able to
go from the parking lot to the top of the mountain and back almost without taking your skis off
is not something you see often in the backcountry.
And that's not all. Tuckerman Ravine usually doesn't see a lot of big snowstorms, but it has an area above it called Bigelow Lawn—a huge flat expanse where enormous amounts of snow pile up over time. Then the good ol' northwesterly wind comes to scoop up that snow (which we call the "fetch") and deposit it directly into the ravine below. There's a lot of other glacial cirques on Mount Washington, but Tucks is so eminently skiable because it benefits from all that fetch, making the snow last well into summer.
Come for the steeps, stay for the peeps
We can't discuss Tuckerman Ravine without mentioning the community. Or, I should say, the party scene. If you haven't yet heard about the springtime swarms that turn the base of the Bowl into one big backcountry bash, you're missing out.
Folks gather wearing their football jerseys, kegs hoisted on their shoulders and a pair of skis strapped to the back.
On a sunny weekend day, you'll find
well over a thousand people in the ravine
. Some paraglide, some ski down the headwall in the nude, some do backflips on a snowboard off of avalanche debris. Others just watch the chaos unfold from the relative safety of Lunch Rocks, a pile of glacial erratics conveniently located halfway up the Bowl (when there's no icefall).
Usually a trip to the backcountry is a lonely affair as skiers don't like company, but in Tucks you share the Bowl. If you're looking for a truly remote experience, you won't find it in Tucks. For peace and quiet, there's lots of other places for
backcountry skiing in the White Mountains.
On any given day, you'll find some of your friends here. And even if you don't, you'll quickly make new ones. But how is it even possible for such huge crowds to gather so high up in the mountains? Aren't areas like this supposed to be hard to reach?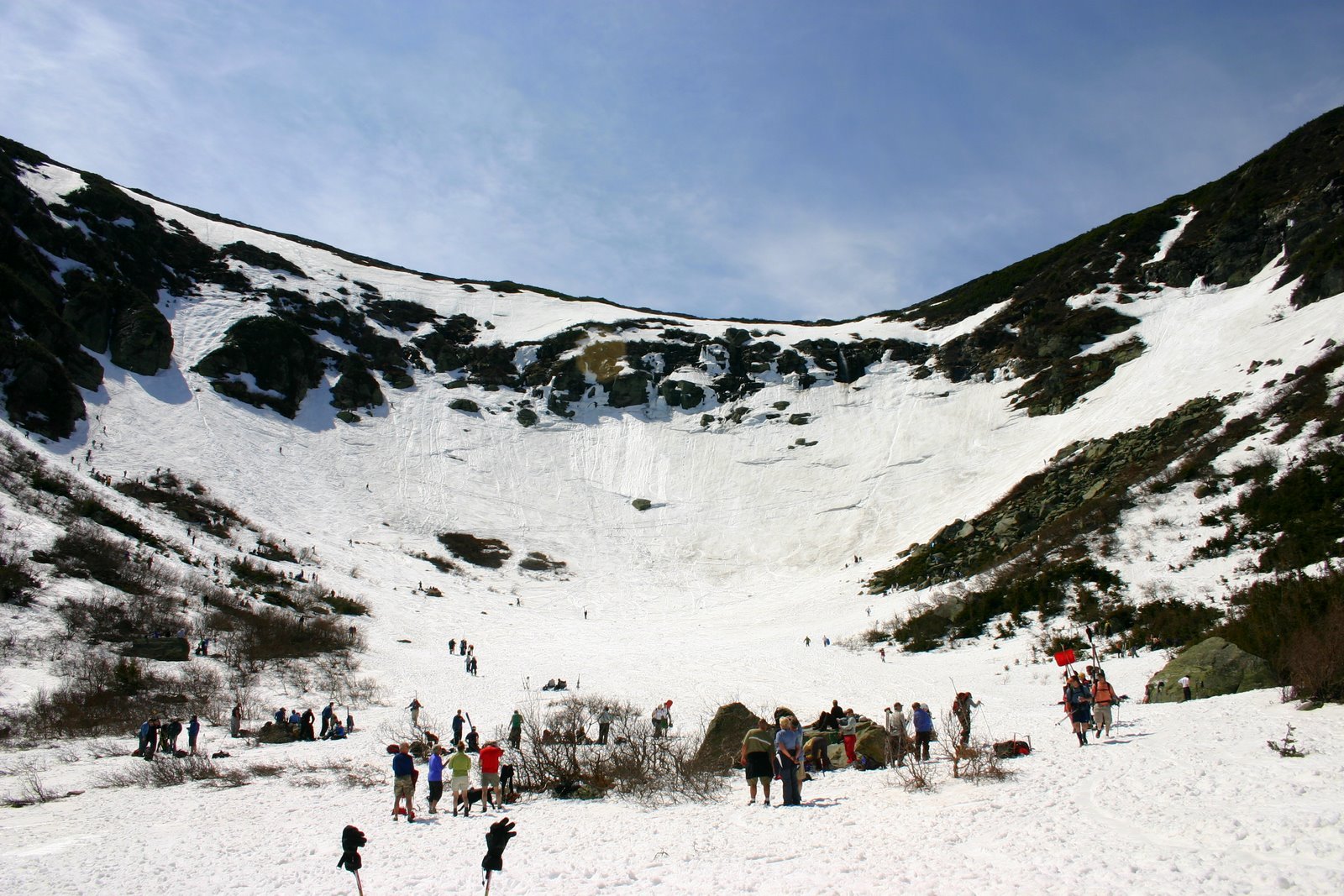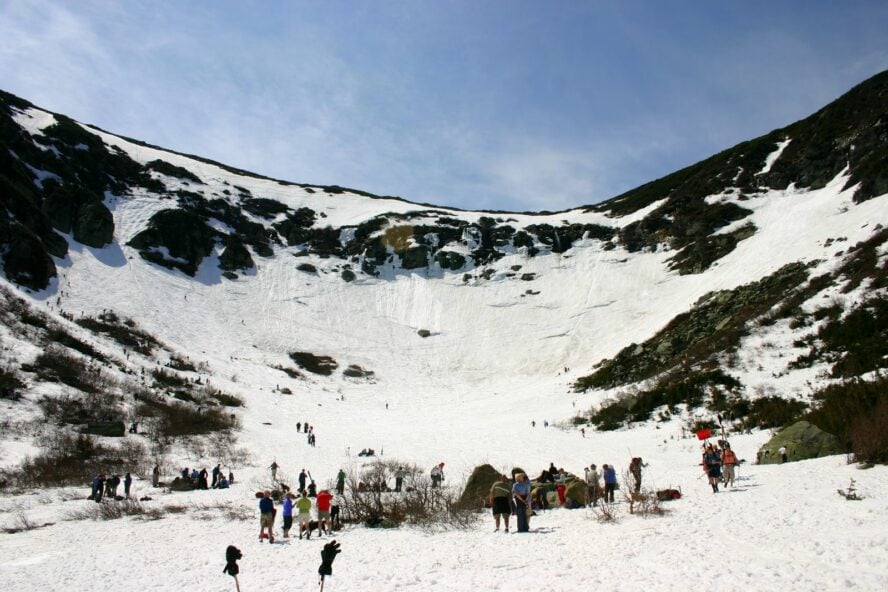 Some of the easiest backcountry access in the U.S.
While Tucks won't ever make a top ten list for having some of the
best powder skiing in the world
, it does provide incredible terrain, a deep snowpack, and a vibrant community. It's also quite accessible. I mean that both in terms of proximity to major metropolitan areas like Portland, Boston, or New York City and in terms of time and effort required for the 2-hour hike or skin to the ravine itself.
Where Is Tuckerman Ravine?
A 20-minute drive from the nearest town, North Conway, will take you to the visitor center on the Pinkham Notch mountain pass, where you'll find a massive parking lot. From there, follow the wide and rocky Tuckerman Ravine Trail for around 2.5 miles until you reach HoJo's, the Appalachian Mountain Club caretaker's cabin and favorite local hangout spot. At this point, it's only a half-mile until you reach the bottom of the Bowl—three miles total from your car.
You Don't Start at Tucks—You Build Up to It
Although the ravine's popularity attracts a diverse crowd—including resort skiers who sometimes blissfully underestimate the dangers—
this entire area is expert skiing terrain that should not be taken lightly
. I would say that some avalanche education and years of backcountry experience are a prerequisite for skiing in Tuckerman Ravine.
Just imagine: you're flying down a 50-degree couloir in prime avalanche terrain, buzzed skiers tomahawking all around you, rocks waiting for you at the bottom. If you get into an accident at a resort, the ski patrol will reach you in under five minutes. In a remote place like Tucks, it can take hours for medical help to arrive. Try to keep that in mind before deciding to come here.
Expect the unexpected
The first big obstacle you'll face is the weather. If I can give one piece of advice to anybody going to Mount Washington, it would be
"wait for the proper conditions"
.
I suggest keeping your plans loose and trying to plan your trip around the weather. Even in the spring the snow might not soften up on time, or the strong winds and cloudy skies will conspire to spoil your experience.
Sometimes the difference between perfect corn snow and bulletproof ice is just ten minutes. Even experienced skiers misjudge it from time to time. They make a couple of turns and realize too late that the snow is not what they thought it was, but they're already in the gully and there's no other way but down.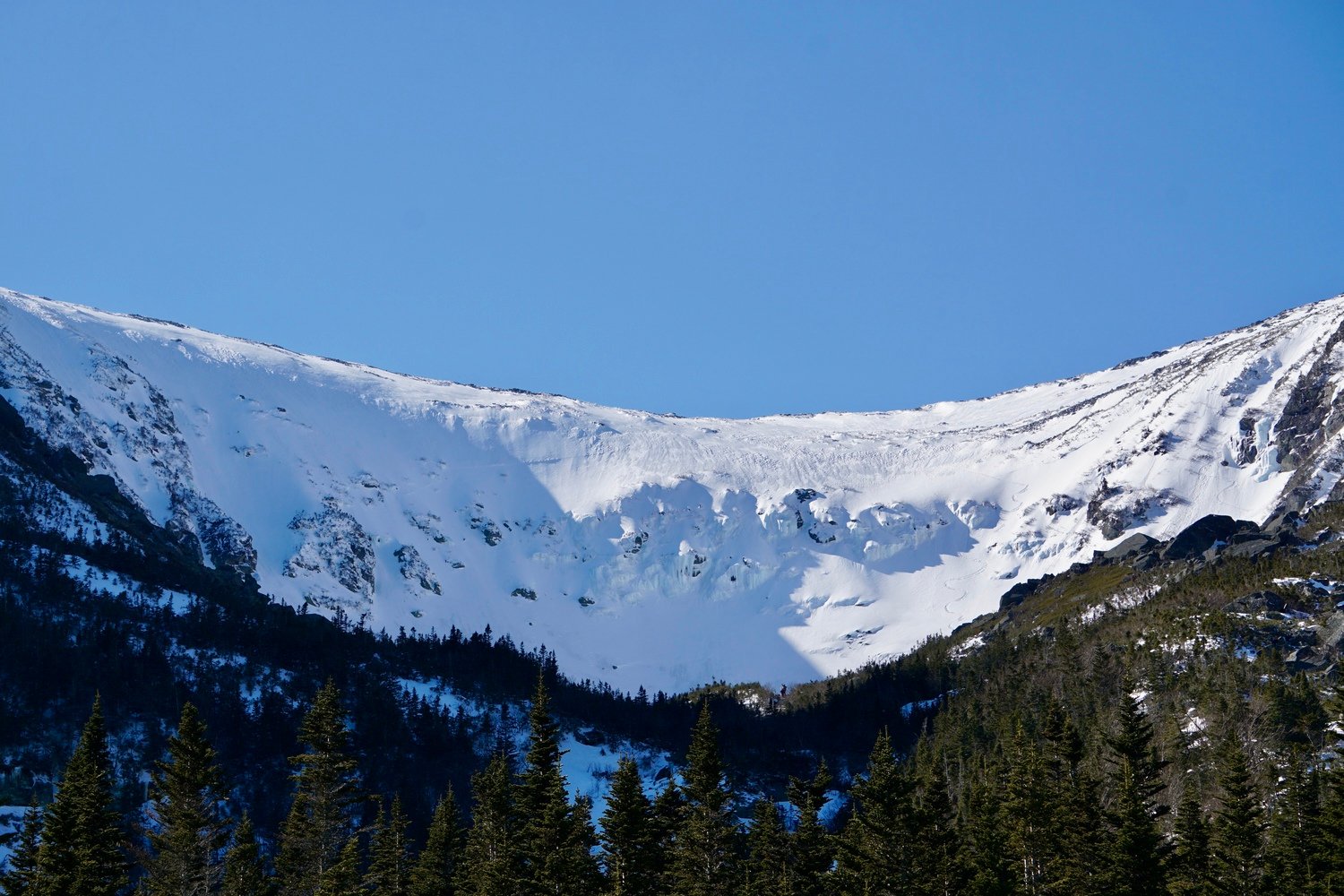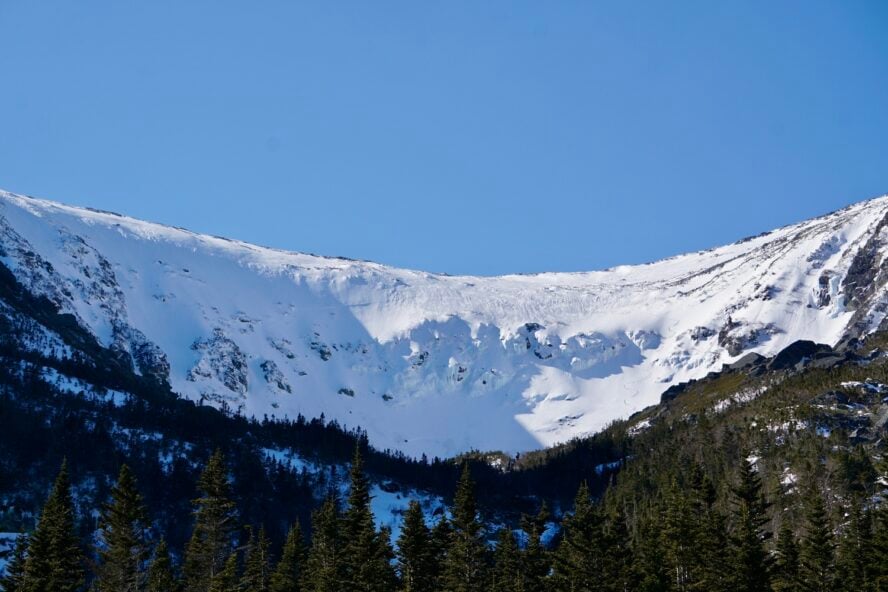 The Best Backcountry Lines to Ski in Tuckerman Ravine
One of the first things you'll notice after a couple of hours in the Bowl is that the runs don't really vary in difficulty or style. It's all steep skiing in a remote place with the occasional rock poking out of the snowpack. Note that this is not a place to go
backcountry skiing for beginners
(for that, you're better off seeking out backcountry destinations in places like
Colorado
,
Utah
or
Canada
).
There is one very important thing to watch out for here—and that is the runout. If your personal risk tolerance is not that high and you want to minimize chances of injury, try to focus on runs where wiping out yields the least consequence.
With that, here are a few of my recommended lines, offering the best steep skiing in New England.
Consider starting at the Right Gully
Best for:
A good warmup
Vertical distance:
7
00 feet
Located on the north side of the Bowl, Right Gully gets a good amount of sun, making it feel cozy and inviting. With a sustained pitch of 45 degrees, it's one of the easier lines in Tuckerman Ravine, and is a popular option for a first run. Just bear in mind that there are rocks lying at the bottom. I consider that a no fall zone.
As an alternative, you might want to check out the nearby Lobster Claw, a narrow chute with a sustained pitch of around 40 degrees that splits into two about half way up. If you don't want to be disturbed, next to it you'll find a few other couloirs which aren't skied that regularly.
My go-to run is the Lip
Best for:
High-angle skiing with a clean runout
Vertical distance:
750 feet
The Lip is a popular sunny line to ski in Tuckerman Ravine and my personal favorite in the area. Remember the story about Toni Matt's legendary descent off the headwall? Well, this is that very run.
Even though it's pretty steep (40-45 degrees), you have the luxury of a clean runout in case you totally blow it. Just like Right Gully, the Lip receives the first warm rays of sunshine and is best skied earlier in the day.
The Chute is a beaut
Best for:
The cool factor
Vertical distance:
750 feet
Coming right off the middle of the Bowl is the Chute, another well-liked run whose maximum pitch of 50 degrees makes it one of the steeper options around. It's definitely the most aesthetically pleasing line because of its beautiful hourglass shape, with a tight corridor in the middle section that widens out at the bottom.
The Chute owes its peculiar shape to the gnarly rocks that fortify its flanks. I appreciate its charm, but what stops me from calling it a favorite is the distinct lack of no fall zones. If you wipe out here, you're going to be hurting. Once you're in the choke, watch out for other skiers bombing down the slope.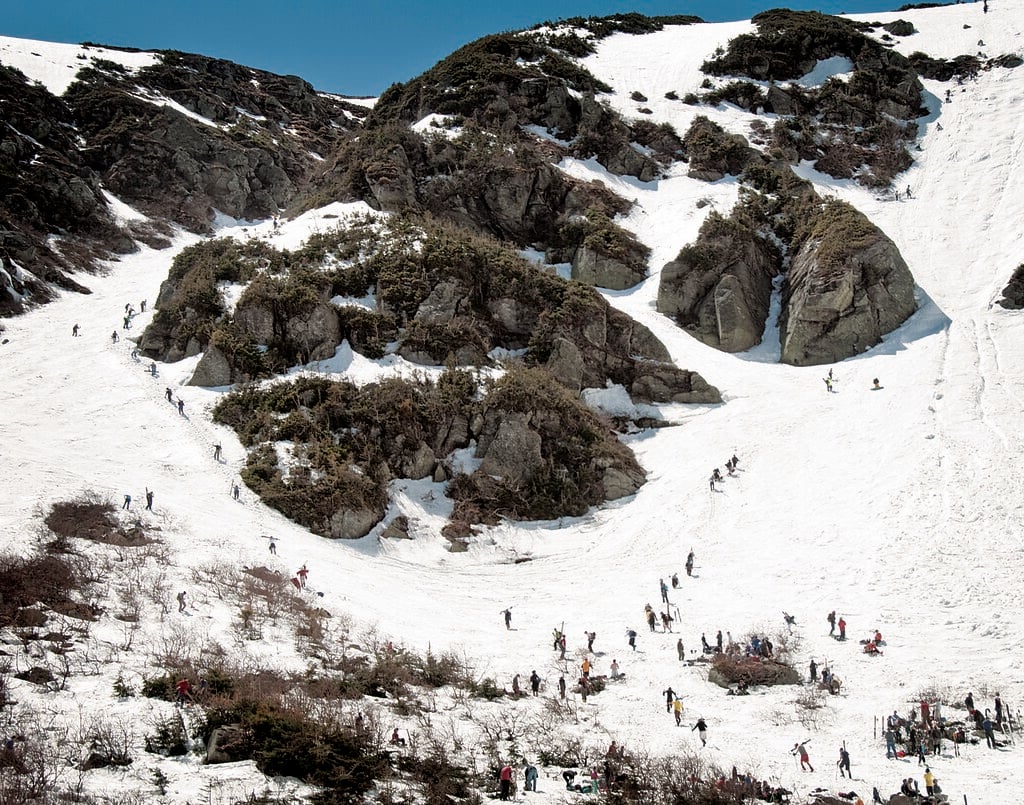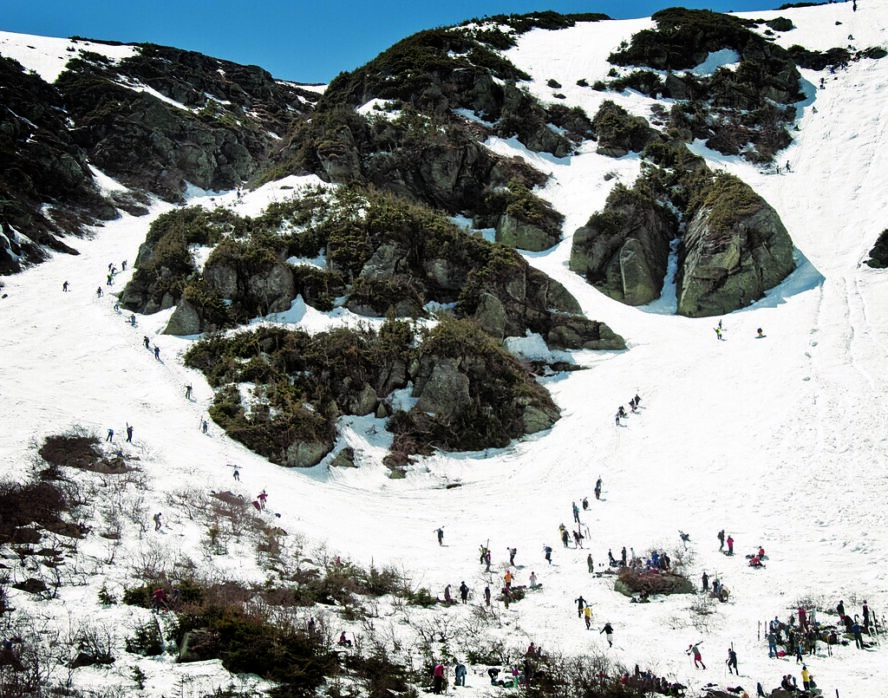 For more shredding, try Left Gully and Hillman Highway
Best for:
Longer runs
Vertical distance:
850 feet (LG), 1,200 feet (HH)
On the far left side of the ravine you'll find the northeast-facing Left Gully, whose high walls protect the snow from sunshine for most of the day. This allows it to have a longer season than other lines in Tuckerman Ravine.
Mostly moderate in pitch for Tucks' standards (around 35 degrees),
Left Gully is considered one of the easier lines here
. Once you reach the top, you can choose to transition below the headwall or hike some more to ski it all the way down.
Hillman's Highway is not technically located inside the ravine, but it's still considered a classic of the Tucks backcountry.
At almost half a mile, this is one the longest lines in the area
, and it benefits greatly from its remote location because partygoers and big groups usually leave it alone.
To get here, simply veer off the Tuckerman Ravine Trail at HoJo's, cross the Cutler River and an hour-long bootpack will take you to the top of Hillman's Highway. Once you're there, enjoy the sweeping views and the exciting descent, which can get up to 45 degrees in places.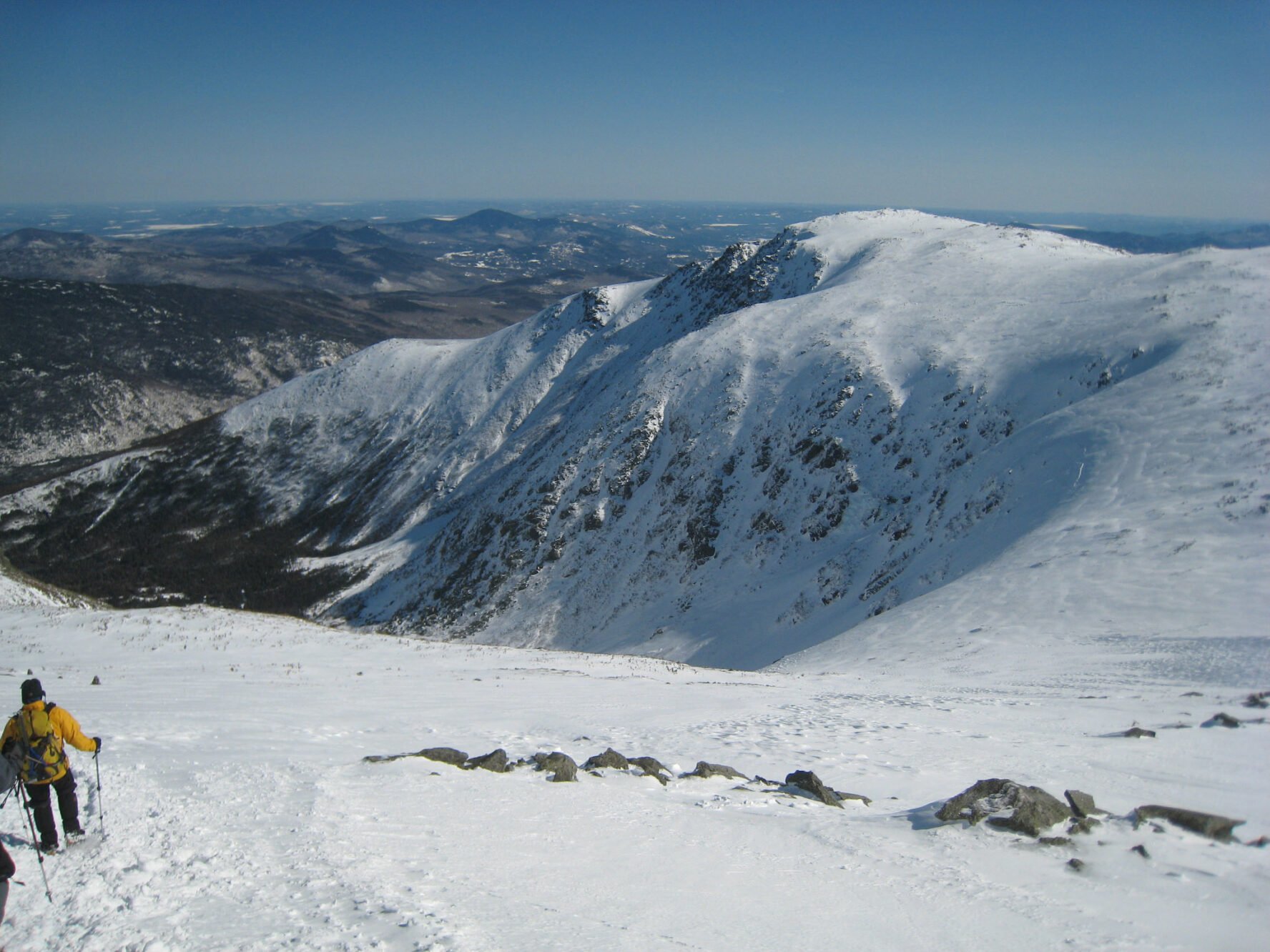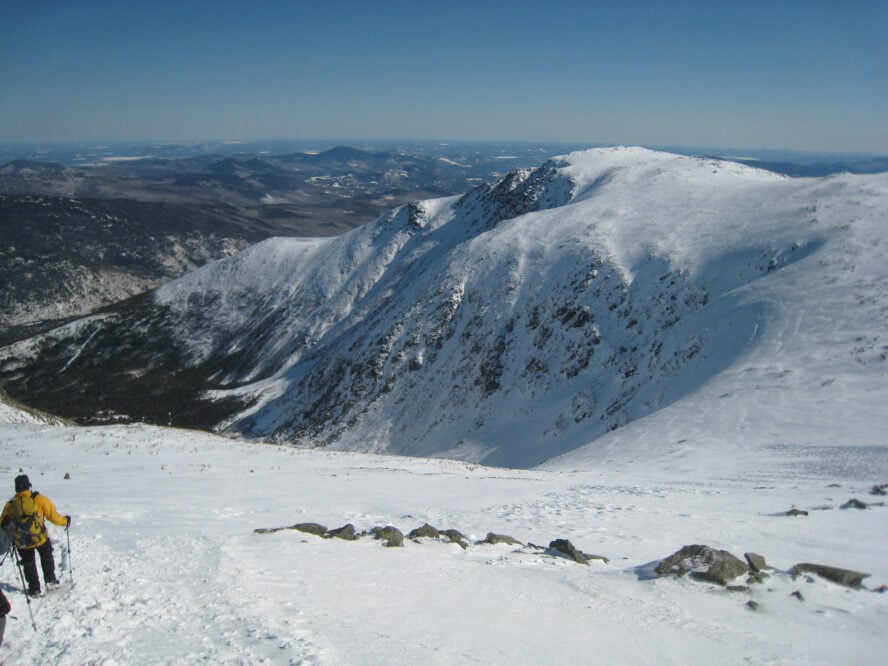 Good to Know Info About Backcountry Skiing in Tuckerman Ravine
To help you prepare for this treacherous but immensely rewarding chunk of the White Mountains, I've compiled a list of frequently asked questions that you might find useful. After all, good preparation is the key to any successful ski adventure in the backcountry.
When is the best time for skiing in Tuckerman Ravine?
Tuckerman Ravine can generally be skied from late fall to June
, sometimes even July. The most popular time, however, is April and May, when the snowpack is more stable and avalanches are less likely to occur. If you're looking to experience the party atmosphere, this period is your best bet.
In recent years, the sport of backcountry skiing has exploded so much that now we're seeing crowds gather even in midwinter. If you like winter skiing, by all means, go for it. You just have to know that, as soon as you step onto the floor of the ravine in January and February, you're in very volatile avalanche terrain.
Where can I grab a bite to eat in the area?
People new to the area might be surprised to learn there aren't really a ton of fast food restaurants around here. However, the ones we do have are excellent. My favorite spot is definitely
Luchador Tacos
, which serves LA-style Mexican food with fresh ingredients and homemade recipes.
The Red Fox Bar and Grille
in Jackson Village is a staple of any trip to Mount Washington, while
Sushki Sushi & Ramen
is a great new place to check out. And for a good cup of coffee, I warmly recommend
Autumn Nomad
in Jackson Village.
Where can I stay in the area?
If you'd like to rest your weary bones after a long day in the backcountry, the
Appalachian Mountain Club has convenient lodging
options, such as the
Joe Dodge Lodge
at Pinkham Notch. Also, we at Northeast Mountaineering run a
co-ed hostel-style Bunkhouse
, which is only 15 minutes away from the Tuckerman Ravine Trailhead. On top of that, you can find camping spots at Hermit Lake, with cabins, tent platforms, and lean-tos. Unfortunately, they don't take reservations, so first come, first served.
What are some gear shops in the area?
There's lots of good shops where you can find all the backcountry gear you'll need in the White Mountains. One of them is
Ski the Whites
in Jackson Village, founded by famous local athlete Andrew Drummond. Then there are
Stan and Dan Sports
and
Gorham Bike & Ski
in North Conway, as well as bigger names like Eastern Mountain Sports and REI.
Do I need to hire a guide for backcountry skiing in Tuckerman Ravine?
As someone who guides and has been guided in the mountains, I always stress the importance of hiring a professional who knows the area well, especially if you're heading into the backcountry, such as
ski mountaineering in New England
.
With a
guided backcountry skiing
experience, not only are you going to ease yourself into the terrain and be safer on the slopes, you're also going to get valuable local beta and history. A good guide is not just someone you follow up a mountain, but a friend you're spending quality time with. Their knowledge and experience should help you improve and make the most out of your time in the mountains.
Avalanche awareness in Tuckerman Ravine
A lot of people see the date change to April 1st and assume that the avalanche season is magically over. While it is true that spring is quite safer than midwinter, those rivulets of corn flowing under your skis can turn into a snowslide at any moment. That's why you always have to ski the conditions, not the calendar.
We rely on the
Mount Washington Avalanche Center
for up-to-date information about the skiing conditions in Tuckerman Ravine. In case of emergency, the good people of the
Mount Washington Volunteer Ski Patrol
, based in Hermit Lake, will come to your aid as soon as possible. I recommend that you take an AIARE course (or equivalent) for
avalanche awareness and risk management
before skiing here.
Mount Washington Backcountry Ski Festival
The
Mt. Washington Backcountry Festival
was founded by famed climber and IFMGA Guide, Mark Synnott, five years ago. Today, this four-day event (let's call it an extended weekend) seeks to educate and cultivate a spirited and welcoming backcountry community that likes to have fun, ski hard, and dream big! At the festival you'll be able to take workshops, demo new gear, drink beer, and experience what the backcountry scene is all about in New Hampshire.
Preserving the backcountry of Tucks (and beyond)
The Friends of Tuckerman Ravine
provides citizen support to the US Forest Service in order to preserve and protect Tuckerman Ravine and the Cutler River Drainage Area that surrounds it, including helping to provide public input for legislation and regulation regarding the region. They continue to help organize the Tuckerman Inferno Pentathlon, an evolution of the 1930s series, which now consists of a 6-mile fat bike ride, a 6-mile freestyle cross country ski, a 5-mile snowshoe, a 3+-mile mountain run up the Tuckerman Trail, and a final ski down Tuckerman Ravine.
Granite Backcountry Alliance
is another nonprofit whose aim is to "advance the sport of backcountry skiing in New Hampshire and Western Maine." Helmed by Tyler Ray, who also organizes the Mt. Washington Backcountry Festival above, the organization is helping to create, develop and maintain ski glades, collaborate with public and private landowners, and provides education regarding safety and ecological awareness—all in order to help buttress this growing sport and support the emerging outdoor economy in the region.
A word on Edward Tuckerman (1817-1886)
Born in Boston in December 1817, Tuckerman was a botanist, artist and professor who contributed to the study of lichens and alpine plants in the White Mountains—and the area now named in his honor. He first visited the Whites in 1837 and spent the next 20 years there seeking out botanical specimens. He was a founding member of the Natural History Society of Boston.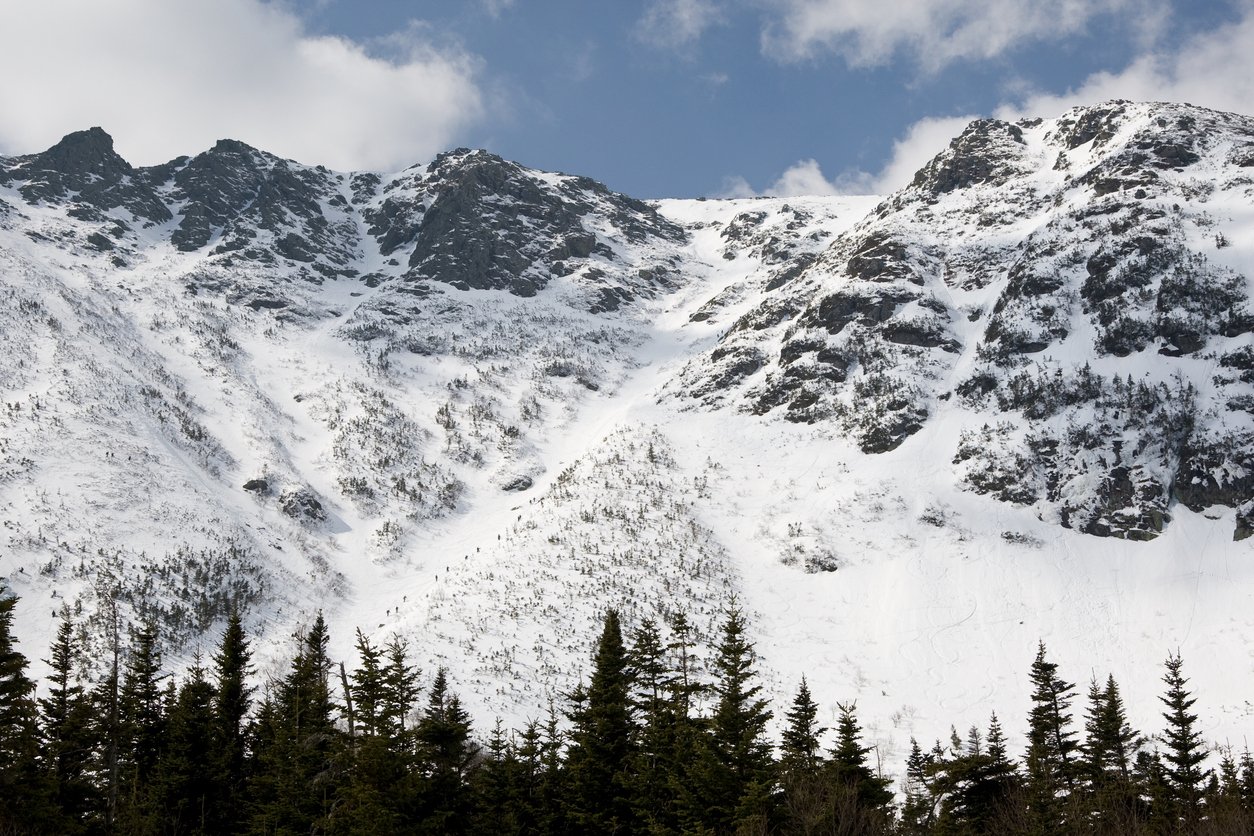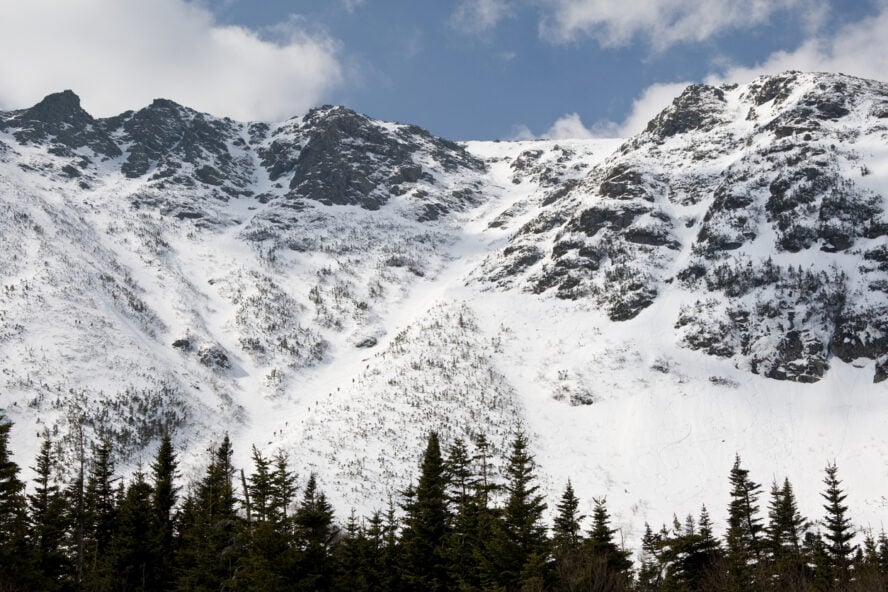 Tuckerman Ravine Is the Crown of Northeast Skiing For a Reason
Here in the Northeast, the snow is firmer than out West, the snowpack thinner, and the wind and ice don't help either. We regularly ski on bumps and moguls, and our glades are tightly packed with trees, so we have to learn how to make precise turns early on. In short, our mountains are fickle mistresses, but we love them all the same.
Tuckerman Ravine epitomizes much of what skiing here is all about—showing resilience in the face of adversity. Whether it's Toni Matt torpedoing his way down the 55-degree headwall of the ravine or a drunk dude sledding down the Chute in a Santa Claus costume, we always manage to find creative ways to defeat the odds.
So come on up to the Bowl and join the party. There's always room for one more!