Partner

Tom shared:
Photos and videos of Tom's decade of taking clients to backcountry lodges in BC
Why BC has the ideal climate and terrain that makes for legendary powder and perfect skiing conditions
His favourite backcountry ski lodges that offer the kind of classic ski touring and ski mountaineering opportunities that skiers from across the world come to BC to discover
Selkirk Lodge and what makes it a great entry-level lodge for those who are new to ski touring but still want world-class skiing
Why Burnie Glacier Chalet's terrain is second to none, but demands a higher level of skill and fitness to make the most of this jaw dropping gem
What makes the Loft Peak run so special (think 4700 feet of powder skiing to awesomely steep gladed tree skiing)
A typical day at a backcountry lodge — from sun up to skinning, the runs, the food and the evening stories
British Columbia has a well deserved reputation for having the best skiing in the world, and its backcountry has seen a major surge in popularity amongst skiers in recent years. For skiers looking beyond the resorts for powder turns, remote backcountry ski lodges are the ultimate unplugged getaway — far from the crowds, it's just you and your small group enjoying pristine wilderness ski touring without competition from the roadside throngs. Apart from being perfectly situated in ideal ski terrain, backcountry lodges offer a high level of service, guiding and catering that make these trips a relaxing world-class ski holiday.
Most of the ski touring and ski mountaineering that is available at backcountry ski lodges tends to be classic skiing that is accessible to anyone with solid downhill ski skills and a good level of fitness. Think 30-35 degree deep powder, not Alaska couloirs!
Let Tom Wolfe, ACMG and IFMGA Mountain Guide, introduce you to the best lodges in BC's backcountry, focusing mainly on Burnie Glacier Chalet and Selkirk Lodge. Tom gave us a rundown of a typical day at a backcountry ski lodge and he also shared photos and videos of his favorite ski runs and offered advice on how to plan an adventure like this.
If you've wondered what it's like to be at a lodge, now is your chance to tune in and hear firsthand from a guide who's been hosting clients at these lodges for more than a decade.
Webinar host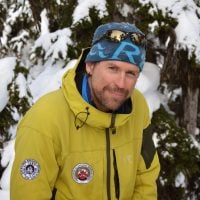 Tom Wolfe
ACMG/IFMGA Mountain Guide
Tom Wolfe is a mountain guide based out of Canmore, Alberta in the Canadian Rocky Mountains. He started Sawback Alpine Adventures in 1995, initially running mountain hiking trips and later, as an IFMGA certified mountain guide, leading ice climbing and ski adventures throughout the Canadian Rockies, on sail-to-ski journeys in Norway and beyond. Tom worked as a heli-ski guide in northern British Columbia for close to ten years, juggling shifts heli-skiing with weeks at backcountry ski lodges. Eventually Tom settled on his first love, guiding ski touring trips, and has never looked back.