The 5 Best Places for Backcountry Skiing in Japan
Come for the best powder on the planet — where you can ski in the crater of a volcano — and stay for the incredible food, culture and the aprés-ski soak in a Japanese onsen.
Table of Contents
A ski trip to Japan is strikingly different from what you'll experience anywhere else in the world. Japan is the place for powder hungry skiers. Mountains in Japan are relatively low compared to the European Alps or the Rocky Mountains. Yet, Japan has the snowiest winter on the planet thanks to the Sea of Japan providing the relatively warm moisture that can be transformed into deep, light, fluffy, one-of-a kind powder thanks to the arctic temperatures of the Siberian winds. You won't find many steep couloirs like those in Chamonix or Jackson Hole, but how many places can you do laps in and out of a volcano's crater? And, you should always end a day of skiing in an onsen, a hot-spring full of mineral rich water to relax those overworked ski muscles. If you want to know where to head to experience #japow at it's best, here are the top spots for backcountry skiing in Japan.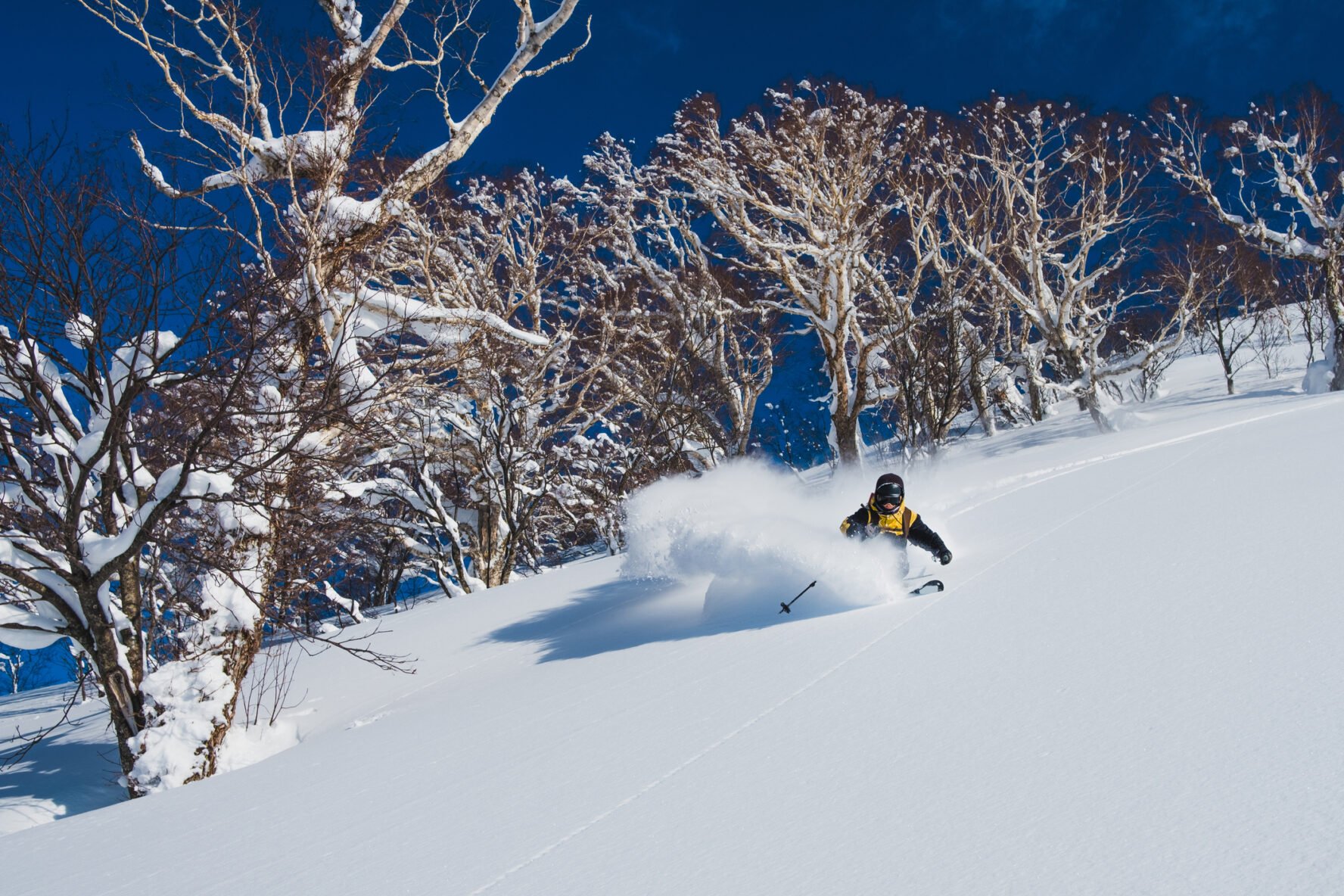 From the US to Chamonix to Japan
Before I get to the best ski spots, let me tell you a little about myself. I am from the United States, and spent most of my formative years in the Midwest. After graduating college, I found a job in Japan where I had spent a year as an exchange student. After working in Tokyo, I moved to Europe, and this is where I realized my passion for climbing and backcountry skiing. A friend of mine from Japan came to Europe, and we rode our motorcycles all over until we stumbled upon Chamonix. That moment was something else, looking up at Mont Blanc and the Aiguille du Midi, my mind was just going in circles trying to grasp what I was seeing. I had heard of Chamonix in passing, but actually being there was breathtaking.
At that point, I lived in Amsterdam, but started visiting Chamonix more often, doing alpine climbing on my own. I felt a real affinity with the community of alpinists and skiers. If you say you're an alpinist in Chamonix, virtually everyone can relate, but in Amsterdam and Tokyo, it's a concept far removed from peoples' everyday lives. My experiences in Chamonix helped me realize that this is what I wanted to be doing with my life.
I ended up back in Japan for work and discovered the blossoming powder mecca of Niseko. Since the altitude is fairly low (the highest peak on Hokkaido, Asahi-dake, is 7,516 feet), when you hike to earn your turns, there is no acclimatizing, and the terrain is more gentle meaning that the earning part of the equation isn't as tiring (well, breaking through 50cm of fresh powder is tiring, but you manage), yet the reward is exceptional.
Becoming an AMGA guide
In Chamonix, I had entered into the Mountain Guide program of the Ecole Nationale de Ski et d'Alpinisme which has a competitive entrance exam for the 40 or so spaces a year; in 2007 I believe there were approximately 150 applicants. After submitting my portfolio and going through a rigorous interview I was invited to participate in the ski probatoire. Going up against Chamoniards who learned to ski at the same time they learned to walk, and many on their second and third attempts to get into the program, it was no surprise when I did not earn a spot to continue on to the next probatoire; I had started skiing 18 months prior to my exam. The experience positively shaped my thinking about the mountains and the professionals who live to guide.
I knew I wanted to become a guide so after moving back to Japan I found a ski coach and skied every chance I got. After a few seasons of hard training, my guide friends from Chamonix reassured me that I was a much better skier now and would pass the ski exam. Reassuring certainly, but I decided on entering the American Mountain Guides Association (AMGA) Mountain Guide program. By working towards IFMGA certification through the AMGA's Mountain Guide curriculum you stay abreast of both traditional and the latest techniques that enable you to provide the highest level of guest satisfaction. I consider risk management and communicating to be the biggest parts of my job. They both come in the form of how to best serve my clients, how to assess their abilities and desires, and to deliver on that. It is my responsibility to know when it's appropriate to push ourselves in the backcountry, but also when it's time to turn around. I consider myself to be in a perpetual state of situational awareness and always pushing myself to become better at what I do.
Hands down, this is the greatest job I can imagine. People often tell me, "Tracy, that's a pretty nice office you have," to which I usually respond with a paraphrase of Shane McConkey, "It does not suck!" Needless to say, guiding both in America and Japan has brought me immense joy, and it is with pleasure that I share with you some of my favorite places to backcountry ski in this country where I make my home.