Does Japan Powder Skiing Live Up to the Hype?
You've seen photos of #japow flood your social feeds, but is Japan powder skiing all it's made out to be? Ski Guide Greg Hill thinks so. Here's his story of chasing deep snow on Hokkaido.
Years ago, when the hashtag #japow started filling my feed, I could only wonder how truthful it was. If you're wondering what I mean, scroll through some Instagram pics for a few minutes and you'll see what I'm talking about. It is pretty insane how deep and light the snow looks. Needless to say, the photos made me crave the deepest snow imaginable; the write-ups made me yearn to go there. Yet, I had to wonder: Would skiing Japan powder live up to the hype? Does it really have the best ski powder in the world?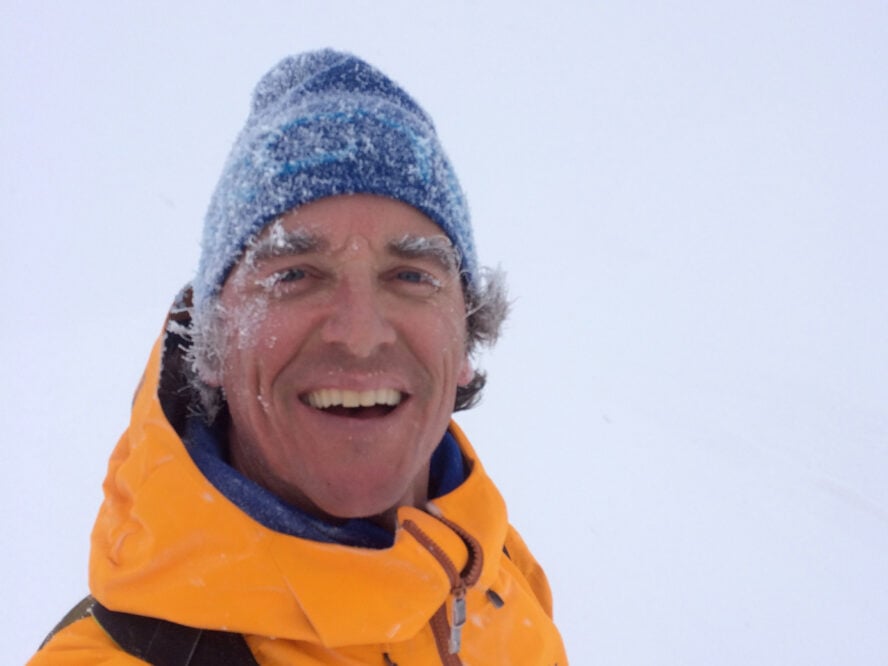 Maybe I am a little jaded with the "liking" of photos and the small dose of excitement I get when I see people excited about an image. Maybe, just maybe, I've faked a turn to make the snow look deeper than it was. It's possible that over the years, I have developed a bit of a slide turn that sprays the snow up into my face. Perhaps I have witnessed my friends drop their hips and make an average day look incredible! So it's with reservation that I look at action photos when I scroll down Instagram because I know just what goes into making those look epic.
An impromptu Japan trip in search for powder
When Angela Percival, senior photographer at Arc'teryx, reached out to me on a Tuesday, asking if I could go to Japan on Friday, I quickly changed all my plans, organized support for my wife with our kids and said, "YES!"
I began pouring through the socials, devouring the images, and getting extremely excited. JAPOW was about to happen to me! Not to someone who I follow online but to ME. Judging from the photos, there were three things I needed to do:
#1: Shred powder under leafless birch trees
#2: Jump off one of their unique snow fences (even though I am not really a jumper!)
#3: Finish off the day in an onsen
Three days later, I was walking through the airport, tickets in hand. My psyche was high; the dream was becoming a reality. Eating up more #japow shots, videos, both new and old, I was salivating and ready.
How Japan gets that perfect powder
What makes Japan so special is its confluence between the cold Siberian air and the moist, heavy warm air from the Sea of Japan. It's a magical relationship that creates what most powder seekers would call the perfect snowfall. Little to no wind, the snow piles up light as clouds.
I met up with Angela, the photographer, and Pia Nic Gunderson, a shredding Norwegian. Walking through the airport, I was overwhelmed by the lack of English. Numbers were all we could follow. It was both liberating and frustrating to have no understanding of the language. I did appreciate that the country did not lose its culture to tourism, though.
Where is the best powder skiing in Japan?
Japan is made up of four main islands, and the terrain is vastly different between all. The places most known for their powder are Hokkaido and Honshu. The north island, Hokkaido, is supposed to be a little mellower, while Honshu, the main island, has steeper and bigger lines. We traveled to the Hokkaido, where the weather and snow seemed better. Driving between 12-foot snow banks was hard to see beyond, but I knew what lay there from the photos.
Arc'teryx had brought us to Japan to get a marketing photo of a new glove in action. We wanted to nail an iconic, gloved hand sticking out of an exploding wall of snow that hides the skier. The whole marketing story was behind the photo, but we needed to get the shot. Fake or not, we had to capture the essence of #japow in one frame. Over the head powder, snow flowing over the shoulders, hand sticking out. We knew what we wanted, and now we had to make it happen. It looked like the weather was lining up. The weather forecast promised 20-30cms a night. Which sounds pretty impressive but wasn't all that different from the snow conditions I had left in Revelstoke. Could it really be that much better that we needed to travel halfway around the world for it?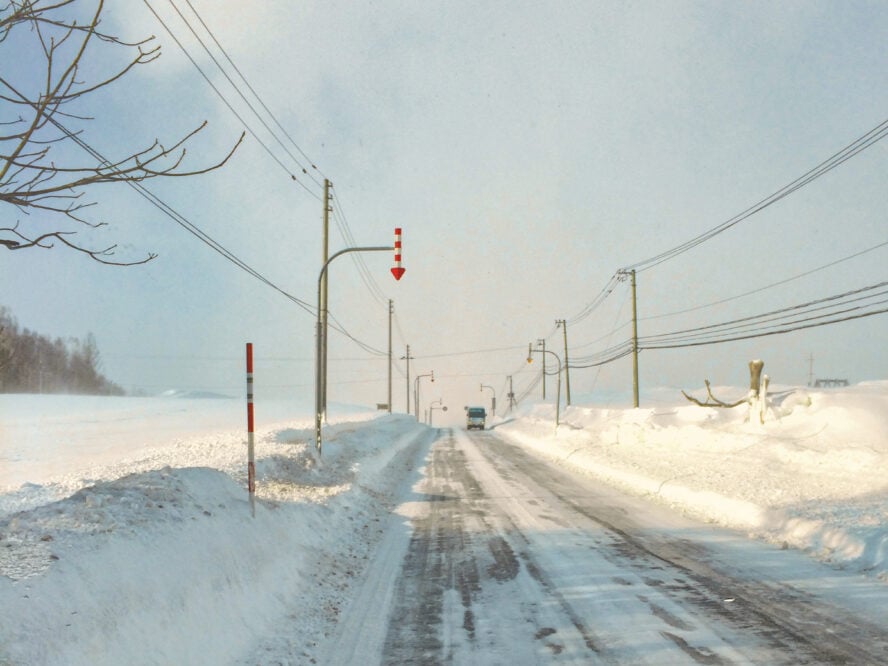 Day 1: Rusutsu, close but not quite
We started off skiing some turns off the resort of Rusutsu. Right away, I knew I wasn't in Canada anymore. The mountain forests in most of the world tend to be evergreens, spruce, pine, fir, but here we were surrounded by large, leafless birch. We wandered our ski tracks around them and searched out that turn. It felt surreal, but in the end, the turns were only okay. We didn't get the level of epic we were looking for; we couldn't find the right terrain to make it happen. Funnily enough, the bottom of the ski hill was an amusement park, with ferris wheels and roller coasters seemingly abandoned. If I was a jibber, I would have figured out some photo of me bopping off the merry-go-round horses or something, but that's not what we were there to do
Day Two: Skiing in Niseko in search for Japan powder
With the first day behind us, we began to figure out the terrain and how to make our epic photo happen. The second day found us skiing on and off the resort of Niseko. This location is massive and hosted lots of off-resort turns that would link back into the resort. Sliding off the top chairlift, we quickly realized that the 20cm that was supposed to fall overnight was more like 40-50. Following tracks out of bounds had us yipping and hollering our way down through the deciduous forests, slashing deep powder turns under the first birch we could find and nailing our own photos for the hashtag!!
I have to say it was starting to feel pretty special, except the snow was so light we could feel the older tracks underneath. Like most resorts, the easy laps get shredded quickly, and we were working hard to make the magic happen since people were everywhere and we knew of no secret spots.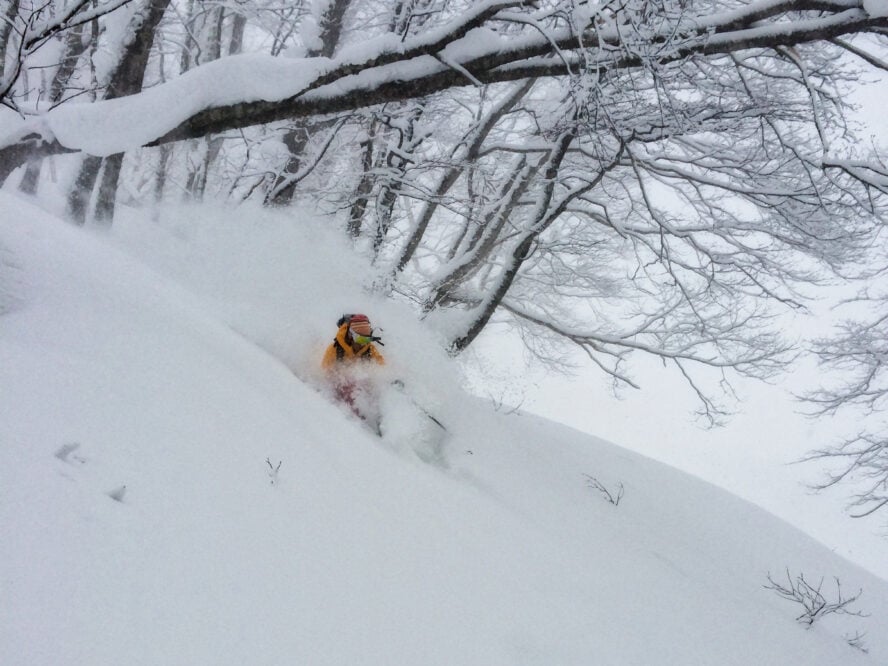 Our first taste of true #japow
Having recognized that we needed the authentic backcountry experience, we drove our minivan towards a backcountry zone. There is so much geothermal activity that it's used to melt the snow and heat the roads! We stopped and grabbed lunch from a gas station, which provided lots of interesting tastes, some great, some too fishy for my palate.
We drove to the end of the road and started touring up a slope with trees spaced perfectly and snow falling gently from the sky. It reminded me of the first video I ever saw, of legendary Craig Kelly, shredding epic Japan pow, years and years before the hashtag became a thing. I knew I was living the dream; the overnight snow had again dumped 30cm of light, fluffy powder. Curling our skin track upwards, I was blown away by how easy it was to break trail through this depth of snow. I was starting to understand how unique these flakes were. I began eyeing up where we could nail some shots on the way down.
Shooting photos can be frustrating; it's an act of lining up some great light, perfect snow, eye-pleasing backdrops and coordinated action between an athlete and a photographer. It usually takes awhile to translate the desires of the photographer into the actions of an athlete. We needed sunlight to make this glove shot pop, but since it was snowing, we couldn't pull off the shot. Inevitably, this freed us up for a long run of pure freedom skiing.
It was in these moments that I started believing the hype. I pushed off and immediately knew that this was different — this is as good as it gets. It was silky and cold; my skis slid and floated down the mountainside. There seemed to be no resistance as the snow piled higher and higher up my legs. Soon it was over my waist and working its way higher. I was falling delicately down, screams of pure joy escaping my lips, followed by giggles. It was unbelievable. "Japow!" we screamed to each other, eyes locked in the knowledge that we finally understood the magic in these mountains.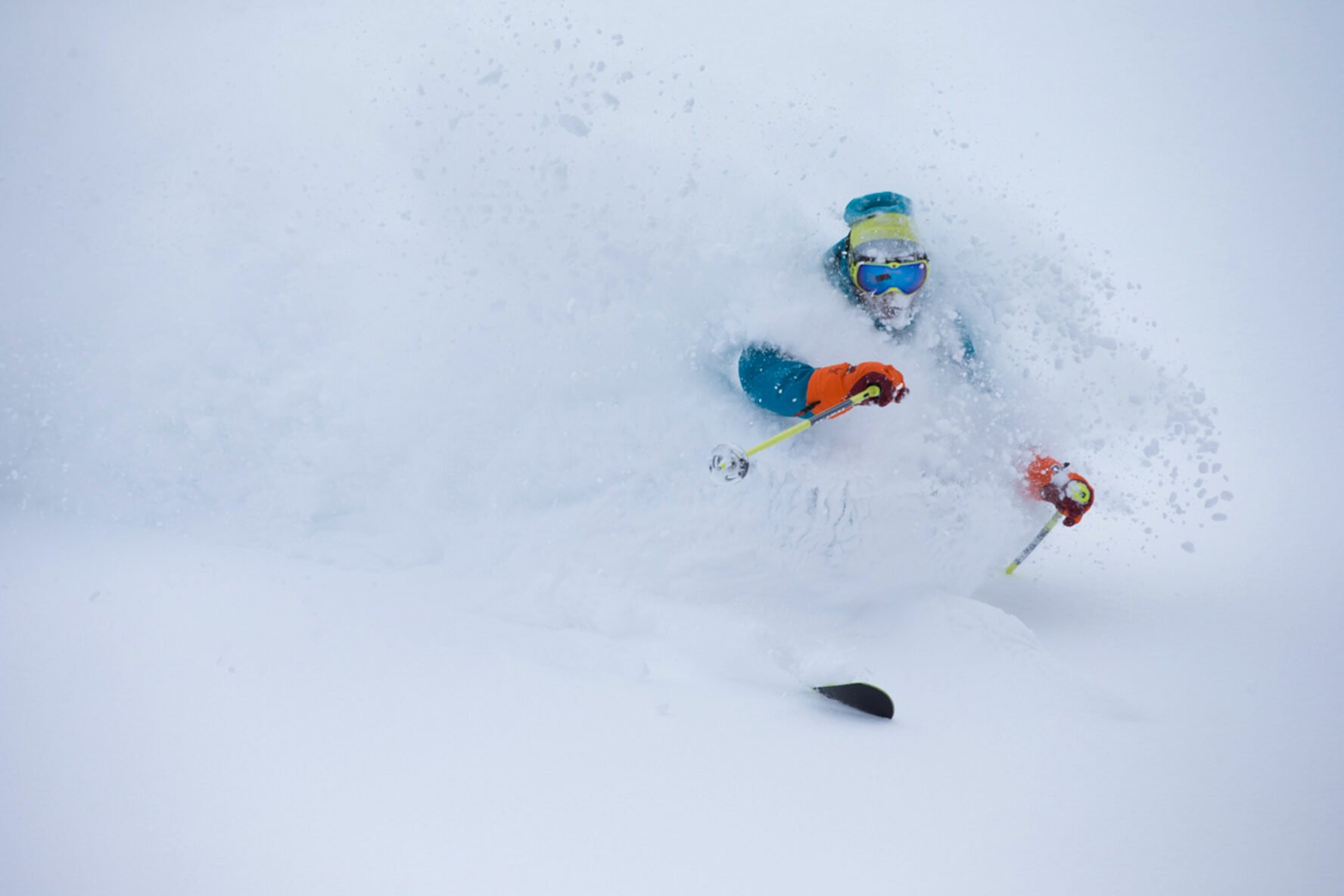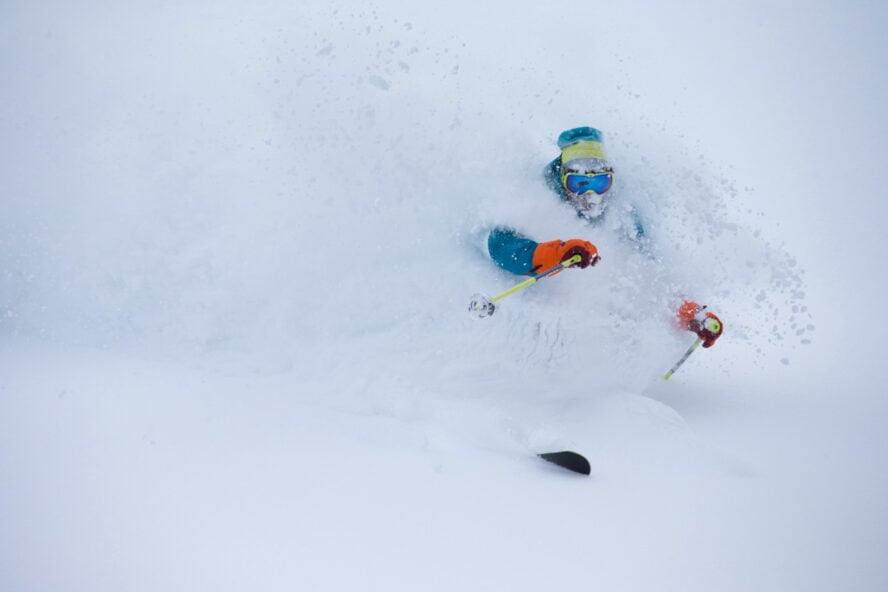 Day 3: Some great Japan powder and an onsen visit
Waking in our hostel, we ate the North American style breakfasts because of our soft dispositions. Seaweed and fish in the morning were not our styles, especially with the heads still attached. This day we went and searched out some great turns above some snow fences. Pia is a freerider and a much more stylish skier than I am. Singing, "Everything you can do, I can do better!" she launched off the snow fence, styling her air. I followed and showed minor skills with a dorky grab, but hey, we had ticked off a classic japow experience.
We followed this up with a visit to an authentic onsen. There is so much underground thermal activity that these hot waters literally pour out of the ground. This one had great timber frames surrounding it, with large rocks in it. It was such a perfectly peaceful way to finish a day of skiing, floating all day down mountainsides before floating all evening in hot water.
Day 4: Snowcat access delivered authentic Japan powder
Working through a local guiding operation, we used a snowcat to access some remote terrain. We had captured some great moments until now, but we had yet to get "the" moment. This was the day. It was tough to say how much snow had fallen, but it felt like 60cm, and we had some local guides that knew where we could line up the shot. Angela set up 60 meters down the slope, and I slid off the cat track. Immediately I knew this would be it. Choking on snow, I aimed for the spot Angela had wanted, carving, snow billowing everywhere, barely seeing anything, I punch my orange hand out to initiate my pole plant and…click. I knew right then we got what we had come to Japan for. Continuing a few more moments, I stop laughing with delight. This is as good as it gets. We lap a few more times and I continue to be impressed.
Volcano skiing at 6000 feet
On the last day, we venture towards Mount Yōtei, an impressive-looking 6227-foot volcano. Knowing we had the photo in the bag, we went here for more of an adventure as climbing and skiing a volcano should be added to anyone's list of must-dos. Some of the trees we saw were the most magnificent deciduous I could imagine. We climbed up 3000 feet, and while the rest of the group stopped for photos, I left to go upwards. The clouds rolled in, and soon enough, I was in a fog, yet my urge for the summit pushed me higher until I hit the top. I couldn't see anything. I had hoped it would clear and I could shred some turns inside the crater. It never did, and I began to worry about which way was back to my group. Luckily the map on my watch showed me my track, and I was able to backtrack down to my team. Even as a pro, I was reminded then never to underestimate nature. Had it not been for my watch, I could have been in a tight spot.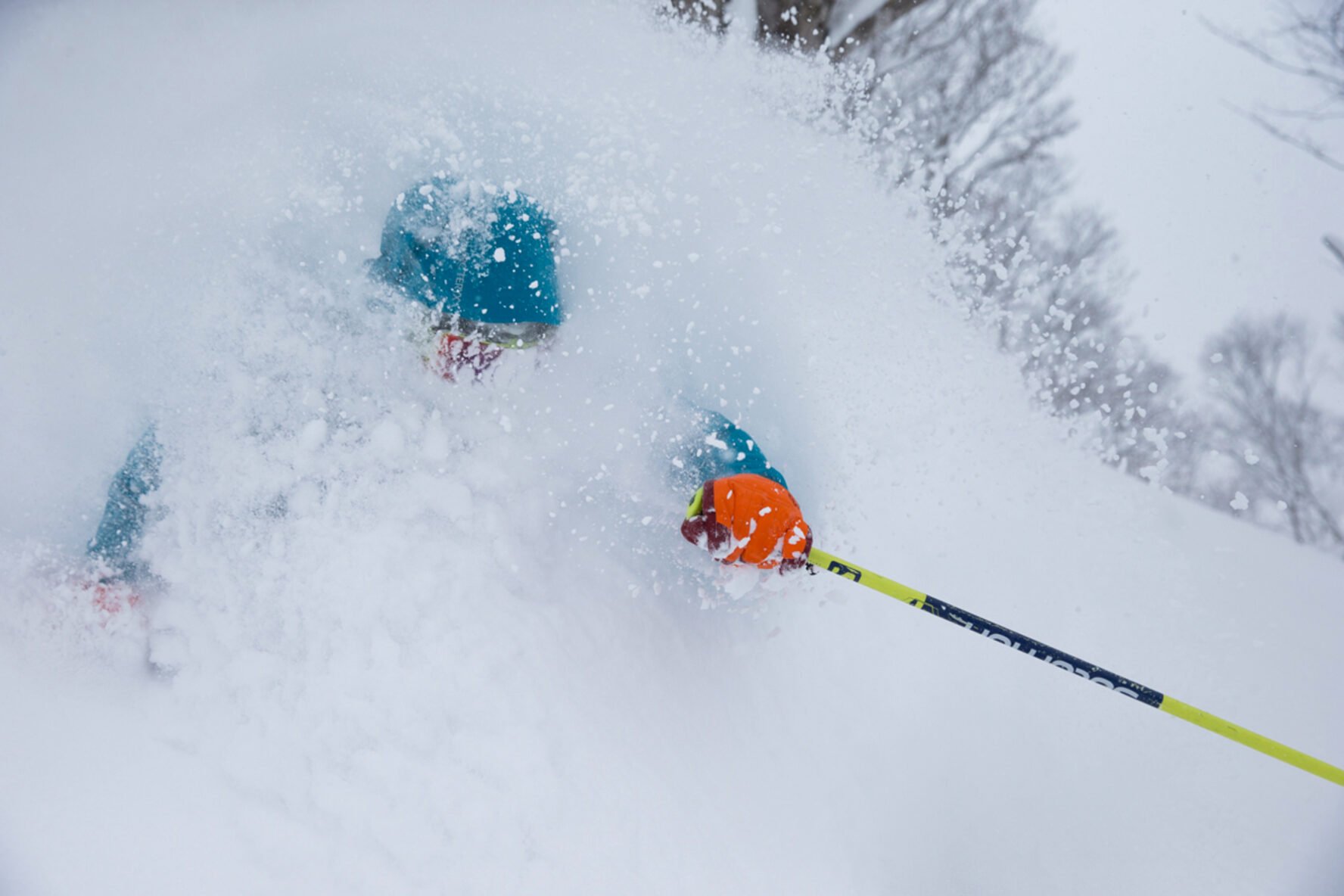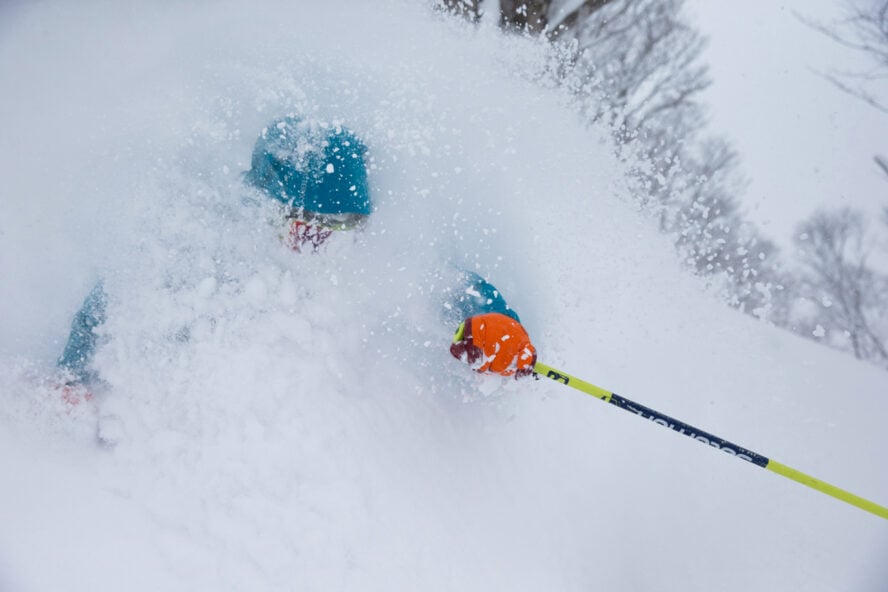 Day 5: The end of our #japow journey
Sadly the fifth day was the end of our adventure, and we headed back to the city of Sapporo and enjoyed a night downtown. We ordered food off a menu that we couldn't understand and tested our culinary limits with raw crab and cooked cow tongue. It was incredible.
Sitting in my airline seat on the way home, I was dizzy from the whirlwind trip, yet I knew we had gotten lucky. Every day had been good; most days had been outstanding. When I realized that I, a seasoned backcountry skier from the deepest place in Canada, was impressed, it must be pretty amazing. Even though I am a little jaded with social media, the way that it can fuel dreams, inspire trips and get people to travel to new places in search of their own moments is pretty special. Adding tags to my own photos, allowed me to inspire others who were crafting their own powder dreams. #Japow had so much more meaning for me.