Top 5 Locations for the Best Backcountry Skiing in Washington
Washington simply radiates adventure. If you were to open a map of the North Cascades, close your eyes and point, you'll find the backcountry location of your dreams.
Table of Contents
Accessible, mellow slopes and gravity-defying couloirs make Washington and its most prominent range, the Cascades, the perfect alpine playground for backcountry skiing adventures. Washington gets a lot of snow — no, really, like a record-breaking snowpack. This creates a myriad of conditions ranging from pristine, cloud-like powder to corn that shreds like a dream. If you blindly point to a location near the North Cascades and head for the backcountry, you won't be sorry. Whether new to touring or looking for steep couloirs, here are some of the best spots for backcountry skiing in Washington.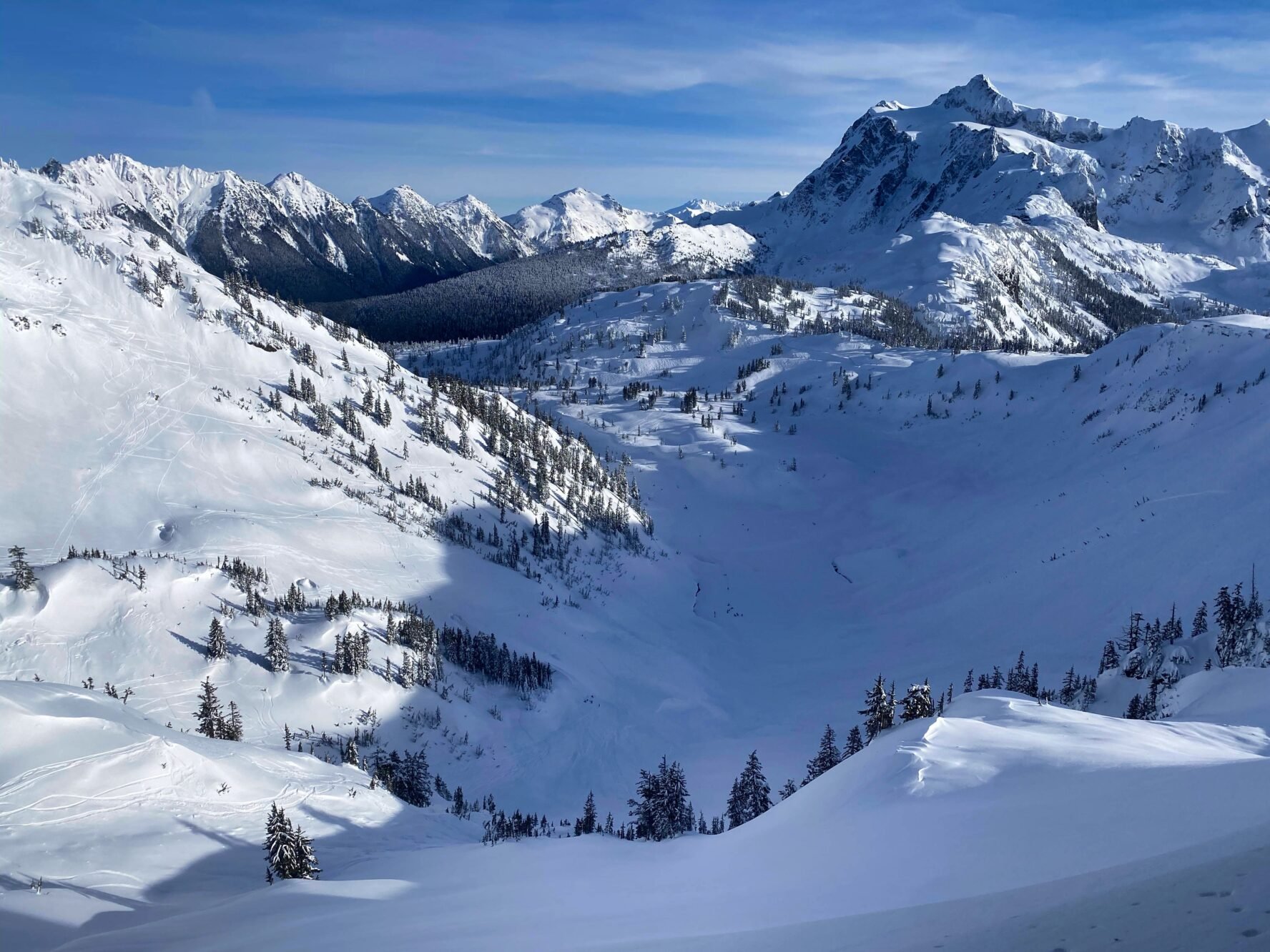 The same storms fueling this enviable snowpack often add a challenge to your Washington backcountry skiing trip. If you arrive with an open mind and an adventurous spirit, the Cascades won't fail you. In the long haul, inclement weather is a fair trade-off for a snowpack you can rely on. It also allows you to ski on steeper terrain in a lot of other regions and at a lower risk. You could split the Cascades in five areas from south to north: Crystal, Snoqualmie, Stevens Pass, Mount Rainier and Mount Baker. All of the regions offer ski areas, and backcountry skiing is adjacent to the resorts and reachable by high-access points.
My experience guiding backcountry skiing in Washington
I moved to Seattle from Colorado — one of the best backcountry skiing locations I could imagine — almost 20 years ago. I have always loved the mountains, so becoming a ski guide was a no-brainer. After getting AMGA certified, I've taken fellow adventurers all over the Cascades for almost a decade, mostly guiding around the Crystal Mountain backcountry through my company Graybird Guiding. During the summer, I work as a carpenter and do some mountain guiding, working my way towards an even higher level of certification from the International Federated Mountain Guides Associations (IFMGA).
Why the North Cascades wilderness is dubbed the "American Alps"
The Cascade Region is known for its numerous waterfalls and for being home to forests, subalpine meadows and glaciers. Abundant wildlife can also be found here, including wolverines, bobcats, mountain goats and black bears. The North Cascades National Park is located in this region, drawing backcountry hikers, skiers and mountaineers to its 400 miles of trails. North Cascades also contain 300 glaciers, more than any state in the U.S. aside from Alaska. Backcountry ski routes in Washington can also be found in the volcanoes of the South Cascades and the Olympic Mountains, accessible via some of the best hikes in Olympic National Park.
Washington might not have the light, dry snow like you'll find in the best backcountry ski destinations of Utah or the notoriety of Lake Tahoe, but I wholeheartedly recommend any avid backcountry skier or splitborder head to Washington for some ski touring. With a little something for everyone, here are five of my favorite places to backcountry ski in Washington: