Top 5 Locations for the Best Backcountry Skiing in Washington
Washington simply radiates adventure. If you were to open a map of the North Cascades, close your eyes and point, you'll find the backcountry location of your dreams.
Table of Contents
Accessible, mellow slopes and gravity-defying couloirs make Washington and its most prominent range, the Cascades, the perfect alpine playground for backcountry skiing. Washington gets a lot of snow — no, really, like a record-breaking snowpack. This creates a myriad of conditions ranging from pristine, cloud-like powder to corn that shreds like a dream. If you blindly point to a location near the North Cascades and head for the backcountry, you won't be sorry. Whether new to touring or looking for steep couloirs, here are some of the best spots for backcountry skiing in Washington.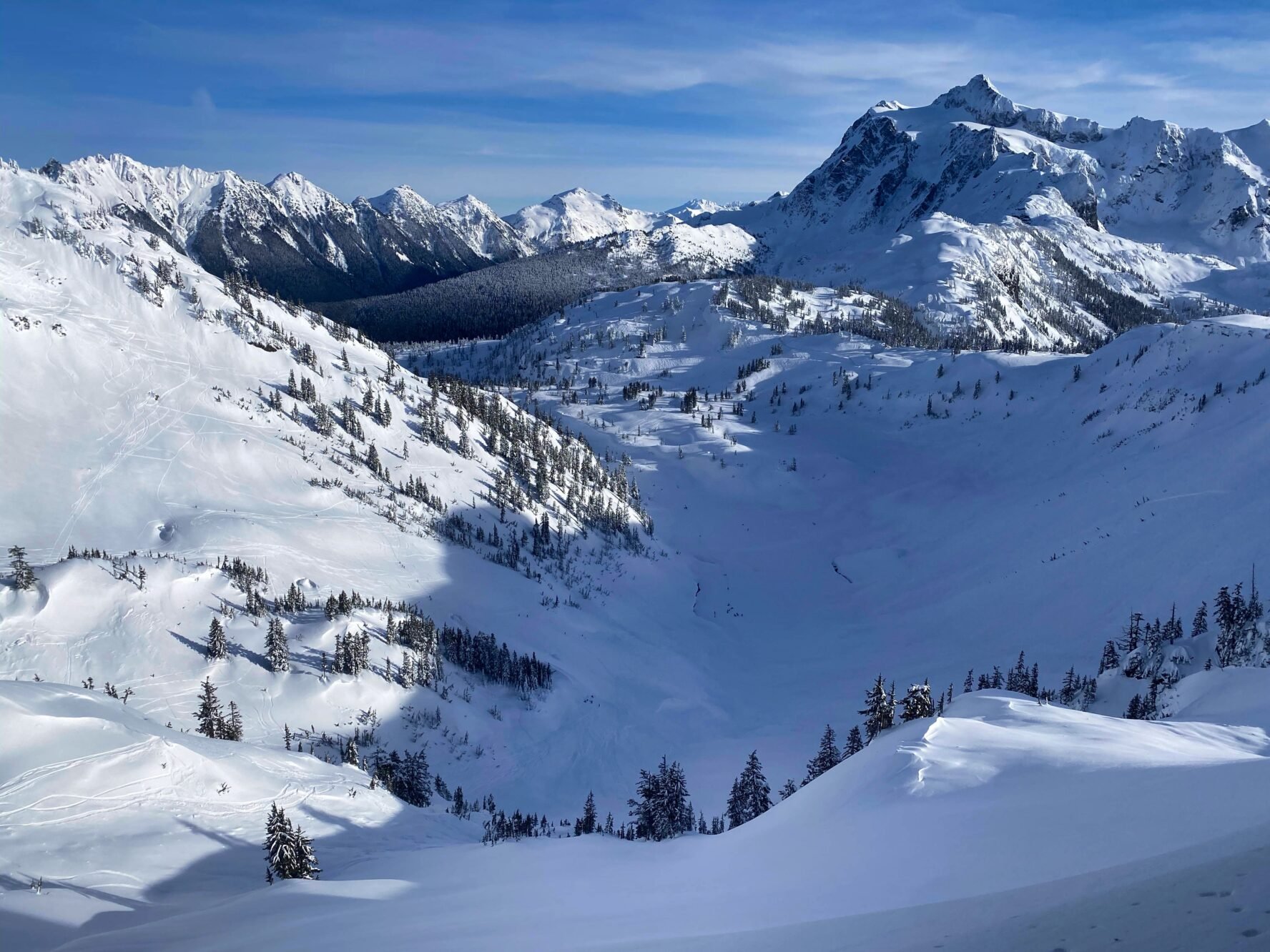 The same storms fueling this enviable snowpack often add a challenge to your Washington backcountry skiing trip. If you arrive with an open mind and an adventurous spirit, the Cascades won't fail you. In the long haul, inclement weather is a fair trade-off for a snowpack you can rely on. It also allows you to ski on steeper terrain in a lot of other regions and at a lower risk. You could split the Cascades in five areas from south to north: Crystal, Snoqualmie, Stevens Pass, Mount Rainier and Mount Baker. All of the regions offer ski areas, and backcountry skiing is adjacent to the resorts and reachable by high-access points.
My experience guiding backcountry skiing in Washington
I moved to Seattle from Colorado — one of the best backcountry skiing locations I could imagine — almost 20 years ago. I have always loved the mountains, so becoming a ski guide was a no-brainer. After getting AMGA certified, I've taken fellow adventurers all over the Cascades for almost a decade, mostly guiding around the Crystal Mountain backcountry through my company Graybird Guiding. During the summer, I work as a carpenter and do some mountain guiding, working my way towards an even higher level of certification from the International Federated Mountain Guides Associations (IFMGA).
Why the North Cascades wilderness is dubbed the "American Alps"
The Cascade Region is known for its numerous waterfalls and for being home to forests, subalpine meadows and glaciers. Abundant wildlife can also be found here, including wolverines, bobcats, mountain goats and black bears. The North Cascades National Park is located in this region, drawing backcountry hikers, skiers and mountaineers to its 400 miles of trails. North Cascades also contain 300 glaciers, more than any state in the U.S. aside from Alaska. Backcountry ski routes in Washington can also be found in the volcanoes of the South Cascades and the Olympic Mountains on the Olympic Peninsula.
Washington might not have the light, dry snow like you'll find in the best backcountry ski destinations of Utah or the notoriety of Lake Tahoe, but I wholeheartedly recommend any avid backcountry skier or splitborder head to Washington for some ski touring. With a little something for everyone, here are five of my favorite places to backcountry ski in Washington:
KNOWN FOR RECORD-BREAKING SNOWPACK
Powder that just keeps on coming
Super accessible alpine runs are a short skin away
Beginners will find plenty of bowls for refining new skills
Storms often decrease visibility adding an extra challenge
When bad conditions strike, crowds pack into tight tree runs
Mount Baker is as snowy as it gets — literally. A record-breaking 1,140 inches of snowfall in the '98-'99 ski season put Mt. Baker backcountry skiing on the map. My favorite thing about Mt. Baker backcountry has to be its accessibility. Not only is it well-connected by roads and metro alike, its ridges are less than an hour away by skinning. It always strikes me just how fast you're in the terrain. For beginners, this almost instant drop into thousand-feet-high terrain can be intimidating. If you feel iffy in the backcountry and need practice, head to Swift Creek. This section of Mt. Baker backcountry is a great classroom for those looking to master skinning on mellow, doable angles. After the climb up, you'll be ready for some quick, fun laps.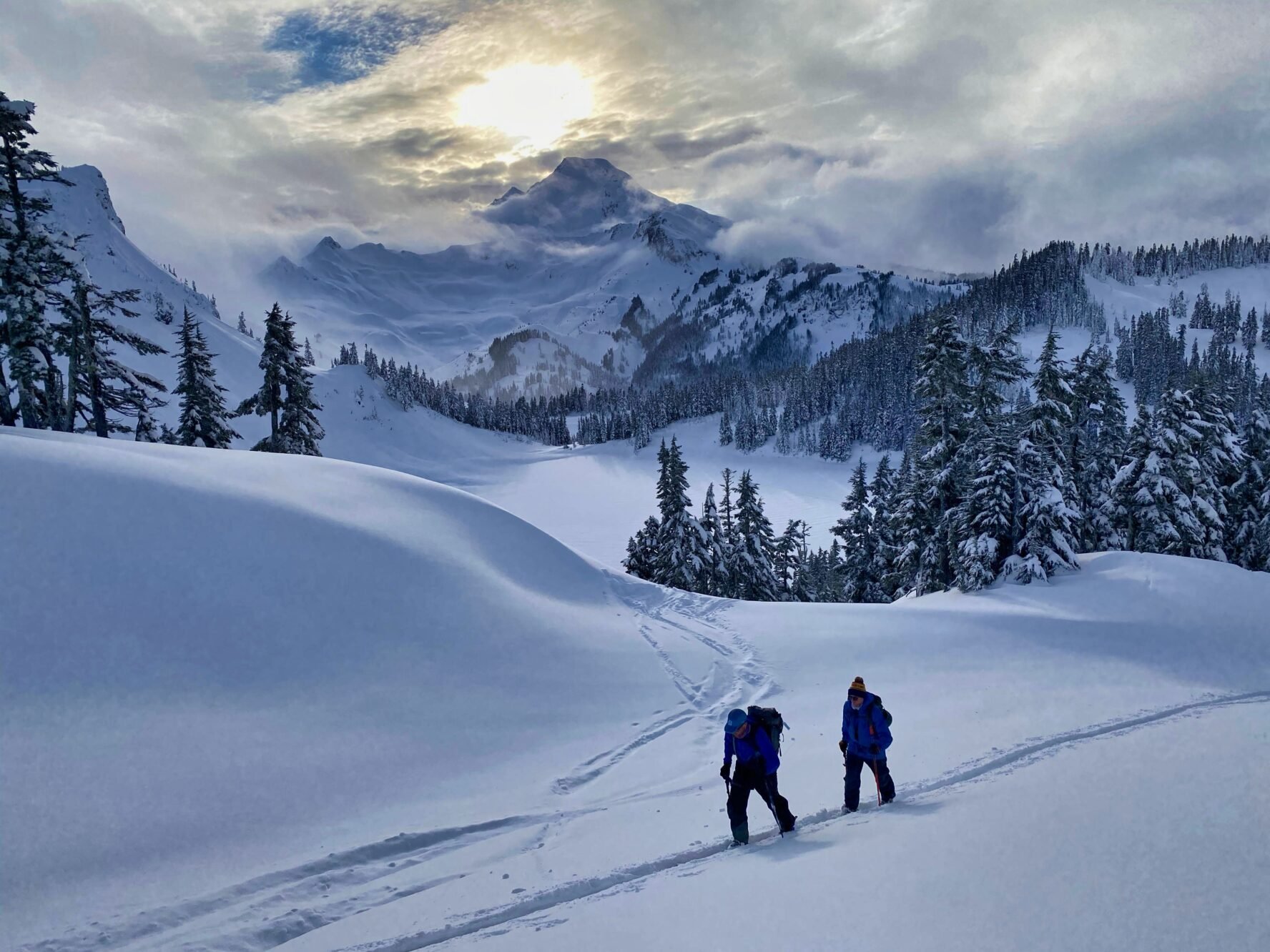 Easy access to Mt. Baker sidecountry features terrain for all skill levels
Mt. Baker has two parking lots that serve as access points and are connected by a lift. To use it, you need to buy a lift ticket. Beginners are welcome to head out to Mt. Baker, but need to keep in mind the terrain gets steep fast. More advanced skiers won't be disappointed by vertical couloir drops, which are accessed from the upper lot. It's also the go-to starting point for all-day touring.
Herman Saddle and Table Mountain are intermediate skinning tours
Mount Herman stands just above the parking lot. It's a big mountain with a south face that's a crowd favorite. Behind the summit are a couple of deep back bowls. Lines there include Rampzilla, Little Switzerland and Boulderfield. Keep skinning west if you want to cover the Iceberg Lake area. The highlight of the area is the Herman Saddle. Skinning there is challenging, but doable for intermediates. Another popular route is the Table Mountain Circumnavigation. Table Mountain faces the parking lot and houses tons of amazing routes.
More famous runs are set in advanced, steep terrain. You can also find stellar beginner options. One thing to keep in mind — these trailheads fall under true backcountry territory. The only way to access these routes is by skinning. Expect alpine landscapes with almost no trees in sight. Most access points aren't directly located on the volcano itself, but grab a camera as you're riding the ski lift to snap photos.
In a good season, you can experience over-the-shoulder powder you won't find anywhere else in Washington.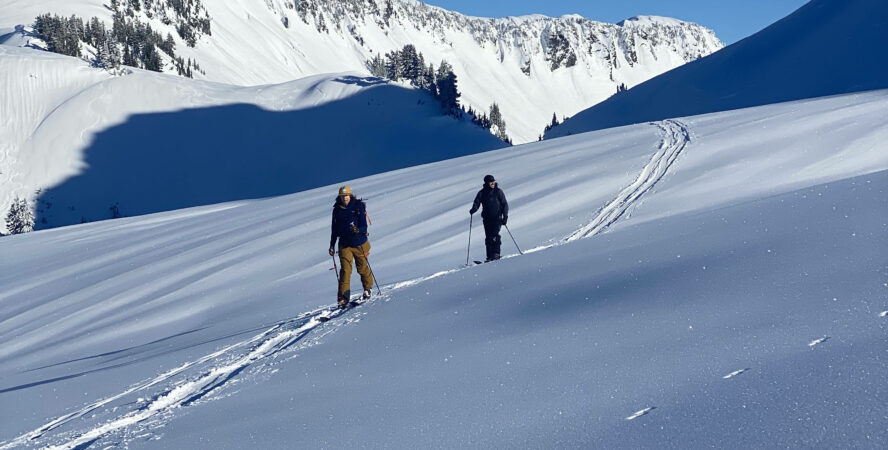 GoPro HD HERO Camera: Epic Mt. Baker Backcountry 2011 [HD]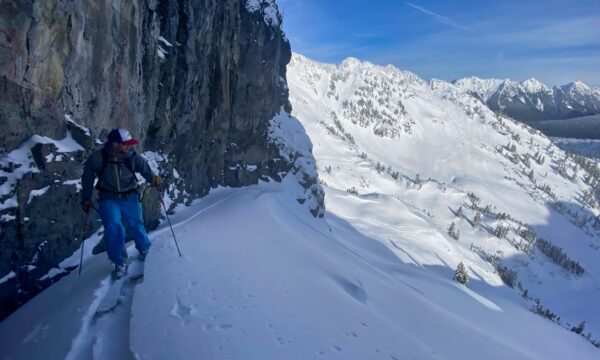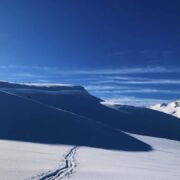 1. Mount Baker - Good to Know
Skill level:
Beginner to advanced
Ski season on Mount Baker:
December to April
Getting there:
Glacier is the closest town within a 20-mile drive to the ski area
Recommended guided ski tour:
Terrain/Elevation:
Top elevation: 10,781 ft (3,286 m)
Is Mount Baker still an active volcano?
Mount Baker is still an active stratovolcano
When did Mount Baker last erupt?
Mount Baker last erupted back in 1880
TOP CHOICE FOR GLACIAL RUNS WITH PANORAMIC VIEWS
A true PNW classic made for huge turns
Vast slopes accompanied by gorgeous views
Rip through world-class corn snow
Above tree line is prone to dangerous whiteouts
Low visibility requires strong navigation skills
Known for hosting some of the coolest hikes in Washington, Mount Rainier is also a unique ski spot that never disappoints. Located in Mount Rainier National Park, slopes snake around an active volcano. This area is perfect for skiing down smooth, flowing turns. While the angles are unimposing, you still have to take your eyes off of the panoramic views now and then. It's easy to lose your way high above the treeline.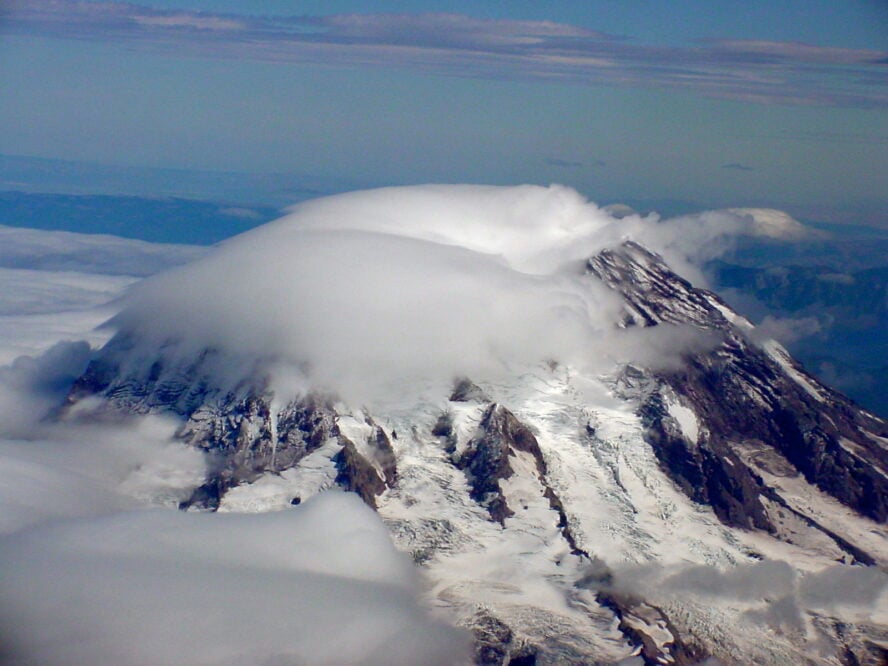 Mount Rainier backcountry access leads to the Mazama Bowl
Volcano access at Mt. Rainier is practically off the road. Ski and splitboard tours start from where you park the car. You also don't have to stray far to reach a decent bowl. Mazama is right beside the parking lot, overlooking the Methow Valley. If you're looking for the real deal, make your way up the Camp Muir approach. Slice through superb corn snow on a 4,000-feet descent. Mazama also allows you to soak in all the views you've been hearing about.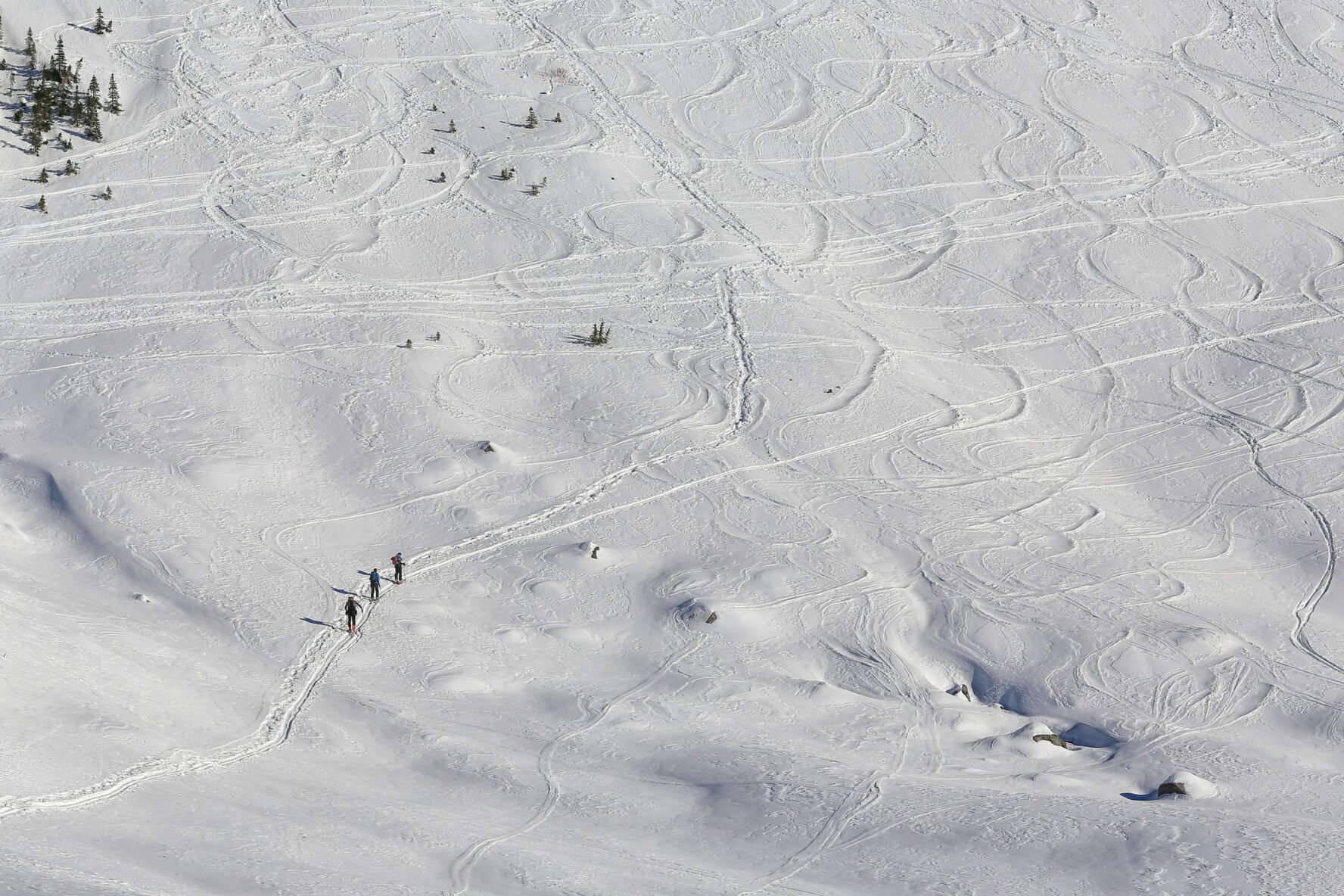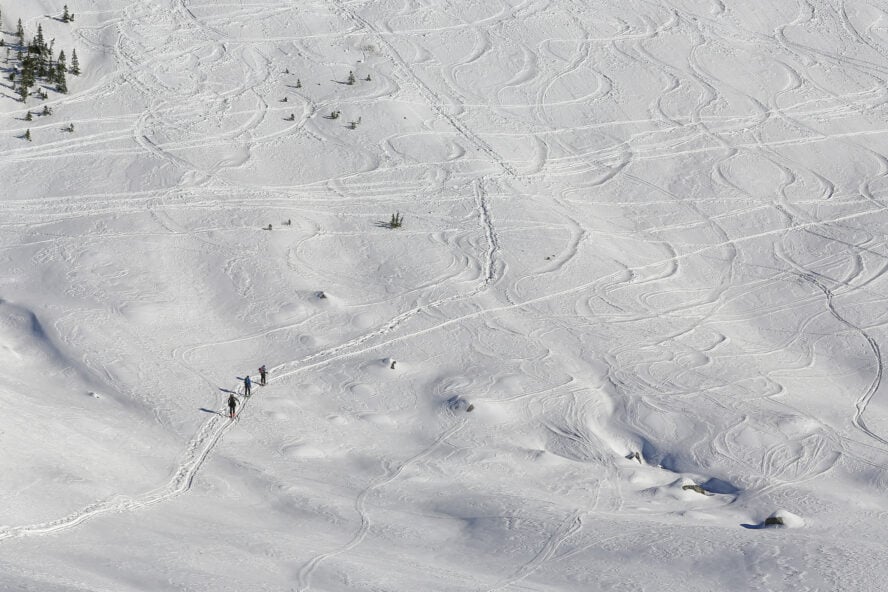 Ski touring at Mt. Rainier requires preparation and navigation skills
Whenever you head out into high-alpine terrain, you need to be up to date on avalanche training. Always listen to expert advice from guides and be ready to find another route if needed. Check the weather and be prepared for what Mt. Rainier has in store that day. You'll also want to brush up on your navigation skills — no matter your experience level. There's little to no tree coverage and the routes lay on true glacial terrain, meaning you need to keep track of your location. Seattle is the closest city and a preferred base for most skiers who visit Rainier.
The crown jewel of Washington's backcountry scene and a PNW all-star destination. Mt. Rainier's slopes are swooping, scenic and house the smoothest turns.
2. Mount Rainier - Good to Know
Skill level:
Intermediate to advanced skiers
When to visit:
Mid-November to April
Keep in mind:
Mt. Rainer, especially the Muir Camp approach, experiences full whiteouts. Check the forecast regularly and have navigation devices on hand.
Getting there:
Mt. Rainier is a two hour drive from Seattle
When did Mount Rainier last erupt?
Mount Rainier last erupted in 1894
Is Mt Rainier the tallest mountain in the US?
Mount Rainier is the 17th tallest mountain in the US, standing at 14,417 ft (4394 m)
AN ADRENALINE PARADISE FOR ADVANCED SKIERS
Skiers love Snoqualmie's proximity to Seattle
Terrain feels like you're touring the Alps
One ticket grants access to all trailheads
Accessibility means it gets crowded easily
Snowpack is finicky at this elevation
Snoqualmie Pass is the closest mountain to Seattle — only an hour away — and right off Interstate 90. Access doesn't get much easier. While you're never truly above treeline, Snoqualimie's rugged peaks feel almost like backcountry skiing in Chamonix. Snoqualmie Ski Area is essentially four ski areas in one. The terrain separates the crowds on the lifts and in the backcountry. Access here is easy. Park your car and skin for a few hours. Soon, you're skiing steep, advanced terrain.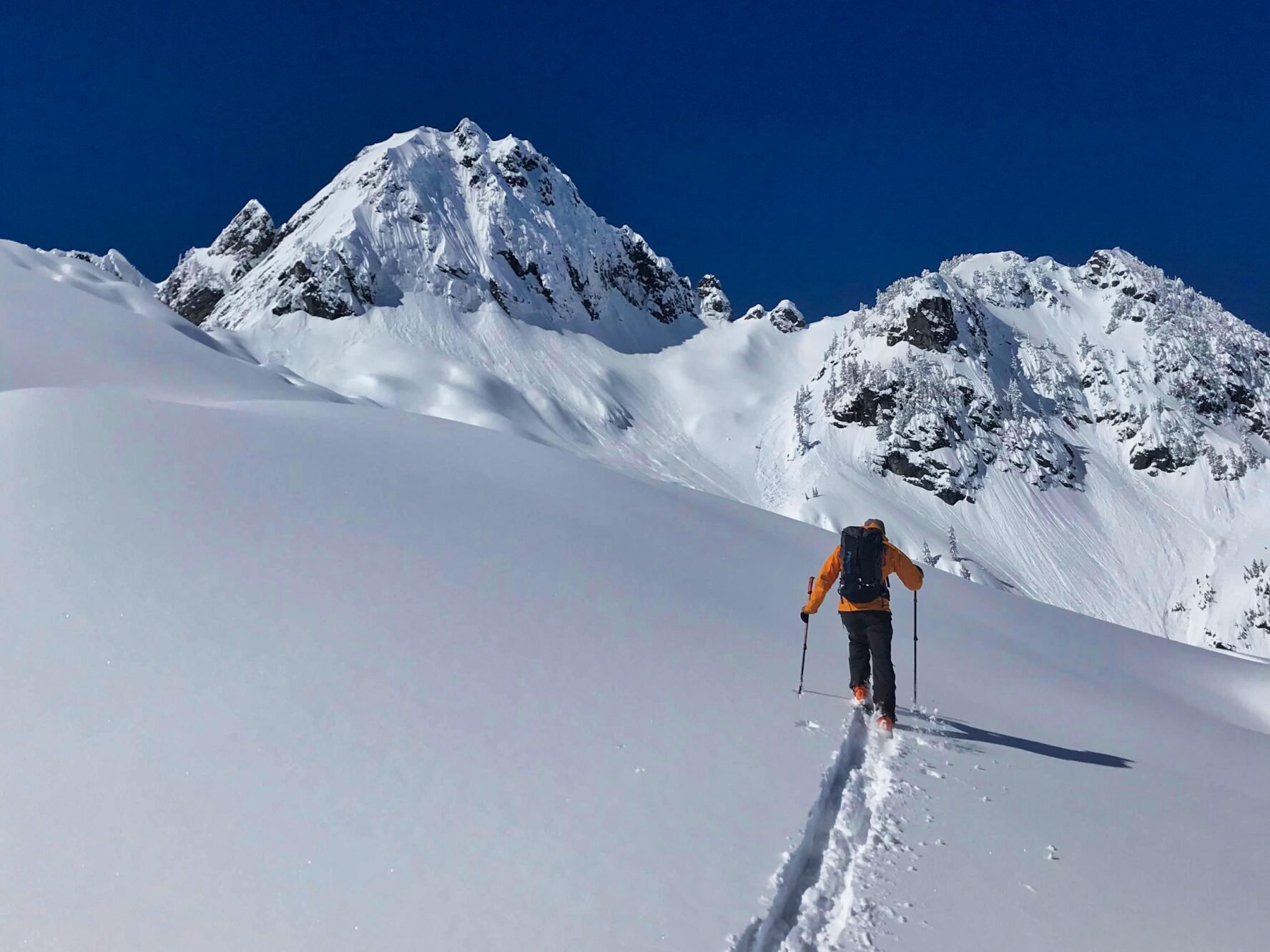 Advanced backcountry skiers head to the sidecountry and Slot Coulier
One unique part of Snoqualmie is the amazing sidecountry at Alpental. The ski area has decent beginner spots, but it's really known for accessible advanced terrain, which will see you skiing 50-degree-plus steep couloirs and alpine features quickly. The fast and accessible steep terrain are major highlights to the area. The Slot Couloir is the crown jewel here, but it's very advanced. Other great spots are Chair Peak and Snow Lake, which have a lot of features on them making them fun to ski. Bryant Couloir is the closest and easiest to reach by skins or lifts.
Plan ahead for ski tours once the weather drops
Snoqualmie is the lowest in elevation on this list, so the snowpack is the most finicky. You're always kind of battling snow conditions, thick forest and the classic Northwest weather that guards some of the best skiing. It's more temperamental, and on each storm you'll see a little bit more rain here. But, when it cools off, you get a good ending on the storm and things stabilize, making it a really great place to go.
Weather that keeps you guessing only amps up the adventure factor of Snoqualmie's iconic couloirs and tree skiing lines.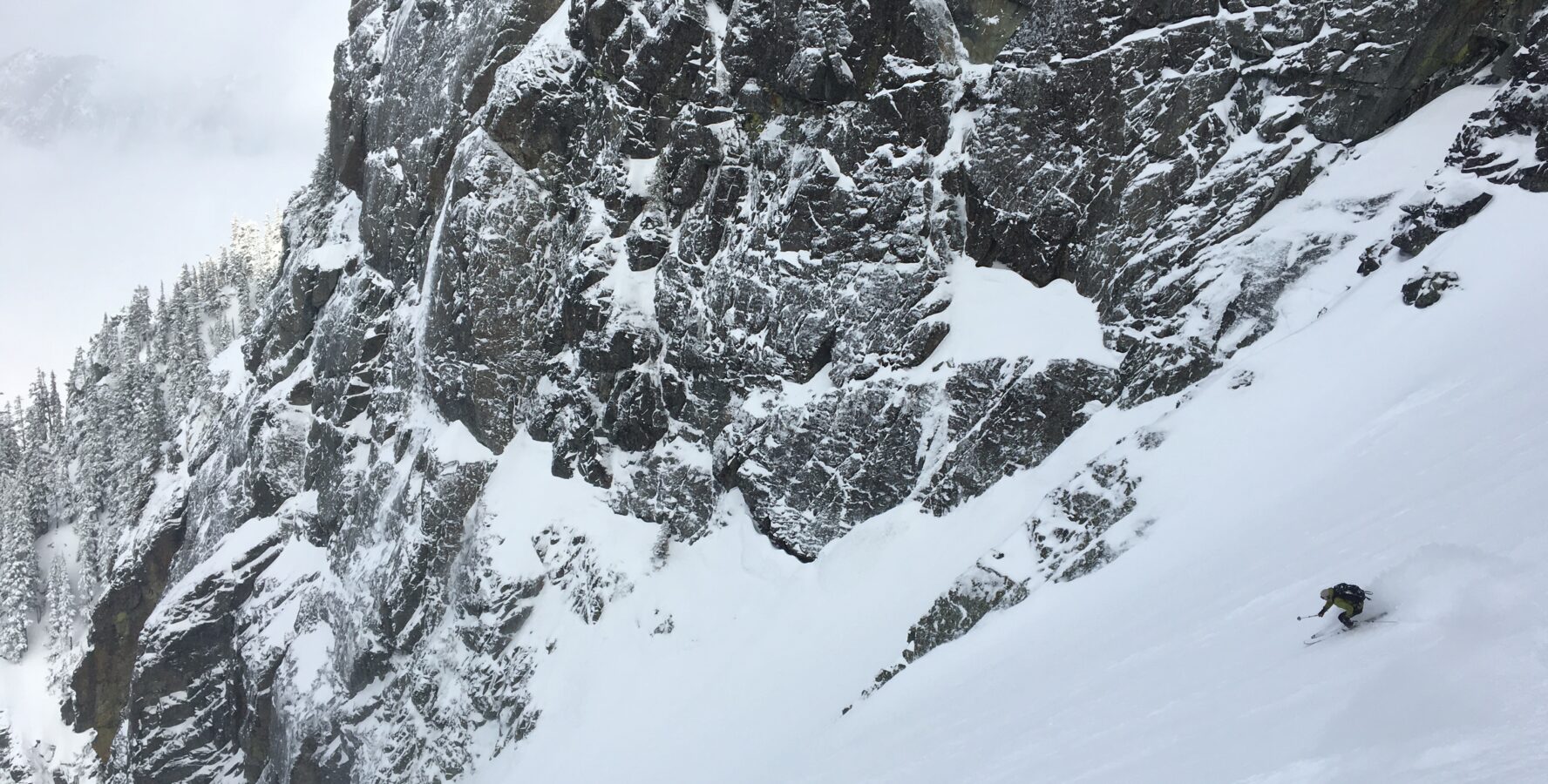 Skiing Slot Couloir on Mt Snoqualmie - Backcountry Alpental Snoqualmie Pass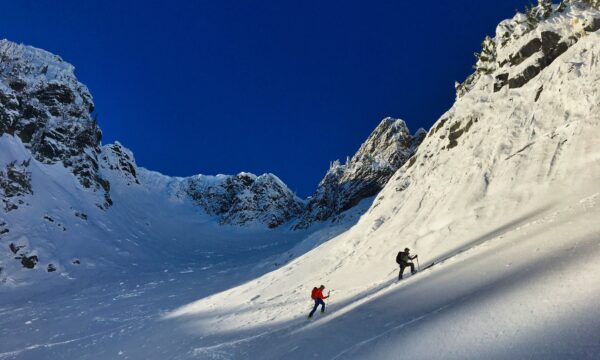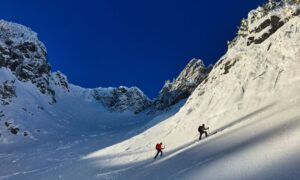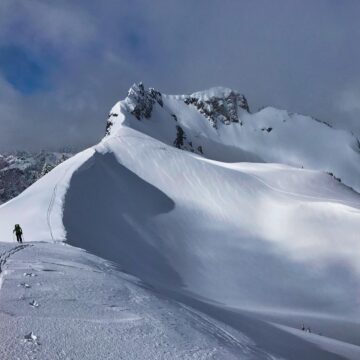 3. Snoqualmie Pass - Good to Know
Skill level:
Beginner to advanced
Elevation:
Top elevation: 3,015 feet (919 m)
Recommended guided ski tour:
Where to head:
Slot Couloir for advanced touring
Getting there:
Interstate 90 runs right through the Snoqualmie Pass
Terrain:
Beginner to advanced
Good to know:
Head to Snoqualmie on the backside of PNW storms for more stable conditions
RUNNER-UP FOR BEST BACKCOUNTRY SKIING FOR BEGINNERS
Terrain is perfect for honing backcountry skills
Access right off the road routes
Doable ski tours with mellow angles
Need to plan ahead logistics-wise
Proximity to Seattle draws in swarms of skiers
A crowd favorite due its constant fresh powder, Stevens Pass has kept skiers coming back for decades. In addition to Rainier, it's some of the best backcountry beginner terrain. There's a couple shorter ski tours 1000-1800 feet in elevation gain right off the road — mostly treed, not super steep, making it a nice place for avalanche classes and beginner ski tours. Because that area shares the ski area parking lot, logistics aren't too tricky. Admittingly, it's one of the places I venture to the least because the drive there is a windy, hard two-lane road that gets crowded due to it being less than two hours from Seattle.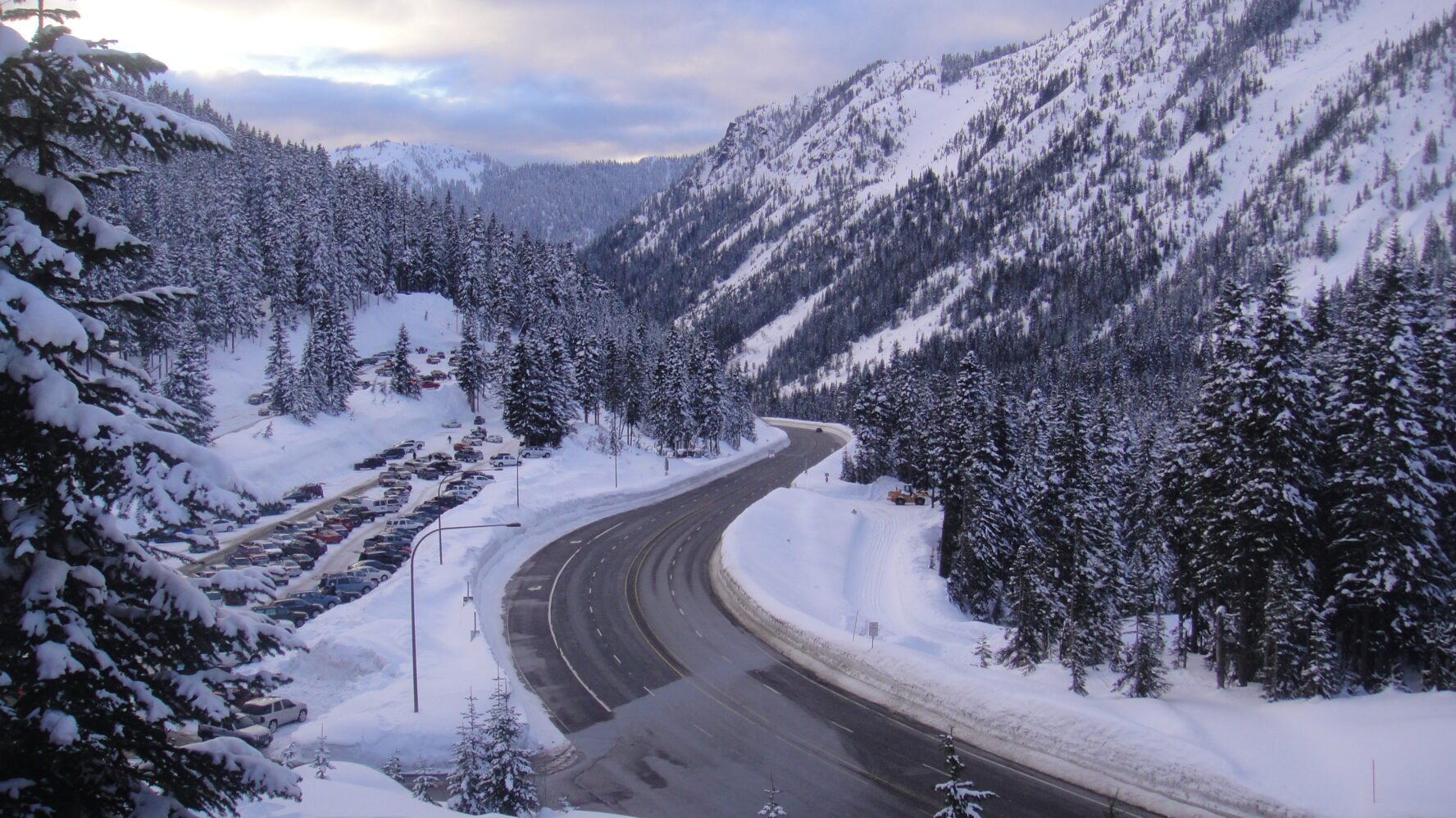 If you want some of the more advanced routes, then you have to seek out other trailheads. There's different trailheads for different objectives, so logistics start to get a little bit more complicated. For more advanced terrain, the Nordic Center is a good jumping off point with a couple of really nice routes. Five miles from the pass are a couple of nice routes with deep downhills. You'll need to purchase a lift ticket at the Stevens Pass resort. Heads up, they sell out fast.
Stevens Pass' mellow slopes are great both for sharpening basic skills, and carving huge turns inches from treeline.
4. Stevens Pass - Good to Know
Skill level:
Beginner to advanced
Elevation:
Top elevation: 5,845 ft (1,782 m)
Getting there:
Stevens Pass is easily accessible from Highway 2
Terrain:
Mellow terrain perfect for beginners
Where to stay at Stevens Pass:
Recharge your batteries and stay in Alpine Lakes
High Camp. This cabin retreat is located in the Chiwaukum Range, not far from Stevens Pass. A sauna and a hot tub on-site are definitely a bonus.
Vertical:
Access to 1,800 vertical feet
Snow:
Stevens Pass saw over 500 inches in 2021
Good to know:
Find plenty of free parking near the resort and along the road
TOP CHOICE FOR FAMILY SKI LOCATION
High elevation ensures reliable snowpack
Decent apres-ski scene for a Washington ski resort
Ski lifts makes backcountry easily accessible
Managing the crowds can get tricky
Crystal Mountain backcountry is where I like to ski the most. The resort offers great lift skiing, and backcountry leans toward gladed tree skiing. Crystal isn't as high in elevation as Mt. Rainier, but it's still higher than most other spots in Washington which really helps with snow quality. Crystal tends to suit a wide range of skill sets which is why I love it for guiding. Expect a mix of intermediate and advanced terrain, but beginners won't be left out.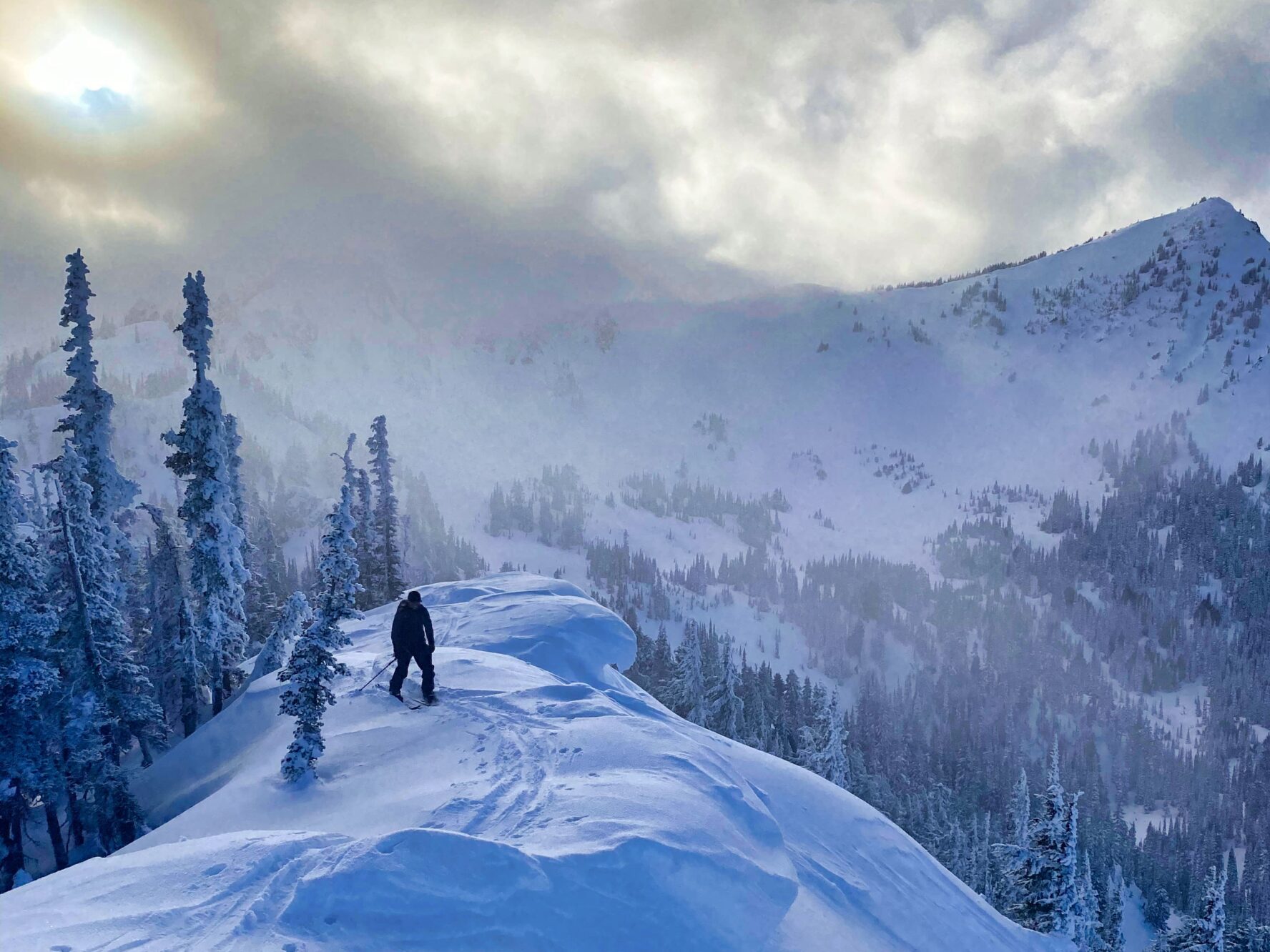 Visitors can access some of the backcountry off the lifts, but most of the true backcountry is adjacent to the ski area. Opposite the ski area across the valley is East Peak. It's one of the most common backcountry areas and a favorite of mine. Powder on this open-faced peak is especially fun to slice after storms. East Peak receives super fresh snowpack as a result. It is seeing more crowds arriving, but it's still a great spot.
Skiers enjoy more infrastructure compared to other ski areas in Washington. There's no shortage of places to grab a bite to eat apres ski. The drive is relatively easy at two hours from Seattle. Ample lodging options also make Crystal easier for clients coming from outside the region. If you're staying at Crystal, it's all practically at your doorstep.
Enjoy a variety of ski lift-access terrain, suitable for all skill levels and fresh layers of pow almost daily. Crystal is always my go-to.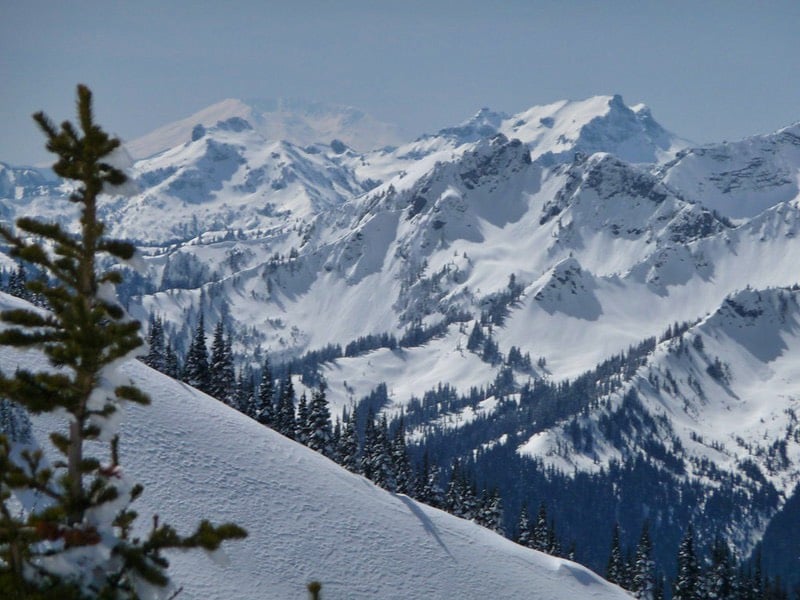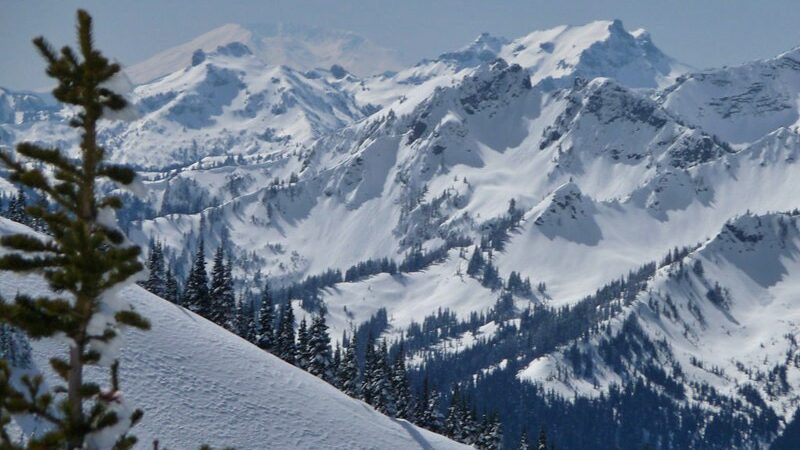 East Peak Backcountry by Joseph Mara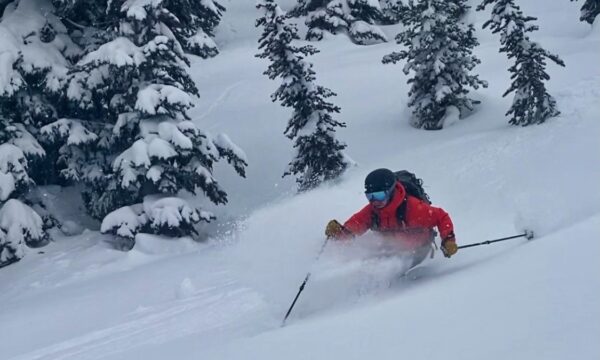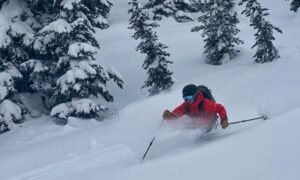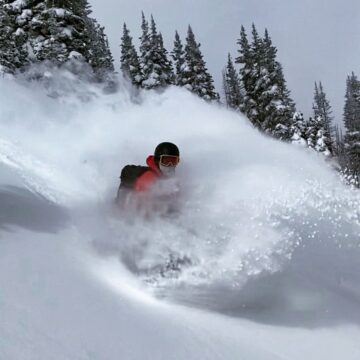 5. Crystal Mountain - Good to Know
Skill level:
Beginner to advanced
Terrain/Elevation:
Top elevation: 7,002 ft (2,134 m)
Getting there:
Crystal Mountain resort is two hours away from Seattle, close to Mount Rainier National Park
Recommended guided ski tour:
Grab a bite to eat:
The Snorting Elk is an Austrian-inspired bar offering lodging and is an integral part the PNW ski scene
Terrain:
Varies from tree skiing to open chutes
Good to know:
Apres ski amenities are available on site
Advice for Planning Your Washington Backcountry Ski Trip
When to go backcountry skiing in Washington
The Pacific Northwest is blessed with a long season spanning from November to June, but peak season to go backcountry skiing in Washington is December to May. Locals have been skiing on the Cascades as early as Thanksgiving weekend. Snowpack all depends on the often unpredictable weather conditions. The snow base tends to build quite early and last until June on our volcanoes.
Check your forecasts often when skiing in Washington state
Cascades' high elevation and exposure to the elements means most areas are prone to avalanches. The risk varies and depends on the location. Avalanche conditions coincide with storm cycles. When the range is getting more snow, avalanche danger skyrockets. Compared to other areas with the same terrain and conditions, danger tends to decline more rapidly. The best days to ski in the backcountry are after storms leaves, when you've received a delivery of fresh powder. That said, I'm a fan of storm skiing. Skiing in a snowglobe is one of my favorite feelings.
The Cascades delivers deep snow paired with unexpected weather
Backcountry skiing in Washington is a true adventure. You won't find many apres-ski activities at the blue-collar ski areas focused on the backcountry. I just had a week of skiing in the worst conditions the Pacific Northwest could possibly cook up. We embraced it and rolled with the wild weather. In the end, everyone was psyched to show off their new storm skiing skills. Washington's temperamental snowpack requires skiers and splitboarders to dig into their toolkit unlike elsewhere. Visitors need to learn how to go with the flow if, or more likely when, the conditions go awry. You'll leave the Cascades with a more adventurous spirit than when you arrived.
If you're new to backcountry skiing and you'd like some expert advice from an AMGA/IFMGA Mountain Guide, watch Rob Coppolillo's 57hours Adventure Talk on how to get started backcountry skiing safely, with tips on gear, the avy courses you need to take and more: