Sierra Nevada | California
Mammoth to June Traverse — Backcountry Skiing Tour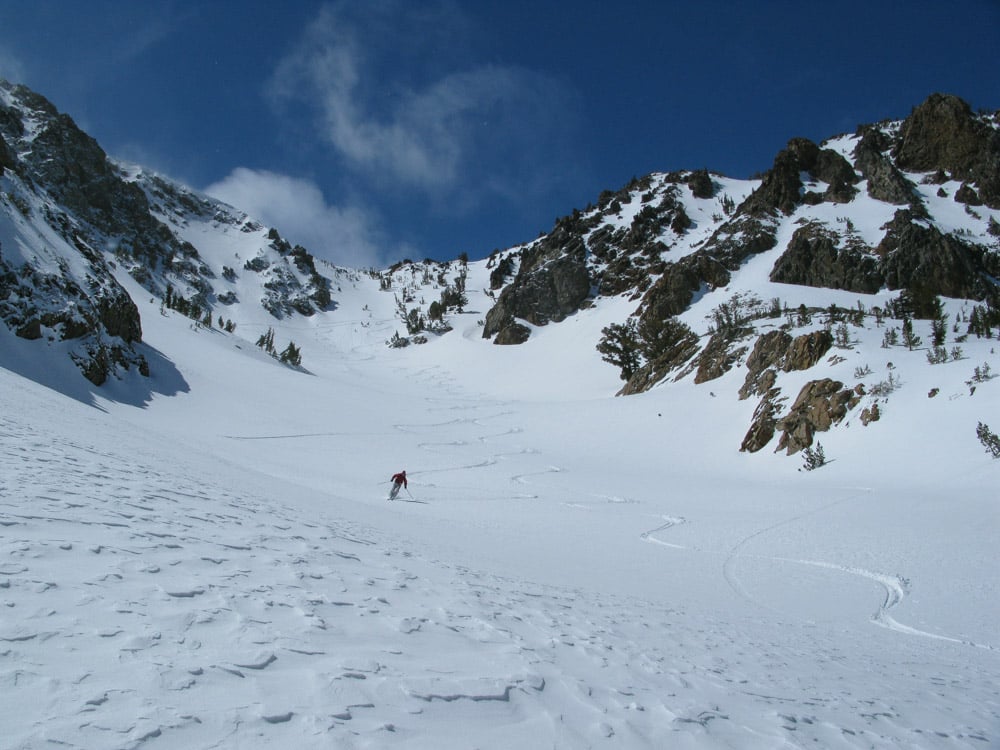 Ski a classic traverse from Mammoth Mountain to June Mountain
This tour is a 2-day ultralight objective that allows plenty of time to enjoy quality descents along the way. The route for this trip depends on what conditions dictate to the north and east. You'll find plenty of powder and incredible terrain. Camp for the night is in the scenic and wild upper Deadman Creek drainage, and then finishes with a summit of San Joaquin Mountain. The final descent is an impressive 4000′ to the June Lake area and the comforts of the Double Eagle Resort & Spa.
This tour makes for a perfect introduction to a multi-day backcountry adventure.
Here's the itinerary
Day 1
Meet your guide in the early morning at Mammoth Mountain. Check equipment and finalize packing. Then, from Main Lodge, you'll skin up the closed road to Minaret Vista. From there, the tour follows the San Joaquin Ridge north with spectacular views of the Minarets and the Ritter Range, as well as the headwaters of the Owens River to the east. Just before Deadman Pass, you'll drop in to the northeast for a 1000′ powder run. From there, you'll climb back to the ridge to find another 1000′ run before finding camp in upper Deadman Creek.
Day 2
You'll start your second day passing east of the imposing Two Teats on the way to the summit of San Joaquin Mountain. Descend right from the summit and drop down one of several options like Positive 1, the Hourglass, or the Negatives to Upper Yost Meadow. From there the plan is to descend gently via Yost Creek and then descend via the 4 Seasons run or possibly Devil's Slide to finish at the Double Eagle Resort.
You can arrange to spend the night in the June Lake area or shuttle back with your guide to Mammoth.
Prerequisites
Advanced to expert level downhill skiing skills
Ability to control speed and execute fall-line turns in a variety of snow conditions
All participants must be able to sideslip forwards and and backwards
High level of control on 40 degree slopes
Excellent fitness
Things you need to know
What's included?
All guiding fees
Your guide will provide avalanche rescue gear for you to use (beacon, shovel, & probe)
Group camping equipment
Shuttle service back to Mammoth at the of the the trip
What's not included?
Ski touring and other mountain gear
Personal overnight gear
Lodging and transportation to and from the Eastern Sierra
Guides we recommend
Sierra Mountain Guides
Sierra Mountain Guides
IFMGA/AMGA Certified Guides
Sierra Mountain Guides provides high-quality mountain experiences in the Sierra Nev...