Queens | New York
Beginner Mountain Biking Course in NYC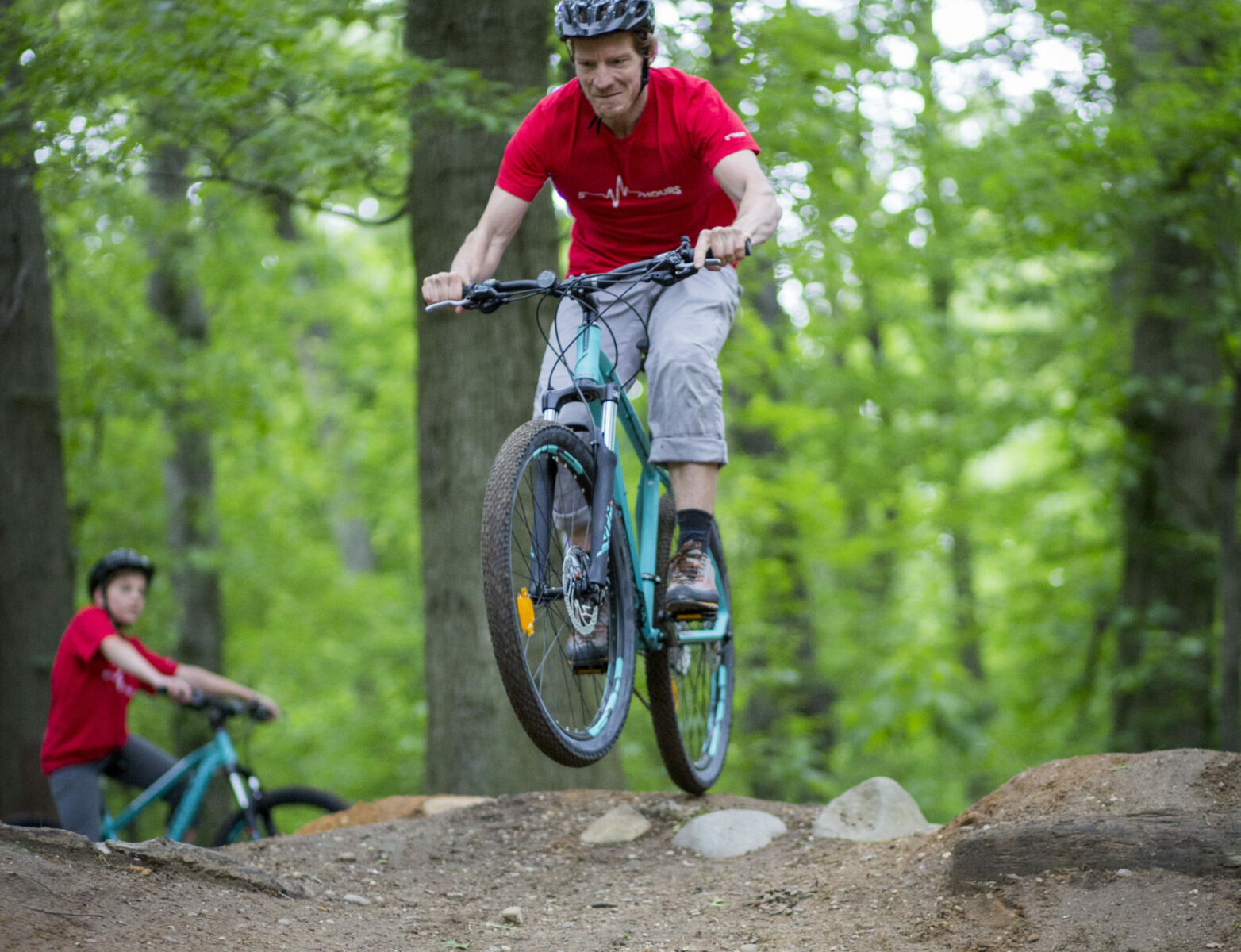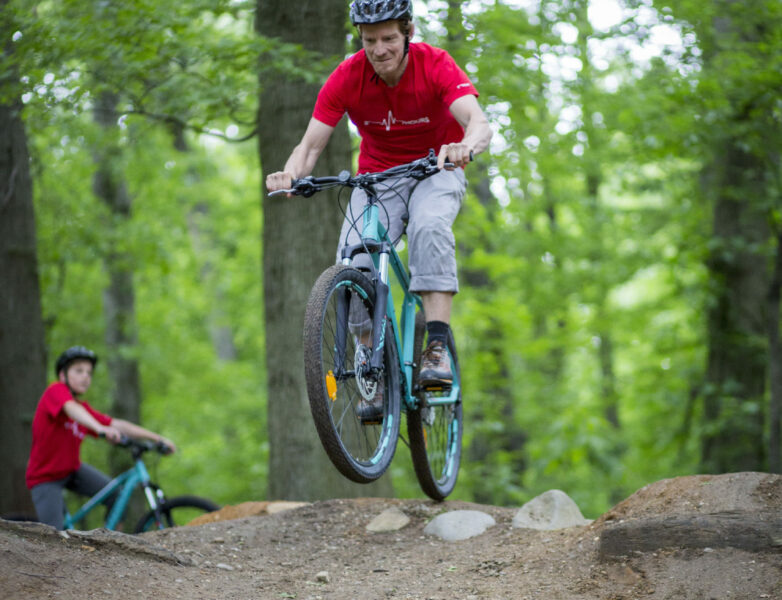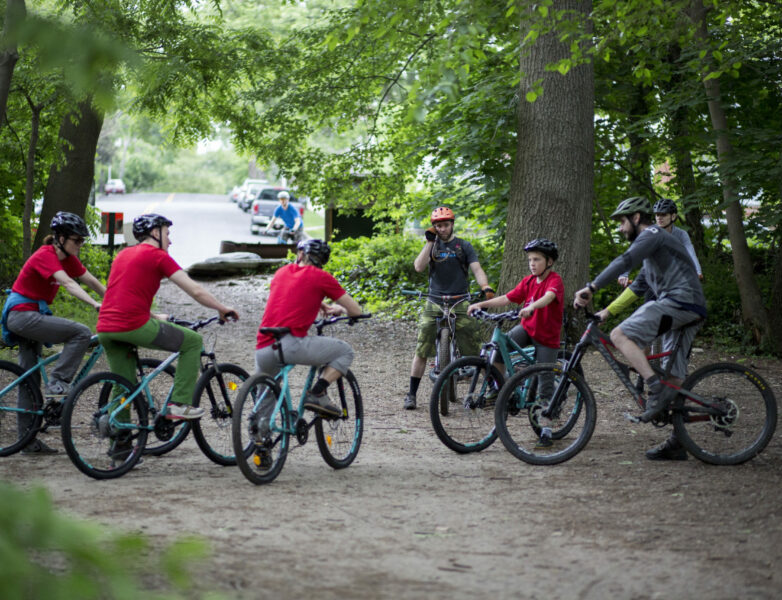 Season

Peak season is spring to fall

Nearest city

Cunningham Park, Queens is just a short drive from NYC
Discover the perfect playground for new riders
A quick drive from the city, Cunningham Park is the ideal spot to introduce new riders to mountain biking. It's easy to get to, and due to its forest cover, even easier to forget you're steps from civilization. These trails are perfect for single speeders thanks to a total elevation gain of 40 feet. If you're up for it, you'll also encounter cruisy, technical singletrack, rock features, and log-overs. The biggest climbs can be cleared with 10 pedal strokes — but don't let the elevation fool you. Cunningham provides a great workout with constant speed-ups and slow-downs, short and sharp power climbs, and some wide-open, full-speed fast trails.
Once you have a couple of laps under your belt on a proper mountain bike, we promise it's pure momentum, perfect speeds and easy riding from there!
Book This Adventure
Mountain Biking 101 Course
$200 per person
·
3 hours
In the course introduction, you'll get familiar with different types of mountain bikes, participate in a protective gear walkthrough, and warm up on your bike, finding your legs for what comes next. In the two-hour riding session, you'll gain the necessary skills every rider should learn and build upon. You'll learn techniques that include breaking safely, riding over small obstacles, handling downhill slopes, changing gears, lifting the front wheel and proper body positioning. This is a "hands-on" — or rather "wheels-on" — session, so you're learning new skills while riding the tracks. The pace of each activity will be adjusted to the individual's comfort and skill level. End with a cool down session: You'll also have the opportunity for a discussion with the guides about your experience and to answer any additional questions you might still have.
Guides we recommend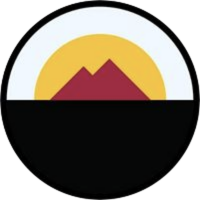 Bike Hike Tours
With more than a decade in the adventure travel industry, Bike Hike Tours brings ex...
View details
Things you need to know
Why should I book with 57hours?
With us, it's all play and no work for you! 57hours is an open platform that connects you with trained and certified outdoor adventure professionals all over the world. Using our tech-savvy, we make it super easy to find and book adventures worth tackling, with guides worth booking, all gathered from the first-hand experiences of the locals who adventure in these amazing locations.
Why should I go mountain biking?
Mountain biking is fun! Feeling in control over bumpy and unpredictable terrain is an adrenaline rush all in itself. Once you ease into riding, you'll learn to read obstacles, manage momentum with your body and brakes, and maneuver over the trail with confidence. All your guides expect from you is a basic grasp of riding a bike, an open mind, and a lot of trust. A small price to pay to feel like you're practically flying, right?
What's included?
What you get in this adventure:
An experienced local guide with extensive MTB knowledge
3-hour MTB lesson
Please note, for this biking course, a mountain bike and helmet are not provided. Please let us know during the booking process if you are in need of bike gear and we will help get you sorted.
What can I expect from mountain biking with a guide?
One of the reasons why mountain biking is so popular is the rush of adrenaline it sends through your veins. Sure, danger is part of the appeal, but you'll want to avoid any unnecessary risks by hiring a guide. They'll make sure you enjoy the ride and feel safe while doing it. There is no road map or GPS technology out there that's as good as having an experienced local guide to lead the way while mastering unfamiliar trails. There's always more to see, and your guides know just where to go to find it!
What do I need to bring?
Wear comfortable riding or athletic clothing, preferably moisture wicking or synthetic material
Sneakers or sport shoes
Breathable outside layer or jacket
Sunglasses
Plenty of water, water bottle or hydration bladder
Daypack with snacks
Biking gloves are optional but recommended
What if I never mountain biked before?
As long as you pedal on two wheels, you can take this course. A guide will explain the different mountain bike techniques and body positions to get you feeling comfortable on the trial. You will progress at a level that is consistent with your comfort. Once you finally get the hang of trail riding, you will only want more!
How fit do I need to be?
Anyone with an adventurous spirit and a willingness to learn can give this beginner mountain biking course a try. The small group size ensures that guides cater the entire experience to your capabilities. So no matter your fitness level, if you can ride on two wheels, you can take this course!
What is the minimum age requirement?
Anyone over the age of 18 is welcome to book this course. If your party has minors younger than 18 years old, contact us prior to booking to make arrangements.
What about group sizes and pricing?
There will be a minimum of two people and a maximum of four people per group for $200 per person.
Only small group adventures are run to ensure that everyone has the best experience possible and doesn't get lost in the crowd.
Because this tour requires a minimum enrollment of two people, if you are booking alone, your reservation is subject to change up until the last day if the minimum enrollment is not reached (but fear not, as that is rarely the case!).
If you want to book a private lesson, please contact us here
What about bad weather?
Tours are scheduled to fit with the seasons and ideal cycling conditions.
In most cases, your guide will be prepared for whatever Mother Nature happens to throw at you. In the event of unfavorable weather, your guide will know the best course of action to take, changing locations to a more suitable place nearby, or rescheduling the course to a more favorable day.
If no options presented were viable to you, you will be issued a full refund.
Cancellation policy
The cancellation policies outlined below take into consideration the costs Bike Hike Tours Inc. incurs long before travelers ever depart. Bike Hike Tours Inc. strictly adheres to the following cancellation policies.
Holiday price is defined as everything purchased from Bike Hike Tours Inc. as part of your tour, including upgrades and a single supplement.
If a customer cancels a booking, Bike Hike Tours Inc. shall keep the following amounts from the full holiday package price:
Up to 75 days prior to the departure, 500 USD of the holiday package price.
90 to 61 days prior to the departure, 1000 USD of the holiday package price.
60 to 31 days prior to the departure, 50% of the holiday package price.
30 to 0 days prior to the departure; 100% of the holiday package price.
100% of the package price.
The stated costs of cancellation shall also apply to changes of the departure date or the type of accommodation facility, i.e. the type of the room/apartment, as well as on other major changes. An eventual different scale from the stated one is included in a specific program to which it refers.
A 7% processing fee will be charged in conjunction with all refunds.
If canceling outside of 61 days prior to departure, the cancellation fee can be applied towards a future Bike Hike Tours Inc. reservation as a Travel Credit. This Travel Credit is non-transferrable, non-refundable and only valid for travel within one year of cancellation. Once a Travel Credit has been applied to a trip it is considered non-refundable.
IF A TRIP IS CANCELLED BY BIKE HIKE TOURS
Bike Hike Tours Inc. reserves the right to cancel or postpone any trip for force majeure or any other circumstances beyond its control. Bike Hike Tours Inc. also reserves the right to cancel any trip if sign up is inadequate and group size does not meet the 4 person minimum. In such cases, Bike Hike Tours Inc. will refund tour costs to participants but is not responsible for additional expenses incurred in preparation for the trip (e.g. non-refundable air tickets, visa fees, gear, insurance or medical expenses).
CHANGES FOR SCHEDULED TOURS INITIATED BY GUEST
Request to change tour date or a date for an existing reservation will be resolved based on availability. If this request is made inside of 61 days prior to departure a minimum 250 USD late change fee will be applied. Additionally, the guest must pay any increase in the tour price and will not be refunded if the new tour price is less then the original tour. We accept only one date change per reservation.
Getting there and meeting location
You will meet your guide on the trailhead on the northeast side of Cunningham Park
If traveling by train, take the QM8 express bus and get off at 73rd Ave/210th St, a couple blocks from the trailhead
If traveling by car, take the BQE to the LIE and head east. At Exit 26, follow Horace Harding Expressway to Oceania Drive. Trailhead is 1000 ft from Oceania.