The 5 Best Places for Mountain Biking in Utah
Riding through majestic canyons, over famous slickrock and taking bird's-eye-views of ancient desert floors is just the beginning of Utah's MTB landscape.
Table of Contents
Adventure seekers are drawn to the state of Utah's "Mighty Five" national parks, 45 state parks, and over 1,203 mountain biking trails spanning 3,788 miles – and still growing. Moab needs no introduction — it's world renowned. Traveling into the Salt Lake City and Park City areas, you get the best of both worlds. In southwestern Utah, St. George and Hurricane are also putting themselves on the map. Oh, and a good portion of trails in the southern part of the state are rideable year-round. There's truly something for everyone in Utah, the state seemingly designed specifically for mountain biking.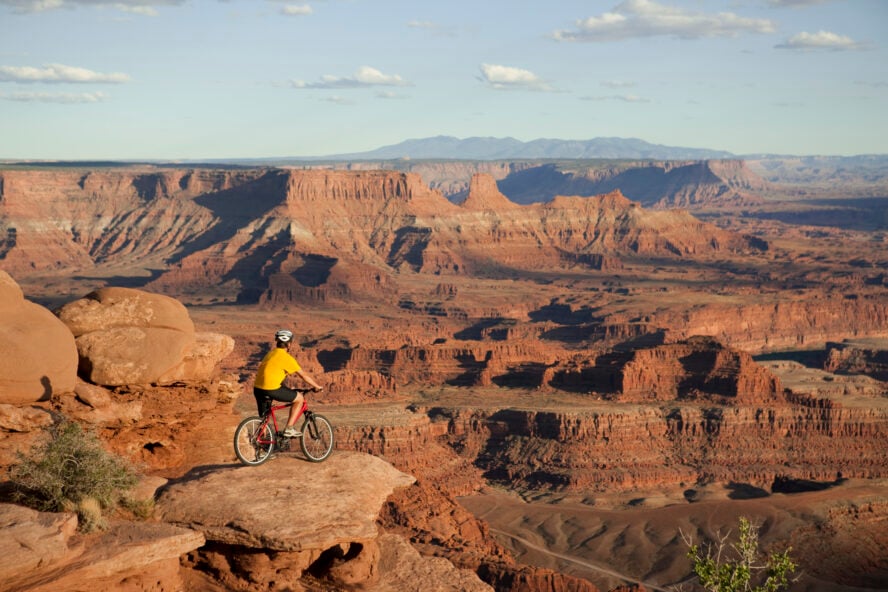 Where can you mountain bike in Utah?
You can mountain bike across Utah, with trails concentrated in pockets all over the state. The up-and-coming Salt Lake provides plenty of restaurants, breweries, and art destinations, all with quick access to the mountains and to attractions in Park City. Did you know Park City is also the world's first International Mountain Bicycling Association (IMBA) Gold Level cycling destination? Heading toward the Colorado border, you can be in Moab in just under a four-hour drive from Salt Lake City. Moab offers plenty of technical routes for the more experienced rider and its copious red rock and sandstone makes it feel like you're riding the mountain bike trails in Sedona. Or on another planet.
Traveling Bryce Canyon, St. George and Hurricane for Utah's mountain biking trails, each area has equally enticing and compelling reasons to visit and ride. The nearby Gooseberry Mesa trail network is a major draw because of its temperate weather in colder months. It's the perfect location to enjoy some late fall and winter mountain biking. Southern Utah also has so much to offer on and off the trail.
When is the best time to go mountain biking in Utah?
The mountain biking season in Utah is long, depending on your tolerance to varying temperatures. Many of the hot spots in southern Utah are situated at a high elevation, so don't let its location fool you. I've definitely woken up near Bryce Canyon with frost on the tent in September. Zion is another high-altitude area that can surprise you with its falling temperatures. Spring and Fall are ideal for visiting due to moderate temps. In the summer, high-altitude areas such as Park City can be a bit of a reprieve from the desert heat. Depending on the trail, you can find sun and shade into the late parts of spring to early summer and late summer to fall.
Tips to find camping in Utah
The Bureau of Land Management camping sites, better known as BLM land, is all over the West. Utah is ripe with free camping spots across the state. Many are undesignated, meaning you get to make your own homestead, and all are first come, first served. It can still be tricky to nail down a spot in areas such as Moab or close to the park, so arrive early and plan ahead. BLM land can be found on apps such as iOverlander.
Utah is an outdoor adventure playground worth the travel
Utah is a major player in the local and international mountain biking community and the perfect MTB destination, but the adventure doesn't stop there. You won't want to limit yourself to one section of the state. Whether you are near Salt Lake City, in the mountains or near the famous Zion National Park, you can find some of the best hiking trails in the U.S. and incredible climbing in Utah. Discover arches, hoodoos, mesas and slot canyons while riding some of the best track this country has to offer.
Without further ado, here the best trails for mountain biking in five of Utah's top MTB destinations: