The Top 5 Must-Ride New Zealand Mountain Biking Trails
Mountain bike trails that give Colorado a run for its money, geothermal wonders equal to Iceland, and alpine tracks of your dreams — New Zealand exceeds the hype.
Table of Contents
New Zealand is one the best places in the world for mountain biking. The North and South Islands are covered in MTB trails. Each island is a world in itself, one set in a geothermal wonderland complete with gorgeous volcanic features, and the other an alpine paradise brimming with exciting mountain trails that rival the mountain biking in Switzerland. You get to plummet from these legendary spots, jump over native tree roots and raise dust just about anywhere you want throughout the country.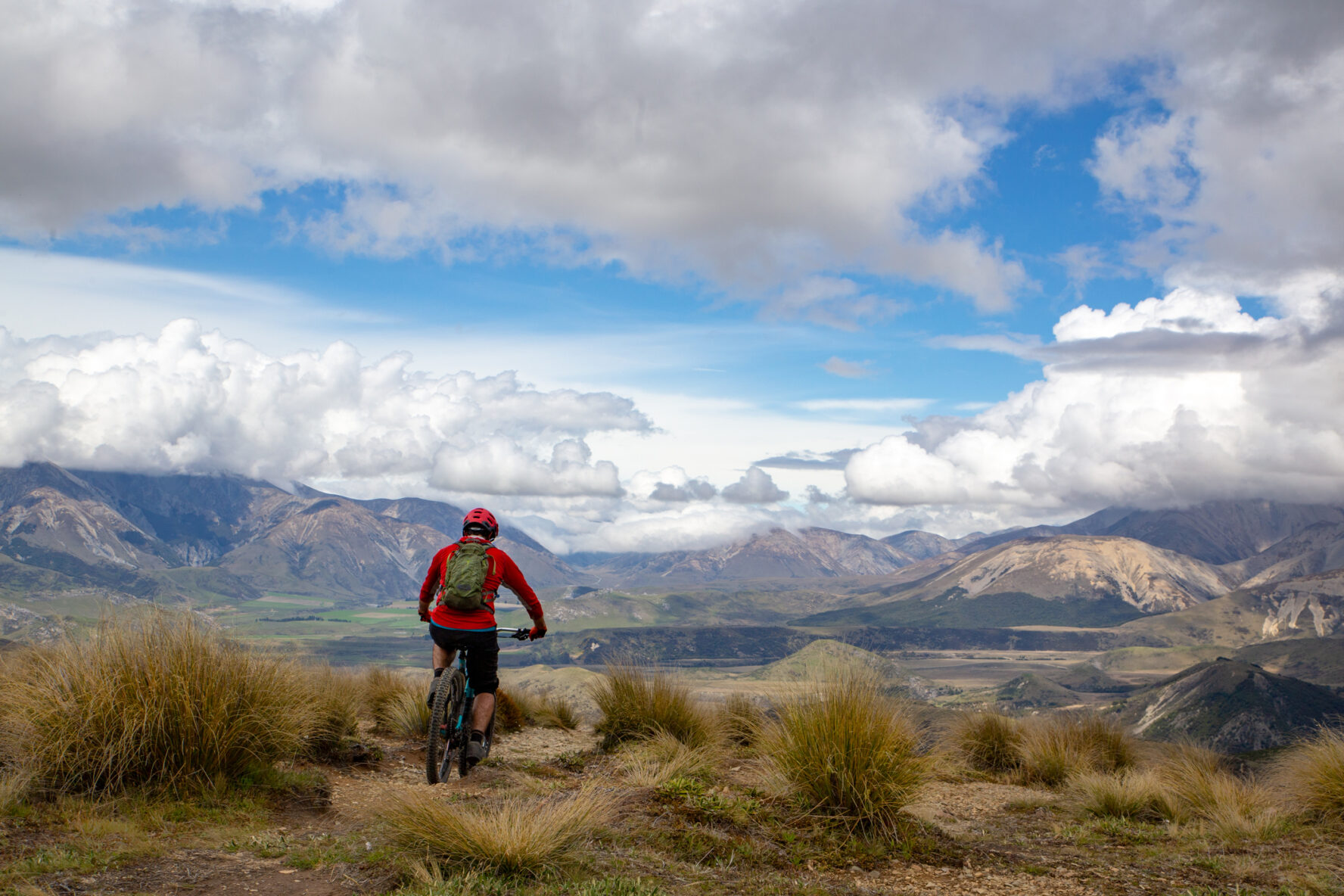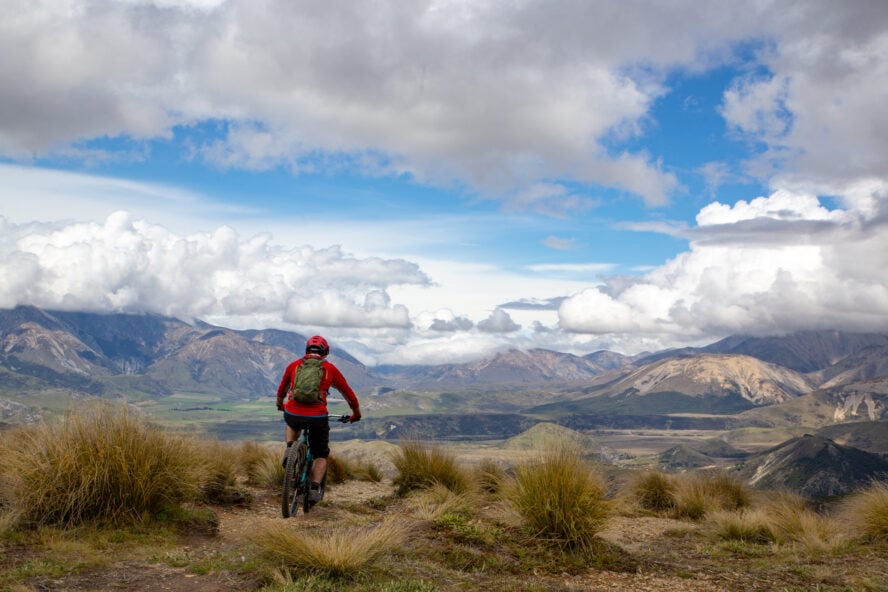 The options for trails are endless, and you won't find the crowds here. What makes biking tours in New Zealand so desirable is easily its greatest drawback — you have got to actually want to come here. It's hardly a driveby location. However, once you're in New Zealand, it's so easy to get around, and you won't want to leave. When people come from overseas, their reactions to the ever-changing surroundings are always pretty special. New Zealand bike trails manage to surprise me, too, and I have been biking here my whole life.
Like most Kiwis, I got exposed to New Zealand biking straight away growing up on the hills, rivers and the outdoors. Of the countless superb New Zealand MTB trails, here are few of my top picks, ranging from family-friendly day cruises, to heli-biking down a steep and exhilarating expert trail, I've chosen something for every taste.
The Best Mountain Biking on New Zealand's North Island
The North Island, also known as Te Ika-a-Māui by the native Maori people, is a geothermal playground. It's predominantly flat, with big volcanic peaks in the middle. The mountains might be smaller than those in the South Island, officially Te Waipounamu in Maori, but they are absolutely beautiful and covered in trails. It's the go-to spot for day trips and getting to know the native culture, due to its rolling hills, jungle-like forests and gorgeous landscapes created by a huge eruption from a supervolcano. Just as important as the breathtaking vistas, volcanic soil is self-draining, ensuring superb MTB ops year-round.
NEW ZEALAND
1. Redwoods (Whakarewarewa Forest)
TOP CHOICE FOR BUCKET-LIST WORTHY TRAILS
Trail options are plentiful
Exciting volcanic terrain
Gets crowded with tourists
Much has been said about the iconic Rotorua mountain bike trails that lace through the prehistoric redwoods of the Whakarewarewa Forest — but there's also plenty to see, explore and ride. Easily one of the best MTB trips in New Zealand, it's also one of the oldest mountain bike networks in the country. You'll find well-sculpted trails, impeccable riding terrain, and varying topography over miles and miles (160km to be exact) of pure adventure. The expansive MTB system is divided into several riding areas. You'll find flat trails flanked by looming giants overhead, extreme downhill in the Tawa to Moerangi Network, and exciting singletracks spreading across volcanic terrain.
It's hardly a surprise Redwoods was awarded Gold-Level Ride Center status by IMBA. The mountain bike Rotorua trail map will give you a better sense of how much time you should carve out for this destination alone.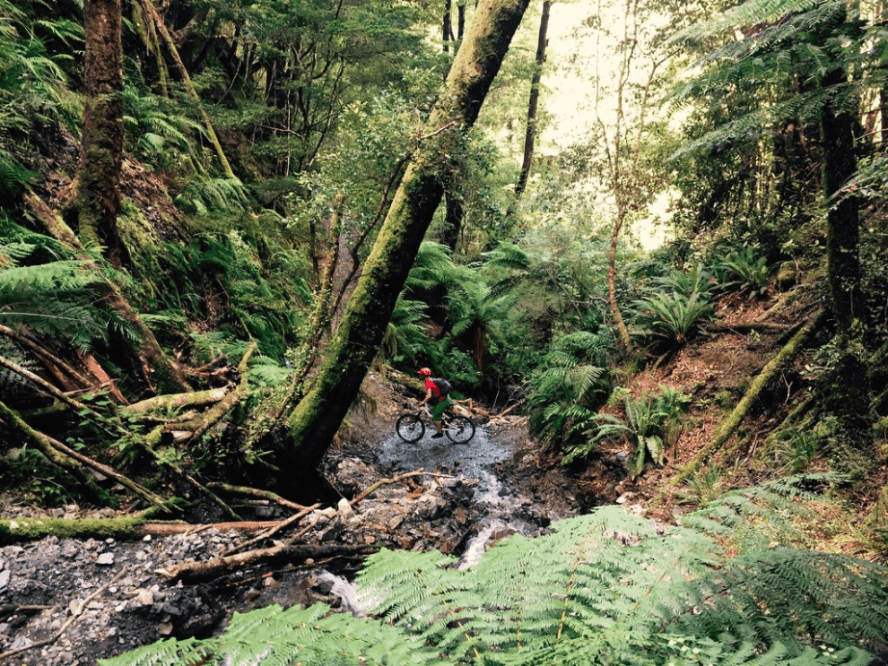 Mountain biking near Rotorua will satisfy a range of appetites
Thrilling New Zealand bike trails are 20 minutes away from central Rotorua, perfect for day trips or coming back over multiple days for more. Riders of all skill levels and appetites are welcome. Are you here with your little ones or just looking for the perfect mix of sightseeing and getting your blood going? Opt for forest's more gentle slopes, brimming with intact native flora. Be sure to save a decent chunk of time from your itinerary just for taking in the sights and getting to know the history of the Whakarewarewa Forest, a significant area in the Maori culture.
If you're looking for an adrenaline fix, Redwoods has plenty of hardcore trails. Make your way to the National Downhill race tracks. Don't let its simplicity fool you. The amount of expertise you'll need to take on this high speed trail is insane, as well as the amount of airtime! Once you get used to the hellish smell of sulphur in the air, Redwoods is a MTB heaven on earth.
With loads of trail options ranging from family friendly to white-knuckle descents, Redwoods' thrilling volcanic terrain and native flora will leave you hungry for more.
1. Redwoods (Whakarewarewa Forest) - Good to Know
Skill level:
Beginner to advanced
Terrain:
Singletrack, downhill, uphill
Route map:
MTB areas are charted by difficulty
Rest day activities:
Learn history of the local Maori culture at Te Puia museum and geysers
Best intro area:
NEW ZEALAND
2. Taupo Trails
TOP CHOICE FOR MASTER-CRAFTED INTERMEDIATE TRAILS
Perfect for intermediate riders
Unpredictable volcanic terrain
Beautiful day rides on trails made by mountain bikers
Need transportation back to the starting point, but shuttles and water taxis available
Campsites get booked fast
Taupo trails offer diverse downhills, switchbacks, cambered berms and cross-country trails in the center of the North Island. That's the type of variety you'll find on the best mountain biking trails in Europe. In this area of New Zealand MTB trails, you'll also find mountain bike parks, BMX jumps and true singletrack. Taupo mountain biking trails feature three main sections of tracks: the Great Lake Trails, Huka trails and Wairakei Forest. Not far from the city of Taupo, you can also head to skills parks, such as Taupo BMX, featuring dirt tracks and a pump track.
You get to hone your skills on the unpredictable volcanic terrain with yawning ravines and bizarre rock formations everywhere. As you plummet downhill, it's clear these trails were built by mountain bikers for mountain bikers. Taupo features flowing tracks snaking through native forest, past secluded beaches perfect for cooling off, and plummeting gorges with views of snow-dusted volcanic peaks. The shores of Taupo deliver a truly epic mountain biking adventure.
Where I recommend for epic mountain bike trails in Taupo
While the IMBA awarded Taupo with Silver-Level IMBA Ride Centers, these scenic rides take the prize when it comes to must-ride intermediate trails. Hands down the 50-kilometer Great Lake Trail is a true winner. You traverse native bush surrounding Lake Taupo, the same body of water formed after one of the largest known volcanic eruptions in all of Earth's history. You're riding the rim of a literal supervolcano past native forests, waterfalls and views of the mountains of the Tongariro National Park. As a bonus, you'll also navigate some of the most remote areas of the lake.
Head to Great Lake Trail for a remote mountain biking
The Great Lake trails consists of the beginner-friendly Waihaha and Waihora Link (30km), Orakau section (9.7km) and the W2K section (13km), as well as other tracks that you can add a loop to prolong your Taupo adventure. The big finale is reaching the Kotukutuku Landing through a series of boardwalks and bridges. If you want the perfect mix of adventure and leisure, you can bike to one of the many water taxi or shuttle stations, and soak up the sun on your way to your next destination.
Once you get to Taupo, you won't want to leave, and you don't have to! The area offers plenty of camping and glamping options. Be sure to book ahead of time, as many nature lovers frequent Taupo.
Get ready for exciting downhills, expertly crafted corners among lush kanuka trees and switchback climbs to elevated lookouts with views so magnificent, you'll be glad you brought a camera.
2. Taupo Trails - Good to Know
Terrain:
Free-draining pumice tracks
The Best New Zealand MTB Trails on the South Island
Offering some of the best mountain biking on Earth, the South Island is the largest of New Zealand's group of islands. It's basically free range for mountain bikers to explore — famously home to more sheep than people — complete with massive mountains and stretches of farms, vineyards and coastline. That's the South Island for you. Being so remote, there is plenty of wildlife. We have a bunch of animal encounters. You could be just chilling next to a river or on a big open area of grass and a deer will come cruising through. Whether you're looking for blood-curdling downhills or a light workout while witnessing some pretty epic landscapes and gold rush relics, the South Island won't fail you.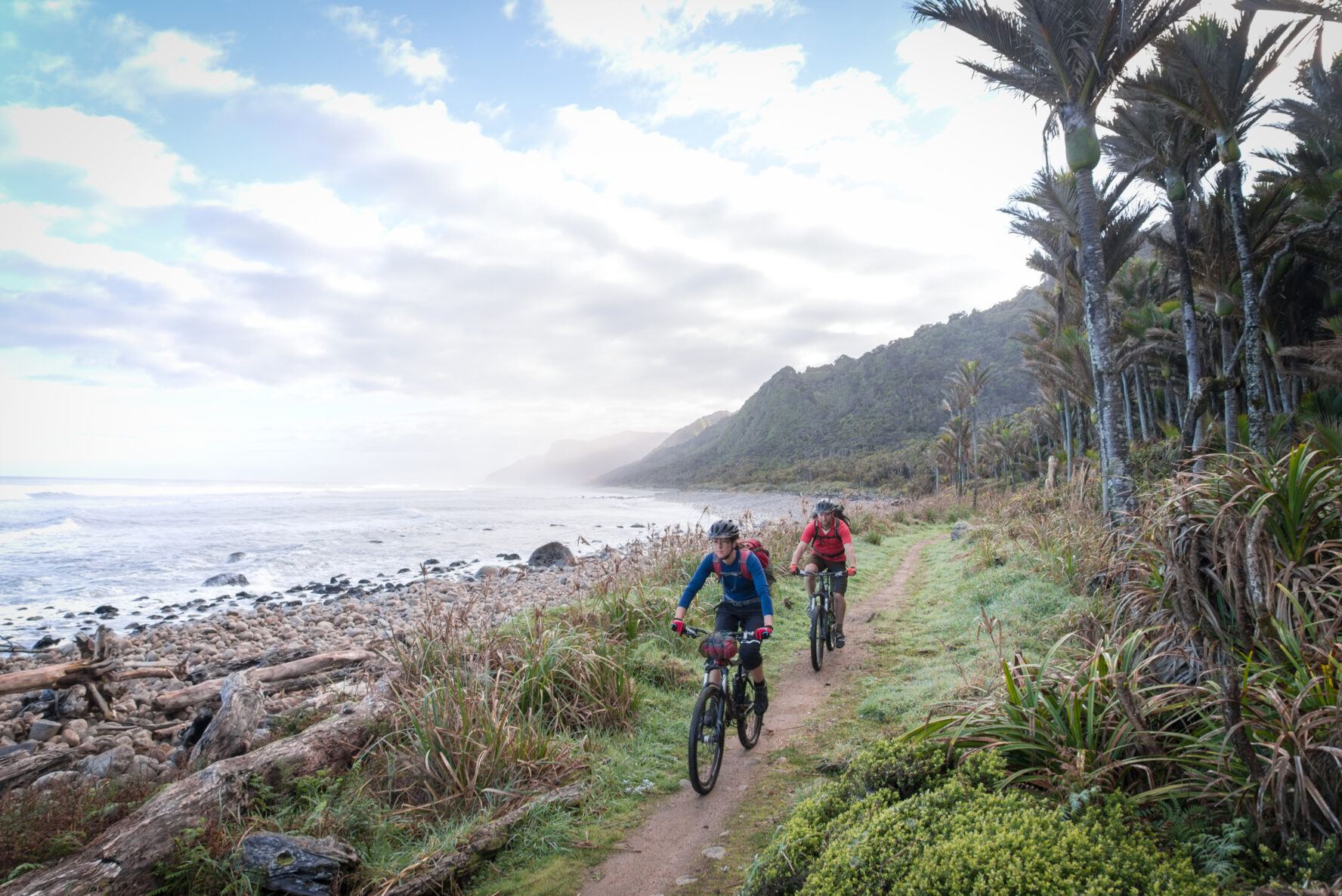 NEW ZEALAND
1. Heli-biking on the Pisa Range
TOP CHOICE FOR FARM TRAIL TURN MTB TREK
Hardcore trails or rolling, leisurely rides
Heli-ride is very weather dependent
So, you've been to Colorado and rode dust on probably the best known MTB trails in the U.S. This farm trail is so epic, it gives the legendary rides of Colorado mountain biking and Utah MTB trails a run for their money. Prepare to be amazed all over again. At 6,500 feet, you'll be staring down the Pisa Mountain Range, home to one of New Zealand's highest mountain-biking trails.
You start off at the top at Lake McKay Station, looking down at the 25 kilometers of trail in front of you. It's all downhill from there, but in the best way possible. The whole experience is catered to the taste of the biker, the main one we do is set in these smooth, rolling hills. We'll just stop to catch our breath, and sheep will approach us to see if we've got any food. The local animals are just as friendly as the people. It takes about five hours to complete with plenty of breaks for sights so beautiful you'll need to pinch yourself to make sure you're not dreaming.
Southern Alps are a must for heli-biking on New Zealand's South Island
If the previous option sounds too vanilla for you, the Southern Alps is the largest mountain range stretching across the South Island. The Alps are thrilling, hardcore trails. No matter your desired difficulty, heli-biking in Wanaka is a must.
Give your muscles a bit of R'n'R and grab a bite to eat, drink a beer and check out the party scene. My favorite place for refilling my batteries is The Hook, located in Wanaka. It's this lake to plate restaurant, where you have the opportunity to catch your own salmon and eat it, too.
You board a heli, it drops you off on top of a hill, you point your wheels downhill and the rest is history.
1. Heli-biking on the Pisa Range - Good to Know
Skill level:
Intermediate to advanced
Need-to-know before you go:
You'll need at least one other person to join you on this trip
Bike rental options:
NEW ZEALAND
2. Old Ghost Road
TOP CHOICE FOR ALPINE SINGLETRACK
Technically challenging, varied terrain
Extraordinary vistas from rivers to gold rush relics
Weather can take a turn for the worse, even in the summer
If Redwoods are synonymous with North Island MTB, Old Ghost Road (OGR) steals the show on the South Island. The one-way New Zealand mountain biking trail is the country's longest, claiming 85 kilometers of an old mining road starting at Lyell and leading to the Mōkihinui River. The narrow, gravel singletracks flows by jagged mountains, lush native forests and upon steep cliffs that demand all your attention. OGR will find your limits and surpass them. Expect steep climbs with sudden drops on one side, with only a few inches of poor traction trail. You'll also take in views of the Mōkihinui Gorge.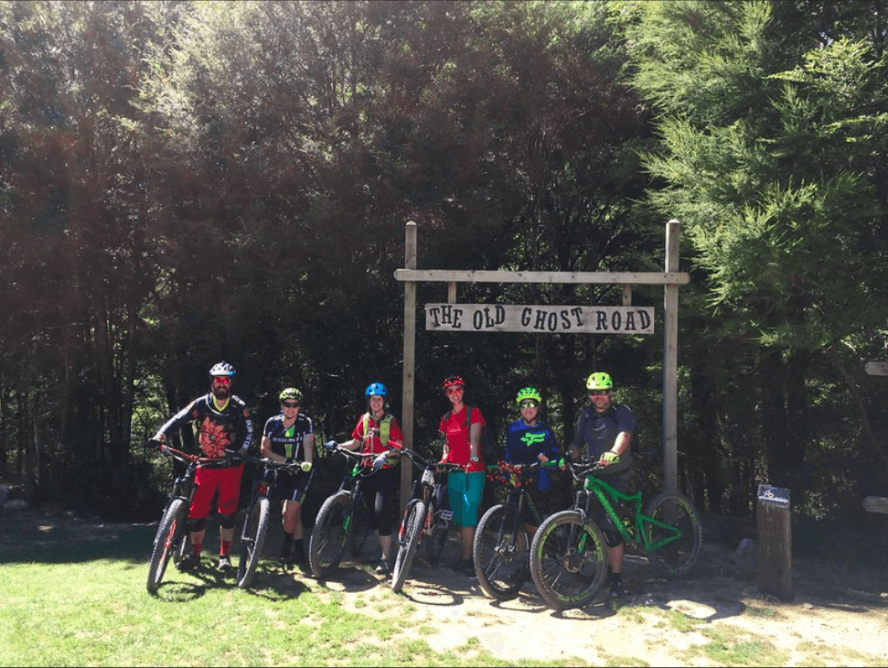 As you pass the relics from gold rushes, you'll think you're the only one there. Despite its name, the trail is alive with birdsong. The huts have been built in a way that ensures even more jaw-dropping views, overlooking surging rivers and thick forests. You'll feel like you're on the top of the world.
Staying in huts along the Old Ghost Road completes this epic NZ trail
The trail is as off the grid as they come, but the huts are surprisingly well-equipped. That said, you'll hardly get any cell signal here, so make sure to let someone know of your whereabouts or bring your GPS. If you're planning on tackling the OGR without a guide, you'll have to organize transportation at the end of the trail. You might not have the energy to do it again.
All beginners should steer clear of OGR. It's challenging and will test your technical, cross-country skills. But, advanced riders will love the scare factor and jaw-dropping views. Every drop of sweat is 100 percent worth it.
This once deserted miners' road came back to life as an epic 85-km feat that will take you through forgotten landscapes following a thrilling singletrack.
2. Old Ghost Road - Good to Know
Terrain:
Alpine, rugged singletrack
Season:
Year-round, summer and fall are optimal
Trailhead elevation:
875 meters
NEW ZEALAND
3. Otago Rail Trail
TOP CHOICE FOR TRUE BEGINNER RIDING
Historic ride set on railway lines from 1880s
Stunning panoramic vistas
Easy to stray off the path, so let someone know where you go
Winter conditions can be difficult to ride
Mountain biking on New Zealand's Otago Rail Trail is quite literally striking gold. First built when the gold rush struck the island, the 150 kilometers of ex-railway lines are designed for leisurely driving and families. Due to the primary function of the area, these trails are set on gentle, beginner-friendly slopes — similar to the six best Moab mountain bike trails for beginners.
You can choose your own adventure with a half-day, full-day or multiple days on the trail. Otago offers options by the truck load.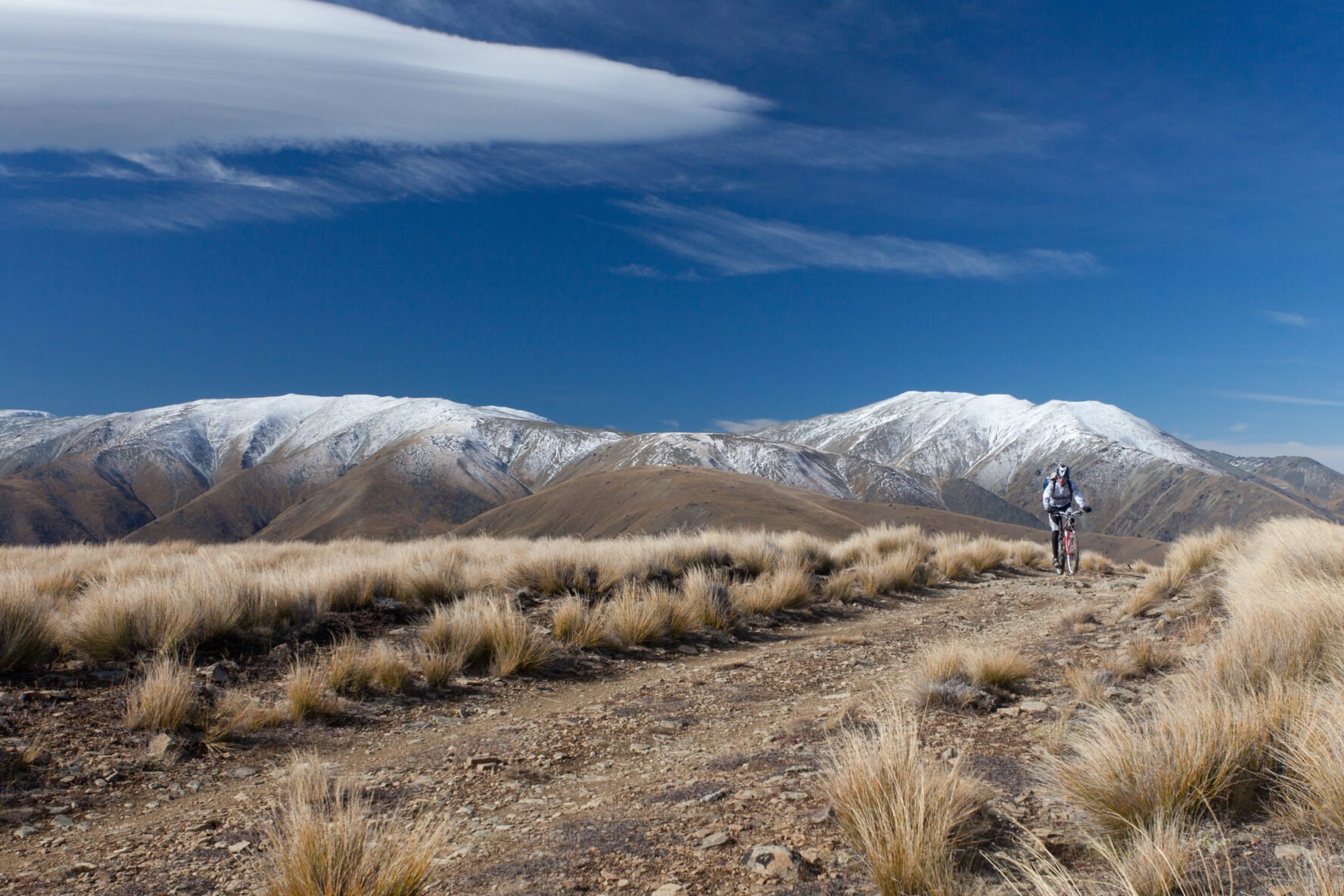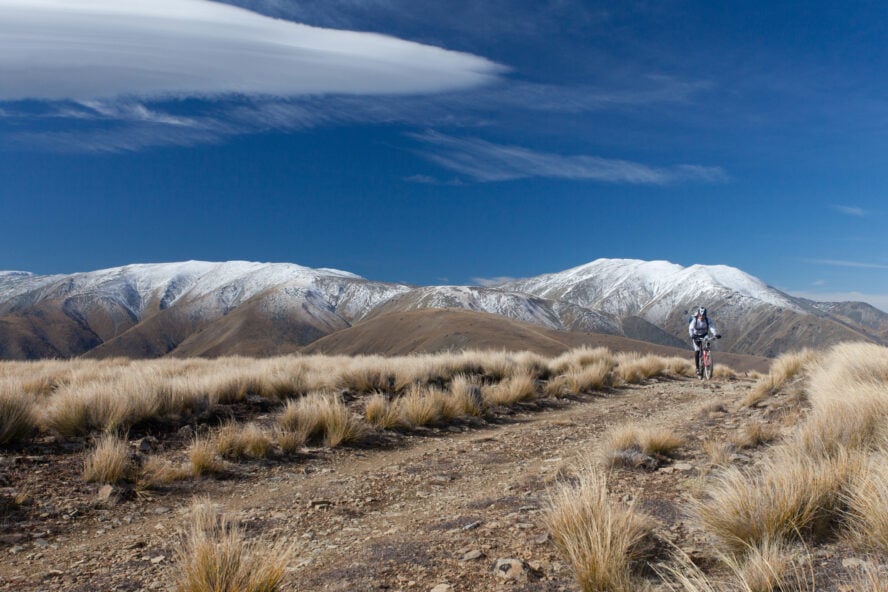 Family-friendly Otago Rail Trail winds through history
An all-star day trip starts at the Historic Hyde Station. You'll feel like you're starring in a western, as you journey past old wagons, through tunnels and across bridges. Add a picnic by the river and you've got a day to remember. Every few miles you'll stumble upon country towns filled with bars, good food for refreshments, and rustic hotels, if you're looking to stay.
It's remoteness is definitely a part of the charm. Just make sure to have a map with you, so you can hit the best spots at the best time. No matter where you start or where you're headed, expect passing through a place where time seems to have stopped. The historic architecture and railway bridges guarantee panoramic views of the landscape.
Get transported to yesteryear as you bike on old railways, through tunnels, past abandoned gold digs and welcoming towns along the way.
3. Otago Rail Trail - Good to Know
Terrain:
Old railways, loose gravel
Rest day activities:
Save a lot of time for sightseeing the Wild West-esque towns
My Advice for Planning an Epic MTB trip to New Zealand
When to visit New Zealand for mountain biking
Prime time for mountain bike trips to New Zealand depends on your goals. Coast trails are open year-round. The all-star trails are frozen over in the winter. Peak MTB season is from the middle of October to April. Most people mistake our summers for Australia's. In New Zealand, temperatures max out at 30℃. It's hot, but you won't get cooked on the trail.
Do you need a mountain biking guide?
Technically, you don't need a guide, but you might want one. It's always a good idea to have someone who really knows the trail and area. If there are any hiccups along the way, they're most likely going to be well-prepared and be first-aid certified. Plus, it'll save you some legwork. A good handful of must-bike trails on the South Island stretch across private farmland. You'll need permission from the owners to access it. To avoid getting shot in the bum, be sure to contact them prior to your adventure.
People on the South Island are insanely friendly. Locals might offer you coffee to sip while they show you around. If you're looking to avoid knocking on doors and just want to get out there and bike, the guides already have an established routine. Everybody chimes in with a few bucks, from there, all that's left to do is make sure you shut the gate on your way in or out.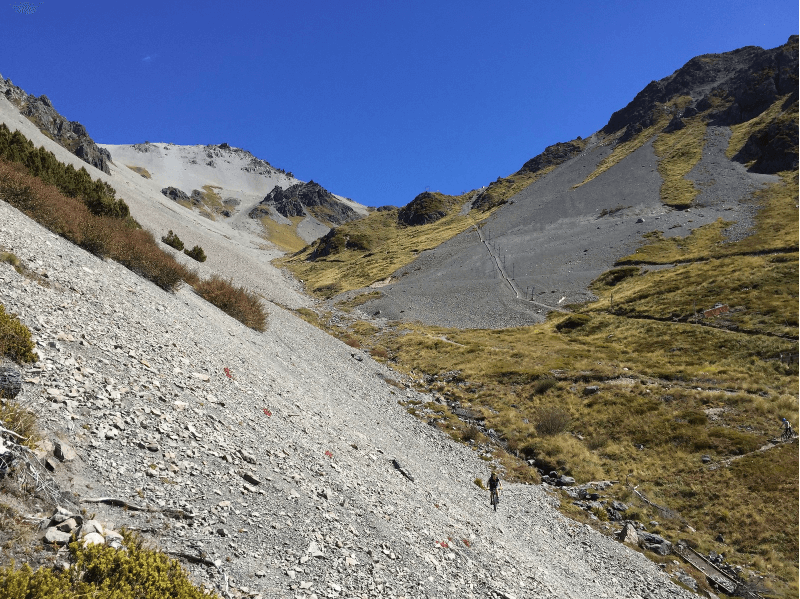 Getting around New Zealand
New Zealand is quite a small place. Kiwi Experience hop-on-hop-off buses are catered to a younger audience and cover all the destinations you need. The roads can be pretty simple to navigate, so many opt for hiring a car or renting campervans and driving themselves.
Domestic flights are also pretty cheap. Flying in NZ with your bike is easy, as long as it fits in a box.
Permits for New Zealand mountain bike trails
All government-owned land is open to the public, and you're free to use it. Rule of thumb in New Zealand is this: if it's a trail, you can hike it and bike it. You can certainly find exceptions. Some trails are too narrow to bike on, but we've always shared the trails with hikers with no objections. You'll find signs wherever you bike and maps chart MTB areas well.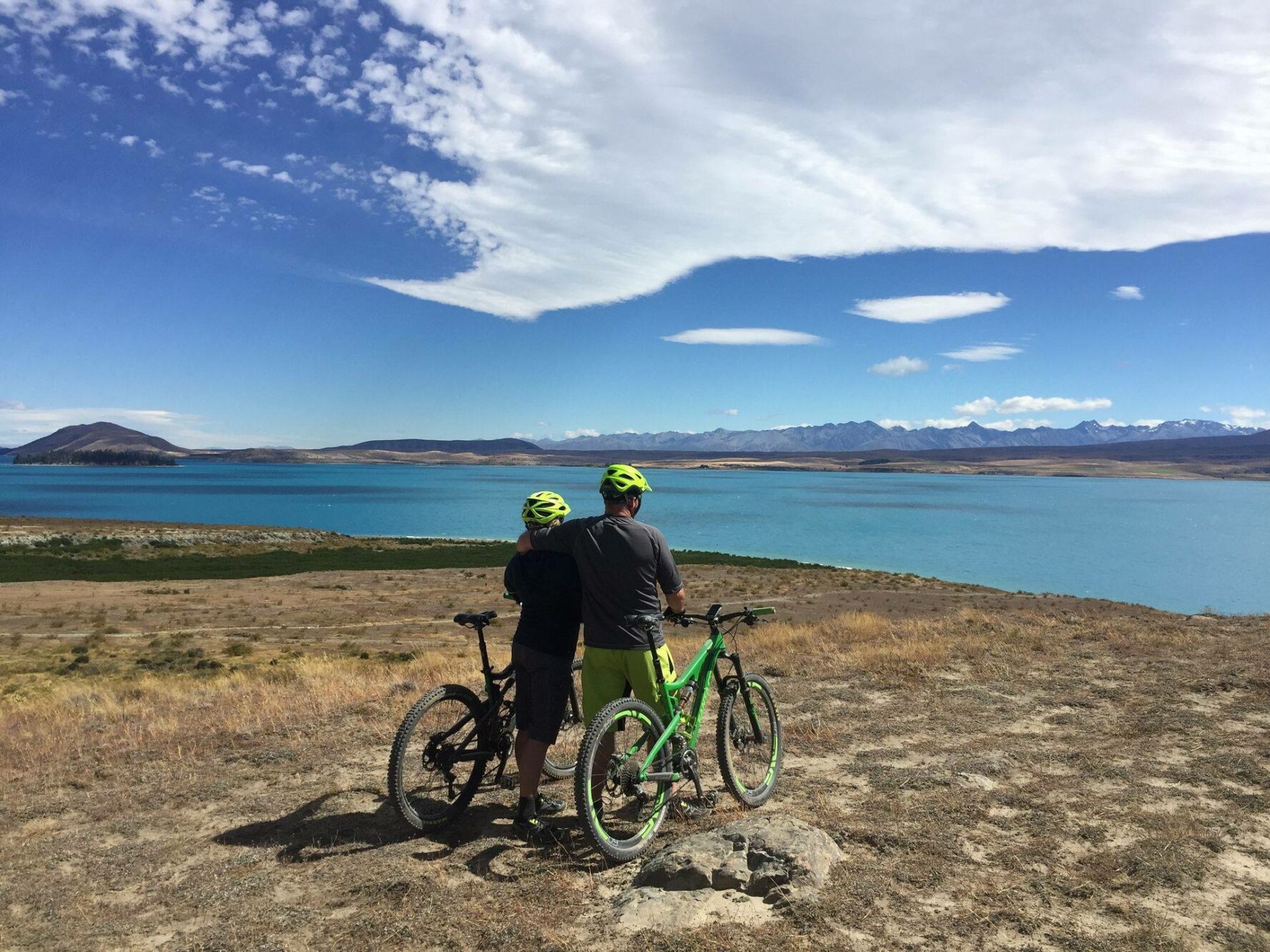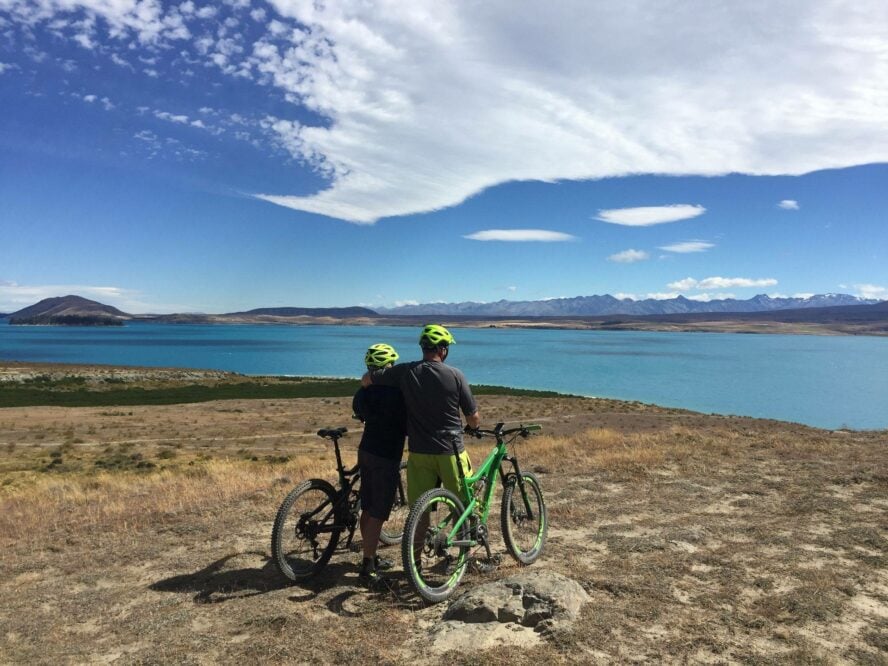 Where to stay on the islands
If you're looking to avoid extra expenses, you can find plenty of campgrounds all around the country. You don't need permits to camp, but you do need to pay a nominal fee, a couple of bucks at most. Campsites can get busy and book fast in the summer, but otherwise are really accessible. You'll also have your pick of hotels and other sorts of accomodation once you're in NZ. The good news is there are no shortages of places to stay, drink or have a bite to eat.
Make sure you're insured
The only thing you need to take care of when planning your trip is travel and medical insurance. If you have an accident, you'll be patched up and taken care of, but you'll get a bill for it. It's a small price to pay for all the trails you'll get to storm, if you ask me.
Where to ride before/after New Zealand?
If you want to ride idyllic alpine trails overlooked by some of the most famous summits in the world, take your mountain biking to France. Looking for historic rides and a bustling community? Try mountain biking in California, the birthplace of MTB. And for speedy heart-in-the-throat descents, give mountain biking in Colorado a shot.
Are you up for a real challenge? This seven-day guided trip lets you experience New Zealand's epic trails and scenery to the fullest. Discover the North and South islands and go on your favorite MTB adventure yet.