Mountain Biking Highbridge Park in NYC – 57hours Review
This is the last in our series of in-depth looks at New York's best mountain biking Trails.
Highbridge Park was the last trail on our agenda. We're not gonna lie, we had high hopes for this one. Considering that this track is in Manhattan, it's a damn shame this park didn't live up to the others in our review.
Starting Your MTB Journey at Highbridge Park
General Info

Where to Park

There is street parking available on Fort George Hill and Fort George Avenue on the park's northwest side. [Map]

Find the Trailhead

There are two entrances: The official entrance at the corner of Fort George Hill and Dyckman and at the top of the hill on Fort George Avenue. [Trail Map]

Nearest Bike Shop

Viktor's Bike Repair (10 minutes by car or bike)

Nearest Place to Eat

New Leaf (10 minutes by car or bike)
When starting your MTB ride at Highbridge you have two options: The top of the hill and the bottom.
Starting at the bottom by Dyckman Street gives you access to the the flatter trail that runs the area's perimeter. It's also a great place to start if you're looking for some good climbs.
If you start at the highest point, on Fort George Avenue, you'll be rewarded with a dirt jump and pump track. This small park isn't in the best shape, but provided a couple minutes of fun.But if you're into more traditional mountain-biking, like us, you'll probably want to hit the trails. And that's where the problems start to emerge.
On the Trail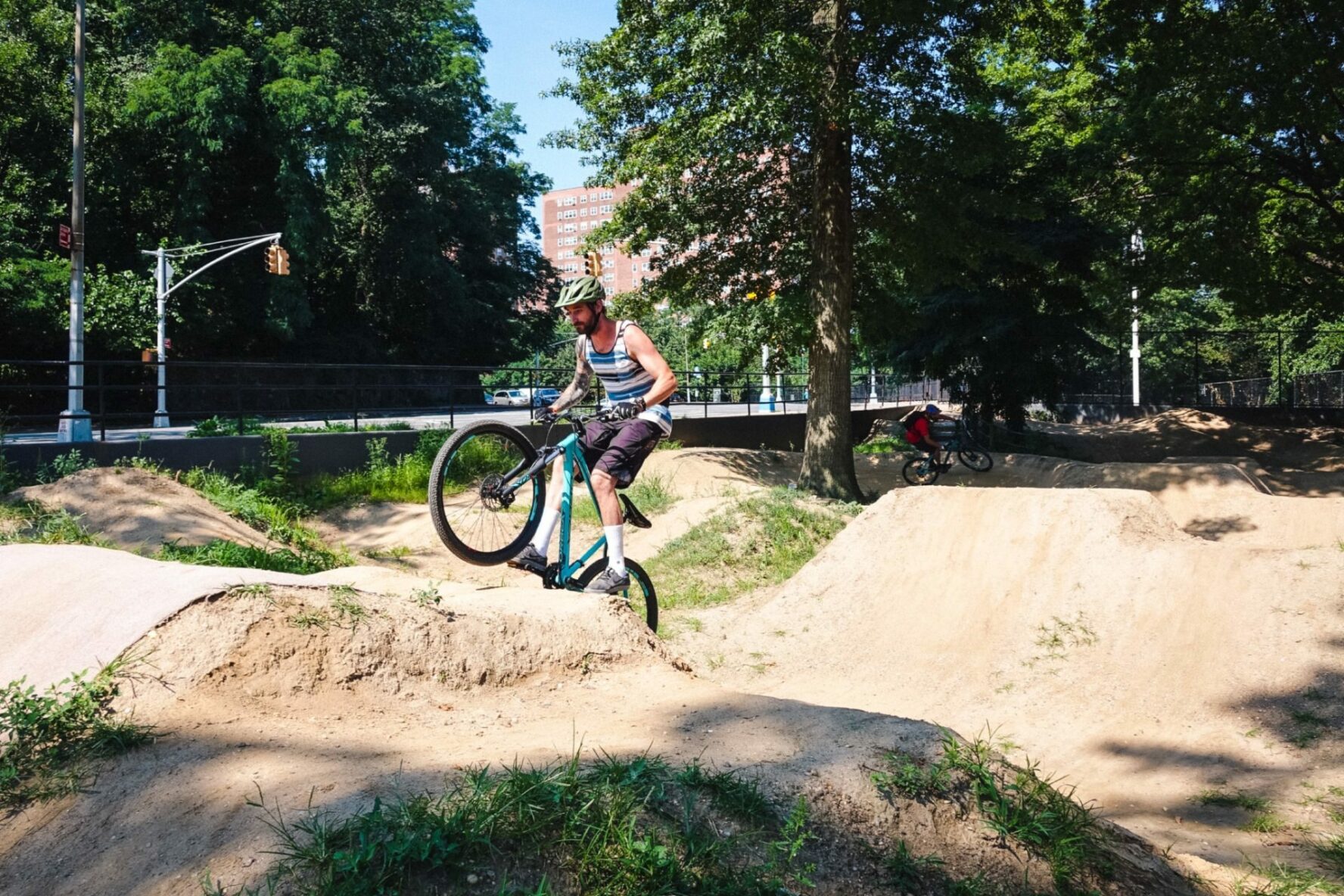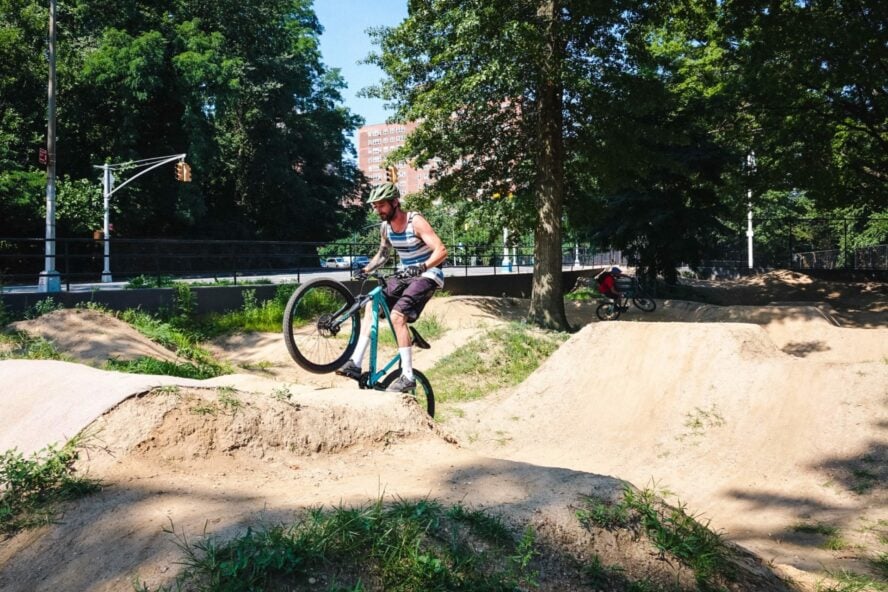 The track itself is really short, which isn't necessarily a bad thing. Unfortunately the track doesn't seem to be maintained often. Right from the start there is debris of all kinds on the track: scattered broken glass, bricks, litter, even needles. We understand these occurrences add to the city's "charm", but it makes for an unsafe ride for local mountain bikers.
Heading to the park's most technical descending section, things only get worse. Due to disrepair, there's a part of the track that just isn't passable, no matter how good of a rider you are. This section is the most technical in a fifty mile radius, but was the only track we encountered in our research that didn't let us ride it fully. Bummer.
We did manage to get a good few minutes – literally a few – of ride time. It's a shame such a promising park doesn't get the love it deserves, especially since it's so easy to get to from anywhere in the city.
Track Video
Heads-up: You can see the key points of the video on the YouTube link.
Track Overview
We've created a detailed track profile below, which gives you elevation, speed, and other unique perspectives on our chosen route.
Basic Track Details

Distance: 1.8 mi

Elevation: 223 ft
Min Elevation: 33 ft
Max Elevation: 201 ft

Climbing: 35.0%
Flat: 25.1%
Downhill: 39.9%
2D Track Profile

3D Track Profile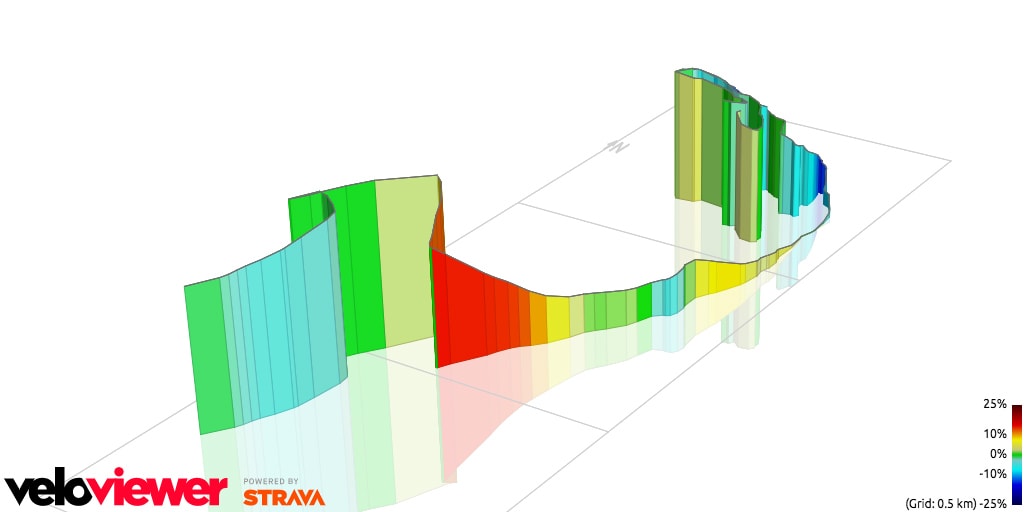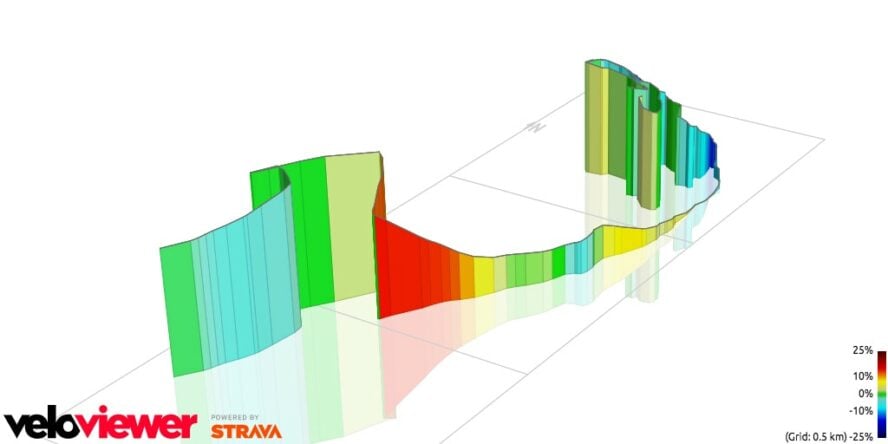 Interactive
Advanced Technical Details
Are you into crazy-minor details? We've got you covered!
Metrics for Bike Nerds
Time climbing: 00:07:05
Avg Climbing Speed: 4.6 mi/h
Time Downhill: 00:08:04
Avg Downhill Speed: 5.2 mi/h
Pedaling Time: 00:10:32
Avg Speed: 5.7 mi/h
Max Speed: 14.3 mi/h
Avg Heart Rate: 157 bpm
Max Heart Rate: 176 bpm
Avg Cadence: 57
Max Cadence: 114
Temperature: 73℉
WARNING! Advanced Nerdery
Estimated Avg Power: 88 w
Estimated Weighted Avg Power (Dr. A. Coggan formula): 167 w
Cranks Revolutions: 642
Curious about more trails in NYC? Check out our choice of The Best Mountain Bike Trails Near New York City.