Mountain Biking Hither Woods SP, Long Island
This is the fourth in our series of in-depth looks at New York's best mountain biking trails.
Montauk has played host to classic Long Island-centered movies like Jaws, Eternal Sunshine of the Spotless Mind, and most recently, Showtime's series The Affair. Another star of Montauk's show is Hither Hills, the furthest destination on our mountain biking research trip. We had low expectations for this track, but it still managed to surprise us with a little magic up its sleeve.
Starting Your MTB Journey at Hither Hills
General Info

Where to Park

There a car park off Montauk Hwy (US27), and another smaller lot down the road. You can also start the trail from the north beach if you wish. [Map]

Trail Entrance

The main entrance is right near the main road, as well as the smaller entrance. [Trail Map]

Nearest Bike Shop

Montauk Bike Shop (10 minutes by car)

Nearest Place to Eat

The Lobster Roll (5 minutes by car)

Additional Details
The area consists of two separate but attached park areas: Hither Hills, a NY state park, and Hither Woods, a natural preserve. The trail mainly stays around the perimeter of the park's entirety, and it doesn't matter where you enter it. Technically the main entrance and lot are on the park's southwest side.
On the Trail
With more than 150 ft elevation spread, the trail isn't too flat. On the other hand, it's not diverse or challenging either. We started at the "Back Door", further east on Montauk Highway. After a few repeating up and down sections, you cross the road, and then continue on the flat part. When the trail began to feel
slightly
boring for us advanced riders, we started smelling the ocean. After taking the first turn left, we were amazed by the beauty before our eyes. This trail passes right by the ocean at its most enjoyable part, leading you right to the beach. It's not often MTB riders want to stop what they're doing to take in the scenery, but we had to. With that said, it's fitting that this is a trail of choice for weekend riders aiming for relaxing experience. There's nothing like hitting the beach right after a sweaty ride. The trail offers similar adrenaline rushes like others we've visited, but this one has something that makes it truly stand out from the crowd.
Track Video
Heads-up:
You can see the key points of the video on the
YouTube link
. We started the trail from the "Back Door". Riders typically start at the the entrance near the main road – around 12 minutes into the video. After this is a fun section of short uphills and downhills. You'll then cross the railroad and head onto a flat section. Make a left turn to get to the trail by the ocean, which is needless to say was our favorite part.
Track Overview
We've created a detailed track profile below, which gives you elevation, speed, and other unique perspectives on our chosen route.
Basic Track Details

Distance: 9.15 mi

Elevation: 390 ft
Min Elevation: 45 ft
Max Elevation: 215 ft

Climbing: 26.5%
Flat: 45.7%
Downhill: 27.8%
2D Track Profile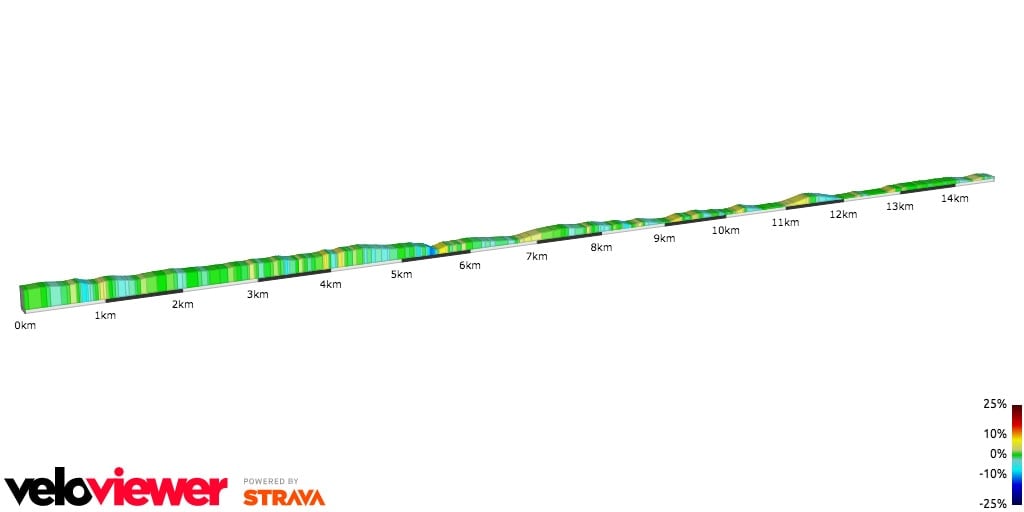 3D Track Profiles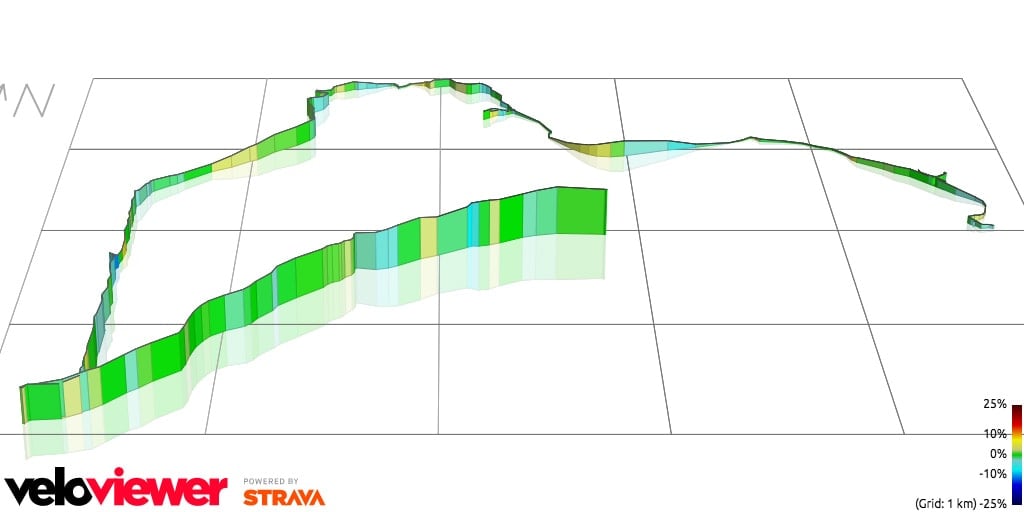 Interactive
Advanced Technical Details
Are you into crazy-minor details? We've got you covered!
Metrics for Bike Nerds
Time climbing:
00:16:11
Avg Climbing Speed:
7.2 mi/h
Time Downhill:
00:17:01
Avg Downhill Speed:
10.4 mi/h
Pedaling Time:
00:37:33
Avg Speed:
9.9 mi/h
Max Speed:
22.6 mi/h
Avg Heart Rate:
142 bpm
Max Heart Rate:
173 bpm
Avg Cadence:
69
Max Cadence:
118
Temperature:
79℉
WARNING: Advanced Details
Estimated Avg Power:
117 w
Estimated Weighted Avg Power (Dr. A. Coggan formula):
169 w
Cranks Revolutions:
2731 Curious about more trails in NYC? Check out our choice of
The Best Mountain Bike Trails Near New York City.