Mountain Biking Glacier Ridge, Long Island
This is the third in our series of in-depth looks at New York's best mountain biking trails.
If you live farther out on Long Island, Glacier Ridge should be your top MTB destination. We heard a lot of good things about this mountain bike trail, and decided to check the hype for ourselves.
Was it all true? Absolutely. We'll explain below what we liked the most about this track.
Starting Your MTB Journey at Glacier Ridge
General Info

Where to Park

There is a huge car park just in front of the trailhead. [Map]

Where to Enter

The best way to get on the trail is on the entrance on the parking lot. [Trail Map]

Nearest Bike Shop

Suffolk Pro Cycles (10 minutes by car)

Nearest Place to Eat

The Burger Shack (5 minutes by car)

Trail Details
First off, Glacier Ridge is easy to access, and the parking lot is huge. After the ride, there are plenty of options to grab something to eat, and the surrounding neighborhood is absolutely beautiful.
You know those white houses with lovely flower gardens as you see in the movies? Probably filmed next to the park…
On the Track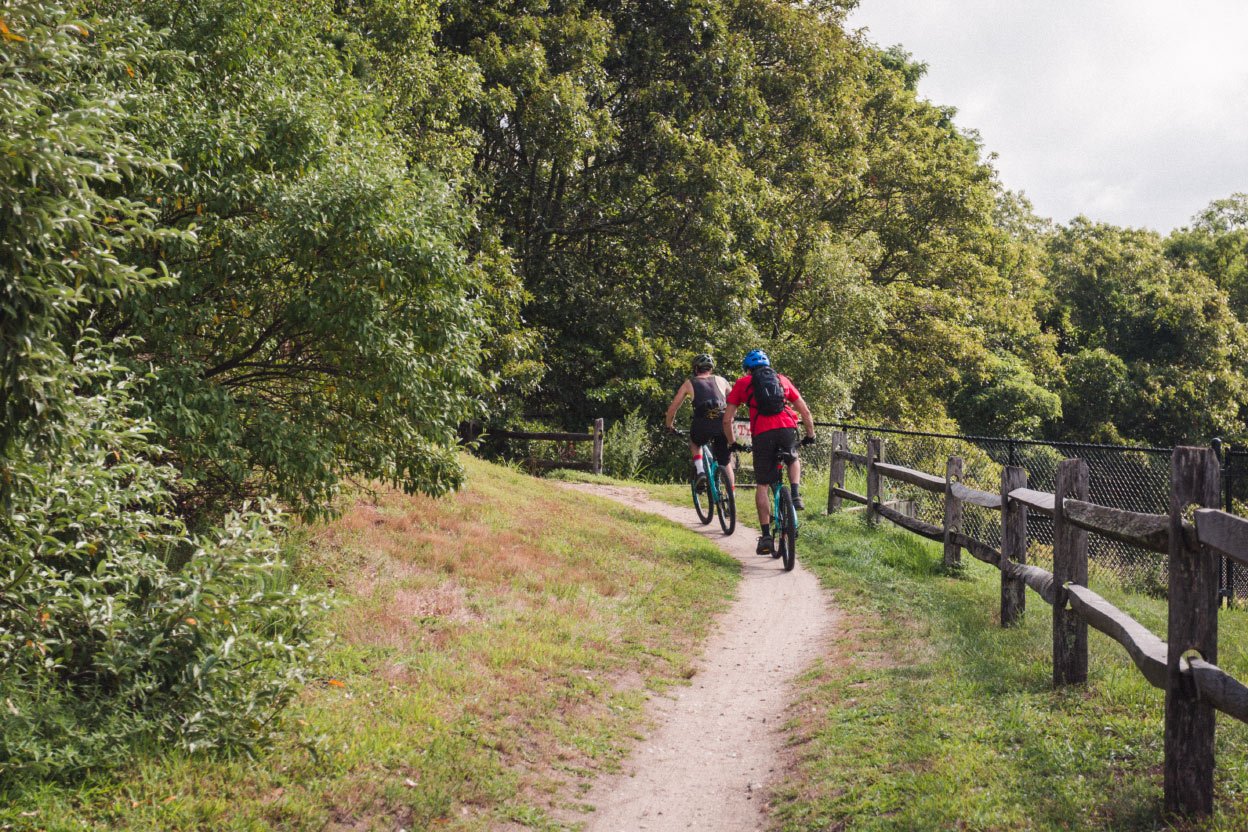 For this session, we rode the moderately demanding blue trail. Given the fact this is a relatively flat trail, we didn't expect high grade descents, but this trail makes the best of what it has.
There are numerous fun, speedy flow sections, occasionally combining narrow sections with obstacles, like trees. This results in a lightly demanding, but enjoyable trail that can be rewarding if you're pushing your limits.
On our ride, we managed to snag the 60th best overall time on the "Just Blue" Strava segment, which isn't bad for a first try. What surprised us most was the low count of Strava circuits – 264 runs overall. In comparison, the short segment off the trail entrance had seen around 1500 Strava-tracked riders.
Overall, Glacier Ridge, especially the blue trail, is the perfect place to get in the zone and perfect your trail-shredding skills. What we enjoyed the most was that no matter how many riders were on the track, every one of them yielded when they noticed us on a timed run. Big thumbs up for the local hospitality!
Track Video
Heads-up:
You can see the key points of the video on the
YouTube link
Track Overview
We've created a detailed track profile below, which gives you elevation, speed, and other unique perspectives on our chosen route.
Basic Track Details

Distance: 2.7 mi

Elevation: 108 ft
Min Elevation: 246 ft
Max Elevation: 288 ft

Climbing: 26.9 %
Flat: 46.8%
Downhill: 26.3%
2D Track Profile
3D Track Profiles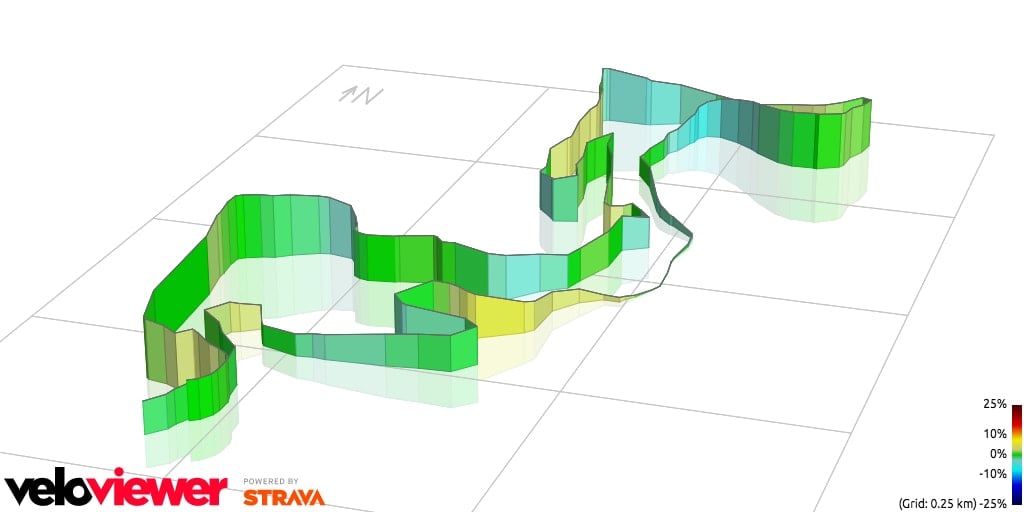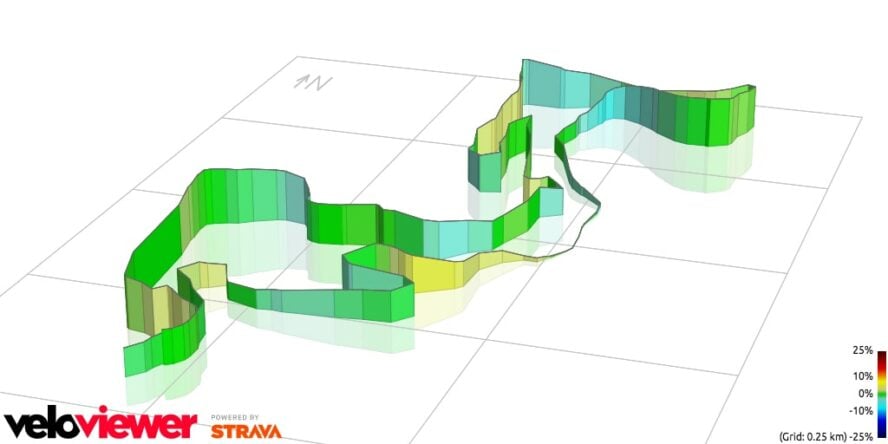 Interactive
Advanced Technical Details
Are you into crazy-minor details? We've got you covered!
Metrics for Bike Nerds
Time climbing: 00:04:09
Avg Climbing Speed: 9.8 mi/h
Time Downhill: 00:04:03
Avg Downhill Speed: 11.5 mi/h
Pedaling Time: 00:12:12
Avg Speed: 10.3 mi/h
Max Speed: 16.6 mi/h
Avg Heart Rate: 169 bpm
Max Heart Rate: 178 bpm
Avg Cadence: 81
Max Cadence: 121
Temperature: 75℉
WARNING: Advanced Nerdery
Estimated Avg Power: 124 w
Estimated Weighted Avg Power (Dr. A. Coggan formula): 166 w
Cranks Revolutions: 1025
Curious about more trails in NYC? Check out our choice of The Best Mountain Bike Trails Near New York City.