The Peach-Perfect Mountain Biking of Fruita, Colorado
Overlooking the majestic Colorado River, the mountain biking on Fruita's juicy climbs, mouth-watering switchbacks and sun-dried downhills are ripe for riding, while its more mellow trails are sure to be everyone's jam.
Colorado has a storied history of mountain biking dating to the 1970s, when a bunch of dirt-loving pioneers started crafting their first clunkers in Crested Butte. Today the Centennial State is a renowned epicenter of MTB greatness, and to stand out among its world-class biking trails, an area has to be truly special.
At first glance, Fruita is just an inconspicuous municipality enclosed by the Colorado River on the southern edge of town and the snaking ramparts of the Book Cliffs to the north. A more careful look reveals acres upon acres of trail systems brimming with crazy cliffside runs and wild ridgeline romps. To be completely honest, the flowy mountain biking trails of Fruita's extensive and carefully curated network of singletrack makes me forget all about Moab's slickrock. I never would have guessed it when I came here, but this little border town holds all the desert riding I need.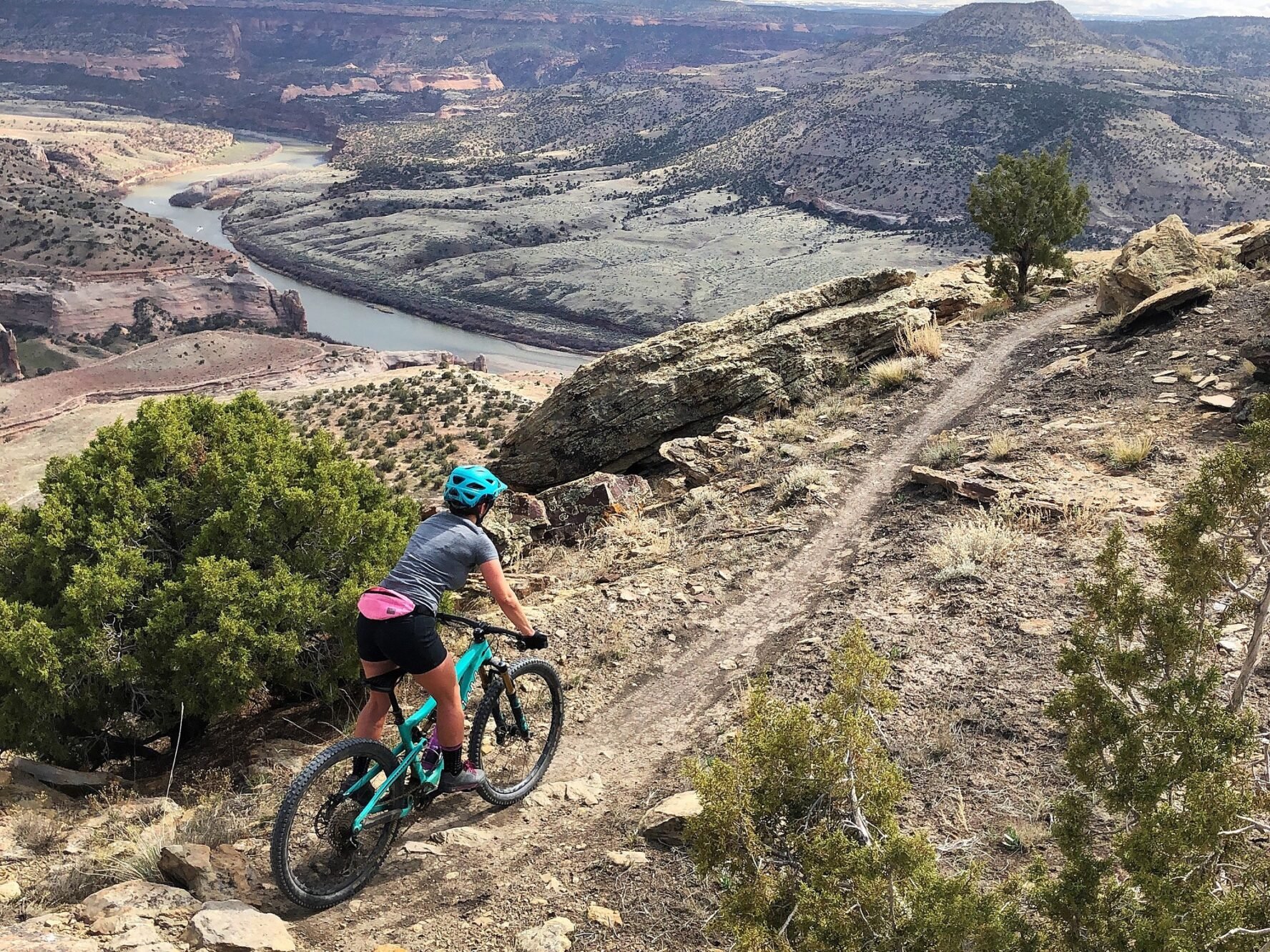 Pros and Cons of Mountain Biking in Fruita
Top-class trails suitable for all skill levels
Huge variety of locations to visit in different trail systems
Camping is allowed on many popular routes
If it rains, the tracks turn to mud and all riding is off
The area is prone to occasional bursts of strong winds
Together with Grand Junction and Palisade, Fruita forms the Grand Valley, a major fruit-growing region near the Utah border. Back in 1995, this was simply a place to stop for gas between Salt Lake City and Denver, but everything changed when the locals started building miles upon miles of mountain biking trails. Before you knew it, people came rushing in like fruit flies.
Today the town is famous not just for stands selling ripe Colorado peaches or tasting rooms at local vineyards in neighboring Palisade, but also for top-of-the-line MTB trails in gorgeous red rock country.
Fruita's mountain biking trails are strewn across vast stretches of desert land—a stark contrast to the high-altitude vistas of the Rocky Mountains in the east. Here the springtime snowmelt kicks off the biking season with gusto—a few months earlier than some of the other well-known mountain biking areas, like Aspen—while in fall the temperatures finally drop from scorching to temperate. That's when MTB enthusiasts pour in from all over the country to enjoy the wealth of biking trails and red rock panoramas that give the mountain bike trails in Sedona a run for their money.
Speaking of out-of-town visitors, the area has many campgrounds with easy access to trail systems, which should satisfy anyone's multi-day riding needs. If there's one thing I learned coming here from the Midwest, it's that you could spend years mountain biking in Fruita and never get enough. When you are in Colorado, you can enjoy in some of the best hiking trails in the States too!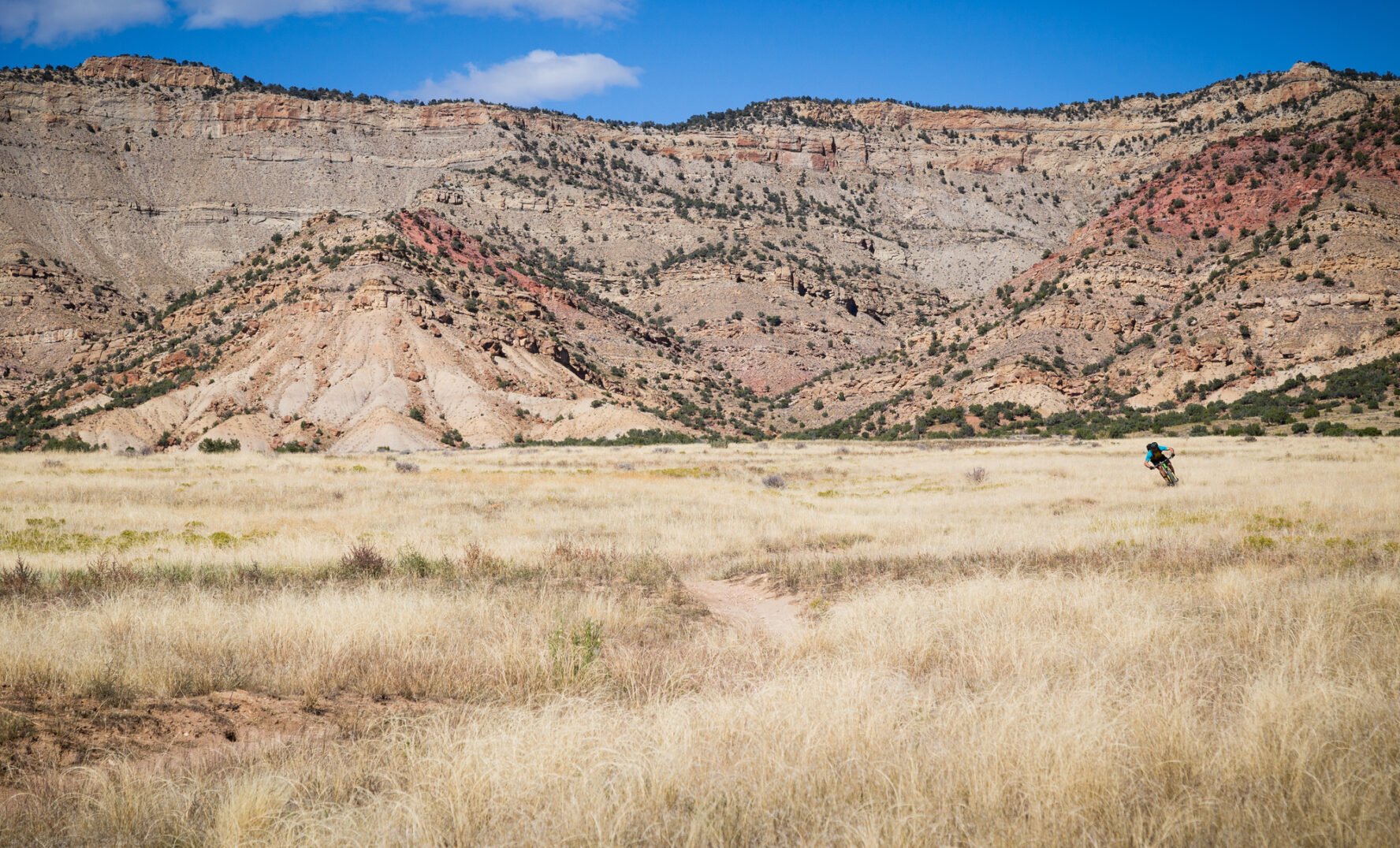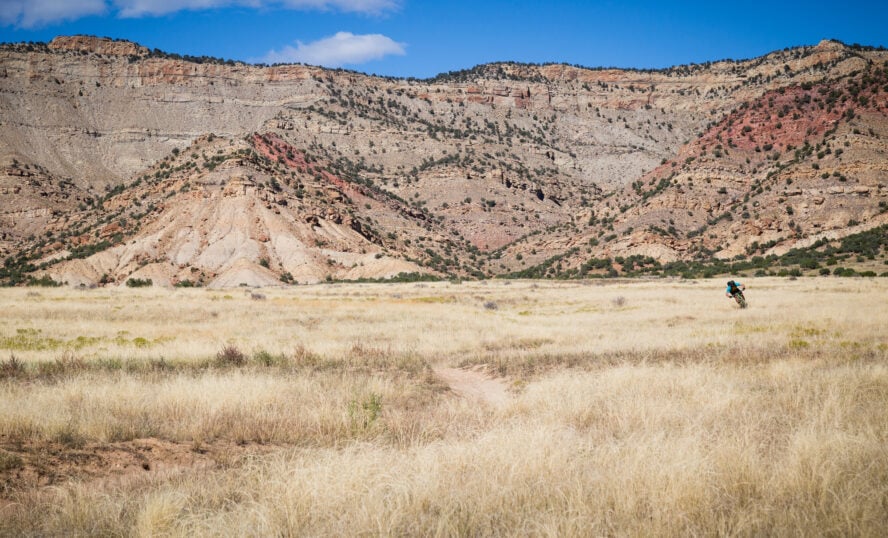 From weekend warrior to guide thanks to the Great Divide Race
Mountain biking has been a part of my life for almost 30 years now. It all started back in Canton, Ohio, where I bought my first mountain bike in 1992. In those days my friends and I would regularly take trips to Vermont or head south to West Virginia. When I graduated college, I celebrated with a long tour of Colorado—my first taste of being out west.
Experiencing the likes of Breckenridge, Winter Park, Vail and Durango for the first time really opened my eyes to a whole new level of mountain biking. Then, unfortunately, biking took a backseat as I entered the electronics and software industry, spending years making good money but not enough memories.
My life took a turn in 2007, when I nearly completed the self-supported 2,700-mile Great Divide Race. In those 19 days of riding I had a lot of saddle time to ponder life and I realized I needed a change. An idea sprung up: I could open my own guiding company. As someone who used to constantly plan adventures then drag my friends out to experience them with me, I had finally found my calling. Later that summer, Hermosa Tours was born. Riding and guiding in Fruita is amazing—hands down some of the best mountain biking in Colorado—and I'm thrilled to be able to share it with others on a regular basis.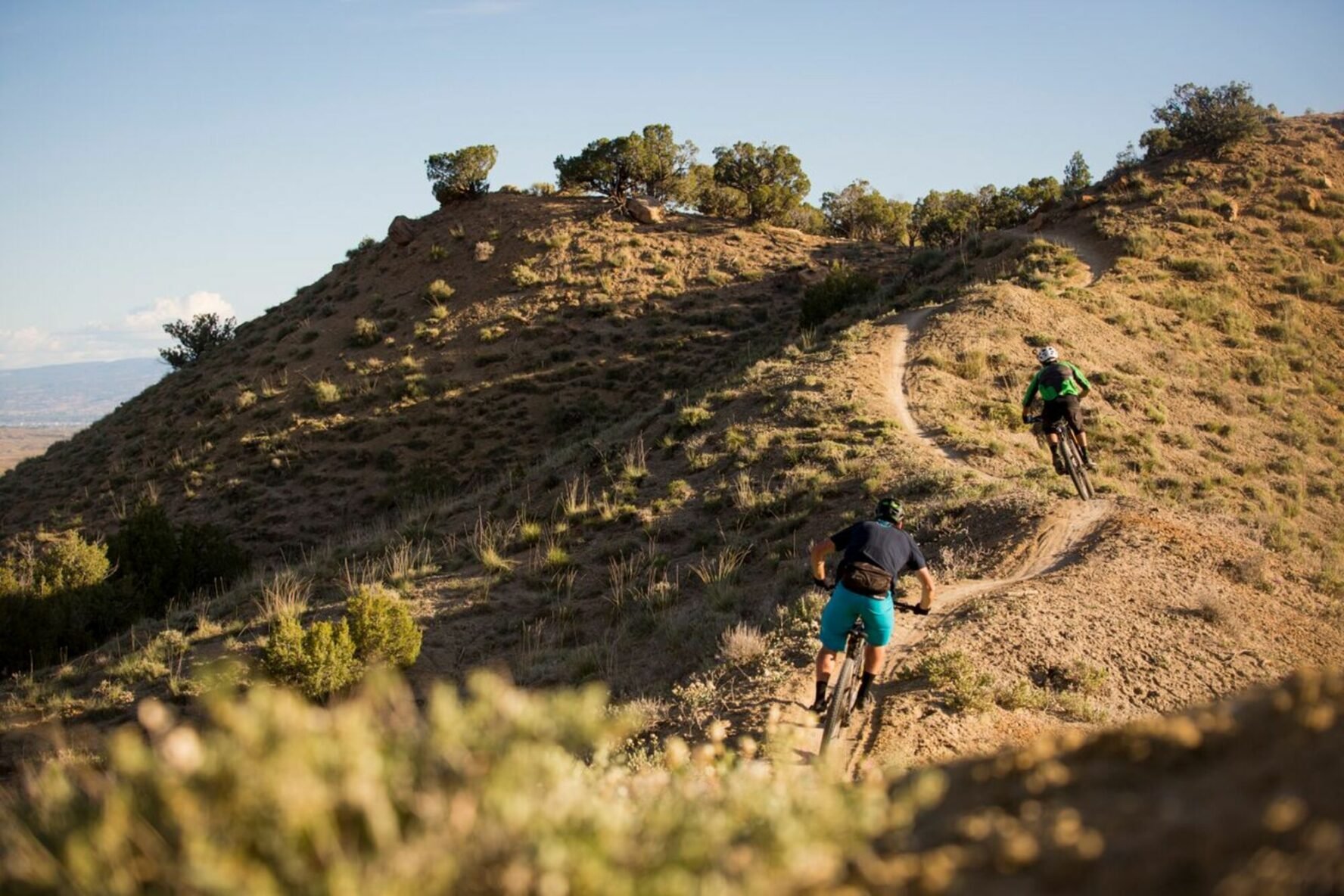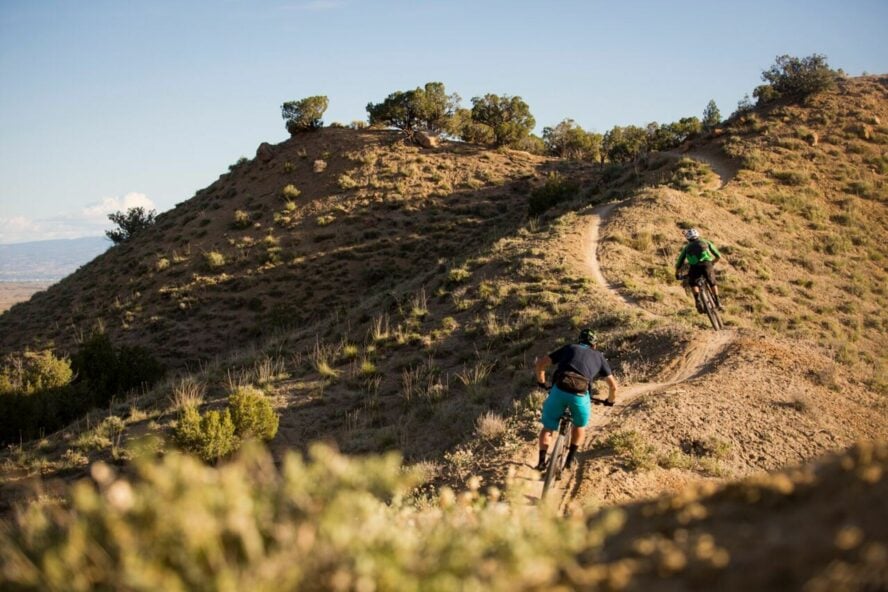 Shred Like a Local: A Primer on Fruita's Mountain Biking Trails
There's no shortage of epic MTB trails in this expansive red sandstone paradise. If you're looking to craft the ultimate riding experience in the area, here are some of my favorite spots to explore.
1. Beginners head to 18 Road for a taste of desert riding
The town of Fruita is only a few miles from 18 Road, a world-class trail system that can be accessed directly from the adjoining campsites. These fun ribbons of singletrack running along the walls of the Book Cliffs are what originally put Fruita on the map. I love taking my guests here for fun, flowy rides and playful jumps. They take to it quickly because progression is naturally built into the trails.
The main singletrack leading from the parking lot to all the downhill trails is called Prime Cut. From there you can take on the fast and fun Kessel Run (in 20 parsecs or less), go for a wild ride on PBR (which stands for Pumps, Bumps and Rollers), or let go of the brakes on the short but sweet Joe's Ridge.
These trails are the perfect length for beginners to find their footing and get to know the terrain by doing quick loops. After a good warmup, intermediate riders can move on to the remote Zippity Loop for steep descents and thrilling rolls. The best thing about the area is that you never have the feeling of being isolated or committed to a big ride because the town is just a stone's throw away.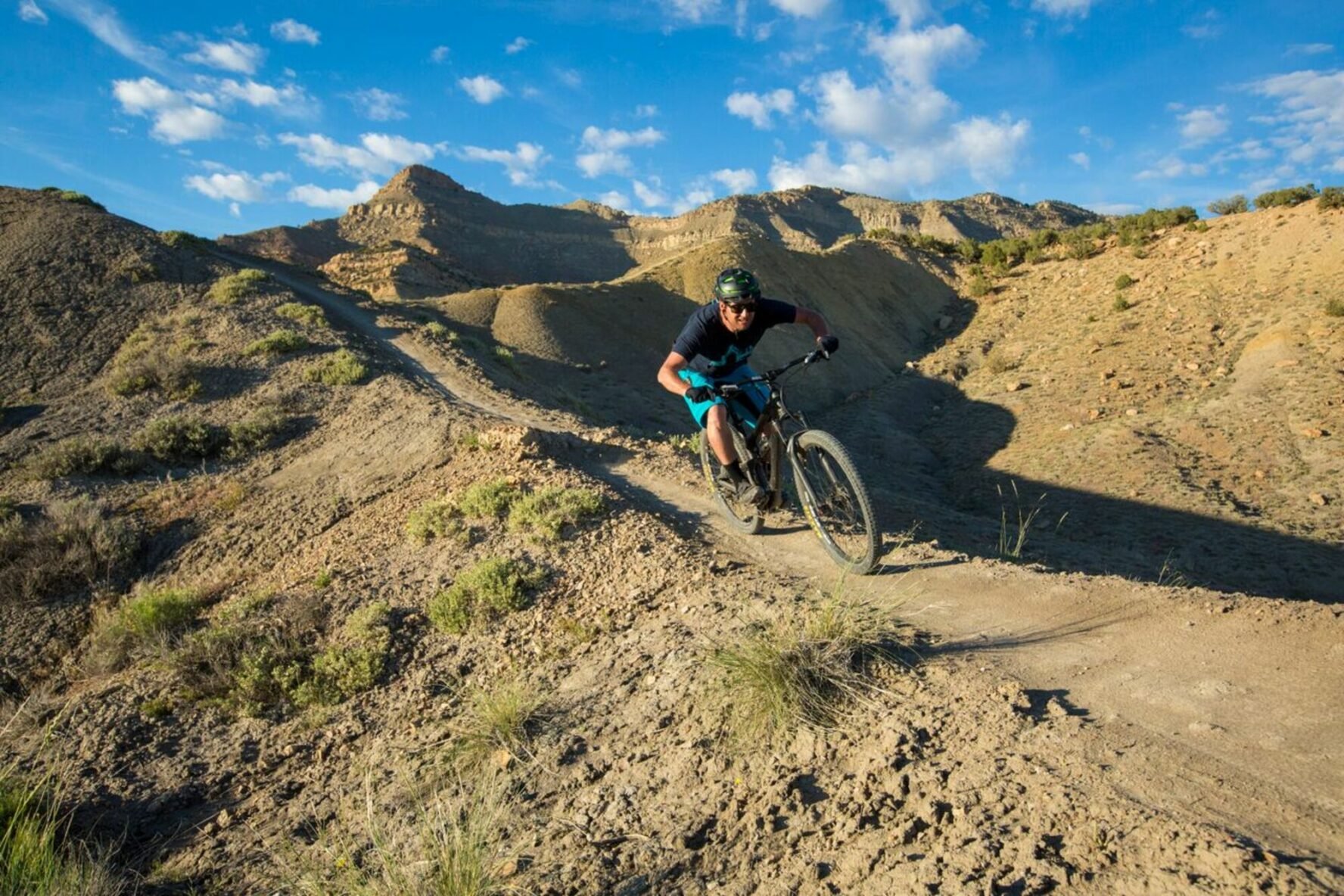 2. The Kokopelli Trail: A Red Desert Odyssey to the Canyons of Utah
Fruita boasts some of the country's finest singletrack and much of it can be found in one sprawling system of connected trails located southwest of town. Named after a Native American fertility goddess, the Kokopelli Trail is a 142-mile stretch of stacked singletrack straddling the border between Loma, Colorado, and the world class mountain biking at Moab, Utah. This local favorite features a lot of diverse terrain, with even some jeep roads and pavement thrown into the mix—all the right ingredients for a perfect weekend of desert riding.
Everything from training wheel rides to technical descents
As you leave the Kokopelli Trailhead, waiting for you right out the gate is Rustler's Loop, a beginner-friendly section where novices can learn about cornering, climbing and being comfortable on the bike. Signs along the way explain different techniques and mountain biking etiquette, while the cliffside views of the Colorado River could make anyone fall in love with the sport. More experienced riders looking for a warmup will enjoy the fast and flowy singletrack on the north end—which features hard-packed and bermed sand—before moving on to the tough stuff.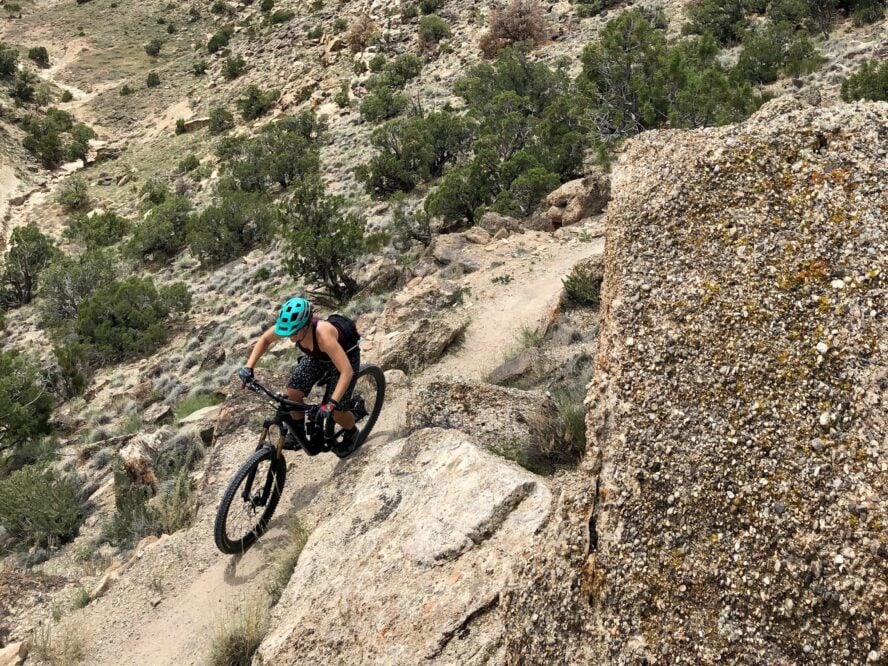 Speaking of tough, if you're coming to Kokopelli Loops, your sights are likely set on the legend itself—Horsethief Bench. This technical trail gets its name from the high canyon walls where horse thieves would hide from the law back in the old days. Or so the stories say. Like most of the system, Horsethief Bench is perched above the Colorado River, offering views through McInnis Canyon that will leave you in awe of your surroundings as you grind the pedals. I would say this is a perfect scenic ride with a couple of very challenging sections, most notably the notorious 125-foot drop down to the trail.
Many have dared to brave it, and all of them bailed. The real riding starts once you walk down. It's winding ribbons of singletrack and sun-baked vistas all the way to Mary's Loop at the end. If you're looking for the best mountain biking Fruita has to offer, this is as safe a bet there is.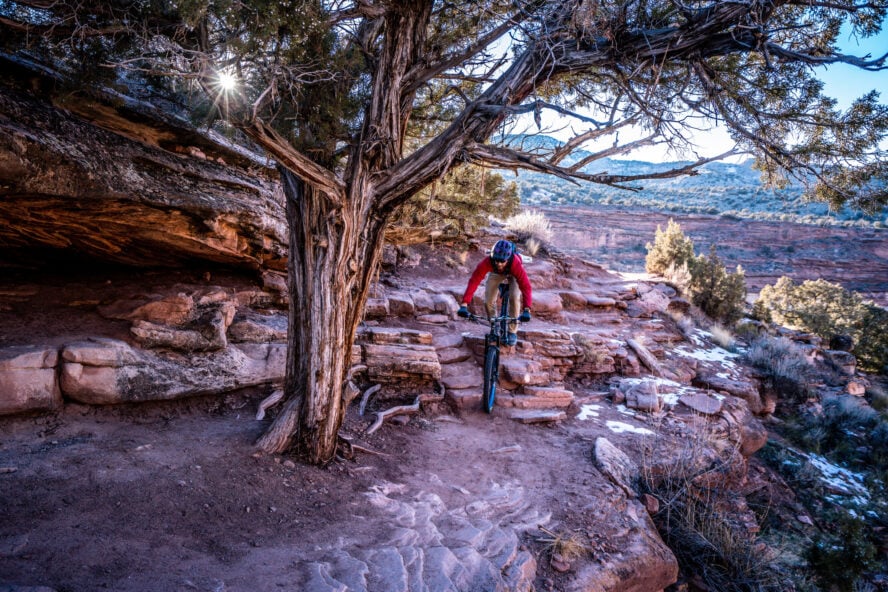 Even more excitement to be had along the ridgeline
For a truly epic day of riding, Horsethief Bench can be added to the full Kokopelli Loops tour by starting at Mary's Loop. The other option is linking to Steve's Loop—a great intermediate trail designed for riding deeper into the system in either direction—and Wrangler's Loop—another strong contender boasting stunning high-altitude views.
But I know some of you are still thinking "Where's the real gnar?", and to you I present Moore Fun and Mack Ridge. These two ridgeline trails are probably the most physically demanding rides in the entire Kokopelli system. Some of Moore Fun's rocky sections, especially the downhill portion of the trail, get so hairy that folks often walk them, while Mack Ridge sports plenty of rocky passes, heart-pumping switchbacks and a hike-a-bike section that's only been descended in tall tales.
All in all, the Kokopelli system is chock-full of awesome trails and stunning views that will keep you coming back to this sun-soaked sandstone oasis. For me, the Kokopelli are the quintessential Fruita mountain biking experience.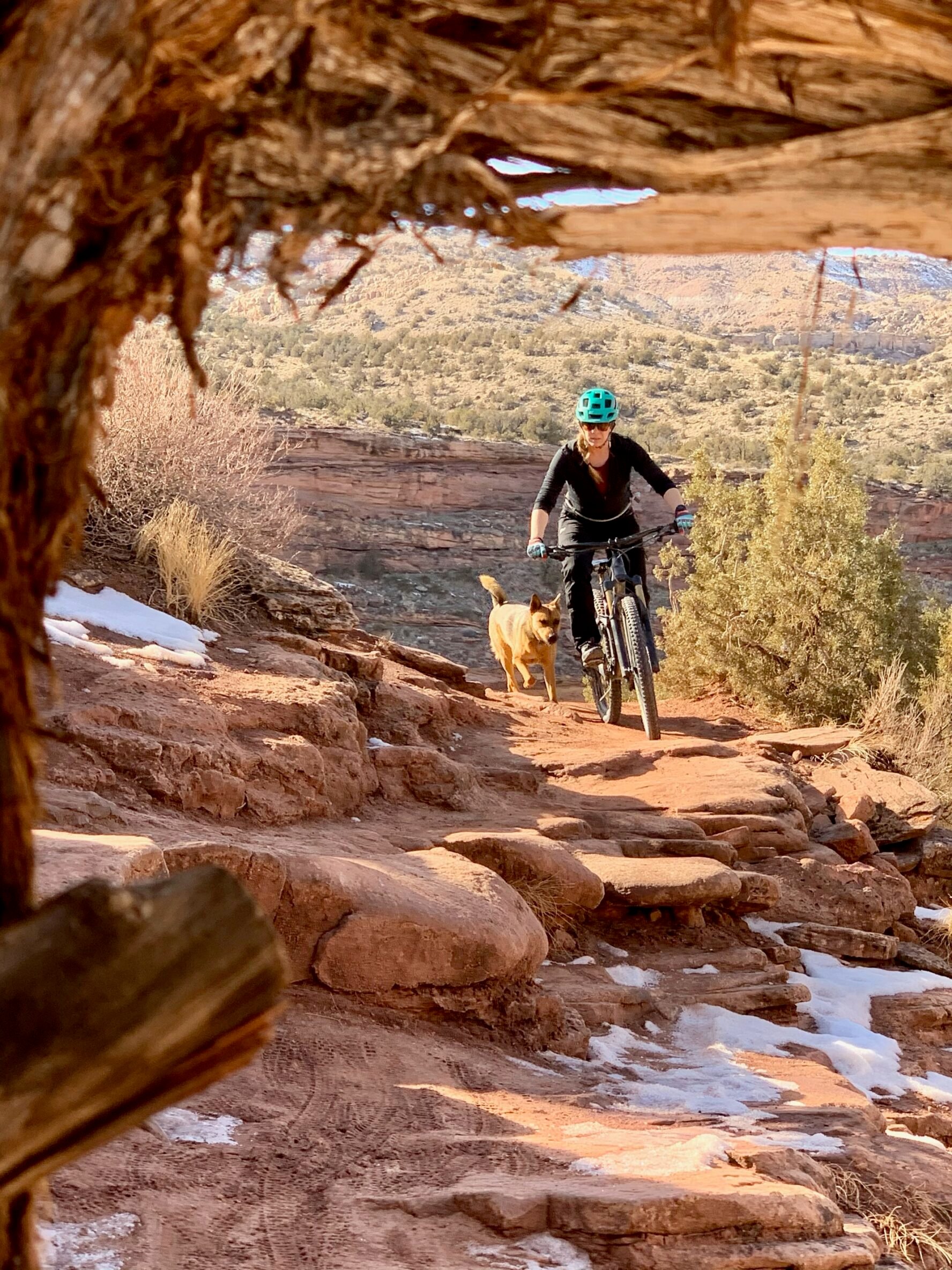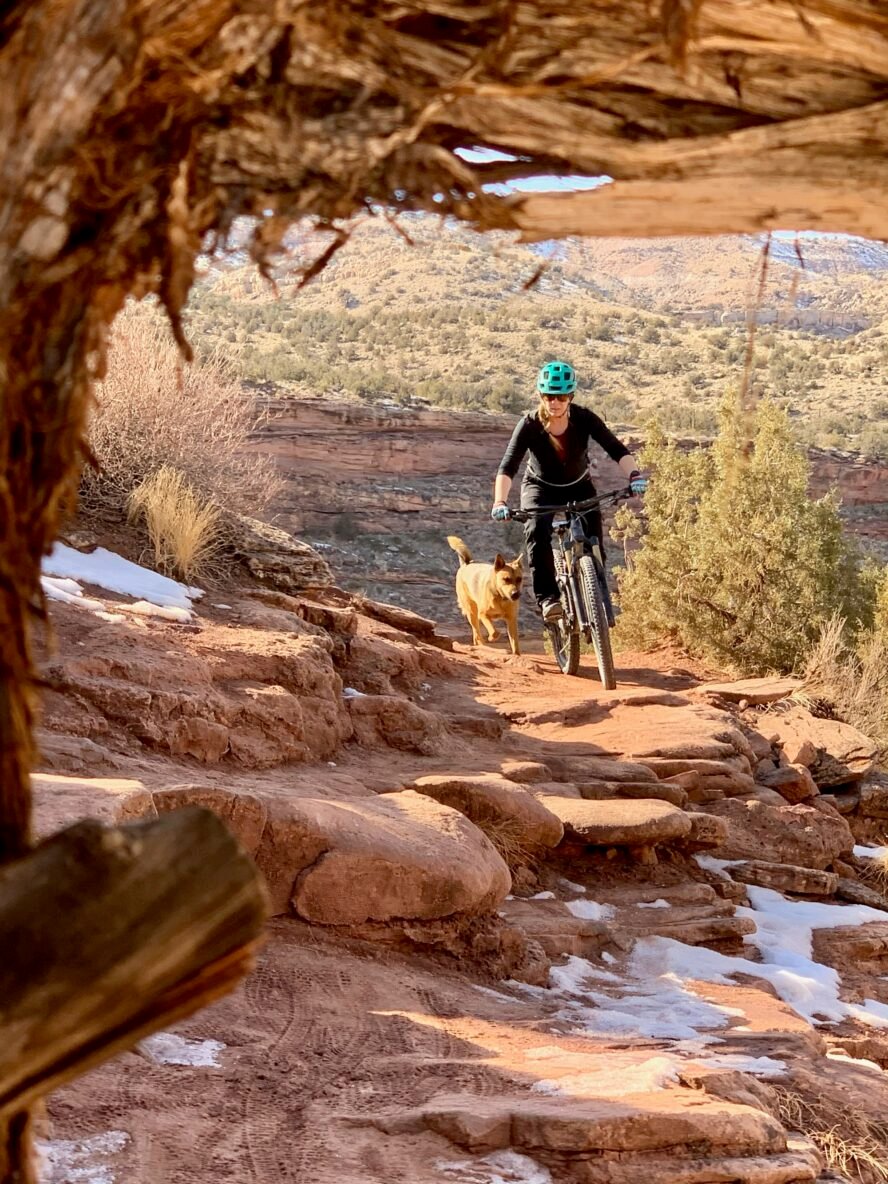 3. Satiate Your Mountain Biking Appetite in Grand Junction's Lunch Loops
Just 12 miles west of Fruita we find the Lunch Loops, another brilliant—and brilliantly tough—trail system of stacked singletrack to explore. Named after its proximity to Grand Junction, this is a system you can visit on your lunch break. But don't let yourself be deceived by its casual name. Unlike Kokopelli's flowy rides interspersed with rocky sections, in the Lunch Loops you'd be hard-pressed to find a straight section of trail. What you get instead is an arid arena packed with step-ups, drops, steep climbs and intense downhills.
Calorie-burning thrills on the most toothsome of trails
Lunch Loops amply covers both extremes of the difficulty spectrum—from smooth gliding to leapfrogging downhill on slabs of rock. My bread and butter run is the challenging Pet-e-Kes, a hard-packed dirt trail with some really tight turns that's predominantly used as a climbing trail.
Then you've got Lunch Line, a nice intermediate mix of singletrack and open rock that goes up to one of the local favorites called Free Lunch, a pretty demanding but super fun trail with drops and jumps aplenty. Keeping in line with the culinary theme, Lemon Squeezer is a short downhill singletrack trail that will test your skills with tight shoots between boulders.
I'm also a big fan of Eagle's Wing and Holy Cross, both demanding destination trails built with tight technician sections. Holy Cross demands a technical up and down adjacent to a cliff, so be ready to commit to your lines. You need to know what you're doing at Lunch Loops, so be sure that you have technical skills prepped and expert guidance where it counts.
There's a big youth mountain bike program in Grand Junction called Boneshaker Adventures and every day after school in the spring and fall they take hundreds of kids—even first-graders—out to Lunch Loops to ride. I can't tell you how amazing it is to see the sport growing right in front of your eyes.
Western Rim is a remote mountain biking gem worth the distance
Outside of the three main trail systems, I'd be remiss not to mention Western Rim. This is a popular trail located in Rabbit Valley, about 20 miles from Fruita. Be warned, though—since it's a highly motorized area, you're bound to run into gearheads during your ride. But if you know the right time to visit, Western Rim doesn't get too crowded.
The vast open space is one of the reasons why people keep heading to Rabbit Valley despite the distance from Fruita. This is a scenic ride along the contours of the Colorado River that covers large expanses of dead-flat land all the way to Utah. It's really far out in the middle of nowhere, which makes it perfect for a multi-day ride.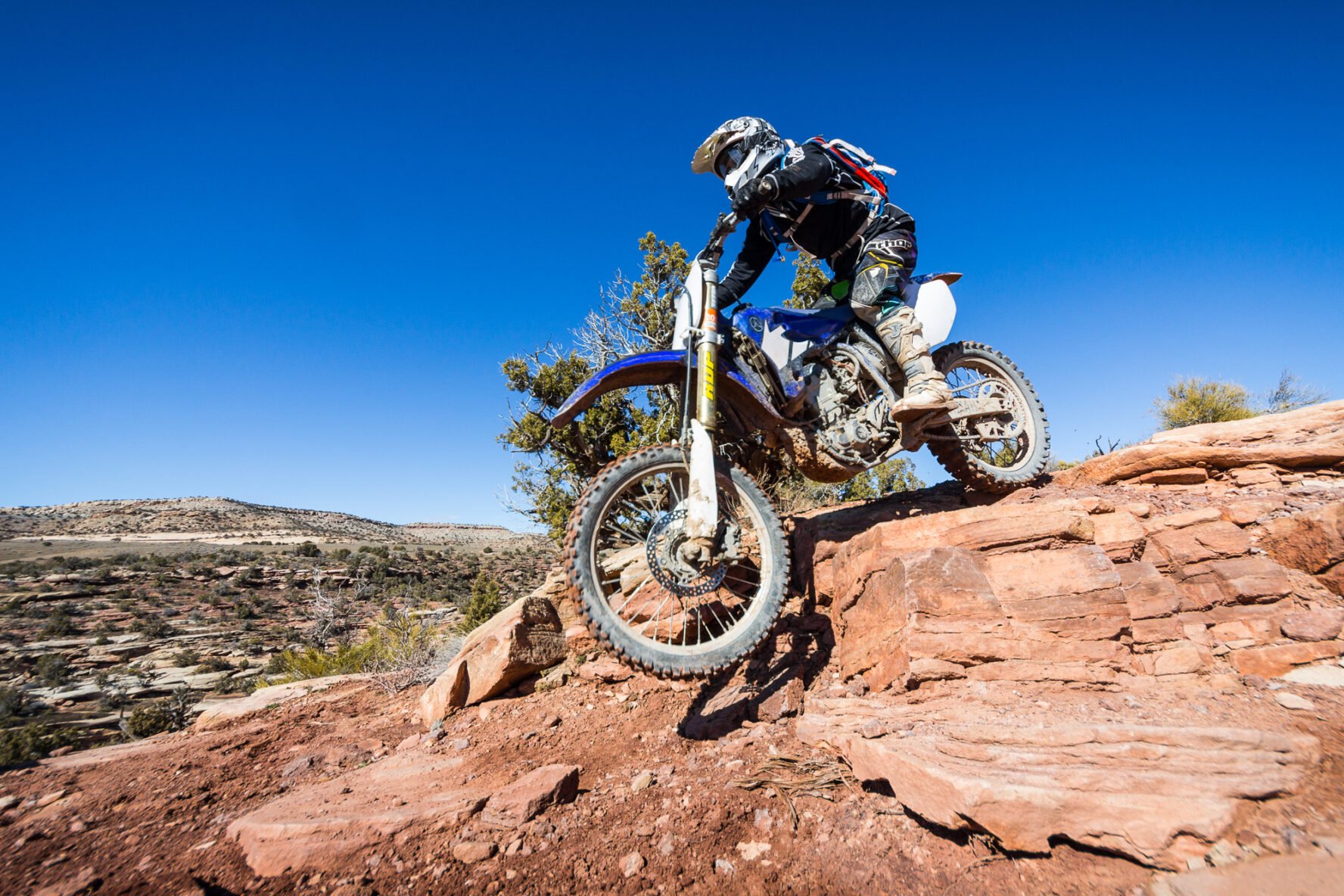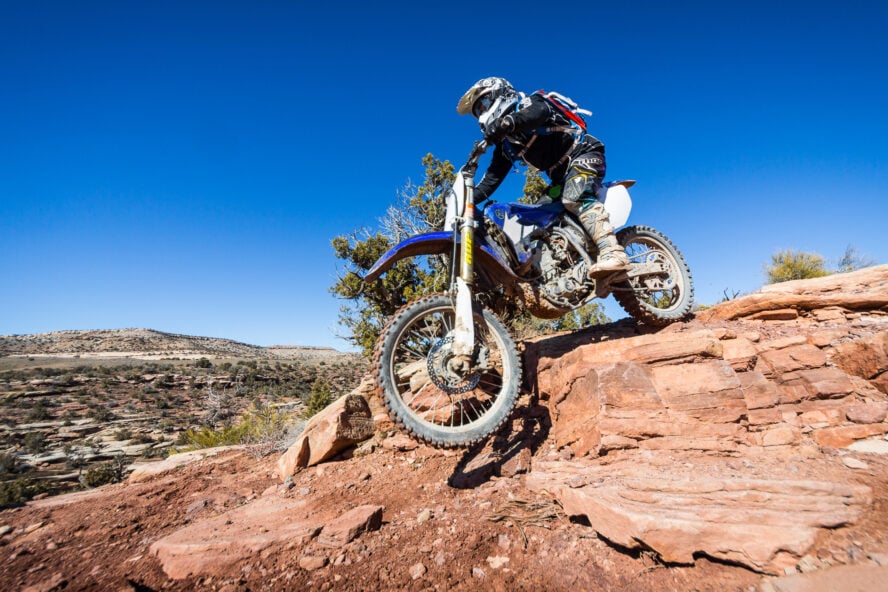 Things to Know Before Heading to Fruita for Mountain Biking
Good preparation is half the work, so be sure to do your due diligence before coming to Fruita. For the out-of-town visitor, here are some handy tips to make your time in this part of Colorado more enjoyable:
When is the best time to visit Fruita?
The best time to go mountain biking in Fruita is spring and fall. I like to aim for mid-March to the end of May when the trails are dry and the temperatures are still tolerable. Bear in mind that Fruita is the true desert, so it's not unusual to reach triple digits in the summer. Temperatures drop around mid-September and stay warm through mid-November.
I would say the shoulder season is the perfect time to experience this underrated section of Colorado. The fall is also harvest season, so you might want to make a stop at the local wineries on your off days. Lately festivals have become more commonplace and most weekends there's live music in town.
Where to stay, find gear and grab a bite in Fruita, Colorado
It's easy to find places to stay in Western Colorado. Be sure to check out the website of the Bureau of Land Management for info on limited free campsites at the 18 Road Campground. There's also plenty of hotels and bed-and-breakfasts to choose from both in Fruita and Grand Junction.
As far as MTB equipment is concerned, I recommend two gear shops in Fruita: Over The Edge Sports, whose legacy is tied to Fruita, and Colorado Backcountry Biker, a great shop founded in 2008. We work closely with both of them.
If you need beta on the local riding, they can help, and you can also find a trail map of the mountain biking trails in Fruita on the town's website.
And if you're looking to grab a bite to eat, Hot Tomato is a renowned East Coast-style pizzeria founded by Jen and Anne, two great cycling enthusiasts. On the next street over, you can enjoy the cozy atmosphere and a good cup of joe at BestSlope Coffee.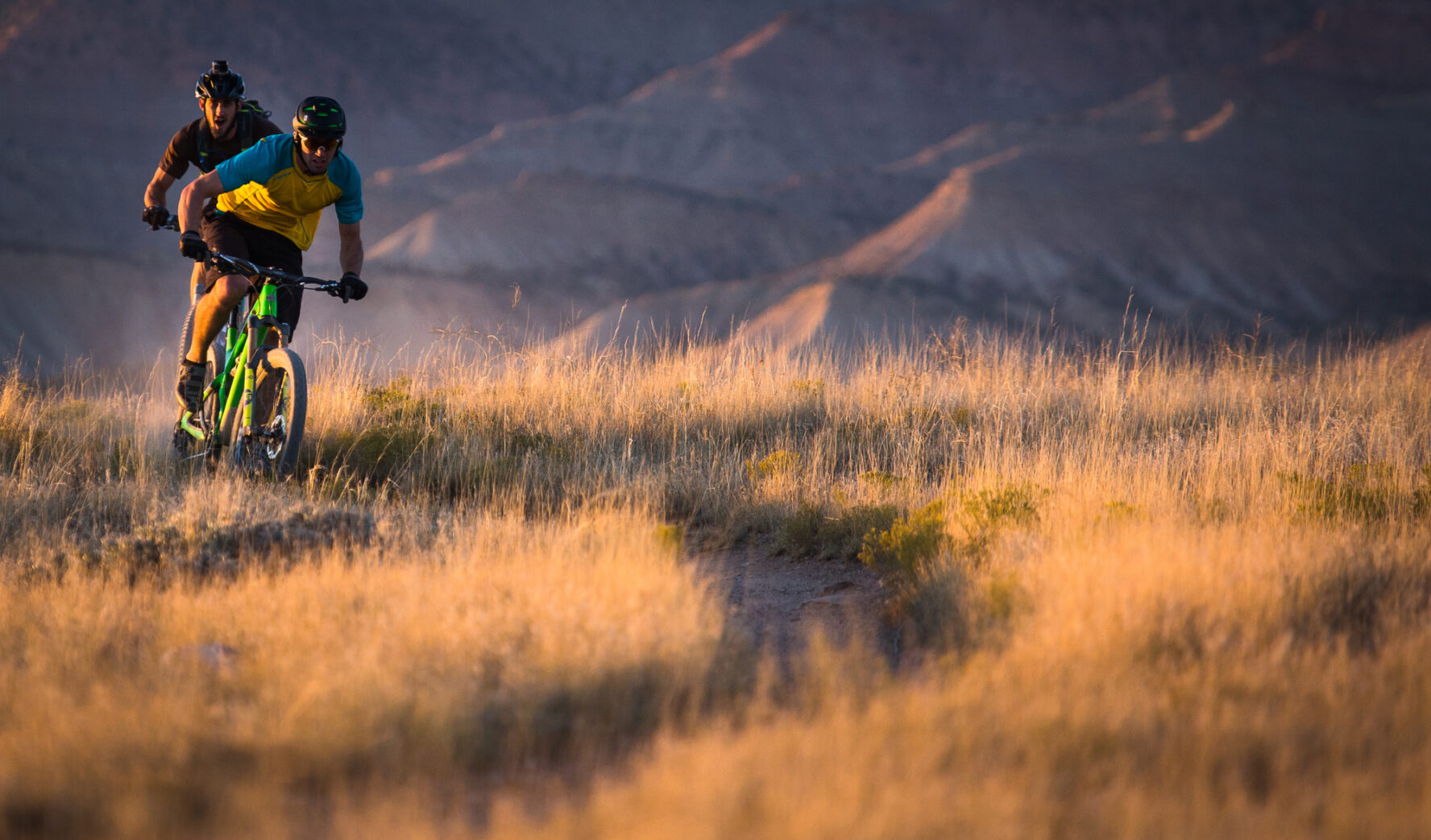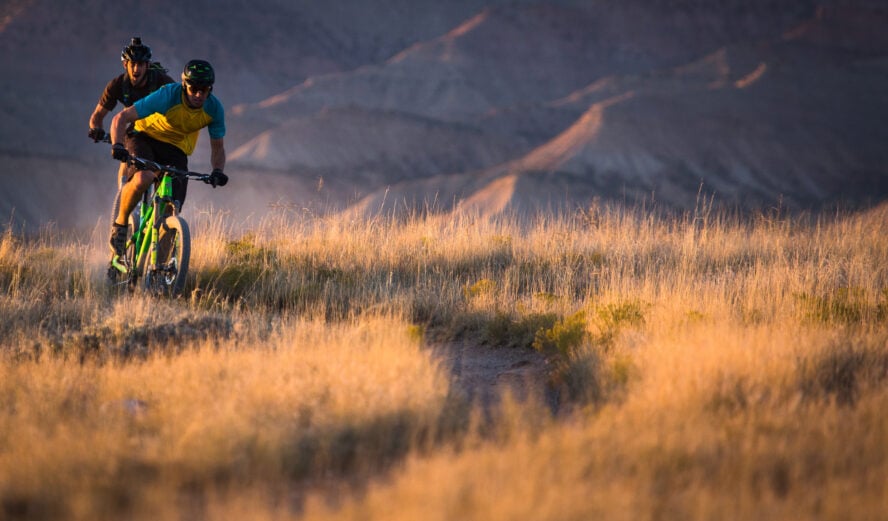 The Fruita Community Lives and Breathes Mountain Biking
Once a struggling agricultural town caught in a paralyzing economic depression, Fruita is now a flourishing tourist hub whose remarkable turnaround is owed to its bountiful trails and the community that built them. Mountain biking is the lifeblood of this place—you can feel it in the encouraging smiles of fellow riders and the laughter of schoolchildren straight off the training wheels. What started as a forgotten expanse of untracked land has now become the crown jewel of Colorado's tremendous MTB scene. To miss it would be a crying shame for any lover of the sport.
Ready to head out with and explore the mountain bike trails of Fruita and Grand Junction, Colorado? Let a guide show you around this incredible area on a half-day or full-day guided mountain bike tour.