Discover Mountain Biking For All Skill Levels in Fruita, Colorado
Overlooking the majestic Colorado River, Fruita's steep climbs, hair-raising switchbacks and intense downhills will leave you craving for more while its unforgettable sights fill you with wonder.
Mountain biking in Fruita is part of what we call the Grand Valley, consisting of the Colorado towns of Fruita, Grand Junction and Palisade. Back in 1995, the Grand Valley was just a place to stop for gas between Salt Lake City and Denver. Then, some of the locals built a lot of trail, and people started noticing. Fruita burst onto the map in no small thanks to the previous owners of the legendary bike shop, Over The Edge Sports. Fruita is now famous for fruit stands selling ripe Colorado peaches, tasting rooms at local vineyards in neighboring Palisade, and miles upon miles of MTB trails for all skill levels. The best thing about Fruita mountain biking trails? There's a heck of a lot of riding, and it's all really good.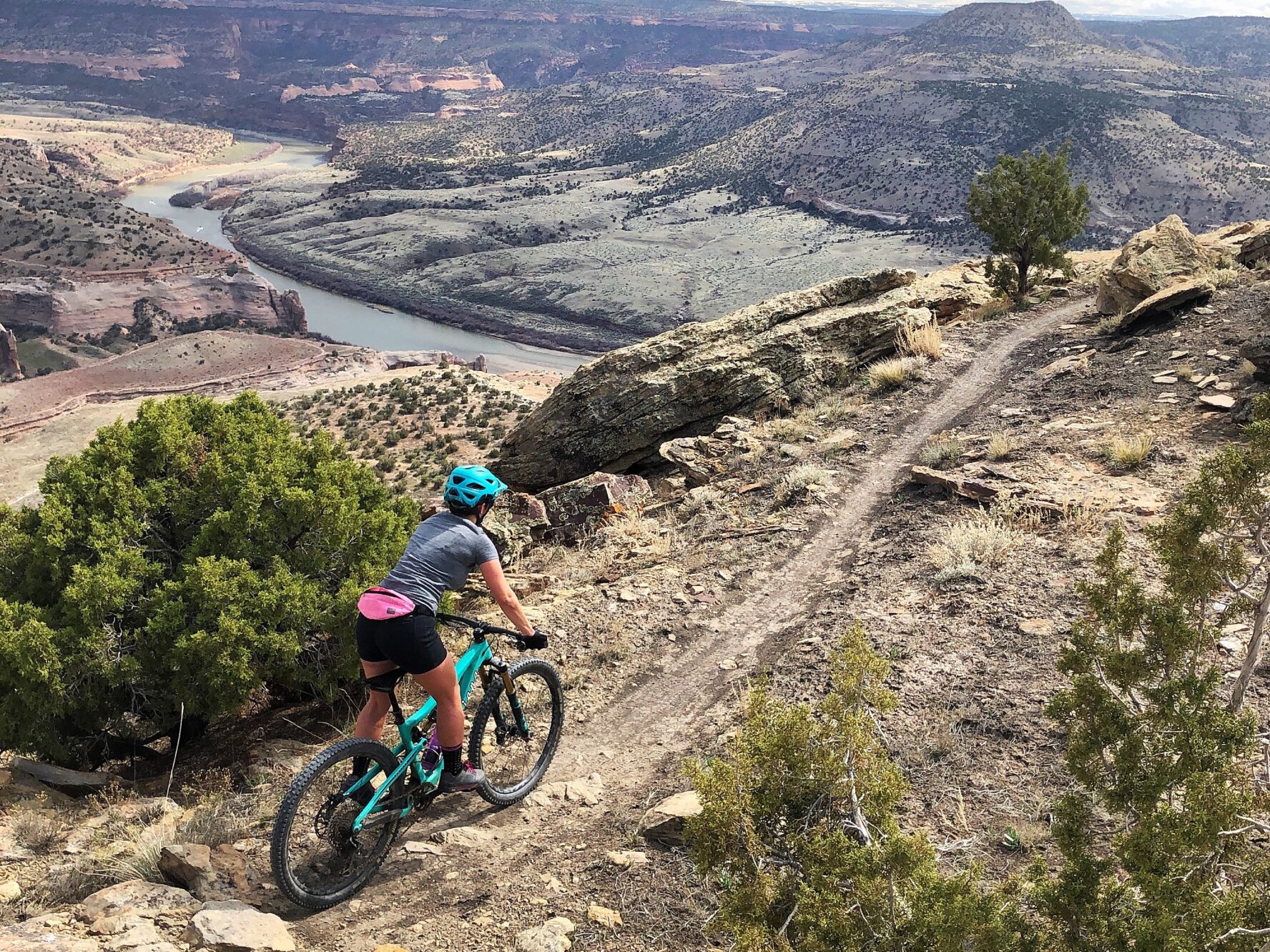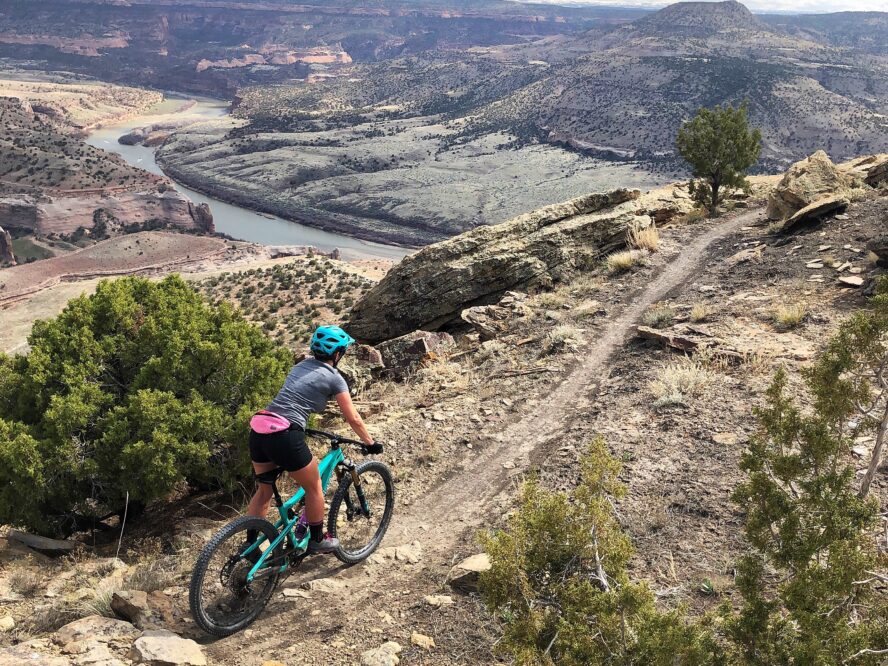 Pros and Cons of Mountain Biking in Fruita
Top-class trails suitable for all skill levels
Huge variety of locations to visit in different trail systems
Camping is allowed on many popular routes
If it rains, the tracks turn to mud and all riding is off
The area is prone to occasional bursts of strong winds
Fruita in an arid desert, a stark contrast to the high-altitude Rocky Mountains to the east. In the springtime, Fruita mountain biking is popular with people who've had enough of the snow and are eager to get back on their ride. In fall, temperatures drop from scorching to temperate, inviting MTB enthusiasts from all over to enjoy the wealth of biking trails and beautiful vistas for which the area is renowned. Anyone looking for multi-day experiences can rest easy, many campgrounds are available to recharge your batteries before a new day on the tracks. As I always say, you could spend years mountain biking in Fruita and never get bored. I know I don't!
From weekend warrior to guide thanks to the Great Divide Race
Mountain biking has been a part of my life for almost 30 years. It all started back in Canton, Ohio, where I bought my first mountain bike in 1992. A couple of friends and I started taking trips to Vermont or heading south to West Virginia. When I graduated college, I celebrated with a long tour of Colorado and my first taste of being out west. Experiencing the likes of Breckenridge, Winter Park, Vail and Durango for the first time really opened my eyes to a new level of mountain biking. Afterwards, I entered the electronics and software industry, spending years making good money but not enough memories. My passion for mountain biking never stopped.
In 2007, I nearly completed the unsupported Great Divide Race. Over the 2500-mile mountain bike race, I had a lot of saddle time (19 days!) to ponder life and I decided I wanted to start my own guiding company. I've always had a passion for designing adventures and then dragging my friends out to experience it with me. So why not make it a full time career? Later that summer, Hermosa Tours was born and 2008 was our first full season. In 2012, we opened our Sedona, AZ office and then in 2019 we opened our Grand Junction office. Riding and guiding in Fruita, CO is amazing — some of the best mountain biking in Colorado — and I'm so happy to share it with others on a regular basis.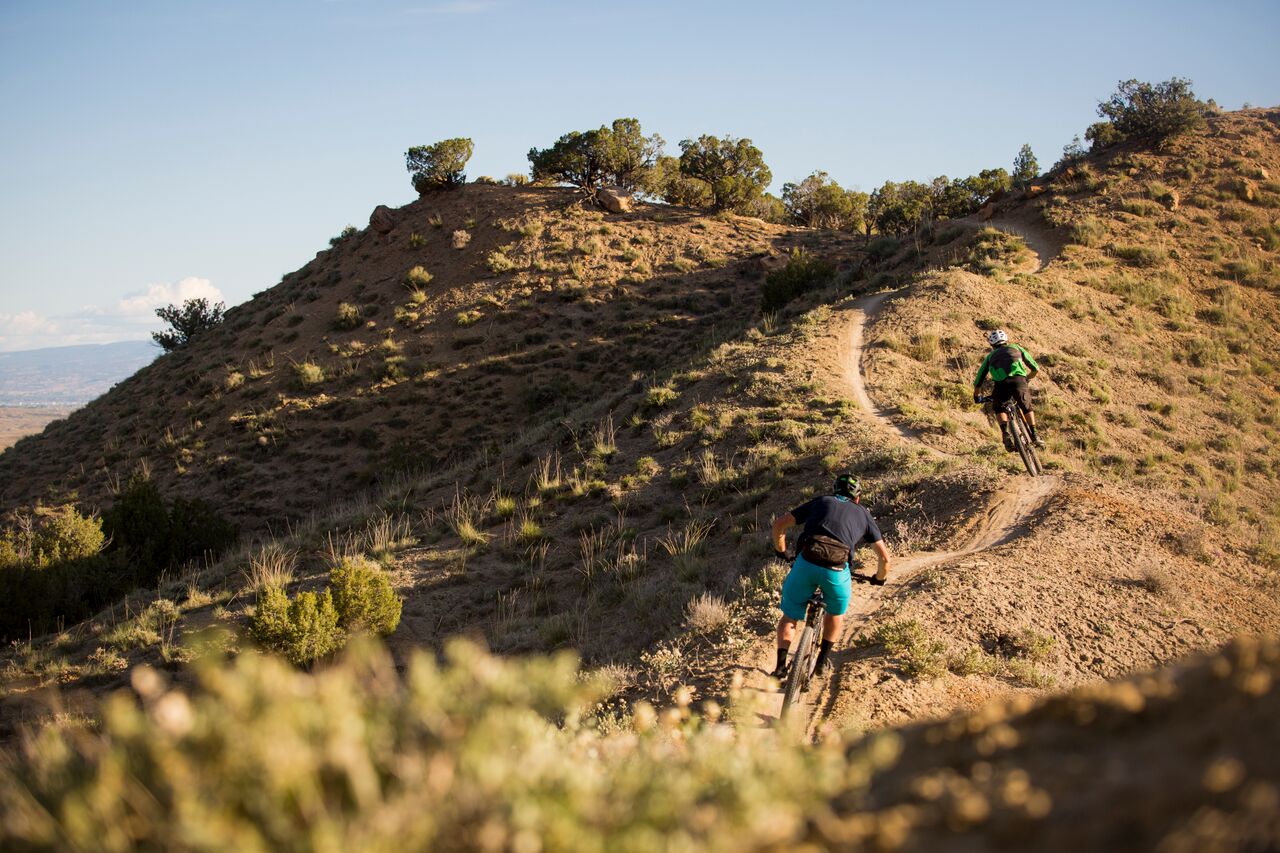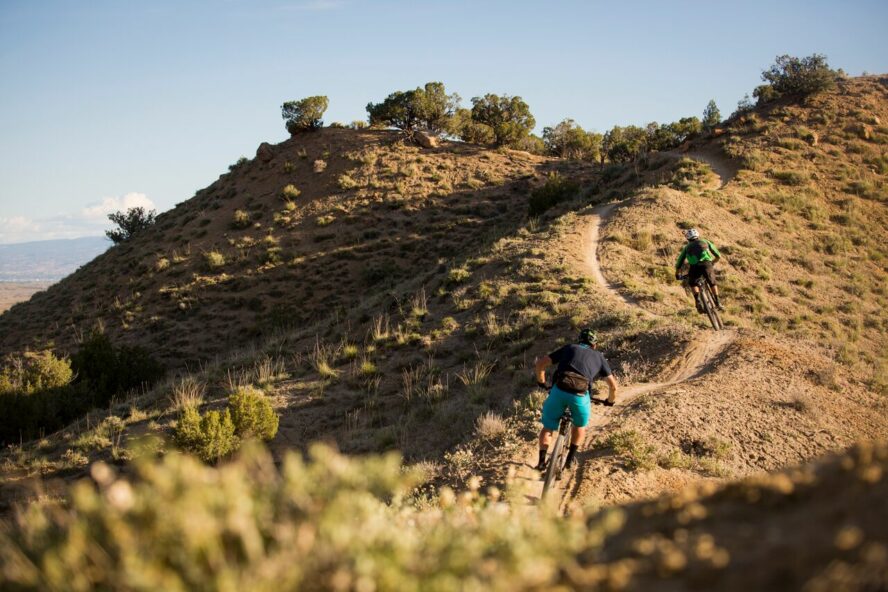 The Best Fruita Mountain Biking Trails
There's no shortage of epic MTB trails in Fruita. If you're planning to visit the area for mountain biking, here are some of my favorite trails to explore:
Beginners head to 18 Road for a taste of desert riding
The town of Fruita is very close to 18 Road, only a few miles away. I love introducing guests to 18 Road mountain biking trails for a couple of reasons. This system of tracks is structured with progression naturally built into the route. You can start off with a light ride up a dirt road, then slowly descend down the fast, fun Kessel Run or PBR, which stands for Pumps, Bumps and Rollers. When you've done enough loops, you have Joe's Ridge nearby. Fruita mountain bike trails are the perfect length for beginners to find their footing and get to know the terrain. More advanced riders enjoy a good warmup before moving on to more difficult runs. If you're not used to desert environments, don't worry. You won't ever have the feeling of being isolated or committed to a big ride.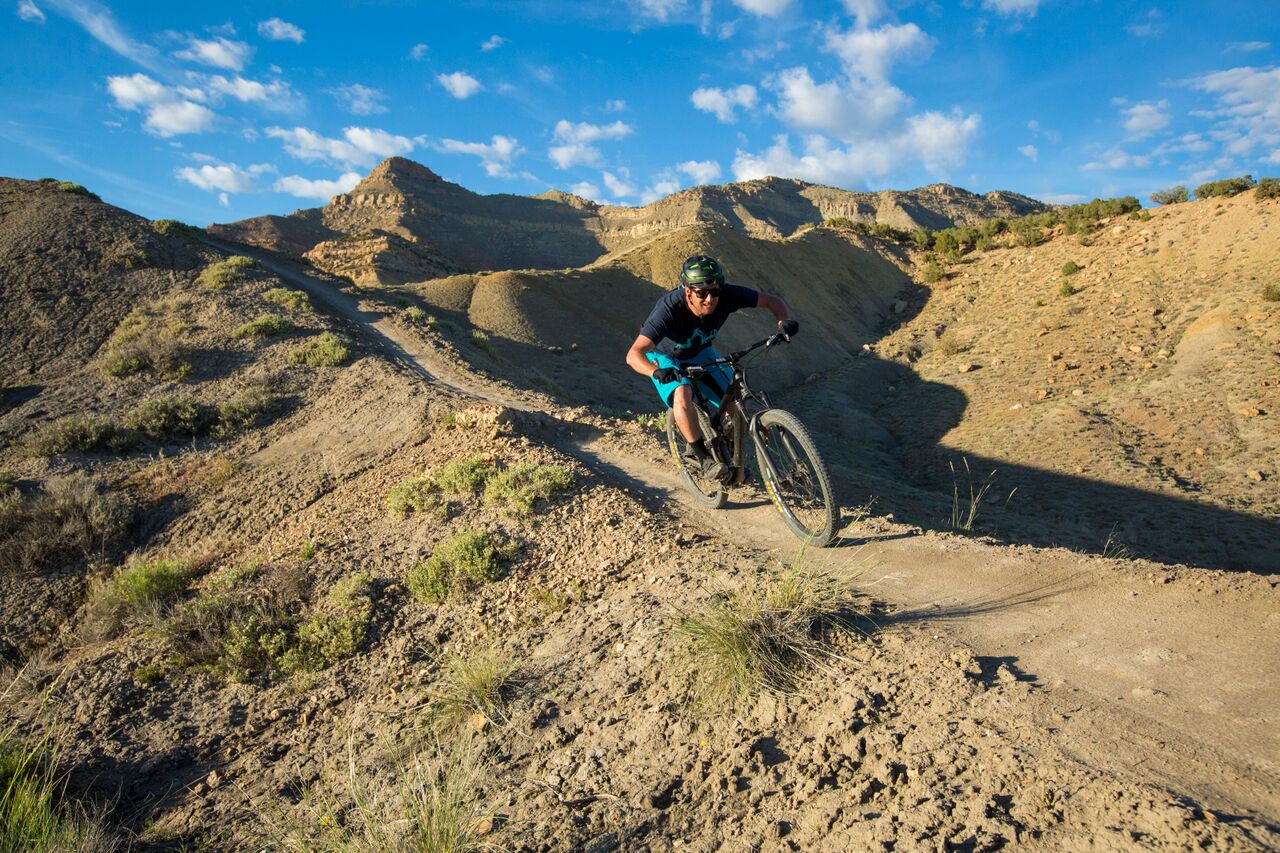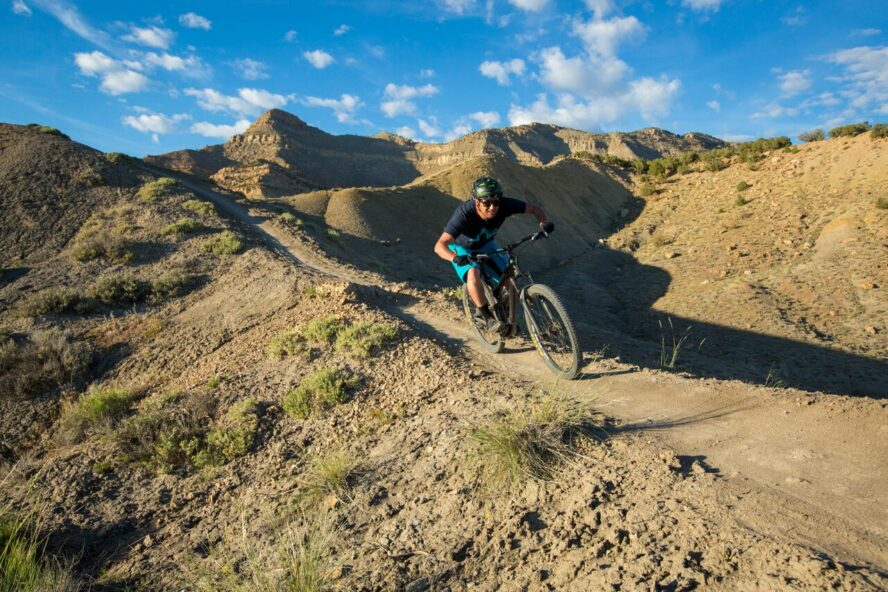 Rustler's Loop is the perfect introduction to mountain biking in Fruita
Next up, we have the Kokopelli Loops. Fruita is blessed with some amazing singletrack. Much of Fruita MTB can be found in this sprawling system of connected trails. Kokopelli makes for a perfect day of intermediate-level mountain biking. Waiting right out of the gate is Rustler's Loop, a beginner friendly section to learn about cornering, climbing and comfort on the bike. True beginners will want to start at the Rustler's trailhead instead of braving the Kokopelli route. While beginners are recommended to tour Rustler's Loop for a test ride, more advanced bikers will also feel right at home here. It's a fun section of singletrack with a challenging switchback ride down on terrain similar to slickrock.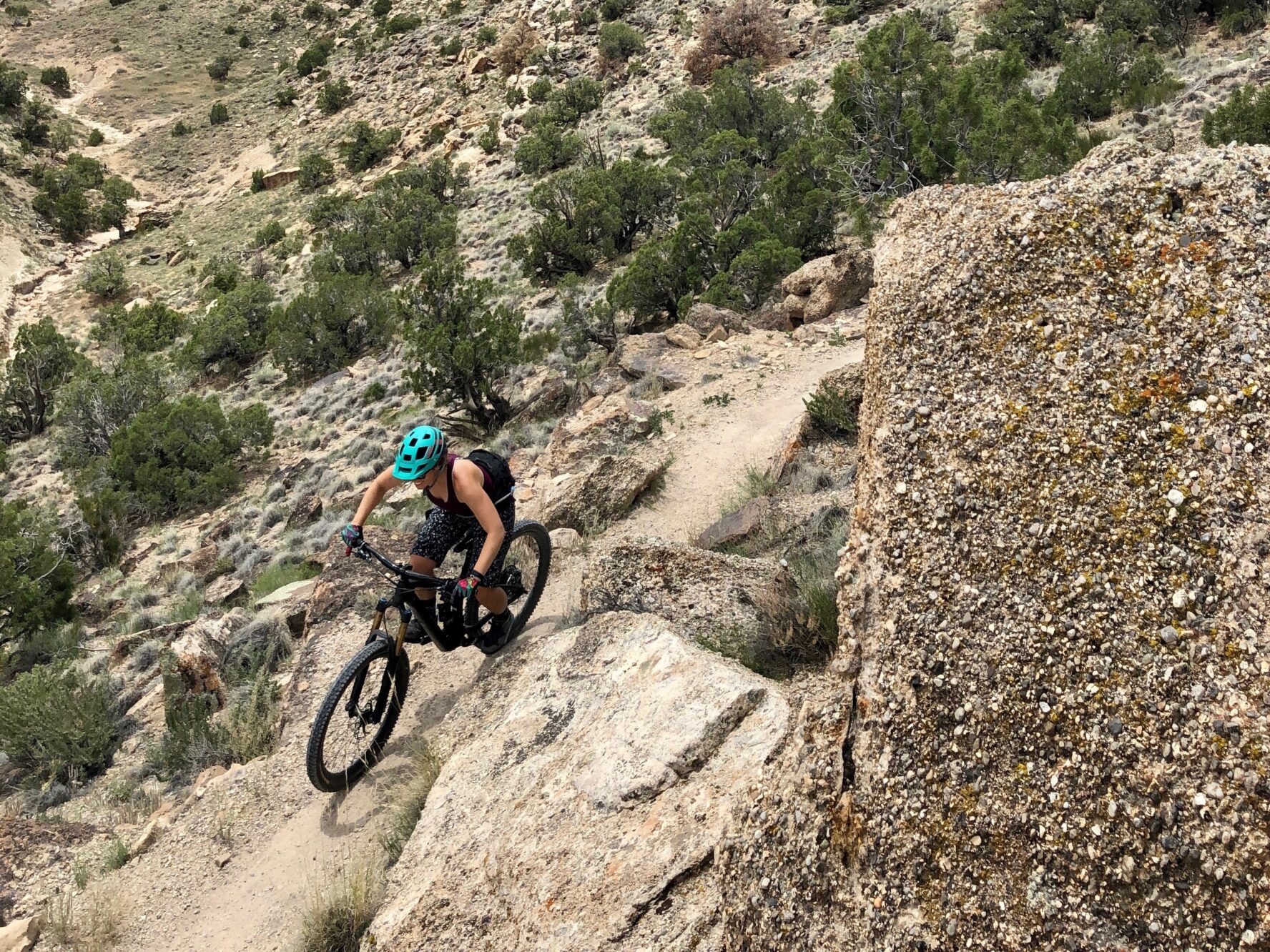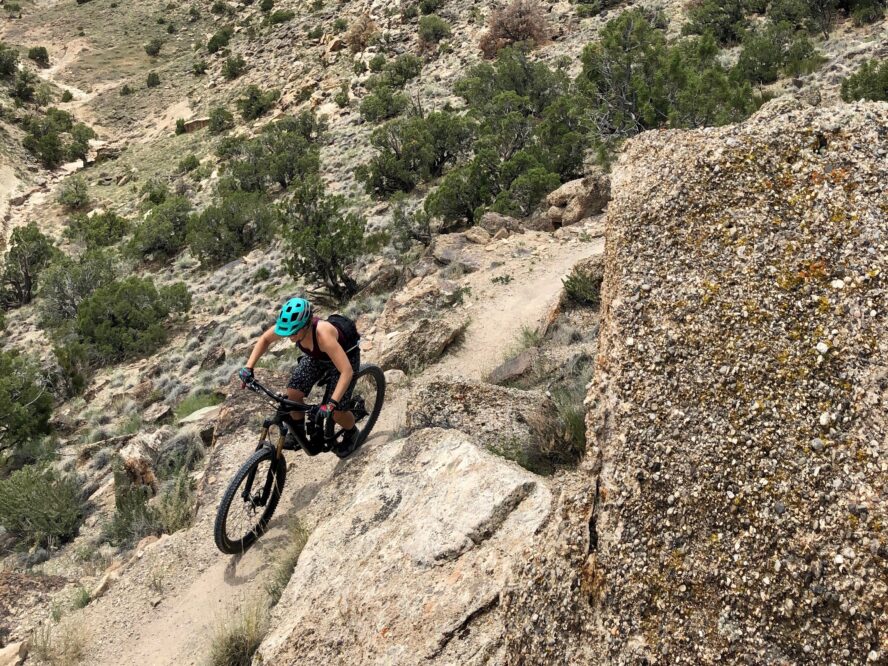 Kokopeli delivers views and technical sections on Horsethief Bench
Of course, if you're coming to Kokopelli Loops, your sights are likely set on Horsethief Bench. Like most of the trail system, Horsethief Bench is perched above the Colorado River. The spectacular view through McInnis Canyon that will leave you in awe of your surroundings — even as you grind the pedals. I would say this is a perfect scenic ride with a couple of very technical sections. It's not uncommon for riders to walk their bikes in sections. Horsethief Bench reminds me why mountain biking is such an amazing sport.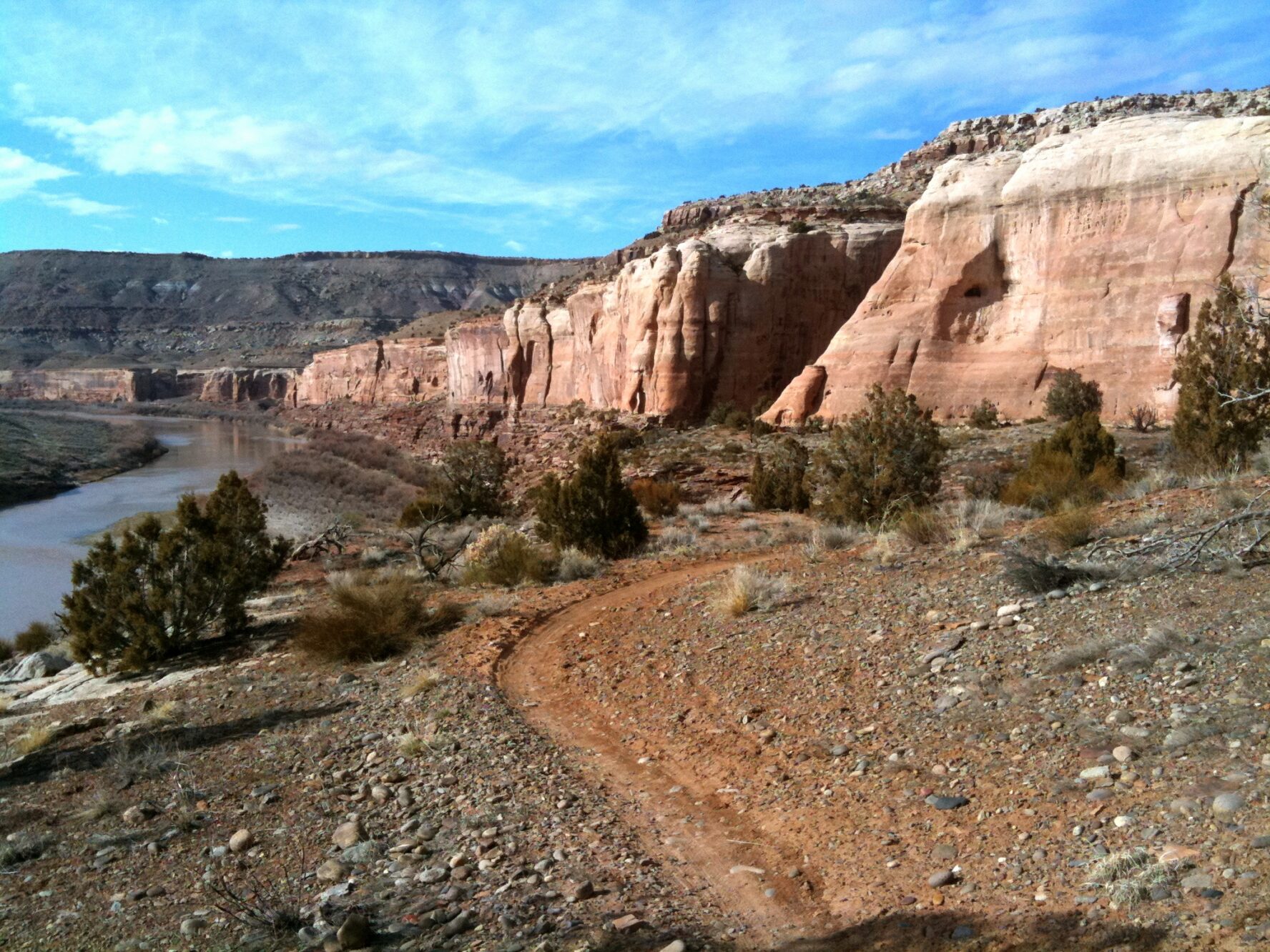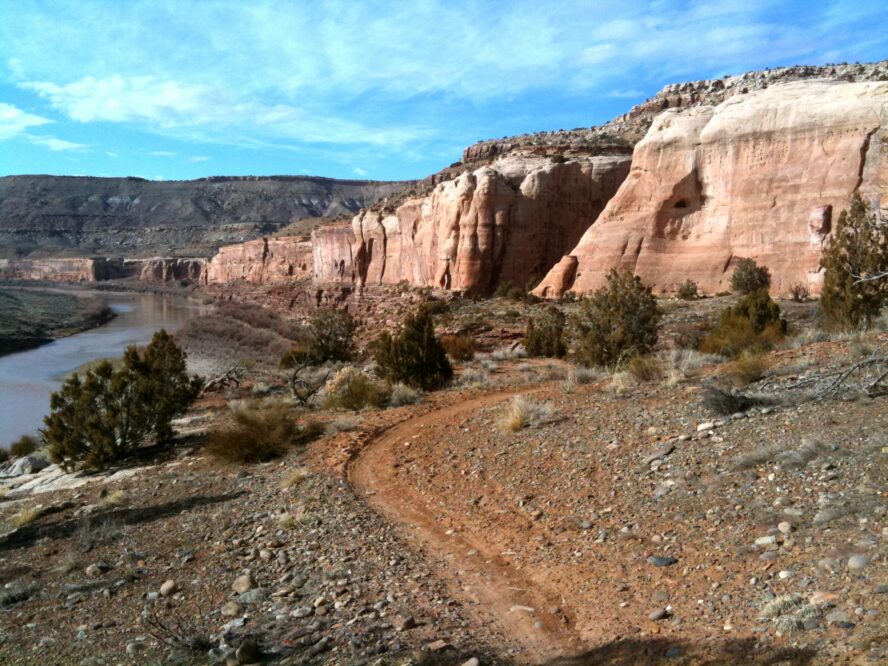 Kokopelli Loops challenges with Steve's, Wrangler's and Ridgeline Tour
Horsethief Bench loop can be added to the full Kokopelli Loops tour by starting at Mary's Loop to Horsethief Bench, or linking to Steve's Loop and Wrangler's. Choose your own adventure here at Kokopelli Loops. Steve's Loop, also known as Steve's Circuit is another great intermediate trail designed to ride in either direction deeper into the system. Wrangler's Loop is also a strong contender, offering stunning views on a higher altitude.
Looking for a challenge? A tour along the major ridgeline in the system delivers expert level riding at Moore Fun and Mack Ridge, the most technical and physically demanding trails in Kokopelli Loops. This system is full of great trails and stunning views holding a lifetime of mountain biking. For me, the Kokopelli are the quintessential Fruita mountain biking experience.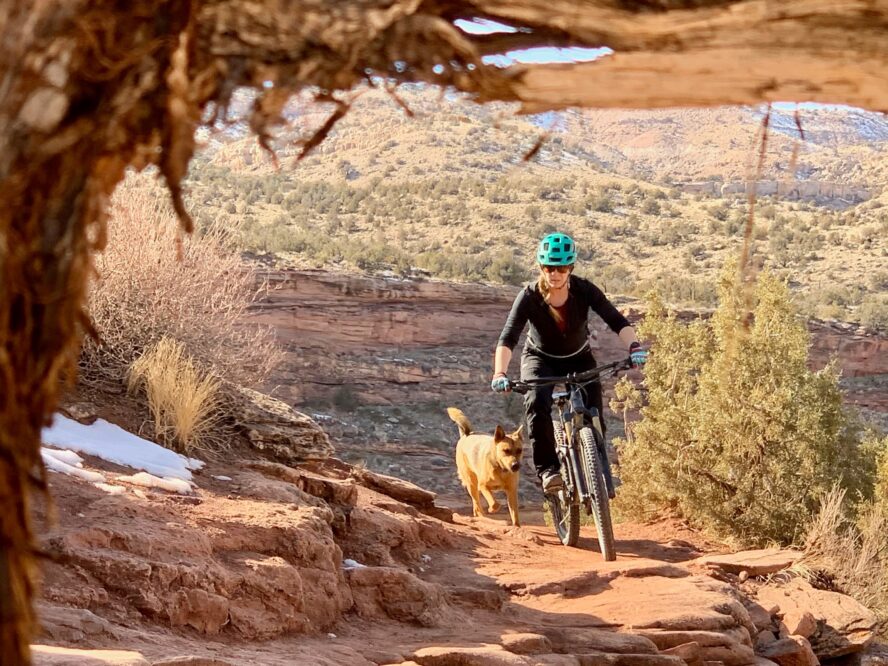 Top Grand Junction mountain biking is found at Lunch Loops
Grand Junction mountain biking is about 12 miles from Fruita. Here you can find the Lunch Loops Trail System. Don't let its casual name deceive you — these tracks present a challenge for anyone looking to break a sweat. It truly has something for everyone. You can find simple, undemanding trails for beginners. Experienced riders can also find challenging sections and expert levels for capable athletes. Boneshaker Adventures is also a respected youth mountain biking program in Grand Junction. Everyday after school in the spring and fall, Boneshaker takes hundreds of kids – even first-graders – out to ride. It's a wonderful sight to behold.
Expert trails at Holy Cross and Eagle's Wing are destination routes
Lunch Loops has a lot of intermediate-to-advanced trails. Trail names keep in line with the culinary theme. One of them is Pet-e-Kes, a smooth hard-packed dirt trail with technical obstacles with rocks around most corners. Lunch Line is a nice and easy intermediate climb that goes up to one of the local favorites called Free Lunch — a very demanding but super fun trail with a lot of drops and jumps. Lemon Squeezer is a short, downhill singletrack trail that will test your skills thanks to the tight shoot between boulders. I'm also a big fan of Eagle's Wing and Holy Cross, both demanding destination trails built with tight technician sections. Holy cross demands a technical up and down adjacent to a cliff. Be ready to commit to your lines. You need to know what you're doing at Lunch Loops, so be sure that you have technical skills prepped and expert guidance where it counts.
Western Rim is a mountain biking gem just outside of Fruita
Outside of the three main trail systems, I'd be remiss not to mention Western Rim. It's another popular trail about 20 miles from Fruita located in Rabbit Valley. Be warned, it's a motorized area popular with gear heads. Western Rim doesn't get too crowded, if you know the right time to visit. The space is one reason people keep heading to Rabbit Valley despite the distance from Fruita. The Western Rim trail is a scenic ride along the contours of the Colorado River, covering vast expanses of dead-flat land in two states. It's really far out in the middle of nowhere, which makes it perfect for a multi-day ride.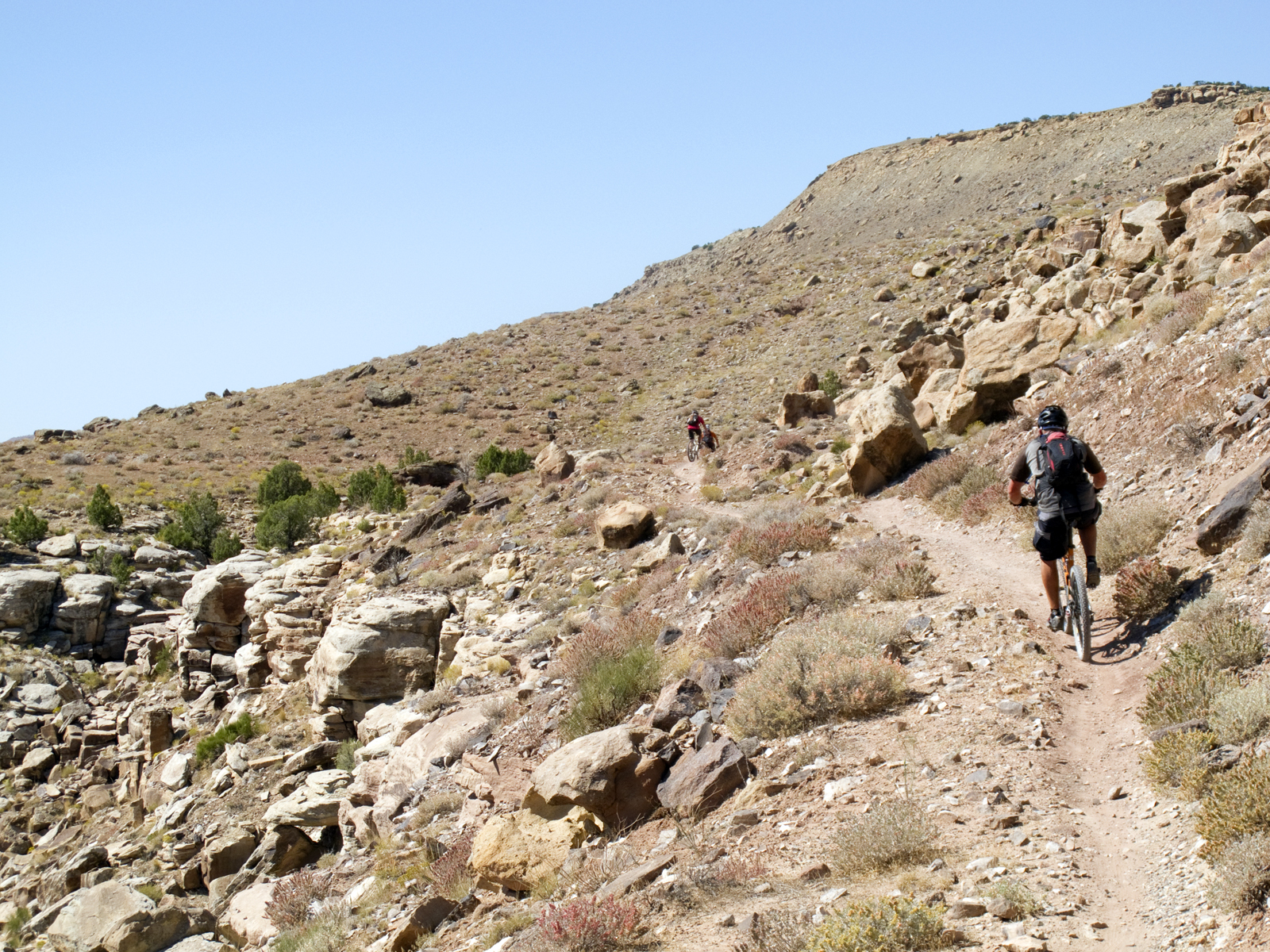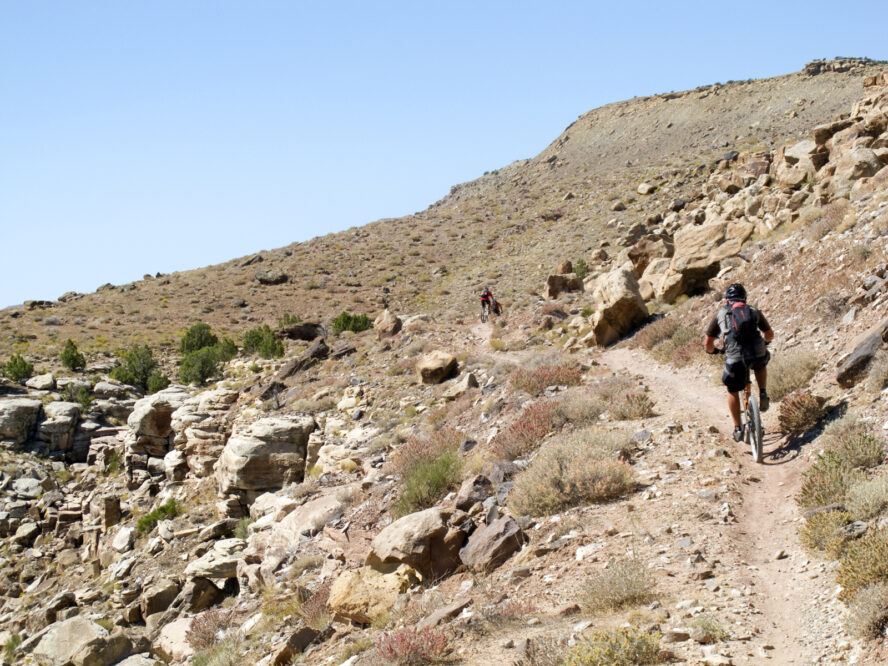 Things to Know Before Heading to Fruita for Mountain Biking
For the out-of-town visitor, here are a few tips, like when to head to head to Fruita, where to stay and where to grab gear that should make your time here more enjoyable:
The best time to visit Fruita mountain bike trails
The best time to go mountain biking in Fruita is spring and fall. I like to aim for mid-March to the end of May when the trails are dry packed and the temperatures are still tolerable. Fruita is the true desert, so it's not unusual to reach triple digits in the summer. Temperatures drop around mid-September and stay warm through mid-November. The shoulder season is the perfect time to experience this unexpected section of Colorado. The fall is also harvest season, if you want to make a stop at local wineries on your off days. Festivals are becoming more commonplace and live music is held most weekends.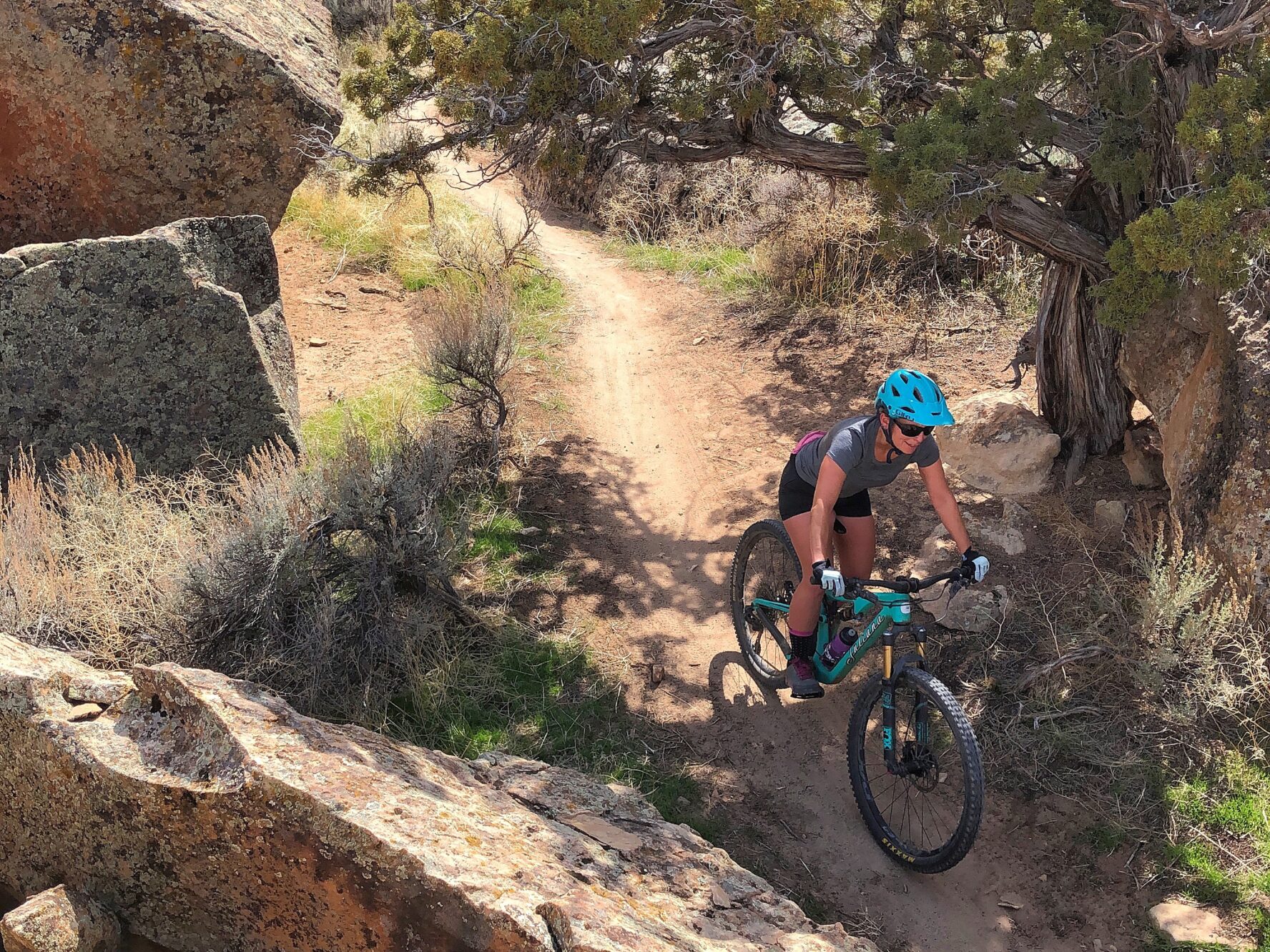 Where to stay, grab gear and eat in Fruita, Colorado
It's easy to find spots in a campground in Western Colorado. You can find first-come, first-served spots through the Bureau of Land Management open spaces and designated campgrounds. You can also easily find a hotel in Fruita or Grand Junction. I recommend two gear shops in Fruita: Over The Edge Sports, whose legacy is tied to Fruita, and Colorado Backcountry Biker, a great shop founded in 2008. We work closely with each. If you're looking to grab a bite to eat, Hot Tomato is a renowned East Coast-style pizzeria founded by Jen and Anne, two great cycling enthusiasts. On the next street over, you can find BestSlope Coffee. The cozy atmosphere is bound to win you over.
Ready to head out with and explore the mountain bike trails of Fruita and Grand Junction, Colorado? Let a guide show you around this incredible area on a half-day or full-day guided mountain bike tour.