MTB Guide Ivo Jaric talked about:
Croatia—a country with a thousand islands and millennia of history
The perks of island-hopping on the Mediterranean's dreamiest coastline
Why a small boat is the key to big adventures
How local trailblazers turned shepherd's paths into the gnarliest rides
Why your choice of bike could make or break your Adriatic expedition
How to turn bad weather into a good opportunity
In Croatia, every island tells a different story, and some of the best ones unfold right on the MTB trails.
On the island of Brac, a speedy singletrack passes an abandoned monastery and opens into a pristine sandy beach, with turquoise waters as far as the eye can see. On the island of Hvar, a switchback trail dating back to ancient Greece is engulfed by the intense aroma of thyme, salt and the soft song of crickets. From leg-burners between post-WWII bunkers to loops around Roman bath houses—riding these trails feels like a journey through time.
MTB guide, bike mechanic, and tour logistician Ivo Jaric has guided mountain biking enthusiasts of all skill levels since 2016. Although he was born in the continental city of Zagreb, Ivo shares a special bond with the Adriatic coast. He enjoys sharing his love for these slivers, slips, cliffside monoliths and white-pebble blips with anyone who's interested.
Let's pump the breaks here. If you wish to learn how a bike ride can tell a thousand years of history, how an abandoned farmer's walkway can become a world-class trail, and how Croatia blends Mediterranean serenity with an Ibiza-esque party attitude, check out this free webinar!
Webinar host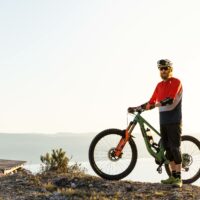 Ivo Jaric
MTB Guide, Mechanic, and Tour Logistician
Born and raised in Zagreb, Croatia, Ivo Jaric has over five years of guiding cyclists along his homeland's biggest hits and best-hidden gems, whether it's trail, enduro, downhill, or eMTB. When he's not shredding singletracks, he spends most of his time traveling with his mountain-biking wife and tasting unique beers in local taverns.