Why Park City Mountain Biking is the Best in the U.S.
My first day of riding in Park City was at Deer Valley. It was not my first time at a gravity assisted resort, but it was — and still is — my favorite.
With over 450 miles of single track, lift-assisted resort trails, feature parks, pump tracks and more, Park City might be the most accommodating mountain biking city in the United States, if not the world. It's one of my favorite places to ride and definitely one of the best places for mountain biking in Utah. Park City was a booming mining town up until 1889 when a tragic fire destroyed 75% of the town. The population dwindled and it took nearly 80 years before the first ski resort (or lift, rather) was installed. Once people got a taste for powder — naming it the best snow on earth (which is literally on the Utah license plates), the city was more vibrant than ever.
If Park City's snow is the best on earth, so is its dirt. Sitting at 7,000 feet, Park City has a warm humid continental climate, which generally keeps the snow fluffy and the dirt smooth. I'll never forget the first time I went mountain biking in Park City. The day before we were supposed to ride it rained. Rain can be a bad thing for trails in more wet, humid areas, but in Park City, right after it rains and that desert sage hits you with its intoxicating fragrance, it isn't just a pleasant smell, it's a sign of hero dirt.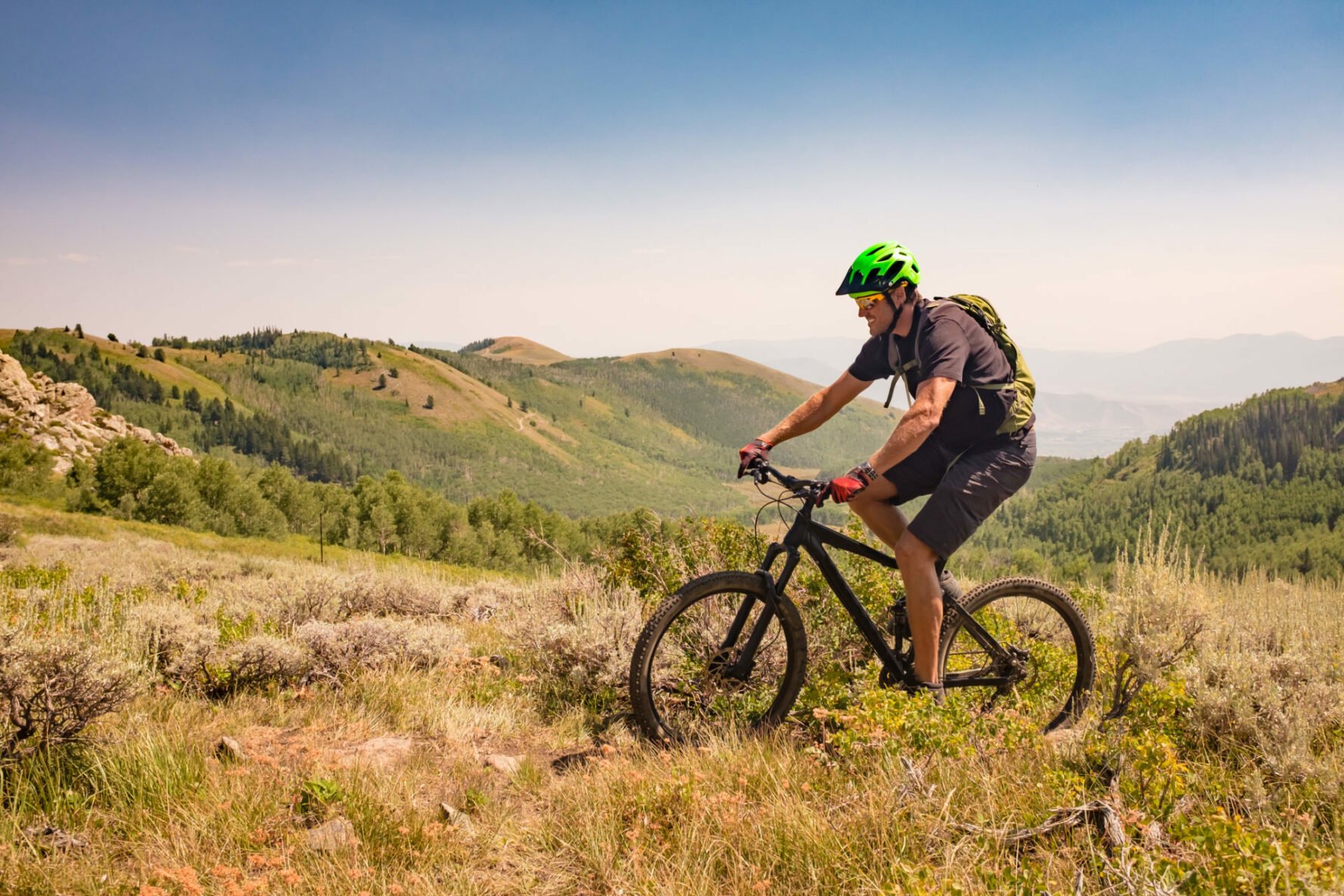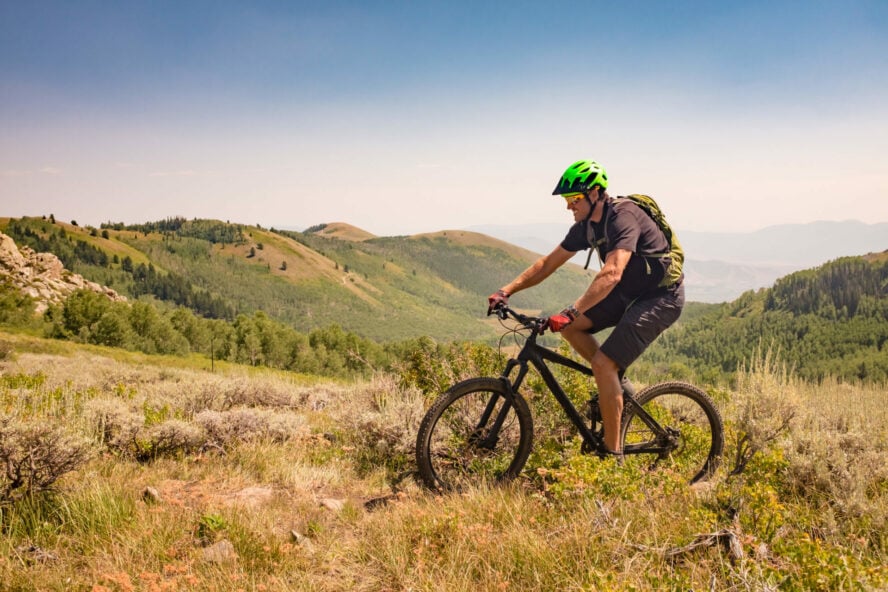 Pros and Cons of Mountain Biking in Park City
Route access is unbelievably easy — like, scary easy
It's America's first IMBA Gold Medal city for very good reason
The area's ski resorts have embraced mountain bikers. Everybody wins!
Crowds? Maybe, but there's just so much to ride they shouldn't matter
Park City's resorts and mountain bikers know what's up
Unlike some of the towns offering mountain biking in Colorado, for example, that have struggled to embrace mountain biking, keeping their resorts more "high-end", catering to the golf crowd, Park City is pretty much all about bikes. When I visited, it was clear that this is a place built for and around mountain bikers. The International Mountain Bike Association (IMBA) named Park City the first Gold Level city in the United States (for years they were the only one). Park City clearly sees the value of having mountain biking — just as they saw the value of skiing. This has made Park City a prosperous town even in the summer.
"A vacation in Park City in the summer is a much more reliable trip than the winter," said Park City area resident of 16 years and pro-rider Eric Porter. "You are always going to have a good time in the summer. It is going to be awesome any day."
Where can you mountain bike in Park City?
Park City has mountain bike trails for days, and for everyone. Besides the climate, what makes Park City's mountain bike trails so awesome is the variety. There is literally every type of trail for every level of rider in almost every area — uphill, downhill, cross-country, enduro, freeridel, lift-served, bike parks and fat bike trails, it's all here (and you can check out MTB Project's Park City mountain bike trail map to get more acquainted with the area). The best mountain biking trails in Park City include the uphill-only climb on Armstrong, which will have you descending at the Mid Mountain Trail for 30 miles of exhilarating fun. Wasatch Crest Trail is an enduro trail that is challenging and one of the best in the area. The resorts — Deer Valley and Sundance offer a range of lift assisted singletrack that can vary from beginner flowy green runs to feature heavy black level jump trails.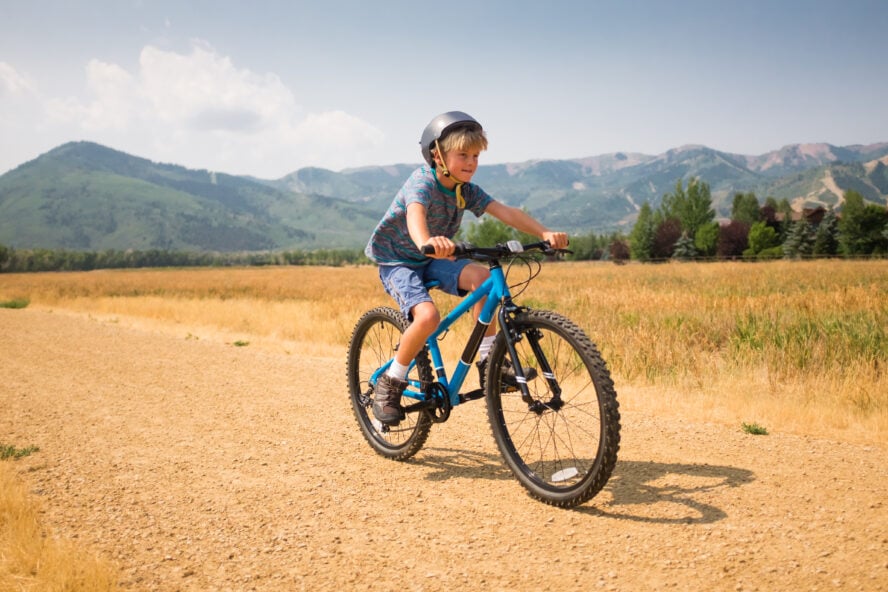 1. Resort riding at Deer Valley — my first crack at mountain biking in Park City
Deer Valley was one of the first resorts to offer summer lift services for mountain biking. Besides being an advocate for mountain biking, they wanted to give their staff year round positions — keeping the lifties, restaurant staff, ski patrol working.
Not too long ago, Deer Valley started heavily to invest in their lift access trails by hiring world renowned trail builders, Gravity Logic. That investment has paid off.
My first day of riding in Park City was at Deer Valley. It was not my first time at a gravity assisted resort, but it was and still is my favorite. I had a Park City mtb guide for my first day on the mountain. Letting him know my level and my goals, he strung together an awesome day of riding that made me feel like a hero. It was right when Tidal Wave (a five star blue trail with table tops and berms) was just built. The perfectly sticky dirt from the rain made it one of my most memorable rides (it was where I did my first perfect kick-outs).
I came back the following year to find even more trails connecting to that part of the mountain.
"They are building a new substantial trail every year," says Porter, "They have everything — trails for actual first timers to big jump trails like Tsunami for pros and advanced riders. They also have the best food."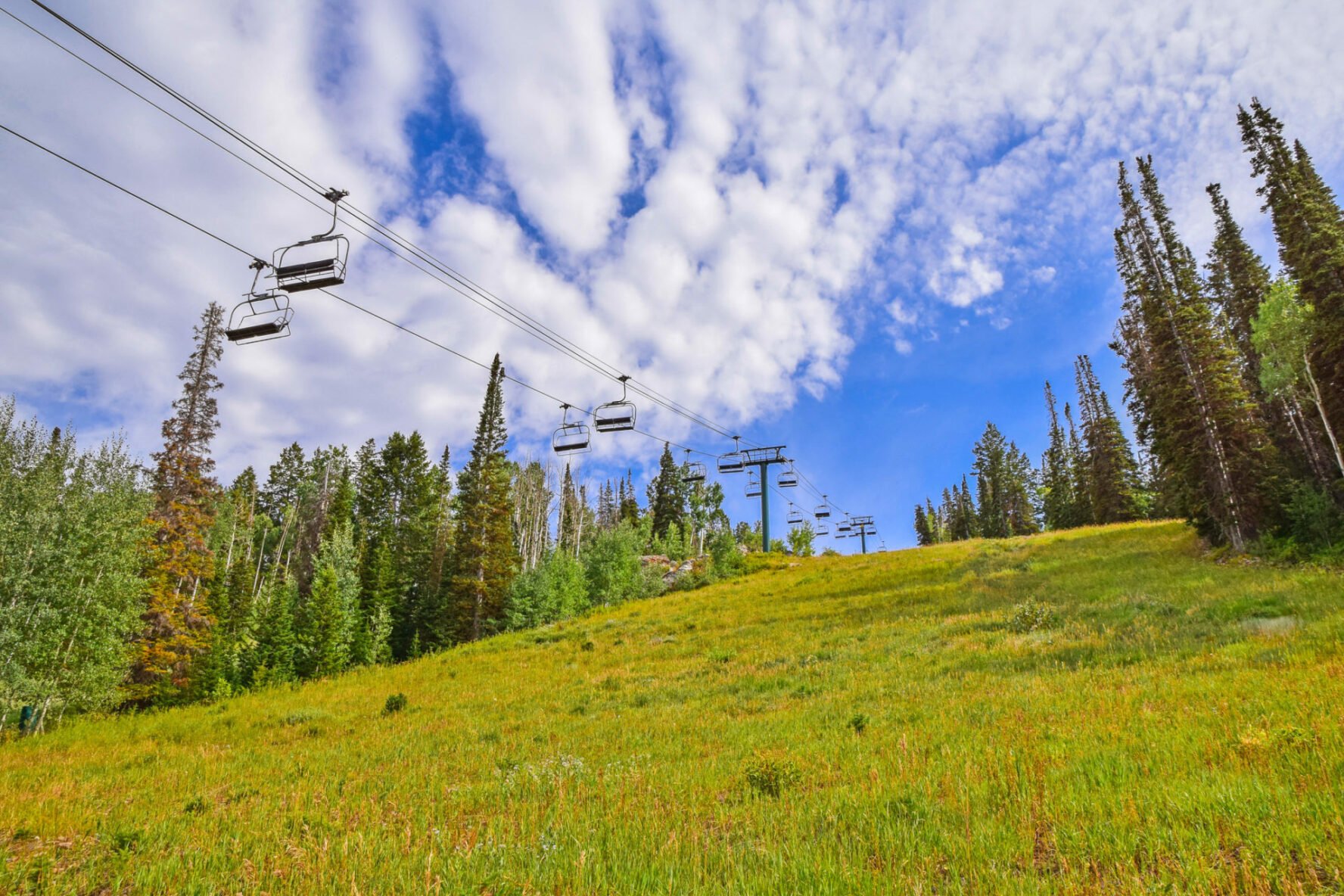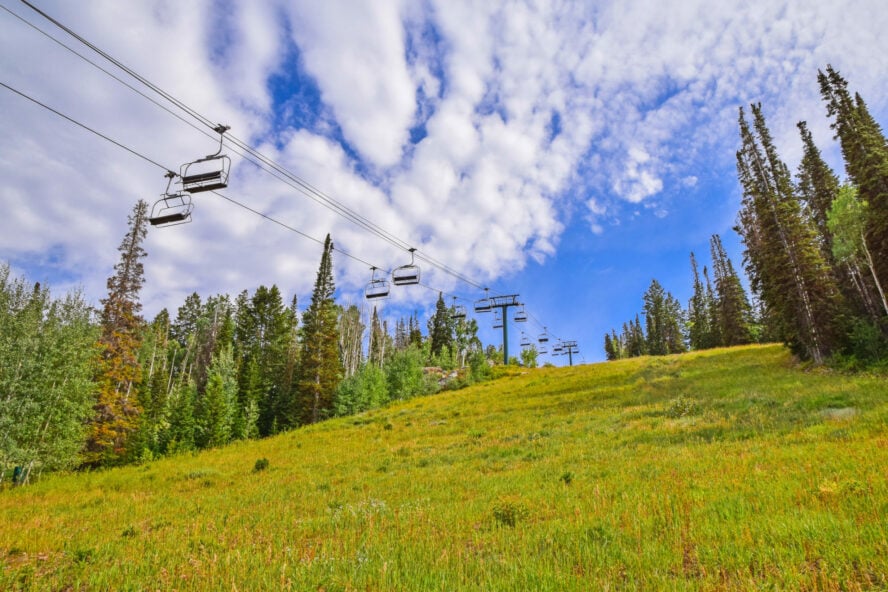 Deer Valley even has kid programs, so parents and kids can have an awesome day on the same mountain and everyone can ride their own ability. Although Deer Valley has maps everywhere, it is suggested to hire a guide to help you manage your time properly and link up the best trails for your ability and steer you away from the busy trails at their busiest times. A guide can keep you feeling like you were one of the first people to discover the area.
2. Explore Sundance Resort for its cool vibe and slower pace
Sundance is a bit more tame than Deer Valley, but they still are a charming mountain resort with the best views. Owned by Robert Redford, the buildings are cabins and the vibe is relaxing. The lifts are a little slower, but sometimes we all need to slow down.
For those looking to earn their turns, you can still ride all the park trails under your own power. You just have to ride up. Which you can do on directional trails such as the Armstrong.
3. Park City's Wasatch Crest Trail is one of the best
I haven't even begun to talk about the Park City "proper" trails. There is so much to do and the signage is so good, that you can navigate pretty well on your own. However, it is always nice to have a local or a guide take you on the classics like the 24 mile long (give or take) Wasatch Crest Trail and The Mid Mountain Trail (from Deer Valley to Canyons) which connects Deer Valley to Olympic Park (basically all of Park City into Salt Lake City.)
The Wasatch Crest Trail is a must do for most mountain bike enthusiasts who visit Park City. And If you're going to ride it, the parking area is subject to change this year, so make sure to check before you go. Or just ride up — as Porter tells us — "better yet, if you can throw in a three thousand foot climb…"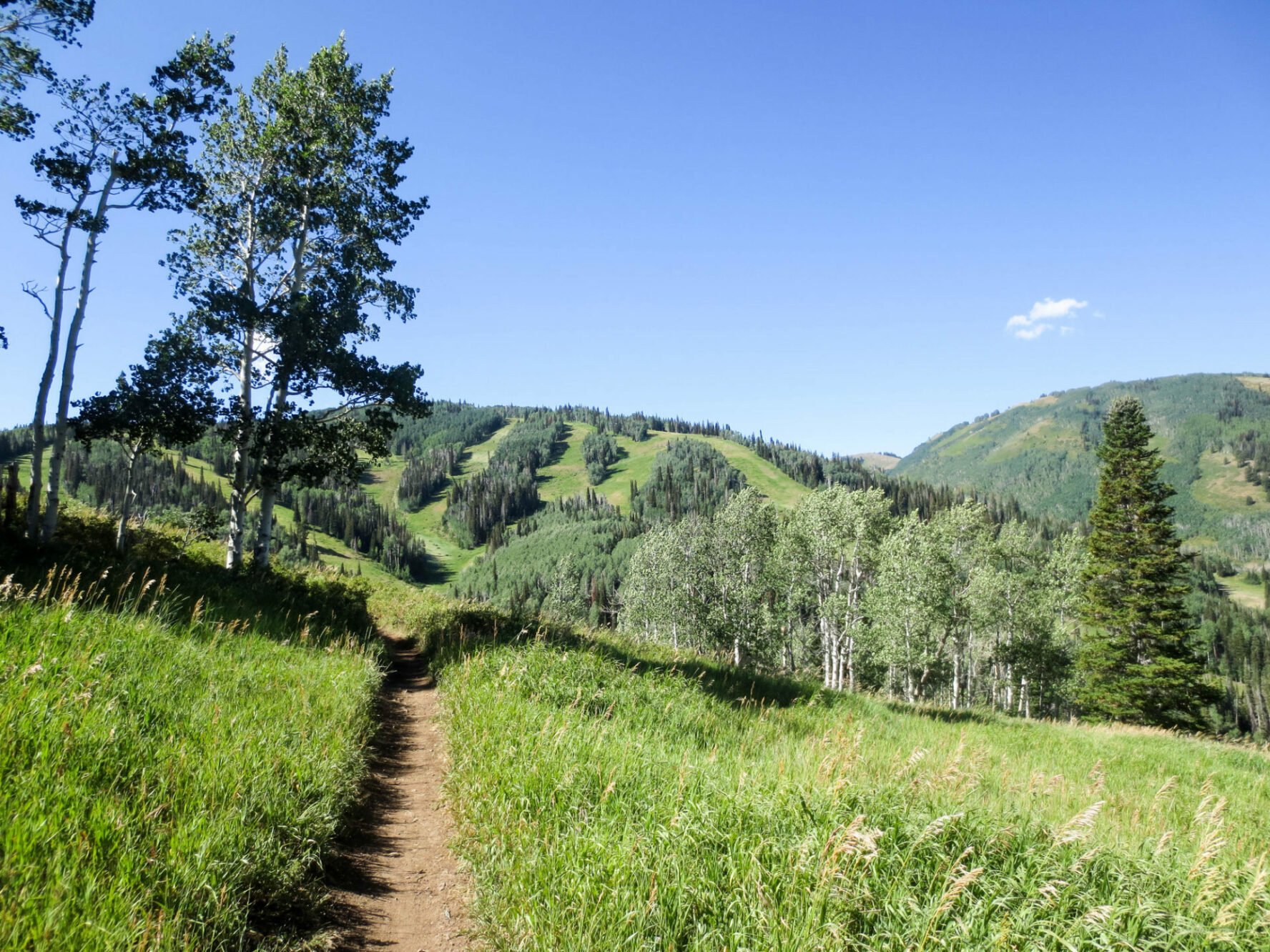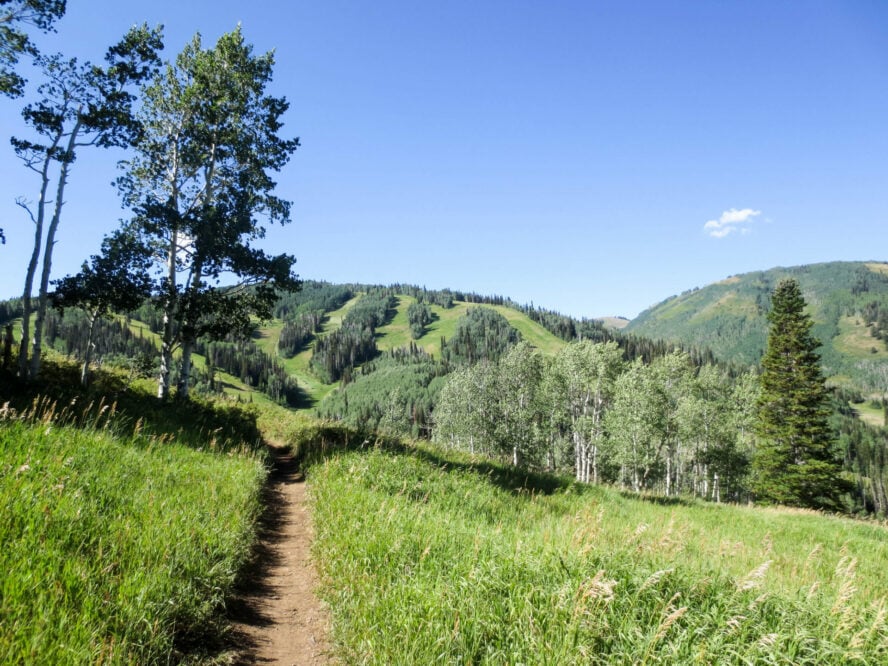 For most non-pros, the 3,979′ climb up the Crest Trail is plenty. Especially when you consider that you have to start with "puke hill" — which is a steep, loose climb at 10,000′ or as Porter calls it, "just a fun challenge."
I had been in town for a few days before I decided to ride the Wasatch Crest Trail. I rode it with some buddies from back east and I did not puke! But I attribute that to being acclimated…I don't remember how many hours it took, but we did take our time and had some snacks along the way, taking in the morning views with Park City on one side and Big Cottonwood Canyon on the other. You can drop down on either side and catch a shuttle back up. We dropped into Canyons Resort on the Park City side (which is no longer doing MTB programs, but you can still ride the existing trails.)
But no matter how popular Park City has become, there are still gems and plenty of trails to go around.
4. But wait! There's more! Lost Prospector is great for beginners
One of Park City's best spots for beginner riders is Lost Prospector — a classic singletrack with great views of the town. There isn't much in the way of technical terrain, which is great for new riders looking to gain their legs, and it also takes you through groves of gorgeous Aspen trees. Access to Lost Prospector can be had at different points in Park City; it can be ridden as an out-and-back or as a loop if you'd rather meander along the Historic Union Pacific Trail. At under 8 miles, this is a great intro trail to singletrack mountain biking in Park City.
5. Mid Mountain is a classic cross-country trail in Park City
The Mid Mountain Trail is an IMBA Epic trail featuring 21.9 miles of singletrack. Starting from Park City or neighboring Deer Valley Resort, you'll do lots of riding through forests. This intermediate trail is around 8,000 feet for the full duration, making it a super fun time! A word of advice: acclimate to the high altitude ride before tackling this one. This is a great fall trail because of the colorful scenery and changing leaves.
Does Park City have a bike park?
If you do make it to Midway, Wasatch Mountain State Park is a more recently developed area featuring a flow trail, pump track and jumpark. On the other side of the mountain there is Trailside Park, which you can ride to via downtown Park City or just drive on the highway and take the "Home Depot" exit as the locals say. It's a super family friendly city park that has soccer fields and other amenities.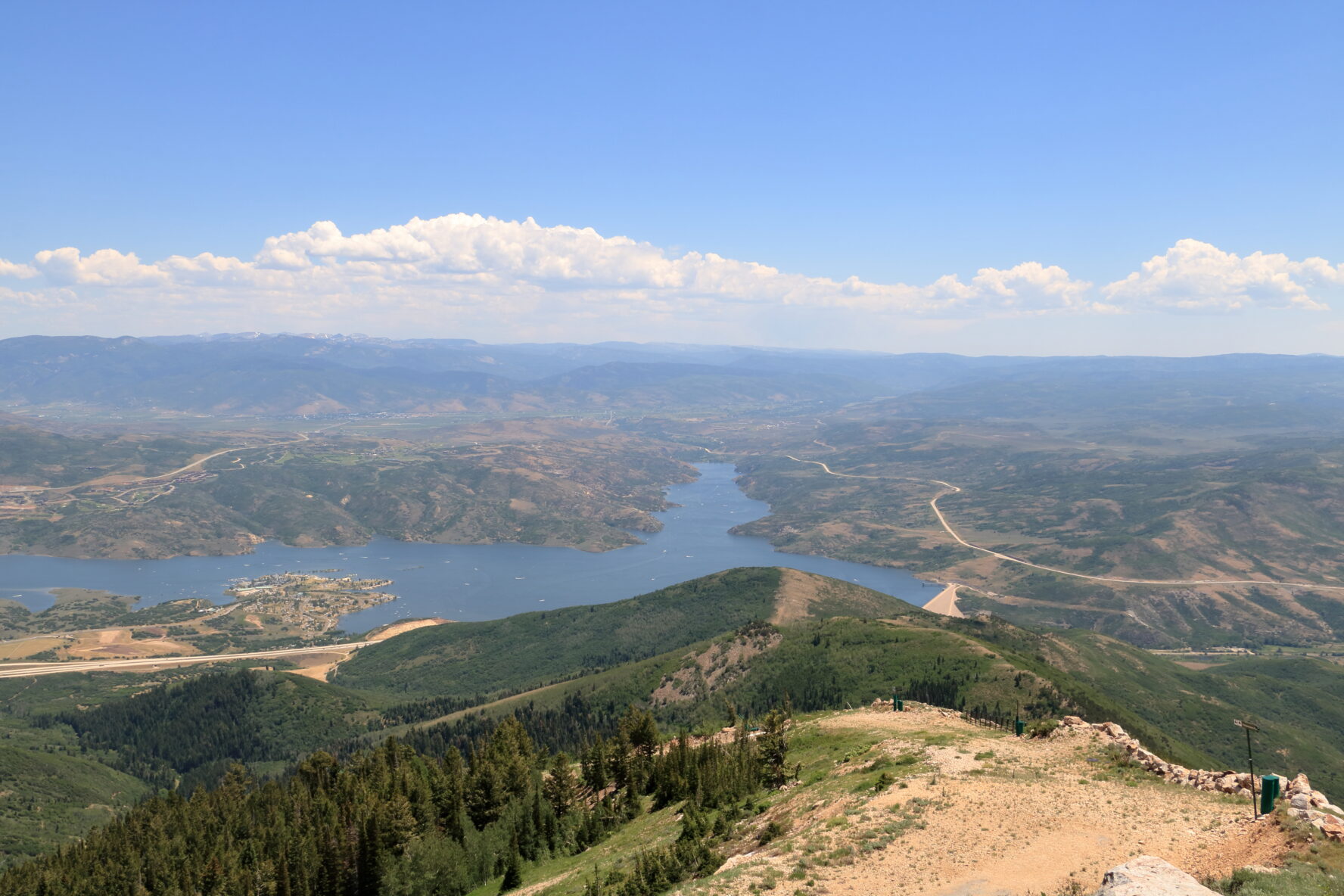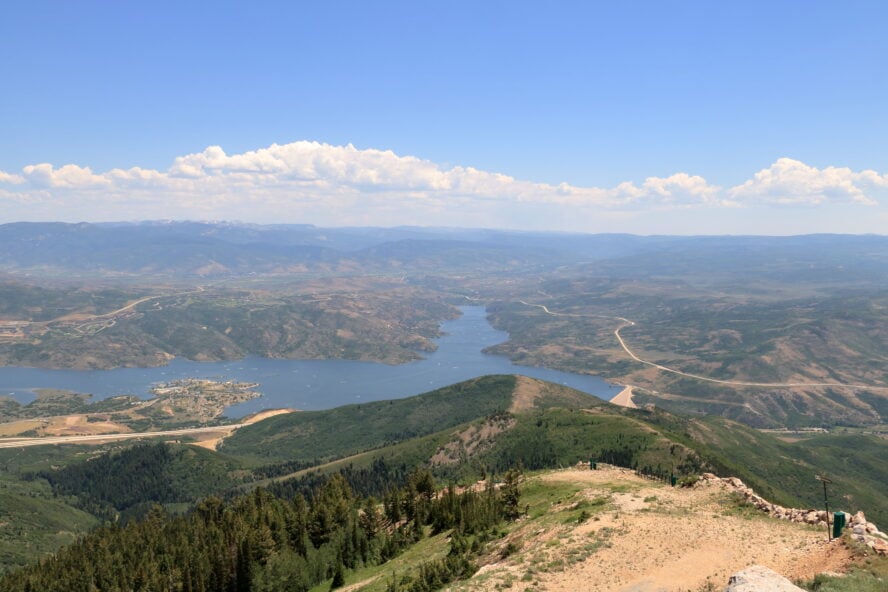 A Few of My Recommendations for Park City MTB
Before heading on your Park City mountain biking trip, here are a few things to keep in mind that will make your adventure more enjoyable.
When can you mountain bike in Park City?
The regular Park City mountain biking season begins in late May. Lift-serviced bike parks start operating in June, but the higher altitude lifts might not begin operating until July. For the Wasatch Crest Trail or other high altitude trails, mid-July is a safe bet, but anything before that might see you contending with some of the ski season's leftover snow.
What time does Deer Valley Mountain Biking open?
For 2021, Deer Valley's summer operation dates are from June 18 through September 6. They're open daily during these dates, and then from September 7 through the 26, they're open Friday, Saturday, Sunday. Hours are 10 am to 5 pm, but they also do Twilight Tuesdays from June 22 through August 14, where you can ride in the evening from 4 pm to 8 pm (weather and conditions permitting).
Where to stay in Park City?
Finding accommodations in Park City won't be a problem. There's everything from luxury hotels, to budget-friendly condos, huts and townhouses. If you don't feel like a resort stay, Salt Lake City might be a better bet (accomodations seem to be a bit cheaper). Getting to Park City is pretty easy; it's a short 45-minute drive from Salt Lake International Airport.
Depending on your visit, there's plenty of great options if you don't want to get a hotel. You can camp in the Wasatch Mountain State Park in Midway (practically off the Wasatch Over Wasatch or WOW trail down the back side of Deer Valley. Another good option is camping along the Jordanelle Reservoir.
A brief note on the elevation in Park City
If you get altitude sickness, try to give yourself a day to acclimate before you jump on the bike. Also keep yourself hydrated (don't drink too much either).
Park City mountain bike rentals and gear
Because Park City is a mountain biker's town, there's no shortage of places to rent or buy gear. A couple local favorites are Park City Bike and Demo, Jans Mountain Outfitters and White Pine Touring. You can also grab rentals at the base of the Deer Mountain Resort.
Sunscreen and sun protection
Park City can be super pleasant in the summer, which makes it easy to forget about sunscreen. The air temp can feel amazing with nice mountain winds, which can deceive you into thinking the sun isn't as powerful, so bring sunscreen.
Trail etiquette for mountain biking in Park City
Park City locals are pretty welcoming, they are actually really chill compared to other mountain towns, but that is likely due to the fact that Park City has some pretty solid rules. Down traffic yields to up traffic. Bikes yield to hikers. Yes, there will be clueless tourists the lower you drop, so yell and holler to do blind turns that might have up traffic.
Are you ready to head out and hit what are arguably the best mountain biking trails in the entire US? Enjoy a guided mountain bike tour around Park City's best trails and leave the planning to a professional!