Mountain Biking Graham Hills Park, Upstate New York
This is the second in our series of in-depth looks at New York's best mountain biking Trails.
We rode Graham Hills Park directly after Cunningham Park. Maybe this wasn't a smart decision, as Graham Hills turned out to be more physically demanding than we initially thought. Not that this was a bad thing, but in this case, if you want to get down, you'll first need to climb.
If you're an experienced rider looking for the best challenge close to the city, Graham is your jam.
Starting Your MTB Journey at Graham Hills
General Info

Where to Park

There's a small parking lot a couple hundred yards from the entrance. [Map]

Trail Entrance

The Pink and Blue trails begin directly off the parking lot. [Trail Map]

Nearest Bike Shop

Ride of Pleasantville (5 mins by car)

Nearest Place to Eat

The Barley House (7 mins by car)

Route Data
The track starts at a little car park near the highway. It consists of several trails for different experience levels. In the loop we rode, we covered as much as hardtail XC bikes could handle: pink, blue, white, yellow, and "tumbleweed". There are also orange and red trails, but we decided to leave those for future reviews.
Right from the start, it's clear that this trail demands a certain level fitness and experience. It's not nearly as flat as other trails near NYC. We saw $7k bikes mounted on European SUVs in the parking lot – these people knew what they were getting into.
But so did we. Prior to our visit, we'd heard that Graham Hills is not the easiest trail to navigate. We parked our "57hours-mobile" – unfortunately, not a '57 Chevy – and asked the first person we saw in the parking lot where to head first. We sunk our grip-deficient XC tires into the trails and started rolling.
On the Track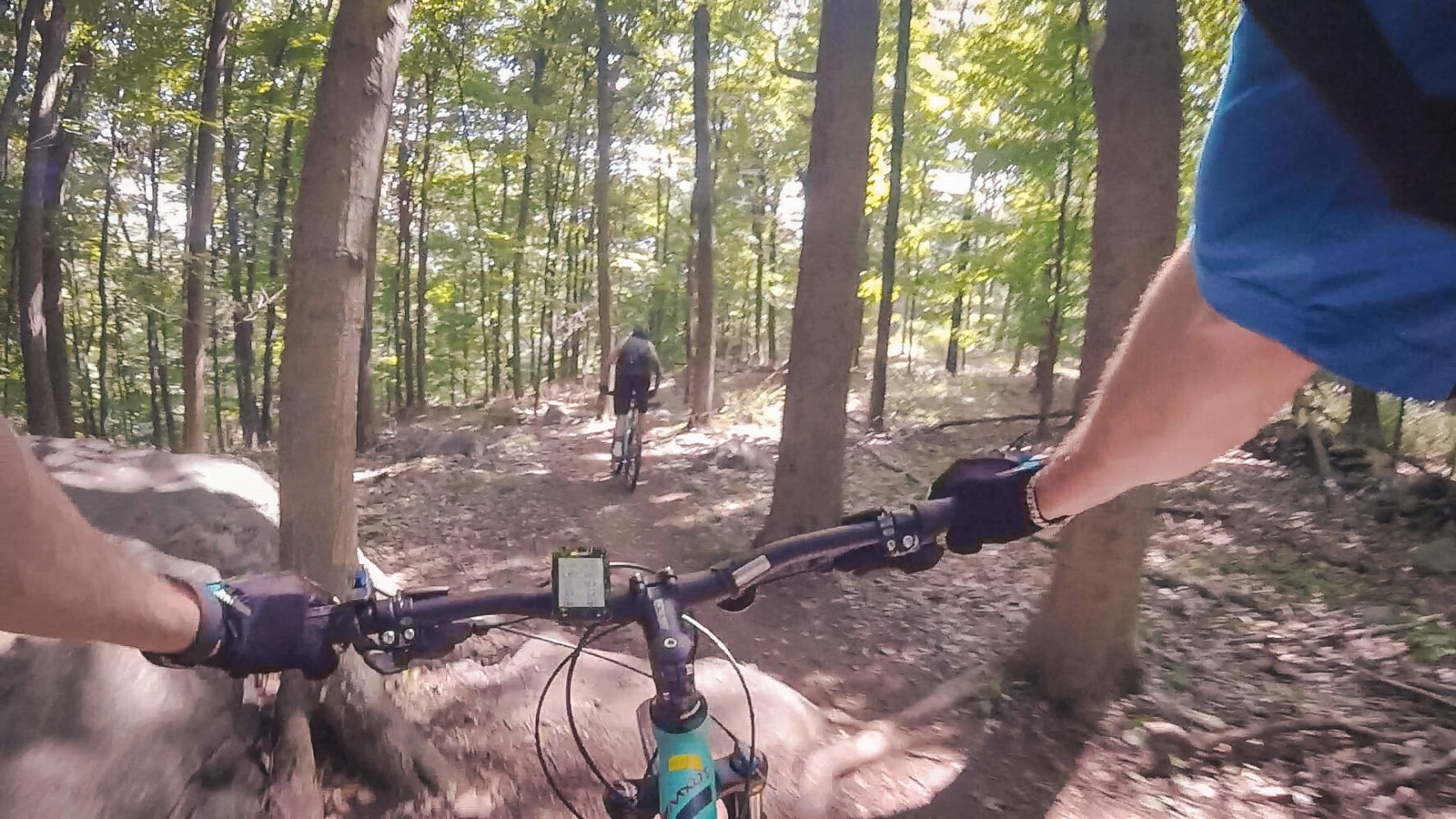 We began with the Pink, and Blue and White trails. The track became more demanding, which after a lighter ride in Cunningham, made for more fun for us veterans. On White and Yellow trails we managed to get in a few minute long descents, with challenging technical root and rock sections. In the gaps, we found faster, more conventional single-track dirt sections.
All in all, Graham Hills is heavy on climbs, but every climb is rewarding. There is an abundance of trail combinations, and almost every rider will find something challenging for themselves. Bare in mind, this track isn't for complete newbies. If this is your first-time mountain biking, we suggest trying a great beginner track like Cunningham Park first.
Track Video
To give you the best visual overview, we made a video mix of the Pink, Blue, White, Yellow, and Tumbleweed trails.
Heads-up: You can see the key points of the video on the YouTube link.
Starting with a climb right after you enter the trails from the car park, you quickly get to the first roots and rocks section. Just around the four-minute mark on the video, we enter the Blue trail section, followed by the flow of the slightly more demanding White trail.
After one technical climb, we go through the rockiest section to the Yellow trail, and then back to the White trail, which has a pretty nice flow. Next up is Tumbleweed, our favorite part of the track. To round it out, we head back toward our starting point, which is mostly a climb.
Track Overview
We've created a detailed track profile below, which gives you elevation, speed, and other unique perspectives on our chosen route.
Basic Track Details

Distance: 5.2 mi

Elevation: 604 ft
Min: 404 ft
Max: 653 ft

Climbing: 50.5 %
Flat: 18.8 %
Downhill: 30.7 %
2D Trail Profile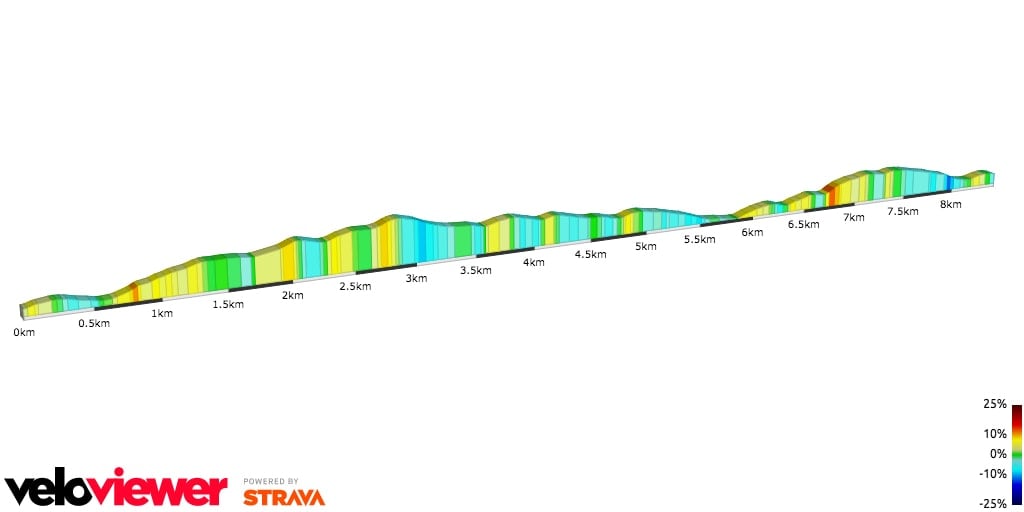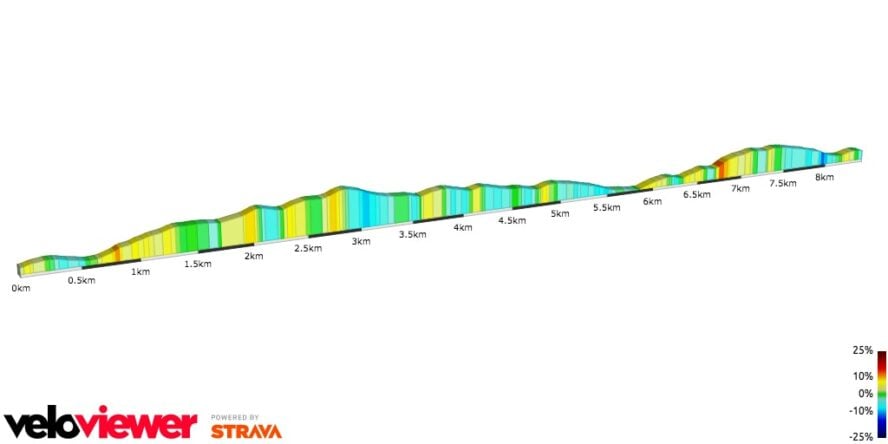 3D Trail Profile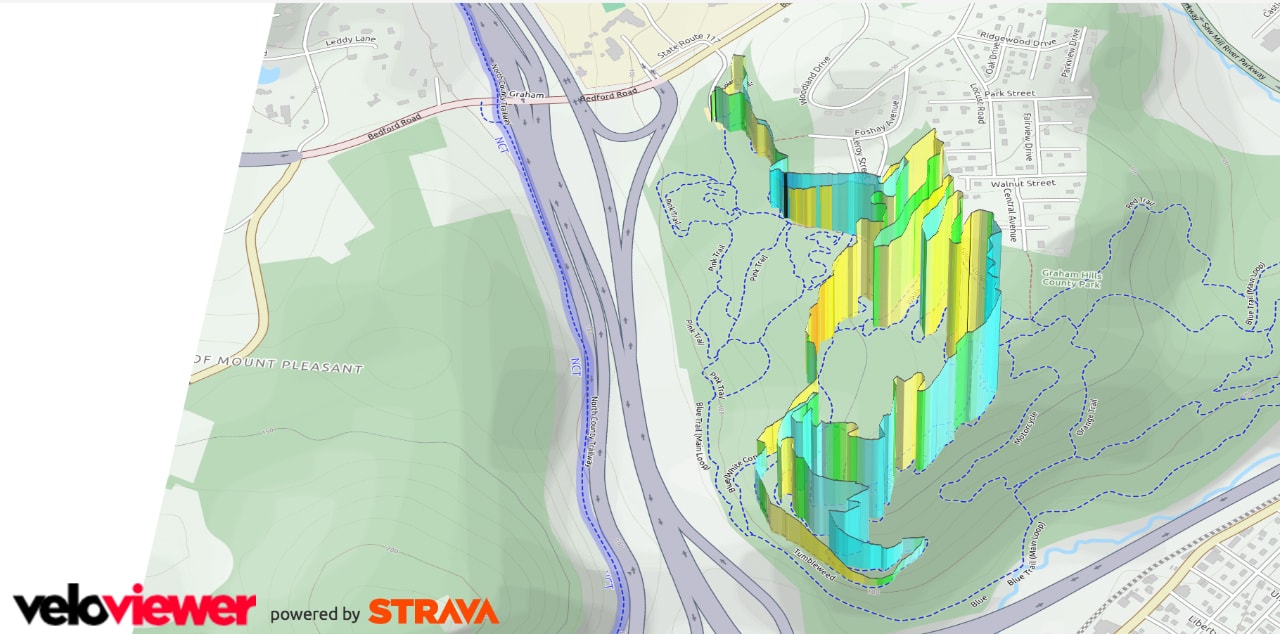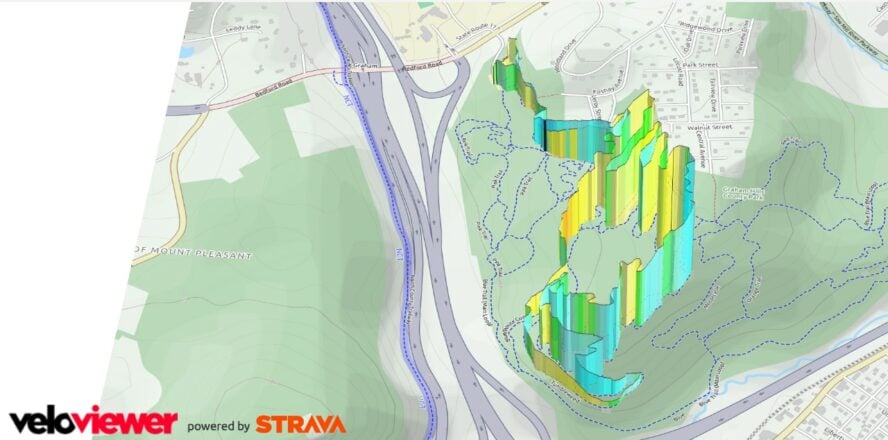 Interactive
Advanced Technical Details
Are you into crazy-minor details? We've got you covered!
Metrics for Bike Nerds
Time climbing: 00:25:18
Avg Climbing Speed: 4.4 mi/h
Time Downhill: 00:15:23
Avg Downhill Speed: 8.9 mi/h
Pedaling Time: 00:27:25
Avg. Speed: 6.7 mi/h
Max Speed: 17.0 mi/h
Avg. Heart Rate: 174 bpm
Max Heart Rate: 186 bpm
Avg. Cadence: 66
Max Cadence: 124
External Temperature: 77℉
WARNING: Advanced Nerdery
Estimated Avg. Power: 99 w
Estimated Weighted Avg. Power (Dr. A. Coggan formula): 159 w
Cranks Revolutions: 1998
Curious about more trails in NYC? Check out our choice of The Best Mountain Bike Trails Near New York City.